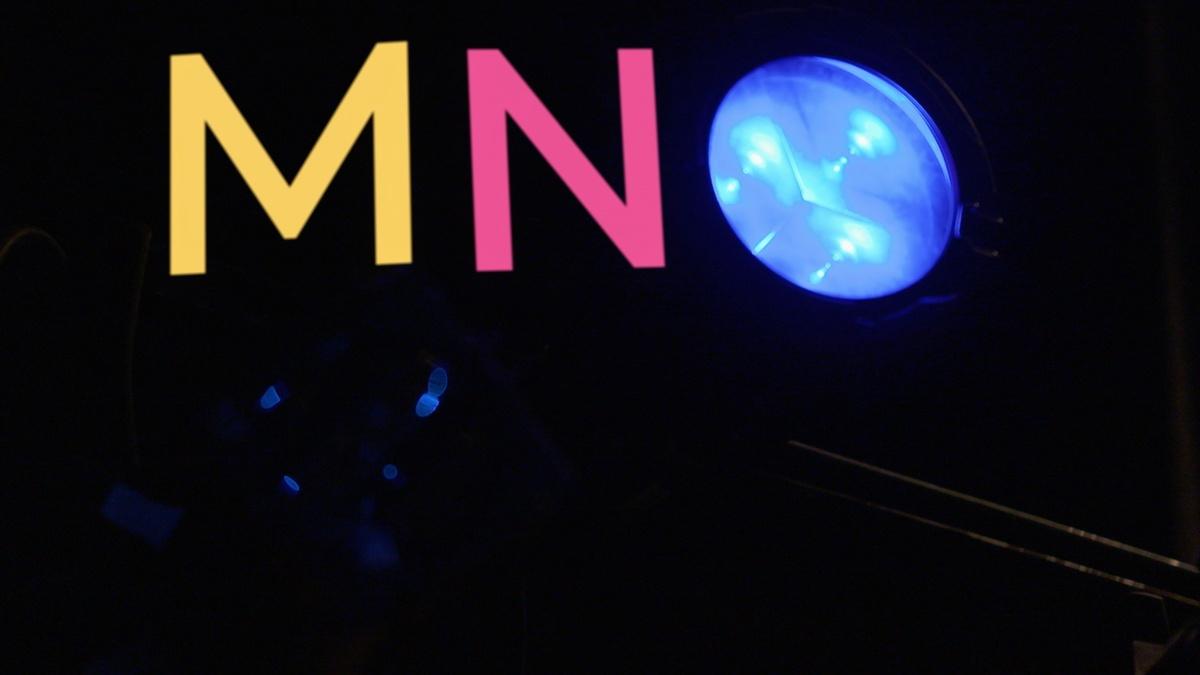 S10 E4 | FULL EPISODE
Chanhassen Dinner Theatres, Proof Public and Fancy Ray
Chanhassen Dinner Theatres' creative team celebrates 50 years. Proof Public brings the art of letterpress printing to a mass audience. The Minneapolis Art Lending Library (MALL) welcomes borrowers to check out works of art by local artists. Joy and looking good is at the heart for comedian and entertainer Fancy Ray McCloney.
TRANSCRIPT

(lively music)

(lively jazz music)

- My name is Laura Wilhelm, and I am the Props Master

at Chanhassen Dinner Theater.

And this is my eleventh season.

- I was dropped in as a draper on Fiddler on the Roof,

and that was three Fiddler's ago.

- I started here, as a child actor, when I was nine.

- I would say I've acted in probably--

- Seven or eight shows.

- 42 shows.

- 64 shows here.

- Well, dinner theater started in the early 50's,

and there were, pretty much, hundreds of dinner theaters.

Today, I think, there are maybe, 10.

But the 10 that are left, are fantastic.

(lively music)

- When we opened the dinner theaters, in 1968,

I was 13 at the time.

And I remember the building being under construction

and walking through it with my dad and him telling me,

"Well, that's where the stage is gonna go".

So, with big eyes thinking, this is all pretty amazing.

My family was always interested in theater in general.

My dad was very creative and certainly an entrepreneur,

but he was also a really practical guy.

And he thought, you got to be able to eat dinner

and have theater and have it all kinda rolled together.

And our family, although we sold the operation in 1989,

we've stayed connected.

And it's also always like coming home.

So many of the people that are here,

are people that worked for our family all those years ago,

which is pretty remarkable.

- Michael Brindisi, our Artistic Director,

and myself were working together as a creative team

when the theater was for sale.

And went out and found some investors.

We were able to buy the business and ensued our new roles,

really managing the day to day operations,

and turning it into what it is now.

- When we're looking for a play, I try to keep the audience

first in the top of my mind.

Because I don't want to pick a play that I want to do,

I want to pick a play that they want to see.

And then I think, secondly, I look for something that

I believe has some kind of important message.

- Our first day of rehearsal is really special,

we call it the first day of school.

The emotions are really bright.

There's a lot of people who maybe

have been gone, who are now back.

It's a lot of energy and excitement

about the creation of a new theater piece.

- First day of rehearsal is, probably,

the scariest day for me.

Even more scary than the first opening performance.

It's like a blank canvas and they're like,

"Oh, I hope we paint the right picture".

So, you know, take a deep breath and jump in.

- And it usually starts with Michael Brindisi

in his sermon-like way, his vision of what the show means.

- This is our 50th Anniversary.

(clapping)

And, I think we spend way too much time

concerned about what we need to get,

the money we need to make, the job we gotta have.

All that stuff is a big waste of time.

Instead of just, like the play says, every now and then

it's a good idea to just pause in our pursuit of happiness

to just be happy and that's what I think the play is about.

- For the 50th season, we're doing as a big celebration,

the great Irving Berlin musical, Holiday Inn.

- You know, this is the largest show we've ever done here.

It hits close to 200 costumes.

We are one of the four shops in town

where everything is produced here.

And most of it is produced from ground up,

which is becoming a rarity across the United States.

- We go through the design of the show.

All of the designers, from the costume designer

to the wig designer, to the sound and light designer,

then we jump into music rehearsal,

and that's a fast and furious process.

And then, usually, we're up on our feet,

day two or day three.

- And lights up inside.

- Hi.

Sorry I'm late.

I had papers to grade and there was snow to shovel,

and all the excuses.

- That's quite all right.

- What I love as Michael Brindisi, as a director,

is his sense of humanity in the work.

- [Michael] I feel like, the first part of it,

could move a little more.

- Michael is a fantastic person to work with.

He's an actor's director.

He let's the actor use their intuition and their skills,

but then he's also there to guide you

when you need some help.

- I like that much better.

It gives it someplace to go with the dramatic part.

- Tam works right alongside with Michael,

so it's a seamless production of where the dance starts

and the scenes end.

So it works really well.

- Yeah, I think that, Tony, hand the bouquet on, "Oh, no".

When I choreograph a show, it really comes from a place

of storytelling before the day.

(tapping)

♪ Going to a dance

- I love working with Tam as a choreographer

because she really knows how to take

each individual person's talent and make them shine.

- It's like boo-boom, yeah.

Huh? Yeah.

- A lot of people say this, but it's true.

Working at Chanhassen is like coming home.

- This particular space and these particular people,

because several of us have worked together

for many, many years, has a very familial feel.

There are fathers and mothers in the group,

there are aunts and uncles in the group,

there are the irritating cousins in the group,

(laughs)

but at the end of the day, you have each other's backs.

And you have to have trust to be able to do what we do

every night with each other.

And this is a group that I trust.

- Opening night is not scary for me, it's sad.

Because I stop being a part of it.

It's like a kid going away to college.

I don't have too much control over it anymore.

I usually stand here and watch the show,

two or three times a week at least,

then the actors know I'm there.

They see me in the back, they know I care.

And me, I'm on to the next show.

- 50 years is kind of an amazing milestone.

I actually remember talking to my dad about the age

of the theater on the occasion of the closing of I Do, I Do,

which was 25 years ago.

He asked me whether I thought this place would ever

be on the National Register of Historic Places.

But I remember telling him,

"Well, it has to be 50 years old, first".

And, he just kind of laughed and said,

"50 years, now that will be something".

I always harken back to that short conversation

and realize 50 years really is pretty remarkable.

♪ Oh no, you haven't a chance

♪ when I go into my dance

- I love musical theater.

I fell in love with it as a child.

It is a high art form,

but it connects to people in, I think,

a very simple and true way.

It brings people together,

and I think that's what makes it really special.

- When talking isn't enough, you burst into song.

And when singing isn't enough, you burst into dance.

And there is just something in the joy

of being able to express yourself fully.

- I actually love theater

because of the impact you can make on people's lives.

When I did the play, Phantom, I got a letter

from a gentleman saying that the play, for him,

was about not wasting his life.

And he said as a result of seeing your play,

I decided to call my ex-wife and say we need

to get back together and try again.

And he did, and they did.

And I was like, oh my god, the power we have on that stage.

And I've never underestimated the impact

you can have on an audience.

(clapping)

(peaceful music)

(lively music)

- There's so many things I love about print making.

There's an ineffable quality where you just pull a print

and it's this moment of magic.

I fell in love with it the first moment I touched it,

and specifically with letter press printing.

There's this connection to the past,

as well as the here and now, where I'm maintaining

and using these tools from,

in some cases in my shop, over a hundred years ago,

to make work that's relevant to today.

I have been a letter press printer for just about 10 years,

which makes me a newbie.

There's an incredible community of letter press printers

that have years and years of experience that kinda help

newbies along 'cause we want to keep the tradition alive.

Around the end of 2016, I began feeling like I really wanted

to do what I could to advance equity in our communities.

And I said, I want to have a community print shop.

Who's with me?

And, to my surprise, a large group of fellow print makers

wanted to be involved.

And we've since decided on the name, Proof Public,

and a mission, which is to amplify marginalized voices

through printing.

Hi, welcome.

We are having a free printing open house.

And, so we're using the tools of

traditional letter press printing and allowing anyone

who wants to, who has something to say,

to put it in print on paper.

We will be printing on all of these tonight, so--

- Oh, wow!

- There's something really powerful and important

about traditional print making.

And the power of pulling print and being able

to make multiples of your message and see it,

physically on the page.

We wanted to make that accessible to everyone.

Letter press is not a very accessible medium

and you need a lot of equipment and a lot of space

for very big, heavy machines that they don't make anymore.

So, we had this studio space,

and wanted to open it up to the public at no charge.

- I always wanted to check out press printing.

This is cool.

- I'm glad you found us.

- Yeah!

- The open houses people really print

anything and everything that you might imagine.

I didn't know, when we started Proof Public,

if this love I have for the process would be universal.

That moment of magic and empowerment that happens

when you pull a print.

But so far, the people who have come to the open houses,

has been true.

They just feel like it draws them

and they want to come back and do more.

People find it a positive and empowering experience.

Thanks for coming.

(happy, peaceful music)

- Well, I've never encountered

a lending library for art before.

- Borrowing art is unique for my personality

because I am terrible at committing.

- It's a constant rotating gallery, for me, in my home.

- Never have I re-borrowed a piece.

- I have my favorite artworks that I continuously borrow.

- You don't have to pay anything.

You get it for three months.

It's all original art.

- I'm probably gonna end up buying it at the end

'cause I just fell in love already.

- The Minneapolis Arts Lending Library is innovative.

- Fantastic.

- Awesome.

- Inclusive.

- Just so simple.

- Such a wonderful program, kind of amazes me.

- It's one of my favorite things to do.

(peaceful music)

(lively, peaceful music)

- The Minneapolis Art Lending Library

is an alternative model for collecting

and distributing artwork.

The Twin Cities community has a unique opportunity

to come and check an artwork, free of charge,

and keep it for a three month period.

- I've been a borrower for, probably close to

five years already.

In fact, they started as a program in someone's apartment,

and I went to one of those early events.

So, I've introduced to it for a very long time.

- The Minneapolis Art Lending Library was founded by

Larsen Husby, Mac Balentine and Julia Caston.

And they had actually visited Europe,

done a study abroad trip,

and went to all these art lending libraries.

And thought it was a really unique idea,

and that they wanted to bring it to Minneapolis.

(lively rock music)

A couple years ago, we developed a partnership

with the Minneapolis Parks and Rec board.

So we've had a lot of lending events

at the parks and rec spaces throughout Minneapolis.

- You're coming to a community event that's hosted at

either public park space or the like, the library tonight.

It's both communal

and speaks to something more than ourselves.

- Having a lending event at the Minneapolis Central Library,

it's an opportunity for us to try to

tap into some new communities here, in this vibrant city.

- So many times, you know, across the country,

art is in these big intimidating buildings.

MALL just does something unique

in bringing it to where people already are.

- It offers and makes art really accessible for everybody.

- It gives you a connection to people in the community

that you might not get another way.

It's a nice way to experience art

that I've never encountered before.

- Having an artwork in your home, is an experience.

And it's experience that everyone should have,

if they'd like.

By having an artwork in your home, for a three month period,

you are able to really understand someone else

that maybe, is outside of your particular world.

(peaceful music)

(lively rock music)

- Who is Fancy Ray McCloney?

Well, I'm the best looking man in comedy.

I'm the human chocolate orchid.

I'm the first, the last, the best, and the most.

I'm the heartbeat of Minneapolis,

and my beauty is coast to coast.

(lively jazzy music)

I'm a performer.

I'm an entertainer.

I'm an actor.

I'm a T.V. pitchman, and most of all,

I am a man who brings love and joy to this world.

We need some folks to be in a commercial.

Who's all in?

Who wants to be in a commercial?

I need about a half dozen people.

One, two, three all right.

No matter what platform you see me on,

television commercial, the comedy stage,

or see me walking down the street,

I wanna touch your life.

I wanna improve your life.

There's a power working through me.

There's a beauty, there's a joy, there's a goodness

and it touches folks out there watching,

so let your star shine.

Let your beauty unfold.

Right now, here with me, Fancy Ray, can y'all feel it?

- [Group] Yes.

- Top of the world.

Top of the world.

Top of the world.

No matter where I am walking down the street,

if Fancy Ray you should be lucky to meet,

you know one thing, the experience will be sweet.

Hi, this is Fancy Ray.

Tell me why you shop at So Low.

- I shop at So Low because the prices are so low.

- Where the prices are?

- So low!

- So low.

- So low.

- So low!

- So.

- Low.

- So. - Low.

- So. - Low.

- So low.

- Where the prices are?

- Right.

(laughs)

- The best meat store in the Twin Cities.

One more time, one more time, ready.

The best meat store in the Twin Cities.

Wow, there you go.

Oh, lord, there's a good one there.

I can't take a bad picture.

Fancy Ray is my legal name.

If you don't think Fancy Ray is my name,

write a check for a hundred dollars to Fancy Ray

and see if I don't cash that song of a gun.

(laughs)

In many ways, hair is the foundation to look good.

Whoo!

- [Woman] What's up?

- I'm on top of the world.

Because no matter what happened,

before I even go buy some food, my hair is gonna be done

and my nails are gonna be done.

Because, number one, you gotta look good to feel good.

When you feel good you look good and life is better.

You know, I did have a bad hair day.

I'm lying, I never had no damn--

(laughs)

- He is a great comedian, a great showman, all that,

but he is genuinely a great guy who is really good

to the people around him and really good to the community

and good at giving back.

I think that's part of what makes Fancy Ray so great.

- Now something that's also what Fancy Ray does,

see when I come here I got my Reverend Ike book,

and I always have my celery and cucumbers with me.

Now, the key to beauty is, number one, is thinking positive,

be thankful for today, and fresh fruits and vegetables.

(laughs)

(laughing)

I am the best looking man in comedy.

I'm not saying I'm the most beautiful man whoever lived.

No, I didn't say that.

But, there's not another man in this room

who has ever been mistaken for Michelle Obama.

(laughing)

Standup comedy is the basis of all

that I do in show business.

All of it is based upon humor, comedy, love, and laughter.

That's a WTF.

You know what WTF stands for?

No, Wow That's Fancy, come on now.

I'm a student of comedy.

I've had the great pleasure of working with names like

Richard Pryor, Chris Rock, George Wallace.

It's all about humor,

because something that touches peoples hearts.

Two things, music and laughter.

Well, I can't sing, but I can make you laugh.

Let me explain to you what's happening right now,

what's happening at this very second,

okay, listen, check this out.

The sun is 93 million miles from Earth.

Light, traveling at 186,000 miles per second.

It takes it eight minutes to get from the Sun to Earth.

Traveling at that same speed,

it takes it four and a half years to get to Alpha Centauri.

My only point is this, no matter where you are in this room,

Fancy Ray is your closest star.

(laughing)

(lively jazz music)

A lot of folks don't know this, I started my career,

surprise, surprise as a Little Richard impersonator.

First Avenue Night Club,

I was king of the lip syncs down there.

That launched me to the national T.V. show,

Puttin' on the Hits.

♪ I put a spell on you

♪ Because you're mine

♪ Yeah

(cheering)

And after doing that T.V. show, I came back to Minneapolis,

and I'd be out in the community and folks would say,

"Hey, Fancy Ray! Hey, Fancy Ray".

And something clicked in my mind.

I say there's power on being on television.

- [Announcer] A perfect score of 30!

- Low and behold, the seed was planted

and a chocolate orchid, blossomed.

(laughs)

(lively music)

Lot of folks in the Twin Cities learned about me initially,

from my T.V. show, Get Down With It,

later known as the Fancy Ray Show.

The big question, how does this guy from cable access T.V.

get all these national celebrities to come on his show?

- Can we go on a first adjective basis?

- [Fancy Ray] Yes.

- Awe, thanks, Fancy.

- [Fancy Ray] Thank you, Weird.

- Oh! I feel like I'm at home.

- We had folks from Tiny Tim, Donny Osmond, Whoopi Goldberg,

Bo Diddley, Ice-T, George Clinton, it goes on and on and on.

I mean, we had everyone on the show

from Carol Channing to Ron Jeremy.

We got a very popular singer here in the Twin Cities,

with a beautiful falsetto, Prince.

What do you think of Prince?

- I think Prince is a prince.

I think he's wonderful.

I think he's got a great style.

- Tell us, have you seen someone in Hollywood

as pretty as I am?

I'm the best looking man in comedy.

- Well, I was about to say the same thing.

You took the words right out of my mouth.

- Come on, try it.

Like that.

Come on, Kirby.

You would come in and tune in and find this joy,

this happiness, this optimism, this positive message.

We really touched lives, woke people up,

and made folks feel good.

(lively jazz music)

- I thought I would surprise you

with some old photos of yourself.

(laughs)

- That was my Miami Vice kinda look right there.

Just kinda sexy and on the scene.

This right here, is my beautiful mom,

this is Tony Jay McCloney.

TJ!

- Here is a picture of my father, here.

Fancy Wade.

- I had three big heroes growing up.

Muhammad Ali, James Brown, and Fancy Wade.

He was bigger than life, but at the same time humble.

He always had this dignity, class, and beauty

that was inside that he showed.

And so I want to epitomize and demonstrate

that kinda love and joy that he had.

- [TJ] I perceived him as a performer very young in life.

- [Fancy Ray] Yeah.

- And I involved him in politics very early in life.

I love politics.

- Fancy Ray McCloney wants to be your next governor.

He'd be Minnesota's first governor named Fancy.

He'd be Minnesota's first governor named Ray.

From the Peoples Champion Party, Fancy Ray McCloney.

- Well, Ray and I decided to run

for governor and lieutenant governor.

We felt that we could make the state of Minnesota

much better place.

- [Director] Who won that year?

- The wrestler.

The hell was the name?

- [Fancy Ray] Who cares?

(laughs)

Jesse Ventura was getting so much steam and popularity,

and I said, "Jesse is great,

"but Jesse is not speaking for you

"and Jesse is not speaking for me".

There's no one talking for the little people out there,

the little black kids and brown kids.

I got a son, his name is Treyvon, he's watching T.V.

Hi Treyvon, daddy loves you.

I'm talking for the kids out there,

that they can look at the election and say look,

one of us is in the race.

People are living check to check

and say look, one of us in the race.

You know this whole election is nothing but a big joke,

so I say hire me a professional comedian.

- We were the first blacks to ever run for governor

and lieutenant governor in the state of Minnesota.

- And also the first man to run for governor,

have the lieutenant governor as his mom.

(laughs)

Most candidates dance around the issues.

Fancy Ray dances all the time.

- All right, now I want to ask you about that--

- After the election, a homeless gentleman approached me

on Franklin Avenue, and he gave me hug and said,

"Hey man, thank you for what you did in the race".

I started show boating.

Did you vote for me?

I wanna know, did you vote for me.

He said, "No, man, I don't have a permanent address,

"I couldn't vote for you.

"But, I heard what you had to say,

"and I want to thank you for delivering that message".

Good morning!

- [Congregation] Good morning!

- Give the day a big round of applause.

(cheering)

My spiritual journey is one of love and joy,

and it is one of inclusion.

I teach and speak on new thought, ancient wisdom.

There's a philosophy that says that you can be

what you want to be.

Do what you want to do.

And have what you want to have.

You get out of life exactly what you put into life.

That's why we say the power of change your thinking.

You can change your life.

Everyone has special talents.

Everyone has special gifts.

Everyone has a light.

And my light recognizes your light,

and together we can make a flame.

That flame is joy.

That flame is love.

(lively jazz music)

All my life I've been a searcher.

As I kid, I studied many, many different

religions and philosophies.

In fact, I studied with Jehovah's Witnesses.

Then I started studying the Eastern religions.

Buddhism, Hinduism, and Confucianism.

Confucius said,

"The journey of a thousand miles begins with a single step".

I say, the journey of a thousand miles

begins with you picking out your shoes.

(lively jazz music)

- [Narrator] This program was made possible

by the state's Arts and Cultural Heritage Fund

and the citizens of Minnesota.