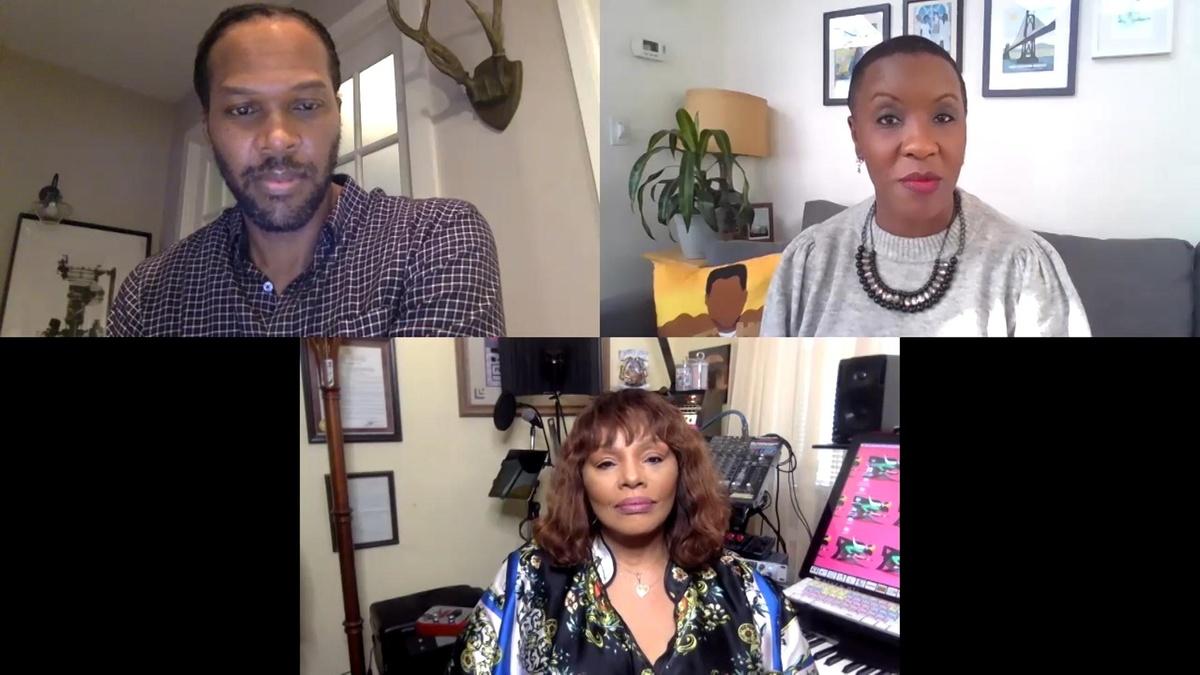 CLIP
THE TIMES OF GODFATHER HARLEM
New EPIX docuseries "By Whatever Means Necessary: The Times Of Godfather Harlem" brings to life the excitement of 1960s Harlem and introduces the artists who dared to use their voices, instruments and lyrics to take a stand against systemic injustice. Tonight, executive producer and director Keith McQuirter and vocalist Robin Clark takes us on this meaningful musical tour of Harlem.
TRANSCRIPT

>> IN HARLEM AND IN THAT TIME,

THINGS WERE COMING TO A HEAD.

>> MUSIC BECAME A GUIDING FORCE.

>> IT GAIFS A SENSE OF

COMMUNITY.

>> WE STARTED A REVOLUTION.

>> THERE WAS A TRANSITION

HAPPENING.

>> WHEN YOU LOOK AT HARLEM, THE

PEOPLE, THEY WERE TRYING TO BE

TREATED WITH RESPECT.

THE ONLY THING EVERYONE AGREED

ON, IT WAS TIME FOR REAL CHANGE.

>> THAT WAS JUST A CLIP OF SOME

OF THE FOUR-PART DOCU-SERIES "BY

WHATEVER MEANS NECESSARY, THE

TIMES OF THE GODFATHER OF

HARLEM."

I'D LIKE TO WELCOME SERIES

DIRECTOR AND EXECUTIVE PRODUCER

KEITH McCOURTER.

WELCOME TO THE PROGRAM.

>> THANK YOU FOR HAVING ME.

>> AND MUSICIAN AND VOCALIST

ROBIN CLARK ALSO FEATURED IN THE

SERIES.

ROBIN, WELCOME.

>> THANK YOU.

IT'S A PLEASURE BEING HERE.

>> I'M GLAD TO HAVE YOU BOTH ON.

KEITH, I WANT TO START WITH YOU

AND ASK HOW DID THIS DOCUMENTARY

COME TOGETHER?

THE GOD FATHER OF HARLEM IS AN

IMPRESSIVE SERIES ON ITS OWN,

BUT WHAT WAS THE INSPIRATION FOR

THIS DOCUMENTARY SERIES?

>> I HAD A CONVERSATION WITH THE

PRODUCERS OF THE SCRIPTED

SERIES, AND THEY HAD CREATED A

REALLY EXCITED FAN BASE FOR THE

SERIES, AND THEY WERE GOING INTO

THEIR SECOND SEASON.

THEY WANTED TO KEEP THE FANS

FROM THE WORLD OF HARLEM.

I PITCHED THE IDEA OF DOING A

DOCUMENTARY SERIES AND EXPLORING

THE CULTURE AND POLITICS OF THE

MUSIC AS A WAY TO TAKE A DEEP

DIVE INTO THAT TIME PERIOD.

THAT'S KIND OF HOW IT A ALL CAME

TOGETHER AND CAME ABOUT.

>> OKAY.

AND WHAT STRUCK ME THE MOST WAS

THE FRONT AND CENTER LINK

BETWEEN MUSIC AND, IF YOU WILL,

POPULAR OR POP CULTURE WHICH CAN

SOMETIMES BE DISMISSED AS

FRIVOLOUS AND THE ROLE THAT THAT

PLAYED IN CREATING THE SPACE FOR

SOCIAL CHANGE.

WHY WAS THAT PLACED SO FRONT AND

CENTER IN THIS DOCU-SERIES?

>> BECAUSE THERE IS SO MUCH TO

LOOK AT WHEN IT COMES TO THE

MUSIC AND POLITICS, NOT ONLY IN

THE 1960s, BUT TODAY, WHAT'S

GOING ON TODAY.

SO 2020 HAS BEEN A YEAR OF

CHANGE AND A YEAR -- EYE OPENING

YEAR FOR SO MANY PEOPLE ACROSS

THE COUNTRY AND THE WORLD.

AND SO TAKING A LOOK AT 1960 AS

A PARALLEL WAS AN AWESOME

OPPORTUNITY.

SO WHAT WE FOUND WAS, FOR

INSTANCE, T"THE TWIST" BY CHUBB

CHECKER IS AN INNOCENT POP SONG

THAT YOU CAN DANCE TO AND IS

FUN.

BUT THERE WAS REAL MESSAGE IN

THAT SONG.

IT BROUGHT BLACK CULTURE INTO

WHITE HOUSEHOLDS FOR THE FIRST

TIME, AND THE WHITE TEENAGERS

TOOK ON THIS DANCE CRAZE AND IT

WAS UNSTOPPABLE.

SO JAMAL JOSEPH, WHO WE

INTERVIEW IN OUR SERIES, A

PROFESSOR AT COLUMBIA AND BLACK

PANTHER IN THE '60s QUOTED

ELDRIDGE CLEAVER AND SAID THE AT

WHICH TIME DID MORE THAN LAW,

POLITICS AND RELIGION COULD EVER

DO.

THAT'S ONE EXAMPLE OF HOW POP

CULTURE IS SO INTEGRATED INTO

OUR EVERYDAY LIVES THAT WE TAKE

FOR GRANTED OFTENTIMES.

>> AGAIN, THAT'S WHAT I FOUND TO

BE SO UNIQUELY INTERESTING ABOUT

THIS, THAT DOESN'T SEEM TO BE A

NARRATIVE THAT WE REALLY FULLY

EXPLORE.

BUT, ROBIN, I WANT TO TURN TO

YOU AND ASK, FIRST OFF, HOW DID

YOU GET INVOLVED WITH THIS

PROJECT?

>> WE GOT A PHONE CALL FROM ONE

OF THE PRODUCERS OF THE SHOW,

AND I WAS ASKED TO DO IT.

MY HUSBAND WAS ACTUALLY ASKED TO

DO IT.

AND I STARTED TALKING IN THE

BACKGROUND, AND THE PERSON SAID

CAN I SPEAK WITH YOUR WIFE AS

WELL.

THAT'S WHY I'M HERE.

THAT'S HOW I GOT HERE.

>> THEN, GIVEN YOUR PERSPECTIVE,

I'M WONDERING IF THROUGH YOUR

PARTICIPATION IN THIS, AND EVEN

SOME OF THE POINTS THAT KEITH

WAS MAKING, DID IT CHANGE THE

WAY THAT YOU LOOKED AT THE ROLE

YOUR CAREER PLAYED IN A LARGER

MOVEMENT, OR DID IT SORT OF

REENFORCE SOMETHING THAT YOU

ALREADY KNEW BUT WAS BEING

BETTER EXPLAINED TO A LARGER

AUDIENCE?

>> I THINK IT REINFORCED

SOMETHING I ALREADY KNEW.

I STARTED IN A GROUP NAMED

LISTEN MY BROTHER WITH LUTHER

VANDROSS AT THE APOLLO

THEATERMENT WE WERE TEENAGERS IN

HIGH SCHOOL.

IT WAS A REPERTOIRE COMPANY THAT

TALKED ABOUT THE TIMES.

WE SANG SONGS ABOUT THE TIME WE

WERE LIVING IN.

SO THEY WERE SONGS OF

EMPOWERMENT.

WE WERE EMPOWERED AT AN EARLY

AGE.

THE MOVEMENT WAS STARTING TO

HAPPEN.

WE WERE TERRIFIED, BUT WE WERE

ENGAGED AT THE SAME TIME, AND

BECAUSE OF THAT APOLLO THEATER

AND THE SONGS AND THE REPERTORY

THAT WE DID, IT REALLY GOT US IN

TOUCH WITH OURSELVES AND OUR

CULTURE AND OUR BLACKNESS.

FOR THE FIRST TIME IN OUR LIVES,

NOT BE AFRAID TO SAY I AM BLACK

AND I AM PROUD.

UNTIL THEN YOU DIDN'T HEAR A LOT

OF "I'M BLACK AND I'M PROUD."

SO WE WERE REINFORCED, I WAS

REINFORCED AS A TEENAGER IN THE

UNDERSTANDING THAT I COULD DO

SOMETHING FOR MY CULTURE AND I

COULD DO IT THROUGH MUSIC

BECAUSE THAT'S WHERE I WOULD GO.

WE HAD BEEN EMPOWERED AT THAT

POINT IN TIME IN OUR LIVES.

I WOULD SAY 17, 18, 16, 18 YEARS

OLD.

IT JUST REINFORCED WHAT I --

WHERE I STARTED AND WHAT I KNEW.

>> ABSOLUTELY.

THE NOTION, I THINK, OF BEING

THAT KID SOMETIMES CAN AGAIN BE

SOMETHING THAT'S EASILY

DISMISSED.

BUT IF YOU LOOK THROUGH OUT

HISTORY, IT'S FREQUENTLY YOUNG

PEOPLE WHERE THESE YOUNG SOCIAL

MOVEMENTS GERMINATE.

KEITH, I WAS WONDERING IF YOU

COULD TALK, ALSO, ABOUT THE

PERSPECTIVE OF THE DOCUMENTARY.

THE THEORY, OF COURSE, IS TOLD

FROM VERY MUCH BUMPY'S POINT OF

VIEW, WITHOUT GIVING AWAY TOO

MUCH, BUT COMING OUT OF JAIL

FROM BEING LOCKED UP FOR ABOUT

TEN YEARS INTO A TRANSFORMED

HARLEM IN THE 1960s.

SO MANY GANGSTER MOVIES, FOR

LACK OF A BETTER DESCRIPTION OR

SERIES, ARE OFTEN MARKED BY

THEIR SOUND TRACK.

I'M WONDERING IF THE SOUND TRACK

OF THE MOVEMENT WAS AS IMPORTANT

IN TELLING THE STORY.

>> 100%.

I THINK WHEN YOU LOOK AT "THE

GODFATHER OF HARLEM," AND BUMPY

JOHNSON'S STORY, LIKE YOU SAID,

ABOUT THE CRIMINAL UNDERWORLD OF

THAT TIME PERIOD.

BUT THE MESSAGE IN THAT STORY IS

A CIVIL RIGHTS STORY, TOO.

BUMPY JOHNSON WAS SEEKING

ECONOMIC EMPOWERMENT THROUGH THE

CRIME WORLD WHERE A BLACK MAN IN

THAT TIME, IN THE LEGITIMATE

WORLD AND THE CRIME WORLD HAD

LIMITED OPPORTUNITIES.

YOU SEE HIM PLOWING THROUGH

BARRIERS.

SO THE DOCUMENTARY SERIES TAKES

A LOOK AT A DIFFERENT PALLET.

THE CONNECTING TISSUE IS THE

TIME PERIOD IN HARLEM AND A LOT

OF KEY PLAYERS IN THE SCRIPTED

SERIES LIKE MALCOLM X, CLAYTON

POWELL, BUMPY JOHNSON AND SO

MANY OTHERS.

SO WE REALLY WANTED TO TAKE A

COMPREHENSIVE LOOK OF HOW MUSIC

WAS ENGAGING THE COUNTRY THROUGH

THE POB OF HARLEM.

YOU LOOK AT 1960 TO 1969, THE

EARLY PART OF A DECADE, LOOK AT

GOSPEL MUSIC WHICH WAS UNIVERSAL

AS FAR AS BLACK AMERICANS ARE

CONCERNED, THE CHURCH AND HOW

THE CHURCH WAS SO MUCH THE

CENTER OF OUR COMMUNITY AND HOW

THOSE GOSPEL SONGS TRANSITION TO

FREEDOM SONGS DURING THE CIVIL

RIGHTS MOVEMENT.

INCORPORATED INTO THE MARCH ON

WASHINGTON, SO MANY OTHER

MARCHES.

THOSE ARE THE SOUNDS YOU'RE

HEARING.

WE CAN GO FROM THERE TO JAZZ AND

LOOK AT HOW JAZZ WAS IMPACTFUL,

HOW JAZZ TOOK ON ITS ROLE.

FOR INSTANCE, JOHN COAL WHEN THE

FOUR LITTLE GIRLS WERE MURDERED

IN BIRMINGHAM, JOHN COLTRANE

CREATED A SONG THAT FOLLOWED THE

SAME CADENCE AT MARTIN LUTHER

KING JUNIOR'S SPEECH ON THE FOUR

LITTLE GIRLS.

YOU LOOK AT THE EMERGENCE OF THE

POETS.

YOU SEE CURTIS MAY FIELD, A

COMPLETE TRAJECTORY FROM EARLY

PARTS TO THE ENTIRE DECADE WHEN

HE WAS MORE POP AND MORE FEEL

GOOD.

BY THE END OF THE DECADE HE WAS

MORE -- HE MADE A SONG -- IT'S

CALLED -- THE INJUSTICES AND THE

POLLUTION.

HE'S SAYING, LISTEN, WE HAVE A

LOT OF PROBLEMS.

IF WE DON'T FIX THEM, WE'RE ALL

GOING TO GO TO HELL.

HE WAS TALKING ABOUT EVERYONE

ACROSS THE BOARD.

YOU HAVE JUST THIS BOW OF MUSIC

THAT TELLS A STORY OF HOW BLACK

PEOPLE WERE STARTING TO BECOME

EMPOWERED THROUGH THAT DECADE.

THAT'S WHAT OUR SERIES TAKES A

LOOK AT.

>> BUILDING ON THAT, BECAUSE

EARLIER YOU DID MENTION THAT A

LOT OF THE THINGS THAT HAPPENED

IN THE '60s IN TERMS OF CULTURE

AND MUSIC HELPED CHANGE THINGS.

THAT'S STILL TRUE FOR TODAY.

EVEN JUST IN YOUR DESCRIPTION OF

BUMPY JOHNSON, A BLACK MAN

COMING OUT OF JAIL WITH NOT A

LOT OF OPPORTUNITIES, HONESTLY

SOUNDS LIKE THE BIO OF SOME

POPULAR RAPPERS TODAY.

I'M WONDERING IF YOU SEE ANY

SIMILARITIES AT ALL OR ANY

COMMON THREAD BETWEEN THE MUSIC

AND THE CULTURE AND THE SOCIAL

MOVEMENT THAT SORT OF FUELED

THEM OR VICE VERSA AS OPPOSED TO

TODAY, THE '60s VERSUS NOW.

>> YOU KNOW, HIP-HOP HAS ALWAYS

BEEN FRONT AND CENTER WHEN IT

CAME TO ACTIVISM AND SPEAKING

TRUTH TO POWER AND SPEAKING

PLAINLY WHAT ONE EXPERIENCES

FROM THEIR NEIGHBORHOOD.

SO IT WASN'T ALWAYS AN INCLUSIVE

ART FARM.

IT WAS VERY SPECIFIC TO A

POPULATION, AND THAT'S WHAT

MAKES IT SO STRONG AND SO GREAT.

BUT NOW I THINK BEYOND HIP-HOP,

REMOVING -- WE'RE SEEING AN

EMERGENCE OUT OF POP CULTURE

WHERE PEOPLE ARE NO LONGER

PLAYING THE BUSINESS CARD AND

SAYING I WANT TO BE KIND OF FREE

OF THE POLITICS.

THEY'RE DIVING RIGHT IN.

IF YOU LOOK AT BEYONCE, ONE OF

THE BIGGEST POP STARS WE HAVE,

HER MUSIC HAS HAD ITS OWN ART,

RIGHT?

WHERE SHE IS NOW UNAFRAID TO

SPEAK TO POWER.

HER PERFORMANCE AT THE SUPER

BOWL A FEW YEARS BACK WAS VERY

MUCH AN EMPOWERMENT PERFORMANCE.

IF YOU LOOK AT J. LO, THE SAME

THING, HER PERFORMANCE AT THE

SUPER BOWL THIS YEAR WAS A

DIRECT -- WAS SPEAKING DIRECTLY

TO THE ISSUES HAPPENING AT THE

BORDER THIS YEAR AND HOW

IMMIGRANTS ARE UNDER ATTACK

UNDER THIS CURRENT CLIMATE.

SO THE LIST IS LONG.

WE'VE SEEN A PROLIFERATION OF

ARTISTS KNOWN AND UNKNOWN WHO

ARE MAKING MUSIC IN HIGH NUMBERS

LIKE YOU'VE NEVER SEEN BEFORE.

AND THE '60s WAS ONE MAJOR

STEPPING STONE FOR ARTISTS TODAY

TO COME -- WHERE THE ARTISTS

TODAY CAME FROM.

IN THE '60s THEY'RE DOING IT IN

WAYS WE HADN'T SEEN BEFORE THAT

TIME.

>> ACTUALLY, ROBIN, I WANT TO

BRING YOU IN ON THIS AND ASK, AS

A MUSICIAN, ARE THERE ANY

ASPECTS OF THE RHYTHMS AND THE

BEATS AT THAT TIME THAT YOU

STILL HEAR CARRYING THROUGH

TODAY, JUST MUSICALLY?

>> ABSOLUTELY, ABSOLUTELY.

MARVIN GAYE IS THE SOUND TRACK

OF THIS GENERATION AS WELL AS MY

GENERATION.

MARVIN GAYE, HIS SOUND TRACK.

ARETHA FRANKLIN, THE

IMPRESSIONS, AGAIN, JAMES BROWN,

HUGE INFLUENCE IN HIP-HOP.

SAMPLED OVER AND OVER AND OVER

AGAIN.

THAT MUSIC FROM THE '60s TOTALLY

INSPIRED HIP-HOP MUSIC.

>> THE LAST POETS --

>> I WAS GOING TO SAY, THE LAST

POET.

>> FATHERS OF HIP-HOP, RIGHT?

>> I CAN'T EVEN -- THE

FOUNDERS -- THE FOUNDING FATHERS

OF HIP-HOP, ALONG WITH, BELIEVE

IT OR NOT, CAB CALLOWAY.

YOU CAN GO BACK THAT FAR.

THIS MUSIC THAT'S HAPPENING NOW,

THE NEW GENERATION OF MUSIC, THE

HIP-HOP, THE R&B THAT'S

HAPPENING NOW, IT'S ALL

RECYCLED.

A LOT OF RECYCLING GOING ON.

YES, THE LYRICS ARE ABOUT THE

TIME WE'RE LIVING IN.

I'VE BEEN IN THE MUSIC BUSINESS

FOR 51 YEARS, SUNG FOR A LOT OF

PEOPLE.

I'VE HEARD THE SAME THEMES

RUNNING THROUGH THE MUSIC FOR

DECADES.

>> UNFORTUNATELY WE ARE GOING TO

HAVE TO LEAVE IT THERE, ALTHOUGH

I COULD ABSOLUTELY CONTINUE WITH

THIS CONVERSATION.

KEITH, VERY QUICKLY, FOR PEOPLE

WHO WANT TO BE ABLE TO SEE THIS

DOCU-SERIES "BY ANY MEANS

NECESSARY, THE LIFE AND TIMES OF

THE GODFATHER OF HARLEM," WHERE

CAN YOU FIND IT.

>> EPIC.COM, STREAM IT AND YOU

CAN GO TO AMAZON PRIME AS WELL

AND STROOEM STREAM IT THERE.

>> KEITH McCOURTER, THANK YOU

FOR BRINGING US THIS

DOCU-SERIES.

ROBIN CLARK, YOUR CONTRIBUTIONS

NOT ONLY TO THE DOCU-SERIES BUT

MUSIC ARE IMMEASURABLE.

THANK YOU VERY MUCH FOR JOINING

ME.