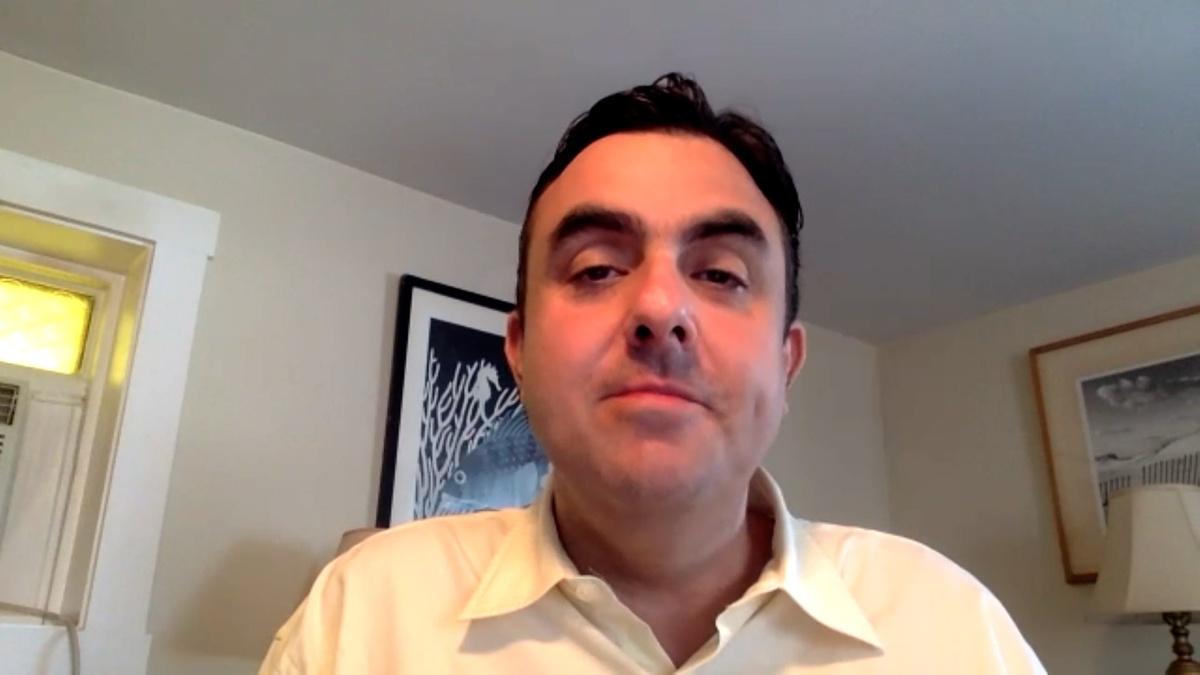 CLIP
"THE LAST DAYS OF NEW YORK: A REPORTER'S TRUE TALE"
Veteran New York City writer and editor Seth Barron joins us tonight with his new book "The Last Days of New York, A Reporter's True Tale."
TRANSCRIPT

>>> GOOD EVENING, AND WELCOME TO

"METROFOCUS."

I'M RAFAEL P. ROMAN.

AFTER DECADES OF DECLINING

CRIME, WHY DID NEW YORK CITY GET

DANGEROUS FOR NEW YORKERS

OVERNIGHT?

WAS THIS NEGATIVE TURN SIMPLY A

CONSEQUENCE OF THE COVID

PANDEMIC?

WAS IT DUE TO MAYOR de BLASIO'S

MISMANAGEMENT?

OR DO THE CAUSES OF THE MOUNTING

PROBLEMS GO MUCH DEEPER THAN

THAT?

THESE ARE JUST A FEW OF THE

QUESTIONS THAT VETERAN NEW YORK

CITY WRITER AND EDITOR SETH

BA

BARON RAISES IN HIS NEW BOOK,

AND HE JOINING US NOW.

SETH, WELCOME TO THE PROGRAM.

>> THANKS, RAFAEL.

I'M GLAD TO BE HERE.

>> SETH, FIRST OF ALL, I MOVED

TO NEW YORK CITY IN 1979.

AND AT VARIOUS TIMES SINCE, I

HAVE BEEN TOLD THAT I WAS LIVING

THROUGH THE LAST DAYS OF NEW

YORK CITY OR SOME VERSION OF

THAT.

FIRST IT WAS THROUGHOUT THE '80s

AND THE BEGINNING OF THE '90s.

THEN IT WAS AFTER 9/11, OF

COURSE.

AND THEN IT WAS BRIEFLY AFTER

THE FINANCIAL MELTDOWN.

AND OF COURSE WE CAME BACK MORE

OR LESS STRONG IN EACH OF THOSE

CASES.

DO YOU REALLY BELIEVE THAT THESE

ARE THE LAST DAYS OF NEW YORK,

THAT WE ARE IN A IRREVERSIBLE

DECLINE NOW?

>> WELL, YOU KNOW, NEVER SAY

NEVER.

BUT I WOULD SAY THAT WHAT WE'RE

EXPERIENCING IN NEW YORK RIGHT

NOW IS A RAPID UNWINDING OF A

PERIOD OF STABILITY, PROSPERITY

AND GROWTH THAT I THINK NEW

YORKERS HAVE GOTTEN TOO USED TO.

I THINK WE HAVE GOTTEN

COMPLACENT.

CLEARLY NEW YORK CITY ISN'T

GOING TO VANISH.

WE HAVE ALMOST NINE MILLION

PEOPLE.

THE CITY IS, YOU KNOW, BEEN

AROUND FOR 400 YEARS.

I DON'T THINK IT'S -- YOU KNOW,

IT'S NOT MOGADISHU AT THE

MOMENT.

IT'S NOT KABUL.

HOWEVER, IN 2020 AND THIS YEAR,

TOO, NEW YORKERS EXPERIENCED A

RAPID DISLOCATION.

WE HAVE NEVER SEEN CRIME, LIKE

VIOLENT CRIME ESCALATE AS

RAPIDLY AS IT DID, SHOOTING UP

40% MURDERS.

THAT HAS A KIND OF WHIPLASH

EFFECT.

AND THAT SORT OF ACCELERATED,

YOU KNOW, IT IS ALMOST LIKE A

KIND OF COLLAPSE IN PUBLIC

ORDER.

CAN CERTAINLY MAKE PEOPLE FEEL

LIKE THEY'RE LIVING IN THE LAST

DAYS OF NEW YORK.

>> SO YOU DEDICATE THE LION'S

SHARE OF YOUR BOOK, THE

CATALOGING EXAMPLES OF WHAT YOU

AND OTHERS CONSIDER MAYOR BILL

de BLASIO'S FAILURES, IGNORANCE

IN HIS TENURE AND EVEN BEFORE

HIS TENURE.

HOW MUCH DO YOU ATTRIBUTE THE

DECLINE AND THE PROBLEMS, SEVERE

PROBLEMS THAT WE'RE SEEING TO

HIM?

>> I MEAN, LOOK, IT WOULD BE

UNFAIR TO BLAME ONE MAN FOR

EVERYTHING.

I THINK BILL de BLASIO IS THE

EPITOME OF A MOVEMENT THAT CAME

TO POWER AROUND THE SAME TIME

THAT HE WAS FIRST ELECTED, THAT

I CALL THE PROGRESSIVE ASCENDSY

IN THE BOOK.

SO HE HAS TO SHOULDER A FAIR

AMOUNT OF THE BLAME, THE SAME

WAY WHERE HE GETS CREDIT WHERE

IT'S DUE.

BUT I WOULD SAY THAT HE IS THE

FRUIT AND FLOWER OF THIS

POLITICAL MOVEMENT THAT AIMS

VERY EARLY ON TO IMPLEMENT, YOU

KNOW, CERTAIN POLICIES THAT I

THINK HAVE HAD A VERY

DELETERIOUS EFFECT ON THE CITY.

SO HE'S THE CHIEF REP, LET'S PUT

IT THAT WAY.

>> IN A MOMENT I WANT TO TALK

ABOUT THAT AND FIND OUT MORE

ABOUT HOW THEY GOT TO WHERE THEY

ARE.

BUT LET'S FOCUS ON THE TIME

BEING ON THE MAYOR SINCE YOU

DEDICATE SO MUCH TIME TO HIM AND

LET'S TALK ABOUT THE MAYOR AND

CRIME.

CRIME DID DROP DURING de

BLASIO'S FIRST FIVE YEARS IN

TENURE, FIRST FOUR YEARS.

AND NEW YORK REALLY WAS, AS HE

OFTEN SAID, THE SAFEST BIG CITY

IN THE COUNTRY.

THAT IS IN PART BECAUSE TO THE

SURPRISE OF SOME, HE HIRED BILL

BRANTON TO BE HIS POLICE

COMMISSIONER, THE GUY WHO IS

GETTING THE CREDIT FOR TURNING

CRIME STATS AROUND IN THE CITY

AND TO HELP TO START THE

RENAISSANCE OF THE CITY.

YOU SAID HE DESERVES SOME

CREDIT.

HE SHOULD DESERVE SOME CREDIT

FOR THAT, RIGHT?

>> OH, SURE.

IT WAS A SMART THING TO DO TO

HIRE BILL BRATTON.

HE KNOWS HOW TO RUN A POLICE

DEPARTMENT.

HE HAD THE POLICE BEHIND HIM,

LARGELY.

SO, SURE.

AND, LOOK, YOU KNOW, AS ADAM

SMITH SAID, THERE IS A GREAT

DEAL OF RUIN IN A NATION.

IT TAKES A LONG TIME TO SPEND

DOWN ALL OF THE GOOD WORKS THAT

THE CITY CREATED IN 20 YEARS OF,

YOU KNOW, PUBLIC ORDER AND SO

FORTH.

SO I WOULD SAY, YOU KNOW, THE

FIRST FIVE OR SIX YEARS OF de

BLASIO'S TENURE, YOU KNOW, HE

WAS SORT OF, YOU KNOW, EATING

OUT ON THE PREVIOUS

ADMINISTRATION'S EFFORTS.

>> TALK ABOUT THE PREVIOUS

ADMINISTRATION'S EFFORTS.

BILL BRATTON WAS ON THE SHOW AND

HE REMINDED US THAT IT WAS MAYOR

BLOOMBERG WHO CUT THE NYPD BY

SOMETHING LIKE 7,000 OFFICERS,

WHICH MADE COMMISSION EHIRE

KELLY DEPEND ALL THE MORE ON

STOP AND FRISKS WHICH GOT SO OUT

OF HAND THAT IN ONE YEAR, AS YOU

WRITE IN YOUR BOOK, THE NUMBERS

OF INCIDENTS WERE OVER 600,000

WHICH OF COURSE LED TO A SOURING

OF RELATIONSHIP BETWEEN THE NYPD

AND MANY PEOPLE IN POOR

COMMUNITIES OF COLOR, WHICH

INDIRECTLY LED TO THE POPULARITY

OF THE DEFUNDING THE POLICE

MOVEMENT HERE IN NEW YORK CITY.

SO THEY DESERVE SOME OF THE

BLAME, RIGHT?

>> WELL, I MEAN, I WOULD TAKE

ISSUE WITH THE IDEA THAT

DEFUNDING THE POLICE WAS EVER

POPULAR, ESPECIALLY IN THOSE

POOR COMMUNITIES YOU REFERENCED.

>> WHEREVER IT IS POPULAR.

I MEAN TO THE DEGREE THAT IT IS

POPULAR, THIS HAD SOMETHING TO

DO WITH IT.

I DON'T MEAN TO SAY IT'S POPULAR

OVERALL THERE.

>> THERE HAS ALWAYS BEEN A

RADICAL COHORT THAT REFLEXIVELY

BLAMES THE POLICE AND ASSUMING

THAT THE POLICE ARE A KIND OF

OCCUPYING FORCE, ESPECIALLY IN

BLACK NEIGHBORHOODS.

I PERSONALLY DON'T THINK THAT

THAT'S A LEGITIMATE PERSPECTIVE

AND I DON'T THINK MOST PEOPLE IN

THOSE NEIGHBORHOODS VIEW IT THAT

WAY.

IN FACT, IF YOU GO TO PRECINCT

COMMUNITY MEETINGS WHICH YOU

USUALLY HEAR ARE PEOPLE

IMPLORING THE POLICE TO INCREASE

THEIR PRESENCE BECAUSE, YOU

KNOW, PEOPLE DON'T LIKE HAVING

DRUG DEALERS ON THEIR CORNER.

THEY DON'T LIKE PUBLIC DRINKING

AND FIGHTING AND ALL THE KIND

OF -- OR EVEN LOWER-LEVEL

DISORDER THAT CAN -- THAT CAN

GATHER AND BECOME, YOU KNOW,

MAJOR, MAJOR.

>> YOU WRITE ABOUT THE ROLE THAT

HOMELESSNESS AND PUBLIC MENTAL

HEALTH PLAYED AND THE

SIGNIFICANT EROSION OF QUALITY

OF LIFE IN OUR CITY.

BOTH EXHIBITED BEFORE MAYOR de

BLASIO TOOK CONTROL.

HOW DID THEY MAKE IT WORSE?

>> WELL, I THINK ONE OF THE WAYS

IN WHICH de BLASIO AND THE

PROGRESSIVE ASEN DANSY MADE IT

WORSE IS THIS FOCUS OF HIS

THRIVE NYC PROGRAM.

THIS MODEL OF, YOU KNOW, MENTAL

HEALTH AWARENESS IS FOCUSSED ON

TRYING TO GET AS MANY PEOPLE AS

POSSIBLE INTO SOME VERSION OF

THERAPY TO DEAL WITH WHAT'S BEEN

CALLED THE WORRIED WELL.

PEOPLE WHO ARE, YOU KNOW,

ANXIOUS, INNENEUROTIC, DEPRESSE.

THAT'S NOT REALLY THE PROBLEM IN

NEW YORK CITY.

THAT'S KIND OF LIKE A LUXURY

PROBLEM.

THE PROBLEM IN NEW YORK CITY ARE

SERIOUSLY MENTALLY ILL PEOPLE

WHO ARE BASICALLY BEING ALLOWED

TO, YOU KNOW, TO SIT IN THEIR

OWN FILLth, RUN AROUND THE

STREETS, YOU KNOW, ATTACKING

PEOPLE, PUSHING PEOPLE INTO THE

SUBWAY TRACKS WITH THE

ASSUMPTION THAT, WELL, WE CAN'T

DO ANYTHING ABOUT IT BECAUSE,

YOU KNOW, FOR VARIOUS

LIBERTARIAN REASONS AND THE IDEA

BEING THAT, WELL, THE MOST

IMPORTANT THING IS, WELL, WE

JUST HAVE TO HAVE SERVICES ON

OFFER.

WELL, WE SPEND A LOT OF MONEY ON

SERVICES FOR THE MENTALLY ILL.

WE HAVE AN OPTION, KENDRA'S LAW.

IT IS THE MOST ROBUST LAW OF

THIS SORT IN THE NATION THAT CAN

ACTUALLY COMPEL PEOPLE WHO ARE

MENTALLY ILL AND PUTTING

THEMSELVES OR OTHERS AT RISK,

THEY CAN BE BROUGHT BEFORE A

JUDGE AND COMPELLED TO, YOU

KNOW, STAY WITH THEIR TREATMENT.

>> SO WHY DON'T WE USE IT MORE

OFTEN?

>> WELL, THAT'S A GOOD QUESTION.

PART OF THE PROBLEM HAPPENS AT

THE STATE LEVEL.

THEY HAVE REDUCED THE NUMBER OF

BEDS, BEDS FOR THE MENTALLY ILL

IN HOSPITALS AND, YOU KNOW, I

HAVE ASKED de BLASIO ABOUT THIS.

HE CLAIMS THAT THEY ARE USING

IT, BUT THE NUMBERS DON'T BEAR

THAT OUT.

IT'S NOT BEING USED EFFECTIVELY.

AND I THINK A LOT OF IT HAS TO

DO WITH THERE IS THIS SENSE, AND

YOU WILL READ IT IN THE PAGES OF

THE NEW YORK TIMES THAT SERIOUS

MENTAL ILLNESS IS JUST ANOTHER

WAY OF BEING.

AND THOSE PEOPLE HAVE THE RIGHT

TO, YOU KNOW, LIVE AS THEY WILL.

>> WELL, YOU KNOW, LET'S GET TO

THE PROGRESSIVE ASCENDANCY.

WHO AREID THEY COME TO POWER?

AND WHO ARE THEY?

FOR SOME PEOPLE MAY SAY, WAIT,

THIS ISN'T RIGHT.

>> WELL, I THINK YOU SEE IT IN

THE ORIGINS OF THE WORKING

FAMILIES PARTY, WHICH WAS BORN

IN THE EARLY 2000s, LATE '90s,

WHICH CAME OUT OF ACORN, YOU

KNOW, THE COMMUNITY ORGANIZATION

THAT DID TENANT ORGANIZING AND

SO FORTH.

VERY EARLY ON, THE FOUNDERS OF

THE WORKING FAMILIES PARTY,

MOSTLY UNION REPRESENTATIVES,

WANTED TO SEE BILL de BLASIO

BECOME THE MAYOR.

AND BY 2009, THEY ELECTED A

NUMBER OF PEOPLE TO THE CITY

COUNCIL.

THEY GOT TISH JAMES IN.

THEY GOT BRAD LANDER, JAMINI.

THESE ARE ALL THE PEOPLE THAT

BECAME LEADERS OF THIS MOVEMENT.

BILL de BLASIO CAME THE PUBLIC

ADVOCATE.

WHEN HE BECAME MAYOR, HE

INSTALLED HIS CITY COUNCIL

SPEAKER AND ESSENTIALLY THESE

ARE THE PEOPLE WHO ARE NOW

RUNNING THE CITY, YOU KNOW, FOR

HIM.

WHAT ARE THEIR POLICIES?

WE SAW IT WITH de BLASIO'S 2013

CAMPAIGN, THIS IDEA THAT THE

CITY IS, YOU KNOW, BROKEN, THAT

WE HAVE THE TALE OF TWO CITIES,

THAT WE HAVE THE HAVES AND THE

HAVE-NOTS.

SO WEALTH, INEQUITY, TO HIM IS A

MAJOR PROBLEM.

NOW, WEALTH INEQUITY CAN BE A

MAJOR PROBLEM, BUT IN NEW YORK

CITY WE HAVE A LOT OF VERY RICH

PEOPLE WHO PAY A HUGE AMOUNT OF

TAXES AND THAT'S ESSENTIALLY

WHAT FUNDS THE ENTIRE SERVICES

SUPERSTRUCTURE.

>> SETH, TIME IS RUNNING SHORT,

BUT, YOU KNOW, YOUR BOOK CAME

OUT BEFORE THE RECENT MAYORAL

PRIMARIES AND BEFORE ERIC ADAMS

GOT THE DEMOCRATIC NOMINATION

ESSENTIALLY RUNNING ON A LAW AND

ORDER PLATFORM, PARTICULARLY IN

THE LAST FEW WEEKS.

EXPLICITLY SAYING THAT UNLESS WE

GET CRIME UNDER CONTROL, THAT

THERE WILL BE NO ECONOMIC AND

CULTURAL RENAISSANCE IN NEW YORK

CITY.

DOES THAT MAKE YOU OPTIMISTIC

ABOUT THE LAST DAYS OF NEW YORK?

>> WELL, YOU KNOW, I SUPPOSE

IT'S THE RIGHT KIND OF RHETORIC.

I'M NOT SO SURE THAT HE'S THE

GUY TO REALLY DO IT.

MY FEELING ABOUT ERIC ADAMS IS

HE'LL SAY ANYTHING AND DO

LITTLE.

I REALLY HAVE A WAIT AND SEE

ATTITUDE ABOUT WHAT HIS POLICIES

ARE ACTUALLY GOING TO BE.

I WAS NOT HEARTENED THAT HE SAID

HE'S ON THE SAME PAGE AS THE

PRESUMPTIVE MANHATTAN D.A. ALVIN

BRAG REGARDING SUCH THINGS AS

NOT ARRESTING PEOPLE FOR GUN

CRIME OR, YOU KNOW, NOT SEEKING

JAIL SENTENCES FOR VIOLENT

FELONS.

I THINK THERE IS MAJOR QUESTIONS

THAT REMAIN, THAT WILL REMAIN TO

BE SEEN.

>> ALL RIGHT.

IT'S A WAIT AND SEE ATTITUDE

THAT YOU HAVE.

WELL, YOU KNOW, THE CENSUS

NUMBERS RECENTLY CAME OUT AND

SHOW THAT NEW YORK CITY'S

POPULATION GREW TO A RECORD 8.8

MILLION PEOPLE IN 2020, ALMOST

UP 8% FROM 2010.

NONE OTHER THAN THE NEW YORK

POST SAID THIS WAS PROOF OF THE

CITY'S CONTINUED VITALITY AND

THAT IT GAVE US REASON TO

BELIEVE THAT THE BEST WAS YET TO

COME IN A POST-COVID AND POST-de

BLASIO NEW YORK.

ARE YOU MOVED BY THEIR

ENTHUSIASM?

>> WELL, YOU KNOW, THE NEW YORK

POST, THEY HAVE LIKE REASONS TO

BE BOOSTERS.

YOU KNOW, I HAVE A MORE

JAUNDICED EYE, I'D SAY.

YOU KNOW, I PUBLISH IN THE POST,

BUT THAT DOESN'T MEAN I SHARE

ALL OF THEIR OPTIMISM.

>> SO, LISTEN, I CAME ACROSS

THIS RECENTLY.

WHEN I READ IT, I THOUGHT OF

YOUR BOOK, WHICH I HAD JUST

FINISHED.

HE SAID THIS, COUNTRIES

GENERALLY GO FROM ORDER TO

DISORDER AND THEN FROM DISORDER

MOVE BACK TO ORDER BECAUSE

QUIET, LAZINESS, LAZINESS

DISORDER, FROM RUIN COMES ORDER.

FROM ABILITY GLORY AND GOOD

FORTUNE.

MAYBE WE'RE NOT IN THE LAST DAYS

OF NEW YORK.

MAYBE WE'RE IN THE LAST DAYS OF

DOWNWARD CYCLE.

MAYBE GLORY AND GOOD FORTUNE IS

WHAT AWAITS US.

WHAT DO YOU THINK?

>> I HOPE SO.

YOU KNOW, FROM YOUR LIPS TO

GOD'S EARS.

I THINK THAT, YOU KNOW, BUT IT

COULD TAKE A WHILE.

RIGHT NOW WE'RE AT A CRATER AND

HOPEFULLY WE COME BACK.

SO GIVE US A SENSE.

IN YOUR BOOK, YOU'RE VERY

CANDID, AND YOU DON'T PRETEND TO

KNOW WHAT'S GOING TO HAPPEN.

BUT I WANT TO PUT YOU ON THE --

PUT YOU ON THE SPOT.

WHERE ARE WE GOING TO BE IN TWO

YEARS FROM NOW?

>> WELL, I THINK IN TWO YEARS

THE FISCAL PROBLEMS ARE GOING TO

REALLY BECOME ACUTE.

THE FEDERAL GOVERNMENT IS NOT

GOING TO CONTINUE TO SHOVEL TENS

OF BILLIONS OF DOLLARS INTO NEW

YORK'S COUFFERS.

DEPENDING ON IF HE'S WILLING TO

STAND UP TO THE PUBLIC SECTOR

UNIONS.

YOU KNOW, IT DEPENDS ON WHAT

HAPPENS WITH BIG BUSINESS.

>> I WAS HOPING THEY GET A

LITTLE BIT OF OPTIMISM, BUT I

GUESS I'M NOT GOING TO.

BUT ANYWAY, SETH, THE BOOK IS

THE LAST DAYS OF NEW YORK, A

REPORTER'S TRUE TALE.

IT'S A RIVETING READ.

THANK YOU SO MUCH FOR JOINING

US.