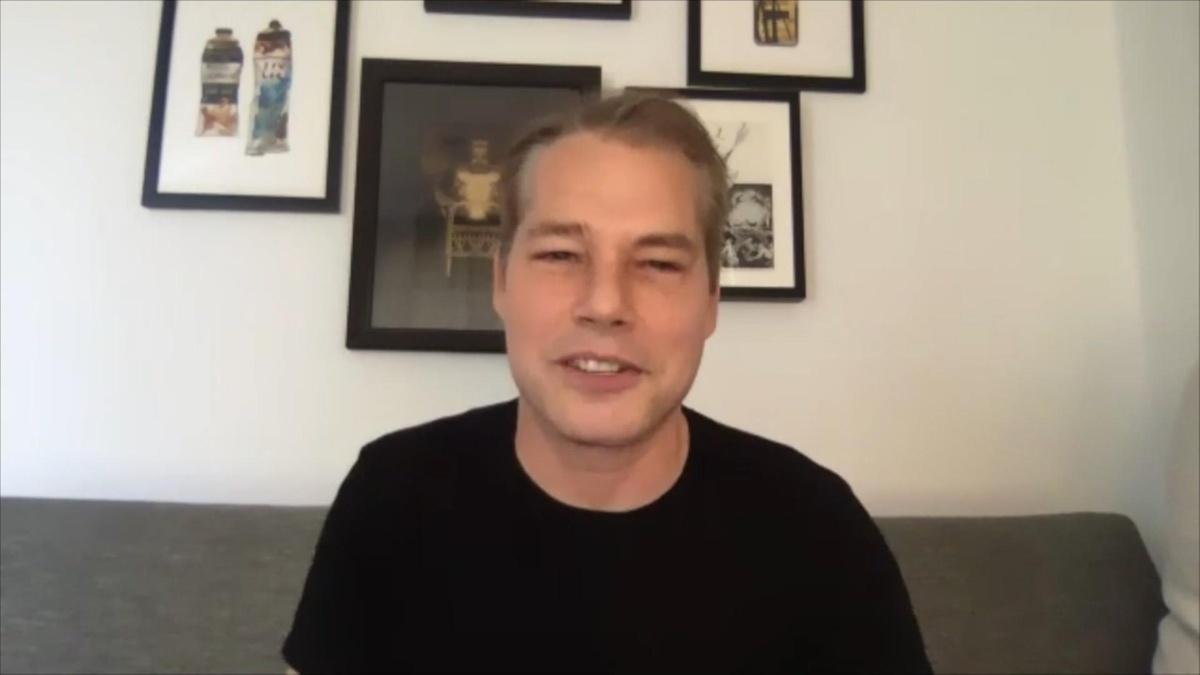 CLIP
"POWER TO THE PATIENTS" CAMPAIGN
For years, patients have had to deal with the burden of unexpected medical bills. But, there is now reason to believe that is about to change. New regulations are now requiring hospitals to publish their prices for all services and procedures online, and artist and activist Shepard Fairey wants to make sure all patients are aware of this change with his new campaign, "Power to the Patients."
TRANSCRIPT

>>> HI.

I'M JENNA FLANAGAN.

ACCORDING TO RECENT REPORTING BY

THE "NEW YORK TIMES," LENOX HILL

HOSPITAL IN GREENWICH VILLAGE

HAS BEEN BILLING PATIENTS OVER

$3,000 FOR COVID TESTS WITHOUT

THEIR KNOWLEDGE.

THAT'S ABOUT 30 TIMES THE

TYPICAL COST.

UNFORTUNATELY, UNFORESEEN OR

UNADVERTISED CHARGES ARE NOT NEW

TO THE MEDICAL INDUSTRY.

FOR YEARS, PATIENTS HAVE HAD TO

DEAL WITH THE BURDEN OF

UNEXPECTED MEDICAL BILLS.

BUT THERE IS NOW REASON TO

BELIEVE THAT THAT IS ALL ABOUT

TO CHANGE.

NEW REGULATIONS ARE NOW

REQUIRING HOSPITALS TO PUBLISH

THEIR PRICES FOR ALL SERVICES

AND PROCEDURES ONLINE.

AND A NEW CAMPAIGN CALLED "POWER

TO THE PATIENTS" HAS BEEN

LAUNCHED TO ENSURE THAT ALL

PATIENTS ARE AWARE OF THIS

CHANGE.

TAKE A LOOK.

>> I'M SHEPARD FAIREY AND I'M AN

ARTIST AND ACTIVIST.

I'M PARTICIPATING IN THE POWER

TO THE PATIENTS MOVEMENT BECAUSE

I'M A TYPE ONE DDIABETIC, MY

WIFE

HAS MULTIPLE SCLEROSIS.

WHEN PEOPLE NEED CARE, THEY'RE

NOT PROVIDED WITH THE PRICES OF

THAT CARE UP FRONT.

THIS CAN EITHER LEAVE PEOPLE

WITH TREMENDOUS BILLS OR BE A

DETERRENT TO THEM GETTING THE

CARE THAT THEY NEED.

THERE ARE LAWS ON THE BOOKS THAT

MEAN THAT PRICES ARE NOW A

PATIENT'S RIGHT.

BUT PROVIDERS CONTINUE TO GET

AWAY WITH A LACK OF

TRANSPARENCY, PRICING THAT IS

NOT CONSISTENT.

WE HAVE THE RIGHT TO KNOW HOW

MUCH OUR HEALTH CARE COSTS UP

FRONT.

IT'S OUR HEALTH.

IT'S OUR MONEY.

POWER TO THE PATIENTS.

FOR MORE INFORMATION ABOUT THIS

CAMPAIGN GO TO

POWERTOTHEPATIENTS.ORG.

>> JOINING ME NOW TO DISCUSS THE

POWER TO THE PATIENTS CAMPAIGN

IS ARTIST AND ACTIVIST SHEPARD

FAIREY.

SHEPARD THANKS FOR JOINING US.

>> THANKS FOR HAVING ME.

>> I FEEL MOST PEOPLE ARE

FAMILIAR WITH YOUR WORK ALTHOUGH

THEY MIGHT NOT KNOW YOUR NAME.

YOU FAMOUSLY CREATED THE OBAMA

HOPE POSTER.

I'M WONDERING WHAT WAS IT ABOUT

THIS PARTICULAR CAMPAIGN THAT

DREW YOU TO CREATE ART FOR?

>> I THINK THAT HEALTH CARE IS

SUCH AN IMPORTANT ISSUE.

AND SO MANY PEOPLE DON'T REALLY

THINK ABOUT HIDDEN COSTS UNTIL

THEY'RE HIT WITH THEM.

SO THIS CAMPAIGN IS MAKING

PEOPLE AWARE THEY HAVE A RIGHT

TO KNOW WHAT COSTS GO INTO THEIR

HEALTH CARE BEFORE THEY CHOOSE

THE PROCEDURES AND SERVICES AND

FACILITIES.

IT'S REALLY IMPORTANT BECAUSE TO

HAVE THE STRESS OF POTENTIAL

BANKRUPTCY FROM THE HIGH COST OF

HEALTH CARE ADDED TO THE NEED

FOR HEALTH CARE, A SERIOUS

PROCEDURE, IT'S JUST A HUGE

WEIGHT FOR ANYONE TO HAVE TO

DEAL WITH.

PLUS, I THINK THAT TRANSPARENCY

INCREASES COMPETITION AND,

THEREFORE, MAKES THE PRICING

WORK WITH THE MARKETPLACE BETTER

AND GIVE PEOPLE A-B COMPARISONS

AND BETTER PRICING IN GENERAL.

I JUST WANT DO SEE LESS

SUFFERING IN THE WORLD.

WHETHER THAT'S FINANCIAL OR

PHYSICAL SUFFERING, ALL OF THAT

CAN BE PART OF HEALTH CARE.

COST REALLY HAS A LONG-TERM

IMPACT FOR PEOPLE.

>> WHEN YOU TALK ABOUT THESE

HIDDEN COSTS, I THINK MOST

AMERICANS ARE FAMILIAR WITH

HAVING WHAT YOU MIGHT CONSIDER

TO BE A SIMPLE PROCEDURE AND

GETTING A SURPRISE BILL IN THE

MAIL.

WHAT EXACTLY IS THE HOSPITAL

PRICE TRANSPARENCY REGULATION

SUPPOSED TO DO?

>> THE REGULATION WHICH STARTED

IN JANUARY 2021 IS SUPPOSED TO

MAKE IT SO THAT A HOSPITAL HAS A

PRICE LIST THAT'S ACCESSIBLE IN

DIGITAL FORM OR PRINTED FORM

THAT ANY PATIENT CAN ACCESS AND

THAT THEY CAN DECIDE WHAT

THEY'RE GOING TO DO, WHETHER

THEY'RE GOING TO HUZ THAT

LOCATION, THAT HOSPITAL BASED ON

KNOWING WHAT THE PRICES ARE.

THERE ARE ALSO DIFFERENT PRICES

FOR WHETHER YOU PAY CASH OR

WHETHER YOU USE YOUR INSURANCE

AND WHETHER YOU HAVE INSURANCE

AND WHAT THE DEDUCTIBLE IS.

THERE ARE A LOT OF VARIABLES

THAT PEOPLE, YOU KNOW, IF

THEY'RE INFORMED, CAN TAKE INTO

CONSIDERATION AND MAKE BETTER

DECISIONS BY KNOWING THESE

THINGS.

>> I WOULD SAY SO.

THERE WAS A PRICE FOR CASH AND A

PRICE FOR HEALTH INSURANCE.

THAT'S NOT PARTICULARLY

COMFORTING.

SO THEN I GUESS THIS SEEMS LIKE

SOMETHING THAT COULD ALSO BE

COMPLICATED TO IMPLEMENT.

BECAUSE AS IT IS, THERE'S SO

MUCH BURDEN OR RESPONSIBILITY

THAT FALLS ON PATIENTS TO

ADVOCATE FOR YOURSELF, TO MAKE

SURE YOU'RE GETTING THE RIGHT

KIND OF CARE.

AND TO NOW ADD ON THE ADDITIONAL

BURDEN OF PRICE SHOPPING, IS

THAT SOMETHING THAT THERE'S BEEN

PUSHBACK FROM THE MEDICAL

COMMUNITY LIKE, NO, IF I'M A

DOCTOR AND THIS IS THE BEST

PERSON TO PERFORM X, Y AND Z AND

THIS IS THE BEST DRUG TO HAVE,

YOU DON'T PRICE SHOP IT.

>> PEOPLE WHO TEND TO PROFIT

FROM THIS VERSUS THE DOCTORS WHO

THEN WILL BE PAID THE SAME

AMOUNT MOST LIKELY EITHER WAY.

MY FATHER IS A DOCTOR.

WHAT HE'S FRUSTRATED BY IS ALL

THE DIFFERENT AREAS THAT HE HAS

NO CONTROL OVER THAT HE FEELS

EMPATHY FOR HIS PATIENTS.

THE TRANSPARENCY IS GOING TO

HELP THE PATIENTS AND I DON'T

THINK IT'S GOING TO COMPROMISE

THE DOCTORS.

WHERE THE REAL IMPACT IS FOR

HEALTH CARE IS ALL ON THE PLUS

SIDE, I THINK, FOR THE PATIENTS.

>> ONE MORE QUESTION JUST ABOUT

THIS REGULATION.

THAT IS WE'RE SEEING SO FAR THAT

SOME OF THE NATION'S LARGEST

HOSPITALS, I BELIEVE A STUDY

FOUND THAT 65 OF THEM AREN'T

COMPLYING.

DOES THIS REGULATION INCLUDE ANY

SORT OF TEETH OR CONSEQUENCES,

OR WHAT IS IT THAT PATIENTS CAN

DO IF THEIR HOSPITAL IS SAYING

OUR PRICES ARE NONE OF YOUR

BUSINESS?

>> YEAH.

THEY CAN FACE CONSEQUENCES.

THEY CAN FACE CITATION AND OTHER

PENALTIES.

I THINK THIS CAMPAIGN, THE POWER

TO THE PATIENTS CAMPAIGN IS

REALLY ABOUT RAISING ENOUGH

AWARENESS SO THAT PEOPLE DO

COMPLAIN IF THE HOSPITALS ARE

NOT COMPLIANT.

A LOT OF TIMES WHEN YOU LOOK AT

WHAT THE PUBLIC DEMANDS, THEY

HAVE TO KNOW THAT THEY HAVE THE

RIGHT TO DEMAND IT FIRST.

I THINK THAT TRANSPARENCY IN ALL

AREAS BECAUSE HEALTH CARE IS

SOMETHING THAT PEOPLE ONLY THINK

ABOUT WHEN THEY'RE IN THE MIDDLE

OF A CRISIS AND THEY'RE SICK.

THEIR RIGHT TO PLAN AHEAD IS

SOMETHING THEY AREN'T ALWAYS

CONSIDERING.

THIS CAMPAIGN IS REALLY ABOUT

LETTING PEOPLE KNOW WHETHER

THEY'RE PLANNING AHEAD OR

WHETHER THEY'RE IN THE MOMENT,

THEY HAVE THE RIGHT TO KNOW

WHAT'S GOING ON WITH THE

PRICING.

AND IF THE TRANSPARENCY ISN'T

THERE, THEY SHOULD DEMAND IT AND

THEY SHOULD ALERT THE

GOVERNMENT, BECAUSE THIS IS A

GOVERNMENT MANDATE.

>> OF COURSE.

I WANTED TO GO BACK TO THE

CAMPAIGN A LITTLE BIT.

EVERYTHING THAT WE'VE TALKED

ABOUT SO FAR HAS BEEN SOMEWHAT

TECHNICAL, PERHAPS A LITTLE

GETTING INTO MEDICAL BILLING AND

STUFF.

HOW DOES THAT TRANSLATE INTO A

PUBLIC AWARENESS CAMPAIGN

THROUGH ART?

WHAT IS IT THAT PEOPLE CAN

EXPECT TO START SEEING?

>> WELL, THE IMAGE THAT I MADE

FOR THE POWER TO THE PATIENTS

CAMPAIGN IS A RAISED FIST

HOLDING THE MEDICAL SIGN WITH

SOME SORT OF RAYS COMING OUT.

IT SAYS POWER TO THE PATIENTS.

I TREATED IT LIKE A PATRIOTIC

ACTIVIST POSTER THAT WAS MEANT

TO EMPOWER THE PATIENT.

IT LITERALLY SAYS POWER TO THE

PATIENTS ON IT.

I THINK IT'S AN IMAGE THAT WOULD

GRAB THE ATTENTION OF THE VIEWER

AND MAKE THEM CURIOUS WHAT IT'S

ABOUT.

I BELIEVE THAT A LOT OF

IMPORTANT MOVEMENTS ARE

GRASSROOTS MOVEMENTS THAT COME

FROM THE BOTTOM UP.

THIS HAS A FEELING OF ONE OF

THOSE CAMPAIGNS.

THIS HAS BEEN IMPORTANT TO ME

THROUGHOUT MY WHOLE CAREER, HOW

DO I EMPOWER PEOPLE TO

PARTICIPATE IN DEMOCRACY, IN

SOCIETY?

HEALTH CARE IS A PLACE WHERE

PEOPLE OFTEN FEEL LIKE THEY'RE

AT THE MERCY OF A SYSTEM, THEY

ARE POWERLESS.

THE IDEA THAT THEY CAN BE

EMPOWERED IN SOMETHING THAT'S

OFTEN FRUSTRATING AND

CHALLENGING IS REALLY IMPORTANT

TO ME.

HOPEFULLY WHEN PEOPLE SEE THE

IMAGE THEY GO TO THE WEBSITE

POWERTOTHEPATIENTS.ORG AND THEY

DO SOME RESEARCH, THEY SHARE IT

WITH FRIENDS.

I STILL BELIEVE IN THE WATER

COOLER CONVERSATION WHETHER IT'S

LITERALLY AT THE WATER COOLER OR

WHETHER IT'S ONLINE, I THINK

THAT PEOPLE SHARING GOOD IDEAS

IS HOW OUR SOCIETY EVOLVES.

>> SO I UNDERSTAND THAT WHEN IT

COMES TO SEEING THESE, IT COULD

BE PERHAPS IN THE FORM OF A

POSTER, BUT THERE'S ALSO A

SERIES OF MURALS GOING UP,

CORRECT?

>> THAT IS CORRECT.

THE AMAZING TEAM BEHIND THIS

CAMPAIGN, WHICH I'M JUST ONE

ARTIST IN A GROUP OF GREAT

PEOPLE, THEY BASED ON SOME OF MY

RECOMMENDATIONS AND SOME OF

THEIR OWN RESEARCH HAVE FOUND

MURALISTS AND GRAFFITI ARTISTS

IN CITIES ALL ACROSS THE

COUNTRY, SOME THAT I KNOW LIKE

THE CREW OUT OF NEW YORK CITY.

MY FRIEND JAKE IN ALBUQUERQUE.

AND THEN A NUMBER OF PEOPLE IN

INDIANAPOLIS, ALL SORTS OF

PLACES, CHICAGO, PLACES THAT I

DON'T NECESSARILY HAVE CONTACTS,

BUT THESE ARTISTS ARE RECREATING

THE WORK THAT I MADE IN VARIOUS

PLACES IN THESE CITIES.

I THINK WHEN SOMEONE ENCOUNTERS

A MURAL, THERE'S A POWER TO

THAT.

IT FEELS BASED ON THE SCALE HOW

IT CHANGES THE LANDSCAPE LIKE

SOMETHING IMPORTANT IS

HAPPENING.

LIKE IT'S A MEANINGFUL

TRANSFORMATION OF THE LANDSCAPE.

I THINK THAT METAPHORICALLY WHEN

PEOPLE SEE THAT HAPPEN IN PUBLIC

SPACE, IT MAKES THEM FEEL LIKE

THEY SHOULD BE ACTIVE IN

TRANSFORMING WHATEVER THEY CARE

ABOUT.

I THINK IT'S AN INFECTIOUS

FEELING.

OBVIOUSLY I'M QUITE BIASSED

TOWARDS THAT KIND OF ART.

IT'S WHAT I'VE BEEN DOING

THROUGH MY WHOLE CAREER.

THERE'S AN EXCITEMENT IN THE

CAMPAIGN THAT'S REALLY NOT

COMING FROM CORPORATIONS, IT'S

COMING FROM PEOPLE.

>> I'D JUST LIKE TO GET YOUR

TAKE OR YOUR OPINION.

I MENTIONED EARLIER IN OUR

CONVERSATION THAT YOU, OF

COURSE, ARE THE ARTIST BEHIND

THE NOW INFAMOUS OBAMA HOPE

POSTER.

I'M JUST WONDERING NOW SO MANY

YEARS LATER WHAT YOUR THOUGHTS

ARE ON WHERE THE COUNTRY IS, WHO

WE ARE AND IF YOU COULD POSSIBLY

CHOOSE A WORD FOR WHERE WE ARE

IN 2021.

>> WELL, I THINK THAT THE LAST

FIVE YEARS DID A LOT OF DAMAGE

IN TERMS OF NATIONAL UNITY AND

AN AGREEMENT ON FACTS AND TRUTH.

SO I'M OPTIMISTIC THAT THE NEW

ADMINISTRATION IS GOING TO HELP

REPAIR SOME OF THE DAMAGE AND

MAKE PEOPLE REALIZE THAT

TRIBALISM IS NOT THE WAY FORWARD

FOR THE OVERALL BENEFIT OF

SOCIETY.

I WOULD SAY THAT THE ONE WORD I

WOULD CHOOSE WOULD BE FRACTURED,

BUT I WOULD ALSO LIKE TO ADD TO

THAT THAT WE ARE -- LEADERSHIP

MATTERS AND I THINK THAT THE

RIGHT LEADERSHIP IS IN PLACE TO

REMIND PEOPLE WHAT THE VALUES OF

THE COUNTRY ARE, WHAT WE CAN

AGREE ON AND, POLITICAL NUANCES

ASIDE, THAT MANY OF THE

PRINCIPLES OF THIS COUNTRY FOR

YEARS AND YEARS AND YEARS ARE

THINGS THAT WE SHOULD ASPIRE TO.

I'M REALLY HAPPY TO SEE A LOT OF

MOVEMENT ON RACIAL JUSTICE, ON

GENDER EQUALITY, RIGHTS FOR THE

LGBTQ COMMUNITY.

I AM OPTIMISTIC IN MANY WAYS.

WE'RE DIGGING OURSELVES OUT OF

THE HOLE RATHER THAN DIGGING THE

HOLE DEEPER, BUT WE HAVE A LOT

OF WORK TO DO.

AND I AM FOREVER VIGILANT

BECAUSE PERFECTION ISN'T

POSSIBLE, BUT I WILL BE PURSUING

IT ALWAYS IN THE WORK I'M DOING.

>> UNFORTUNATELY, WE HAVE TO

LEAVE IT THERE.

SHEPARD FAIREY, THANK YOU VERY

MUCH FOR JOINING US.

OF COURSE, WE CAN TELL PEOPLE TO

LOOK FORWARD TO THIS CAMPAIGN,

POWER TO THE PATIENTS.

I THINK BETTER HEALTH CARE IS

SOMETHING ALL AMERICANS CAN

AGREE ON.

THAT SHOULD BE COMFORTING.

>> THANK YOU.