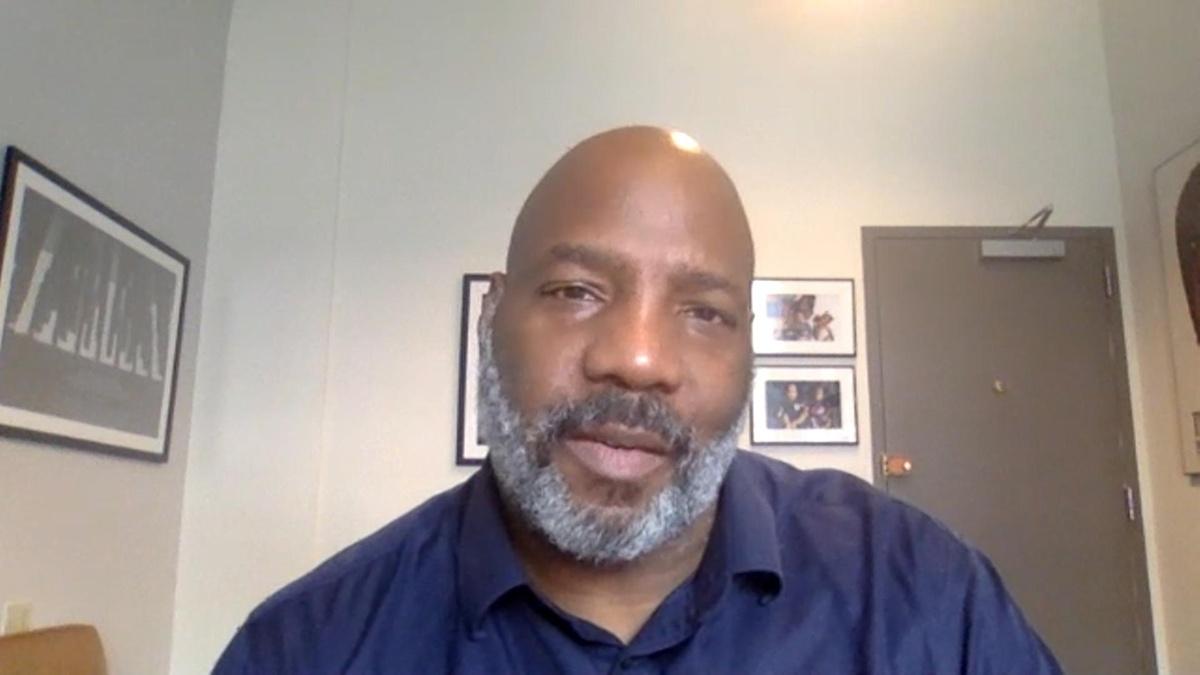 CLIP
"POLICING THE POLICE": PART 2, ACCOUNTABILITY
Tonight, we continue our conversation with The New Yorker's Jelani Cobb, about his new Frontline documentary on race and policing in America. In "Policing The Police 2020", Cobb examines the question of why accountability is so hard to come by when it comes to the cops. And he looks at how the city of Newark, NJ has tackled the more intractable problems facing its police force since 2016.
TRANSCRIPT

>>> WELCOME TO "METROFOCUS."

I'M JACK FORD.

TONIGHT WE'RE GOING TO CONTINUE

OUR CONVERSATION WITH NEW

YORKER'S JILLANI COBB ABOUT HIS

DOCUMENTARY ON RACE AND POLICING

IN AMERICA.

IT'S CALLED "POLICING THE POLICE

2020."

IN IT HE EXAMINES THE QUESTION

OF WHY ACCOUNTABILITY IS SO HARD

TO COME BY WHEN IT COMES TO

POLICE.

IT ALSO LOOKS AT SOME WAYS THAT

THE CITY OF NEWARK HAS TACKLED

SOME OF THE MORE INTRACTABLE

PROBLEMS FACING ITS POLICE FORCE

OVER THE LAST FOUR YEARS JILLANI

COBB, WELCOME TO YOU.

WE'RE DELIGHTED WE CAN CONTINUE

OUR CONVERSATION.

>> THANK YOU.

>> WE SPOKE LAST NIGHT ABOUT

MANY OF THE UNDERLYING ISSUES.

WE TALKED ABOUT WHY YOU HAD

ORIGINALLY GONE TO NEWARK SOME

YEARS AGO, WHY YOU WANTED TO GO

BACK TO SEE WHAT NEWARK HAS BEEN

ABLE TO DO SINCE THAT TIME.

SOME OF THOSE UNDERLYING ISSUES,

ACCOUNTABILITY, A POLICE

CULTURE.

THE EXPECTATIONS IN TERMS OF THE

COMMUNITY AND THE POLICE

DEPARTMENT.

SO LET'S START OFF THIS PART OF

THE CONVERSATION BY TALKING

ABOUT WHEN YOU WENT BACK TO

NEWARK.

WHEN YOU WENT, YOU RODE IN

POLICE CARS AND GOT A SENSE OF

WHAT GOES ON ON THE STREETS.

WHAT STRUCK YOU AS MOST

DIFFERENT FROM THEN TO NOW?

>> WELL, NOW I THINK IS A MUCH

MORE RECEPTIVE ATTITUDE AROUND

THE IDEA THAT THE POLICE

DEPARTMENT HAS TO CHANGE.

I THINK THAT THE DEPARTMENT

ITSELF SEEMS TO HAVE KIND OF

COME AROUND TO SAYING THAT WE'VE

DONE SOME THINGS THAT WE'VE

OPERATED IN WAYS THAT WEREN'T

THE BEST WAY AND THE MOST

EFFICIENT WAY OF POLICING THIS

PARTICULAR COMMUNITY.

IN ADDITION, THERE ARE THE

BEGINNINGS OF A MORE DIVERSE SET

OF APPROACHES TO PUBLIC SAFETY

BEYOND JUST DOING POLICING.

>> LET ME GET TO THAT IN A FEW

MINUTES.

IT'S FASCINATING TO SEE WHAT'S

HAPPENING THERE.

TO SET THE STAGE FOR THE

CONVERSATION, ONE OF THE THINGS

YOU HEAR ALMOST REGULARLY NOW,

WHEN PEOPLE ARE LOOKING AT THIS

ISSUE AND LOOKING IN TERMS OF

REMEDIES, YOU SEE AND HEAR THE

TERM DEFUNDING THE POLICE.

WHAT DO YOU UNDERSTAND THAT TERM

TO MEAN?

>> IT MEANS DIFFERENT THINGS,

BUT GENERALLY, THE MOST

CONSENSUS DEFINITION THAT I'VE

HEARD IS THAT IT WOULD ENTAIL

USING REVENUE, TAKING MONEY AWAY

FROM POLICE DEPARTMENT BUDGETS

AND USING THAT REVENUE TO FUND

DIFFERENT KINDS OF ORGANIZATIONS

THAT WILL RESPOND TO COMMUNITY

NEEDS IN PLACE OF SIMPLY USING

THE POLICE.

>> GENERALLY SPEAKING,

CONVERSATIONS YOU'VE HEARD,

THERE ARE SOME SAYING DEFUND THE

POLICE MEANING ABOLISH THE

POLICE.

ARE YOU SEEING THAT AS BEING A

VIABLE ALTERNATIVE OR SUGGESTION

GIVING WHAT YOU'VE SEEN IN TERMS

OF YOUR REPORTING?

>> JUST IN TERMS OF MY

REPORTING, WE TALKED TO A LOT OF

DIFFERENT PEOPLE IN NEWARK.

WE TALKED TO COMMUNITY MEMBERS,

TALKED TO PEOPLE ON THE POLICE

FORCE, WE TALKED TO PEOPLE IN

LEADERSHIP, WE TALKED WITH THE

MAYOR, A WHOLE SPECTRUM OF

PEOPLE.

WE DID NOT FIND A GREAT DEAL OF

SUPPORT FOR ABOLISHING THE

POLICE.

WHAT WE DID FIND WAS A PRETTY

SIGNIFICANT AMOUNT OF SUPPORT

FOR DEFUNDING, MEANING, IF

YOU'RE GOING TO OFF-LOAD THINGS

IN THE PURVIEW OF POLICE TO

OTHER HANDS-ON ORGANIZATIONS.

JUST AS A QUICK NOTE, THE FIRST

TIME I EVER HEARD THE IDEA

ASSOCIATED WITH WHAT'S BECOME

THE DEFUND THE POLICE MOVEMENT,

THE FIRST TIME I HEARD THOSE

IDEAS IT CAME FROM POLICE

OFFICERS.

>> INTERESTING.

THE POLICE OFFICERS THEMSELVES

ARE SAYING -- IN WHAT SENSE?

ARE THEY SAYING, LOOK, THERE ARE

THINGS WE'RE GOOD AT AND WE

SHOULD DO BUT THERE ARE THINGS

THAT OTHER PEOPLE SHOULD BE

DOING WHO ARE GOOD AT IT?

>> EXACTLY.

TO A LARGE PART, PEOPLE ARE

RESPONDING TO THE LANGUAGE

AROUND IT.

THIS IS NOT A NEW IDEA.

IF YOU GO BACK TO THE OLD KERNER

COMMISSION REPORT IN 1968 ABOUT

THE CIVIL DISTURBANCES OF 1967.

THEY SUGGEST SOMETHING THAT'S

BASICALLY THE SAME THING SAYING

IF YOU USE POLICE FOR EVERY

SOCIAL PROBLEM YOU'RE INEVITABLY

GOING TO CREATE FRICTION BETWEEN

COMMUNITIES AND POLICE.

THAT'S NOT WHAT POLICE

DEPARTMENTS ARE CREATED FOR.

COPS KNOW THAT.

LOTS OF PEOPLE WHO ARE COMMUNITY

MEMBERS KNOW THAT.

IT'S AN IDEA THAT IS PROBABLY

LESS RADICAL IN PRACTICE THAN IT

SEEMS IN RHETORIC.

>> ONCE AGAIN WE'RE TALKING WITH

JILLANI COBB ABOUT HIS FRONT

LINE DOCUMENTARY CALLED

"POLICING THE POLICE 2020."

GO TO METROFOCUS.ORG AND YOU CAN

FIND WHEN AND WHERE YOU CAN SEE

THAT.

LET'S FOCUS NOW ON NEWARK.

YOU GO BACK.

NEWARK HAS -- LET ME ASK YOU,

ACTUALLY, TO CHARACTERIZE IT

RATHER THAN ME.

WHAT KIND OF PROGRESS HAVE THEY

MADE, AND WHAT SORT OF THINGS IN

PARTICULAR CAN YOU POINT TO?

>> ONE OF THE THINGS THAT THE

FEDERAL MONITOR SAID, A MAN BY

THE NAME OF PETER HARVEY WHO IS

CHARGED WITH OVERSEEING THE

REFORMS IN NEWARK, ONE OF THE

THINGS HE SAID WAS HE THOUGHT

LAW ENFORCEMENT OFFICERS REALLY

NEEDED TO KNOW THE LAW.

>> THAT SEEMS INTERESTING.

YOU WOULD THINK THAT THAT WOULD

BE FOUNDATIONAL.

>> IN MANY INSTANCES THEY HAVE

NOT.

THEY'VE HAD INTENSIVE TRAINING

ABOUT WHAT OFFICERS ARE ALLOWED

TO DO BY LAW AND WHAT THEY'RE

NOT ALLOWED TO DO BY LAW.

IN ADDITION, THEY'VE GOTTEN NEW

POLICIES AROUND TREATING MEMBERS

OF THE LGBTQ COMMUNITY WITH

RESPECT AND RECOGNIZING THEIR

RIGHTS AND SO ON, JUST SOME

PROACTIVE KINDS OF THINGS.

ONE OF THE MORE INNOVATIVE

THINGS, IN ADDITION, THE NEWARK

COMMUNITY HAS A GROUP, THE

NEWARK COMMUNITY STREET TEAM

WHICH DOES ESSENTIALLY

DIPLOMATIC WORK IN HIGH-VIOLENCE

COMMUNITIES TRYING TO DEESCALATE

CONFLICTS BEFORE THEY RISE TO

THE LEVEL OF NEEDING THE POLICE

TO BE INVOLVED.

>> WHAT ABOUT THE NOTION OF MORE

PEOPLE OF COLOR BEING PART OF

POLICE DEPARTMENTS?

I THINK IN SOME WAYS, THAT'S

BEEN TOSSED OUT, BUT IT MAY BE

TOO SIMPLISTIC A SOLUTION.

IT GOES BACK TO THE CULTURE THAT

YOU AND I TALKED ABOUT

PREVIOUSLY.

YOU LOOK AT THE POLICE OFFICERS

SURROUNDING GEORGE FLOYD, THERE

WERE OFFICERS OF COLOR THERE AND

STILL NOBODY STEPPED UP AND SAID

THIS ISN'T RIGHT, WE HAVE TO

STOP THIS.

HOW DOES THIS PLAY INTO, DO YOU

THINK, THE REMEDY SCHEME, IF YOU

WILL?

>> IF YOU GO BACK TO 1967, THE

REPORT THAT CAME OUT OF THE

UPRISINGS THERE SAID THEY NEEDED

TO DEFENSIVE VEARS PHI THEIR

POLICE DEPARTMENT.

THE DEPARTMENT NOW IS MAJORITY

PEOPLE OF COLOR.

I THINK THERE'S A VALUE TO THAT,

BUT IT IS NOT A PANACEA.

YOU WOULD LIKE TO HAVE POLICE

WHO ARE REPRESENTATIVE OF THE

COMMUNITIES, BUT CERTAINLY YOU

CAN STILL HAVE THOSE KINDS OF

PROBLEMS, AS WE SAW IN 2014.

YOU STILL HAD THOSE KINDS OF

PROBLEMS WHILE EVEN HAVING A

DIVERSE POLICE FORCE.

>> WHEN YOU'RE TALKING ABOUT

POLICE FORCE, YOU'RE TALKING

LOCAL FORCES.

YOU HAVE LOCAL COMMUNITIES, THE

STET LEVEL AND FEDERAL LEVEL.

WHEN YOU'RE LOOKING AT NEWARK,

FOR INSTANCE, YOU'RE LOOKING AT

WHAT THE PEOPLE IN NEWARK, THE

LEADERS, THE MAYOR, WHAT THEY

HAVE DONE IN THE LAST FEW YEARS.

WHAT ABOUT AT THE FEDERAL LEVEL

IN TERMS OF EITHER MONEY OR

GUIDANCE OR DIRECTION, ARE WE

SEEING WHAT WE NEED TO SEE IN

TERMS OF LEADERSHIP FROM THE

FEDERAL LEVEL?

>> UNFORTUNATELY NOT RIGHT NOW.

THE DOJ HAS THE CAPACITY TO

CONDUCT OVERSIGHT OVER POLICE

DEPARTMENTS.

NOW, IT'S A DROP IN THE BUCKET

KIND OF SITUATION.

THERE ARE 18,000 POLICE

DEPARTMENTS IN THE COUNTRY.

THE DOJ DOESN'T HAVE THE

RESOURCES TO OVERSEE ALL OF

THEM, BUT THE MOST TROUBLED, THE

MOST PROBLEMATIC ONES, THEY CAN

STEP IN AND CONDUCT OVERSIGHT IN

THOSE INSTANCES.

BUT WHAT HAS HAPPENED IN THE

LAST FOUR YEARS HAS BEEN THAT

THE DOJ HAS SYSTEMATICALLY

STEPPED AWAY FROM OVERSIGHT AND

SAID THEY DON'T WANT TO

INTERFERE WITH POLICE MATTERS

AND EVEN DISMISSING THE IDEA AS

YOU COULD HAVE SUCH A THING AS A

CHRONICALLY PROBLEMATIC POLICE

DEPARTMENT.

WE HAVEN'T SEEN A GREAT DEAL OF

REFORMED LEADERSHIP ON THAT

LEVEL.

>> HOW ABOUT THE IDEA OF -- YOU

USED THE TERM DIPLOMACY, POLICE

OFFICERS, POLICE DEPARTMENTS,

NEWARK.

I KNOW YOU STUDIED THIS.

THE CAMDEN POLICE DEPARTMENT IN

THE STATE OF NEW JERSEY, THE

CAMDEN POLICE DEPARTMENT

BASICALLY WENT AWAY AND REBUILT

ITSELF FROM ZRACH A NUMBER OF

YEARS AGO.

ONE OF THE THINGS I WAS STRUCK

BY IS AS PART OF YOUR FIRST DAY

ON THE JOB AS A POLICE OFFICERS,

PART OF WHAT YOU DO IS YOU GO

KNOCK ON DOORS AND INTRODUCE

YOURSELVES TO THE RESIDENTS AND

THE COMMUNITY MEMBERS AND YOU

SAY, LOOK, WE'RE HERE TO PROTECT

AND SERVE.

HOW ABOUT THAT, THAT IDEA OF

DIPLOMACY.

HOW SIGNIFICANT DO YOU THINK

THAT COULD BE?

>> I THINK THAT'S HUGE.

I THINK ONE OF THE THINGS YOU

HEAR WHEN YOU TALK TO PEOPLE IN

THE COMMUNITY IS A PERVASIVE

SENSE THAT THEY HAVE NOT BEEN

TREATED WITH RESPECT.

I THINK A GOOD DEAL OF FRICTION

THAT ARISES COMES IN THE COURSE

OF DAY-TO-DAY INTERACTION.

I DON'T EVEN HEAR THAT SIMPLY

FROM COMMUNITY MEMBERS.

I HEARD THAT FROM POLICE

OFFICERS WHO KIND OF OFF THE

RECORD SAY, YEAH, I KNOW WE'RE

GOING ABOUT THINGS IN A WAY THAT

MAKES PEOPLE HATE US.

WE'RE TRYING TO GET CRIME DOWN

AND MAYBE THIS IS NOT THE BEST

WAY TO DO IT.

I THINK THAT'S A REALLY BIG PART

OF IT.

>> ONE OF THE THINGS -- I'VE GOT

ABOUT A MINUTE AND A HALF LEFT

WITH YOU.

BUT WHEN YOU'RE LOOKING FOR

SOLUTIONS HERE -- AND I'VE HEARD

POLICE OFFICERS SAY THIS,

SAYING, LOOK, WE NEED TO MAKE

CHANGE, WE RECOGNIZE WE NEED TO

MAKE CHANGE.

THEY ALSO POINT TO THE FACT THAT

VIDEOS, AS YOU MENTIONED IN OUR

CONVERSATION YESTERDAY, ARE

CAPTURING THINGS THAT DIDN'T GET

CAPTURED IN THE PAST, BUT THE

POLICE SAY THEY'RE NOT CAPTURING

ALL THE GOOD THINGS THAT POLICE

OFFICERS WILL DO ON THE STREET

AS A COUNTERBALANCE, IF YOU

WILL, OR JUST A BETTER PICTURE,

A MORE COMPREHENSIVE PICTURE.

HOW ABOUT THAT?

>> SURE.

I THINK WE NEED TO HAVE AS

COMPREHENSIVE A RELATIONSHIP

WITH THE POLICE, DEPICTION OF

POLICE AS POSSIBLE.

SO WE HAVE AN UNDERSTANDING OF

THE WHOLE PICTURE.

THAT SAID, WE SHOULDN'T HAVE TO

OFFSET REALLY EGREGIOUSLY BAD

BEHAVIOR FROM GOOD BEHAVIOR.

WE SHOULD SIMPLY HAVE A BEHAVIOR

THAT MEETS THE BASELINE FOR A

MINIMUM STANDARD AND BEHAVIOR

THAT EXCEEDS THAT AS REALLY GOOD

OR REALLY GREAT.

>> SO THE NOTION OF LET'S MAKE

SURE WE TRUMPET THE GOOD THINGS

THAT ARE BEING DONE, BUT WE

DON'T HAVE TO DO IT BY PUTTING

IT IN A SCALE.

>> EXACTLY.

>> -- THE TERRIBLE THINGS THAT

ARE TAKING PLACE.

LITERALLY I HAVE 30 SECONDS.

ARE YOU OPTIMISTIC THAT NOW

MIGHT BE THE TIME FOR CHANGE?

>> I BELIEVE SO.

I THINK IT'S POSSIBLE.

NOTHING IS GUARANTEED.

BASED ON WHAT I SAW IN NEWARK, I

DO THINK IT IS AT LEAST

POSSIBLE.

>> ONCE AGAIN FRONT LINE

DOCUMENTARY IS TITLED "POLICING

THE POLICE 2020."

OUR GUEST JILLANI COBB, NEW

YORKER HISTORIAN AND WRITER.

WONDERFUL WORK FOLLOWING UP FROM

THE ONE 40 YEARS AGO.

WE APPRECIATE YOU TAKING TIME TO

TALK WITH US.

HOPEFULLY WE'LL GET A CHANCE TO

CHAT MORE AS WE MOVE FORWARD TO

SEE WHAT SORT OF PROGRESS WE'RE

MAKING.

AGAIN OUR THANKS.

TAKE CARE.

>> TAKE CARE.