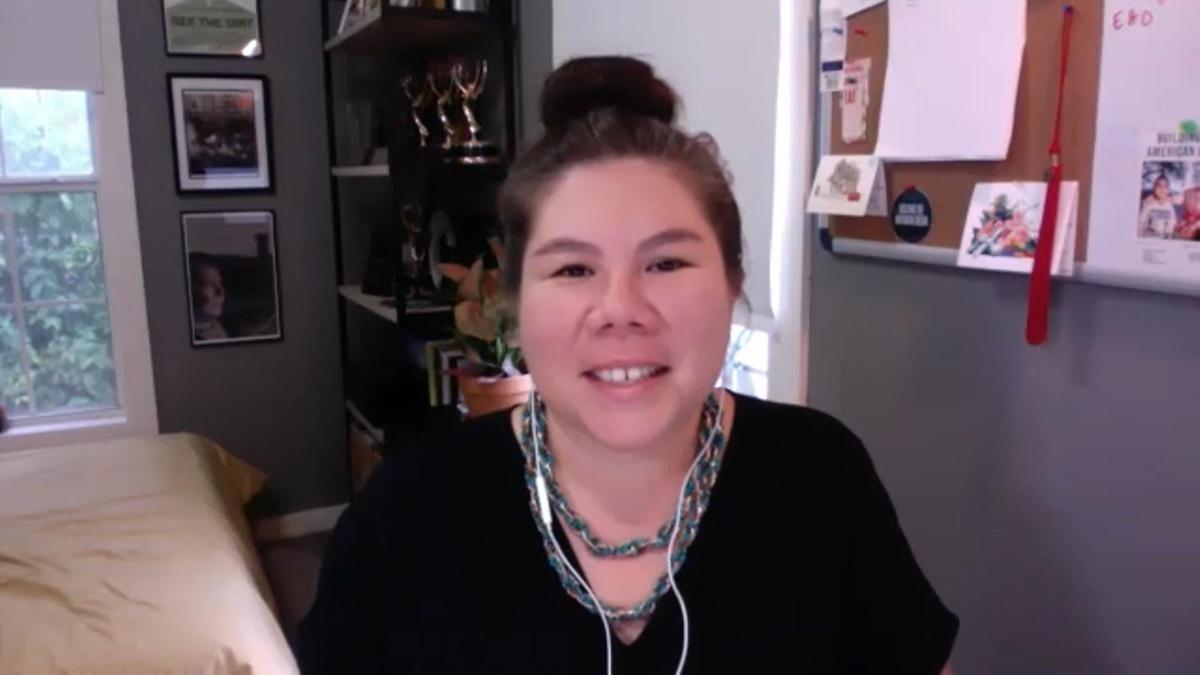 CLIP
PBS-VOCES: "BUILDING THE AMERICAN DREAM"
New York's skyline has soared to new heights in recent years thanks in large part to construction workers. But amid this building boom dozens have died on the job despite regulations intended to keep them safe. Now a new film, "Building The American Dream" is giving us a firsthand look at the fight for fair working conditions and the abuse of immigrant labor.
TRANSCRIPT

>>> WELCOME TO "METROFOCUS."

THE NEW YORK SKY LINE HAS SOARED

TO HEIGHTS IN RECENT YEARS

THANKS IN LARGE PART TO

CONSTRUCTION WORKERS.

BUT AMID THIS BUILDING BOOM,

DOZENS DIED ON THE JOB DESPITE

THE REGULATIONS INTENDED TO KEEP

THEM SAFE.

WORKPLACE TRAGEDIES CONTINUE TO

HAPPEN AT JOB SITES ACROSS THE

COUNTRY.

NOW A 2NEW FIFTH "BUILDING THE

AMERICAN DREAM" IS GIVING US A

FIRSTHAND LOOK AT THE ABUSE OF

IMMIGRANT LABOR AND FIGHT FOR

FAIR LEGISLATION.

THE AUTHOR OF THE CLAIMED

DOCUMENTARY SERIES PRODUCED BY

LATINO PUBLIC BROADCASTING, THE

FILM TAKES US TO TEXAS THAT

SHOWS THE DOWNSIDE OF

PRIORITIZING BUSINESS OVER

WORKERS.

HERE'S A PREVIEW.

♪

[ SPEAKING FOREIGN LANGUAGE ]

>> ONE IN FIVE TEXAS

CONSTRUCTION WORKERS ARE SUBJECT

TO A INJURY OR FATALITY.

>> THESE ARE ONE IN TEN WORKERS

THAT HAS THE HARDEST YOU CAN

POSSIBLY DO.

[ SPEAKING FOREIGN LANGUAGE ]

>> AND JOINING US NOW AS PART OF

OUR CHASING THE DREAM INITIATIVE

ON POVERTY AND OPPORTUNITY IN

AMERICA IS THE FILM'S PRODUCER

AND DIRECTOR CHELSEA HERNANDEZ.

CHELSEA, WELCOME TO THE PROGRAM.

>> GREAT TO BE HERE.

>> CHELSEA, FIRST OF ALL, WHAT

DREW YOU TO THIS PARTICULAR

ISSUE AND WHAT ULTIMATELY LED

YOU TO MAKE A FILM ABOUT IT?

>> SURE.

SO I WAS ATTENDING COLLEGE AT

THE UNIVERSITY OF TEXAS BACK IN

2009, AND WHILE I WAS ATTENDING

FILM SCHOOL THERE, THERE WAS A

CONSTRUCTION ACCIDENT NEAR

CAMPUS, AND THREE WORKERS HAD

FALLEN TO THEIR DEATH AFTER THE

SCAFFOLD HAD COLLAPSED.

AND SO THAT KIND OF JUST WOKE ME

UP TO REALIZE THAT THE WORKERS

WHO WERE BUILDING IN MY HOMETOWN

WERE DYEING OR BEING INJURED AT

THE JOB.

AND I FOUND THIS ORGANIZATION

THAT FRIENDS WERE VOLUNTEERING

AT CALLED WORKERS DEFENSE

PROJECT AND THAT'S WHEN I

LEARNED TEXAS WAS THE DEADLIEST

STATE FOR CONSTRUCTION AND THAT

NEARLY HALF A MILLION -- HALF A

MILLION OF THE WORKFORCE WAS

UNDOCUMENTED.

SO I WAS JUST SHOCKED THIS WAS

HAPPENING IN MY HOMETOWN AND

HAPPENING ACROSS THE STATE AND

REALLY WANTING TO DO SOMETHING

ABOUT IT.

I STARTED FILMING IN 2014 AND

FILMED FOR ABOUT 4 YEARS.

>> MOST OF THE WORKERS IN THE

FILM ARE UNDOCUMENTED, NOT ALL,

BUT MOST.

THAT'S WHAT MAKES IT SO

INCREDIBLY VULNERABLE TO ABUSE

AND TO EXPLOITATION, RIGHT?

AS FAR AS THE LAWS ARE NOW.

>> YEAH, IMMIGRANT WORKERS ARE

MORE AT RISK OF BEING INJURED ON

THE JOB, FACING WAGE GAPS MORE

THAN AMERICAN WORKERS AND THAT'S

JUST THE REALITY OF THE

INDUSTRY.

THIS HAS BEEN GOING ON A LONG

TIME.

TEXAS IS THE ONLY STATE IN THE

COUNTRY THAT DOESN'T REQUIRE

COMPANIES TO PROVIDE WORKMEN'S

COMPENSATION AND I THINK THAT

LEADS TO A LOT OF EXPLOITATION

ON THE JOB, ESPECIALLY

IMMIGRANTS.

>> YOU KNOW, AS THE FILM

PROGRESSES THE WORKERS IN YOUR

FILM BEGIN TO ORGANIZE, BEGIN TO

FIGHT BACK AND HAVE SOME

SUCCESSES.

I DON'T WANT TO GIVE TOO MUCH

AWAY, BUT THERE'S ONE PARTICULAR

WORKER WHO'S VERY ACTIVE AND

VERY IMPRESSIVE AND JUST AFTER

SHE HAD SOME SUCCESS, SHE GETS

PICKED UP BY ISIS.

IS THAT A COINCIDENCE OR

RETALIATION?

>> YEAH, I'M NOT SURE IF IT WAS

IN REGARDS TO HER COMING OUT AND

COMPLAINING ABOUT NOT BEING

PAID, BUT REALLY, IT'S THE FEAR

THAT MOST IMMIGRANTS FACE,

ESPECIALLY UNDOCUMENTED

IMMIGRANTS, IS THE FEAR OF BEING

DEPORTED.

SO NOT ONLY DOES SHE GO TO WORK

EVERY DAY TO A DANGEROUS SITE

WHERE SHE COULD POTENTIALLY GET

INJURED OR DIE ON THE JOB, BUT

ALSO FACE WAGE STATS SHE WAS

GOING THROUGH OR EVEN JUST

DRIVING TO THE GROCERY STORE OR

PICKING UP HER KIDS, SHE COULD

POTENTIALLY BE DEPORTED.

>> THERE ARE A NUMBER OF

CAPTIVATING PORTIONS.

THERE'S ONE YOU FOLLOW A FAMILY

WHOSE SON DIED FROM LEAST

EXHAUSTION.

HE WAS WORKING IN OVER

100-DEGREE WEATHER TEMPERATURES

WITHOUT A BREAK.

STILL, THE FAMILY GOES TO THE

DALLAS CITY COUNCIL PUSHING FOR

AN ORDINANCE THAT ASKS -- THAT

REQUIRES TEN MINUTES -- A

TEN-MINUTE BREAK EVERY FOUR

HOURS.

EXTREMELY MODEST.

I DON'T KNOW ABOUT YOU, BUT I

WAS SO SURPRISED TO HEAR THE

COUNCIL MEMBERS ARGUE AGAINST

THAT.

I WAS SURPRISED AND ANGERED.

I WONDER, WAS THAT YOUR REACTION

AS YOU WERE WITNESSING THIS?

>> IT REALLY WAS.

I MEAN, I WASN'T SO MUCH

SURPRISED THAT THEY WERE -- THEY

HAD THIS ATTITUDE TOWARDS

WORKERS AND TOWARDS REGULATIONS

OF BUSINESSES AFTER RESEARCHING

YEARS BEFORE WE STARTED PICKING

UP THE CAMERA, I KNEW THAT THE

BUSINESS -- OR THE POLITICAL

SECTOR WAS DEFINITELY ON BOARD

WITH LITTLE REGULATIONS AND

WANTED BUSINESSES TO FLOURISH

AND WASN'T LOOKING OUT FOR THE

LITTLE GUY, THE EMPLOYEE.

BUT I WAS REALLY SHOCKED THAT

THEY WERE SAYING SOME PRETTY

MEAN STUFF IN FRONT OF THE

FAMILY WHO JUST LOST THEIR SON

TO HEATSTROKE ON THE JOB.

CALLING THEM AND THE GROUP THAT

WERE FIGHTING FOR REST BREAKS

CHARLATANS, TO QUIT TELLING

BUSINESS NO.

THAT WAS REALLY SHOCKING TO ME

THAT THEY WERE JUST SO OPEN

ABOUT IT IN A PUBLIC FORUM.

IT WAS A PUBLIC CITY COUNCIL

HEARING BEING RECORDED.

MEDIA WAS THERE.

THAT WAS REALLY SHOCKING TO ME

BUT I THINK IT'S ALSO EMBLEMATIC

OF HOW GOVERNMENT AND THE

INDUSTRY WORKS TOGETHER HERE IN

THE STATE.

>> BUT YOU KNOW THE INSULTS

ASIDE, THE FUNDAMENTAL ARGUMENTS

THAT THESE COUNCIL MEMBERS ARE

MAKING AND THAT TEXAS -- TEXAS,

BUSINESS AND GOVERNMENT, TENDS

TO MAKE, TEXAS HAS HAD ITS

ECONOMIC SUCCESS, THE TEXAS

MIRACLE, BECAUSE IT HAS SO FEW

REGULATIONS, BECAUSE IT HAS SUCH

A RELATIVELY CHEAP AND DOS ILL

W

DOCILE WORKFORCE.

AND IF THEY LOSE THOSE

ADVANTAGES, EVERYBODY LOSES THE

WORKERS.

HOW DO YOU RESPOND TO THAT?

>> I THINK IT'S REALLY NOT TRUE.

YOU KNOW, IN TEXAS THERE'S A

LARGE SHORTAGE OF WORKERS, AND

MANY HAVE FLED BACK TO THEIR

HOME COUNTRIES BECAUSE THE FEAR

OF RETALIATION, THE FEAR OF

DEPORTATION, ESPECIALLY IN OUR

CURRENT TIMES WHERE WE HAVE A

PRESIDENT WHO IS FEELING

ANTI-IMMIGRANT RHETORIC TO

PUBLIC.

BUT THE MYTH OF THEM TAKING AWAY

JOBS, OR IF WE ADD ON

REGULATIONS, BUSINESSES ARE NOT

GOING TO MANY COULD.

OFTEN IN DALLAS MOST HAVE REST

BREAK ORDINANCES AND COMPANIES

CONTINUE TO FLOURISH.

SO WE DON'T SEE THE LACK OF BOOM

THAT IS HAPPENING IN THIS STATE,

AND IN REALITY I THINK WE COULD

REALLY ADD TO THE WORKFORCE, AND

HELP FILL THAT SHORTAGE OF

WORKERS IF PEOPLE KNOW THAT

THEY'RE GOING TO A SAFE WORK

ENVIRONMENT, THAT THEY WON'T GET

KILLED ON THE JOB, MAYBE THE

CONSTRUCTION INDUSTRY CAN

ACTUALLY EXPAND AND REALLY DO

WELL AT PROTECTING THEIR

WORKERS.

>> YOU KNOW, ONE OF THE THINGS

THAT THE FILM DOES SO WELL,

"AMERICAN DREAM" IS IN THE TITLE

AND THAT'S A PHRASE BY MULTI

GENERATIONS OF AMERICANS ARE

SEEN AS A SLOGAN OR CLICHE BUT

CERTAINLY NOT THE PEOPLE YOU

FILM.

FOR THE PEOPLE YOU FILM, THE

AMERICAN DREAM IS VERY REAL.

NOT ONLY THAT, THEY ARE ALREADY

BUILDING THE AMERICAN DREAMS IN

THEIR LIVES, EVEN WITH ALL OF

THE OBSTACLES THEY FACE.

YOU SHOW THAT VERY SUBTLY.

YOU DON'T TALK ABOUT IT BUT YOU

SHOW IT.

THE FAMILIES ARE DOING WELL,

THEY'RE HARD WORKING AND THEY'RE

KIND OF CONSERVATIVE.

AMERICAN AS APPLE PIE, OZZY AND

HARRIET, MUCH MORE THAN MOST

AMERICANS ARE.

AND THESE PEOPLE WOULDN'T BE

ORGANIZING AND FIGHTING IF THEY

DIDN'T HAVE TO.

THEY'RE WORKERS AND CONSERVATIVE

AND SAY THE PLEDGE OF

ALLEGIANCE, AND IT'S IRONIC WHO

THE CONSERVATIVES THAT SHOULD

SEE THEM AS CONSTITUENTS THAT

ARE KIND OF FIGHTING THEM.

IS THAT CHANGING IN TEXAS,

BECAUSE IT'S CHANGING NATIONALLY

A LITTLE BIT?

WHAT'S YOUR EXPERIENCE?

>> YES, YOU'RE SO ON POINT AND

THESE WORKERS ARE VERY PRIDEFUL

TO BE IN THIS COUNTRY.

I KNOW CLAUDIA, ONE OF THE

ELECTRICIANS FEATURED IN THE

FILM, SHE WAS ALWAYS WEARING

T-SHIRT THAT'S HAD THE AMERICAN

FLAG AND WAS KIND OF BOASTING

THESE PATRIOTIC IMAGES AND SO

THEY'RE VERY PROUD TO BUILD WITH

THEIR HANDS AND BUILD THESE

BUILDINGS THAT MAKE UP THE SKY

LINE.

BUT I DO THINK THERE IS A CHANGE

AND CURRENTLY WITH THE PANDEMIC

HAPPENING, PEOPLE ARE REALIZING

THAT WORKERS ARE ESSENTIAL, AND

SO I THINK -- ESPECIALLY

CONSTRUCTION WORKERS, YOU KNOW,

IN TEXAS, CONSTRUCTION WORKERS

WERE WORKING THROUGH THE

PANDEMIC.

THEY WERE CONSIDERED BY THE

GOVERNOR AS ESSENTIAL BACK IN

APRIL.

BUT KNOWING THAT THEY DON'T

HAVE -- THEY DIDN'T HAVE THE

SAME CONDITIONS BEFORE THE

PANDEMIC, WHO'S TO SAY THEY WILL

BE PROVIDED THE SAFE CONDITIONS

NOW DURING THE PANDEMIC?

I THINK PEOPLE ARE REALIZING

WORKERS ARE IN DIRE SITUATIONS

AND NEED BETTER WORKING

CONDITIONS.

SO I DO THINK IT IS CHANGING AS

FAR AS THE ATTITUDE TO PROTECT

WORKERS AND HAVE THAT PATRIOTISM

FOR THE COUNTRY BUT FOR THE

WORKERS THEMSELVES FIRST.

>> QUICKLY, I KNOW THE FILM IS

ABOUT TEXAS BUT NOT NEW YORK.

BUT YOU KNOW A LITTLE BIT ABOUT

NEW YORK.

NEW YORK IS CONSIDERED A

PROGRESSIVE STATE.

HOW DOES IT COMPARE IN TERMS OF

WORKER SAFETY AND GENERAL

STATEMENTS OF UNDOCUMENTED

WORKERS?

>> YEAH, I MEAN, NEW YORK

DEFINITELY HAS MORE UNION

WORKERS THAN TEXAS.

I BELIEVE TEXAS IS ABOUT 1%

UNIONIZED SO IT'S A LITTLE BIT

HARDER TO FIGHT FOR LAWS AND

THAT'S WHY WORKER CENTERS ARE

REALLY IMPORTANT AND COLLABORATE

WITH UNIONS TO PUSH FOR

LEGISLATION.

NEW YORK IS A LITTLE DIFFERENT

BECAUSE THEY DO HAVE A BIGGER

UNION WORKFORCE.

HOWEVER, IS SINCE THE CITY

BUDGET, THE STATE BUDGET HAS

KIND OF DECREASED THEIR FUNDING

FOR CITY PROJECTS, THAT'S WHEN

YOU TEND TO SEE COMPANIES,

DEVELOPERS HIRING CONTRACTORS

THAT ARE NOT UNIONIZED THAT

DON'T HAVE A RAPPORT AND THEY

END UP, YOU KNOW, GETTING

WORKERS ON THE STREETS WHO DON'T

HAVE ANY TRAINING.

I DO KNOW THAT IN NEW YORK, I

THINK THEY JUST PASSED A

LEGISLATION NOW WHERE

CONSTRUCTION WORKERS DO HAVE TO

GET AN OSHA CERTIFIED TRAINING,

WHICH IS REALLY GREAT FOR THE

CITY IN MAKING SURE THAT PEOPLE

ARE WORKING CORRECTLY, PROVIDING

THAT SAFE ENVIRONMENT AMONG EACH

OTHER.

BUT, YOU KNOW, YOU CAN SEE WHEN

THERE'S A LACK OF SAFETY ON THE

JOB, YOU'LL HAVE MAJOR ACCIDENTS

HAPPEN AND IN NEW YORK, THEY'VE

HAD ACCIDENTS INCREASE OVER THE

PAST FEW YEARS.

THERE WERE HORRENDOUS CRANE

ACCIDENTS THAT HAPPENED THERE.

AND IT MAKES YOU WONDER WHAT

KIND OF WORKING CONDITIONS WERE

THOSE WORKERS IN, IN THE FIRST

PLACE?

>> WE ONLY HAVE ABOUT 20 SECONDS

LEFT.

ARE YOU OPTIMISTIC ABOUT THE

FUTURE OF THE WORKERS IN AMERICA

IN GENERAL BUT SPECIFICALLY THE

UNDOCUMENTED WORKERS?

>> YES, I'M VERY OPTIMISTIC.

I DON'T THINK IT'S GOING TO

CHANGE OVERNIGHT, BUT I THINK

THERE'S A GROWING MOVEMENT AND I

HOPE THAT THIS FILM ENCOURAGES

OTHER WORKERS TO STAND UP

AGAINST EXPLOITATION AS WELL AND

PUSH FOR MORE CHANGES IN LAW.

>> CHELSEA, IT'S A WONDERFUL

FILM.

I HOPE A LOT OF PEOPLE SEE IT.

I KNOW HAD WILL HAVE A GOOD

IMPACT.

THANK YOU VERY MUCH FOR JOINING

US TODAY.

IT'S BEEN A PLEASURE TO HAVE YOU

HERE.

>> THANK YOU.

THANK YOU FOR HAVING ME.