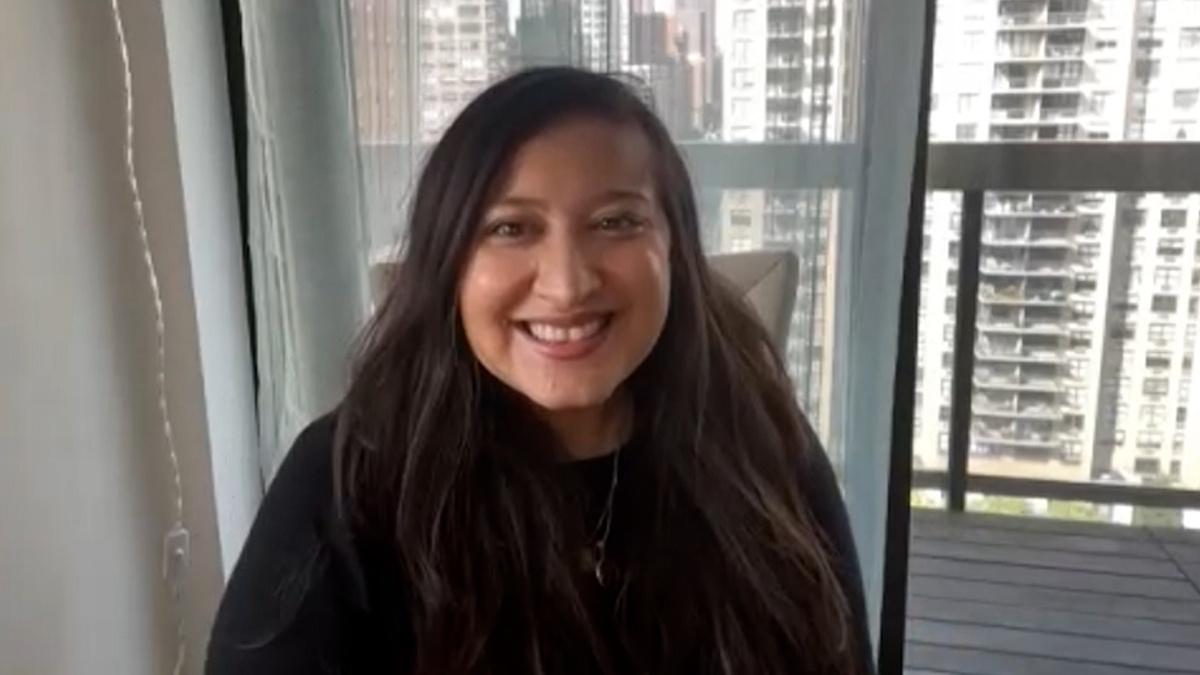 CLIP
FROM PANDEMIC TO TWINDEMIC: A SPECIAL REPORT
Tonight doctor Purvi Parikh, allergist and immunologist with the Allergy & Asthma Network and NYU Langone, is on call to discuss the risk of a "twindemic" of flu and COVID cases in the coming months and how to identify the confusing symptoms.
TRANSCRIPT

>>> WELCOME TO "METROFOCUS."

I'M JACK FORD.

HEALTH EXPERTS ARE WARNING US

THIS THIS YEAR'S FLU SEASON MAY

WELL BE MUCH WORSE THAN LAST

YEAR.

ACCORDING TO THE CDC, THE FLU

TYPICALLY INFECTS BETWEEN 9

MILLION AND 45 MILLION AMERICANS

EACH YEAR.

BUT LAST YEAR, THE FLU WAS

VIRTUALLY NON-EXISTENT.

NOW THERE IS A CONCERN THAT THIS

SEASON THE FLU COULD COME BACK

WITH A VENGEANCE.

AND WITH COVID STILL A VERY REAL

THREAT, SOME EXPERTS FEAR THE

COMING MONTHS COULD CREATE WHAT

THEY ARE CALLING A TWINDEMIC

THAT COULD OVERWHELM ALREADY

STRETCHED HOSPITALS.

TO TALK ABOUT ALL OF THIS AND

HOW TO PROTECT OURSELVES, ALSO

HOW TO MANAGE CONFUSING SYMPTOMS

WE ARE DELAYED TO BE JOINED BY

DR. PARIK, AN ALLERGIST AND

IMMUNOLOGIST WITH THE ALLERGY

AND ASTHMA SPECIALISTS.

>> THANK YOU FOR HAVING ME.

>> LET'S START WITH THAT

NOTION -- THERE WAS A FEAR -- WE

WERE BEING TOLD LAST YEAR AT

THIS TIME WE COULD HAVE A

CONFLUENCE OF FLU AND COVID.

IT DIDN'T MATERIALIZE.

WHY NOT.

>> PEOPLE WERE GOOD ABOUT

GETTING THEIR FLU SHOTS EARLY

LAST YEAR BECAUSE WE WERE WARN

BEING THE TWINDEMIC.

WE ARE WORRIED ABOUT GOING TO

THE HOSPITAL WITH ALL THE COVID

INFE

INFECTIONS.

WE SAW A LOT OF PEOPLE GETTING

THEIR FLU VACCINE.

AND PEOPLE WERE MASKING AND

SOCIAL DISTANCING.

THAT HELPS WITH THE FLU, AGAIN,

BECAUSE IT IS ALSO A RESPIRATORY

VIRUS.

ALL OF THESE PRECAUTIONS HELPED

TO KEEP THE FLU CASES VERY LOW.

I HOPE THEY CONTINUE NOW FOREVER

AFTER THIS.

>> I GUESS THE FLIP SIDE OF THAT

QUESTION IS WHY ARE HEALTH

EXPERTS NOW CONCERNED ABOUT THIS

NOTION THAT THE FLU MIGHT AS I

SAID, RETURN WITH A VENGEANCE?

>> RIGHT, SO ON THE OTHER SIDE,

THIS YEAR, NOW THAT MANY PEOPLE

HAVE BEEN VACCINATED, PEOPLE ARE

RETURNING BACK TO NORMAL, RIGHT

IN SO PEOPLE ARE RETURNING BACK

TO WORK IN THEIR OFFICES WHEREAS

LAST YEAR THEY WERE STILL

WORKING FROM HOME.

PEOPLE ARE NOW ENGAGING IN MORE

SOCIAL ACTIVITIES BECAUSE THERE

IS A SENSE OF COMFORT AND SAFETY

HAVING BEEN VACCINATED.

SO THAT'S THE CONCERN THAT KIND

OF THE GUARD IS LOWER NOW, THE

MASKING MAY NOT BE AS STRICT.

THE DISSTEPSING SOCIALLY MAY NOT

BE AS STRICT.

AND THERE IS MORE HUMAN-TO-HUMAN

INTERACTION.

PEOPLE ARE ON PUBLIC

TRANSPORTATION, FLYING, ET

CETERA.

>> I THINK ONE OF THE QUESTIONS

PEOPLE ARE ASKING IS

SIMILARITIES BETWEEN GENERALLY

FLU SYMPTOMS AND COVID SYMPTOMS.

WHAT WIND OF SIMILARITIES ARE

THERE?

>> THERE ARE A LOT OF

SIMILARITIES.

YOU KNOW, BOTH CAN CAUSE FEVERS,

EVEN HIGH FEVERS.

THAT MEANS YOUR TEMPERATURE

BEING ABOVE 100.4.

BOTH CAUSE MUSCLE ACHE, FATIGUE.

BOTH CAN CAUSE COUGHINGS, RUNNY

NOSE.

THINGS LIKE THAT.

AND BOTH CAN CAUSE STOMACH

ISSUES, NAUSEA, VOMITING

DIARRHEA.

SOME THINGS THAT ARE A LITTLE

BIT UNIQUE TO COVID THE LOSS OF

SMELL, LOSS OF TASTE.

WE DON'T SEE THAT AS MUCH WITH

THE FLU.

COVID ALSO CAN CAUSE A LOT OF

NEUROLOGICAL SYSTEMS THAT WE

DON'T ALWAYS SEE WITH THE FLU.

WITH COVID-19 WE ARE SEEING A

LOT OF BLOOD VESSEL

INFLAMMATION.

THERE COULD BE THINGS SUCH AS

STROKE EVEN ACUTE HEART

INFLAMMATION AND HEART DISEASE.

IT CAN MIMIC LIKE A HEART ATTACK

AND BLOOD CLOTS.

SO THERE ARE THINGS THAT ARE

VERY, VERY DIFFERENT WITH

COVID-19, BUT THERE ARE A LOT OF

OVERLAPS, TOO.

WE ENCOURAGE PEOPLE, IF YOU ARE

NOT SURE WHAT YOU HAVE, EVEN IF

YOU HAVE BEEN VACCINATED AGAINST

BOTH GO AND GET TESTED FOR BOTH.

NOW WE HAVE AMPLE TESTING FOR

BOTH VIRUSS.

>> YOU ANTICIPATED MY QUESTION,

WHICH WAS, IF YOU ARE

EXPERIENCING THE SYMPTOMS THAT

ARE SIMILAR -- YOU SAID THERE

ARE CERTAIN DISTINGUISHING

SYMPTOMS WITH REGARD TO COVID.

BUT IF YOU ARE EXPERIENCING ONES

THAT ARE SIMILAR, HOW LONG --

SHOULD YOU WAIT?

SHOULD YOU TALK TO YOUR DOCTOR?

WHERE DO YOU GO TO GET YOUR

TESTING?

WHAT ARE YOU TELLING PATIENTS?

>> WHAT I HAVE BEEN ADVISING IS

TO TRY TO BE TESTED AS SOON AS

YOU CAN.

THE REASON BEING IS FOR COVID-19

THERE ARE TREATMENTS WE CAN

OFFER YOU WITHIN THE FIRST 72

HOURS OR WITHIN THE FIRST COUPLE

OF DAYS THAT MAY HELP LESSEN THE

SEVERITY OR MAY LESSEN THE

CHANCE OF YOU ENDING UP IN THE

HOSPITAL.

MONOCLONAL ANTIBODIES WHICH MADE

HEADLINES WHEN OUR FORMER

PRESIDENT RECEIVED IT, THAT'S AN

OPTION FOR SOMEONE WHO IS SICK,

MIGHT BE HAVING MORE SYMPTOMS,

AND IT CAN BE A GREAT PREVENTIVE

MEDICATION.

BUT WE WOULD NEED TO KNOW IF YOU

ACTUALLY HAVE COVID-19 OR THE

FLU.

SO THAT'S WHY I THINK THE

TESTING IS STILL HELPFUL.

OTHERWISE, A LOT OF THE

TREATMENT IS THE SAME.

YOU KNOW, IF YOU HAVE A CASE

WHERE YOU ARE NOT HAVING

BREATHING PROBLEMS OR MORE

SEVERE SYMPTOMS, STAY HOME,

ISOLATE YOURSELF, DRINK LOTS OF

FLUIDS, THE SUPPORTIVE CARE WE

ALWAYS ADVOCATE FOR MOST VIRUSS.

>> CAN YOU ACTUALLY CONTRACT

BOTH AT THE SAME TIME?

>> YEAH, YOU KNOW, ANYTHING IS

POSSIBLE.

THAT'S PRETTY RARE FOR THAT TO

OCCUR.

BUT IT IS POSSIBLE BECAUSE THEY

ARE TWO COMPLETELY DIFFERENT

VIRUSES.

AND IF YOU ARE VERY UNLUCKY AND

HAVE BEEN EXPOSED TO TWO

INDIVIDUALS WHO ARE CARRYING

THOSE VIRUSES OF COURSE IT IS

POSSIBLE.

BUT IT'S EXTREMELY RARE.

SO MORE OFTEN THAN NOT YOU

LIKELY HAVE ONE OR THE OTHER.

>> LET'S TALK ABOUT THE FLU

SHOTS THEN, AND THE ADVICE

OBVIOUSLY THAT'S BEING GIVEN TO

PEOPLE IN THIS SEASON, THIS FLU

SEASON.

I HAVE SEEN SOME FOLKS SAYING,

WELL, I DON'T KNOW IF I SHOULD

GET THE FLU SHOT RIGHT NOW, KIND

OF BEFORE THE FLU SEASON, OR

SHOULD I WAIT UNTIL IT GETS A

LITTLE BIT MORE INTO THE FLU

SEASON SO THAT THE EFFICACY WILL

CONTINUE FOR ME A LITTLE BIT

LONGER AND GIVE ME BETTER

PROTECTION.

WHAT'S THE ANSWER TO THAT?

>> RIGHT.

THAT'S A COMMON QUESTION I GET

ASKED.

I WOULD SAY RIGHT NOW IS THE

PERFECT TIME.

I GOT MY OWN FLU SHOT THREE DAYS

AGO.

SO PLEASE GO OUT AND GET IT.

THE EFFICACY, ACTUALLY SHOULD

COVER THE FULL FLU SEASON.

THERE ARE SOME INDIVIDUALS IN

WHICH THE EFFICACY MAY WANE

AFTER SIX MONTHS.

BUT THAT'S NOT THE GENERAL

POPULATION.

SO THOSE INDIVIDUALS ARE ELDERLY

FOLKS.

THEY MIGHT HAVE A LITTLE

DROPPING IN IMMUNITY AFTER SIX

MONTHS.

ALSO FOLKS WHO ARE

IMMUNOCOMPROMISED.

CANCER PATIENTS, PEOPLE ON

MEDICATIONS THAT SUPPRESS THEIR

IMMUNE SYSTEM.

EVEN FOR THEM, THEY HAVE VERY

GOOD PROTECTION FOR SIX MONTHS

AND MAYBE EVEN MORE.

SO FOR THE GENERAL POPULATION I

WOULD SAY GO AHEAD AND GET IT.

NOW IS THE PERFECT TIME.

WE ARE ALREADY SEEING AN

INCREASE IN VIRUSS IN THE AIR.

IT IS ONLY GOING TO INCREASE AS

WE MOVE INTO WINTER AND PEOPLE

ARE SPENDING MORE TIME INDOORS

AND TOGETHER.

>> WHAT ABOUT THE QUESTION OF

THE TIMING OF THE SHOT, BETWEEN

YOUR VACCINATION OR YOUR

BOOSTER?

I JUST GOT MY BOOSTER SHOT I

WANT TO GET MY FLU SHOT.

>> RIGHT.

>> SHOULD YOU WAIT A PERIOD OF

TIME BEFORE YOU DO THAT?

CAN YOU GET THEM THE SAME WAY?

WHAT'S THE SUGGESTION?

>> ACTUALLY, YOU DON'T HAVE TO

WAIT.

AND CVS AND OTHER PHARMACIES ARE

OFFERING THEM BOTH AT THE SAME

TIME.

BUT IF YOU ARE SOMEONE WHO IS

PRONE TO SIDE EFFECTS FROM

VACCINES, YOU MAY WANT TO SPACE

THEM OUT OVER A COUPLE OF DAYS.

IT IS PERFECTLY FINE TO GET THE

NEXT SHOT WHENEVER YOU FEEL WELL

AGAIN.

ONE WEEK IS AMPLE TIME.

TWO WEEKS -- THERE IS NO MAGIC

NUMBER.

YOU CAN GET BOTH ON THE SAME

DAY, WITHIN THE SAME WEEK, IF

YOU WISH TO WAIT A WEEK THAT'S

PERFECTLY FINE AS WELL.

>> LET ME ASK YOU THIS LAST

QUESTION.

WE HAVE GOT ABOUT TWO MINUTES.

LET ME ASK YOU TO REVIEW WHAT

SCIENCE IS NOW TELLING BUS THE

BOOSTER SHOT AND THE NEED FOR

THE BOOSTER SHOTS AND WHAT THEY

ACTUALLY DO FOR US.

>> YEAH.

NO, ABSOLUTELY.

THIS IS A VERY IMPORTANT

QUESTION BECAUSE IT HAS BEEN

VERY CONFUSING IN THE LAST FEW

WEEKS.

SO WHAT WE DO KNOW FROM SCIENCE

AND FROM DATA IS THAT PEOPLE

THAT ARE IMMUNE COMPROMISED

AGAIN, CANCER PATIENTS, PEOPLE

WITH PRIMARY IMMUNE DEFICIENCIES

OR ARE ON MEDICINES THAT

SUPPRESS THEIR IMMUNE SYSTEMS,

THEY LIKELY DO NEED A THIRD

SHOT.

FOR THEM IT IS NOT CALLED A

BOOSTER.

IT IS CALLED A THIRD SHOT

BECAUSE THEY DIDN'T GET THE SAME

IMMUNITY THAT OTHERS DID WITH

SHOTS ONE AND TWO.

THEY ABSOLUTELY, IT IS

RECOMMENDED THEY SHOULD RECEIVE

IT.

FOR THE BOOSTER SHOT FOR

EVERYONE ELSE, WITH THE PFIZER

VACCINE THERE WAS A WANING IN

IMMUNITY EIGHT MONTHS AFTER,

ESPECIALLY IN FOLKS 60 AND

OLDER, WITH CERTAIN MEDICAL

CONDITIONS, THOSE WHO WORK IN

HIGH RISK SITUATIONS, ESSENTIAL

WORKERS, HEALTH CARE WORKERS,

FRONT LINERS.

THAT'S WHY THE CURRENT BOOSTER

RECOMMENDATIONS ARE FOR THOSE

INDIVIDUALS WHO ARE MORE THAN

SICK MONTHS OUT OF PFIZER AND

HAVE THOSE HIGH-RISK CONDITIONS.

SO THEY EITHER WORK IN A

HIGH-RISK ENVIRONMENT.

THEY LIVE IN A HIGH RISK

ENVIRONMENT.

THEY ARE ABOVE 65.

AND THE CDC ACTUALLY SAID NOW

ANYONE OVER 18 THAT HAS A

MEDICAL CONDITION THAT WOULD PUT

THEM AT HIGHER RISK.

AND THAT'S SOMETHING THAT YOU

HAVE TO DETERMINE WITH YOUR OWN

PHYSICIAN.

SO NOT EVERYONE NECESSARILY

NEEDS ONE.

AND WHAT WE ARE SEEING IS THAT

THE INDIVIDUALS WHO GOT MODERNA

MAY BE OKAY.

>> RIGHT.

>> THAT IMMUNITY SEEMS TO BE

LASTING WELL, ADDITIONAL AGAINST

DAELTA.

BUT JOHNSON & JOHNSON LIKELY

WILL NEED ONE.

WE WILL HAVE MORE INFORMATION IN

THE COMING WEEKS BECAUSE THE FDA

IS GOING MEETING ON ALL OF THESE

INDIVIDUAL SHOTS.

AGAIN, IT'S NOT A REASON TO

PANIC AND NOT EVERYONE MAY NEED

ONE.

>> GOOD ADVICE, DOCTOR, THANK

YOU SO MUCH FOR SPENDING SOME

TIME WITH US.

WE APPRECIATE YOUR WISDOM AND

YOUR INFORMATION.

YOU BE WELL.

>> THANK YOU.

THANKS SO MUCH FOR HAVING ME.