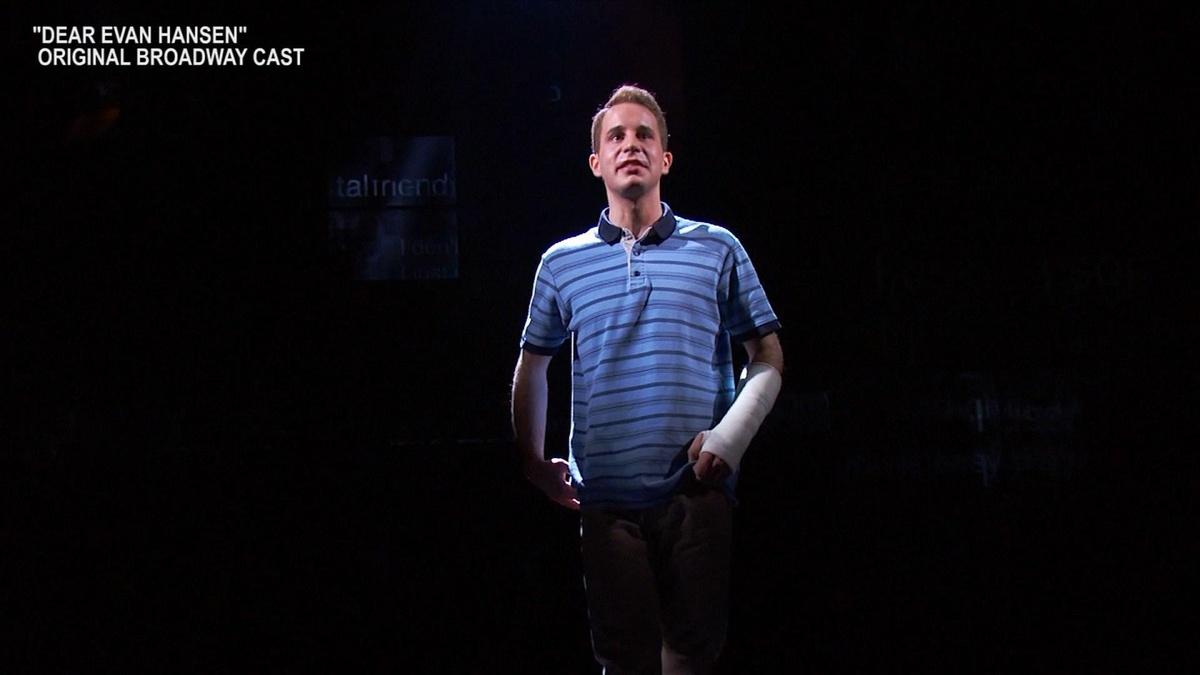 FULL EPISODE
MetroFocus: September 24, 2021
Tonight we sit down with "Dear Evan Hansen" star Ben Platt and take you inside the story that resonates with so many today. And we talk with two of the original stars from the play, Rachel Bay Jones and Jennifer Laura Thompson. Plus, from tragedy to inspiration, we follow the emotional journey of three New York City students and show you the real life impact the musical had on their lives.
TRANSCRIPT

♪

>>> THIS IS "METROFOCUS" WITH

RAFAEL PI ROMAN, JACK FORD, AND

JENNA FLANAGAN.

>>"METROFOCUS" IS MADE POSSIBLE

BY --

SUE AND EDGAR WACHENHEIM III,

SYLVIA A. AND SIMON B. POYTA

PROGRAMING ENDOWMENT TO FIGHT

ANTI-SEMITISM.

THE PETER G. PETERSON AND JOAN

GANZ COONEY FUND.

BERNARD AND DENISE SCHWARTZ,

BARBARA HOPE ZUCKERBERG, JANET

PRINDLE SEIDLER, JODY AND JOHN

ARNHOLD, CHERYL AND PHILIP

MILSTEIN FAMILY, JUDY AND JOSH

WESTON, DR. ROBERT C. AND TINA

SOHN FOUNDATION, THE JPB

FOUNDATION.

>>> ONE OF BROADWAY'S BIGGEST

STARS IS TAKING ON A NEW ROLE,

SINGER/SONGWRITER.

BEN PLATT, THE YOUNG ACTOR WHOSE

BRILLIANT PERFORMANCE IN THE

SMASH HIT "DEAR EVAN HANSON"

EARNED HIM A TONY, A GRAMMY AND

AN EMMY, RECENTLY RELEASED "SING

TO ME "" INSTEAD, AND IT IS A

HIGHLY PERSONAL STATEMENT WHO A

PERFORMER UP UNTIL NOW HAS BEEN

MORE COMFORTABLE TELLING STORIES

OTHER THAN HIS OWN.

SING TO ME INSTEAD HAS RAVE

REVIEWS AND HAS A SOLD-OUT

PERFORMANCE AT THE BEACON

THEATER NEXT WEEK.

I RECENTLY SAT DOWN WITH THE

AWARD-WINNING PERFORMER AND I

BEGAN THE CONVERSATION BY ASKING

HIM HOW THE IDEA FOR THE NEW

ALBUM FIRST CAME TO BE.

>> IN A LOGISTICAL SENSE I WAS

WORKING AT ATLANTIC RECORDS AND

HAD A GREAT TIME WORKING AT

ATLANTIC AND AS WE WERE GOING

THROUGH THE PROCESS THEY

MENTIONED A FEW TIMES HAVE YOU

EVER THOUGHT OF MAKING YOUR OWN

RECORD AT ANY TIME?

WOULD YOU LIKE TO DO ORIGINAL

MUSIC OR A POP ALBUM?

I WANTED TO BE FREE FROM

CHARACTER AND I HAD WRITTEN JOKE

SONGS WITH MY FAMILY AND WITH MY

FRIENDS GROWING UP AND MUSICAL

THEATER, I'D BEEN AROUND AND

SORT OF WRITING MUSICALS HERE

AND THERE, BUT NEVER HAD WRITTEN

EARNESTLY MY OWN POINT OF VIEW

AND I SAT DOWN WITH THIS RECORD

IN MIND AND TO SEE WHAT WOULD

COME OUT AND I LIKED THE SONGS

THAT CAME OUT AND THE RECORD WAS

BORN.

>> YOU SAID YOU WANTED THIS

RECORD TO BE VERY PERSONAL.

VERY TRANSPARENT, AN AUTHENTIC

PORTRAYAL OF YOUR PERSONAL LIFE

WITH NO CHARACTERS IN BETWEEN

YOU AND THE AUDIENCE AND THE

LISTENERS.

WHY?

WHY DID YOU WANT THAT?

>> I'VE BEEN LUCKY AS AN ACTOR

TO HAVE A LOT OF OPPORTUNITIES

TO SHOW DIFFERENT PARTS OF

MYSELF THROUGH OTHER PEOPLE AND

TO DISGUISE MYSELF AND OTHER

PERSPECTIVES AND HAVE THAT BE

SORT OF THE MAIN TASK AT HAND

AND IF I WAS GOING GO DOWN THIS

ROAD AND TRY TO ADD SOMETHING

LIKE A DIFFERENT LANE TO WHAT I

DO, I WANTED IT TO BE A

CHALLENGE THAT I WASN'T GOING TO

BE ABLE TO FIND AS AN ACTOR AND

THE ONE THING YOU DON'T GET TO

FIND IS TO BE FREE OF WHO YOU

ARE, FREE FROM ANY KIND OF

SAFETY NET AND THE IDEA OF

SHARING MYSELF THAT KIND OF

VULNERABLY AND THAT TR

TRANSPARENTLY WAS FRIGHTENING TO

ME AND THAT WAS THE FEAR THAT I

WAS CHASING AND SOMETHING THAT

FEELS BRAND NEW AND UNCHARTED

TERRITORY, AND I THOUGHT IF I

WAS GOING TO DO THIS.

>> YOU'RE THE KIND OF GUY THAT

RUNS INTO A FIRE INSTEAD OF

RUNNING INTO ONE.

>> I DON'T KNOW ABOUT THE FIRE,

BUT IF IT'S A MUSICAL FIRE.

>> AS YOU SAID IN PREVIOUS

INTERVIEW, THAT THIS IS NOT A

COMING OUT ALBUM BECAUSE YOU

CAME OUT AS GAY TO YOUR FAMILY

WHEN YOU WERE 12 YEARS OLD AND

NEVER HIDDEN IT AT LEAST SINCE

THEN, BUT MOST OF YOUR FAN, MOST

OF YOUR AUDIENCES KNEW NOTHING

ABOUT YOUR SEXUAL LIFE UNTIL

THEY LISTENED TO THIS ALBUM.

DID THAT GIVE YOU PAUSE AT ALL

THAT YOU WOULD MAKE YOURSELF

MAYBE TOO VULNERABLE?

>> NOT REALLY.

I MEAN, I THINK, YOU KNOW, THE

KIND OF STEP THAT I WAS MOST

WORRIED ABOUT OR MORE

APPREHENSIVE ABOUT WAS JUST

SHARING MY OWN EXPERIENCES AND

EMOTIONS AT ALL.

I DON'T THINK THAT SPECIFICALLY

THAT THE SEXUALITY OF IT ALL WAS

SOMETHING THAT I WAS MAKING A

CONSCIOUS DECISION ABOUT IT.

ONCE I CROSSED THAT BRIDGE I'LL

SHARE WHOI AM AND THAT'S JUST A

PART OF WHO I AM SO THAT'S

NATURALLY GOING TO BE SOMETHING

THAT WAS GOING TO SHARE AND I

WAS HAPPY TO DO IT IN THE

CONTEXT OF ART AND SOMETHING

THEY MADE RATHER THAN SORT OF

MAKING A STAND-ALONE

ANNOUNCEMENT OF SOME KIND

BECAUSE WE ARE HOPEFULLY AS A

SOCIETY AND AS A COUNTRY AND THE

WORLD BEYOND NEEDING TO DECLARE

THAT BECAUSE IT'S JUST A PART OF

IT.

>> IT'S LIKE YOU'RE JEWISH

INSTEAD OF CATHOLIC AND LIVE IN

NEW YORK INSTEAD OF LOS ANGELES.

>> EXACTLY.

>> IF WE CAN TALK ABOUT GROW AS

WE GO.

CAN YOU TELL US ABOUT THAT?

WHAT IS IT ABOUT?

WHAT DOES IT MEAN TO YOU?

>> THAT'S OUR SINGLE, "GROW AS

WE GO" I WROTE IT WITH BEN

ABRAHAM AND ALEX HOPE AND IT'S

SP

SORT OF A SONG ABOUT WHEN

RELATIONSHIPS END, AND THE

REASON SOMEONE GIVES I NEED TO

GO AND FIND MYSELF AND FIGURE

OUT WHOI AM BEFORE I CAN BE WITH

SOMEONE ELSE AND I WAS IN A

SIMILAR SITUATION AND THERE ARE

CERTAIN TIMES WHEN THAT'S VALID

AND THERE ARE OTHER TIMES WHEN

IT'S A BIT OF A COP-OUT AND I

WROTE IT FROM THE PERSPECTIVE OF

THE OTHER PERSON IN THE

RELATIONSHIP.

I HEAR YOU AND I NEED TO FIND

MYSELF, BUT WHY CAN'T WE STAY

TOGETHER AND STAY NEXT TO EACH

OTHER AND I CAN GIVE YOU TO GROW

AND YOU GIVE ME ROOM TO GROW AND

WHY DOES THAT MEAN WE HAVE TO BE

APART?

♪

♪

♪ WE'LL TAKE IT SLOW AND GROW AS

WE GO ♪

♪

♪

>> SO I THINK THE REASON THE

SONG RESONATES WITH PEOPLE IS

YOU CAN KIND OF FIND YOUR WAY ON

THE POSITIVE SIDE IF YOU'RE IN A

RELATIONSHIP WHERE YOU FEEL

YOU'VE ACCOMPLISHED THAT AND ARE

GROWING TOGETHER OR IF YOU'RE IN

A RELATIONSHIP THAT HAS ENDED

FOR THAT REASON AND THE SONG CAN

SPEAK TO BOTH WORLDS.

>> TO WHAT DEGREE, IF ANY, DID

YOU DO THIS ALBUM IN THIS WAY TO

DISTANCE YOURSELF FROM THE ROLE

THAT YOU HAVE BEEN ASSOCIATED

WITH FROM THE ONE THAT YOU

ORIGINATED AND THE ONE YOU WON A

TONY FOR?

I DON'T THINK THAT'S THE MOTIVE

WHEN IT GOT STARTED.

I THINK IT ENDED UP BEING A

REALLY OPPORTUNE TIMING AS FAR

AS COMING RIGHT AFTER FOR A

COUPLE OF REASONS AND ONE BEING

IT DID HELP ME SET MYSELF APART

AS FAR AS THIS IS WHO I AM AS

THIS CHARACTER AND IT IS MORE

HONEST TO WHO I AM AS A PERSON,

AND ALSO THROUGH THE EVAN HANSON

EXPERIENCE I'VE HAD A LOT OF

EXPERIENCES AS A HUMAN BEING

THAT TOOK ME TO EMOTIONAL PLACES

I HAVEN'T BEEN BEFORE AND IT WAS

EYE OPENING AND IT SET ME UP TO

HAVE A LOT OF THINGS TO WRITE

ABOUT AND TO HAVE SOMETHING TO

SAY.

>> SO GOING BACK TO THE ALBUM,

WHAT HAS BEEN THE MOST ENJOYABLE

PART OF DOING THIS?

AND PERHAPS THE LEAST ENJOYABLE?

>> SURE, PERFORMING THE MUSIC

LIVE IS BY FAR MY MOST FAVORITE

PART SO FAR AND I'VE DONE IT IN

SHOW CASES AND WHAT I AM EXCITED

IS TO PERFORM IN BIG THEATERS

AND THE WORST PART, I GUESS, I

WOULD SAY I GOT USED TO THE BIT

OF LOSS OF PRIVACY THAT XHSZ

WITH EVAN HANSON AND PITCH

PERFECT, BUT THIS IS A WHOLE NEW

LEVEL OF THAT IN THE SENSE THAT

I'M SHARING, LIKE I SAID VERY

MUCH WHO I AM AND PERSONAL

DETAILS ABOUT MY LIFE AND THERE

IS A CERTAIN FEELING OF LOSS TO

ANONYMITY WHEN YOU'RE BEING THAT

OPEN AND THAT'S THE ONLY

SACRIFICE INVOLVED, BUT I THINK

IT'S WELL WORTH IT FOR HOW THE

RESPONSE HAS BEEN TO THE MUSIC.

>> WELL, BEN, I TOLD MY

EXECUTIVE PRODUCER BEFORE --

THIS MORNING I SAID, YOU KNOW,

IF I FOUND A JEAGENIE IN A BOTT

AND HE OFFERED ME THREE WISHES

AND AFTER THE $10 BILLION AND

FOUNTAIN OF YOUTH I WOULD ASK

FOR BEN PLATT'S VOICE ESPECIALLY

AS YOU USE IT IN THIS

♪

♪

>>> BROADWAY SENSATION "DEAR

EVAN HANSON "IS DOING MORE THAN

JUST SELLING TICKETS.

IT'S CHANGING LIVES.

>> THE MUSICAL HAS PARTNERED

WITH ARTS CONNECTION, A NEW

YORK-BASED NON-PROFIT TO BRING

THE GREAT WHITE WAY TO DOZENS OF

NEW YORK CITY PUBLIC SCHOOL KIDS

EVERY SUMMER.

WE FOLLOWED THE JOURNEY OF THREE

STUDENTS AS THEY MADE THEIR WAY

FROM SEEING THE PLAY FIRST HAND

TO CREATING ART, BASED ON TEEN

ANXIETIET AND POWER OF SOCIAL

MEDIA.

WHAT WE WITNESSED WAS A

TRANSFORMATIVE EXPERIENCE FOR

THESE THREE TALENTED AND

SELF-AWARE YOUNG PEOPLE.

TAKE A LOOK.

>> THIS IS LIKE SOMETHING I

WOULDN'T HAVE THOUGHT OF DOING.

USUALLY I JUST DREW AND

SKETCHED, BUT, LIKE FOR MYSELF

LIKE A STRESS RELIEVER.

WHEN I WAS LITTLE I USED TO TELL

EVERYBODY I WANT TO BE AN

ACTRESS WHEN I GROW UP.

NOW I HAVE THAT FEELING AGAIN.

>> WHEN I DRAW SWIRLS IT'S LIKE

ALL OF MY ANXIETY, ALL OF MY

FEELINGS AND ALL OF MY STRESS

JUST COMES OUT ON TO THE PAPER.

IT RELAXES ME A LOT, AND IT

DISTRACTS ME FROM EVERYTHING

ELSE HAPPENING IN MY LIFE.

WHEN PEOPLE ASK ME WHAT I WANT

TO DO I SAY I WANT TO BE AN

ARTIST, BUT IT'S MORE THAN THAT,

AND IF THIS IS WHAT I'M TALENTED

AT, I WANT TO BE ABLE TO INSPIRE

PEOPLE IN THIS WAY.

>> I ALWAYS COME BACK TO ARTS

WHETHER IT'S, LIKE, VISUAL OR

PERFORMING BECAUSE THERE'S

SOMETHING ABOUT, LIKE, WHEN I'M

PAINTING OR WHEN I'M SEEING THAT

MY BRAIN GOES ON AUTOPILOT AND

I'M AWARE OF WHAT I'M DOING, BUT

I'M ABLE TO EXPRESS EVERYTHING

THAT I CAN'T REALLY, LIKE,

NECESSARILY WRITE DOWN COMBINING

THEATER AND ART.

IT'S HELPED ME GET THROUGH,

LIKE, A LOT AND DEAR EVAN HANSON

ESPECIALLY.

♪

>> A SHOW LIKE THIS REALLY

RESONATES WITH HIGH SCHOOL

STUDENTS BECAUSE WHERE YOU ARE,

THE PEOPLE AROUND YOU, YOU WANT

TO CONNECT SO BAD WITH THEM, BUT

YET YOU FEEL ALONE.

♪

>> IT IS A CLASSIC COMING OF AGE

STORY IN SO MANY WAYS.

A BOY, A TEEN, A HUMAN BEING WHO

IS NOT YET AN ADULTEN COUNTERS A

PROBLEM AND OVERCOMES IT.

>> MOST OF AMERICA FEELS VERY

ALONE AND MISUNDERSTOOD BECAUSE

ON SOCIAL MEDIA YOU HAVE TO

PORTRAY YOUR LIFE IN THE BEST

POSSIBLE WAY AND SHOW THE GREAT

THINGS YOU'RE DOING AND YOU SHOW

THE GREAT STUFF THAT'S GOING ON.

IT'S REALLY ABOUT COMMUNICATING

WITH YOUR CHILD OR YOUR PARENT.

IF YOU'RE A PARENT OR YOU'RE A

CHILD YOU'RE GOING TO BE

AFFECTED BY WHAT YOU SEE ON

STAGE.

AT THE VERY BASE IT'S ABOUT

PARENTS AND CHILDREN.

>> DEAR EVAN HANSON, THE SHOW ON

BROADWAY, RIGHT?

GOOD.

THAT'S WHY WE'RE HERE.

ONE OF THE REASONS.

>> WE PUT ARTISTS IN SCHOOLS

WITH COMMUNITIES TO WORK WITH

CHILDREN AND YOUNG PEOPLE AND WE

GIVE THEM MATERIALS TO CREATE A

SPECIFIC ART WORK BASED ON THE

THEMES OF THE PRODUCTION.

>> IT DEALS A LOT WITH ANXIETY

AND DEPRESSION SO IT'S NICE TO

BE IN A SHOW THAT SHOWS THAT

THAT'S A REAL THING.

I THINK OFTENTIMES WE'RE

EMBARRASSED BY IT AND MOST OF MY

CASTMATES HAVE DEPRESSION.

>> I HAVE A LOT OF ANXIETY AND

IT MADE ME FEEL A LOT LESS

ALONE.

THEY HAD ME MAKE A COLLAGE THAT

I MADE BECAUSE THERE'S SO MUCH

IN MY HEAD.

SOMETIMES I FEEL LIKE I'M UNDER

WATER AND LIKE, I'M TRYING TO

BREATHE AND I'M TRYING TO GO TO

THE SURFACE, BUT I CAN'T AND IT

WAS JUST AN OVERWHELMING

FEELING.

♪

♪

>> I DON'T THINK -- MY MOM,

SHE'S A SINGLE MOTHER.

SHE RAISED ME AND MY TWO

SIBLINGS ALONE AND MY DAD LEFT

JUST LIKE EVAN'S DEAD AND THAT'S

WHY I LIKE SO BIG SO SMALL SO

MUCH BECAUSE I RELATE TO THAT

FEELING OF EVAN GOING TO HIS MOM

AND BEING VULNERABLE AND THE

CORE FIGURE IN MY LIFE.

>> YOU WILL CREATE A PICTURE

THAT WHATEVER IT FEELS TO YOU

GUYS REPRESENTS THIS GAME.

WHAT DO YOU THINK THAT THIS

MIGHT BE PORTRAYING?

YES?

>> EMOTIONAL SUPPORT.

>> EMOTIONAL SUPPORT.

LOVE THAT.

>> I ALWAYS COME BACK TO ARTS

WHETHER IT'S, LIKE, VISUAL OR

PERFORMING BECAUSE THERE'S JUST

LIKE SOMETHING ABOUT WHEN I'M

PAINTING OR WHEN I'M SINGING

THAT MY BRAIN GOES ON AUTOPILOT

AND I'M AWARE OF WHAT I'M DOING,

BUT I'M ABLE TO EXPRESS

EVERYTHING THAT I CAN'T REALLY,

LIKE, NECESSARILY WRITE DOWN.

>> EVEN IF YOU'VE ALWAYS BEEN

THAT BARELY IN THE BACKGROUND

KIND OF GUY.

>> I REALLY LIKE ACTING BECAUSE

YOU CAN, LIKE, GO INTO A WHOLE

DIFFERENT WORLD AND BE A

COMPLETELY DIFFERENT PERSON.

>> THAT THE WORLD'S PASSED YOU

BY.

>> AND WITH ART YOU PUT YOUR

MIND ON PAPER.

>> WE'RE LOOKING AT KIDS WHO ARE

TALENTED IN ONE AREA AND WE'RE

ASKING THEM TO LOOK AT A SECOND

ART AREA AND LEARN ABOUT IT AND

LOOK AT IT THROUGH THE LENS OF

WHAT THEY'RE INTERESTED IN AND

WHERE THE, PE EXPERTISE LIES?

AFTER THEY'VE SEEN THE PLAY,

THEY ACTUALLY HAVE A TALK BACK

WITH MEMBERS OF THE CAST.

>> COMING TO SEE THEIR FATHER IN

THIS.

>> THEY'RE GETTING INSIGHTS TO

THE PLAY THAT MOST THEATER GOERS

HAVE.

>> RAISE YOUR HAND IF YOU HAVE A

QUESTION.

BEING ON, COOL.

>> WHAT'S THE MOST IMPORTANT

THING THAT YOU'VE DRAWN FROM THE

SHOW.

>> WE ALL HAVE THESE FRAILTIES

AND WE ARE ALL SO HOT MESSES AND

YOU CAN SEE IT IN EACH AND EVERY

ONE OF THESE CHARACTERS.

THE CHARACTER THAT I CONNECT

WITH THE MOST WAS DEFINITELY

EVAN.

>> I'VE FELT THAT BEFORE.

HAVING SO MANY PEOPLE AROUND

YOU, BUT STILL FEELING ALONE.

>> YOUR JOB AS AN ACTOR IS TELL

THIS STORY, AND SAY IT AS

HONESTLY AS YOU CAN AND HOPE

THAT PEOPLE RESPOND TO IT OR

SEES THEMSELVES ON STAGE.

THE ABILITY TO SEE A PRODUCTION

AND TALK ABOUT IT AND LEARN

ABOUT IT AND THEN GO BACK AND

CREATE WORK BASED ON WHAT

THEY'VE SEEN.

IT'S PHENOMENAL FOR THE KIDS WHO

HAVE BEEN INVOLVED.

>> I AM SO EXCITED.

>> IT'S NOT EASY TO GO THROUGH

REALLY HARD THINGS IN LIFE AND

DEAL WITH IT IN A HEALTHY WAY.

SOME PEOPLE JUST KEEP IT IN LIKE

MY MOM ESPECIALLY LOVES THAT

WE'RE ABLE TO WATCH SO MUCH

CREATIVITY AND PASSION AND ART

AND GO LISTEN TO A SONG.

YOU BROKE UP WITH YOUR

BOYFRIEND, PAINT.

IT'S JUST -- IT JUST FEELS LIKE

A HEALTHY WAY TO END A

PRODUCTIVE WAY BECAUSE THAT'S

WHAT I LOVE DOING IT GET IT OUT.

SFO THEY EXPRESS THROUGH THEIR

ART, A DEEPER UNDERSTANDING OF

HOW IT AFFECTS AT LARGE.

THEIR VERBALIZATION AND HOW IT

HAS BEEN EXPRESSED HAS BEEN VERY

INTERESTING TO US.

♪ NETANYAHU

♪

>> ONCE WHEN I GOT DOWN TO

PAINTING AND I FELL IN LOVE WITH

IT AND NOW I WANT TO KEEP ON

WORKING ON ART.

>> WANTED TO WORK ON SOMETHING

RELATABLE, JUST SOMETHING ON

BOOK THAT SHOWS AMBIGUITY.

>> I WOULD MAKE NEGATIVE WORDS

INTO ART WORK BECAUSE THAT'S HOW

I WAS FEELING SOMETIMES AND NOW

THAT IT'S JUST CHANGED THE

POSITIVITY, AND I WANT TO DO ART

WORK WHEN I GROW UP.

>> I WANT TO GIVE KIDS THE

EXPERIENCE THAT THEY CAN LEARN

FROM AND TAKE THAT EXPERIENCE

AND RUN WITH IT AND BE BETTER

INFORMED INDIVIDUALS WHEN

THEY'RE FINISHED.

>> SEEING MY OWN KIDS LIVE THEIR

DREAMS IS THE GREATEST GIFT FOR

ME.

WATCHING THEM, YOU KNOW, ABLE TO

HAVE THOSE POSSIBILITIES, I

THINK, YOU KNOW, THAT'S THE BEST

THING.

THERE'S NOTHING BETTER FOR ME.

MORE THAN ANYTHING, THAT'S WHAT

I WANT FOR MY KIDS.

>> WHERE DO YOU THINK YOU'LL BE

IN FIVE YEARS?

>> I'M 16 RIGHT NOW.

I'LL BE 21.

>> I HOPE TO BE IN COLLEGE IN

THE CITY MAJORING IN PSYCHOLOGY

AND THEATER.

DOUBLE MAJOR.

I HOPE TO STILL BE CREATING ART

AND JUST HELPING PEOPLE FEEL NOT

ALONE WITH MUSIC AND PSYCHOLOGY.

YEAH.

♪

♪

>>> DEAR EVAN HANSON IS ONE OF

THE BIGGEST SHOWS ON BROADWAY

THIS SEASON IT TELLS THE STORY

OF A TEENAGER ANXIETY DRIVEN

CAUGHT UP IN ANOTHER FAMILY'S

TRAGEDY.

IT MAY NOT SOUND LIKE A BROADWAY

BLOCKBUSTER, BUT THIS IS GETTING

RAVE REVIEWS FROM CRITICS,

EVOKING TEARS AND WINNING THE

HEARTS AND MINDS OF YOUTH AND

ADULTS AND IT'S ACCOMPLISHED

WITH BRILLIANT PERFORMANCES AND

THE TEAM THAT BROUGHT LA LA LAND

TO LIFE AND SOCIAL MEDIA TAKING

PART IN THIS SHOW.

LET'S TAKE A LOOK.

♪

♪ WHEN YOU'VE FALLEN IN A FOREST

AND THERE'S NOBODY AROUND ♪

♪ DO YOU EVER REALLY CRASH OR

EVEN MAKE A SOUND

♪

♪

♪

♪ DID I EVER MAKE A SOUND

♪

♪

♪

♪

>>> CAN ANYBODY SEE --

♪

♪

♪

♪

WINNING, WINNING ♪

♪

>> APPLAUSE, INDEED.

JOINING ME NOW ARE TWO OF THE

ACTORS WHO HAVE BEEN WITH THE

SHOW SINCE THE VERY BEGINNING.

RACHEL BAY JONES WHO PLAYS HEIDI

HANSON, EVAN'S MOTHER AND

JENNIFER LAURA THOMPSON WHO

PLAYS THE MOTHER OF THE OTHER

FAMILY IN THE PLAY DEALING WITH

AN EPIC TRAGEDY.

LADIES, IT IS SO NICE TO HAVE

YOU HERE.

>> I SAW THE SHOW RECENTLY AND

IT WAS FANTASTIC.

>> AND INTERESTINGLY, A

DIFFERENT FROM WHATEVER MY

EXPECTATION WERE, SO LET ME ASK

EACH OF YOU THE SAME QUESTION.

RACHEL, I'LL START WITH YOU.

>> OKAY.

WHEN THIS FIRST GETS PRESENTED

TO YOU, RIGHT?

AND THE QUICK SYNOPSIS OF WHAT I

JUST READ, A TROUBLED

17-YEAR-OLD AND STRUGGLING WITH

ALL OF HIS OWN INTERNAL DEMONS

AND ALL OF A SUDDEN BECOMES

ENMESHED WITH THE FAMILY OF

SOMEONE ELSE WHO HAS THEIR OWN

TRAGEDY THEY'RE DEALING WITH AND

OH, IT'S A MUSICAL.

>> AND YOU'LL LAUGH A LOT.

AND I DID AND I ALMOST FELT

GOTTY IN THE VERY BEGINNING FOR

LAUGHING.

WHEN YOU GIFT ARE FIRST GET

PRESENTED WITH THIS, WHAT'S YOUR

REACTION TO IT?

>> WE HAD BEEN WITH IT SINCE THE

BEGINNING.

WE WERE INVITED TO PARTICIPATE

IN THE PAUL LEVINESON UNTITLED

MUSICAL AND NOBODY GAVE US THE

SYNOPSIS AND WE FOUND OUT WHAT

IT WAS BY TURNING THE PAGES OF

THE SCRIPT AS WE WERE READING IT

OUT LOUD, BUT NOW THE HARD THING

TO DO IS DESCRIBE WHAT THIS

MUSICAL IS.

DOES IT HAVE A RECOGNIZABLE

TITLE.

IT REALLY SOUNDS REALLY

DEPRESSING WHEN YOU SAY OH, IT'S

A TEEN SUICIDE MUSICAL.

>> YES.

LET ME ASK YOU THIS.

WHAT DO YOU TELL SOMEONE WHO IS

A FRIEND OR RELATIVE, I HEAR

YOU'RE IN THIS GREAT SHOW AND

IT'S DOING FABULOUS.

TELL ME, WHAT IS IT ABOUT?

>> THE GENERIC SYNOPSIS THAT

WE'VE TRIED TO COME UP WITH THAT

IT'S THE STORY OF A YOUNG TEEN

WHO FEELS DISCONNECTED WITH HIS

SURROUNDINGS, HIS FAMILY AND

BECAUSE OF A RECENT TRAGEDY

FINDS HIMSELF ENMESHED WITH A

FAMILY THAT IS NOT HIS OWN, AND

HE FEELS LIKE HE BELONGS, AND

THE LIES THAT HE TELLS AND THE

SACRIFICES THAT ALL OF THEM MAKE

TO MAKE THIS LIE HAPPEN.

>> I DON'T KNOW THAT THAT'S

CHEERY.

[ LAUGHTER ]

>> DO YOU AS ACTORS, I'M

WATCHING THIS AND THE FIRST TIME

IT'S VERY EARLY ON IN THE SHOW

EVERYBODY BURSTS INTO LAUGHTER.

>> YEAH.

>> AND PART OF ME WAS I ALMOST

FELT GUILTY ABOUT IT.

>> YOI U ALL KNOW THE STORY AND

WERE YOU SURPRISED AT HOW MUCH

HUMOR THERE WAS AND HOW THE

AUDIENCE EMBRACES THE HUMOR AND

FLAT-OUT LAUGHTER?

>> THEY NEED TO, I THINK, WITH

SUCH HEAVY MATERIAL, THE HUMOR

IS SUCH -- IT'S A PART OF ALL OF

US BEING ABLE TO COPE WITH THIS

STORY.

JARED KLYMAN BRINGS A

LIGHT-HEARTED HAND.

IF YOU HAVEN'T STARTED LAUGHING

YET YOU KNOW HE'S ABOUT TO.

>> AND IT'S INTERESTING TO WATCH

AS THE SHOW HAS DEVELOPED ITS

REPUTATION, PEOPLE FEEL THAT

THEY HAVE PERMISSION TO LAUGH.

WHEN THEY WERE UNCERTAIN AT

FIRST, WAS THERE A LOT OF

UNCER

UNCERTAINTY ON THE AUDIENCE'S

BEHALF AND THERE ARE DEFINITE

LAUGH LINES WHERE PEOPLE WEREN'T

SURE IF IT WAS APPROPRIATE TO

LAUGH AND NOW THEY HAVE A RIGHT

TO RESPOND HOWEVER THEY CHOOSE

TO.

>> YOU ARE BOTH MOTHERS.

IT'S IN THE PLAYBILL, YOU BOTH

TALK ABOUT YOUR CHILDREN AND IN

THIS SHOW YOU'RE A MOTHER

STRUGGLING WITH SIGNIFICANT

PROBLEMS AND WITH EVERYTHING

THAT HE IS WRESTLING WITH AND

IT'S NOT GIVING ANYTHING UP WITH

THE LOSS OF A CHILD.

I'VE OFTEN SAID I CAN DEAL WITH

ANYTHING IN MY LIFE --

>> EXCEPT THAT.

>> EXCEPT THE LOSS OF ONE OF MY

TWO CHILDREN.

RACHEL, AS A MOTHER DOES PART OF

YOU BEING A MOTHER COME WITH YOU

ON STAGE IN TERMS OF HOW YOU

PLAY THIS ROLE?

>> ALL OF IT.

ALL OF IT, AND BEING -- BEING

THE CHILD OF A MOTHER, TOO, YOU

KNOW?

BECAUSE I THINK SO MUCH OF WHAT

WE DEAL WITH IN OUR ROLES AND

WHAT I THINK SO MANY MOTHERS WHO

COME TO SEE THE SHOW CAN RELATE

TO IS THE IDEA OF IMPERFECTION,

AND FORGIVENESS AND THE WAYS

THAT WE STRUGGLE TO PARENT AND

WE DON'T KNOW HOW OUR KIDS ARE

DOING.

WE DON'T KNOW HOW WELL WE ARE

DOING AND WE ARE ALWAYS SO

INSECURE ABOUT OUR JOB, YOU

KNOW?

AND TO BE ABLE TO LIVE THAT OUT

AS AN ACTOR, TO REALLY

INVESTIGATE WHAT THAT MEANS TO

ME, RACHEL, AS A MOTHER AND ALSO

TO UNDERSTAND MY OWN MOTHER

BETTER THROUGH THE PORTRAYAL OF

AN IMPERFECT PERSON, AND I THINK

A LOT OF THE RESPONSE THAT WE'RE

GETTING FROM THE AUDIENCE IS

THAT, TOO.

I GET A LOT OF ADULT CHILDREN

SAYING I'M SEEING MY MOTHER IN A

WHOLE DIFFERENT WAY AFTER SEEING

THIS, YOU KNOW?

>> ARE YOU, AS THE MOTHER WHO

LOSES SOMEBODY, ARE YOU ABLE TO

LEAVE THAT ON THE STAGE OR IS

THERE -- WHEN YOU GET HOME IS

THERE SOMETHING ABOUT IT THAT

STILL TRAVELS WITH YOU.

>> THERE'S SOMETHING ABOUT YOU

AS A HOST, JACK, THAT BRINGS AN

EMOTION OUT THAT I'VE NOT FACED

IN AN INTERVIEW BEFORE.

IT'S A VERY POIGNANT QUESTION,

AND THE STRUGGLE FOR ME IS THAT

I AS MOM, I CAN'T IMAGINE GOING

ON WITHOUT -- WITH THE LOSS OF A

CHILD, MY ONLY CHILD.

I CAN'T IMAGINE.

MY MOTHER HAS SAID THE SAME

THING.

I'M ONE OF FIVE AND I ALWAYS

SAID, BUT THE REST OF US, WHAT

ABOUT THE REST OF US?

SHE WOULD ALWAYS SAY I COULD

NEVER GO ON AND THE BIG

CHALLENGE IS IMAGINING THAT LIFE

DOES GO ON AFTER THAT AND IT WAS

THE FORGIVENESS OF EVAN, THAT

ALLOWED US TO SAVE HIS LIFE.

WE LOST OUR SON, BUT BY

FORGIVING EVAN WE SAVED HIS LIFE

AND THAT WAS WHAT REALLY

PROPELLED THAT FAMILY FORWARD.

GRAPPLING WITH THAT IDEA HAS

BEEN REALLY, REALLY DIFFICULT,

YOU ARE BOTH MARVELOUS, RUNNING

OUT OF ADJECTIVES.

>> AND IN A SHOW, ONE OF THE

GREAT SHOWS OF OUR GENERATION

HERE AND I HOPE PEOPLE GO SEE

YOU AND I WISH YOU BOTH

CONTINUED SUCCESS.

>> THANK YOU SO MUCH.

HAPPY TO BE HERE.

DEAR EVAN HANSON IS PLAYING AT

THE MUSIC BOX THEATER ON WEST

45th STREET.

♪

♪

>>"METROFOCUS" IS MADE POSSIBLE

BY --

SUE AND EDGAR WACHENHEIM III,

SYLVIA A. AND SIMON B. POYTA

PROGRAMING ENDOWMENT TO FIGHT

ANTI-SEMITISM.

THE PETER G. PETERSON AND JOAN

GANZ COONEY FUND.

BERNARD AND DENISE SCHWARTZ,

BARBARA HOPE ZUCKERBERG, JANET

PRINDLE SEIDLER, JODY AND JOHN

ARNHOLD, CHERYL AND PHILIP

MILSTEIN FAMILY, JUDY AND JOSH

WESTON, DR. ROBERT C. AND TINA

SOHN FOUNDATION.