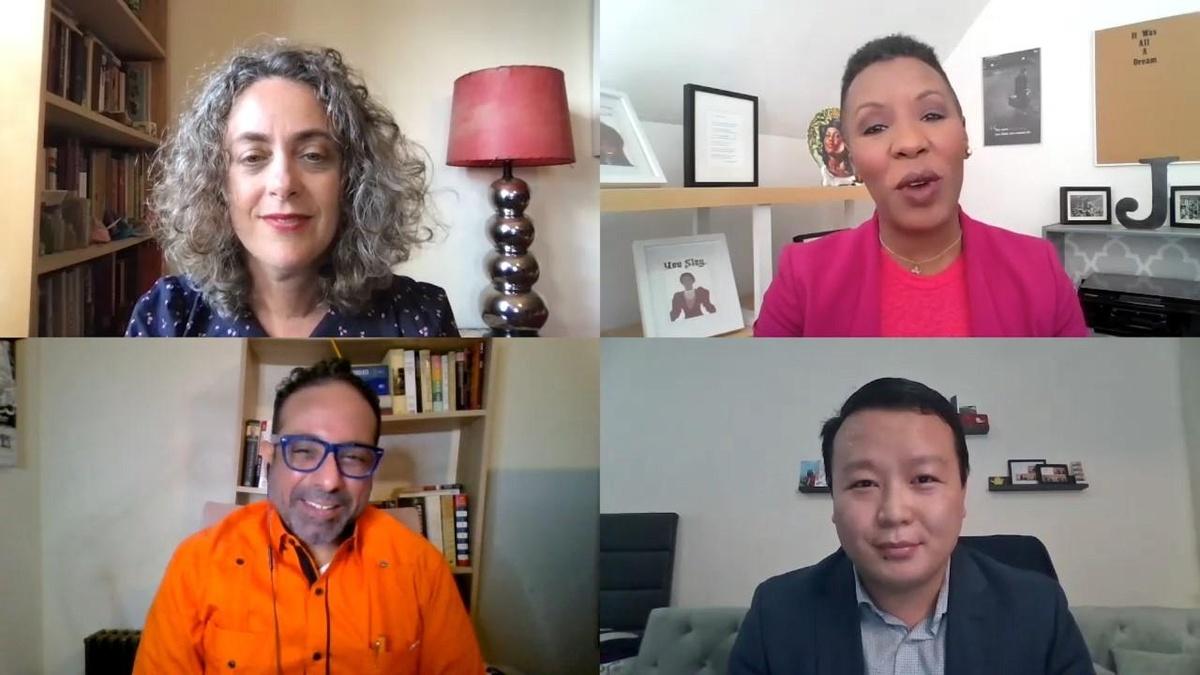 FULL EPISODE
MetroFocus: September 20, 2021
We bring you the latest headlines you'll need to start your week with progressive political strategist and President of Trip Yang Strategies, Trip Yang, CUNY faculty member and former President of the New York City Board of Elections JC Polanco and deputy editor at The City, Alyssa Katz.
TRANSCRIPT

♪

>>> THIS IS "METROFOCUS" WITH

RAFAEL PI ROMAN, JACK FORD, AND

JENNA FLANAGAN.

>>> "METROFOCUS" IS MADE

POSSIBLE BY --

SUE AND EDGAR WACHENHEIM III.

SYLVIA A. AND SIMON B. POYTA

PROGRAMING ENDOWMENT TO FIGHT

ANTI-SEMITISM.

THE PETER G. PETERSON AND JOAN

GANZ COONEY FUND.

BERNARD AND DENISE SCHWARTZ.

BARBARA HOPE ZUCKERBERG.

THE AMBROSE MONELL FOUNDATION.

AND BY --

JANET PRINDLE SEIDLER.

JODY AND JOHN ARNHOLD.

CHERYL AND PHILIP MILSTEIN

FAMILY.

JUDY AND JOSH WESTON.

DR. ROBERT C. AND TINA SOHN

FOUNDATION.

>>> GOOD EVENING.

AND WELCOME TO "METROFOCUS"

FRONT PAGE FISCAL.

I'M JENNA FLANAGAN.

THIS IS OUR LOOK AHEAD AT THE

MAJOR STORIES THAT WILL DRIVE

THE NEWS THIS WEEK, AND THEIR

POSSIBLE IMPACT ON THE TRI-STATE

AREA.

AND WE BEGIN TONIGHT WITH THE

STORY SO MANY OF US ARE TALKING

ABOUT.

AND THAT'S THE PLAN TO ROLL OUT

COVID BOOSTER SHOTS.

JUST LAST FRIDAY, A KEY ADVISORY

PANEL ESSENTIALLY TOLD THE WHITE

HOUSE, NOT SO FAST, REJECTING A

PROPOSAL TO GIVE THE EXTRA

VACCINE DOSE ACROSS THE BOARD.

THE VOTE, HOWEVER S FAR FROM THE

FINAL WORD ON ALL OF THIS.

SO WHAT CAN WE EXPECT THIS WEEK

FROM THE FDA AND THE CDC?

HOW COULD THIS IMPACT NEW YORK'S

ROLLOUT?

AND IS PRESIDENT JOE BIDEN

MOVING TOO FAST?

WE'LL ALSO DISCUSS WHERE THE

COUNTRY GOES FROM HERE AFTER

SATURDAY'S RALLY IN WASHINGTON,

D.C.

THE EVENT REPORT LEAD DREW MORE

POLICE THAN PROTESTERS AND WAS

HELD IN DEFENSE OF THOSE CHARGED

IN JANUARY'S DEADLY INSURRECTION

AT THE CAPITOL.

SO LET'S GET STARTED.

BACK WITH THEIR TAKE ON THE

HEADLINES AND WHAT ELSE DRIVES

THE NEWS THIS WEEK ARE OUR

RETURNING GUEST JC PILL ANCO,

COMMENTATOR EXTRAORDINARY AIR,

AND FORMER PRESIDENT OF THE NEW

YORK CITY BOARD OF ELECTIONS.

JC, ALWAYS GREAT TO HAVE YOU ON

THE SHOW.

>> I AM HAPPY TO BE HERE.

THANKS SO MUCH, JENNA?

WE ARE ALSO JOINED BY TRIPP YEN,

A POLITICAL STRATEGIST WHO HAS

WORKED WITH SOME OF THE BIGGEST

POLITICAL NAMES IN NEW YORK CITY

POLITICS.

TRIPP, WELCOME TO "METROFOCUS."

>> THANK YOU, JENNA.

IT IS AN HONOR TO BE HERE WITH

EVERYBODY.

>> WE ARE ALSO JOINED BY ALISSA

KATZ.

ALISSA IS DEPUTY EDIT AR AT THE

CITY, THE NON-PROFIT NEWS OUTLET

COVERING THE CITY.

>> GLAD TO BE BACK.

THANK YOU.

>> ABSOLUTELY.

>>> LET'S START OF COURSE WITH

THE ISSUE AROUND THE BOOSTERS.

ALISSA, I GUESS I WANT TO START

WITH YOU AND JUST SORT OF GET

YOUR TAKE ON WHAT THE FDA

ADVISORY COMMITTEE'S DECISION IS

REGARDING THIS BOOSTER SO FAR

AND WHY THERE IS FRICTION WITH

THE WHITE HOUSE.

>> YOU KNOW, THIS IS AN FDA

ADVISORY PANEL THAT LOOKED AT

WHAT IS FAIRLY LIMITED DATA

THAT'S AVAILABLE SO FAR.

MUCH OF THAT DATA COMES FROM

ISRAEL, WHICH IS A BIT AHEAD OF

THE CURVE, BY ABOUT A MONTH, OF

THE U.S. IN TERMS OF EXPERIENCE

BOTH WITH VACCINATIONS AND WITH

A PRETTY WIDESPREAD BOOSTER

PROGRAM.

ESPECIALLY I THINK AIMED AT

OLDER FOLKS, BUT MORE WIDELY

AVAILABLE.

IN THIS -- THIS FDA ADVISORY

PANEL LOOKED AT THE DATA AND

SAID WE NEED TO KNOW MORE BUT WE

WILL FOR NOW RECOMMEND OR

ENCOURAGE BOOSTERS FOR PEOPLE 65

AND OVER OR PEOPLE WITH MEDICAL

CONDITIONS.

THEY DIDN'T GET TOO SPECIFIC

ABOUT THOSE CONDITIONS.

IT'S GOING TO BE REALLY UP TO

DOCTORS IN MANY CASES TO DECIDE

WHAT THOSE ARE.

AND THAT'S IN ADDITION TO

BOOSTERS THAT WERE ALREADY

BASICALLY CLEARED BY THE FDA FOR

PEOPLE WHO ARE SERIOUSLY

IMMUNOCOMPROMISED LIKE FOLKS WHO

HAD ORGAN TRANSPLANTS, WHOSE

SOMETIMES ARE VERY, VERY WEAK

AND NEED CONTINUAL PRIMING.

THE QUESTION BECOMES WHAT

HAPPENS TO THE BROADER

POPULATION, INCLUDING MANY

PEOPLE WHO ARE CONCERNED ABOUT

THE POSSIBILITY -- IT IS ONLY A

POSSIBILITY, RIGHT?

AGAIN THE DATA IS LIMITED.

THE POSSIBILITY THAT

VACCINATIONS COULD GROW LESS

EFFECTIVE OVER TIME AGAINST

THEIR PURPOSE OF PREVENTING

HOSPITALIZATION AND SERIOUS

ILLNESS?

THAT'S -- VACCINES ARE GENERALLY

VERY EFFECTIVE, BUT THERE IS

CERTAINLY A LOT OF DEMAND FOR

BOOSTERS.

AND PRESIDENT BIDEN AND THE FDA

WILL CONTINUE TO BE UNDER A LOT

OF PRESSURE TO PROVIDE THEM.

>> OF COURSE.

AND NOW TRIPP, I WANT TO BRING

YOU IN AND JUST SAY EQUITY SEEMS

TO BE THE NAME OF THE GAME AT

LEAST FOR PEOPLE WHO ARE

INTERESTED IN GETTING THE

VACCINE.

I WANT TO BE CLEAR WITH THAT.

BUT IN A SEEMS TO BE THE NUMBER

ONE CRITICISM IS THAT YOUR -- AS

SOMEONE HAS PUT IT, YOU ARE

LIVING LIFE PRESERVERS TO PEOPLE

WHO ALREADY HAVE LIFE JACKETS.

>> YEAH.

I THINK THAT -- WE KNOW THAT

DIFFERENT PARTS OF THE CITY WITH

DIFFERENT ZIP CODES HAVE HAD

DIFFERENT VACCINATION RATES OVER

THE LAST COUPLE MONTHS.

ON THE BROADER TOPIC OF VAC

NATIONS, I THINK WE REALLY NEED

AN ALL OF THE ABOVE APPROACH.

WE CERTAINLY NEED MORE

VACCINATIONS, YOU KNOW, IN EVERY

ZIP CODE IN NEW YORK CITY,

ACROSS THE COUNTRY.

WHEN YOU WILL BE AT POLICY

ANNOUNCEMENTS REGARDING VAC

NATIONS IN CITY SCHOOLS, IT'S

APPARENT WE NEED TO HAVE MORE

INCREASED TESTING AS WELL, OF

STUDENTS.

FRANKLY ONE OF THE THINGS THAT

IS NOT TALKED ABOUT ENOUGH IS

THAT A LOT OF THE TIMES, BECAUSE

OUR VACCINATION RATES ARE

GENERALLY HIGHER THAN THEY ARE

IN THE REST OF THE COUNTRY, WHAT

WE SHOULD HAVE IS WE SHOULD HAVE

REQUIRED VACCINATIONS FOR

AIRPLANES, FOR FLIGHTS IN THIS

COUNTRY.

THAT'S SOMETHING THAT DR. FAUCI

HAS RECOMMENDED.

FOR EXAMPLE, A LOT OF FOLKS WHO

ARE UNVACCINATED ARE FLYING INTO

NEW YORK.

AND THAT IS HELPING THE SPREAD

OF THE VIRUS HERE.

WE REALLY NEED ALL OF THE ABOVE

IN TERMS OF THE APPROACH TO

CONTINUE TO COMBAT COVID AND THE

RISING DELTA VARIANT.

>> JC WE HAVE HAD A CHANCE TO

TALK A LOT ABOUT THE ROLLOUT OF

THE VACCINES AND HOW THEY ARE

REACHING EVERYONE.

BUT -- SO THERE IS NEWS THIS

BOOSTER.

I AM SURE THERE ARE A LOT OF NEW

YORKERS WHO ARE EAGER TO GET IT.

BUT THEN YOU HEAR THAT THE

CDC -- EXCUSE ME, THE FDA IS

SAYING, WAIT, NOT SO FAST.

IS THERE A CONCERN THAT THIS IS

CAUSING FURTHER CONFUSION, AND

PERHAPS DISTRUST WHEN THAT

ALREADY SEEMS TO BE THE ISSUE,

ESPECIALLY FOR A LOT OF

COMMUNITIES OF COLOR?

>> FIRST, YOU KNOW, THIS HAS

BEEN AN ONGOING LEARNING PROCESS

FOR THE CDC, THE FDA, FOR ALL

AMERICANS.

WE HAVE HAD TO CALL MANY

INAUDIBLE IN THE LAST 18 MONTHS

AS MORE INFORMATION COMES TO

LIMT I KNOW I WAS EXCITED TO GET

A BOOSTER AS SOON AS I HEARD WE

COULD GET BOOSTERS.

TALK ABOUT FIRST-WORLD PROBLEMS,

RIGHT?

ALL THE COUNTRIES AROUND THE

WORLD THAT WISH THEY HAD EVEN

HAD ONE OF THESE, WE CAN HAVE

TWO AND WANT ANOTHER ONE.

THAT'S A DEBATE.

I THINK WE ARE CONTINUING TO

LEARN IF THE FDA SAID HEY, NOT

SO FAST WE HAVE GOT TO THE

FOLLOW THE SCIENCE, AND ALTHOUGH

PRESIDENT BIDEN MAY HAVE A

CONCERN ABOUT THE SPREAD OF THE

DEALT & AND OTHER VARIANTS THAT

ARE COMING DOWN THE PIKE HE

DOESN'T WANT TO SEE AN UPTICK

UNDER HIS PRESIDENCY.

HE IS BATTLING DWINDLING POLL

NUMBERS.

HE IS BEING ACCUSED OF NOT

HANDLING THE COVID CRISIS AS

WELL AS HE PROMISED DURING THE

CAMPAIGN.

HE WANTS TO GO ON THE RECORD AS

HAVING DONE EVERYTHING POSSIBLE

SO HE STOPS IT AND SO NO ONE CAN

BLAME HIM OR HIS ADMINISTRATION

FOR NOT DOING ENOUGH.

I THINK HE WANTS TO HAVE ALL OF

THE BOXES CHECKED.

I THINK THAT'S WHY EARLY ON WE

SAW A BIG PUSH FOR NOT ONLY THE

VAX NAGSZ, BUT THE BOOSTER.

AS WE ARE GETTING MORE AND MORE

INFORMATION WE ARE GOING TO SEE

THAT, PERHAPS THOSE OF US WHO

HAVE HAD THE VACCINE AND ARE NOT

IMMUNOCOMPROMISE, DON'T REALLY

NEED THE BOOSTER.

I THINK THE FDA IS SAYING, WE

DON'T NEED IT, NOT SO FAST, THEN

THE PRESIDENT MAY GO AGAINST THE

FDA AND HENCE AGAINST THE

SCIENCE AND THAT MAY LEAD TO

FURTHER FOOCHLGS ONE THING

THAT'S FOR SURE, WE HAVE TO

FOCUS ON THE BLACK AND LATINO

POPULATION AROUND THE COUNTRY,

WHO IS HESITANT ON THE VACCINE,

WHO DOES NOT WANT THE VACCINE,

AND WHO CAN LOOK AT HISTORY AS

TO REASONS WHY THEY DON'T TRUST

THE VACCINE.

THEY WILL MENTION THINGS LIKE

THE TUSKEGEE EXPERIMENT NOT

UNDERSTANDING THAT WAS

MEDICATION THAT WAS PREVENTED

FROM BEING TAKEN AS OPPOSED

TO -- IN OTHER WORDS,

WITHHOLDING MEDICATION AS

OPPOSED TO GIVING MEDICATION

THAT WOULD HURT PEOPLE.

THEY WOULD LOOK AT PUERTO RICO

AND EXAMINE HOW VACCINES WERE

USED TO ACTUALLY CREATE

INFERTILITY AMONG WOMEN IN

PUERTO RICO TO SOMEHOW CONTROL

THE POPULATION AND POINT TO

HISTORY AND SAY, THIS IS WHY WE

DON'T TRUST IT.

BUT THE FACT OF THE MATTER IS,

THIS IS A NEW ERA.

WE HAVE STAINS ON OUR HISTORY,

BUT WE HAVE LEARNED FROM THAT.

AND THIS VACCINE HAS PROVEN TO

BE SAFE AND EFFECTIVE.

IT MAYBE A WAY FOR US TO

DECREASE MORTALITY RATES AND

HOSPITALIZATION.

I THINK IT IS TIME TO EXAMINE --

NOT JUST IN RED STATES.

WE HAVE A PROBLEM IN MISSISSIPPI

AS YOU SAW OVER THE WEEKEND BUT

WE NEED TO FOCUS ON THE BLACK

AND LATINO POPULATION, EVEN HERE

IN NEW YORK CITY AND MAKE SURE

THEY ARE GETTING VACCINATED IN

BETTER NUMBERS.

>> I WANT TO EXPAND ON THAT.

JUST TODAY THERE WAS WORD AT

LEAST PFIZER HAS SAID THEY HAVE

DETERMINED THAT THEIR VACCINE,

IN A SMALLER DOSE, IS GOING TO

BE SAFE FOR CHILDREN AGES 5 TO

11, THUS EXPANDING THE NUMBER OF

CHILDREN THAT CAN GET THE

VACCINE.

BUT IF YOU ALREADY HAVE

COMMUNITIES WHERE THE ADULTS ARE

SAYING NO, I DON'T TRUST, AND I

DON'T FEEL SAFE, WHAT IS THE

LIKELIHOOD THAT CHILDREN WHO,

AGAIN, BEING IN SCHOOLS AND

THERE IS ALREADY, YOU KNOW,

PERHAPS EITHER MANDATORY TESTING

OR MANDATED VACCINES, DEPENDING

ON YOUR DISTRICT, FOR THE

TEACHERS IN THE BUILDINGS --

WHAT ARE THE CONCERNS ABOUT

CHILDREN BEING ABLE TO GET THE

VACCINE IF THERE IS ALREADY AN

ESTABLISHED LEVEL OF DISTRUST?

>> JENNA, WE HAVE PARENTS WHO

DON'T EACH WANT TO HAVE MASKS ON

THEIR CHILDREN AND THEY ARE

POINTING TO DATA.

THIS IS THE ISSUE WE ARE HAVING

RIGHT NOW.

I KNOW I AM GOING TO GET A LOT

OF PUSHBACK ON THE CENTRIST ISLE

WHERE I SIT BUT THE FACT IS YOU

CAN MANIPULATE DATA TO FED YOUR

NARRATIVE.

SOME OF THE DATA SHOWS CHILDREN

ARE UNLIKELY TO GET SICK FROM

COVID.

IF YOU LOOK AT THOSE NUMBERS IN

A VACUUM THEN YOUR NARRATIVE IS

OKAY AS FAR AS NOT WANTING YOUR

CHILDREN TO EVEN BE MASKED.

FORGET ABOUT VACCINATION.

BUT THE FACT OF THE MATTER IS IF

WE DON'T WANT OUR SCHOOLS TO

CLOSE AGAIN F WE DON'T WANT TO

GO THROUGH THE HORRORS THAT

PARENTS LIKE MYSELVES WENT

THROUGH IN THE LAST 18 MONTHS AS

YOU ARE CHILDREN REGRESSED IN

THEIR ACADEMIC ABILITY, WE WANT

TO MAKE SURE THEY DON'T INFECT

THE TEACHER.

IN ONE SCHOOL IN NEW YORK CITY

WE HAVE OVER A DOZEN TEACHERS

THAT ARE NOW COVID POSITIVE.

WE NEED TO FIND A WAY NOT TO

ALLOW OUR TEACHERS TO GET SICK

AND HAVING THE ENTIRE DISTRICT

CLOSE.

I AM CONCERNED ABOUT THIS.

I HOPE CENTRIST AND REPUBLICANS

AND DEMOCRATS GUT OUT OF THEIR

POLITICAL TRIBES AND MAKE SURE

WE DON'T CLOSE SCHOOLS.

>> I HAVE TO JUMP IN ON TWO

POINTS.

THE INFECTION IN HARLEM, THE

INFECTIONS WERE BETWEEN TEACHERS

WHO HAVE BEEN ELIGIBLE FOR

VACCINATION SINCE JANUARY.

THE OTHER THING THAT CHANGED

TODAY THAT IS SO CRUCIAL AND IS

GOING TO HAVE TO BE WEIGHED

CAREFULLY AGAINST ANY PRESSURES

TO VACCINATE CHILDREN AGED 5

THROUGH 11 IS THAT THE MAYOR

ANNOUNCED NEW YORK CITY PUBLIC

SCHOOLS, UNVACCINATED CHILDREN

WON'T HAVE TO QUARANTINE AS LONG

AS THEY WERE MASKED AND AS LONG

AS THEY ARE THREE FEET FROM

SOMEONE WITH A POSITIVE TEST.

THIS IS A GAME CHANGER AND A

REMARKABLE TURNAROUND FOR THE

MAYOR PRESUMABLY WITH THE

SUPPORT OF THE UNITED FEDERATION

OF TEACHERS IN EXCHANGE FOR MORE

FREQUENT TESTING OF 10% OF THE

SCHOOL POPULATION.

WHAT IT MEANS IS THE QUARANTINE

DISRUPTIONS -- IF THE CITY

STAYED ITS COURSE WE WOULD HAVE

HAD SCHOOL SHUT DOWNS AND IT

WOULD BE UNTENABLE.

THE QUESTION BECOMES ONCE THE

PFIZER VACCINE IS IN FACT

APPROVED FOR YOUNGER CHILDREN,

DO WE MOVE INTO A PHASE WHERE

WE, IN FACT, STRONGLY ENCOURAGE

OR MANDATE VACCINATIONS FOR

YOUNG PEOPLE WHO AS YOU JUST

SAID JC ARE RELATIVELY UNLIKE

WILL HE TO GET SICK OR POT

POTENTIALLY INFECT OTHERS

BECAUSE OF THE WAY THE VIRUS

WORKS.

MANY FAMILIES WILL CHOOSE TO GET

THEIR CHILDREN VACCINATED.

MANY HAVE BEEN DESPERATE SO THEY

CAN REUNITE WITH ELDERLY

RELATIVES, GET THEIR LIVES BACK

ON TRACK, NOT HAVE TO LIVE IN

FEAR FOR THEMSELVES AND

INFECTIONS OF OTHERS AROUND

THEM.

THAT'S DIFFERENT THAN ANY KIND

OF WIDESPREAD MASS VACCINATION

REQUIREMENTS THAT MAY BE -- YOU

KNOW, THAT WE MAY SEE PRESSURE

TO HAVE AS WELL.

>> TRIPP, FOR YOU, AGAIN, IS

THERE ANY SORT OF CONCERN THAT

PERHAPS THERE WOULD BE A GROWING

EQUITY ISSUE IF THEY DECIDE TO

MANDATE?

I MEAN THERE ARE MANY OTHER

VACCINES CHILDREN ARE REQUIRED

TO GET TO ATTEND PUBLIC SCHOOLS.

IF THIS BECOMES SOMETHING ELSE

THAT GETS MANDATED, COULD WE SEE

DISPARITIES AT LEAST FOR

CHILDREN WHOSE PARENTS SAY NO, I

DON'T WANT THIS FOR MY KID?

>> I THINK THAT'S A FRANKLY

TOPICAL ISSUE OF CHILDREN NOT

HAVING THE SAME PROCESS AND

HEALTH CARE SYSTEM THAT THEIR

PARENTS HAVE.

WHEN WE LOOK BACK AT THE

BEGINNING OF COVID, LAST SPRING

MANY STUDENTS DIDN'T GET THE

SAME ACCESS TO LAP TOPS AND

OTHER EQUIPMENT FOR REMOTE

LEARNING IF THEY WERE IN POORER

ZIP CODES.

EQUITY IS A VERY, VERY CONCERN

ON THIS.

I ALSO THINK, FRANKLY, THAT

WEEKLY TESTING OF 10% OF

STUDENTS JUST ISN'T ENOUGH.

I THINK IT'S A START BUT WE HAVE

TO HAVE MUCH MORE THAN THAT.

THERE IS MORE THAT NEEDS TO BE

DONE HERE.

>>> OF COURSE.

I WANT TO PIVOT TO ONE OF THE

OTHER BIG ISSUES.

THAT OF COURSE WAS THE PROTEST,

RALLY, I AM NOT SURE WHAT TO

CALL IT, THAT TOOK PLACE IN D.C.

IT IS NOT SO MUCH THE ISSUE OF

THAT EVENT TAKING PLACE BUT THE

FACT THAT THE BIG LIE, AS SO

MANY PEOPLE DESCRIBED IT

CONTINUES TO STAY WITH US AND

SEEMS TO BE AN INCREDIBLY

IMPORTANT RALLYING POINT AT

LEAST FOR A LOT OF THE

CONSERVATIVE AND REPUBLICAN

BASE.

JC, I WANT TO START WITH YOU AND

JUST GET YOUR TAKE ON THE FACT

THAT THIS HAPPENED -- IT DIDN'T

SEEM TO DRAW AS MANY PEOPLE, BUT

THAT DOESN'T SEEM TO BE AN

INDICATOR THAT PEOPLE DON'T

BELIEVE IN THE CAUSE BEHIND IT,

EVEN THOUGH AS MANY PEOPLE

DIDN'T SHOW UP.

>> WELL, WE HAVE TO REMEMBER

THAT THERE ARE MILLIONS OF

AMERICANS WHO JUST DON'T TRUST

THE GOVERNMENT, DON'T JUST

SYSTEMS, DON'T JUST

INSTITUTIONS.

AND I'M NOT SURPRISED AT ALL

THERE ARE A LOT OF PEOPLE THAT

STILL BELIEVE THAT.

THEY ARE THE SAME PEOPLE THAT

BELIEVE THAT -- THERE ARE MANY

PEOPLE THAT BELIEVE THAT THE

VACCINES FOR EXAMPLE, THAT WE

WERE JUST TALKING ABOUT HAVE

NEFARIOUS ELEMENTS IN IT,

MICROCHIPS AND IT IS DESIGNED TO

HURT YOU AND MONITOR YOU.

PEOPLE BELIEVE SOME REALLY WEIRD

THINGS.

I AM JUST HAPPY TO KNOW THAT

THIS RALLY WAS NOT A BIG ONE.

I THINK IT GOES TO SHOW YOU THE

EFFECTS OF SOCIAL MEDIA AND THE

EFFECTS OF HOW SOCIETY VIEW

JANUARY 6th AND SAW IT AS

SOMETHING THAT, YOU KNOW, IF YOU

PARTICIPATED IN THIS, WE ARE

GOING TO FIND YOU AND WE ARE

GOING TO PRESS CHARGES AGAINST

YOU.

FRANKLY, WHO WANTS TO

PARTICIPATE IN A RALLY THAT'S

DESIGNED TO DEFEND THE PEOPLE

THAT PARTICIPATED IN JANUARY

6th?

DO YOU WANT TO HAVE YOUR FACE ON

SOCIAL MEDIA WITH YOUR NAME AND

EMPLOYER AND HAVING MARCHED?

I THINK IT'S A GOOD THING THAT

WE HAD MORE COPS THERE THAN

PEOPLE.

AND PERHAPS, JUST MAYBE, WE ARE

NOW TURNING THE PHAGE AND

HOPEFULLY SEEING A TIME WHEN

THIS NEVER HAPPENS AGAIN.

>> I WANT TO JUMP IN THERE A

LITTLE BIT AND JUST SAY THAT IT

IS VERY -- FROM MY STANDPOINT AS

A DEMOCRAT WHERE WHEN YOU LOOK

AT POLLING MOST REPUBLICANS

STILL DO NOT BELIEVE THAT

PRESIDENT JOE BIDEN LEGITIMATELY

WON THE ELECTION.

DESPITE THAT, MOST REPUBLICAN

LEADERS, INCLUDING DONALD TRUMP

HIMSELF, HAVE KEPT THEIR

DISTANCE FROM THE RALLY, HOWEVER

YOU WANT TO CALL IT, THIS PAST

WEEKEND.

YOU KNOW, REPUBLICANS KNOW THAT

THIS IS, QUITE FRANKLY, AN

ACHILLES HEEL, AN ARGUMENT

AGAINST THEM, LEADING UP TO NEXT

YEAR'S MID TERMS WHEN THEY ARE

GOING TRY TO RETAKE THE HOUSE

AND THE SENATE.

THIS IS ONE OF THE STRONGEST

ARGUMENTS THE DEMOCRATS HAVE TO

USE AGAINST THEM, REPUBLICAN

LEADERS, CONGRESSIONAL LEADERS

ON UP TO FORMER PRESIDENT TRUMP

HAVE NOT DENOUNCED LOUDLY ENOUGH

WHAT HAPPENED ON JANUARY 6th

WHEN THESE RIOTERS STORMED THE

CAPITAL.

>> A HUGE DIFFERENCES BETWEEN

NOW AND JANUARY 6th IS YOU

DIDN'T HAVE A PRESIDENT OF THE

UNITED STATES FIRING EVERYBODY

UP.

AND NOT SO COVERTLY SAYING,

OKAY, LETS, YOU KNOW, GO DO THIS

AND GO TO THE CAPITOL AND MARCH

ON THE CAPITOL.

THERE IS SOMETHING ABOUT THE

INTOXICATING POWER OF DONALD

TRUMP AND THE WAY IN WHICH

PEOPLE WHO WERE VERY DEVOTED TO

HIS DISRUPTIVE AND DARK VISION

HOW POLITICS SHOULD WORK IN THE

UNITED STATES, LIKE HOW MUCH --

REALLY A PIED PIPER EFFECT.

I THINK YOU TAKE HIM OUT OF THE

PICTURE -- REALLY, HE IS BEHIND

THE SCENES AND STILL SAYING THAT

THE ELECTION WAS STOLEN.

BUT THAT'S VERY DIFFERENT THAN

HIM BEING A GIANT PRESENCE ON

GIANT SCREENS ON THE NATIONAL

MALL.

THANK GOODNESS FOR THAT.

>> JENNA, IF I MAY.

>> ONE OF THE BENEFITS OF BEING

A CENTRIST AND LOOKING AT BOTH

SIDES OF THIS ISSUE, DEMOCRATS

ARE HOPING THAT THE INSURRECTION

WILL HELP THEM KEEP THE SENATE

SEATS AND WIN STATES ACROSS THE

COUNTRY AND IN THE GOVERNOR'S

MANSION.

IT APPEARS IT IS GETTING FURTHER

AWAY FROM THE LIMELIGHT AND MORE

OF THE FOCUS IS YOU NO ON THE

ADMINISTRATION AND WHAT IS

HAPPENING.

I THINK TRIPP IS RIGHT AS FAR AS

WHAT IS HAPPENING AND WHERE SOME

OF THE FOCUS WAS.

WHEN YOU THINK ABOUT NOVEMBER,

2022, A LOT OF THE COMMERCIALS

ARE NOT GOING TO HAVE THE SAME

AFFECT, THOSE REGARDING JANUARY

6th WON'T HAVE THE SAME EFFECT.

NOT AS MUCH AS THE DEBACLE WITH

THE AFGHANISTAN WITHDRAWAL.

LOOKING AT THINGS LIEU THE

POLITICAL LESBIANS WE ARE GOING

TO LOOK AT WHAT HAPPENED IN

AFGHANISTAN, WHAT IS HAPPENING

NOW WITH COVID, WHAT IS

HAPPENING WITH THE ECONOMY AND

JANUARY 6th WON'T BE AS MUCH A

FACT NEURO 2022.

I THINK THAT POLITICALLY -- I AM

SEEING THAT AND IT HURTS ME

BECAUSE I KNOW PEOPLE DIED

BECAUSE OF JANUARY 6th.

BUT POLITICALLY SPEAKING I THINK

THAT GOES AGAINST WHAT THE

DEMOCRATS WERE HOPING TO HAVE IN

NEXT YEAR'S ELECTION TO KEEP THE

MAJORITY IN CONGRESS.

>> I WILL ACTUALLY MENTION

BRIEFLY AS A REPLY TO JC, I

THINK YOU ARE PARTIALLY RIGHT.

BUT IN REALITY I THINK WHAT IS

GOING TO HAPPEN IN NOVEMBER 2020

ISATES NOT A REFERENDUM ON THE

BIDEN ADMINISTRATION'S FIRST

YEARS, BUT IT IS ALSO A

REFERENDUM ON THE POPULARITY OR

ENDURING POPULARITY OR

UNPOPULARITY OF DONALD TRUMP AS

WELL.

I THINK INCIDENTS LIKE JANUARY

6th VERY SIGNIFICANTLY REDUCED

HIS POLLING NUMBERS.

WE WILL SEE IF IT THE HAS A

LONG-TERM EFFECT.

BUT IF DONALD TRUMP IS STILL

UNPOPULAR IN MANY OF THE

BATTLEGROUNDS CONGRESSIONAL

DISTRICTS THAT'S A GOOD ARGUMENT

FOR DEMOCRATS WANTING TO RUN

AGAINST DONALD TRUMP.

>> ALISSA, DO YOU WANT THE JOIN

IN?

>> SURE.

I DO THINK THAT TRUMP RETAINS A

LOT OF POPULARITY IN A LOT OF

CONGRESSIONAL DISTRICTS, AND

WHERE WE ARE ALSO GOING TO HAVE

REDISTRICTING REALLY CHANGING

THE MAP IN A LOT OF PARTS OF THE

COUNTRY EVEN THOUGH A LOT OF

THESE STATES ALREADY HAD A LOT

OF GERRYMANDERED DISTRICTS WE

HAVE A SIGNIFICANT NUMBER OF

REPUBLICAN-CONTROLLED STATE

LEGISLATURES.

IT CUTS BOTH WAYS, TRUMP MAY BE

DEEPLY UNPOPULAR IN A LOT OF

DEMOCRATIC-HELD DISTRICTS BUT

YOU ARE GOING TO SEE A REAL

GROUND WAR TO GET THESE

REPUBLICAN SEATS SOLIDIFIED AND

KIND OF CLUSTER DEMOCRATS

TOGETHER IN PLACE WHERE IS THEIR

VOTES REALLY WON'T COUNT AS

MUCH.

I THINK THAT THAT'S REALLY --

YOU KNOW, ALL OF THIS OTHER

STUFF IS -- IT IS NOT KMETTIC,

IT WILL SWING VOTES SOME WAY OR

ANOTHER BUT GERRYMANDERING WILL

REALLY SET THE STAGE IN 2022.

WE ARE STARTING TO SEE THAT

PLAYING OUT IN NEW YORK ON THE

DEMOCRATIC SIDE, BUT MORE SEATS

ARE REPUBLICAN CONTROLLED RIGHT

NOW.

>> OF COURSE.

NOT TO FORGET THAT BEFORE WE GOT

TO 2022, WE DO STILL HAVE

NOVEMBER OF THIS YEAR W THE

MAYORAL ELECTION.

I KNOW THAT IN NEW YORK CITY

MANY PEOPLE CONSIDERED IT A DONE

DEAL AFTER THE DEMOCRATIC

PRIMARY.

BUT WE ARE STILL -- THIS RACE IS

STILL PLAYING OUT.

I AM WONDERING IF THERE IS

ANYTHING, ANY ATTENTION-GRABBING

HEADLINES, LET'S SAY, THAT HAS

GOTTEN ANYBODY'S ATTENTION FOR A

RACE THAT PERHAPS A LOT OF

PEOPLE HAVE ALREADY WRITTEN OFF

AS BEING DECIDED.

JC, I'LL START WITH YOU.

>> YOU KNOW, IT'S TOUGH FOR A

REPUBLICAN TO WIN IN NEW YORK

CITY.

THIS IS NO LONGER 1991, '93,

'97.

I MEAN, THE NUMBERS ARE JUST

REALLY HARD TO OVERCOME.

NONETHELESS ON THE REPUBLICAN

SIDE HE IS RUNNING AGAINST A

CENTRIST DEMOCRAT, TOUGH ON

CRIME DEMOCRAT, TOOK A LOT OF

THE MESS -- HE IS GETTING A LOT

OF PRESS.

HE IS GOING TO AREAS WHERE CRIME

IS HAPPENING IN THE BRONX, FOR

EXAMPLE, AND HE IS COMMANDING

CAMERAS AND MAKING A POINT THAT

SOMETHING NEEDS TO HAPPEN -- WE

ARE SEEING THERE IS A

CONVERSATION TAKING PLACE

REGARDING ISSUES THAT ARE

AFFECTING OUR COMMUNITY IN NEW

YORK CITY.

I THINK THAT'S A GOOD THING.

>> JCLY WAUGH IS RUNNING AGAINST

THE DEMOCRATIC.

ERIC ADAMS NUMBER ONE MESSAGE IN

THE DEMOCRATIC PRIMARY WAS WE

NEED TO HAVE, YOU KNOW,

STRONGER, TOUGH ON CRIME

POLICIES WHILE ALSO REFORMING

SOME OF THE ABUSIVE PRACTICES OF

THE PLENTY IN THE PAST.

THAT TAKES A LOT OF THE CUDGEL

AWAY FROM THE STANDARD

REPUBLICAN ARGUMENT.

FRANKLY N THIS CITY WITH SEVEN

TO ONE REGISTERED DEMOCRATS TO

REPUBLICANS, I DON'T THINK IT

WOULD HAVE MATTER IF deBLASIO

WAS ON THE TICKET AGAIN.

THE DEMOCRATS WOULD HAVE WON BY

A LARGE MARGIN.

THE DIFFICULTY FOR CURTIS IS ONE

HE IS RUNNING AGAINST A

DEMOCRATIC OPPONENT WHO IS

TAKING HIS ARGUMENT AWAY FROM

CENTRAL GOVERNMENT SAFETY.

ALSO, CURTISLY WAUGH FOR ONE

REASON OR ANOTHER DOES NOT SEEM

TO BE TAKEN AS SERIOUSLY BY THE

REPUBLICAN INSTITUTIONAL

POLITICAL ESTABLISHMENT IN THIS

TOWN THAN LOADA WAS IN 2013 OR

HACK US WAS IN 2017.

I AM STILL TRYING TO FIGURE OUT

THE REASON WHY BUT IT SEEMS THAT

PAST REPUBLICAN NOMINEES HAD A

DIFFERENT LEVEL OF CREDIBILITY

WITHIN THEIR OWN PARTY LEADERS.

>> I AM DUTY-BOUND TO TALK ABOUT

A STORY WE HAVE POSTED TODAY ON

MY WEBDS IN NYC ABOUT ERIC

ADAMS.

IT IS ABOUT SOME OF HIS PERSONAL

AFFAIRS.

IT RAISES QUESTIONS OF NOT ONLY

HOW HE MANAGES HIS OWN LIFE BUT

REVISITING QUESTIONS ABOUT WHERE

DOES HE ACTUALLY LIVE?

THAT IS THAT HE HAD RE-FILED HIS

INCOME TAXNESS AFTER THE CITY

AND POLITICO FLAGGED THAT THEY

HAD NOT PROPERLY REPORTED HIS

REDUCTIONS AS A LANDS LORD.

WHEN HE FILED THEM, HE DIDN'T

INDICATE TO THE IRS THAT HE IN

FACT LIVED AT THIS PROPERTY AND

THEREFORE TOOK DEDUCTIONS HE MAY

NOT HAVE BEEN ENTITLED TO.

THERE IS ALSO QUESTIONS ABOUT

HIS ACCOUNTANT WHO IS NOT ONLY

NOT A CPA BUT WAS ACCUSED OF

EMBEZZLEMENT BY A HARLEM CO-OP

WHERE HE HAD BEEN LIVING FOR A

LOT OF YEARS AND THEY ENDED UP

KICKING HIM OUT.

THERE ARE A LOT OF QUESTIONS.

I ENCOURAGE YOU TO READ THE

STORY AND THINK ABOUT WHAT KINDS

OF MANAGEMENT DECISION AS MAYOR

LIKE THIS WOULD MAKE.

I THINK IT RAISESERS IS ISSUE.

>> QUICKLY.

WE HAVE ABOUT A MINUTE LEFT BUT

I WANT TO GET FROM EVERYBODY

YOUR THOUGHTS ON WHAT IS THE

STORY LINE YOU ARE GOING TO BE

LOOKING TO FOLLOW THIS WEEK.

ALISSA, WE WILL START WITH YOU.

>> I AM GOING TO BE LOOKING

ABOUT HOW THE MAYOR'S

ANNOUNCEMENT ABOUT SCHOOL

QUARANTINE POLICIES IS GOING TO

PLAY OUT.

I THINK IT IS GOING TO MAKE

CERTAIN PARENTS, INCLUDING IN MY

HOUSEHOLD VERY, VERY HAPPY THAT

KIDS CAN REALLY BE IN SCHOOL.

THAT WAS A MESSAGE WE HEARD

CONSISTENTLY FROM THE MAYOR AND

SCHOOL CHANCELLOR TODAY.

BUT YOU ARE GOING TO HAVE A

NUMBER OF FAMILIES AS WELL OF

ELEMENTARY KIDS WHO ARE GOING TO

BE CONCERNED AND CONTINUE TO BE

CONCERNED ABOUT COVID REGARDLESS

OF THE MAYOR'S ASSURANCES.

I WILL BE WATCHING THAT CLOSELY.

>> TRIPP?

>> I WILL BE LOOKING AT THE

BUFFALO MAYOR'S RACE.

IT HAS GOTTEN A SIGNIFICANT

AMOUNT OF ATTENTION WITH THE

INCUMBENT DEMOCRAT BROWN RUNNING

AS A WRITE-IN CANDIDATE AGAINST

THE NOMINEE.

WALTON.

I THINK THAT RACE IS A GOOD TEST

OF WHERE THE DEMOCRATIC PARTY

IS, AND NOT ONLY WESTERN NEW

YORK BUT HOW ACCESSIBLE THE

PROGRESSIVE WING OF THE PARTY IS

TO MANY OF THESE DEMOCRATIC

INSTITUTIONAL LEADERS.

>> JC, LAST WORD.

20 SECONDS.

>> I WANT TO MAKE SURE WE KEEP

OUR EYE ON HOW THE GOVERNMENT

TREATS THE HAITIANS THAT ARE

HERE, HOW THEY ARE GOING ABOUT

DEPORTING THEM NOW THAT THEY ARE

TEMPORARY LEGAL STATUS IS UP IN

QUESTION.

THE HAITIAN COMMUNITY IS

IMPORTANT TO US IN NEW YORK

CITY, AROUND THE COUNTRY,

ESPECIALLY DURING THE COVID

CRISIS.

I THINK IT IS TIME FOR TO

GOVERNMENT TO DO SOMETHING TO

PROTECT THEM FROM IMMEDIATE

DEPORTATION.

>> ALL RIGHT, LISTEN, I WANT TO

THANK MY ROUND TABLE TONIGHT.

JC, TRIPP, AND ALISSA.

THANK YOU ALL SO MUCH FOR

JOINING US ON THE "METROFOCUS"

MONDAY ROUND TABLE.

♪

>>> "METROFOCUS" IS MADE

POSSIBLE BY --

SUE AND EDGAR WACHENHEIM III.

SYLVIA A. AND SIMON B. POYTA

PROGRAMING ENDOWMENT TO FIGHT

ANTI-SEMITISM.

THE PETER G. PETERSON AND JOAN

GANZ COONEY FUND.

BERNARD AND DENISE SCHWARTZ.

BARBARA HOPE ZUCKERBERG.

THE AMBROSE MONELL FOUNDATION.

AND BY --

JANET PRINDLE SEIDLER.

JODY AND JOHN ARNHOLD.

CHERYL AND PHILIP MILSTEIN

FAMILY.

JUDY AND JOSH WESTON.

DR. ROBERT C. AND TINA SOHN

FOUNDATION.