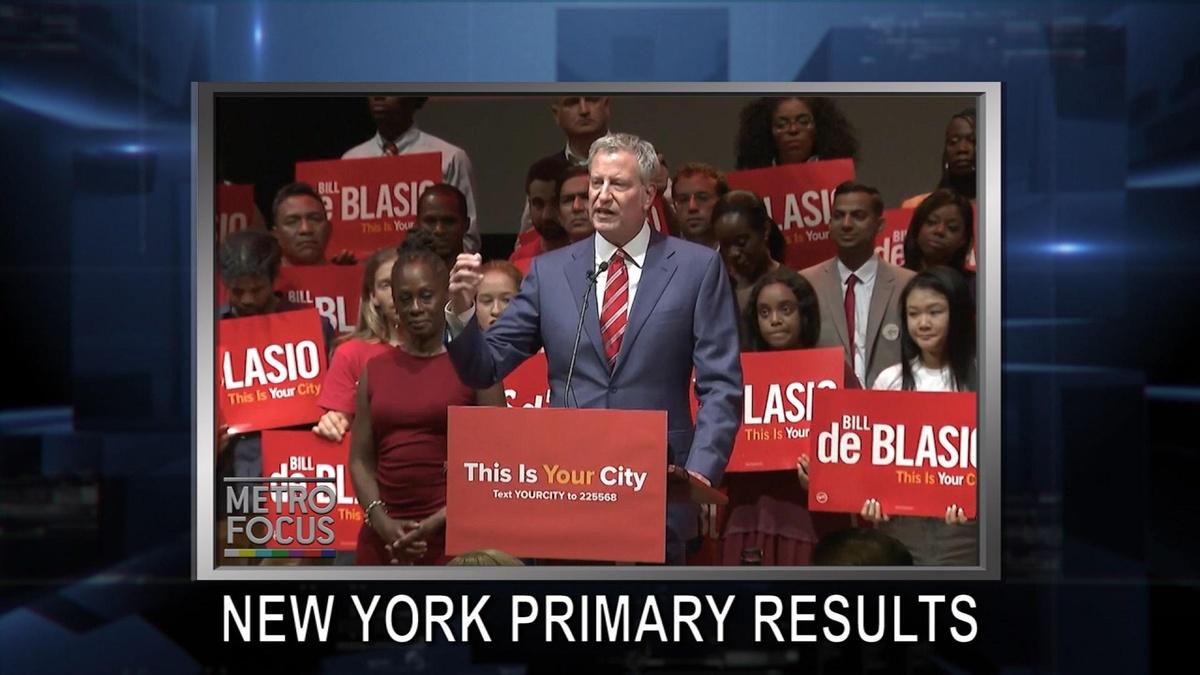 FULL EPISODE
MetroFocus: September 13, 2017
Mayor Bill de Blasio faces off against Republican candidate Nicole Malliotakis. The Metropolitan Museum of Art, turning over antiquities after it's learned they were stolen. City Comptroller Scott Stringer is on a mission to ensure that diversity reigns and all people are represented in corporate board rooms. The folks at "NOVA" take us on a harrowing adventure: death dive to Saturn.
TRANSCRIPT

>>> TONIGHT ON METRO FOCUS, DID

YOU VOTE?

MAYOR BILL DE BLASIO WAS

VICTORIOUS FROM OTHER DEMOCRATS

AS THEY TRY TO TAKE HIS JOB,

NOW, THE FACEOFF IS BETWEEN THE

POSSIBLE FIRST WOMAN MAYOR.

SAL GONZALES, THE FIRST ELECTED

LATINO D.A. IN NEW YORK STATE,

AND A DISGRACED MEMBER OF THE

CITY COUNCIL, WE HAVE THE LATEST

FROM LAST NIGHT, PRIMARY.

THE METROPOLITAN MUSEUM OF ART

IS TURNING OVER ITEMS, ABIDE THE

SCENES WORK AT THE DETECTIVE

WORK THAT GOES TO INVESTIGATING

THE ARTIFACTS TO THE RIGHTFUL

OWNER.

HE IS HERE WITH US PLAN.

AND THE FOLKS AT NOVA TAKE US ON

A SHOCKING ADVENTURE IN DEATH

DIVE TO SATURN, ALL THAT AND

MORE AS METRO FOCUS STARTS RIGHT

NO

NOW.

>>> THIS IS "METRO FOCUS."

WITH RAPHAEL RAMAN, JACK FORD,

AND JENNA FLANAGAN.

FUNDING FOR THIS PROGRAM WAS

PROVIDED BY -- CORPORATE FUNDING

WAS PROVIDED BY MUTUAL OF

AMERICA, YOUR RETIREMENT

COMPANY.

AND BY PSE & G, SERVING

CUSTOMERS, STRENGTHENING THE

BUSINESS COMMUNITY AND INVESTING

IN THE FUTURE.

>>> GOOD EVENING, AND WELCOME TO

METRO FOCUS, IN THE END IT WAS A

LANDSLIDE VICTORY FOR MAYOR DE

BLASIO WHO TOOK NEARLY 75 OF THE

VOTE, WITH HIS NEAREST RIVAL,

SAL ALBANESE, TAKING ONLY 15% OF

THE VOTE.

HE SAID HE WANTS TO WORK HARD.

>> NO MATTER HOW MUCH GOOD I

HAVE SEEN, I DO NOT ACCEPT THE

STATUS QUO IN THIS TOWN.

WE HAVE GOT MORE TO DO, MY

FRIENDS.

WE HAVE MORE TO DO.

I HAVE SEEN UP CLOSE THE

CHALLENGES, TOO, I HAVE SEEN THE

WAYS THAT WE NEED TO STILL BUILD

A FAIRER CITY.

AND I'M NOT GOING TO STOP UNTIL

WE BUILD THAT FAIRER CITY FOR

EVERY NEW YORKER.

>> DE BLASIO HAS NOW SET TO FACE

NICOLE MALLIOTAKIS, SHE RAN

UNOPPOSED IN THE REPUBLICAN

PRIMARY.

SHE WILL JOIN US TOMORROW TO

TELL US HOW SHE PLANS TO PULL AN

UPSET AGAINST THE HEAVILY

FAVORED MAYOR.

AND GONZALES FENDING OFF FIVE

CHALLENGES TO WIN THE NOMINATION

FOR BROOKLYN DISTRICT ATTORNEY,

AND IN QUEENS, FRANCISCO MOYA

DEFEATED MONSERRATE FOR A SEAT

IN THE COUNCIL, MONSERRATE WAS

LOOKING AT FRAUD FOR CAMPAIGN

FUNDS, AND ASSAULTING HIS

GIRLFRIEND.

JEFF, THE MAYOR, HE GETS NEARLY

75% OF THE VOTE YESTERDAY,

320,000 VOTES, MORE THAN 2013.

IS THIS THE KIND OF DECISIVE

VICTORY HE WAS LOOKING FOR?

>> 320,000 VOTES, SOUNDS PRETTY

IMPRESSIVE UNTIL YOU REMEMBER

THE CITY HAS 8.5 MILLION PEOPLE,

46% TURNOUT AMONG THE VOTERS,

NOT NECESSARILY IMPRESSIVE, BUT

THE CITY SAW IMPRESSIVE TURNOUTS

WHEN BLOOMBERG CAME OUT

UNOPPOSED.

SO HE WOULD HAVE LIKED FOR MORE

PEOPLE TO TURN OUT, BUT 74% OF

THE VOTE OF COURSE HE IS HAPPY.

SAL ALBANESE, THESE OTHER

CHALLENGERS, HE WAS BATTING AWAY

THE FLY.

THEY WERE NOT A CHALLENGE TO

HIM.

HE DIDN'T MENTION THE OTHER

CHALLENGERS, MALLIOTAKIS LOOKING

AHEAD.

>> BUT WE'LL TALK --

>> OF COURSE HE MENTIONED TRUMP.

THAT IS WHO DE BLASIO THINKS HE

IS RUNNING AGAINST.

IT IS PROBABLY A GOOD STRATEGY

FOR HIM.

DONALD TRUMP HAS 18%

FAVORABILITY IN NEW YORK CITY.

SO ANYWAY, DE BLASIO HAPPY WITH

THE 74%, I WOULD THINK.

SAL ALBANESE, HIS MAIN

CHALLENGER, WITH ONLY 15% OF THE

VOTE.

YOU KNOW, NOT AN IMPRESSIVE

SHOWING FOR ALBANESE.

>> SO IN NOVEMBER, THE MAJOR

PARTY CANDIDATES WILL BE DE

BLASIO AND NICOLE MALLIOTAKIS,

AND THE STATE ASSEMBLYWOMAN FROM

BROOKLYN, WHAT DOES SHE HAVE TO

DO TO PULL OFF AN UPSET IN

NOVEMBER?

>> WHAT CAN SHE DO?

GOOD FOR HER, SHE IS REALLY

TRYING TO FOCUS ON QUALITY OF

LIFE ISSUES.

TALKING ABOUT THE HOMELESS

ISSUE, HOW YOU SEE LOTS MORE

HOMELESS PEOPLE ON THE STREETS,

PEOPLE IN SHELTERS AS WELL.

SHE IS FOCUSING ON CRIME,

EVERYONE KNOWS CRIME NUMBERS ARE

DOWN, SHE IS REALLY FOCUSING ON

SEX CRIMES.

THE GENERAL SEX CRIMES ARE

TRENDING UP 20%, SOME SAY THAT

IS BECAUSE IT IS BEING REPORTED

MORE, PEOPLE ARE MORE

COMFORTABLE COMING FORWARD BUT I

MEAN SHE DOES HAVE THE NUMBERS

ON HER SIDE, SEX CRIMES, RAPE,

SLIGHTLY TRENDING UP IN DE

BLASIO'S TENURE.

SO SHE IS REALLY HONING IN ON

THAT.

>> ANY LESSONS SHE COULD HAVE

PICKED UP FROM SAL ALBANESE?

>> IT'S HARD TO SAY, WITH SAL

ALBANESE ONLY GETTING 15% --

HARD TO DO.

>> ONE THING THAT IS CLEAR,

ALBANESE WENT AFTER THE ETHICS

ISSUE.

SEEMS LIKE IT IS ALREADY BAKED

IN THE CAKE.

THE PRIMARY VOTERS SAY OKAY, WE

UNDERSTAND BUT THAT IS NOT

IMPORTANT.

OTHER THINGS ARE IMPORTANT, AS I

SAID THE MAYOR TOUTED SOME OF

HIS ACCOMPLISHMENTS, YOU KNOW,

THEY'RE KIND OF IMPRESSIVE, AT

LEAST ON PAPER.

>> DE BLASIO HAS A LOT OF

CRITICS OUT HERE, EVEN AMONG

DEMOCRATS, THERE ARE A LOT OF

PEOPLE WHO ARE NOT HAPPY WITH

THE WAY HE CARRIES HIMSELF.

PEOPLE THINK HE HAS ETHICS

ISSUES.

THE POWER OF INCUMBENTS IS THE

MOST LIKELY THING TO GET YOU

REELECTED.

>> ANY SURPRISES ON THE CITY

COUNCIL?

>> WELL, THE ONLY SURPRISE I'M

STILL FOLLOWING IS THE CITY

COUNCIL IN HMANHATTAN, THAT RAC

HAS NOT BEEN CALLED YET.

TOO CLOSE TO CALL, AHEAD 200

VOTES OVER CHALLENGER

CHRISTOPHER MARTE.

>> SHE WILL BE THE ONLY

INCUMBENT TO LOSE IF SHE DOES

INDEED LOSE.

>> EXACTLY, I THINK SHE IS

CONFIDENT SHE IS HOLDING ON,

LIKE I MENTIONED WITH DE BLASIO,

THE POWER OF INCUMBENTSY IS SO

STRONG.

>> THE OTHER CITY COUNCIL BASE

WE'RE LOOKING AT I MENTIONED IN

THE INTRODUCTION, IS MOYA VERSUS

MONSERRATE, HE WENT TO JAIL, AS

I MENTIONED, FOR FRAUD AND HIM

BEATING UP HIS GIRLFRIEND.

THERE WAS A VIDEO OF HIM DOING

THAT.

>> HOW DID HE -- THAT WAS A

CLOSE RACE.

>> I THINK THIS IS ANOTHER CASE,

I MEAN, I THINK HE WON 45% OF

THE VOTES.

THAT IS ANOTHER CASE OF

INCUMBENTSY.

HE WAS NOT THE INCUMBENT, HE WAS

OUT OF OFFICE FOR A WHILE, BUT A

KNOWN ENTITY, ON THE BALLOT FOR

A WHILE, PEOPLE KNEW HIM FROM

BEFORE.

HE HAD AN IMPRESSIVE GROUND

GAME, A LOT OF PAID STAFF AND

VOLUNTEERS OUT THERE TRYING TO

GET VOTES.

I MEAN, FOR SOMEBODY WHO HAS

BEEN ARRESTED AND ACTUALLY SENT

TO JAIL FOR POLITICAL

CORRUPTION, FOR PART OF HIS JOB

IT WAS ACTUALLY AN IMPRESSIVE

SHOWING FOR THE GUY.

BUT NOT ENOUGH.

AND I THINK ALL THE CITY'S

POLITICAL ESTABLISHMENT IS JUST

BREATHING A SIGH OF RELIEF.

>> FRANCISCO MOYA, AN IMPRESSIVE

GUY?

>> OH, YEAH, HE IS WELL LIKED,

GOT THE ENDORSEMENT OF DE

BLASIO, OTHER CITY COUNCIL

MEMBERS, ALL THE LABOR UNIONS.

IT'S ALMOST AS IF HE DIDN'T HAVE

TO BE AN IMPRESSIVE GUY, HE JUST

WAS NOT MONSERRATE.

>> AND CITY COUNCIL MARINO WILL

NOT BE RETURNING, DID THIS HELP

ANYBODY WHO WANTS TO HELP HER AS

COUNCIL SPEAKER.

>> THAT IS TOUGH TO TELL, I

SPOKE TO PEOPLE ABOUT THE

SPEAKER RACE.

AND IT'S REALLY -- IT'S GOING TO

BE SOME TIME BEFORE IT SHAPES

UP.

IT'S -- THERE IS A LOT OF NEW

MEMBERS THAT WILL BE JOINING THE

PROGRESSIVE CAUCUS.

THE MORE LEFT LEANING SIDE OF

THE CITY COUNCIL.

AND THEY MAY TRY AND KIND OF

COME TOGETHER AND VOTE --

>> WHO ARE THE CANDIDATES THAT

ARE LEADING FOR SPEAKER?

>> THERE ARE A LOT OF PEOPLE

WITH THEIR NAMES IN THE RING,

THE LEADING ONES ARE COREY

JOHNSON, MARK LEVINE, RITCHIE

TORRES IN THE BRONX, THOSE THREE

ARE THE LEADING CANDIDATES AND

IT'S STILL GOING TO BE A LOT OF

TIME.

FROM WHAT I HAVE HEARD WE'RE NOT

GOING TO BE KNOWING ABOUT A CITY

COUNCIL SPEAKER UNTIL DECEMBER.

>> LET'S TALK ABOUT THE BROOKLYN

DISTRICT ATTORNEY'S RACE.

E

AARON GONZALES WAS ACTIVE, HE

WON HANDILY, AND RAN AGAINST

FIVE PEOPLE, STILL GOT OVER 50%.

IS THAT A BIG DEAL?

>> I SURE THINK IT IS A BIG

DEAL.

I WAS AT HIS ELECTION PARTY LAST

NIGHT.

HIS BOROUGH WIDE BROOKLYN IS THE

BIGGEST BOROUGH, A LOT OF PEOPLE

ARE OUT STUMPING FOR HIM TO TRY

AND GET HIM -- MOVE HIM FROM

ACTING D.A. TO FULLY ELECTED

D.A.

FIRST LATINO D.A. IN THE ENTIRE

STATE.

>> IT'S HARD TO BELIEVE THERE

WAS NOT ONE BEFORE.

>> ABSOLUTELY, YOU KNOW THE

THING ABOUT D.A.s, THEY'RE IN

OFFICE FOR A LONG TIME.

EVEN AS THE DEMOGRAPHICS SHIFT

IN NEW YORK, IT'S A LITTLE

SLOWER.

>> SO HE WILL CONTINUE THE

THOMPSON POLICIES?

>> THAT IS WHAT HE RAN ON,

CHARLES HYNES, THE OLD D.A. THAT

RAN IN 2013, HE HAD A LOT OF

ISSUES, SUCH AS WRONGFUL

CONVICTIONS, SO YEAH, KEN

THOMPSON TOOK OVER IN 2013.

HE PASSED AWAY LAST YEAR FROM

CANCER AND THAT IS WHAT ERIC

GONZALES WAS RUNNING ON, TO

CARRY ON THOSE PROGRESSIVE

REFORMS AND CARRY ON IN THE

BROOKLYN D.A. OFFICE.

>> THANK YOU VERY MUCH FOR

TALKING TO US.

>> AND TO REMIND YOU, TUNE IN

TOMORROW FOR OUR INTERVIEW WITH

NICOLE MALLIOTAKIS, THE

REPUBLICAN NOMINEE FOR NEW YORK

CITY MAYOR.

>>> IN 2014, NEW YORK CITY'S

COMPTROLLER SCOTT STRINGER,

LAUNCHED THE PROGRAM AIMED AT

CORPORATIONS TO DISCLOSE THE

DIVERSITY OF THEIR BOARD

MEMBERS.

THE INITIATIVE'S GOAL WAS TO

GIVE MORE POWER TO THE VEINVEST,

TO CHOOSE WHO WAS ELECTED.

NOW HE IS ANNOUNCING A 2.4

VERSION OF THIS PROJECT, CALLING

FOR MORE COMPANIES TO MAKE THEIR

BOARD ROOMS MORE DIVERSE,

INDEPENDENT AND CLIMATE

COMPETENT.

HERE WITH THE DETAILS IS SCOTT

STRINGER.

>> GREAT TO BE BACK.

>> ALWAYS GREAT TO HAVE YOU, WHY

ARE WE GOING 2.0 WITH THIS BOARD

ROOM INITIATIVE?

>> WELL, BECAUSE 1.0 WAS VERY

SKECHL.

JUST A COUPLE OF YEARS AGO WE

HAD SIX COMPANIES IN THIS

COUNTRY THAT ALLOWED FOR PROXY

ACCESS FOR THE RIGHT TO RUN

INDEPENDENT DIRECTORS SO THAT

SHARE OWNERS, THE PEOPLE I

REPRESENT, THE FIREFIGHTERS,

POLICE OFFICERS, CITY WORKERS,

IF THEY'RE CONCERNED, WE'RE

CONC --

OR WERE CONCERNED, WE HAVE A

RIGHT TO RUN A DIRECTOR, WHICH

HAS BEEN STOPPED.

WE STARTED THIS CAMPAIGN

NATIONALLY WITH OTHER PENSION

FUNDS.

SIX COMPANIES ALLOW US TO DO

THIS TODAY.

OVER 400 HAVE NOW GIVEN US A

RIGHT TO RUN AN INDEPENDENT

DIRECTOR THANKS TO OUR NATIONAL

CAMPAIGN.

I DON'T WANT TO STOP THERE.

WE NOW WANT TO GO TO 2.0 WHICH

IS NOW GOING BACK TO THOSE

ISSUES THAT ALLOW US TO RUN

INDEPENDENT DIRECTORS AND SAY TO

THEM WE NEED DATA FROM YOU TO

TELL US THE DIVERSITY OF YOUR

BOARDS.

THE MAKEUP OF YOUR BOARDS AND

WE'RE DEMANDING AND ASKING FOR

THE FOLLOWING.

WE WANT TO KNOW THE SKILLS OF

YOUR BOARD MEMBERS, THEIR

EXPERIENCE, THEIR AGENDA, AND WE

WANT TO KNOW THE RACE.

BECAUSE THE FACT IS THAT 70% OF

CORPORATE BOARDS ARE MADE UP OF

WHITE MEN, JUST 21% HAVE WOMEN

ON BOARD.

5% AFRICAN-AMERICAN, 3% ASIAN,

2% LATINO.

THIS IS NOT GOOD FOR BUSINESS.

>> HOW IS THIS NOT GOVERNMENT

REACHING TOO FAR?

I MEAN, THERE IS ALWAYS GOING TO

BE PEOPLE WHO HEAR ABOUT IT,

SAYING THIS IS RIDICULOUS.

THIS IS NOT GOVERNMENT'S

BUSINESS.

HOW A BUSINESS IS RUN, IF THE

BUSINESS IS TURNING A PROFIT

THAT IS ALL THAT SHOULD MATTER

TO YOU AND FOR THE PENSION

HOLDERS.

>> WELL, WE WANT TO MAKE SURE

THE COMPANY WE'RE INVESTING IN

DOES DO WELL AND DOES MAKE

MONEY.

PART OF BEING A FIDUCIARY, THE

NEW YORK CITY RETIREMENT SYSTEM

IS THE FOURTH LARGEST IN

AMERICA, 14th LARGEST IN THE

WORLD.

WE WANT TO MAKE SURE THAT THE

BOARDS ARE COMPETENT.

BECAUSE WE WANT MANAGE EVERY

COMPANY WE INVEST IN.

WHAT ABOUT CLIMATE COMPETENT

BOARDS TO SEE THE CHANGING

WINDS, LITERALLY, OF THOSE

ENERGY COMPANIES.

WE WANT TO BE ON THE FOREFRONT

OF THIS, AND YES THERE IS A

CIVIL RIGHTS COMPONENT OF THIS.

WE WANT TO MAKE SURE THAT YOUNG

WOMEN OF COLOR GO TO A

UNIVERSITY, AND SHOULD BE ABLE

TO REACH THE CORPORATE BOARD

LEVEL, BUT YET THEY GET STUCK IN

THE ELEVATOR.

>> UNFORTUNATELY, DIVERSITY HAS

BECOME A BUZZ WORD, PEOPLE THROW

IT AROUND, DIVERSITY, DIVERSITY.

WHAT EXACTLY ARE WE TALKING

ABOUT?

WHY IS IT IMPORTANT TO HAVE

PEOPLE FROM DIFFERENT ETHNIC

BACKGROUNDS, AGE, SEX, WHY IS

THAT IMPORTANT IN A SETTING?

>> WELL, IT'S ACTUALLY A GREAT

QUESTION, BECAUSE THERE IS REAL

REASONS WHY DIVERSITY

STRENGTHENS COMPANIES, AND HERE

IS WHY.

WHEN YOU HAVE PEOPLE ON A BOARD

WITH THE SAME LIFE EXPERIENCES,

THEY GREW UP IN THE SAME TOWN,

WENT TO THE SAME SCHOOLS, HAVE

THE SAME LIFE EXPERIENCES, THEN

AS A BOARD THEY'RE GOING TO MAKE

THE SAME DECISIONS.

WE LIKE DIVERSITY BECAUSE WE

KNOW THAT PEOPLE COME FROM

DIFFERENT PERSPECTIVES IN LIFE.

IT CREATES BALANCE ON THE

BOARDS.

AND YES, WE DON'T WANT TO THROW

DIVERSITY AROUND FOR DIVERSITY'S

SAKE.

WE ACTUALLY WANT DIVERSITY

BECAUSE WE KNOW THAT THE

RETIREMENT SECURITY OF THE

PEOPLE I REPRESENT WILL BE

STRONGER WHEN YOU HAVE DIVERSE

OPINIONS, LIFE EXPERIENCE, SKILL

SET, GENDER, RACE, AND WE'RE IN

THE 21st CENTURY.

>> OF COURSE, I DID NOTICE THAT

YOU MENTIONED THE COMPETENCY AND

SKILL SET THAT IS BROUGHT TO

THIS THAT ALMOST SOUNDS LIKE

PERHAPS WE STOP WITH THE

NEPOTISM.

BECAUSE THAT IS ALSO AN ISSUE

WITH A LOT OF BOARD ROOMS.

>> ITS HARD TO CRACK THE BOARD

ROOM, BECAUSE PART OF IT IS YOU

SCRATCH MY BACK I'LL SCRATCH

YOUR BACK.

EVEN IN AN ERA WHERE WE WANT

INDEPENDENT DIRECTORS, A LOT OF

TIMES THE GOLFING BUDDY SAYS I

WANT TO BE A GOLFER --

>> AND NOT EVERYBODY CAN BE ON

THE GOLF COURSE.

>> THE REAL CHALLENGE IS TO TAKE

ADVANTAGE OF OUR CHANGING

DEMOGRAPHICS AND SOCIETY.

AND SAY LOOK, WE DO HAVE THE

MOST DIVERSE POPULATION, A LOT

OF THE PENSION FUND RETIREMENT

SECURITY IS FOR ALL PEOPLE OF

DIFFERENT BACKGROUNDS, AND YET

PEOPLE SHOULD NOT FEEL THAT ONLY

A CERTAIN GROUP OF PEOPLE IN

THIS COUNTRY CAN GET TO THE

CORPORATE BOARD LEVEL.

WE WANT TO MAKE SURE THAT THAT

PLAYING FIELD IS LEVEL.

THE ELEVATOR SHOULD STOP ON THE

TOP FLOOR FOR EVERYBODY.

NO ONE IS SUGGESTING A PASS OR

YOU KNOW, AN EXPRESS ELEVATOR.

BUT YOU CAN'T CONTINUE TO BLOCK

WOMEN, PEOPLE OF COLOR, PEOPLE

WHO VERY MUCH HAVE THE SKILLS

AND THE ABILITY TO HELP TR

TRANSFORM COMPANIES, BUT THEY

LITERALLY HAVE BEEN CUT OUT.

WE'RE ASKING FOR DATA IN A WAY

IT'S NEVER BEEN ASKED FOR.

WE STARTED ASKING FOR CORPORATE

ACCOUNTABILITY, AND BOARD ROOM

QUESTIONS, PENSIONS, WE'RE GOING

TO GO DEEP AND SAY LOOK WE NEED

THIS DATA BECAUSE WE WANT TO

HELP YOU DIVERSIFY YOUR BOARDS

AND HAVE THOSE STRATEGIES.

>> HAS THERE BEEN PUSH ON YOUR

END TO ENCOURAGE PEOPLE?

>> I ACTUALLY THINK THAT THE

SMART COMPANIES REALIZE THAT

WHEN YOU HAVE DIVERSITY AT THE

HIGHEST LEVELS OF CORPORATE

AMERICA YOU ARE GOING TO HAVE

STRONGER COMPANIES.

THIS IS ALMOST -- THIS IS FACT,

THIS IS NOT OPINION.

AND THE QUESTION IS HOW DO WE

GET THERE?

I'M NOT HERE TO BLAME A COMPANY.

YOU KNOW, IF THEY HAVE BEEN ALL

MALE, THEY HAVEN'T THOUGHT ABOUT

THESE ISSUES, MY JOB NOW IS TO

GET YOU TO THINK ABOUT THOSE

ISSUES BECAUSE WHEN YOU DO

BETTER IN THIS PLAYING FIELD I

KNOW THAT I'M DOING MY JOB AS A

FIDUCIARY OF PEOPLE'S RETIREMENT

SECURITY.

AND AT THE END OF THE DAY I HAVE

TO WORRY ABOUT THE 715,000

PEOPLE BOTH IN THE RETIREMENT

SYSTEM OR SOON WHO WILL BE.

I WANT TO GIVE THEM THE BEST

SHOT THEY HAVE OF A FINANCIAL

RETIREMENT.

THAT THEY HAVE EARNED, GIVEN

YOUR SERVICE TO THE CITY,

WHETHER YOU'RE A POLICE OFFICER,

FIREFIGHTER, TEACHER, THAT IS

THE JOB OF CONTROLLER.

BUT THROUGH THAT I HAVE A

FIDUCIARY RESPONSIBILITY TO

CHALLENGE BOARDS THAT WE INVEST

IN, BECAUSE I WANT TO MAKE SURE

THAT THEY'RE DOING THEIR DUE

DILIGENCE, THE REALITY IS I

CAN'T MANAGE EVERY COMPANY AND

LOOK AT THOUSANDS OF INVESTMENTS

EVERY DAY.

SO WE NEED STRONG CORPORATE

BOARDS THAT I CAN PUT MY TRUST

IN THAT THEY'RE GOING TO DO THE

RIGHT THING BOTH IN TERMS OF

EXECUTIVE COMPENSATION, CLIMATE

CHANGE, DIVERSITY, THESE ARE THE

THINGS THAT MAKE OUR COMPANIES

STRONG AND OUR PENSION FUNDS

STRONG.

>> LISTEN, CONTROLLER STRINGER,

THANK YOU VERY MUCH FOR

EXPLAINING WHY THIS IS

IMPORTANT.

I THINK THAT IS SOMETHING WHEN

PEOPLE HEAR DIVERSITY, THEY'RE

KIND OF AT THIS POINT LIKE WHY,

BUT YOU MADE A STRONG CASE FOR

IT AND I LOOK FORWARD TO FINDING

OUT WHAT YOU GET FROM 2.0.

>> THANK YOU VERY MUCH.

>>> FOR OVER A DECADE, THE

CASINO SPACE PROBE HAS BEEN

SENDING DAZZLING IMAGES OF

SATURN'S BREATHTAKING WINDS AND

MYSTERIOUS MOONS, WE TAKE A LOOK

AS IT DIVES INTO SATURN.

LET'S TAKE A LOOK AT DEATH DIVE

INTO SATURN.

>> IT REVEALS AMAZING NEW

WORLDS.

>> IT'S ASTONISHING, JUST

ABSOLUTELY GORGEOUS.

>> BUT NOW, A FIERY END

APPROACHES.

>> IT'S ON A PATH TOWARDS DEATH.

>> FOLLOW CASINI'S FINAL

MOMENTS, WITH UP TO THE MINUTE

COVERAGE.

>> THIS IS AN ADVENTURE.

>> DEATH DIVE TO SATURN ON NOVA.

>> NOVA'S DEATH DIVE TO SATURN

AIRS AT 9:00 NOVEMBER 13th.

CHECK FOR MORE INFORMATION AND

SUBSEQUENT AIRINGS.

>>> THE METROPOLITAN MUSEUM OF

ART HAS TURNED OVER TWO

UNRELATED ANTIQUITIES FROM THEIR

COLLECTION TO AUTHORITIES OVER

CONCERNS ABOUT HOW THE ITEMS

WERE ORIGINALLY OBTAINED.

THE FIRST ITEM?

A 2300-YEAR-OLD VASE THAT WAS ON

DISPLAY FOR DECADES, IT HAS BEEN

LINKED TO A NOTORIOUS ART DEALER

LINKED TO ANTIQUITIES YEARS AGO.

THE SECOND PIECE, A BULL'S HEAD,

THOUGHT TO BE STOLEN FROM

STORAGE IN LEBANON, DURING THE

COUNTRY'S CIVIL WAR IN THE '80s.

WHAT HAPPENS NOW?

HOW DO MAJOR INSTITUTIONS LIKE

THE MET END UP WITH ILL-GOTTEN

GOODS, AND HOW CAN MISTAKES BE

FIXED?

MUSEUMS ARE TRYING TO FIGURE OUT

THIS VERY QUESTION WITH MOUNTING

PRESSURE TO DO SO.

HERE WITH US IS DUSTIN STEIN,

WHO HAS SPENT YEARS RECOVERING

WORKS STOLEN FROM FAMILIES

DURING WORLD WAR II.

THANK YOU FOR JOINING US.

>> THANK YOU.

>> MY FIRST QUESTION IS, HOW

WIDESPREAD IS THIS PROBLEM?

>> UNFORTUNATELY, I THINK IT'S

VERY, VERY PREVALENT THROUGHOUT

THE WORLD.

I THINK ANY MUSEUM, OR MOST

MUSEUMS THAT HAVE ANTIQUITIES

WILL HAVE SOME SORT OF

ILL-GOTTEN ANTIQUITIES BECAUSE

THE PROCESS HAS NOT ALWAYS BEEN

THOROUGH AND PEOPLE HAVE NOT

ALWAYS VETTED THEIR OBJECTS AS

MUCH AS WE WOULD LIKE THEM TO

WHEN THESE VASES OR ANCIENT

RELICS COME OUT OF A COUNTRY

THAT IS EITHER WAR TORN OR DON'T

HAVE STRONG GOVERNMENTS, WE

DON'T NECESSARILY KNOW THE

PROVENANCE VERY WELL.

>> AND I WOULD IMAGINE A LOT OF

THESE GO THROUGH AUCTIONS, DUE

DILIGENCE, OTHER MEANS OF THE

PROCESS.

HOW DOES THIS HAPPEN?

ARE THERE FALSE PROVENANCES?

>> THERE ARE TWO WAYS, ONE WAY

IS TO MAKE THEM UP.

IF YOU'RE SOMEONE WITH A

QUESTIONABLE PAST AND YOU DEAL

WITH ANTIQUITIES AND HAVE THE

CHANCE TO MAKE A LOT OF MONEY ON

ANTIQUITY, MAYBE YOU WOULD BE A

LITTLE IMMORAL SAYING YOU

RECEIVED AN ITEM THROUGH LEGAL

CHANNELS IN GREECE OR ITALY OR

MAYBE WHERE THE ANCIENT RELICS

ARE FROM.

BECAUSE YOU STAND TO MAKE MONEY

ON IT.

IT'S HARMLESS ERROR, SOMETIMES

PEOPLE DON'T KNOW WHAT THEY'RE

BUYING.

THEY MAY HEAR A STORY OR THE

STORY MAY GET MIXED UP.

SO PEOPLE WILL TAKE THE BUYER OR

DONOR AT THEIR FACE VALUE.

SOMEBODY MAY SAY I WANT TO

DONATE IT TO YOU, THIS IS HOW I

RECEIVED IT.

THEY MAY HAVE A POWER AT THE

MUSEUM SAYING TRUST ME ON THIS,

I HAVE A GOOD REPUTATION, I DID

THE VETTING FOR YOU.

THE OTHER QUESTION IS THE

QUESTION OF PROVENANCE IS A

RELATIVELY NEW IDEA, OVER THE

LAST 20 AND 30 YEARS OF WHO OWNS

THIS CULTURE.

SO MAYBE MUSEUM THINGS THAT WERE

DONATED 20 OR 30 OR 40 YEARS AGO

WOULDN'T HAVE BEEN AS RESEARCHED

AS THEY ARE TODAY.

>> SOME OF THESE PEOPLE ARE VERY

ORGANIZED.

WE TALKED A LITTLE BIT ABOUT

DICI, THE NOTORIOUS ITALIAN ART

DEALER BROUGHT UP ON CHARGES,

WHEN SOMEBODY LIKE HIM DOES IT

ON A WIDESPREAD LEVEL, THAT

PROBABLY CREATES WIDESPREAD

PROVENANCE, THEY HAVE NO IDEA

THEY'RE INVOLVED IN ORGANIZED

CRIME.

>> YES, THEY WILL POSSIBLY MAKE

UP AS WE SAID EARLIER.

THEY MAY HAVE GOTTEN SOMETHING

OUT OF LEBANON BUT THEY WOULD

SAY THEY GOT IT THROUGH EGYPT OR

ANOTHER COUNTRY SO THERE IS NO

WAY OF TRACKING IT BACK TO

LEBANON GOVERNMENT OR TRACKING

IT BACK TO THE ORIGINAL

GOVERNMENT TO SEE IF IT IS PART

OF CULTURAL HERITAGE.

SO BY JUST CHANGING THE COUNTRY

OF ORIGIN THEY'RE CHANGING THE

WAY WE RESTORE IT OR EVEN CHECK

ABOUT THE HISTORY OF THE

ARTWORK.

AND HE HAS PROBABLY SOLD OVER

3,000 OBJECTS.

SO THIS WOULD REALLY PUT AN

ASTERISK ON MUSEUMS AND RELICS

THROUGHOUT THE WORLD.

>> YOU MENTIONED CULTURAL

HERITAGE, YOU HAVE ITEMS THAT

ARE HIGH PROFILE, LIKE THE ELGIN

MARBLES, AT THE BRITISH MUSEUM,

THEY WERE SOLD BY GREECE WHILE

IT WAS UNDER THE OTTOMAN EMPIRE,

BY SOMEBODY WHO MAYBE WAS NOT

NECESSARILY GREEK, AND THEY'RE

HOLDING ON TO IT BECAUSE THEY

SAY THEY HAVE APPROVAL TO DO SO.

SEEMS LIKE THERE IS A LOT MORE

PRESSURE NOW THAN THERE WAS

PREVIOUSLY TO REPETRIATE THESE

ITEMS.

>> I THINK YOU'RE RIGHT,

CULTURAL AWARENESS IS BECOMING

MORE PROMINENT.

THE EU IS CRACKING DOWN ON MORE

MIDDLE EASTERN COUNTRIES,

PREVIOUSLY THERE WAS NOT AS MUCH

OF A PUSH FOR IT.

THERE WAS NOT NECESSARILY

MUSEUMS THAT COVERED TO A THE

ARCHEOLOGY OF A NATION.

TO CREATE A NATIONAL IDENTITY

THESE HISTORICAL OBJECTS PLAY A

ROLE.

>> SO WHAT CAN MUSEUMS DO TO

PREVENT IT?

ARE THEY TAKING NEW STEPS TO

MAKE SURE THEY'RE NOT FALLING

INTO THIS TRAP?

>> I THINK THE DECADES HAVE

STEPPED UP, WHERE MUSEUMS ARE

HIRING MANY MORE PROVENANCE

COLLECTIONS, THEY'RE LOOKING AT

WHERE IT MAY HAVE BEEN BOUGHT

ORIGINALLY OR DONORS TRYING TO

FIGURE OUT WHERE THE DONORS GET

IT.

IF YOU GOT A DONATION, YOU TOOK

EVERYTHING IN AND PROBABLY

DIDN'T DO MUCH RESEARCH, THERE

WERE SOME THINGS THAT YOU

RESEARCHED, BUT SOMETHING THAT

WAS MAYBE 3,000 YEARS OLD YOU

MAY NOT HAVE ANYBODY ABLE TO DO

THE RESEARCH.

>> IT SOUNDS LIKE WE'LL SEE A

LOT MORE CASES IN THIS YEARS TO

COME.

THANK YOU, DUSTIN, WE APPRECIATE

YOU COMING IN.

>> THANK YOU FOR HAVING ME.

>> FUNDING FOR THIS PROGRAM WAS

PROVIDED BY.