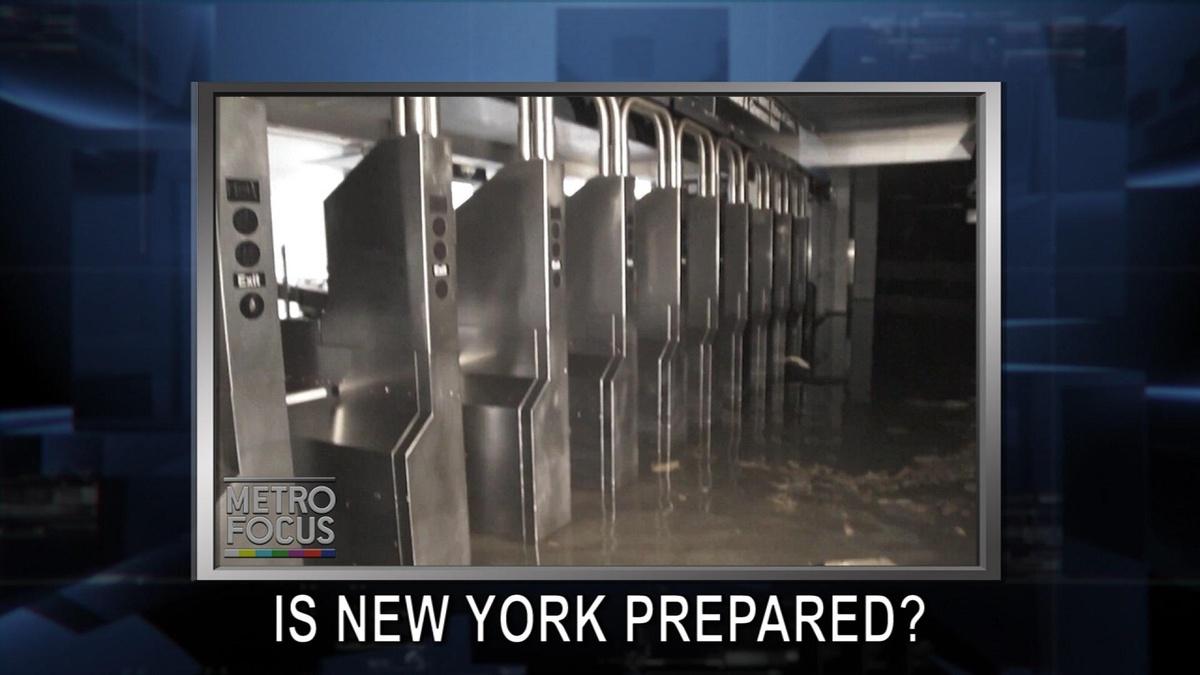 FULL EPISODE
MetroFocus: September 12, 2017
After Sandy, in the wake of Irma, and as Jose heads our way; are we prepared for a major hurricane? On what would have been his wedding anniversary with Jackie, new questions about the assassination of President Kennedy: where are the missing CIA files on Lee Harvey Oswald? The inside story of a little family owned bank in Chinatown, and how they were targeted during the financial crisis of 2008
TRANSCRIPT

>>> TONIGHT ON "METROFOCUS"

AFTER SANDY IN THE WAKE OF IRMA

AND AS JOSE HEADS OUR WAY, ARE

WE PREPARED FOR A MAJOR

HURRICANE.

IRMA WAS A NOT SO SUBTLE

REMINDER THAT WE BETTER BE READY

WHEN NOT IF THE NEXT SUPER STORM

HITS.

IN AN EXCLUSIVE INTERVIEW.

THE COMMISSIONER OF EMERGENCY

MANAGEMENT IS HERE WITH A PLAN

OF DEFENSE.

>>> ON WHAT WOULD HAVE BEEN HIS

WEDDING ANNIVERSARY, NEW

QUESTIONS ABOUT THE

ASSASSINATION OF PRESIDENT

KENNEDY.

FOR EXAMPLE, WHERE ARE THE

MISSING CIA FILES ON LEE HARVEY

AS WALLED.

MORE QUESTIONS ABOUT WHAT TOP C

IX A OFFICIALS KNEW AND WHEN

THEY KNEW IT.

THIS IS AN INTERVIEW YOU DON'T

WANT TO MISS.

>>> AND IT SOUNDS LIKE A LOT

LIKE THE PLOT OF THE FILM "IT'S

A WONDERFUL LIFE."

IN A MOMENT THE INSIDE STORY OF

HOW A MODEST FAMILY OWNED BANK

IN NEW YORK CITY BECAME THE ONLY

U.S. BANK TO FACE CRIMINAL

CHARGES IN THE WAKE OF THE 2008

FINANCIAL MELTDOWN.

WAS THAT SIMPLY BECAUSE IT WAS

SMALL ENOUGH TO JAIL?

ALL THAT AND MORE AS

"METROFOCUS" STARTS RIGHT NOW.

♪♪

♪♪

>>> THIS IS "METROFOCUS."

WITH RAF FELL P. RAHMAN, JACK

FORD AND JENNA FLANAGAN.

FUNDING FOR THIS PROGRAM WAS

PROVIDED BY --

>>> GOOD EVENING, WELCOME TO

"METROFOCUS."

I'M JENNA FLANAGAN.

IS NEW YORK READY FOR A MAJOR

HURRICANE.

IN THE LAST TWO WEEKS WE'VE

WATCHED HURRICANE IRMA RUN

RAMPANT IN FLORIDA AND HURRICANE

HARVEY WREAK HAVOC IN TEXAS AP

AND KNEW A NEW STORM COULD BE

TAKING AIM AL NEW YORK CITY.

THE NEW YORK REGION IS IN

HURRICANE JOSE'S PROJECTED PATH.

IT'S CURRENTLY A CATEGORY 1

HURRICANE WITH WINDS AT 75 MILES

PER HOUR AND IS EXPECTED TO

LINGER IN THE ATLANTIC BEFORE

MAKING LANDFALL ON THE EAST

COAST.

OUR CITY'S LAST MAJOR STORM WAS

SANDY FIVE YEARS AGO.

BUT IS OUR CITY READY FOR

ANOTHER HURRICANE?

WHAT IMPROVEMENTS HAVE THE CITY

MADE SINCE THAT TIME.

HERE TO TELL US WHOU REPAIRED WE

ARE IS COMMISSIONER OF THE NEW

YORK CITY EMERGENCY MANAGEMENT

DEPARTMENT.

COMMISSIONER, THANK YOU FOR

JOINING US ON THE SHOW.

>> PLEASURE TO BE HERE.

>> SO THE MOST IMPORTANT

QUESTION IS HOW PREPARED IS NEW

YORK FOR ANOTHER MAJOR

HURRICANE?

>> WELL WE'RE AS PREPARED AS WE

CAN BE.

WHEN YOU TALK ABOUT MOTHER

NATURE,Y EAR NOT STOPPING MOTHER

NATURE WHETHER IT'S A HURRICANE,

A SNOWSTORM, AN EARTHQUAKE,

YOU'RE NOT STOPPING.

THE BEST THING WE CAN DO IS TO

MAKE A PLAN, TO BE READY FOR TE

VENT, REACT TO THE EVENT WHILE

IT'S HAPPENING AND THEN RECOVER

FROM THE EVENT.

WE'VE REFINED OUR PLANS AFTER

SANDY.

IMPROVED 14 OR SO PLAYBOOKS

ABOUT THINGS WE COULD HAVE DONE

BETTER.

WE DID PRETTY GOOD DURING SANDY

BUT WHENEVER WE HAVE AN INCIDENT

WE DO AN AFTER ACTION REPORT AND

AS A RESULT OF THOSE WE HAVE

COME UP WITH 14 DIFFERENT

PLAYBOOKS HAVE HAVE IMPROVED THE

CITY'S ABILITY TO RESPOND TO AN

EVENT.

>> TELL ME A LITTLE BIT ABOUT

THE PLANS THAT YOU GUYS HAVE

COME UP WITH.

>> WE OPENED UP SHELTERS.

WE'VE REFINED THE SHELTERS.

WE HAVE TO MAKE SURE WE CAN MEET

THE NEEDS OF ALL OF THE PEOPLE,

PEOPLE WITH DISABILITIES,

SPECIAL MEDICAL NEEDS.

WE HAVE TO MAKE SURE THAT THOSE

SHELTERS ARE IN THE RIGHT AREA

AND THE RIGHT SUPPLIES ARE

BROUGHT TO THE SHELTERS.

WE HAVE THREE WAREHOUSES THAT I

MANAGER.

WE HAVE ONE IN JERSEY, ONE IN

LONG ISLAND AND ONE IN BROOKLYN.

WE CAN SUPPLY 70,000 PEOPLE FOR

SEVEN DAYS WITH EVERYTHING THEY

NEED, EVERYTHING FROM DOG FOOD

TO PAMPERS TO THE BASICS OF FOOD

AND WATER.

WE KNOW A LOT OF PEOPLE DIDN'T

LEAVE THEIR HOME IN SANDY

BECAUSE THEY WERE CONCERNED

ABOUT THEIR PETS.

WE'VE HEARD THAT AND ADAPTED THE

PLANS.

>> SO THE NEW YORK CITY SHELTERS

WOULD BE PET FRIENDLY SHOULD WE

NEED THEM AGAIN.

>> WITHOUT A DOUBT.

>> WE SAW WITH THE LAST TWO

HURRICANES THERE WAS AN

EVACUATION ORDER MANDATORY.

OF COURSE YOU'RE NOT GOING TO

FORCE PEOPLE OUT OF THEIR HOMES.

BUT HOW IMPORTANT IS IT FOR

PEOPLE TO FOLLOW THE MANDATORY

EVACUATION ORDER AND ON TOP OF

THAT HOW DO YOU EVACUATE A CITY

LIKE NEW YORK IN.

>> EVACUATION IS VERY VERY

IMPORTANT.

WHEN THE MAYOR SAYS TO EVACUATE,

WE WANT PEOPLE TO EVACUATE.

AND THAT DIDN'T HAPPEN DURING

SANDY.

WE HAD 43 DEATHS.

AND THE VAST MAJORITY OF DEATHS

WOULD HAVE BEEN PREVENTED IF

PEOPLE HEEDED THE WARNING TO

EVACUATE.

WHEN THE MAYOR SAYS LEAVE,

LEAVE.

WE'VE REDONE THE EVACUATION

ZONES.

WE'VE ADDED 600,000 RESIDENTS TO

THOSE PLANS.

WE THINK THAT THESE SIX ZONES

ARE MORE MANAGEABLE.

WE DEAL WITH THE NATIONAL

WEATHER SERVICE EVERY TEN YEARS

OR SO TO REDO THE MAPS AND WE

HAVE THE BEST PLANS NOW FOR

EVACUATION.

HOW DO WE EVACUATE?

WE HAVE PLANS.

WE HAVE EVACUATION ROUTES, NEW

SIGNAGE, THE SHELTERS THAT WOULD

BE OPEN.

WE WOULD RATHER HAVE YOU GO TO A

FAMILY MEMBER OR FRIEND THAT

LIVES OUTSIDE OF THE AFFECTED

AREA.

BUT WORST CASE SCENARIO WE HAVE

400 SHELTERS WE CAN OPEN AROUND

THE CITY.

>> WHAT ABOUT PEOPLE WHO FIND

THEMSELVES IN A SITUATION WHERE

THEY NEED HELP.

WE SAW PEOPLE TWEETING OUT

REQUESTS FOR RESCUES.

IS THERE SOMETHING WHERE THE

OFFICE OF EMERGENCY MANAGEMENT

IS READY TO DEAL WITH THE SOCIAL

MEDIA FACTOR OF PEOPLE WHO ARE

GOING TO BE IN DANGEROUS

SITUATIONS?

>> SOCIAL MEDIA IS THE WAY WE

LIVE OUR LIVES NOW.

EVERYONE IS ON SOCIAL MEDIA.

WE'RE AWARE OF THAT AND WE'VE

ADAPTED OUR WAYS TO HAVE

CONTACTING PEOPLE.

NOTIFY NYC IS AN APP THAT WE

HAVE AT EMERGENCY MANAGEMENT AND

ENCOURAGE YOU TO SIGN UP FOR IT.

YOU CAN GET MESSAGES FROM US

DURING THE EMERGENCY, BEFORE

AFTER OR DURING THE MARCH.

ON WHAT ACTION TO BE TAKING.

EVERYONE SHOULD SIGN UP.

WE MONITOR THAT.

WE DO A THING CALLED DATA MINING

WHICH IS WE SEARCH THE INTERNET,

ALL OF THE SOCIAL MEDIA.

A LOT OF TIMES WHEN PEOPLE SEE

SOMETHING, THEY'LL GO TO THEIR

SOCIAL MEDIA AND TWEET IT OUT, A

CAR ACCIDENT, STORM COMING.

WE HAVE A PROO SAYS WHERE WE

MINE THAT STUFF.

WE LOOK AT THOSE TEXTS AND

TWEETS AND IT GIVES US

INFORMATION IN A MORE TIMELY

FASHION A LOT OF TIMES.

>> WE TALKED A LOT ABOUT HOW

PREPARED THE CITY IS TO HELP

PEOPLE GET THROUGH A CRISIS LIKE

ANOTHER HURRICANE.

BUT WHAT ABOUT THE RECOVERY

PERIOD?

ONE OF THE THINGS THAT WE SAW

AFTER HURRICANE SANDY WAS THE

POWER OUTAGES MADE RECOVERY SO

DIFFICULT FOR A LOT OF PEOPLE.

IS THERE SOMETHING IN PLACE TO

HELP SOMEBODY LIKE CON ED GET

BACK ON THEIR FEET OR THE MTA TO

GET BACK ON ITS FEET TO PEOPLE

CAN GET BACK TO LIFE AS SOON AS

POSSIBLE?

>> WE LEARNED A LOT OF LESSONS.

ALL OF THE UTILITY PROVIDERS

HAVE REALLY DONE TREMENDOUS WORK

ON THEIR INFRASTRUCTURE.

ANYTHING THAT WAS DAMAGED DURING

SANDY HAS HAS NOW BEEN REPLACED

WITH EQUIPMENT THAT WE THINK

WILL SURVIVE A LOT BETTER THAN

IT DID THE LAST TIME.

BUT IT'S ALWAYS A PROBLEM.

YOU KNOW, WE HAVE A GENERATOR

TASK FORCE THAT WILL GO INTO

PLACE IF SOMETHING WERE TO

HAPPEN LIKE SANDY, A DEWATERING

TASK FORBES TO GET RID OF THE

WATER IN CRUCIAL AREAS AND GET

GENERATORS TO PEOPLE WHO NEED

IT, NURSING HOMES, HOSPITALS.

>> WHAT SHOULD EVERYDAY NEW

YORKERS NEED WITH THEM SHOULD

THEY SHELTER IN PLACE.

SOMETIMES PEOPLE HAVE TO BE ABLE

TO BE ON THEIR OWN FOR A FEW

DAYS.

WHAT SHOULD NEW YORKERS HAVE

WITH THEM JUST IN CASE?

>> WELL, I CAN'T STRESS ENOUGH

JUST HOW IMPORTANT IT IS TO BE A

PLAN FOR YOURSELF, FOR YOUR

FAMILY.

WE ALWAYS ENCOURAGE PEOPLE TO

HAVE A GO BAG.

IF YOU DID HAVE TO LEAVE IN AN

EMERGENCY, SOMETHING THAT'S

RIGHT BY YOUR DOOR THAT HAS THE

ESSENTIALS THAT YOU NEED

PERSONALLY TO SUSTAIN YOURSELF

FOR A DAY OR TWO, WHETHER IT'S

MEDICATION THAT YOU TAKE, AN

EXTRA PAIR OF GLASSES, MAYBE CAR

KEYS, KEY INFORMATION, YOU KNOW,

NOTIFICATIONS, THINGS OF THAT

NATURE.

BUT ALSO IT'S VERY IMPORTANT TO

BE PREPARED TO SHELTER IN PLACE

MANY TIMES.

SO EVERYBODY SHOULD HAVE ENOUGH

FOOD AND WATER TO STAY IN YOUR

HOUSE AND MEDICATION TO STAY IN

YOUR HOUSE FOR AT LEAST THREE

DAYS.

>> LISTEN, THANK YOU SO MUCH FOR

BEING ON THE SHOW AND EXPLAINING

TO US A LITTLE BIT MORE ABOUT

HOW NEW YORK CITY IS BETTER

PREPARE AND WHAT WE CAN DO TO

MAKE OURSELVES PREPARED FOR THE

NEXT BIG STORM.

>> MY PLEASURE TO BE HERE.

>> THANK YOU.

♪♪

♪♪

>>> PRESIDENT JOHN F. KENNEDY'S

ASSASSINATION.

SO THIS DAY QUESTIONS AND

CONSPIRACY THEORIES REMAIN.

BUT NOW A NEW WRINKLE TO PROVIDE

MORE GRIST FOR THE MILL.

ACCORDING TO NEW UNCLASSIFIED

DOCUMENTS OFFICIALS AT THE CIA

CAME TO DOUBT THE OFFICIAL

STORYLINE OF THE PRESIDENT'S

MURDER AND SOME DETAILS ABOUT

LEE HARVEY OSWALD'S ROLE IN

CARRYING IT OUT.

THE TOP INTELLIGENCE OFFICERS

WRS CONCERNED THAT THE

INVESTIGATORS FROM THE WARREN

COMMISSION AND THE FBI FAILED TO

FOLLOW UP ON IMPORTANT CLUES

CONCERNING LEE HARVEY OSWALD'S

CONNECTION TO CUBA.

ONE MEMO ARGUES THAT PRESIDENT

KENNEDY COULD HAVE BEEN MURDERED

IN RETALIATION FOR THE CIA'S

ATTEMPT TO KILL FIDEL CASTRO.

THERE IS A QUESTION AS TO

WHETHER THEY WILL EVER SEE THE

LIGHT OF DAY.

JOINING NENOW TO DECIPHER IT ALL

FOR US IS RENOWNED HISTORIAN,

LARRY SABTO AND AUTHOR OF "THE

KENNEDY HALF CENTURY, THE

PRESIDENCY, ASSASSINATION AND

LASTING LEGACY OF JOHN F.

KENNEDY."

ALWAYS NICE TO SEE YOU.

>> THANK YOU SO MUCH.

>> LET'S START WITH THESE

DOCUMENTS RECENTLY RELEASED.

WHERE DID THEY COME FROM AND WHY

WERE THEY RELEASED NOW.

>> WE HAD SEVERAL HUNDRED FILES

RELEASED AND EACH FILE CAN

CONSIST OF A SINGLE PAGE OR

THOUSANDS OF PAGES.

IN TOTAL WE HAVE THOUSANDS AND

THOUSANDS AND THOUSANDS OF PAGES

RELEASED.

EN I CAN'T GIVE YOU AN EXACT

COUNT BY THE NATIONAL ARCHIVES

DIDN'T GIVE US A COUNT.

THIS IS A TASTE OF WHAT'S COMING

IN OCTOBER.

WHY DID THIS HAPPEN?

WHY DID IT HAPPEN NOW, WHY IS IT

GOING TO HAPPEN IN OCTOBER.

GO BACK TO OLIVER STONE'S MOVIE

"JFK" IN THE EARLY 1990s.

IT CAUSED A GIGANTIC STIR AND

REOPENED THE WHOLE QUESTION OF

WHO KILLED JFK.

AND CONGRESS WAS LITERALLY

FORCED TO PASS A LAW THAT WAS

SIGNED BY GEORGE H.W. BUSH IN

OCTOBER OF 1992 REQUIRING THAT

BY OCTOBER 2017 EVERY DOCUMENT

HELD BY THE CIA, THE FBI, THE

NSA, FILL IN THE BLANK, MUST BE

RELEASED UNLESS, THIS IS A KEY

CLAUSE, UNLESS THEY APPEALED IT

DIRECTLY TO THE PRESIDENT WHO

WAS SITTING IN OFFICE IN OCTOBER

2017 AND THAT PRESIDENT AGREED

TO WITHHOLD THE DOCUMENT.

WHERE WE KNOW FOR A FACT THAT AT

LEAST TWO AGENCIES, AND I

STRONGLY SUSPECT IT'S THE FBI

AND THE CIA, ARE APPEALING THE

RELEASE OF CERTAIN DOCUMENTS.

REMEMBER, 54 YEARS OF THE

ASSASSINATION.

ALMOST EVERYBODY DISCUSSED IN

THERE IS DEAD.

BUT THEY'RE STILL APPEALING AND

WE HAVE NO IDEA WHAT TRUMP WILL

DO.

>> I'M GOING TO ASK YOU ABOUT

THAT IN A MOMENT.

LET'S COME TO SOME OF THE

DETAILS THAT SEEM TO BE

CONTAINED IN THIS MOST RECENT

RELEASE.

FIRST OF ALL, THE QUESTION I'M

SURE PEOPLE ARE ANXIOUS TO ASK

IS, IS THERE ANYTHING IN THESE

DOCUMENTS THAT SUGGEST THAT LEE

HARVEY OSWALD WAS NOT THE

SHOOTER?

>> NO.

AND I DON'T EXPECT TO FIND

ANYTHING.

I BELIEVE THAT LEE HARVEY OSWALD

WAS NOT ONLY THE ASSASSIN BUT

THE LONE ASSASSIN ON NOVEMBER

22nd, 1963.

NOW KEEP IN MIND, THERE ARE

THOUSANDS OF CONSPIRACY

THEORISTS WHO STRONGLY DISAGREE

WITH ME AND OTHERS.

BUT THE FORENSIC EVIDENCE IS

STRONG.

AND REMEMBER, WE HAVE NEW

TECHNIQUES IN THE 21st CENTURY.

AND I USE SOME OF THEM FOR MY

BOOK "THE KENNEDY HALF CENTURY."

AND THEY ALL CONCERN WHAT THE

WARREN COMMISSION PROPOSED, THAT

LEE HARVEY OSWALD WAS THE SOLE

ASSASSIN.

BUT NOTICE WHAT WE'RE NOT

SAYING.

WE'RE NOT SAYING THAT NO ONE

ENCOURAGED OSWALD TO DO IT.

>> THAT'S INTERESTING.

I KNOW FROM LOOKING AT YOUR WORK

THAT ONE OF THE SUGGESTIONS

COMING OUT OF THE RELEASE OF

THESE DOCUMENTS WAS THAT LEE

HARVEY OSWALD HAD SOME PERHAPS

CONVERSATIONS WHEN HE TRAVELED

TO CUBA AND THAT THERE MIGHT

HAVE BEEN SOME ENCOURAGEMENT

COMING FROM EITHER SOMEBODY

WITHIN THE CUBAN GOVERNMENT OR

SOMEONE WITHIN THE RUSSIAN

GOVERNMENT.

TELL US WHAT THESE DOCUMENTS ARE

SAYING AND GIVE US YOUR

ASSESSMENT.

>> YES.

AND TO MY MIND THIS TRIP TO

MEXICO CITY WHICH OSWALD TOOK

ALMOST PRECISELY TWO MONTHS

BEFORE THE ASSASSINATION OF JOHN

F. KENNEDY IS ONE OF THE ROSETTA

STONES OF THE KENNEDY

ASSASSINATION AND IT'S NEVER

BEEN FULLY EXPLAINED AND STILL

ISN'T NOW.

REMEMBER, HE HAD BEEN IN NEW

ORLEANS AND IN EARLY SEPTEMBER

AN ARTICLE APPEARED PROMINENTLY

IN THE NEW ORLEANS, THE KEY

NEWSPAPER THERE IN NEW ORLEANS,

AND OSWALD IS KNOWN TO BE AN

AVID READER OF THE PAPER.

AND THE ARTICLE REVEALED FROM

THE AP CORRESPONDENT BUREAU

CHIEF IN HAVANA THAT CUBAN

OFFICIALS WERE FURIOUS THAT THE

U.S. GOVERNMENT WAS TRYING TO

KILL CUBAN OFFICIALS LIKE CASTRO

AND OTHERS SENIOR IN THE

ADMINISTRATION.

AND CASTRO SAID IF AMERICAN

OFFICIALS CONTINUE TO DO THIS,

THEY WILL NOT BE SAFE IN THEIR

OWN COUNTRY.

WELL, OSWALD READ THIS AND HE

WAS ALREADY UNSTABLE IN MANY

MANY WAYS AND HE WAS FURIOUS

BECAUSE OF IT.

WE THINK THIS MIGHT HAVE

STIMULATED HIS TRIP TO MEXICO

CITY.

WHY DID HE GO TO MEXICO CITY?

HE WENT THERE TO MEET WITH THE

CUBAN EMBASSY OFFICIALS AND THE

SOVIET EMBASSY OFFICIALS.

AND WE KNOW FOR SURE THAT HE DID

IN PART BECAUSE THE CIA TRACKED

HIS MOVEMENTS IN AND OUT OF THE

TWO EMBASSIES.

IN THE SOVIET EMBASSY HE MET

WITH TWO KGB OFFICIALS AND ONE

OF THE KGB OFFICIALS WAS FROM

BUREAU 13, THE ASSASSINATIONS

BUREAU OF THE KGB.

THAT OUGHT TO GIVE YOU THE

WILLIES.

IT SHOULD GIVE ANYBODY THE

WILLIES.

HE WAS THERE FOR SIX DAYS.

WHAT WAS HE DOING FOR THOSE SIX

DAYS?

WE ONLY HAVE A FEW HOURS

ACCOUNTED FOR.

THE CIA ANALYST AT THE TIME KNEW

ABOUT ALL OF THIS BUT THERE WAS

ONE IMPERATIVE FOR THE WARREN

COMMISSION AND FOR LYNDON

JOHNSON, SON COLLUDE THAT LEE

HARVEY OSWALD DID THIS WITHOUT

ANY HELP OR ENCOURAGEMENT AND NO

CONNECTION TO THE SOVIETS OR THE

CUBANS BECAUSE THEY WERE AFRAID

IT WOULD STIMULATE WORLD WAR

III.

WHO CAN'T SYMPATHIZE WITH THAT.

BUT THE TRUTH MAY BE SEPARATE IN

THAT IMPERATIVE OF THE TIMES.

AND AS TIME WENT ON CIA

OFFICIALS REALIZED THAT THEY

HAVE NOT FULLY ANALYZED THE

MEXICO CITY TRIP AND THEY

WONDERED WHAT THE CONNECTION

WAS.

AND SO IN THIS NEW BATCH OF

FILES THERE'S INFORMATION

SUGGESTING THAT SENIOR OFFICIALS

IN THE CIA WERE REALLY

UNSATISFIED WITH THEIR OWN

EXPLANATIONS THAT THEY GAVE TO

THE WARREN COMMISSION.

>> YOU MENTIONED THAT UNDER THE

1992 STATUTE THAT ALL OF THESE

DOCUMENTS SHOULD BE RELEASED BY

THIS COMING OCTOBER WITH THE

UNDERSTANDING THAT THE SITTING

PRESIDENT CAN MAKE A

DETERMINATION ESSENTIALLY

BLOCKING THAT.

CAN YOU THINK OF ANY GOOD

REASON, ANY VALID REASON WHY

THESE DOCUMENTS SHOULD NOT BE

RELEASED COME OCTOBER?

>> THE ONLY VALID REASON I CAN

COME UP WITH IS IF, NUMBER ONE,

THERE ARE STILL PEOPLE WHO ARE

DEEPLY INVOLVED ONE WAY OR THE

OTHER WHO ARE STILL LIVING.

AND THERE MIGHT BE CONSEQUENCES

FOR THEM.

I WOULD SUPPORT REDACTING THEIR

NAMES.

THE SECOND REASON WOULD BE IF

ANY CRITICAL INTELLIGENCE

METHODS OR TECHNOLOGIES ARE

RELEASED, ARE IN THE

DOCUMENTS -- NOW, THINK ABOUT

THIS.

WHAT TECHNIQUES AND TECHNOLOGIES

OF THE EARLY 1960s ARE STILL

RELEVANT IN 2017.

>> I CAN'T IMAGINE TOO MANY OF

THEM ACTUALLY.

>> YOU KNOW, SO IF THERE ARE ANY

DOCUMENTS WITHHELD OR ANY

DOCUMENTS WITHHELD, IT SHOULD BE

IN THOSE TWO CAT GARYS AND I

DON'T THINK IT WOULD BE MUCH.

>> GIVEN WHAT WE'VE LEARNED AND

YOU TALKED ABOUT THE FACT THAT

OSWALD WAS IN MEXICO CITY

MEETING WITH THESE AUTHORITIES

FROM THE CUBAN GOVERNMENT, THE

SOVIET UNION AT THE TIME.

WITH ALL OF THE PASSAGE OF TIME

THAT HAS TAKEN PLACE SINCE, DO

YOU HAVE A SENSE THAT WE'LL EVER

REALLY KNOW WHAT IT WAS THAT

MOTIVATED LEE HARVEY OSWALD?

>> PROBABLY NOT.

WE'RE LEFT TO GUESS.

AND OF COURSE PART OF THIS IS

BECAUSE JACK RUBY KILLED LEE

HARVEY OSWALD SO QUICKLY AFTER

THE ASSASSINATION.

AND PART OF IT IS THAT THE

WARREN COMMISSION WASN'T TOLD

WHAT WAS REALLY GOING ON BY THE

CIA AND THE FBI AND THAT WAS

BECAUSE LYNDON JOHNSON DIDN'T

WANT IT KNOWN MAYBE FOR A GOOD

REASON.

BUT UNFORTUNATELY SO MUCH TIME

HAS PASSED, WE'RE PROBABLY LEFT

TO GUESS WORK.

BUT THESE DOCUMENTS HELP US TO

GUESS BETTER.

>> IT'S ALWAYS A PLEASURE AND

ALWAYS ENLIGHTENING WHEN WE GET

A CHANCE TO CHAT WITH YOU.

THANKS FOR SPENDING TIME WITH

US.

LARRY, YOU BE WELL.

>> THANK YOU.

I ENJOYED IT.

♪♪

♪♪

>>> IF YOU WANT TO JUST ASK A

SAVINGS BANK, IT'S ABOUT

EXONERATING THE ENTIRE

COMMUNITY.

NO MATTER WHAT WE DO.

OR A BANK THAT'S DOING BUSINESS.

I'M GOING TO PICK ON YOU BECAUSE

YOU'RE A FIGHTER.

>> JUST EASIER TO ATTACK.

IT'S A FAMILY BANK.

BUT HE DOESN'T REALIZE TOM IS

NOT EASY TO BE PUSHED AROUND.

AND MY GIRLS, THEY'RE TOUGH.

SMART, CAPABLE WAEM.

>> THAT WAS A CLICK FROM ABBA

KUS, SMALL ENOUGH TO JAIL, A

DOCUMENTARY THAT FOLLOWS THE

PROSECUTION BY THE MANHATTAN

DISTRICT ATTORNEY'S OFFICE OF A

SMALL FAMILY OWNED BANK IN NEW

YORK'S CHINATOWN.

THE ONLY BANK TO BE PROSECUTED

IN RELATION TO THE 2008

FINANCIAL CRISIS.

THE FILM CHRONICLES THE

FIVE-YEAR SAGA OF THE FAMILY AS

THEY FIGHT TO CLEAR THEIR NAME.

JOINING US NOW TO TALK ABOUT THE

DOCUMENTARY AND WHAT IT TELLS

ABOUT THE CURRENT STATE OF THE

AMERICAN JUSTICE SYSTEM IS THE

FILM'S AWARD WINNING DIRECTOR

STEVE JAMES.

WELCOME TO THE PROGRAM.

>> GREAT TO BE HERE.

>> I WAS SINGING THE PRAISES OF

THE DOCUMENTARY BEFORE THE

CAMERAS STARTED ROLLING.

BUT IT'S AN EXCEPTIONAL

DOCUMENTARY.

LET'S TALK ABOUT IT.

FIRST OF ALL, HOW DID YOU FIRST

COME ACROSS THIS INCREDIBLE

FAMILY, THE SUNG FAMILY, AND

WHAT MOTIVATED YOU TO TELL THEIR

STORY?

>> WELL, I DIDN'T READ ABOUT IT

IN THE NEWSPAPERS OR HEAR ABOUT

IT ON TV, THAT'S FOR SURE.

THIS STORY WAS NOT REPORTED

VIRTUALLY AT ALL IN NEW YORK

CITY OR ANYWHERE ELSE.

I HEARD ABOUT IT FROM MARK

MITTTON, ONE OF THE PRODUCERS OF

THE FILM.

WE'VE WORKED TOGETHER FOR YEARS.

HE HAPPENED TO BE FRIENDS WITH

THE SUNG FAMILY FOR TEN YEARS.

AND HE CALLED ME UP RIGHT BEFORE

THE TRIAL WAS ABOUT TO GET UNDER

WAY AND HE SAID, THERE'S AN

INCREDIBLE CRAZY CASE ABOUT TO

LAUNCH IN NEW YORK CITY AGAINST

A SMALL BANK.

YOU KNOW, THEY REPORTED THE

FRAUD THAT THEY DISCOVERED AND

TRIED TO DO EVERYTHING RIGHT,

EVEN WENT WELL AND BEYOND AND

THEY WERE REWARDED WITH AN

INDICTMENT.

SO I WENT TO NEW YORK WITH MARK

AND WE FILMED FOR THE FIRST FEW

DAYS AND I MET THE FAMILY AND I

HEARD THEIR SIDE OF THIS AND

SORT OF TOOK A MEASURE OF WHO

THEY WERE AS PEOPLE AND I JUST

DECIDED I THINK THIS IS A VERY

IMPORTANT STORY TO TELL.

>> THE SUBTITLE OF THE FILM IS

CALLED "SMALL ENOUGH TO JAIL."

WHAT'S THE SIGNIFICANCE OF THAT

HIT SNL.

>> THIS GOES TO THE TERRIFIC

ECONOMIC REPORTER.

MATT IS IN THE FILM AND MATT WAS

THE FIRST PERSON TO WRITE IN ANY

DEPTH ABOUT THIS STORY WHEN HE

WROTE HIS BOOK "THE DIVIDE."

AND THE INTRODUCTION OF THAT

BOOK IS ABOUT THE INDICTMENT OF

THE BANK.

IT WAS WRITTEN BEFORE THE TRIAL.

THESE WEREN'T LIKE THE BIG BANKS

WHO WERE TOO BIG TO FAIL.

THIS BANK WAS SMALL ENOUGH TO

JAIL.

>> WHY DO YOU THINK -- WAS IT

ONLY BECAUSE THEY WERE SMALL AND

WEAK THAT THEY WERE TARGETED?

WHY DID THE MANHATTAN DISTRICT

ATTORNEY'S OFFICE DECIDE TO GO

AFTER THIS FAMILY AND THIS BANK?

>> I THINK THAT VANS TRULY

BELIEVED THAT THEY WERE GUILTY.

THIS VERY PETTY FRAUD THAT THEY

HAD DISCOVERED INTERNALLY AND

THEN FIRED PEOPLE AND INSTIGATED

THEIR OWN INTERNAL

INVESTIGATION, DID EVERYTHING

RIGHT.

I THINK THEY BELIEVED THAT THE

FRAUD WAS SOMEHOW, YOU KNOW

ENDORSED AND EVEN ENCOURAGED BY

UPPER MANAGEMENT WHICH DOESN'T

MAKE ANY SENSE WHICH IS WHY

WOULD THEY REPORT IT AND DO WHAT

THEY DID.

HOWEVER.

HE REALLY DID BELIEVE THEY WERE

GUILTY.

BUT I THINK HIS JUDGMENT ABOUT

THAT WAS CLOUDED BY AN AMBITION

TO BE THE GUY, TO BE THE DA WHO

ACTUALLY BROUGHT A BANK TO

JUSTICE IN THE WAKE OF THE 2008

CRISIS.

IF YOU PICK ON A SMALL BANK

AECHB YOU PICK ON A BANK THAT

HAPPENS TO BE IN CHINATOWN, NEW

YORK WHICH IS A POLITICALLY

DISENFRANCHISED POPULATION, IT'S

LOW RISK FOR YOU.

>> WELL YOU KNOW, THE DAUGHTER

OF MR. SUNG, THE YOUNGEST

DAUGHTER WHO USED TO WORK IN THE

DISTRICT ATTORNEY'S OFFICE, SHE

SAID THAT THE REASON THEY WERE

INDICTED WAS BECAUSE OF INEP

TUESDAY AND ARROGANCE BUT I

WARNED IF IT'S MORE SINISTER

THAN THAT.

IF RACISM IS INVOLVED OR WORSE.

YOU HAVE A SCENE MANY THE FILM

THAT'S CHILLING WHERE THE 16

EMPLOYEES ARE WALKED LIKE A

CHAIN GANG AND THIS IS A

COMMUNITY WHERE PRIDE AND SAVING

FACE IS IMPORTANT.

IT WAS CLEARLY DESIGNED TO

HUMILIATE THEM.

HOW DOES THE DISTRICT ATTORNEY'S

OFFICE EXPLAIN THAT?

>> THEY DON'T.

THEY RUN AWAY FROM IT IN THE

FILM.

WHEN WE INTERVIEWED THE HEAD OF

THE ECONOMIC CRIMES UNIT AT THE

TIME OF THE TRIAL, THEY HAD SORT

OF, YOU KNOW, KIND OF APOLOGIZES

FOR THE OPTICS OF THAT AFTER THE

FACT.

AND POLLY GREENBERG TRIES TO SAY

THAT IT WASN'T EVEN THEIR OFFICE

THAT DECIDED TO PUT THEM IN

CHAINS, WHICH IS PATENTLY FALSE.

SO IT DOES LEAD TO WHY DID THEY

DO THIS.

I THINK THE OPTICS REALLY WORKED

FOR THEM AT THE TIME.

IT GOT WIDE SPREAD COVERAGE IN

NEW YORK, THE INDICTMENT.

AND YES, I THINK THERE WAS

RACISM INVOLVED.

BUT I THINK IT WAS THE KIND OF

RACISM THAT FRANKLY IS MUCH MORE

PREVALENT IN AMERICA, YOU KNOW,

CHARLOTTESVILLE NOTWITHSTANDING.

BUT IT PERMEATES THE ENTIRE CASE

FROM THE INDICTMENT THROUGH THE

TRIAL ITSELF THROUGH WHICH THEY

SHOWED PROFOUND LACK OF

AWARENESS OR EVEN CARE ABOUT THE

WAY IN WHICH THIS IMMIGRANT

COMMUNITY DOES BUSINESS AND

DEALS WITH THE BANK IN ORDER TO

BUY HOMES AND START BUSINESSES.

>> YOU KNOW, STEVE, I DON'T WANT

TO GIVE AWAY THE ENDING BECAUSE

THE DOCUMENTARY IS REALLY A

THRILLER.

SO THE ENDING IS IMPORTANT.

BUT LET ME JUST ASK YOU THIS.

WHAT DOES THIS STORY, WHAT DOES

THIS PROSECUTION OF THIS

IMMIGRANT FAMILY SAY ABOUT THE

JUSTICE SYSTEM IN AMERICA TODAY,

ABOUT HOW WE TREAT IMMIGRANTS

EVEN IN A PROGRESSIVE CITY LIKE

NEW YORK AND THE STATE OF THE

AMERICAN DREAM?

>> WELL I THINK THIS FILM HAS A

LOT TO SAY ABOUT ALL OF THOSE

THINGS.

THERE IS A PROFOUND LEVEL OF

INSENSITIVITY AND LACK OF

JUSTICE FOR PEOPLE WHO ARE

ACCUSED OF CRIMES AND

PARTICULARLY PEOPLE OF COLOR.

AND IN MOST CASES PEOPLE WHO

FIND THEMSELVES IN THAT

SITUATION ARE NOT IN A POSITION

TO DEFEND THEMSELVES.

THEY DON'T HAVE THE RESOURCES

AND THEY OFTEN PLEAD GUILTY TO

CHARGES THAT THEY'RE EVEN

INNOCENT OF.

SOMETHING LIKE 98% OF THE CASES

IN THIS COUNTRY NEVER GO TO

TRIAL, THEY RESULT IN PLEA

BARGAINS AND I DON'T BELIEVE FOR

A SECOND THAT 98% OF THE PEOPLE

CHARGED WITH CRIMES IN THIS

COUNTRY ARE GUILTY.

BUT IN THIS CASE HE, AS SOMEONE

SAYS IN THE FILM, HE PICKED ON

THE WRONG FAMILY.

BECAUSE THIS WAS A FAMILY THAT

HAD THE MEANS.

THEY'RE NOT A HUGE BANK AT ALL.

BUT THEY HAD THE MEANS TO DEFEND

THEMSELVES AND THEY HAD THE WILL

AND DETERMINATION TO DO IT AND

THEY DID IT, THEY DID IT TO

DEFEND THEIR NAME, DEFEND THEIR

BANK AND MAINTAIN THEIR BANK'S

LIVELIHOOD BUT THEY ALSO DID IT

FOR THEIR COMMUNITY.

IT IS CLEAR THEY SAW THIS AS AN

IMPORTANT FIGHT ON BEHALF OF THE

CHINESE AMERICAN COMMUNITY THERE

IN NEW YORK CITY.

>> WELL, STEVE, WE'RE GOING TO

HAVE TO WRAP IT UP WITH THAT.

IT'S A GREAT DOCUMENTARY.

I HOPE A LOT OF PEOPLE SEE IT.

THANK YOU FOR JOINING US.

>> THANKS FOR HAVING ME.

>> FRONT LINES "SMALL ENOUGH TO

JAIL" PREMIERS ON TUESDAY.

CHECK YOUR LOCAL LISTINGS AND

PBS.ORG FOR MORE INFORMATION.

>>> FUNDING FOR THIS PROGRAM WAS

PROVIDED BY --

>>> CORPORATE FUNDING FOR

"METROFOCUS" WAS PROVIDED BY

MUTUAL OF AMERICA, YOUR

RETIREMENT COMPANY.

AND BY PSE&G, SERVING CUSTOMERS,

STRENGTHENING THE BUSINESS

COMMUNITY AND INVESTING IN THE

FUTURE.