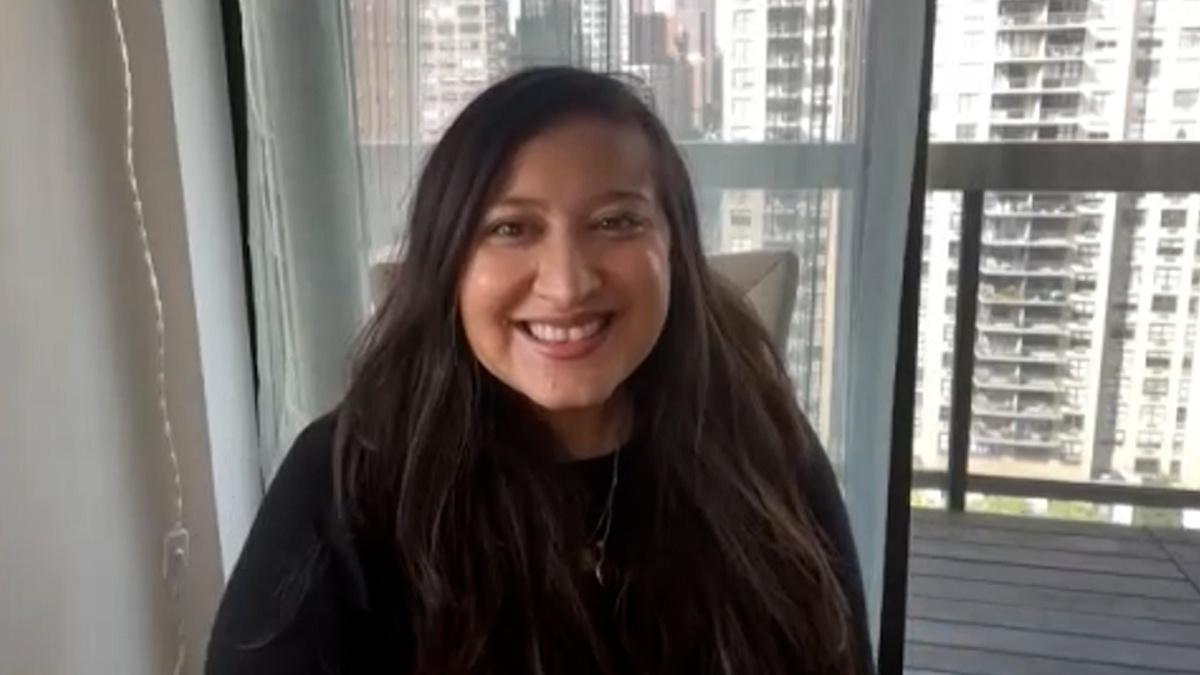 FULL EPISODE
MetroFocus: October 7, 2021
Tonight doctor Purvi Parikh, allergist and immunologist with the Allergy & Asthma Network and NYU Langone, is on call to discuss the risk of a "twindemic" of flu and COVID cases in the coming months, and how to identify the confusing symptoms. Also, Bhaskar Sunkara joins us to discuss his new book, "The Socialist Manifesto: The Case for Radical Politics in an Era of Extreme Inequality."
TRANSCRIPT

♪

>> THIS IS "METROFOCUS" WITH

RAFAEL PI ROMAN, JACK FORD, AND

JENNA FLANAGAN.

>> "METROFOCUS" IS MADE POSSIBLE

BY --

SUE AND EDGAR WACHENHEIM III,

THE SYLVIA A. AND SIMON B. POYTA

PROGRAMING ENDOWMENT TO FIGHT

ANTI-SEMITISM.

THE PETER G. PETERSON AND JOAN

GANZ COONEY FUND,

BERNARD AND DENISE SCHWARTZ,

BARBARA HOPE ZUCKERBERG,

THE AMBROSE MONELL FOUNDATION.

AND BY --

JANET PRINDLE SEIDLER,

JODY AND JOHN ARNHOLD,

CHERYL AND PHILIP MILSTEIN

FAMILY,

JUDY AND JOSH WESTON,

DR. ROBERT C. AND TINA SOHN

FOUNDATION.

>>> WELCOME TO "METROFOCUS."

I'M JACK FORD.

HEALTH EXPERTS ARE WARNING US

THIS THIS YEAR'S FLU SEASON MAY

WELL BE MUCH WORSE THAN LAST

YEAR.

ACCORDING TO THE CDC, THE FLU

TYPICALLY INFECTS BETWEEN 9

MILLION AND 45 MILLION AMERICANS

EACH YEAR.

BUT LAST YEAR, THE FLU WAS

VIRTUALLY NON-EXISTENT.

NOW THERE IS A CONCERN THAT THIS

SEASON THE FLU COULD COME BACK

WITH A VENGEANCE.

AND WITH COVID STILL A VERY REAL

THREAT, SOME EXPERTS FEAR THE

COMING MONTHS COULD CREATE WHAT

THEY ARE CALLING A TWINDEMIC

THAT COULD OVERWHELM ALREADY

STRETCHED HOSPITALS.

TO TALK ABOUT ALL OF THIS AND

HOW TO PROTECT OURSELVES, ALSO

HOW TO MANAGE CONFUSING SYMPTOMS

WE ARE DELAYED TO BE JOINED BY

DR. PARIK, AN ALLERGIST AND

IMMUNOLOGIST WITH THE ALLERGY

AND ASTHMA SPECIALISTS.

>> THANK YOU FOR HAVING ME.

>> LET'S START WITH THAT

NOTION -- THERE WAS A FEAR -- WE

WERE BEING TOLD LAST YEAR AT

THIS TIME WE COULD HAVE A

CONFLUENCE OF FLU AND COVID.

IT DIDN'T MATERIALIZE.

WHY NOT.

>> PEOPLE WERE GOOD ABOUT

GETTING THEIR FLU SHOTS EARLY

LAST YEAR BECAUSE WE WERE WARN

BEING THE TWINDEMIC.

WE ARE WORRIED ABOUT GOING TO

THE HOSPITAL WITH ALL THE COVID

INFE

INFECTIONS.

WE SAW A LOT OF PEOPLE GETTING

THEIR FLU VACCINE.

AND PEOPLE WERE MASKING AND

SOCIAL DISTANCING.

THAT HELPS WITH THE FLU, AGAIN,

BECAUSE IT IS ALSO A RESPIRATORY

VIRUS.

ALL OF THESE PRECAUTIONS HELPED

TO KEEP THE FLU CASES VERY LOW.

I HOPE THEY CONTINUE NOW FOREVER

AFTER THIS.

>> I GUESS THE FLIP SIDE OF THAT

QUESTION IS WHY ARE HEALTH

EXPERTS NOW CONCERNED ABOUT THIS

NOTION THAT THE FLU MIGHT AS I

SAID, RETURN WITH A VENGEANCE?

>> RIGHT, SO ON THE OTHER SIDE,

THIS YEAR, NOW THAT MANY PEOPLE

HAVE BEEN VACCINATED, PEOPLE ARE

RETURNING BACK TO NORMAL, RIGHT

IN SO PEOPLE ARE RETURNING BACK

TO WORK IN THEIR OFFICES WHEREAS

LAST YEAR THEY WERE STILL

WORKING FROM HOME.

PEOPLE ARE NOW ENGAGING IN MORE

SOCIAL ACTIVITIES BECAUSE THERE

IS A SENSE OF COMFORT AND SAFETY

HAVING BEEN VACCINATED.

SO THAT'S THE CONCERN THAT KIND

OF THE GUARD IS LOWER NOW, THE

MASKING MAY NOT BE AS STRICT.

THE DISSTEPSING SOCIALLY MAY NOT

BE AS STRICT.

AND THERE IS MORE HUMAN-TO-HUMAN

INTERACTION.

PEOPLE ARE ON PUBLIC

TRANSPORTATION, FLYING, ET

CETERA.

>> I THINK ONE OF THE QUESTIONS

PEOPLE ARE ASKING IS

SIMILARITIES BETWEEN GENERALLY

FLU SYMPTOMS AND COVID SYMPTOMS.

WHAT WIND OF SIMILARITIES ARE

THERE?

>> THERE ARE A LOT OF

SIMILARITIES.

YOU KNOW, BOTH CAN CAUSE FEVERS,

EVEN HIGH FEVERS.

THAT MEANS YOUR TEMPERATURE

BEING ABOVE 100.4.

BOTH CAUSE MUSCLE ACHE, FATIGUE.

BOTH CAN CAUSE COUGHINGS, RUNNY

NOSE.

THINGS LIKE THAT.

AND BOTH CAN CAUSE STOMACH

ISSUES, NAUSEA, VOMITING

DIARRHEA.

SOME THINGS THAT ARE A LITTLE

BIT UNIQUE TO COVID THE LOSS OF

SMELL, LOSS OF TASTE.

WE DON'T SEE THAT AS MUCH WITH

THE FLU.

COVID ALSO CAN CAUSE A LOT OF

NEUROLOGICAL SYSTEMS THAT WE

DON'T ALWAYS SEE WITH THE FLU.

WITH COVID-19 WE ARE SEEING A

LOT OF BLOOD VESSEL

INFLAMMATION.

THERE COULD BE THINGS SUCH AS

STROKE EVEN ACUTE HEART

INFLAMMATION AND HEART DISEASE.

IT CAN MIMIC LIKE A HEART ATTACK

AND BLOOD CLOTS.

SO THERE ARE THINGS THAT ARE

VERY, VERY DIFFERENT WITH

COVID-19, BUT THERE ARE A LOT OF

OVERLAPS, TOO.

WE ENCOURAGE PEOPLE, IF YOU ARE

NOT SURE WHAT YOU HAVE, EVEN IF

YOU HAVE BEEN VACCINATED AGAINST

BOTH GO AND GET TESTED FOR BOTH.

NOW WE HAVE AMPLE TESTING FOR

BOTH VIRUSS.

>> YOU ANTICIPATED MY QUESTION,

WHICH WAS, IF YOU ARE

EXPERIENCING THE SYMPTOMS THAT

ARE SIMILAR -- YOU SAID THERE

ARE CERTAIN DISTINGUISHING

SYMPTOMS WITH REGARD TO COVID.

BUT IF YOU ARE EXPERIENCING ONES

THAT ARE SIMILAR, HOW LONG --

SHOULD YOU WAIT?

SHOULD YOU TALK TO YOUR DOCTOR?

WHERE DO YOU GO TO GET YOUR

TESTING?

WHAT ARE YOU TELLING PATIENTS?

>> WHAT I HAVE BEEN ADVISING IS

TO TRY TO BE TESTED AS SOON AS

YOU CAN.

THE REASON BEING IS FOR COVID-19

THERE ARE TREATMENTS WE CAN

OFFER YOU WITHIN THE FIRST 72

HOURS OR WITHIN THE FIRST COUPLE

OF DAYS THAT MAY HELP LESSEN THE

SEVERITY OR MAY LESSEN THE

CHANCE OF YOU ENDING UP IN THE

HOSPITAL.

MONOCLONAL ANTIBODIES WHICH MADE

HEADLINES WHEN OUR FORMER

PRESIDENT RECEIVED IT, THAT'S AN

OPTION FOR SOMEONE WHO IS SICK,

MIGHT BE HAVING MORE SYMPTOMS,

AND IT CAN BE A GREAT PREVENTIVE

MEDICATION.

BUT WE WOULD NEED TO KNOW IF YOU

ACTUALLY HAVE COVID-19 OR THE

FLU.

SO THAT'S WHY I THINK THE

TESTING IS STILL HELPFUL.

OTHERWISE, A LOT OF THE

TREATMENT IS THE SAME.

YOU KNOW, IF YOU HAVE A CASE

WHERE YOU ARE NOT HAVING

BREATHING PROBLEMS OR MORE

SEVERE SYMPTOMS, STAY HOME,

ISOLATE YOURSELF, DRINK LOTS OF

FLUIDS, THE SUPPORTIVE CARE WE

ALWAYS ADVOCATE FOR MOST VIRUSS.

>> CAN YOU ACTUALLY CONTRACT

BOTH AT THE SAME TIME?

>> YEAH, YOU KNOW, ANYTHING IS

POSSIBLE.

THAT'S PRETTY RARE FOR THAT TO

OCCUR.

BUT IT IS POSSIBLE BECAUSE THEY

ARE TWO COMPLETELY DIFFERENT

VIRUSES.

AND IF YOU ARE VERY UNLUCKY AND

HAVE BEEN EXPOSED TO TWO

INDIVIDUALS WHO ARE CARRYING

THOSE VIRUSES OF COURSE IT IS

POSSIBLE.

BUT IT'S EXTREMELY RARE.

SO MORE OFTEN THAN NOT YOU

LIKELY HAVE ONE OR THE OTHER.

>> LET'S TALK ABOUT THE FLU

SHOTS THEN, AND THE ADVICE

OBVIOUSLY THAT'S BEING GIVEN TO

PEOPLE IN THIS SEASON, THIS FLU

SEASON.

I HAVE SEEN SOME FOLKS SAYING,

WELL, I DON'T KNOW IF I SHOULD

GET THE FLU SHOT RIGHT NOW, KIND

OF BEFORE THE FLU SEASON, OR

SHOULD I WAIT UNTIL IT GETS A

LITTLE BIT MORE INTO THE FLU

SEASON SO THAT THE EFFICACY WILL

CONTINUE FOR ME A LITTLE BIT

LONGER AND GIVE ME BETTER

PROTECTION.

WHAT'S THE ANSWER TO THAT?

>> RIGHT.

THAT'S A COMMON QUESTION I GET

ASKED.

I WOULD SAY RIGHT NOW IS THE

PERFECT TIME.

I GOT MY OWN FLU SHOT THREE DAYS

AGO.

SO PLEASE GO OUT AND GET IT.

THE EFFICACY, ACTUALLY SHOULD

COVER THE FULL FLU SEASON.

THERE ARE SOME INDIVIDUALS IN

WHICH THE EFFICACY MAY WANE

AFTER SIX MONTHS.

BUT THAT'S NOT THE GENERAL

POPULATION.

SO THOSE INDIVIDUALS ARE ELDERLY

FOLKS.

THEY MIGHT HAVE A LITTLE

DROPPING IN IMMUNITY AFTER SIX

MONTHS.

ALSO FOLKS WHO ARE

IMMUNOCOMPROMISED.

CANCER PATIENTS, PEOPLE ON

MEDICATIONS THAT SUPPRESS THEIR

IMMUNE SYSTEM.

EVEN FOR THEM, THEY HAVE VERY

GOOD PROTECTION FOR SIX MONTHS

AND MAYBE EVEN MORE.

SO FOR THE GENERAL POPULATION I

WOULD SAY GO AHEAD AND GET IT.

NOW IS THE PERFECT TIME.

WE ARE ALREADY SEEING AN

INCREASE IN VIRUSS IN THE AIR.

IT IS ONLY GOING TO INCREASE AS

WE MOVE INTO WINTER AND PEOPLE

ARE SPENDING MORE TIME INDOORS

AND TOGETHER.

>> WHAT ABOUT THE QUESTION OF

THE TIMING OF THE SHOT, BETWEEN

YOUR VACCINATION OR YOUR

BOOSTER?

I JUST GOT MY BOOSTER SHOT I

WANT TO GET MY FLU SHOT.

>> RIGHT.

>> SHOULD YOU WAIT A PERIOD OF

TIME BEFORE YOU DO THAT?

CAN YOU GET THEM THE SAME WAY?

WHAT'S THE SUGGESTION?

>> ACTUALLY, YOU DON'T HAVE TO

WAIT.

AND CVS AND OTHER PHARMACIES ARE

OFFERING THEM BOTH AT THE SAME

TIME.

BUT IF YOU ARE SOMEONE WHO IS

PRONE TO SIDE EFFECTS FROM

VACCINES, YOU MAY WANT TO SPACE

THEM OUT OVER A COUPLE OF DAYS.

IT IS PERFECTLY FINE TO GET THE

NEXT SHOT WHENEVER YOU FEEL WELL

AGAIN.

ONE WEEK IS AMPLE TIME.

TWO WEEKS -- THERE IS NO MAGIC

NUMBER.

YOU CAN GET BOTH ON THE SAME

DAY, WITHIN THE SAME WEEK, IF

YOU WISH TO WAIT A WEEK THAT'S

PERFECTLY FINE AS WELL.

>> LET ME ASK YOU THIS LAST

QUESTION.

WE HAVE GOT ABOUT TWO MINUTES.

LET ME ASK YOU TO REVIEW WHAT

SCIENCE IS NOW TELLING BUS THE

BOOSTER SHOT AND THE NEED FOR

THE BOOSTER SHOTS AND WHAT THEY

ACTUALLY DO FOR US.

>> YEAH.

NO, ABSOLUTELY.

THIS IS A VERY IMPORTANT

QUESTION BECAUSE IT HAS BEEN

VERY CONFUSING IN THE LAST FEW

WEEKS.

SO WHAT WE DO KNOW FROM SCIENCE

AND FROM DATA IS THAT PEOPLE

THAT ARE IMMUNE COMPROMISED

AGAIN, CANCER PATIENTS, PEOPLE

WITH PRIMARY IMMUNE DEFICIENCIES

OR ARE ON MEDICINES THAT

SUPPRESS THEIR IMMUNE SYSTEMS,

THEY LIKELY DO NEED A THIRD

SHOT.

FOR THEM IT IS NOT CALLED A

BOOSTER.

IT IS CALLED A THIRD SHOT

BECAUSE THEY DIDN'T GET THE SAME

IMMUNITY THAT OTHERS DID WITH

SHOTS ONE AND TWO.

THEY ABSOLUTELY, IT IS

RECOMMENDED THEY SHOULD RECEIVE

IT.

FOR THE BOOSTER SHOT FOR

EVERYONE ELSE, WITH THE PFIZER

VACCINE THERE WAS A WANING IN

IMMUNITY EIGHT MONTHS AFTER,

ESPECIALLY IN FOLKS 60 AND

OLDER, WITH CERTAIN MEDICAL

CONDITIONS, THOSE WHO WORK IN

HIGH RISK SITUATIONS, ESSENTIAL

WORKERS, HEALTH CARE WORKERS,

FRONT LINERS.

THAT'S WHY THE CURRENT BOOSTER

RECOMMENDATIONS ARE FOR THOSE

INDIVIDUALS WHO ARE MORE THAN

SICK MONTHS OUT OF PFIZER AND

HAVE THOSE HIGH-RISK CONDITIONS.

SO THEY EITHER WORK IN A

HIGH-RISK ENVIRONMENT.

THEY LIVE IN A HIGH RISK

ENVIRONMENT.

THEY ARE ABOVE 65.

AND THE CDC ACTUALLY SAID NOW

ANYONE OVER 18 THAT HAS A

MEDICAL CONDITION THAT WOULD PUT

THEM AT HIGHER RISK.

AND THAT'S SOMETHING THAT YOU

HAVE TO DETERMINE WITH YOUR OWN

PHYSICIAN.

SO NOT EVERYONE NECESSARILY

NEEDS ONE.

AND WHAT WE ARE SEEING IS THAT

THE INDIVIDUALS WHO GOT MODERNA

MAY BE OKAY.

>> RIGHT.

>> THAT IMMUNITY SEEMS TO BE

LASTING WELL, ADDITIONAL AGAINST

DAELTA.

BUT JOHNSON & JOHNSON LIKELY

WILL NEED ONE.

WE WILL HAVE MORE INFORMATION IN

THE COMING WEEKS BECAUSE THE FDA

IS GOING MEETING ON ALL OF THESE

INDIVIDUAL SHOTS.

AGAIN, IT'S NOT A REASON TO

PANIC AND NOT EVERYONE MAY NEED

ONE.

>> GOOD ADVICE, DOCTOR, THANK

YOU SO MUCH FOR SPENDING SOME

TIME WITH US.

WE APPRECIATE YOUR WISDOM AND

YOUR INFORMATION.

YOU BE WELL.

>> THANK YOU.

THANKS SO MUCH FOR HAVING ME.

>>> GOOD EVENING, AND WELCOME TO

"METROFOCUS," I'M RAFAEL PI ROW

MAN.

ALTHOUGH SOCIALISM APPEARED TO

HAVE RESPECTABILITY HADN THIS

COUNTRY DURING THE EARLY YEARS

OF THE 20th CENTURY IT BECAME

THE POLITICAL OPTION THAT DARE

NOT SPEAK ITS NAME FOR THE REST

OF THE CENTURY AND THE BEGINNING

OF THIS ONE.

THAT SEEMS TO HAVE CHANGED

AGAIN.

AS WE KNOW N 206, BERNIE

SANDERS, A SELF-DESCRIBED

DEMOCRATIC SOCIALIST CAME CLOSE

TO CAPTURING THE DEMOCRATIC

PARTY PRESIDENTIAL NOMINATION.

AND HE DID IT AGAIN IN 2020.

DURING THAT SAME PERIOD OF TIME,

THE DEMOCRATIC SOCIALISTS OF

AMERICA OR DSA GREW FROM 5,000

TO NEARLY 100,000 MEMBERS AND

COUNTING.

SO WHAT EXACTLY IS SOCIALISM?

WHAT EXPLAINS ITS APPARENT

GROWING POPULARITY IN THIS

COUNTRY?

AND HOW LIKELY IS IT TO SUCCEED

HERE?

JOINING US NOW TO ANSWER THESE

AND OTHER QUESTIONS IS PASS CAR

SOON CARA, AUTHOR OF THE

SOCIALIST MANIFESTO, THE CASE

FOR RADICAL POLITICS IN AN ERA

OF EXTREME INQUALITY AND THE

FOUNDER, EDITOR AND PUBLISHER OF

A QUARTLY MAGAZINIS ABOUTED HERE

IN NEW YORK CITY THAT OFFERS

SOCIALIST PERSPECTIVES ON

ECONOMICS, AND CULTURE AND

POLITICS.

THANK YOU FOR JOINING US.

>> PLEASURE TO BE HERE.

>> START WITH THE BASICS.

WHAT IS SOCIALISM?

IS IT AS BERNIE SANDERS APPLIED

THE DANISH WELFARE STATE.

IS IT OUTSTANDING INSTITUTIONS

LIKE THE LIBRARY, THE POLICE

DEPARTMENT, OR THE FIRE

DEPARTMENT?

OR IS IT SOMETHING ELSE ALL

TOGETHER?

>> THE DANISH WELFARE STATE

WOULD BE A GREAT STEP IN THE

MOVEMENT TOWARDS SOCIALISM AND I

RESPECT THE PUBLIC SECTOR WE

HAVE IN THE UNITED STATES

ALREADY TODAY.

AND I WISH IT PERFORMED BETTER

AND WAS FUNDED BETTER.

BUT SOCIALISM IS ABOUT TWO

THINGS.

THE FIRST THING, IT IS ABOUT

DEMOCRACY.

SOCIALISM IS BASED ON THE

PREMISE THAT IF DEMOCRACY IS A

GOOD THING IN THE POLITICAL

SPHERE, IF WE RESPECT OUR

DEMOCRATIC RIGHTS, ENJOY LIVING

IN A FREE DEMOCRACY, THEN WHY

DON'T WE EXPAND THE LOGIC OF

DEMOCRACY INTO THE WORKPLACE AS

WELL.

SO WE TAKE FOR GRANTED FOR

INSTANCE THAT MOST OF US WORK

FROM 9:00 TO 5:00.

AT BEST, 9:00 TO 5:00 A. LOT OF

US ARE WORKING 8:00 TO 8:00 IN

NON-UNIONIZED WORKPLACES WHERE

WORKERS DON'T HAVE A SEAT AT THE

TABLE, WHERE WORKERS ARE PAID A

WAGE BELOW THE LIVING WAGE

INSTEAD OF GETTING A PIECE OF

PROFITS, INSTEAD OF BEING ABLE

TO PARTICIPATE MORE IN THE

MANAGEMENT OF THEIR FIRM.

SOCIAL MEDIAISTS BELIEVE THAT

THE PEOPLE WHO WORK AT AN

INSTITUTION, AT A FIRM ACTUALLY

ARE EQUIPPED TO PERHAPS ELECT

THEIR OWN MANAGEMENT MUCH LESS

HAVE JUST ONE SEAT AT THE TABLE

WITH MANAGEMENT.

BEYOND THAT, I THINK SOCIALISM

IS ABOUT TAKING THE CORE

NECESSITIES OF LIFE AT THE VERY

LEAST AND BRINGING THEM OUTSIDE

OF THE MARKET.

DEKMOD PHIING THEM.

IN OTHER WORDS RIGHT NOW EVEN A

REPUBLICAN SOMEONE ON THE RIGHT

WING OF THE AMERICAN SPECTRUM

WOULD PROBABLY AGREE THAT PUBLIC

EDUCATION SHOULD BE A RIGHT, AT

LEAST AT A BASIC LEVEL FROM

K-12.

IN OTHER WORDS IF YOU ARE WORN

IN THE UNITED STATES OF AMERICA,

IF YOU LIVE IN THE UNITED STATES

OF AMERICA, YOU ARE A KID, YOU

HAVE THE ABILITY TO LEARN THE

BASICS AND TO GET A GOOD

EDUCATION.

I THINK MOST PEOPLE AGREE WITH

THAT.

SO IN OTHER WORDS, IF WE HAVE

ESTABLISHED THAT BASIC EDUCATION

IS A RIGHT, WHY ISN'T IN AMERICA

HEALTH CARE A RIGHT?

WHY ISN'T ACCESS TO HOUSING A

RIGHT?

WHY ISN'T CHILD CARE A RIGHT?

WHY ISN'T PATERNAL LEAVE, IF YOU

HAVE A KID AND YOU WANT TO TAKE

SOME TIME OFF, WHY ISN'T THAT A

GUARANTEE AS WELL?

SO IT IS ABOUT EXTENDING THE

SPHERE OF EXISTING SOCIAL

GUARANTEES.

SO WE GET TO A POSITION NOW

WHERE WE ARE ALL EXACTLY THE

SAME NOT WHERE WE ARE LIVING IN

SOME SORT OF GRAY, DRAB, UNIFORM

SYSTEM BUT IN WHICH WE ALL HAVE

THE RESOURCES TO REACH OUR

POTENTIAL, TO FLOURISH IN OUR

INDIVIDUALITY.

THAT REQUIRES SOME SORT OF THE

COLLECTIVE BOND.

>> OKAY.

ALL RIGHT.

I DON'T WANT TO DWELL ON THE

PAST BUT I DID SAY IN THE

PRODUCTION, AND YOU WRITE ABOUT

THIS IN YOUR BOOK, THE SOCIALIST

MANIFESTO HOW SOCIALISM WAS ONCE

RESPECTED AND SUCCESSFUL IN MANY

PARTS OF THE KRUN AT THE

BEGINNING OF 20th CENTURY.

QUICKLY TELL US WHAT THAT

SOCIALISM LOOKED LIKE AND WHY

ITS FORTUNED TURNED?

>> ONLY 100 YEARS AGO, IN 1912

THE SOCIALIST PARTY OF AMERICA

LED BY YOU GENES DEBS AN

INCREDIBLY POPULAR WORKING CLASS

LEADER WON ALMOST A MILLION

VOTES IN A ELECTION.

THE THAT'S RIGHT HAD A

MEMBERSHIP.

THERE WERE SOCIALIST MAYORS OF

MILWAUKEE FOR MANY YEARS, PLACES

LIKE BERKELEY, LIKE SHRINK,

MICHIGAN, LIKE ASK A EFFECTDY

HERE IN NEW YORK.

CONGRESSMAN LIKEBERGER AND STATE

OFFICIALS.

OKLAHOMA WAS HOME TO 11

SOCIALIST WEEK LEES.

SOCIALISM MIGHT NOT HAVE BEEN

THIS MASS GARGANTUAN FOREST BUT

IT WAS A REAL PRESENCE IN

AMERICAN POLITICAL LIFE.

WHAT HAPPENED TO SOCIALISM?

PART OF IT WAS BECAUSE OF PART

OF SOCIALIST OPPOSITION WELL

WARRANTED POST WORLD WAR I.

A LOT OF THE LAWS WE HAVE IN THE

BOOK AROUND CORRECT INCITEMENT.

WHAT IS PROTECTED SPEECH, WHAT

IS NOT.

A LOT OF IT WAS CREATED DURING

THE RED SCARE TO PERSECUTE

SOCIALISTS AND OTHER LEFT

WINGERS.

BEYOND THAT I THINK WHAT WE

FOUND WAS THAT IT WAS INCREDIBLY

DIFFICULT TO LAUNCH AND

ESTABLISH A THIRD PARTY AND TAKE

OVER ONE OF THE EXISTING PARTIES

IN A COUNTRY WHERE WORKING CLASS

PEOPLE, WHITE MEN ALREADY HAD

THE FRANCHISE.

THEY ALREADY FELT A PARTISAN

ALLEGIANCE TO EITHER THE

REPUBLICANS OR THE DEMOCRATS BY

THE TIME THE SOCIALISTS CAME

AROUND.

OFTENTIMES WORKERS LIKED THE

SOCIALIST PARTY PLATFORM BUT AT

THE END OF THE DAY THEY WOULD

VOTE FOR THE VIABLE OPTION.

>> THE POLITICAL STRUCTURAL

REASON.

>> EXACTLY.

>> YEAH.

NOT JUST OPPRESSION?

>> YEAH.

>> LET ME MOVE ON, IF I COULD.

YOU KNOW, WE ARE LOOKING AT WHAT

SEEMS TO BE A REVIVAL RIGHT

ABOUT NOW.

WHAT IS THE CAUSE OF THIS

REVIVAL, ESPECIALLY WHEN IT IS

HAPPENING AT A TIME WHEN UP TO

NOW POWERFUL SOCIALIST PARTIES

IN MOVEMENTS IN EUROPE ARE ON

THE DECLINE IN MANY COUNTRIES?

>> WHAT I WOULD SAY IS THAT IN

THE UNITED STATES WE FOR SO LONG

HAVE BEEN TAUGHT THAT ALL THE

PROBLEMS THAT WE ARE FACE AS

INDIVIDUALS ARE CERTAINLY

PROBLEMS, PROBLEMS OF OUR OWN

CREATION.

OH, YOU ARE UNEMPLOYED?

YOU SHOULD HAVE WORKED HARDER.

YOU SHOULD HAVE MAYBE TAKEN A

CODING CLASS.

YOU SHOULD HAVE RETRAINED

YOURSELF.

MAYBE YOU SHOULD GET A SECOND

JOB, DO THIS, DO THAT.

OH, YOU ARE STRUGGLING TAKING

CARE OF A KID ON TWO INCOMES

THAT ARE BOTH BARELY PAID

MINIMUM WAGE, THERE MUST BE

SOMETHING KIND OF WRONG WITH

YOU.

WE INTERNALIZE AND INDIVIDUALIZE

A LOT OF THE PROBLEMS WE ARE

FACING.

I THINK ESPECIALLY THROUGH THE

SUCCESS OF THE BERNIE SANDERS

CAMPAIGNS.

I KNOW HE DIDN'T WIN BUT HE CAME

CLOSE AND RAN COMPETITIVE

CAMPAIGNS.

HE ATTRACTED A HELL OF A LOT OF

MEDIA ATTENTION.

WHAT HE WAS ABLE TO DO, I

BELIEVE, WAS TO FOREGROUND

SOCIAL PROBLEMS, FOREGROUND

COLLECTIVE SOLUTIONS TO OUR

PROBLEMS.

INSTEAD OF YOU NEEDING TO WORK

HARDER BEING THE ANSWER TO

EVERYTHING MAYBE THE GOVERNMENT

ACTUALLY OWES YOU SOMETHING,

MAYBE THE GOVERNMENT OWES YOU

HEALTH CARE.

MAYBE THE GOVERNMENT OWES YOU

PAID LEAVE, MAYBE THE GOVERNMENT

AND YOUR EMPLOYER OWES YOU

THINGS TO MICK YOUR LIFE BETTER.

AND MAYBE, IN FACT, THE PROBLEM

2349 COUNTRY DOESN'T START AT

THE BOTTOM WITH WORKING PEOPLE

IT STARTS AT THE TOP WITH THE

WAY MILLIONAIRES AND

BILLIONAIRES CONTROL THE ECONOMY

AND RIGGED THE SYSTEM TO THEIR

BENEFIT.

I THINK THERE IS A NATURAL

BACKLASH TO YEARS AND YEARS OF

YOUR OWN YOUR OWN ECONOMICS

BEING FED TO US BY BOTH PARTIES.

>> YOU DESCRIBED IN THE FIRST

QUESTION WHAT YOU SAY SOCIALISM

IS.

IN THE FIRST CHAPTER OF YOUR

BOOK YOU HAVE A DAY IN THE LIFE

OF A SOCIALIST AMERICA.

I DON'T HAVE TIME FOR YOU TO

TALK ABOUT THAT, BUT

ESSENTIALLY, IT'S THE

FUNDAMENTAL IS THERE IS MORE

ABUNDANCE AND THERE IS GREATER

DEMOCRACY AND GREATER FREEDOM IN

THE TRUE DEMOCRATIC SOCIALISM.

LET ME ASK YOU THE QUESTION I AM

SURE YOU HAVE GOTTEN.

WHY THENR THE PLACES WHERE

SOCIALISM HAS ACTUALLY BEEN

TRIED IN THE WORLD -- NOT SOCIAL

DEMOCRACY BUT SOCIALISM, HAVE

NOT BEEN ABUNDANT AND HAD MORE

FREEDOM BUT YOU KNOW ECONOMIC

HARDSHIP AND POLITICAL TYRANNY?

>> SOCIALISTS LONG OPPOSED

COMMUNIST DICTATORSHIPS.

IN FACT, SOCIALISTS IN MANY OF

THESE COMMUNIST DICTATDICTATORS

WERE AMONG THE FIRST VICTIMS OF

THE YOU A AUTHORITARIAN PARTIES.

I OPPOSE ALL FORMS OF

AUTHORITARIAN POLITICS, LEFT AND

RIGHT WING VARIETIES.

I WOULD SAY THAT SELF DESCRIBED

SOCIALIST PARTIES TOOK POWER IN

ALL SORTS OF DIFFERENT

CONDITIONS.

WHERE THEY TOOK POWER IN

CONDITIONS OF DEMOCRACY THEY

WERE ABLE TO DEEPEN AND BUILD

DEMOCRACIES.

THEY WERE ABLE TO BUILD SOCIAL

DEMOCRACIES, CREATE THE ESTATE

WELFARE STATES LIKE BERNIE TALKS

ABOUT IN DENMARK AND OTHER

PLACES LIKE THAT.

WHERE THEY TOOK POWER IN POOR

UNDERDEVELOPED CUPS LIKE RUSSIA

THEY TOOK UPON THEIR TASKS NOT

BUILDING NEW DOME ACCURACY BUT

JUST TRYING TO CATCH UP WITH THE

ADVANCED COUNTRIES.

SO THEY SUBORDINATED ALL

PRETENSES OF SOCIALIST DEMOCRACY

OR EVEN PLAIN OLD LITTLE BIT RAM

DEMOCRATIC RIGHTS IN PURSUIT OF

CATCHING UP WITH THE BIG ALREADY

INDUSTRIALIZED POWERS.

CERTAINLY, THAT'S NOT A MODEL

FOR ME TO FOLLOW.

BUT I DO BELIEVE THAT THERE IS

NO GUARANTEE THAT ANY SYSTEM IS

GOING TO BE DEMOCRATIC.

IT IS UP TO US TO FIGHT FOR

DECHL ACCURACY.

FOR EXAMPLE, IF YOU ARE AN

ADVOCATE OF CAPITALISM, I WON'T

BLAME YOU FOR WHAT HAPPENED IN

CHILE BECAUSE YOU MIGHT BE AN

EARNEST MALL TEES DEMOCRATIC AND

ALSO BE AN ADVOCATE FOR

CAPITALISM.

I AM AN EARNEST MALTY DEMOCRAT

AND ALSO AN AT VOEKT FOR A

SOCIALIST SYSTEM.

>> SOME PEOPLE SAY THE FAILED

SOCIALIST STATES "METROFOCUS"

THAT MARX WAS RIGHT.

THAT HAVING BEEN SAID THE

TYPICAL CRITICISM THAT YOU HEAR

IS THAT PERHAPS SOCIALIM HASN'T

WORKED WHERE IT WAS IMPLEMENTED

BECAUSE SPECIALISTS DON'T

UNDERSTAND HUMAN NATURE.

THEY THINK HUMAN NATURE IS

CAPABLE OF DOING WHAT HE CAN'T

DO.

HUMAN BEINGS WERE MEANT FOR

SOCIALISM, MAYBE IN OUR

2K3WR50ED, INABILITY TO WORK

TOGETHER OUR DESIRE TO CONCEDE

MAKES US PERFECT FOR CAPITALISM

BUT TO THE FOR SOCIALISM.

HOW DO YOU RESPOND TO THAT?

>> WHAT I WOULD SAY IS WE NEED A

SOCIALIST SYSTEM THAT CAN

HARNESS OUR ABILITIES TO ON OWE

RATE IS AND YES COMPETE.

I THINK IT WOULD BE A GREAT IDEA

IF YOU AND I WERE IN TERMS

TRYING TO CREATE ITEMS AND YOU

ARE ABLE TO BUILD A BETTER MOUSE

TRAP AND ABLE TO CREATING IN NEW

FOR THE WORLD.

I THINK THAT'S AWESOME.

WHAT I YES IS PRIVATE OWNERSHIP

AND WHERE WE HAVE A SYSTEM WHERE

ONE BOSS DICTATES THE LIVES OF

OR THOUSANDS OF PEOPLE WHO WORK

BENEATH HIM.

I WANT A SYSTEM WHY TERMS OF

WHETHER WE MAINTAIN A

COMPETITIVE MARKET AND WE HAVE

GREATER DEMOCRACY AND GREATER

ACCOUNTABILITY.

I THINK WE NEED TO ASK WHAT

SHOULD THE PENALTIES FOR FAILURE

BE IN THE MARKET.

COMPLETE DES USING THE?

OR BEING ABLE TO BUNS ONTO A

WELFARE STATE.

GET YOURSELF SORTED, GET

RETRAINED, GO BACK AND TAKE

ANOTHER STB AT THING?

I THINK SOT IN AMERICAN AMERICA

THE PENALTIES FOR FAILURE ARE

TOO GREAT AND REWARDS FOR PEOPLE

WHO ARE ABLE TO CLIMB THEIR WAY

TO THE TOP I THINK ARE TOO

GREAT, TOO.

WHAT I AM PROPOSING IS NOT SOME

SORT OF COUPLE BYIA, WE HAVE TO

SHARE TOOTHBRUSHES, I AM

PROPOSING A GREATER MOVE TOWARD

SOCIAL DEMOCRACY IN AMERICA.

YOU CAN KPLIN WITH IT GREATER

DEMOCRATIZATION IN THE

WORKPLACE.

THAT'S THE BEAUTY OF DEMOCRACY,

IT IS NOT GOING TO BE AN ALL OR

NOTHING, YOU ELECT A HANDFUL OF

SOCIALISTS AND THAT'S THE LAST

ELECTION YOU EVER HAVE.

FUNDAMENTAL WE HAVE TO

TRANSITION OURSELVES INTO A MORE

DELETE ARYAN SOCIETY.

>> IN YOUR BOOK YOU ARE PULLISH

OF CASHIN AND THE LEADER OF THE

PARTY.

YOU WRITE HIS PARTY'S MANIFESTO

CALLED FOR THE MANIFESTATION OF

KEY UTILITIES, EDUCATION AND

HEALTH SERVICES FOR ALL AND

DISTRIBUTIONS CREATING A

BLUEPRINT FOR WHAT THEY NEED TO

DO IN THE YEARS TO COME.

IN THE GENERAL ELECTION IN 2019

THE LABOR PARTY SUFFERED ITS

GREATEST DEFEAT SINCE 1935 AND

LOST WORKING CLASS DISTRICTS

THAT HAD NEVER VOTED

CONSERVATIVE.

WHAT HAPPENED?

>> THE VOTERS OF BRITAIN LOVED

CASHIN'S PLATFORM IN 2017.

AND THE LABOR MATTER MADE GREAT

GAINS AND CAME CLOSE TO BEING

ABLE TO CREATE A GOVERNMENT.

IN 2019 I THINK A BIG PROBLEM

WAS THE ENTIRE ELECTION OF THE

UK BECAME POLARIZED AROUND

QUESTIONS OF BREXIT.

THE LABOR PARTY DIDN'T GIVE

CLEAR AND CONSISTENT ANSWERS IN

PART BECAUSE A LOT OF VOTERS

WERE LEAVE VOTERS BUT A LOT OF

LABOR PARTY ACTIVISTS WERE

ADAMANTLY PROREMAIN, IN FAVOR OF

REMAIN NLG THE EUROPEAN UNION.

THIS CREATED A CLEAR DIVIDE.

IT WAS A DANGER FOR PARTIES ALL

AROUND THE WORLD WHICH IS

PARTIES ARE LOSING THE WORKING

CLASS BASE.

THIS IS THE GREATEST DANGER.

BECAUSE MOST OF THESE PEOPLE

WILL NOT GO TO THE FAR RIGHT.

POST WILL BECOME APATHETIC AND

DROP OUT OF POLITICS.

MY MAIN GOAL IS TO TRY TO

INSTRUCT A POLITIC THAT WORKING

CLASS PEOPLE FEEL THEY HAVE A

HOME IN.

IT GOES TO BROADER SWATHS OF

SOCIETY.

CHURCH GROUPS ARE DOWN.

ASSOCIATIONS ARE DOWN.

PEOPLE LIVING ALIENATED LIVES.

I SEE POLITICS AS A SMALL PART

OF BRINGING THEM BACK TOGETHER.

>> WE ARE OUT OF TIME I AM SORRY

TO SAY.

THANK YOU FOR JOINING US TODAY.

IT WAS WONDERFUL TO TALK TO YOU.

I HOPE WE CAN DO IT AGAIN.

>> IT WAS FANTASTIC.

THANK YOU FOR HAVING ME.

>> THANK YOU, SIR.

>>> "METROFOCUS" IS MADE

POSSIBLE BY SUE AND EDGAR

WACHENHEIM III,

SYLVIA A. AND SIMON B. POYTA

PROGRAMING ENDOWMENT TO FIGHT

ANTI-SEMITISM,

THE PETER G. PETERSON AND JOAN

GANZ COONEY FUND,

BERNARD AND DENISE SCHWARTZ,

BARBARA HOPE ZUCKERBERG,

THE AMBROSE MONELL FOUNDATION.

AND BY --

JANET PRINDLE SEIDLER,

JODY AND JOHN ARNHOLD,

CHERYL AND PHILIP MILSTEIN

FAMILY,

JUDY AND JOSH WESTON,

DR. ROBERT C. AND TINA SOHN

FOUNDATION,

.