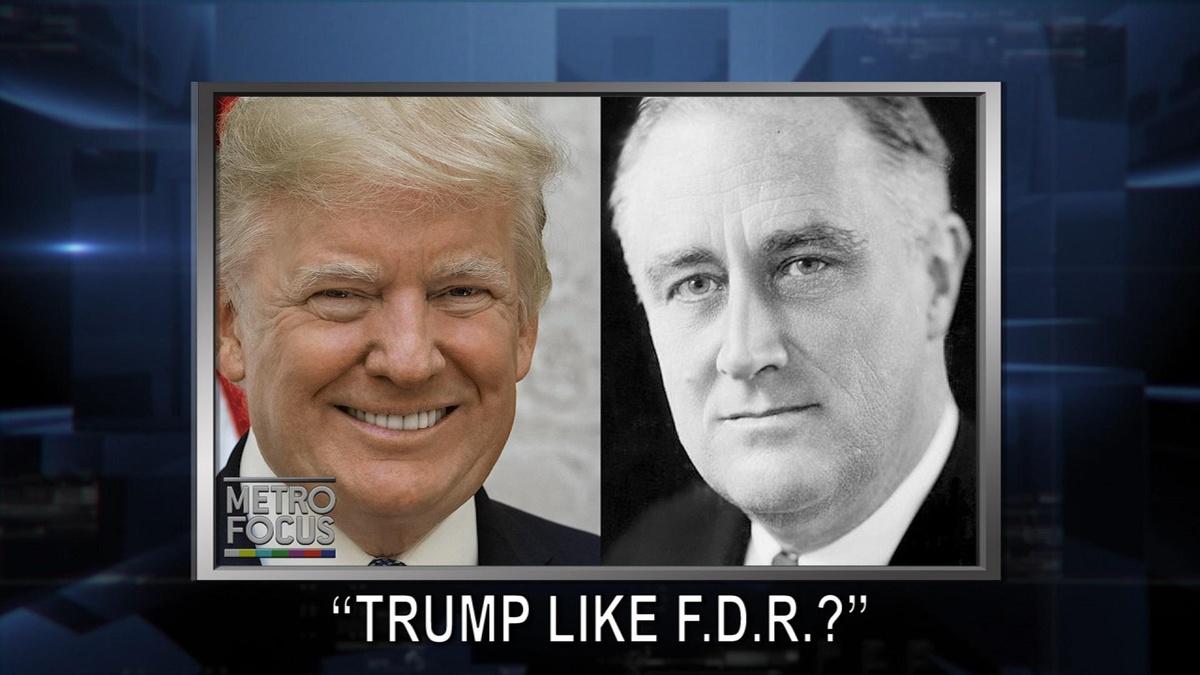 FULL EPISODE
MetroFocus: October 31, 2017
Keith Olbermann has been a critic of President Trump since long before he was elected. So why is he comparing the president to Franklin D. Roosevelt? The ideological gap between Democrats and Republicans is now wider than ever. Former NPR CEO Ken Stern, who leans left politically, set out to see how the other half lives. What exactly did he find out?
TRANSCRIPT

TON AND METRO FOCUS.

KEITH OLBERMAN WAS DONE OF

DONALD TRUMP'S BIGGEST CRITICS

LONG BEFORE HE WAS ELECTED

PROCESS.

THE WHY IS HE COMPARING HIM TO

FRANKLIN ROOT ARE ROOSEVELT.

HE SPENT A YEAR WITH

CONSERVATIVES.

SOMETHING AMAZING.

THIS IS A STORY OF ONE

AMERICAN'S AMERICA NOT TO BE

MISSED.

ALL THAT AND MORE AS METRO FOCUS

STARTS RIGHT NOW.

>> Announcer: THIS IS METRO PER

CAPITA PROCESS RAFAEL P. RAMON

AND FORD AND FLANAGAN.

FUNDING WAS PROVIDED BY.

>> IN HIS 30 YEARS A A JOURNAL I

OLBERMAN HAS NEVER BEEN A LACK

FOR WORDS AND HE HAS NEVER BEEN

RELUCTANT TO TELL WHAT YOU HE

BELIEVES.

HE HAS A BOOK OUT WITH A

COLLECTION EVER HIS COMMENTARIES

CALLED TRUMP IS F.ING CRAZY THIS

IS NOT A JOKE.

WE BEGAN OUR CONVERSATION WITH

KEITH ABOUT THE BOOK AND WHY HE

DECIDED TO PUT THE COMMENTARIES

TOGETHER.

WE CONTINUE OUR CONVERSATION

WITH HIM NOW.

>> I AM VERY CURIOUS AND I'VE

ASKED A NUMBER OF OF POLITICAL

OBSERVERS IN SAME QUESTION.

AND THAT IS WHEN WE FIRST START

HEARING ABOUT DONALD TRUMP

RUNNING FOR PRESIDENT, WHAT DID

YOU THINK HIS PLAN REALLY WAS AT

THAT TIME?

>> I GUESS A BETTER QUESTION DO

YOU THINK HE REALLY WANTED TO BE

PRESIDENT OR WAS THERE SOMETHING

ELSE GOING ON.

>> I THINK HE HAS THE SAME

EMOTION EVERY ONE HAS HAD IN

THIS COUNTRY.

I'D LIKE TO GET ELECTED

PRESIDENT.

SERVING AND BEING PRESIDENT.

>> REALLY DOING THE JOB.

>> MOST AMERICANS GO HELL, NO, I

WANT NO PART.

BECAUSE YOU SEE BEFORE AND AFTER

PICTURES OF ALL MTS THERE FOR

EIGHT YEARS OR FOUR.

IT'S JUST -- WHY DO WE ELECT

THEM TO KILL THEM AS QUICKLY AS

POSSIBLE IN TERMS OF HOW QUICKLY

WE WEAR THEM DOWN?

I THINK HE DOESN'T HAVE THAT

MONITOR THAT SAYS DON'T DO THIS

YOU'RE GOING TO HAVE TO ACTUALLY

INTEREST THE JOB.

ALL THE FEW JOKES HE MAKES DO I

I HAVE HAVE COME BACK NEXT YEAR

I'M TAKING MORE TIME.

YONTD THAT HE WANTED TO BE

PRESIDENT.

IF YOU ARE THE SORT OF BACK

ENGINEER EVERYTHING HE HAS DONE

IN OFFICE THE FEW THINGS THAT

ACTUALLY REPLIED TO POLICY

SOMETHING REALLY INFUTURED HIM

ABOUT OBAMA BEING ELECTED

INSTEAD OF HIM.

THAT'S THE WAY HE SAW IT.

THAT ANIMATED THIS.

WHEN I SAW HIM COME DOWN THAT HE

IS CLATER.

I DON'T KNOW IF IT'S SIMPLY A

PUBLICITY STUNT BUT IT WON'T

MATTER BECAUSE THERE IS

SOMETHING -- THERE IS SOMETHING

ABOUT THE WAY HE APPROACHED THAT

TELEVISION SHOW MADE NO SENSE TO

ME.

PEOPLE WHO LIKED IT, LOVED IT,

THERE IS A CONNECTIVE FACTOR HE

HAS A A INDID HE FAT IG ABILITY

WHICH I CREDIT HIM FOR.

THOSE ARE THE PRINCIPLES YOU

COULD START A DEMAGOGUERY SCHOOL

IF YOU WANTED TO.

MY SUGGESTION IS HE DID.

WHAT WE KNOW AND DIDN'T KNOW, I

TOOK IT SERIOUSLY.

>> YOU STARTED ACTUALLY WITH THE

COMMENTARIES BEFORE THE SFWLEEKS

NO, YES, WE STARTED THEM AT G.Q.

IN SEPTEMBER OF 2016.

I STARTED TRUMP PIECES FOR OTHER

OUTLETS BACK IN MARCH.

>> DID YOU HAVE ANY SUSPICIONS

THAT -- THAT HE INDEED MAY WELL

BE ELECTED PRESIDENT OF THE

UNITED STATES BACK WHEN YOU

FIRST STARTED DOING THIS.

>> WELL HE IS THE NOMINEE.

THUS THERE IS ALWAYS THE CHANCE

OF THE ELECTION.

IT WAS AS MANY PEOPLE SAID WITH

SARAH PALIN'S NOMINATION AS VICE

PRESIDENT IN 2008, WE BELIEVE

LOOK SHE IS GOING TO CRASH JOHN

McCAIN.

WHAT IF SHE DOESN'T.

WHAT IF SHE IS VICE PRESIDENT?

YOU MUST TAKE THAT POSSIBILITY

SERIOUSLY.

I DON'T THINK ANYBODY WOULD

ARGUE THAT HILLARY CLINTON WAS

THE GREATEST CANDIDATE OF ALL

TIMES.

SHE HAS SAID SHE WOULD HAVE BEEN

FAR BETTER IN THE JOB THAN THE

INTERVIEW.

THERE WAS A SERIES OF PERFECT

STORMS COMING TOGETHER.

THE THING I NOTICED EARLY IN

2006 THAT AS HE NEARED THE

NOMINATION EVEN LATE 2015 WE ARE

NOW STUCK IN MOST NEWS MEDIA,

PARTICULAR MRI IN TELEVISION IN

THIS THIS WELL YOU'VE GOT THREE

PEOPLE WHO SAY HE IS ABSOLUTELY

OUT OF HIS MIND AND MIGHT AS

WELL BE A FACIST DICTATOR OR

INVAEDER FROM ANOTHER COUNTRY.

THEREFORE WE HAVE TO HAVE THREE

OTHER PEOPLE ON DISAGREEING.

SOMEONE ELSE NODS GRAVELY AND

GOES TO BREAK.

WE ARE SO MARRIED ON TELEVISION

TO THE IDEA OF BALANCE AND IT'S

A FALSE GOD TO MY MIND AND THE

OBJECTIVITY IS ANOTHER FALSE GOD

THAT -- THE SYSTEM BOTH IN TERMS

OF JOURNALISM AND EVEN THE

DEMOCRACY IS NOT DSH IS NO

LONGER SHARP EDGED ENOUGH TO PUT

DOWN THE EQUIVALENT OF AN

INTERNAL REVOLUTION.

ALL THE THINGS WE THOUGHT AND

FWRU UP AND WATCHED AND KNEW

NOTHING LIKE THIS COULD HAPPEN

HERE WERE NOT STRONG ENOUGH TO

WITHSTAND SOMEBODY WHO WOULD

SIMPLY SAY I'M NOT PLAYING BY

THE RULES.

BY THE WAY OFF AND ON OF THEM

ARE IN LAW.

YOU THINK THEY'RE LAW AND

THEY'RE JUST CUSTOM.

THIS IS WHAT I SAW COMING.

AND I DON'T CLAIM TO HAVE

PREDICTED HIS WIN.

BUT I THOUGHT IT WAS GOING TO BE

CLOSER THAN MOST DID.

AND THERE WERE IN FACT

PERFECT -- ANOTHER SERIES OF

PERFECT STORMS ON ELECTION DAYNA

ALLOWED THIS TO HAPPEN AND THEY

WERE PERCEIVABLE.

TO ME THE BEST USE OF MY TIME

LAST YEAR WAS TO TRY TO YOU KNOW

SORT OF SAY, HEY, THIS -- TAKE

IT SERIOUSLY AND HERE IS WHAT

YOU NEED TO TAKE SERIOUSLY.

THE FIRST PIECE WE DID WAS 176

REASONS HE SHOULDN'T HAVE BEEN

PRESIDENT.

>> THE REPUBLICAN PARTY HAS

NOMINATED A PRESIDENT A MAN WHO

ATTACKED THE POPE, ATTACKED JOHN

McCAIN FOR BEING CAPTURED BY THE

NORTH VIETNAMESE.

ATTACKED GOLD STAR PARENTS AND

JUKT POSSESSED THEIR NAMES WITH

THE PHRASE RADICAL ISLAMIC

TERRORISM.

ATTACKED HILLING AS UNHINGED, AS

THE DEVIL AS THE MOST CORRUPT

CANDIDATE EVER.

THE REPUBLICAN PARTY HAS

ACTUALLY NOMINATED FOR PRESIDENT

AN ERR RESPONSIBLE, UNREALISTIC,

KNIFE, PET LANT, CHILISH WSH

PITHED.

MISOGYNISTIC AUTHORITIARIAN,

INSENSE ERR RATIONAL, INHUMAN

INDIVIDUAL.

NAMED DAWNED JOHN TRUMP.

THIS IS MADNESS.

>> WITH ALL OF THAT YOU LAID

OUT, 176 REASONS WHY HE

SHOULDN'T BE PRESIDENT, MANY OF

WHICH WOULD HAVE DITTES

QUALIFIED OTHER PEEN PEOPLE AND

WE MARVEL AT THAT AS WE LOOK

BACK ON THE ELECTION.

IF YOU CAME ACROSS A PERSON WHO

SAYS TO YOU, LOOK I WAS A TRUMP

SUPPORTER.

>> RIGHT.

>> ON A YOU KNOW WHAT EVERYTHING

YOU SAY IN THE 176 REASONS IS

ABSOLUTELY ACCURATE AND TRUE AND

CORRECT.

>> UM-HUM.

>> BUT I VOTED FOR HIM ANYWAY.

>> RIGHT SFWLA BECAUSE I DON'T

CARE ABOUT THE MAN.

I JUST CARE ABOUT WHAT HE SAID

HE WOULD DO FOR US AND LOWER

TAXES A, AND I'M A BUSINESS

PERSON.

AND I WANT TO -- DID MAYBE I'M

BIG BUSINESS I WANT TO BRING MY

MONEY BACK FROM ABROAD.

ALL THE THINGS HE TALKED ABOUT.

THAT PERSON SAYS YOU'RE RIGHT.

I DON'T CARE.

HOW DO YOU ANSWER THAT PERSON?

BECAUSE THEY'RE AROUND.

>> MY POINT TO THEM HAS ALWAYS

BEEN THE SAME.

HE HAS SOLD OUT EVERYBODY.

AT SOME POINT.

HE WILL SELL YOU OUT.

AND MANY OF THE -- I MEAN THE

REASON THAT THOSE FIRM

SUPPORTERS, VERY ENTHUSIASTIC

ABOUT HI PRESIDENCY WHY THOSE

NUMBERS TANK AND DON'T GET THE

ATTENTION OF THE FLAT

DISAPPROVAL, APPROVAL NUMBER IS

PEOPLE REALIZING I'VE BEEN

CONNED.

THAT'S WHAT HE DOES.

THAT'S THE PREMISES.

THAT'S HOW HE SUCCEEDED BECAUSE

HE CONVINCED EVERYBODY THERE IN

A MANNER THAT HASN'T BEEN SEEN I

THINK IN AMERICAN POLITICKINGS

SINCE FDR WHERE HE WAS ABLE TO

SAY YOU'RE THE ONLY PERSON I'M

TALKING IT TOP FDR DID IT WITH

FIRESIDE TRIETS WITH TWIST

TWITTER.

>> BILL CLINTON HAD A WAY OF

DOING THAT HE WOULD WALK OUT OF

THE ROOM YOU KNEW THAT YOU WALK

OUT SAYING I'M HIS NEW BEST

FRIEND.

>> SO MANY POLITICIANS GO IN A

ROOM AND YOU GO THAT'S THE OWN

PERSON IN THE ROOM THE

BRILLIANTS WILL BE ABLE TO SAY

THAT USEFUL FEEL YOU'RE THE OWN

PERSON IN THE ROOM.

BUT WITH TWITTER YOU DON'T READ

TWITTER IN A GROUP OF 25 PEOPLE

OR A CROWD.

YOU'RE READ GOING DIRECTLY.

IF I TWEET SOMETHING, SOMEBODY

READS IT AND IT'S THE

CONVERSATION BACK IS NO DID YOU

SEE WHAT KEITH OLBERMAN SAID?

IT'S ADDRESSED TO ME AS IF I'M

ONLY TALKING TO THE RECIPIENT.

HE HAS MANAGED TO USE USE AS FDR

DID DID A STATE OF THE ART

CHANGE IN MEDIA TO GET PAST THE

ESTABLISHED MEDIA WHICH WAS THE

POINT OF THE FIRESIDE CHATS

STARTED AS FRANKLIN ROOSEVELT AS

GOVERNOR OF NEW YORK TRYING TO

GET PASSED A CONSERVATIVE

LEGISLATURE AND DRUM UP SUPPORT

WITH THE AUDIENCE.

>> TAKING ADVANTAGE OF THE NEW

TECHNOLOGY, THE RADIO.

>> MY POINT TO THE SUPPORTERS

IS, YEAH, THIS IS COINED OF --

THIS IS THE THING.

EVERY CONTRACT, EVERYTHING HE

EVER HAS PAID FOR HE HAS PAID 85

TO 90% OF BECAUSE HE KNOWS YOU'D

HAVE TO SUE HIM FOR THE OTHER

10% AND IT WOULD COST YOU MORE

THAN THE OTHER 10%.

MY POINT TO ALL OF THEM HAS

ALWAYS BEEN YEAH BUT IT'S

EVENTUALLY GOING TO BE YOUR

TURN.

WHAT DO YOU THINK YOU'RE GETTING

OUT OF THIS LONG-TERM?

AND THE POINT IS THAT THE PEOPLE

WHO ARE SUPPORTING HIM -- I MEAN

THAT THOSE IN POWER CAN BE

SUMMARIZED BY AT OPERATIVE,

POLITICKING OPERATIVE WHO WORKED

WITH HIM ON HIS CAMPAIGN

THROUGHOUT.

I WAS SITTING DO AGO PANEL

DISCUSSION ON ANOTHER TELEVISION

PROGRAM AND MY ARGUMENT -- THIS

IS SEPTEMBER OF LAST YEAR -- MY

ARGUMENT WAS HE WAS NOT STABLE

ENOUGH TO BE PRESIDENT OF THE

UNITED STATES.

I SAID NOT TO PUT TOO FINE A

POINT ON IT BUT I THINK HE IS

CRAZY.

WE CAN FIGURE OUT WHAT THAT

MEANS AND WHAT THE DIAGNOSIS I'M

NOT A PROFESSIONAL I CAN'T TELL

YOU WHAT BUT I KNOW CRAZY WHEN I

SEE IT.

AND YOU SHOULD MEET MY FAMILY.

I KNOW ENOUGH CRAZY PEOPLE.

BUT MY POINT WAS REPEATING IN

ONE PREMISES, AT THE ENOF IT

ONCE THE CAMERAS WERE OFF THIS

GUY IN THE POLITICAL BUSINESS

FOR 60 YEARS HE TURNS TO ME BY

THE WAY YOU'RE RIGHT HE IS CRAZY

BUT HE IS GETTING US INTO POWER.

AND THAT'S AN AWFUL SFAT OF

AFFAIRS TO THE COUNTRY.

I DON'T MEAN TO MAKE LIGHT BUT

THAT'S WHY PAUL RYAN SAYS WELL

WHAT ARE YOU GOING TO DO?

AND THESE CHARACTERS COMING OUT

OF THE WOODWORK TO RUN FOR

OFFICE IN THE PUBLIC SERVICE

HOSPITAL TO MAKE HOMOSEXUALITY

ILLEGAL.

IN THE PAST TIME THE MEDIA

COMPLEX WOULD ENGULF THEM LIKE

THE WHITE BLOOD CELLS GO AFTER A

GRM.

>> WHY NOT IN AND OUT WHY

DIFFERENT.

>> THE MONEY I SUSPECT IS AT THE

ROOT OF IT.

IF THAT MUCH MONEY IS REQUIRED

FOR YOU TO GET PENNSYLVANIA

HOUSE SEAT YOU'RE NOT EVER GOING

TO HAVE PEOPLE WHO CAN AFFORD IT

O TO DO IT ON THEIR OWN.

EVEN MOUA MY YOUTH PEOPLE WERE

ELECTED TO CONGRESS AND DIDN'T

SPEND 100,000 ON THE CAMPAIGN.

THAT'S NOT THE CASE ANYMORE.

WE'RE MOVING TO MULTIMILLION

DOLLARS AND WE'LL BE BEYOND THAT

SHORTLY JUST FOR A SEAT IN THE

HOUSE.

WITH THAT MUCH MONEY AND POWER

BEHIND IT COMES PERKS AND AN

INCESTANT NEED TO BE RE-ELECTED

AND CONSTANT STATE OF GETTING

THE PEOPLE MOST LIKELY TO VOTE

WHO ARE ALWAYS THE MOST

ENTHUSIASTIC, ALWAYS THE MOST

ZEALOUS.

AND THEY'RE GOING TO BE THE ONES

WHO WANT TO CHANGE LAWS AND TO

RESTRICT BEHAVIOR OR TO -- TO BE

FAIR TO BOTH SIDES.

THE PEOPLE WHO ARE LIKELIEST TO

VOTE AGAINST THE DEM A GOING

WITH ONES WITH SPECIAL INTERESTS

OF THEIR OWN.

I AGREE WITH THEM.

THAT'S WHERE WE ARE NOW.

THE PERCENTAGE OF WHO DIDN'T

VOTE, WHO DIDN'T, MOUM VOTES

TRUMP GOT.

WE'RE STILL WITH A ELECTION

WHERE THE TOTAL VOTE IS THE

MINORITY IN THE COUNTRY.

THERE ARE SO MANY PEOPLE THIS

DON'T MATTER, WHO VOTED LAST

NOTIFY.

>> AREN'T CONCERNED ENOUGH TO GO

TO THE LOCAL PLACE AND PULL A

LEVER.

>> EVEN THE ONES WHO DID WSH

SHALL WSH -- WE'RE IN THE MIDDLE

OF THIS IF YOU REMIND YOURSELF

YOU'RE IN A BUBBLE BECAUSE

YOU'RE POLITICALLY ACTIVE OR IN

FLIKT POLITICS OR COVERING

POLITICS.

THAT'S HEALTHY ENOUGH WHO YOU

DON'T NEGLECT PEOPLE WHO DON'T

SPEND 24 HOURS A DAY DOING IT.

BUT MOST VOTERS ARE NOT GOING TO

SEND -- NOT HAVING A MEETING

EVERY WEEK TO DECIDE WHO THEY'RE

VOTING.

THEY'RE DECIDE THAT DAY.

IF THEY DON'T ALREADY INS

TRINSICALLY KNOW.

THE ONES UNDECIDED WOULD DECIDE

THE WEEK BEFORE HAND AND SPEND

FIVE TEN MINUTES ON IT THAT'S

ALL IT IS WORTH.

BECAUSE THEY DON'T PERCEIVE IT

AS IMPORTANT.

IF THERE IS ANYTHING POSITIVE

COMING OUT OF THIS SHALL DID

SHALL I'M O I'M HOPING PEOPLE

REALIZE HOW IMPORTANT IT IS.

>> LET ME GET BACK TO THE WHAT

YOU MENTIONED BEFORE WSH THE

CHARACTERIZATION OF OF DONALD

TRUMP BEING CRAZY.

>> YES.

>> CLEARLY AS I SAID IN THE

INTRODUCTION YOU HAVE ALWAYS

BEEN PROVOCATIVE AND THOUGHTFUL

IN YOUR COMMENTS, COMMENTARIES

YOUR APPROACH TO THINGS.

I CAN SAY THAT HAVING WORKED

WITH YOU AND BEEN A GUEST ON

YOUR SHOW.

>> YES.

>> SO YOU'VE NEVER SHIED AWAY

FROM THAT.

IF YOU GENUINELY BELIEVED IT.

MY QUESTION IS THIS, YOU ARE

TALKING ABOUT THE PRESIDENT OF

THE UNITED STATES.

>> YEAH.

>> AND WE OFTEN HEAR PEOPLE SAY

ALL RIGHT I MIGHT NOT LIKE THE

OCCUPANTS BUT WE NEED TO HAVE A

CERTAIN DEGREE OF RESPECT FOR

THE OFFICE.

>> YES.

>> DOES THAT THEN IN ANY WAY

CONCERN YOU ABOUT SAYING --

YOU'RE NOT SAYING HE IS I HAD

OWE SIN KRATIC BE WITH ODE OR

QUICKIE.

>> SOMETHING CLINICAL.

>> SOMETHING CLINICAL.

>> YES IS THERE A PART OF YOU

THAT SAYS MAYBE I SHOULDN'T BE

CHARACTERIZING THE PRESIDENT OF

THE UNITED STATES LIKE THAT.

>> WELLS IT THERE IS TWO

ANSWERS.

ONE IS WE DID PUT THE STAR OVER

ONE OF THE LETTERS IN THE MIDDLE

WORD.

WE DID BACK OFF.

WE DID TONE IT DOWN A LITTLE

BIT.

NOT ALL THE COMMENTARIES HAVE

THIS -- ARE NOT PREDICATED ON

THIS.

>> RIGHT THEY'RE NOT I WANT TO

MAKE IT CLEAR TO PEOPLE IT'S NOT

ALL THAT.

BUT IT'S A LOT OF DIFFERENT

LOOKS AT DIFFERENT ISSUES.

>> ALSO, I DID ADDRESS MY

OPINION OF HIS MENTAL HEALTH AS

LONG AGO AS NOVEMBER OF 2015.

SO IT IS TO SOME DEGREE -- HE

THE ONE WHO DECIDED TO BE

PRESIDENT.

IT'S NOT MY FAULT THAT THIS MAN

WHO I CALLED CRAZY IS NOW THE

CRAZY PRESIDENT AS OPPOSED TO

THE CRAZY EXTV STAR OR WHATEVER

YOU WOULD HAVE DESCRIBED HIM AS

A YEAR AND A HALF AGO.

THE ISSUE OF THE RESPECT FOR THE

OFFICE ABE PAINS ME BITTERLY

EACH TIME I HAVE TO ADDRESS IT.

BUT I -- I THINK THIS IS PART OF

THE PROBLEM.

WE HAVE -- WE ARE ALL -- ALL OF

US WHO POLITICAL NEWS

WHEREAS YOU'LL KNOW YOU AND I

BOTH WORK IN BOTH SPORTS AND

POLITICS.

IN SPORTS YOU GO TO ANY GAME AND

YOU THINK, SOMETHING WILL LIKELY

HAPPEN HERE THAT I'VE NEVER SEEN

BEFORE, EVEN IF IT'S JUST A

SEQUENCE OF EVENTS.

>> YOU ALMOST HOPE IT WILL.

>> BUT I'M READY FOR IT'S THE

TIM McCARVER BASEBALL GAME.

I'VE BEEN TO 30,000 GAMES.

ALL RIGHT FAIR ENOUGH.

IN POLITICKING IT'S THE REVERSE.

WE WANT TO NARROW EVERYTHING

DOWN BACK INTO A FORMULA WE CAN

UNDERSTAND BECAUSE WE HAVE

CERTAIN PROCEDURES AND RULES.

AND THIS IS -- WELL MAYBE THIS

IS LIKE LYNDON JOHNSON AFTER HIS

GALL BLADDER SURGERY IN 1965 OR

WHEN WOODROW WILSON HAD HIS

STROKE AND THEN DIDN'T PERCEIVE

HE HAD A STROKE.

NIECE ARE UNPRECEDENTED THINGS.

AND IF THE FORMS OF POLITICS AND

GOVERNMENT AND BEING PRESIDENT

ARE TO BE TORN DOWN BY THE

PRESIDENT, I DON'T THINK IT'S

BEHOLDEN ON THE REST OF US TO

PLAY BY THE RULES.

IF HE HAS TAKEN THE RULES AND

SAID SCREW THIS I'M DOING WHAT I

WANT, WHICH I THINK NK WHO HATES

HIM AND LOVES HIM IS A GOOD

DESCRIPTION.

SCREW THIS I'M DOING WHATEVER I

WANT.

IF THAT'S THE CASE THOSE WHO ARE

ASSESSING AND CRITICIZING AND

SUPPORTING HIM I THINK ARE

ENTITLED TO FOLLOW HIS RULES

HERE.

AND I DON'T -- I'M NOT PROUD OF

SAYING THAT I THINK THE CHT OF

THE UNITED STATES IS NOT --

IS -- HIS BRAIN DOESN'T WORK

RIGHT.

I'M NOT PROUD OF THAT I WISH IT

WEREN'T THE CASE.

BUT THE IDEA THAT I CAN'T SAY IT

BECAUSE HE IS PRESIDENT IS TO ME

A LITTLE -- IT'S SOWETO IN A

WAY.

IT'S GOD BLESS AMERICA AND IT'S

MR. SMITH GOES TO WASHINGTON.

BUT THAT'S NOT WHERE WE ARE AT

THE MOMENT.

TO ME WE'RE IN DESPERATE TROUBLE

IN THE SAME KIND OF WAY IF SOME

OTHER COUNTRY HAD INVADED AND

INSTALLED A PRESIDENT, CALLED

HIM PRESIDENT.

DO WE HAVE TO RESPECT HIM THE

WAY WE SPECULATED THE LAST

PRESIDENTS ELECTED IN?

I DON'T THINK SO.

THERE IS UNDERTONES OF THE

POSSIBILITY THAT MIGHT BE

PARTIALLY TRUE THE SCENARIO I

JUST DESCRIBED RELATED TO RUSSIA

ANYWAY.

>> WE COULD TAKE HOURS TO DO

THIS.

UNFORTUNATELY WE ARE LIMITED IN

THE SITUATION.

>> WE ALL SPEND HOURS TALKING

ABOUT IN EVERY DAY.

>> YOU AND I HAVE TO TALK MORE

THAN EVERY 20 YEARS.

>> THAT WOULD BE GOOD.

>> AGAIN IT'S CALLED "TRUMP IS

F-ING CRAZY.

THIS IS NOT A JOKE."

IT'S A THOUGHT PROVOKING

COLLECTION OF COMMENTARIES WE

APPRECIATE YOUR SPENDING TIME

WITH US GET YOU BACK SOMETIME

TOON.

>> MY PLEASURE I LIVE IN THE

NEIGHBORHOOD.

>> YOU BE WELL.

>> PASSION KNIT ABOUT POLITICS.

I BET YOU ARE.

EVERYONE SEEMS HYPERCHARGED

THESE DAYS WHEN IT COMES TO THE

TOPIC LEADING TO DEBATE, FIGHTS

AND THE DREADED FACEBOOK

UNFRIENDING.

ACCORDING TO THE PEW RESEARCH

CENTER, THE IDEOLOGICAL GAP

BETWEEN US IS NOW LARGER THAN

EVER, DOUBLING SINCE 1994.

SO WHAT HAPPENS WHEN YOU TAKE

SOMEONE WHO IDENTIFIES AS A

LIBERAL AND PLACE THEM SQUARELY

ON CONSERVATIVE TURF?

FORMER NATIONAL PUBLIC RADIO CEO

KEN STERN SET OUT TO FIND THE

ANSWER TO THAT QUESTION.

HIS JOURNEY IS AMAZING.

KEN IS HERE WITH DETAILS ABOUT

HIS ADVENTURE, CHRONICLING IN

THE APTLY TITLED REPUBLICAN LIKE

ME.

HOW I LEFT THE LIBERAL BUBBLE

AND LEARNED TO LOVE THE RIGHT.

AND I WOULD LIKE TO WELCOME KEN

TO THE PROGRAM.

>> THANKS FOR HAVING MY ON THE

SHOW.

GLAD TO BE HERE.

>>S IN AN INCREDIBLY I GUESS --

IT'S INDICATIVE OF THE TIMES.

SOMETHING OF A CONTROVERSIAL

BOCK, A CONTROVERSIAL TOPIC AND

CONTROVERSIAL MOVE OF YOUR

DECISION TO GO AND SPEND TIME

SORT OF IRGS MAYBE TOURING

AROUND REPUBLICAN RED STATES AND

LEARNING ABOUT PEOPLE ALMOST AS

IF IT WAS YOU WERE IN A FOREIGN

COUNTRY.

>> IT'S A INTERESTING

FORMULATION WHICH I HAVEN'T

THOUGHT OF BEFORE WE ARE BEING

SEW GEOGRAPHICALLY AND

DEMOGRAPHICALLY DIVIDED.

I LIVE -- IN THE GENESIS OF THE

BIT I LIVE A 939% DEMOCRATIC

WARD, 100% DEMOCRATIC HOUSE.

I'VE BEEN DEMOCRAT ALL MY LIFE.

AND I DWAYNE TO REALIZE LIKE SO

MANY OTHERS THAT I WAS LIVING IN

ISOLATION FROM PEOPLE ON THE

OTHER SIDE.

APUT THE OTHER SIDE IN QUOTE.

I CONSCIOUSLY SET OUT AND SAID,

YOU KNOW CAN I -- AS ATTIC US

FINCH SAID IF YOU WANT TO

UNDERSTAND SOMEONE YOU HAVE TO

SEE THINGS FROM THEIR POIF

THAT'S WHAT I SET OUT

CONSCIOUSLY TO DO.

>> I HAVE TO ASK HOW MUCH OF

THIS IS INDICATIVE OF YOUR

EXPERIENCE IN D.C. WORKING WITH

NATIONAL PUBLIC RADIO AS YOU

TALKED ABOUT VERSUS OTHER PEOPLE

IN OTHER PARTS OF THE COUNTRY.

THE REASON I ASK IS BECAUSE

THERE ARE A LOT OF SWATHS OF THE

COUNTRY WHERE THE LINE BETWEEN

RED AND BLUE, LIBERAL AND

CONSERVATIVE STARTS TO GET

BLURRY.

>> YEAH, BUT IT'S GETTING LESS

AND LESS BLURRY TODAY.

LET ME GIVE YOU TWO BACKGROUND

FACTS.

>> UM-HUM.

>> ONE IS JUST HOW WE DIVIDED

OURSELVES.

ABOUT TEN YEARS AGO THERE WERE

ABOUT 1,100 WHAT ARE CALLED

LANDSLIDE COUNTIES, COUNTIES 20%

IN FAVOR OF ONE SIDE OR THE

OTHER.

IT'S SORT OF A LYNN.

TODAY THERE ARE 2500 COVERING

60% OF THE COUNTRY.

WE ARE ARTIFICIALLY DIVIDED.

THE WASHINGTON POST DID THIS

POLL DURING THE LAST ELECTION

CYCLE IN VIRGINIA EVENLY DIVIDED

STATE.

THEY ASKED TRUMP ROTORS DO YOU

HAVENY CLOSE FRIENDS OR FAMILY

MEMBERS VOTING FOR CLINTON.

SAME OF CLINTON VOTERS IN AN

ENTIRE IRKLE DO YOU HAVE ONE

PERSON FROM THE OTHER SIDE.

ALMOST 60% OF PEOPLE ON BOTH

SIDES SAID NO.

AND THAT'S JUST INDICATIVE OF

SORT OF WHAT THE POLITICAL

SCIENTISTS SCRIBED AS THE BIG

SPORD SWORD.

WE ARE DIVIDING OURTSDS.

THAT'S WHERE THE POLARIZATION

COMES FROM.

IT DOESN'T COME FROM ISSUE

DISAGREEMENT THAT HASN'T

CHANGED.

IT COMES FROM THE FACT WE ARE

INCREASINGLY ANGER OVER THE SAME

SET OF FACTS AS BEFORE.

THAT'S BECAUSE WE DON'T KNOW THE

OTHER SIDE.

>> ALL RIGHT.

WELL SPEAKING OF THE CONTROVERSY

YOU DID WRITE A VERY SORT OF

CONDEMNING ARTICLE IN THE KWL

POST" THE HEY WAY NEWS MEDIA WAS

VIEWED IN RED STATES AND HANDLED

IN THE LIBERAL BUBBLE.

>> I WOULDN'T ACTUALLY -- I

WON'T -- IT'S INTERESTING YOU

DESCRIBE IT AS VERY CONDEMNING.

I DON'T SEE IT THAT WHICH.

I'M TRYING TO SEE THINGS FROM

THE OTHER SIDE TO DESCRIBE THAT.

I MEAN THE PROBLEM WE ALL FACE

IN OUR OWN BUBBLES IS -- THIS

IS NOT ACTUALLY LIBERAL VERSUS

CONSERVE WE HAVE OUR OWN

BUBBLES.

WE ENGAGE IN GROUP THINK AND

THINGS SEEMING IMPORTANT AND

OBVIOUS TO US DON'T SEEM OBVIOUS

ON THE OTHER SIDE.

I RAISE THE ISSUE WITH RESPECT

TO MEDIA.

AS YOU GO OUT AND TALK TO

CONSERVATIVES AROUND THE COUNTRY

THEY FEEL PATRONIZED, LOCKED OUT

OF THE NATIONAL MEDIA

CONVERSATION.

I WANTED TO TRANSLATE THAT

BECOME TO THE MEDIA COLLEAGUING

AND SAY WE NEED TO THINK

DIFFERENTLY HOW TO ENGAGE IN THE

CONVERSATION.

BECAUSE THE RISK OF NOT

LISTENING IS THE COUNTRY

CONTINUE TO FRACTURE ALONG

IDEOLOGICAL LINES.

>> GIVE ME AN EXAMPLE BECAUSE

YOU HAVE INTERESTING STORIES

ABOUT ADVENTURES IN DIFFERENT

PARTS OF THE COUNTRY.

AND THE HUNTING STORY IS GREAT.

I THOUGHT THAT WAS HILARIOUS.

BUT TELL ME SOME OF YOUR

FAVORITE STORIES YOU THAT YOU

CAME AWAY WITH.

>> WHERE WHERE I LEARNED TO LOVE

THE RIGHT.

I MEAN IN A LITERAL SENSE.

NOT GROW WITH ENEMY FAR FROM IT

IT BUT I GREW TO ADMIRE AND LOVE

LET EYE OF THE PEOPLE I MET.

I'LL START WITH I LIVE DSH I'M

AN AGNOSTIC JU FROM WASHINGTON,

D.C.

MY INTERACTION WAS

EVANGELICALLES HAVE BEEN

LIMITED, DICTATED BY FOOT LOOSE

AND WHAT I KNEW ABOUT JERRY

FALWELL.

I SPENT A LOT OF TIME LIMITS IN

CHURCH.

I CENT WENT TO URBANA WHICH A

TRYMEN GATHERING OF

EVANGELICALLE YOUTH.

15,000.

TO GO BACK TO MORE METAPHOR

STRANGER IN A STRANGERLAND.

I'M I DIDN'T EXPECT THE KIDS TO

BE TALKING ABOUT REFUGEES HOW TO

HELP THEM NOT HOW TO COPE THEM

OUT.

I I DIDN'T EXPECT ENEMY TO BE

TALKING ABOUT BLACK LIVES

MATTER.

I DIDN'T EXPECT THE PASSION FOR

SERVICE TO FEED THE HUNGRY HELP

THE HOMELESS HELP THE PEOPLE

LIVING IN THE SHADOW.

IT WAS SORT OF A PRECONCEIVED

NOTION BURSTING EXERCISE.

THAT HAPPENED A LOT IN ALL SORTS

OF -- I DID GO PIG HUNTING IN

TEXAS AND FOUND OUT I'M A

TERRIBLE SHOT.

ENDED UP SHOOTING WITH AN

8-YEAR-OLD BOY FROM GEORGIA WHO

BECAME MY INSTRUCTOR.

IT'S JUST THIS PEOPLE I MET

ALONG THE WAY FL YOUNGS TOWN TO

PIKEVILLE, KENTUCKY THAT MADE

THIS WORTHWHILE FROM MY

PERSPECTIVE.

>> THAT'S VERY INTERESTING

BECAUSE ONE OF THE THEMES I KEEP

HEARING AS PEOPLE DIGEST AND

UNDERSTAND THE LAST ELECTION AND

ALL OF THE RANCOR IS SOMEHOW WE

AS AMERICANS HAVE LOST HUMANITY

WITH EACH OTHER IT'S SOUND LIKE

SOMETHING YOU SOUGHT OUT.

>> I SPENT A YEAR DOING THIS.

THAT'S RIGHT.

I OBSERVED A LOT OF INHUMANITY

ON SOCIAL MEDIA, AND I MET

SOME -- I'M -- YOU KNOW, IT'S

WHAT'S CALLED THE A PARANOID

STYLE OF AMERICAN POLITICKING

RICHARD HOFF STEADER WROTE IT IT

ABOUT IT 60 YEARS AGO, ALIVE AND

WELL PL I DON'T WANT TO LOOK AT

IN THROUGH ROSE COLORED GLASSES.

BUT MOST PEOPLE DON'T SIT

INTEREST.

AND I THINK WE FORGET THAT WHEN

WE FOCUS ON THE EXTREMES AND

DON'T REMEMBER THAT WE HAVE A

LOT MORE COMMON THAN WE GIVE

CREDIT TO ON A DAILY BASIS.

>> THANK YOU KEN SO MUCH FOR

JOINING US ON THE PROGRAM AND OF

COURSE GIVING US INSIGHT INTO

ADVENTURES.

AND YOUR BOOK.

THANK YOU.

>> THANKS FOR HAVING ME ON THE

SHOW.

ENJOYED IT.

>> BEFORE WE SAY GOOD NIGHT WE

OFFER YOU A GIFT.

NOW YOU CAN TAKE METRO FOCUS

WITH YOU ANYWHERE ANY TIME.

IT'S SIMPLE AND FROH.

DOWNLOAD THE METRO FOCUS APP

AVAILABLE FOR iPHONE AND

ANDROID.

AND WHEN YOU DO YOU'LL GET THE

LATEST NEWS WEATHER AND TRAFFIC

FOR THE ENTIRE METRO AREA.

IT'S ALL JUST A CLICK AWAY.

AND DID WE MENTION IT'S FREE.

>> REMEMBER TO FOLLOW US ON

FACEBOOK AND TWITTER FOR UP TO

THE MINUTE INFORMATION ON OUR

COMMUNITY.

>> FUNDING FOR THE PROGRAM WAS

PROVIDED BY CORPORATE FUNDING

FOR METRO FOCUS WAS PROVIDED BY

MUTUAL OF AMERICA YOUR

RETIREMENT COMPANY.

AND BY P.S.E AND G, SERVING

CUSTOMERS, STRENGTH BEENING THE

BUSINESS COMMUNITY AND INVESTING

IN THE FUTURE.