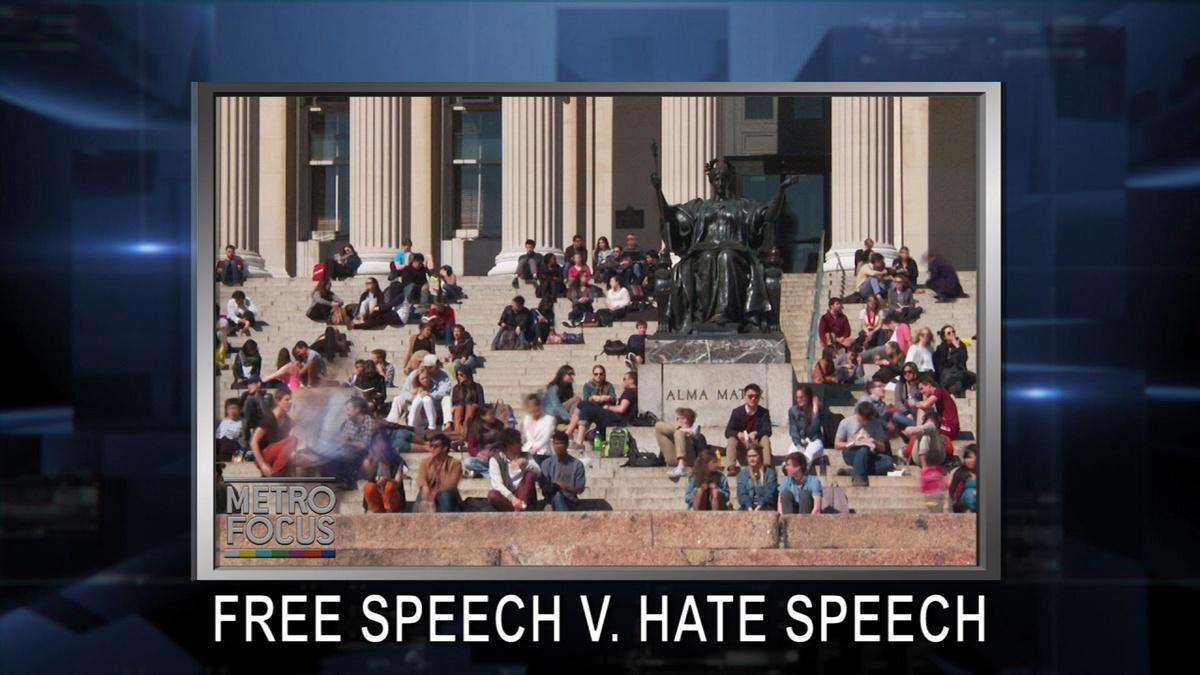 FULL EPISODE
MetroFocus: October 24, 2017
The debate over free speech vs. hate speech and what is protected speech. Condemnation spreads as a number of far-right political figures are invited to speak Uptown at Columbia University. A year in space and a lifetime of discovery. Astronaut Scott Kelly's candid memoir of his journey. New York City's First Lady Chirlane McCray joins us to discuss the Gracie Book Club.
TRANSCRIPT

>> TONIGHT ON "METROFOCUS" THE

DEBATE OVER FREE SPEECH VERSUS

HATE SPEECH AND THE QUESTION

WHAT IS PROTECTED SPEECH.

CONDEMNATION SPREAD AS A NUMBER

OF FAR-RIGHT POLITICAL FIGURES

ARE INVITED TO SPEAK AT COLUMBIA

UNIVERSITY.

WE'LL HEAR FROM BOTH SIDES AS

THEY FACE OFF IN THE WAKE OF

CHARLOTTESVILLE.

>>> A YEAR IN SPACE AND A

LIFETIME OF DISCOVERY.

ASTRONAUT SCOTT KELLY'S MEMOIR.

>>> ALL THAT AND MORE AS

"METROFOCUS" STARTS RIGHT NOW.

>> THISIS "METROFOCUS".

>>> GOOD EVENING AND WELCOME TO

"METROFOCUS".

ONE OF NEW YORK'S MOST

PRESTIGIOUS UNIVERSITIES IS AT

THE CENTER OF THE NATIONAL

DEBATE OVER FREE SPEECH ON

COLLEGE CAMPUSES.

PROTESTS HAVE TAKEN PLACE AT

COLUMBIA UNIVERSITY AFTER THEIR

COLLEGE REPUBLICANS ORGANIZATION

EXTENDED SPEAKING INVITATIONS TO

A NUMBER OF CONTROVERSIAL

FAR-RIGHT POLITICAL FIGURES.

THESE WERE THE SCENES DURING AN

ADDRESS GIVEN BY THE FOUNDER OF

THE ENGLISH DEFENSE LEAGUE TOMMY

ROBINSON A POLARIZING CRITIC OF

MUSLIM WHO HAS CONDEMNED THE

RELIGION AS AN ORGANIZATION OF

MURDER.

MET WITH SHARP CRITICISM FROM

THE COLLEGE'S PRESIDENT

DEMOCRATS.

"METROFOCUS" PRODUCER HAD AN

OPPORTUNITY TO SIT DOWN WITH

BOTH OF THEM AND BEGAN THE

CONVERSATION BY ASKING HARRY WHY

HE FELT THE NEED TO INVITE THESE

SPEAKERS ON CAMPUS.

>> WE INVITED THESE SPEAKERS

BECAUSE OF THEIR EFFECT AND WE

SEE A RISE IN THE NATIONAL

MOVEMENT ESPECIALLY IN POLAND.

WITH MIKE WE THOUGHT HE

REPRESENTED THE TRUMP MOVEMENT,

ESPECIALLY THOSE VOTERS IN THE

MIDDLE STATES LIKE TEXAS,

MICHIGAN, EVEN WISCONSIN.

SO WE WANTED TO BRING SPEAKERS

THAT REPRESENTED THOSE BELIEVES

AND ALLOW THEM TO DISCUSS THESE

IDEAS AND ALLOW THEM TO

CHALLENGE THEM.

SOME OF THESE IDEAS ARE VERY NOT

MAINSTREAM FOR THIS UNIVERSITY.

WE WANT TO GIVE THEM A VOICE

BECAUSE THEY ARE PROMINENT.

ESPECIALLY ON FACEBOOK, MIKE

CERNOVICH GETS ABOUT 100 MILLION

INTERACTIONS PER MONTH.

THAT'S SOMETHING TO BE

DISCUSSED.

>> TOMMY ROBINSON HAS COME TO

COLUMBIA BEFORE.

HE WAS HERE IN 2016.

WHY THE OUTRAGE NOW?

WHAT CONCERNS YOU MOST ABOUT

THESE INDIVIDUALS SPEAKING AT

COLUMBIA?

>> THE OUTRAGE IS ALWAYS THERE.

THESE FOLKS ARE TRULY BIGOTS.

THEY ARE THE WORST OF THE WORST,

TOMMY ROBINSON HAS SAID

HORRIFYING THINGS ABOUT MUSLIMS

IN AMERICA AND ENGLAND AND

HORRIBLY ANTI-SEMITIC THINGS.

CENTURY GOT HIS START AS A

BLOGGER AND MOVED ON TO BECOMING

A WHITE NATIONALIST AND

CONSPIRACY THEORIST.

HE PROMOTED THINGS LIKE

PIZZAGATE AND ENCOURAGING A MAN

TO COME IN.

THIS IS NOT OUR AMERICAN

POLITICAL SYSTEM.

THIS IS NOT WHAT WE ASPIRE OUR

POLITICAL DEBATE TO LOOK LIKE.

AS STUDENT LEADERS WE HAVE A

RESPONSIBILITY, AN OBLIGATION TO

PROVIDE SOMETHING VALUABLE,

SOMETHING GOOD, SOMETHING

WORTHWHILE TO OUR CAMPUSES AND

COMMUNITIES.

THIS IS NOT THAT.

THIS IS A DISGRACE TO WHAT WE

STAND FOR.

THESE FOLKS BRING NOTHING OF

VALUE.

>> YOU SAY NOTHING OF VALUE.

HE MAKES THE POINT THAT

ESPECIALLY IN A UNIVERSITY LIKE

COLUMBIA WHICH IS A LIBERAL

SCHOOL AND IN NEW YORK, ISN'T IT

-- WE LIVE IN THESE SAFE SPACE

AND POLITICAL BUBBLE IN ITSELF,

ISN'T IT IMPORTANT TO EXPOSE

YOURSELF TO SHE'S VIEWS AND NOT

STICK WITHIN OUR BUBLS.

>> I'M A DEMOCRAT FROM THE DEEP

SOUTH.

I GET THAT.

I LIVED IN A CONSERVATIVE BUBBLE

MY WHOLE LIFE.

I DO AGREE THERE AREN'T ENOUGH

CONSERVATIVE VOICES ON

COLUMBIA'S CAMPUS.

HOWEVER, THIS IS NOT -- THIS

DOES NOT REMEDY THAT.

THIS IS MAKING A MOCKERY OF

CONSERVATISM.

IF YOU REALLY THINK MIKE

CERNOVICH AND TOMMY ROBINSON ARE

LEADERS OF CONSERVATISM THEN

CONSERVATISM HAS LOST ITS WAY.

IT CAN'T BE A REAL POLITICAL

IDEOLOGY.

CONSERVATIVES AND LIBERALS

SHOULD BOTH BE WILLING TO

CONDEMN RACISM AND HATRED WHEN

THEY SEE IT.

>> SO OUR GOAL THIS SEMESTER TO

BRING SPEAKERS FROM A WIDE

VARIETY ON THE RIGHT.

WE'RE SHOWING ALL THE IDEAS ON

THE RIGHT.

WE WANT PEOPLE TO DISCUSS THESE

IDEAS AND DEBATE THEM.

I KNOW PEOPLE ARE UNCOMFORTABLE

WITH TOMMY AND I'LL CONDEMN SOME

THINGS HE SAYS ON TWEETS WHICH I

FIND OFFENSIVE AND SHOULD BE

SAID BUT LET'S HAVE THESE

CONVERSATIONS BECAUSE SO MANY

MOMENTS IN EUROPE AND AMERICA

ARE HERE AND THEY HAVE TO BE

CONFRONTED, ESPECIALLY AS YOU

SAY, THEY ARE IMMORAL AND

DISGUSTING.

THAT'S SOMETHING BOTH OF US CAN

AT LEAST HAVE QUESTIONS ABOUT.

AND CHALLENGE THESE SPEAKERS

ABOUT.

>> LET ME ASK YOU MORE ABOUT

TOMMY ROBINSON.

AN ANTI-IMMIGRANT ORGANIZATION.

I WANT TO PLAY YOU SOME COMMENTS

HE MADE IN 2013 TO GIVE THE

VIEWERS SOME CONTEXT HERE.

THIS WAS FOLLOWING THE DEATH OF

A BRITISH SOLDIER, TWO MEN WHO

KILLED A BRITISH SOLDIER AND

SAID THEY WERE AVENGING THE

KILLINGS OF MUSLIMS AT THE HANDS

OF THE BRITISH ARMED FORCES.

LET'S TAKE A LISTEN.

>> ISLAM IS NOT A RELIGION OF

PEACE.

ISLAM IS FASCIST AND VIOLENT.

WE'VE HAD ENOUGH.

WE SUPPORT OUR TROOPS.

ENOUGH IS ENOUGH.

>> TOMMY ROBINSON ALSO SAID THAT

THE ISLAMIC COMMUNITY WITH THE

FULL FORCE OF THE ENGLISH

DEFENSE LEAGUE IF WE SEE OUR

BRITISH CITIZENS KILLED, MAIMED

OR HURT ON BRITISH SOIL EVER

AGAIN.

ARE YOU NORMALIZING A DANGEROUS

SET OF BELIEVES HERE?

>> I THINK A LOT OF PEOPLE WHO

EVEN PLAY THIS OR HAVE THIS

CONVERSATION ARE GIVING THEM AIR

TIME.

IT'S MORE IMPORTANT TO DISCUSS

AND CHALLENGE THEM AND SHOW THAT

THEY ARE WRONG IF YOU BELIEVE

THEY ARE WRONG.

BY GIVING THEM LIGHT YOU CAN SEE

THAT THE PROBLEMS ARE WRONG.

BY HAVING A DISCUSSION.

I THINK THAT'S THE BEST WAY FOR

IDEAS TO BE DEBATED.

AT THE END OF THE DAY AT LEAST

HAVE A GOOD IDEA WHAT IDEAS ARE

THE CORRECT IDEAS BECAUSE WE

DON'T EVER DISCUSS THEM.

HOW WILL WE KNOW WHAT IS A GOOD

IDEA AND A BAD IDEA IS?

IDEA.

WE SAW THE PROTESTS AT THE TOMMY

ROBINSON EVENT WHICH WAS STOPPED

HALFWAY THROUGH.

ISN'T THE BEST WAY HERE BY

COMBATTING THIS PRESSING THESE

INDIVIDUALS, ASKING THE HARD

QUESTIONS MERELY THAN SHOUTING

THEM DOWN?

>> I DON'T BELIEVE SHOUTING THEM

DOWN IS A TACTIC.

THAT'S NOT WHAT OUR ORGANIZATION

DID OR WHAT I DID AS PART OF OUR

RESPONSE TO THIS.

>> WHAT DO YOU SAY TO THOSE WHO

DID PROTEST THE EVENT.

>> I DISAGREE WITH THEIR TACTICS

BUT THE BLAME IS NOT ON THEM.

THAT'S LIKE BLAMING THE ALT-LEFT

FOR CHARLOTTESVILLE.

LOOK YOU MAY DISAGREE WITH THEIR

TACTICS BUT AT THE END OF THE

DAY THE NAZIS AND KU KLUX KLAN

WERE THE PROBLEM.

YOU BROUGHT THE EQUIVALENT TO

YOUR CAMPUS.

THAT'S THE PROBLEM.

NOT THE PROTESTERS.

IT'S BRINGING THESE HORRIFIC

PEOPLE TO CAMPUS AND GOING BACK

TO THE IDEA OF LIKE, THIS LIKE

PLACE OF DISCUSSION OR DEBATE,

DO YOU THINK TOMMY ROBINSON OR

MIKE CERNOVICH HAS NEVER BEEN

TOLD HE'S A RACIST OR NEVER HAD

HARD QUESTIONS GIVEN TO HIM?

OF COURSE HE HAS.

YOU THINK THE REST OF US DO NOT

KNOW HOW TO HANDLE RACISM OR

NEVER EXPERIENCED IT BEFORE?

OF COURSE WE HAVE.

THIS IS NOT ADDING ANYTHING OF

VALUE.

ALL YOU'RE DOING IS GIVING THEM

A PLATFORM AND GIVING THEM A

PLACE TO SPREAD -- GIVING THEM

MORE ATTENTION THAN THEY

DESERVE.

IF IT WASN'T FOR SPEAKERS COMING

TO CAMPUSES ACROSS THE COUNTRY

THEY WOULD HAVE LESS OF A

PLATFORM.

THEY WOULD SLINK BACK TO THE

HOLES WHERE THEY HAVE COME FROM.

THEY DON'T DESERVE --

>> THESE PEOPLE ACTUALLY HAVE

BIG FOLLOWINGS.

MIKE HAS 100 MILLION PEOPLE.

YOU CAN'T JUST SAY IT'S A FEW

PEOPLE.

THESE ARE NATIONAL MOMENTS IN

DIFFERENT PLACES THAT AMERICANS

HAVE TO CONFRONT.

IF YOU DISAGREE WITH THEM COME

TO THIS EVENT, QUESTION THEM,

SHOW HE'S WRONG.

>> AGAIN, DO YOU THINK NO ONE

HAS QUESTIONED MIKE CERNOVICH'S

IDEAS?

HE SAID DIVERSITY IS A CODE WORD

FOR WHITE GENOCIDE.

THAT'S AN IDEA THAT NEEDS TO BE

DEBATED OR DISCUSSED.

THAT'S A VERY EASY PHRASE TO

REBUT AND GET RID OF.

THE PROBLEM IS THAT IT'S NOT

ABOUT FREE SPEECH IT'S ABOUT YOU

PROVIDING THEM A PLATFORM, YOU

GIVING THEM OPPORTUNITIES AND

YOU BASICALLY ENDORSING THEM.

I DON'T BRING, YOU KNOW, THE

WORST OF LIKE THE LIBERAL SIDE

TO CAMPUS --

>> SHOULD YOU?

>> NO.

I DON'T WANT TO STOOP TO THAT

LEVEL.

WHEN I BRING SOMEBODY TO CAMPUS.

>> NAME ONE SPEAKER YOU BROUGHT

TO CAMPUS THIS SEMESTER.

ALL YOUR CLUB DOES IS FUND TRIPS

TO WASHINGTON, D.C.

I DON'T THINK A LOT OF

OPPORTUNITIES YOUR CLUB IS

DOING -- WE'RE HOSTING A SPEAKER

EVERY WEEK.

I DON'T SEE YOUR CLUB DOING THE

SAME THING.

WHAT ARE THE DEMS DOING TO

PROVIDE OPPORTUNITIES?

>> I THINK AS A POLITICAL

ORGANIZATION WE LIKE TO DO

ACTUAL WORK AND WE GO AND

CAMPAIGN AND WE DO GOOD WORK IN

OUR COMMUNITY AND WE HAVE

DIFFERENCES.

BUT GOING BACK TO THE DISCUSSION

WE HAVE BROUGHT GREAT SPAERKS.

IN THE PAST WE BROUGHT STATE

SENATORS --

>> NAME ONE.

>> STATE SENATOR SPOKE TO US.

FIVE CRIMINAL JUSTICE REFORM,

ROBBY MOOK CAME.

OF COURSE WE BRING SPEAKERS.

THAT'S NOT WHAT WE'RE HERE TO

DISCUSS.

IT'S NOT THAT -- OUR SPEAKERS

BRING GOOD IDEAS AND GOOD VALUE.

I KNOW THERE ARE CONSERVATIVES

CAN YOU BRING TO.

>> WE ARE.

>> HOWEVER THERE'S NOT SPEAKERS

THAT ARE MAINSTREAM REPUBLICANS.

OUR CLUB IS BRINGING THE

REPUBLICAN PARTY HERE AND THAT'S

SOMETHING TO DISCUSS.

>> I WANT TO MOVE ON TO THE

SAFETY OF STUDENTS, THE WELL

BEING OF STUDENTS ON CAMPUS.

YOU SAID AFTER THE PROTESTS LAST

WEEK YOU PERHAPS HAVEN'T FELT

SAFE ON COLLEGE CAMPUSES.

>> 100%.

WHEN I LEFT THE EVENT I HAD TO

GO TO A SECRET EXIT BECAUSE I

WOULD HAVE BEEN MAULED IF I WENT

THE REGULAR WAY.

THEY CALLED ME A RACIST, A NAZI,

ALL THINGS I'M NOT.

>> I DON'T THINK ANYONE DOUBTS

THAT'S TERRIBLE.

WE REACHED OUT THE COLUMBIA

UNIVERSITY MUSLIM STUDENT

ASSOCIATION BEFORE THE SEGMENT.

THIS IS THE STATEMENT THEY

PROVIDED US AND THIS IS WITH

REFERENCE TO TOMMY ROBINSON.

"THREATENING A GROUP BASED ON

THEIR COLOR, RACE, NATIONAL

ORIGIN OR ANY OTHER TRAITS IS

THE CLASSIFICATION OF HATE

SPEECH.

WE RESPECT COLUMBIA UNIVERSITY

REPUBLICANS EFFORTS TO BRING

FREE DISCOURSE AND PRODUCTIVE

DEBATE WHEN SPEECH CAN INCITE

VIOLENCE OR ENDANGER THE SAFETY

OF STUDENTS ON CAMPUS WE HAVE AN

OBLIGATION TO STAND AGAINST IT."

WHAT ABOUT SAFETY OF MUSLIM

STUDENTS?

>> HE DIDN'T SAY VIOLENCE.

>> HIS PAST COMMENTS AS WE HEARD

IN THAT SOUND BITE.

IS THAT INCITING HATE?

WHAT ABOUT SAFETY OF STUDENTS.

>> HE'S NOT AT THE VENUE.

THERE'S NO POSSIBILITY OF HIM

ACTUALLY HURTING SOMEONE

PHYSICALLY.

>> I SUPPOSE THE IDEA HE'S

OFFERING HIS VIEWS AND THEN YOU

INFLUENCE SOMEONE ON THAT

COLUMBIA CAMPUS YOU'RE NOT

PUTTING MUSLIM STUDENTS AT RISK?

>> I DON'T THINK WE WERE.

I JUST THINK THAT -- LIKE WHEN

HE CAME LAST YEAR HE WAS SAYING

NONVIOLENCE.

LAST YEAR WE HAD A VERY GOOD

CONVERSATION.

IF YOU LOOK AT THE COMMENTS FROM

THE MUSLIM ASSOCIATION THEY

CHALLENGED HIM AND THERE WAS A

LOT OF VALUE IN THAT AND THEY

SHOWED THAT.

SOME OF HIS COMMENTS WERE

INCORRECT.

BUT WE WOULDN'T HAVE THAT

CONVERSATION WITHOUT HAVING HIM

BE THERE AND FOR SURE, HE'S A

HUGE PERSON IN ENGLAND.

YOU HAVE TO RECKON THAT.

IF YOU DON'T THEN YOU'RE JUST

LIVING YOUR OWN, BUBBLE AND

THAT'S DANGEROUS AS WELL.

>>> IT'S BEEN A FASCINATING

DISCUSSION.

WE'RE COMING TOWARDS THE END.

I WOULD LIKE TO GET YOUR

PERSPECTIVES ON THIS.

HOW DO YOU THINK THE COLUMBIA AS

A WHOLE HANDLING THE SITUATION?

>> I THINK THE UNIVERSITY IS

TRYING TO RESPECT FREE SPEECH.

I VALUE THAT.

I THINK RESPECTING FREE SPEECH

IS IMPORTANT.

BUT THERE HAVE, YOU KNOW, BEEN

INCIDENTS WITH THE WAY THEY

HANDLED SOME OF THOSE PROTESTS

WITH ACTIVISTS THAT WERE NOT

APPROPRIATE.

THEY DETAINED THEM FOR A WHILE

THAT I DIDN'T SEE AS

APPROPRIATE.

BUT, AGAIN, I MEAN I WANT TO GO

BACK TO THAT POINT ABOUT SAFETY

REAL QUICK.

I DON'T WANT YOU TO FEEL

ENDANGERED AT ALL.

THAT'S NOT THE WAY THIS SHOULD

WORK.

AGAIN, YOU NEED TO TAKE THAT

SAME LEVEL OF EMPATHY AND

PROVIDE IT TO MUSLIM STUDENTS

AND AFRICAN-AMERICAN STUDENTS.

YOU NEED TO BE ABLE TO GIVE THAT

SAME LEVEL OF THOUGHT TO OTHER

STUDENTS.

WHAT THEY SAY IS REALLY AND

TRULY HARMFUL AND IT IS

DANGEROUS.

>> LAST WORD TO RESPOND.

>> SO I THINK THE UNIVERSITY HAS

BEEN SLOW TO, YOU KNOW, CONDEMN

SOME OF WHAT THE PROTESTERS HAVE

DONE TO BREAKING THE RULES.

I RATHER THE UNIVERSITY PUT OUT

A STATEMENT SAYING ALTHOUGH WE

DISAGREE WITH THE SPEAKER, HE

DOESN'T FOLLOW OUR VALUES WE

WANT THE STUDENTS TO RESPECT

FREEDOM OF SPEECH.

WE HAVEN'T HAD THAT STATEMENT

OUT.

I WISH THEY DID THAT.

AT LEAST WE KNOW THEY WILL

UPHOLD THEIR VALUES.

RIGHT NOW THEY ARE -- LIKE THEY

ARE THREATENING TO GIVE

SUSPENSION TO STUDENTS.

I THINK THE UNIVERSITY SHOULD

PUT A STANCE ON THIS.

THEY'VE DONE THIS IN THE PAST.

>> REALLY APPRECIATE BOTH OF YOU

GENTLEMEN JOINING US TODAY.

THANK YOU.

>> THANK YOU FOR HAVING US.

♪♪

>> COMMANDER SCOTT KELLY IS A

VETERAN OF FOUR SPACE FLIGHTS.

IN 2015 HE WAS BOUND FOR A YEAR

LONG STAY AT THE INTERNATIONAL

SPACE STATION.

HE SPENT 340 CONSECUTIVE DAYS IN

SPACE.

ALL TO EXPLORE THE EFFECTS OF

LONG TERM TRAVEL ON THE HUMAN

BODY.

ALTHOUGH COMMANDER KELLY

MAINTAINED A REGULAR EXERCISE

PROGRAM IN SPACE THE PHYSICAL

TOLL OF THE VOYAGE WAS EVIDENT

UPON HIS RETURN TO EARTH A YEAR

LATER IN 2016.

SCOTT KELLY EXPERIENCED THINGS

IN SPACE AND UPON HIS RETURN

BACK HOME THAT VERY FEW HAVE.

NOW IN A STUNNING AND PERSONAL

MEMOIR ENTITLED "ENDURANCE" THIS

ASTRONAUT AND MODERN DAY HERO

DELIVERS A CANDID ACCOUNT OF HIS

REMARKABLE VOYAGE, THE JOURNEYS

THAT PRECEDED IT AND HIS

COLORFUL AND INSPIRATIONAL AND

FORMIDABLE YEARS.

IN NOVEMBER PBS WILL PRESENTS "A

YEAR BEYOND SPACE."

LET'S TAKE A LOOK.

>> A YEAR IS A LONG TIME TO

BEING IN SPACE.

>> ASTRONAUT SCOTT KELLY AND HIS

TWIN BROTHER MARK.

>> NOT JUST YOU RE-ADAPTING TO

EARTH, IT'S PEOPLE TO

RE-ADAPTING TO YOU BACK.

>> THAT TEST THE BOUNDARIES OF

MAN.

>> COMING BACK WAS HARDER THAN I

THOUGHT.

>> OPENS THE DOOR TO THE NEXT

GENERATION.

>> THIS STUDY WILL HELP US GET

TO MARS SOME DAY.

>>> AND WE ARE DELIGHTED TO HAVE

COMMANDER SCOTT KELLY JOINING US

NOW TO TALK ABOUT THIS.

SO NICE TO MEET YOU.

GREAT TO HAVE YOU HERE WITH US.

I WANT TO TALK ABOUT SOME OF THE

SPECIFICS OF THIS MISSION AND

SINCE YOU HAVE COME HOME.

I WANT TO START WITH THE BIGGER

QUESTION.

IT'S A QUESTION FOR THE REST OF

US.

PURELY THEORETICAL.

>> OUR SPECIES, WE'RE NATURALLY

EXPLORERS.

I THINK CIVILIZATIONS THAT

STOPPED GROWING AND EXPANDING

AND EXPLORING HAVE CEASED TO

EXIST.

IT'S IMPORTANT FOR US.

THERE'S ALSO A LOT OF BENEFITS

WE GET FROM THE SPACE PROGRAM.

TECHNOLOGICAL ADVANCES THAT

REQUIRE FOR US TO FLY IN SPACE

THAT ARE ALSO USEFUL DOWN HERE

ON EARTH.

FOR ME I BELIEVE IN BOTH OF

THOSE THINGS VERY STRONGLY.

I THINK SPACE FLIGHT IS

IMPORTANT FOR US AS A

CIVILIZATION.

IT SHOULD BE ONE OF OUR TOP

PRIORITIES AND THAT'S WHY I DID

IT.

>> AS I MENTIONED FOUR TIMES,

FOUR JOURNEYS.

WHEN YOU WERE APPROACHED WITH

THE IDEA OF SPENDING A FULL YEAR

IN SPACE, WHAT WAS YOUR FIRST

REACTION TO THAT.

>> NO THANK YOU.

>> WHY?

>> BECAUSE I HAD -- WHEN WE

STARTED TALKING ABOUT THIS AT

NASA, I HAD RECENTLY GOTTEN BACK

FROM BEING ON THE SPACE STATION

FOR SIX MONTHS SWAY REALLY LONG

TIME.

AND SO THE IDEA OF SPENDING OVER

TWICE AS LONG DIDN'T REALLY

APPEAL TO ME MUCH AT FIRST.

BUT THEN WHEN I STARTED THINKING

ABOUT THE CHARLOTTESVILLE DOING

THE JOB, OF LIVING IN THAT

ENVIRONMENT FOR A LONG TERRIFIED

OF TIME I THOUGHT, YOU KNOW, I

WANT TO FLY IN SPACE AGAIN.

YOU KNOW IF I FLY FOR SIX MONTHS

IT WOULD BE VERY SIMILAR TO WHAT

I DID THE LAST TIME.

THIS IS MUCH MORE CHALLENGING

BECAUSE OF THE DURATION SO I

EVENTUALLY WARMED UP TO THE

IDEA.

>> PERSONALLY WHAT WAS THE

STRUGGLE FOR YOU IN TERMS OF --

CERTAINLY SAFETY CONCERN.

>> YEAH.

>> WE'VE BEEN FORTUNATE THROUGH

MUCH OF THE HISTORY OF NASA AND

OUR SPACE FLIGHT BUT THERE HAVE

BEEN TRAGEDIES.

>> YEAH.

>> AND PERSONALLY IT'S A YEAR IN

YOUR LIFE THAT YOU'LL BE AWAY

FROM PEOPLE WHO ARE VERY CLOSE

TO YOU.

HOW DID YOU DEAL WITH THAT?

>> WELL THE HARDEST PART IS

THAT, YOU KNOW, SEPARATION FROM

YOUR FRIENDS AND FAMILY, YOUR

LOVED ONES ESPECIALLY -- IF

SOMETHING HAPPENED TO THEM ON

THE GROUND THERE'S NOTHING YOU

CAN DO TO BE THERE WITH THEM.

YOU CAN'T LEAVE FOR A FAMILY

EMERGENCY.

AND I EXPERIENCED THAT ON MY

PREVIOUS FLIGHT WHEN MY

SISTER-IN-LAW, CONGRESSWOMAN

GABRIELLE GIFFORDS WAS SHOT.

THE BIGGEST CONCERN FOR ME WAS

ALWAYS THOSE KIND OF THINGS

HAPPENING, NOT REALLY MY OWN

PERSONAL SAFETY, ALTHOUGH, THAT

IS AT RISK.

BUT THAT'S THE HARDEST PART

ABOUT BEING UP THERE, KNOWING IF

SOMETHING HAPPENED TO YOUR

CHILDREN OR YOUR LOVED ONES THAT

YOU COULDN'T REALLY BE THERE FOR

THEM.

>> THIS BOOK IS A MARVELOUS LOOK

AT A NUMBER OF JOURNEYS.

ENDURANCE, YOU TALK ABOUT,

ENDURANCE, NOT ONLY IN SPACE FOR

A YEAR BUT THE ENDURANCE THAT

GETS YOU THERE, THE ENDURANCE

AFTER YOU COME BACK.

YOU DO TALK ABOUT YOUR OWN

PERSONAL JOURNEY.

AND YOU'RE VERY CANDID.

I THINK AT ONE POINT IN TIME YOU

SAY YOU CHARACTERIZED YOURSELF

AS A BELOW AVERAGE GUY WHO IS

GETTING HIMSELF INTO A

SIGNIFICANTLY ABOVE AVERAGE

CHORE HERE.

>> AH-HA.

>> DID YOU EVER -- SOMETIMES

PEOPLE SAY FROM THE TIME I WAS

BORN I ENVISION ME BEING A --

WHEN WAS IT YOU FIRST STARTED

THINKING I CAN ENVISION MYSELF

BEING UP THERE.

>> SO, I WAS A KID GROWING, IF I

WAS IN SCHOOL TODAY I WOULD BE

DIAGNOSED WITH ADHD.

THEN I WAS IN COLLEGE.

WALKING ACROSS THE CAMPUS I GO

INTO THE BOOK STORE TO BUY GUM

AND I PICK UP "THE RIGHT STUFF".

I READ "THE RIGHT STUFF".

I COULD RELATE TO THE FIGHTER

PILOTS THAT BECAME THE TEST

PILOTS THAT BECAME THE ORIGINAL

ASTRONAUTS.

I DECIDED I WOULD DO WHATEVER I

COULD TO BE LIKE THESE GUYS AND

WHERE I NEEDED TO START I NEEDED

TO LEARN TO PAY ATTENTION, DO MY

HOMEWORK, BECOME A BETTER

STUDENT.

WHEN I THINK BACK ON IT, THAT'S

A GIANT LEAP, 18-YEAR-OLD KID

DECIDES TO BE AN ASTRONAUT.

BUT THERE WERE SMALL STEPS

GETTING THERE.

IT'S NOT JUST ABOUT SPACE BUT

IT'S ABOUT THIS KID THAT WAS A

CHRONIC UNDERPERFORMER THAT

FOUND MOTIVATION AND A SPARK

THAT CHANGED HIS LIFE AND THEN,

YOU KNOW, 17 YEARS LATER I'M

FLYING IN SPACE FOR THE FIRST

TIME.

>> IF PEOPLE WATCHING US HAVE

NOT READ "THE RIGHT STUFF" THEY

SHOULD.

>> GREAT BOOK.

>> BUT IT'S INTERESTING HOW MANY

OF THOSE CHARACTERS SORT OF LIKE

LIVED LIKE YOUR, UNTIL THEY

FOUND WHERE THEY BELONGED.

WERE YOU STRUCK BY THAT?

>> EXACTLY.

I COULD REALLY RELATE TO THEIR,

YOU KNOW, TO THEIR PERSONALITY,

THEIR CHARACTERS, HOW TOM WOLF

DESCRIBED THEM AND I SAID I SEE,

I THINK I'M LIKE THESE GUYS WITH

ONE EXCEPTION.

I'M A HORRIBLE STUDENT AND

CLEARLY AS AN ASTRONAUT YOU'RE

SUPPOSED TO BE, YOU KNOW, A TOP

PERFORMER IN CERTAIN AREAS.

SO IT WAS A CHALLENGE FOR ME.

IT'S A GREAT EXAMPLE THAT YOU

CAN FIND INSPIRATION, MOTIVATE

YOURSELF, WORK HARD AND, YOU

KNOW, HOPEFULLY BE SUCCESSFUL.

>> SCOTT, THE BOOK IS CALLED

"ENDURANCE."

IT'S A MARVELOUS READ.

A BIOGRAPHY, IN SOME WAY AS

NOVEL, THE PICTURES ARE

BREATHTAKING, AND PEOPLE HAVE

SAID THIS TO YOU BEFORE.

BUT WE TOSS AROUND THE WORD

"HERO" A LITTLE TOO CASUALLY BUT

WE'RE DELIGHTED TO EMBRACE YOU

AS AMERICA'S HERO.

A REMINDER YOU SCOTT'S MEMOIR IS

OUT NOW AND ON NOVEMBER 15th,

PBS WILL PREMIER "BEYOND A YEAR

IN SPACE."

PRECEDE BY AN ENCORE BROADCAST

CAST AT 8:00 P.M.

LOGON TO "METROFOCUS" FOR MORE

INFORMATION.

>>> IT'S THE SECOND SEASON OF

FIRST LADY SHIRLENE McCRAY'S

BOOK CLUB.

I GOT A CHANCE TO CATCH UP WITH

THE FIRST LADY ON THE CLUB'S

FIRST READ.

WELCOME.

THANK YOU FOR JOINING US ON

"METROFOCUS".

>> THANK YOU.

>> SO I WANT TO ASK YOU ABOUT

THE SECOND SEASON.

WHAT'S HAPPENING THIS SEASON?

>> THE SECOND SEASON IS SO

AMAZING.

WE'RE GOING TO BE READING BOOKS

THAT WERE WRITTEN IN THE '40s.

>> TELL ME WHAT WAS IT ABOUT THE

BOOK "THE STREET" THAT MADE IT

SO WORTHY TO BE PART OF THIS

BOOK CLUB?

>> YOU KNOW, WE WANT PEOPLE TO

HAVE THIS FEELING OF COMMUNITY.

WE REALLY WANT PEOPLE -- LAST

SEASON WE FOCUSED ON IMMIGRATION

AND THE THEME WAS ENVISIONING

DISTANT NEIGHBORS.

BUT THESE ARE PEOPLE WHO ARE

RIGHT NEXT DOOR TO YOU.

THE BOOK "THE STREET" IT COULD

BE HAPPENING RIGHT NOW.

PEOPLE DO HAVE NEIGHBORHOODS

NEAR AND FAR THAT REFLECT SOME

OF THE SAME THEMES THAT ARE IN

THE STREET, POVERTY, INEQUALITY,

RACIAL INJUSTICE.

THESE ARE THEMES THAT ARE STILL

VERY, VERY MUCH WITH US TODAY.

>> I UNDERSTAND THAT THIS BOOK

CLUB ACTUALLY JUST ISN'T OR THE

CHOICES FOR THE BOOK CLUB JUST

AREN'T OUT OF NOWHERE THEY TIE

INTO A SPECIFIC EXHIBIT THAT'S

GOING ON RIGHT NOW.

>> THAT'S RIGHT.

WE'RE CELEBRATING THE 75th

ANNIVERSARY OF WHEN MAYOR FIRST

MOVED IN.

ALL THE ARTWORK WE HAVE UP

REFLECTS THAT TIME PERIOD AND

THAT'S WHY THE LITERATURE THAT

WE'RE FOCUSING ON ALSO REFLECTS

THAT TIME PERIOD AS WELL.

THE BACKDROP OF WORLD WAR II,

MUCH THAT WAS HAPPENING DURING

THAT TIME.

WE WANT TO CAPTURE IT ALL.

WE WANT TO CAPTURE THE CULTURE

OF THOSE TIMES.

>> WOULD YOU SAY THAT THIS IS A

PARTICULARLY UNIQUE TIME FOR NEW

YORK BECAUSE A LOT OF PEOPLE

WHEN THEY SORT OF TALK ABOUT NEW

YORK AND ITS GOLDEN AGE, THEY

ACTUALLY REFER TO THE 1940s EVEN

THOUGH IT WAS A TIME WHEN THE

CITY AND COUNTRY HAD A LOT OF

STRUGGLES.

>> THE CITY DEFINITELY HAD A LOT

OF STRUGGLES AND PROBLEMS.

I DON'T KNOW IF I WOULD CALL IT

A GOLDEN ERA.

IT WAS A TIME WITH A LOT OF

TURMOIL.

BUT THERE WAS TURMOIL IN OUR

NATION.

YOU THINK ABOUT WHAT WAS

HAPPENING DURING WORLD WAR II

AND WOMEN GOING TO WORK, YOU

KNOW, LEAVING THE HOME.

THE PEOPLE WHO SERVED IN THE

ARMY AND THE MILITARY, GOING,

COMING BACK.

THERE WAS A LOT HAPPENING.

A LOT OF STRIFE.

A LOT OF STRUGGLE.

I THINK IT'S AN INTERESTING

PERIOD TO STUDY, BECAUSE RIGHT

NOW WE'RE ALSO IN A PERIOD OF --

I DON'T KNOW IF I WOULD CALL IT

A GOLDEN AGE.

>> I THINK TRYING TIMES IS A

GOOD WAY.

>> TRYING TIMES.

MUCH CAN AGREE.

IT'S A TIME WHEN INEQUALITY IS A

MAJOR THEME OF OUR LIVES WHETHER

IT'S IN THE CITY OR IN THE

COUNTRY.

IT'S HELPFUL TO LOOK BACK AND TO

SEE WHAT WAS GOING ON IN THE

'40s AND HOW THAT -- HOW SOME OF

THOSE THEMES ARE THE SAME, HOW

WE CAN LEARN FROM WHAT WE'RE

DOING NOW.

I THINK IT'S STRUCKIVE.

>> BEFORE I LET YOU GO I DO WANT

TO ASK FOR ANYONE WHO WANTS TO

BE PART OF THE BOOK CLUB AND

HASN'T JOINED ALREADY HOW DO

THEY GO ABOUT SIGNING UP?

>> PLEASE JUST GO TO

NYC.GOV/GRACIEBOOKCLUB.

>> THANK YOU VERY MUCH FOR

JOINING US ON "METROFOCUS".

>> THANK YOU.

>> IT'S BEEN A PLEASURE.