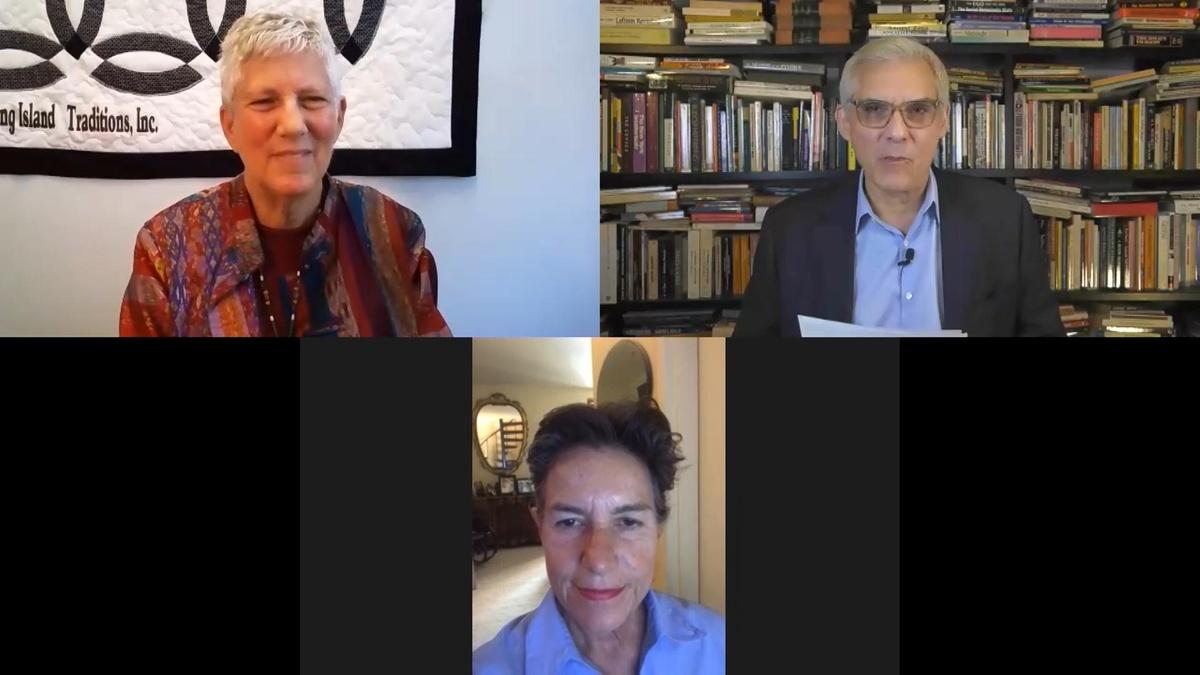 FULL EPISODE
MetroFocus: October 15, 2020
Tonight we examine where Hurricane Sandy left us eight years later with a special report from Treasures Of New York featuring the people rebuilding Long Island's Bay Houses to the City and State officials crafting a battle plan to protect us from the next superstorm to the activists shining a light on Sandy's disproportionate impact on low-income and minority communities.
TRANSCRIPT

>>> THIS IS METROFOCUS WITH RAEF

YELL P.ROMAN, JACK FORD AND

JENNA FLANAGAN.

MADE POSSIBLE BY SUE AND EDGAR

III, PROGRAMMING EVNDOWMENT TO

FIGHT ANTI-SEMITISM, JODY AND

JOHN ARNHOLD, BERNARD AND DENISE

SCHWARTZ, JUDY AND JOSH WESTON,

DR. ROBERT C. AND TINA STONE

FOUNDATION.

>> SUPPOSEDLY PER ACRE THERE IS

MORE DIVERSITY AND MORE LIFE IN

THIS TYPE OF ENVIRONMENT THAN

ANY OTHER PLACE IN THE WORLD.

>> IT IS QUITE A NICE BACKYARD,

RIGHT?

>> THE HAPPIEST TIMES OF MY LIFE

WERE AND STILL ARE AT THE HOUSE.

PLAYING WITH JOY BOATS, FISHING,

CLAMMING.

I CAN REMEMBER CLAMMING WHEN I

WAS THREE.

>>> WELCOME TO METROFOCUS.

YOU KNOW, THAT WAS A PREVIEW FOR

THE DOCUMENTARY "A WORLD WITHIN

A WORLD: THE BAY HOUSES OF LONG

ISLAND," THE LATEST INSTALLMENT

IN WIW SERIES TREASURES OF NEW

YORK.

THEY WILL TAKE US INSIDE A

COMMUNITY THAT EXISTED ON THE

MARSH LANDS OF THE SOUTH SHORE.

THE FASCINATING SMALL RUSS TIS

SHACKS COMMONLY KNOWN AS THE BAY

HOUSES.

WHAT IS THE HISTORY OF THESE

HOUSES?

WHO OWNS THEM?

AND HOW HAVE THEY BEEN ABLE TO

WITHSTAND MERCYLESS WEATHER

EVENTS LIKE HURRICANE SANITY.

THE EXECUTOR AND PRODUCER OF THE

DOCUMENTARY AND THE DIRECTOR, A

LEADING EXPERT ON THE HISTORY OF

THE BAY HOUSES AND THE AUTHOR OF

THE BOOK ABOUT THE HOUSES TITLED

"ON THE BAY."

WELCOME BOTH OF YOU.

PLEASURE TO HAVE YOU HERE.

>> THANK YOU, RAFAEL.

GOOD TO BE HERE.

>> BY THE WAY, NANCY, YOUR BOOK

WAS THE BASIS OF THIS

DOCUMENTARY.

BUT LET ME START WITH YOU,

BARBARA.

WHERE EXACTLY ARE THESE HOUSES?

>> WELL, THE BAY HOUSES EXIST ON

THE SOUTH SHORE, AND THEY EXIST

ON THE MARSH LANDS OF THE SOUTH

SHORE, WHICH IS THE ONE THAT I

HAVE FIRST SEEN.

BUT THERE ARE ALSO OTHER BAY

HOUSES IN LONG ISLAND IN COUNTY

AS WELL.

>> YOU ARE REALLY TAKEN BY THEM.

WHAT IS IT ABOUT THESE HOUSES

THAT SO ATTRACTS PEOPLE?

>> WELL, AS A FOLKLORE AND

ARCHITECTURAL HISTORIAN, I HAVE

ALSO BEEN FASCINATED BY

STRUCTURES BEAT FOR THEMSELVES

THAT THERE ARE NO CONTRACTORS,

THERE ARE NO ARCHITECTS.

BECAUSE I KNEW UP ACROSS THE

STREET FROM A BOAT YARD, I HAVE

ALWAYS BEEN FASCINATED WITH

ANYTHING ON THE WATER.

AND THESE HOUSES ARE ALL OVER

THE TOWN.

YOU HAVE GOT A FREE PORT OR

BEACH OR, YOU KNOW, SEA FRONT,

YOU CAN SEE THESE HOUSES.

>> AND, NANCY, WHERE DID THESE

HOUSES FIRST COME TO BE?

WHAT IS THEIR ORIGINS?

>> THEY WERE FIRST BUILT BY BAY

MEN TO HARVEST THE SALT THAT

GROWS ON THE MARSH LANDS IN THE

WINTERTIME.

BECAUSE FARMERS NEEDED SOMETHING

FOR THEIR LIVESTOCK, THE ONLY

PEOPLE THAT NEEDED BOATS TO GET

OUT THERE FOR FISHERMEN AND BAY

MEN.

GOING BACK IN THE WINTER WAS NOT

FOR THE FAINT HEARTED.

THEY REALIZED, IF I HAD A SHACK,

I COULD SAY THERE AND DO OTHER

THINGS AND MAKE IT WORTHWHILE.

>> BARBARA, THERE IS ALSO A VERY

INTERESTING PART OF THE

DOCUMENTARY WHERE YOU DOCUMENT

THE HISTORY OF THESE SHACKS

DURING PROHIBITION.

YOU DON'T HAVE TIME TO GET INTO

THAT NOW, BUT JUST FOR THAT

STORY, IT IS WORTH WATCHING THE

DOCUMENTARY.

IT HAD A LOT TO DO WITH THE REAL

McCOY.

YOU'LL KNOW WHERE THAT CAME

FROM.

AND THE RUM RUNNERS.

SO CHECK IT OUT.

BUT, BARBARA, IN 1991, IF I

UNDERSTOOD RIGHT, IN 1991 A LAW

WAS PASSED THEY WOULD HAVE TORN

DOWN THESE SHACKS; IS THAT TRUE?

>> THAT IS TRUE.

AND ACTUALLY NANCY WOULD BE

BETTER TO TALK ABOUT THAT

BECAUSE SHE WAS VERY

INSTRUMENTAL IN OBTAINING A

LEASE AGREEMENT WHEREBY THE BAY

HOUSE OWNERS WERE ABLE TO

MAINTAIN THEIR PROPERTY AND KEEP

THEM IN THE TOWN.

SO SHE IS A BETTER -- SHE WOULD

BE ABLE TO ANSWER THAT QUESTION

BETTER SINCE SHE WAS SO

INSTRUMENTAL IN THAT.

>> ALL RIGHT.

NANCY, SO HOW DID THEY SAVE THE

HOUSES?

WHAT ARE THE DEALS THEY HAD TO

MAKE?

>> OKAY.

WELL, FIRST, WE HAD TO THREATEN

THE TOWN WAS VIOLATING THE

HISTORIC PRESERVATION ACT BY NOT

DOCUMENTING THEM.

AND I SAID I'LL DO A SCENARIO

AND THAT'S WHY WE DID THE BOOK

ON THE BAY WHEN IT FIRST CAME

OUT.

AND THE STATE DEPARTMENT STARTED

A LOT OF SERIOUS TALK, AND THEY

AGREED THAT THEY COULD BE

PRESERVED FOR THE FUTURE

GENERATIONS.

>> SO, BARBARA, THESE HOUSES

THEY LOOK VERY VULNERABLE TO

STORMS AND STORM EVENTS LIKE

SUPER STORMS.

SANDY, HOW DID THEY SURVIVE

SUPER STORM SANDY?

>> IT WAS VERY DIFFICULT.

ORIGINALLY AT ONE POINT THERE

WAS 300 OF THESE HOUSES.

SO AT THIS POINT IN TIME, THERE

IS ONLY 28 REMAINING, WHICH

TELLS YOU A LOT ABOUT CLIMATE

CHANGE AND THE EROSION OF THE

MARSH LAND AND HOW DIFFICULT IT

IS FOR THESE HOUSES TO WITHSTAND

THE WEATHER CONDITIONS AND

ELEMENTS THAT THEY HAVE TO GO

THROUGH.

>> YOU KNOW, BUT I WAS TAKEN.

IN THE DOCUMENTARY SOMEBODY SAID

THAT FEMA ACTUALLY WENT TO THE

OWNERS OF THESE HOUSES TO FIND

OUT HOW TO PRESERVE A STRUCTURE

LIKE THOSE HOUSES WITHIN A STORM

LIKE SUPER STORM SANDY.

WHAT DO THEY KNOW THAT WE DON'T

KNOW?

>> WELL, ACTUALLY, IT WAS NANCY

WHO SAID THAT IN THE FILM.

>> AH.

>> I GUESS HAVING GONE THROUGH

ALL THESE STORMS, THEY ARE

BETTER EQUIPPED TO BE ABLE TO

ANSWER QUESTIONS TO, YOU KNOW,

TO BE ABLE TO SUSTAIN THEM.

BUT THEY'RE BUILT IN SUCH A WAY

THAT THEY ARE IMPLANTED WITH

CERTAIN HELI COILS INTO THE

MARSH LAND WHICH STABILIZES THEM

SO THAT THEY DO NOT DRIFT AWAY.

>> I KEEP TALKING ABOUT THE

OWNERS OF THESE HOUSES, BUT

THAT'S AN INTERESTING PART OF

THIS STORY, RIGHT?

WHO ARE THE OWNERS?

AND TELL US WHAT RIGHTS THEY

HAVE WITH THEIR PROPERTY.

>> OKAY.

WELL, THEY'RE NOT OWNERS IN THE

LEGAL SENSE.

THEY ACTUALLY LEASE THE LAND

FROM THE TOWN.

BUT THESE ARE DESCENDENTS OF

FISHERMEN AND BAY MEN FROM THE

1700s UP TO THE PRESENT TIME.

MANY CARRY ON THE TRADITIONS OF

CLAMMING AND HARVESTING, YOU

KNOW, FISH.

THEY'RE AVID FISH MEN.

SOME ARE DUCK HUNTERS.

SO THAT'S THE ONLY PART OF THE

BAY.

IT'S ABOUT OUR MARITIME CULTURE

AND OUR CONNECTION TO OUR

WATERFRONT.

AND THEY HAPPEN TO PRESERVE

THOSE CULTURAL TRADITIONS, YOU

KNOW, IN THEIR FAMILIES.

>> SO THEY CAN'T SELL THE

PROPERTY, RIGHT?

>> NO.

THEY HAVE -- THE BAY HOUSES CAN

ONLY BE TRANSFERRED TO SOMEBODY

IN THEIR FAMILY OR TO SOMEBODY

WHO IS ON THE LEASE WITH THEM

FOR AT LEAST SEVERAL YEARS.

AND THAT PERSON, IF IT IS

SOMEBODY WHO IS NOT A FAMILY

MEMBER THAT'S ON THE LEASE,

THERE IS A VERY STRONG

CONNECTION BETWEEN THE BAY HOUSE

OWNER AND THAT LEASEHOLDER.

>> AND, BARBARA, SO, YOU KNOW,

YOU TOUCHED ON THIS, BUT WHAT IS

THE FUTURE OF THE BAY HOUSES, DO

YOU THINK?

AND WHAT IS THE FUTURE OF THE

MARSH LANDS ON WHICH THEY REST?

WE HAVE 30 SECONDS LEFT.

>> THAT'S A VERY DIFFICULT

QUESTION.

JUST LOOKING AT WHAT'S HAPPENING

NOW WITH CLIMATE CHANGE, THAT'S

SUCH A DIFFICULT QUESTION.

I'M HOPING THAT THE BAY HOUSES

CAN SUSTAIN THEMSELVES AND FIND

WAYS TO BETTER SOLIDIFY THEIR --

THEIR STRUCTURES INTO THE MARSH

LAND SO THAT THEY DON'T -- THEY

DON'T GET SWEPT AWAY.

>> ALL RIGHT.

BUT YOU'RE HOPEFUL, I THINK.

OKAY.

LISTEN, WE'RE GOING TO HAVE TO

END IT THERE.

THANK YOU BOTH SO MUCH FOR

JOINING US TODAY.

>>> THE IMPACT OF SUPER STORM

SANDY ON OUR REGION CAN STILL BE

FELT TODAY.

ACCORDING TO THE CITY, THE STORM

INFLICTED AN ESTIMATED $19

BILLION IN DAMAGES.

THE RECOVERY HAS BEEN LONG AND

DIFFICULT, AND MANY CHOSE TO

MOVE RATHER THAN TO ATTEMPT TO

REBUILD.

IN THE AFTERMATH, OFFICIALS AT

THE STATE AND CITY LEVELS HAVE

BEEN WORKING ON RESILIENCY

MEASURES TO MAKE SURE THAT WHEN

THE NEXT BIG STORM HITS NEW YORK

IS PREPARED.

NEW YORK CITY IN PARTICULAR IS

HIGHLY EXPOSED TO THE IMPACT OF

SUPER STORMS WITH OVER 520 MILES

OF COASTLINE.

THE NEED TO IMPLEMENT MASSIVE

PRECAUTIONS AGAINST COASTAL

FLOODING IS INDEED URGENT.

SO NEW YORK STATE'S DEPARTMENT

OF HOMELAND SECURITY AND

EMERGENCY SERVICES WORKS

YEAR-ROUND TO MAKE SURE ITS

CITIZENS KNOW EXACTLY WHAT TO DO

WHEN THE NEXT MAJOR STORM HITS.

MATTIE HAS THE STORY.

>> Reporter: PAT MURPHY WAS

SERVING AS A MEMBER OF THE NEW

YORK NATIONAL GUARD DURING

HURRICANE SANDY.

HE OVERSAW MEMBERS AS THEY

DISTRAD

DISTRIBUTED FOOD AND WATER.

>> WE HAD ALREADY GONE THROUGH A

CLOSE CALL PREVIOUS TO THAT WITH

LEE AND IRENE, WHICH HAD BEEN

STORMS THAT HAD DROPPED A LOT OF

WATER ON NEW YORK STATE.

AND, SO, FROM THAT SOME PEOPLE

PICKED UP THE CUE AND BECAME

MORE PREPARED.

OTHERS DID NOT SEE THE THREAT OF

THE POTENTIAL DISASTER THAT IT

COULD HAVE BEEN AND COULD HAVE

BEEN MORE PREPARED.

>> MURPHY IS NOW THE

COMMISSIONER OF NEW YORK STATE'S

DEPARTMENT OF HOMELAND SECURITY

AND EMERGENCY SERVICES, AND HE

AND HIS TEAM WORK HARD TO ENSURE

THAT THE STATE GOVERNMENT IS

PREPARED FOR THE NEXT NATURAL

DISASTER AND THAT THE PUBLIC IS,

TOO.

>> THAT'S REALLY WHERE IT STARTS

IS WITH INDIVIDUAL PREPAREDNESS.

HOW DO YOU GET YOURSELF READY

FOR A POTENTIAL NATURAL DISASTER

THAT COULD LEAVE YOU WITHOUT

POWER, THAT COULD LEAVE YOU

ISOLATED FOR A SHORT PERIOD OF

TIME.

AND THEN BEYOND THAT, HOW DO YOU

PREPARE YOUR FAMILY FOR THE

EMERGENCY?

>> MURPHY SAYS PREPARATIONS

START WITH DEVELOPING AN

EMERGENCY PLAN.

>> AN EMERGENCY PLAN FOR A

FAMILY OR JUST A PLAN TO START

WITH IS HAVING A DISCUSSION

ABOUT WHERE YOU MIGHT MEET, WHAT

KINDS OF THINGS MIGHT HAPPEN TO

YOU, HOW DO YOU MAKE CONTACT

WITH OTHERS SHOULD YOU BECOME

ISOLATED AND JUST WHAT RESOURCES

YOU MIGHT NEED IN THAT

EMERGENCY.

>> MAKE SURE YOUR HOME IS

STOCKED WITH EVERYTHING NEEDED

TO GET THROUGH A PERIOD OF NO

ELECTRICITY OR CLEAN WATER.

IT'S IMPORTANT TO HAVE A GO KIT,

TOO.

MURPHY REMINDS THAT PEOPLE MAY

NOT BE ABLE TO STAY IN THEIR

HOMES TO RIDE OUT THE STORM IF

THEY'RE IN A POTENTIALLY

AFFECTED AREA.

>> DURING THE EMERGENCY NITSELF

YOU WILL EITHER SHELTER IN PLACE

OR SHELTER IN AN AREA THAT'S

SAFE FROM WHATEVER THE NATURAL

DISASTER MIGHT BE OR YOU'RE

GOING TO EVACUATE.

SOMEONE IS GOING TO MAKE A

DECISION, MOST LIKELY FOR YOU TO

EVACUATE BASED ON A GREATER

LEVEL OF INFORMATION, A GREATER

LEVEL OF KNOWLEDGE THAN YOU

WOULD HAVE OF THE AREA AND WHAT

POTENTIALLY COULD HAPPEN.

>> TO SPREAD AWARENESS ABOUT

EMERGENCY PLANNING AFTER

HURRICANE SANDY, GOVERNOR CUOMO

LAUNCHED A STATEWIDE TRAINING

PROGRAM CALLED THE CITIZENS

PREPAREDNESS CORE.

IT'S THERE TO FURTHER DEVELOP

INDIVIDUAL AND FAMILY

PREPAREDNESS FOR FUTURE NATURAL

DISASTERS.

>> SO WE HAVE A REGULARLY

SCHEDULED AND AN ON NEEDS

SCHEDULED TRAINING EVENTS THAT

WE DO FOR COMMUNITIES, FOR

INDIVIDUALS THAT THEY CAN COME

SIT THROUGH AND LEARN ABOUT HOW

TO BE PREPARED THEMSELVES.

>> WHEN WE'RE TALKING ABOUT

THESE GO KITS, EVERYONE IS GOING

TO HAVE DIFFERENT NEEDS, OKAY?

SOME PEOPLE HAVE SMALL CHILDREN.

SOME PEOPLE ARE TAKING CARE OF

GRA

GRANDMA?

ALL RIGHT?

PEOPLES KIDS WILL ALWAYS BE A

LITTLE DIFFERENT.

>> ERIC LEADS A FREE CITIZENS

PREPAREDNESS CORE TRAINING

SESSION FOR THE PUBLIC.

PARTICIPANTS ASK QUESTIONS, TAKE

NOTES AND WALK AWAY WITH

COMPLIMENTARY STARTER GO KITS.

>> IF YOU ARE STOCKING UP ON

SUPPLIES, I WANT TO RECOMMEND

YOU DO 7 TO 10 DAYS WORTH OF

SUPPLIES, OKAY?

THAT'S FOOD, WATER, MEDICATION.

>> THE SEMINAR EXTENDS FAR

BEYOND STOCKING UP FOR STORMS.

>> CALL ANYBODY OR REMEMBER

PHONE NUMBERS OR ANYTHING LIKE

THAT AS WELL.

>> THE SERGEANT URGES ATTENDEES

TO LEARN THE BASICS OF FIRST

AID, THINK OF THEIR PETS NEEDS

AND PUT ALL DOCUMENTS IN ONE

FIRE RESISTANT CASE.

>> I LIKE TEACHING THAT KIND OF

STUFF, ESPECIALLY WHEN IT COMES

TO THESE DISASTERS.

NOT A LOT OF PEOPLE KNOW WHAT TO

DO.

SO IT IS VERY REWARDING FOR ME

ON MY END FOR THAT.

>> GO THROUGH THESE KITS AT

LEAST EVERY THREE TO SIX MONTHS

TO MAKE SURE ALL THE STUFF THAT

MIGHT BE EXPIRING GETS THROWN

OUT, REPLENISHED.

>> NEW YORK CITY FACES ITS OWN

UNIQUE CHALLENGES DURING A

NATURAL DISASTER.

SO DEPUTY COMMISSIONER OF

EXPEE

EXTERNAL AFFAIRS WORKS TO

PROMOTE EMERGENCY PREPAREDNESS

ON THE CITY SIDE.

SHE SAID THE ATLANTIC HURRICANE

SEASON IS LONG, JUNE 1st THROUGH

NOVEMBER 30th AND THE NUMBER OF

NEW YORK CITY RESIDENTS IN

COASTAL EVACUATION ZONES ARE

HIGH.

>> THERE ARE ABOUT THREE MILLION

PEOPLE IN THE CITY THAT LIVE IN

A HURRICANE EVACCASE ZONE.

IF YOU LIVE IN CONEY ISLAND, YOU

PROBABLY HAVE A PRETTY GOOD

SENSE.

THERE ARE OTHER LOCATIONS WHERE

YOU MIGHT NOT BE AS CLOSE TO THE

WATER, BUT THE WAY THE STORM

SURGE HITS, THE TOPOGRAPHY, THE

WAY YOU MIGHT BE CUTOFF DURING A

STORM, SO YOU MIGHT BE IN A

COASTAL EVACUATION ZONE AND NOT

REALIZE IT.

>> NEW YORK CITY'S OF EMERGENCY

MANAGEMENT WORKS TO EDUCATE THE

PUBLIC ABOUT THESE FLOOD PRONE

ZONES THROUGH HUNDREDS OF

PRESENTATIONS EACH YEAR AS WELL

AS SIGN J AND PSAs.

>> THE THREE STEPS WE SAVE FOR

BEING PREPARED FOR HURRICANES IS

KNOW IF YOU ARE IN A ZONE.

AFTERWARDS, IT WAS EXPANDED.

SO YOU CAN EITHER GO TO

NYC.GOV

NYC.GOV/KNOWYOURZONE.

YOU CAN ALSO CALL 311 AND THE

OPERATORS WILL LOOK UP YOUR

ADDRESS FOR YOU.

>> ONCE RESIDENTS KNOW IF THEY

LIVE IN AN EVACUATION ZONE, THE

NEXT STEP IS TO FORM AN

EVACUATION PLAN.

>> MAKING A PLAN CAN SOUND SCARY

OR OVERWHELMING, BUT IT'S NOT.

PEOPLE DON'T HAVE TO TRAVEL 90

MILES TO GET OUT OF A HURRICANE

EVACUATION ZONE THE WAY THEY

MIGHT HAVE TO IN THE SOUTHEAST.

YOU MAY JUST GO A FEW MILES.

IF YOU HAVE FRIENDS OR FAMILY

YOU CAN BUILD A PLAN WITH AND

STAY WITH, THAT'S PREFERABLE.

YOU WILL PROBABLY BE MORE

COMFORTABLE.

IT WILL BE A LITTLE LESS

UPROOTING.

BUT IF YOU DON'T HAVE FRIENDS OR

FAMILY OR YOU NEED A PLACE TO

STAY, THE CITY OPENS EVACUATION

CENTERS.

WE CAN SHELTER 70,000 UP TO 70

DAYS, JUST THE CITY.

>> THE THIRD STEP IS TO STAY

INFORMED.

>> THE SYSTEM IN THE CITY IS

NOTIFY NYC.

IT HAS BEEN AROUND FOR TEN

YEARS.

THERE ARE MANY WAYS YOU CAN

ACCESS IT.

YOU CAN SIGN UP, GO TO NYC.COM.

IT'S FREE.

IT WILL GIVE YOU REAL-TIME

EMERGENCY INFORMATION.

IT WILL GO TO LAND LINES FOR

PEOPLE THAT STILL PREFER LAND

LINES.

YOU CAN GET TEXT OR E-MAIL.

YOU CAN FOLLOW IT ON TWITTER OR

WE HAVE AN APP.

>> SHE SAYS RESIDENTS SHOULD BE

AWARE OF CITY-SPECIFIC CONCERNS,

TOO, LIKE GETTING STUCK IN A

HIGH RISE WHEN ELEVATORS CAN'T

OPERATE OR BEING RELIANT ON

PUBLIC TRANSPORTATION THAT STOPS

RUNNING IN SEVERE WEATHER.

>> THAT'S WHY WHEN WE ASK PEOPLE

TO EVACUATE, WE SET IT UP A

COUPLE DAYS IN ADVANCE.

HOPEFULLY WHEN PEOPLE EVACUATE,

THE STORM WON'T BE CLOSE TO US.

THE WEATHER SEEMS EVEN NICE,

POSSIBLY, IF IT'S THE SUMMER.

BUT, YOU KNOW, THAT'S THE TIME

TO LEAVE.

COMMUTING AROUND THE CITY CAN BE

CHALLENGING EVERY DAY.

YOU DON'T WANT EVERYONE TO WAIT

UNTIL THE LAST MINUTE.

>> OF COURSE THERE WILL ALWAYS

BE THOSE WHO WAIT UNTIL THE LAST

MINUTE OR AREN'T PREPARED.

SO COMMISSIONER MURPHY SAYS

AFTER TAKING CARE OF YOURSELF

AND YOUR FAMILY, HELPING

NEIGHBORS IN THE COMMUNITY

SHOULD ALSO BE A PART OF THE

PLAN.

>> AND THE GOOD NEWS FOR NEW

YORKERS IS WE'VE HAD TREMENDOUS

SUCCESS WITH NEIGHBORS TAKING

CARE OF NEIGHBORS AND MAKING

SURE THAT THE MOST VULNERABLE

ARE PROVIDED HELP.

>> IN NEW YORK CITY, I'M MATTIE

FOR METROFOCUS.

>>> WE TURN NOW TO THE SUPER

STORM SANDY EFFECT.

STUDIES SUGGEST THAT SANDY, LIKE

OTHER RECENT STORMS SUCH AS

MARIA AND HARVEY, HAD A

DISPROPORTIONATE IMPACT ON

LOW-INCOME NEIGHBORS AND

COMMUNITIES OF COLOR.

THE QUESTION NOW ARISES ABOUT

THE CAUSE OF ENVIRONMENTAL

JUSTICE AND HOW TO ADDRESS IT.

ANDRES IS A COMMUNITY ORGANIZER.

AND ALSO WITH US JARED MURPHY,

EXECUTIVE EDITOR OF "CITY LIMITS

NEW YORK."

WELCOME TO BOTH OF YOU.

>> THANK YOU.

>> LET ME START FIRST WITH YOU

AND ASK YOU ABOUT YOUR PERSONAL

EXPERIENCES WITH SANDY.

HOW DID IT IMPACT YOU?

>> SO I LIVE IN A BUILDING.

SO IN TERMS OF LIKE LOSING A

HOME, I DIDN'T EXPERIENCE THAT,

BUT WE DID LOSE POWER FOR ABOUT

A MONTH.

AND I JUST REMEMBER LIKE I

COULDN'T GO TO SCHOOL.

EVERYTHING WAS JUST CLOSED DOWN.

WHATEVER WE HAD TO EAT BEFORE

THE STORM WAS WHAT WE HAD TO

STICK WITH FOR ABOUT AN ENTIRE

MONTH, AND IT WAS DIFFICULT JUST

SEEING MY COMMUNITY IN A STATE

OF -- IN THE STATE THAT I HAD

NEVER SEEN IT BEFORE.

>> AND WHERE WAS THIS?

WHERE IN NEW YORK SPECIFICALLY?

>> IN BARACKWAY.

WE GOT HIT PRETTY HARD BY THE

STORM.

I LUCKILY LIVED IN AN AREA THAT

WAS LIKE -- IT IS ABOUT AN EIGHT

MINUTE WALK TO THE BEACH, SO

THERE WASN'T AS MUCH FLOODING OR

LIKE HOMES BEING IMPACTED AS

MUCH AS THOSE WHO LIVE RIGHT BY

THE SHORE OR BY THE WAY BECAUSE

THE BAY AND THE OCEAN LITERALLY

MIX.

>> THEY BECAME ONE, WHICH WAS

THE PROBLEM.

HOW ABOUT -- HOW ABOUT IN THE

FIRST, LET'S SAY, WEEKS

AFTERWARDS?

WHAT DID YOU SEE IN TERMS OF

EFFORTS TO GET PEOPLE BACK ON

THEIR FEET, POWER TO REMEDY THE

STRUCTURAL PROBLEMS?

>> I DIDN'T REALLY SEE THAT IN

MY COMMUNITY.

BUT WHAT I DID SEE, BECAUSE I

WAS TAKING A CLASS IN BROOKLYN,

A SATURDAY CLASS, AND SO I WENT

TO THE WEST SIDE OF THE

PENINSULA LIKE TO TAKE THE BUS,

PUBLIC TRANSPORTATION, AND I SAW

LIKE RED CROSS LIKE RVs KIND OF

THAT CAME WITH RESOURCES AND

FOOD.

LIKE PEOPLE JUST HANDING OUT A

LOT OF LIKE MATERIALS AND FOOD

THAT WAS NEEDED IN THAT

COMMUNITY.

AND IT JUST BECAME LIKE CLEAR TO

ME THE RACIAL DISPARITY.

>> SO YOU DIDN'T SEE THAT IN

YOUR COMMUNITY.

>> NO, I DIDN'T SEE THAT.

AND IT WAS, YEAH, JUST VERY

APPARENT TO ME AT THE AGE OF

LIKE 12 THAT THERE WAS A

DISPARITY HAPPENING.

>> JARED, YOU FOLKS HAVE BEEN

DOING A LOT OF REPORTING ON

THIS.

WHAT ABOUT THIS NOTION OF THE

DISPARITY BETWEEN THE LOW-INCOME

COMMUNITIES, THE DAMAGE THAT WAS

DONE, THE REMEDIES FOR IT AND

OTHER MORE WELL-TO-DO

COMMUNITIES.

>> SO THE STORM ITSELF OBVIOUSLY

DOESN'T DISCRIMINATE.

BUT VULNERABILITY ISN'T ACROSS

THE POPULATION.

>> IN WHAT WAY?

>> EVERYTHING FROM THE ACTUAL

GEOGRAPHY.

PLACES THAT ARE MORE VULNERABLE

ARE WHERE PEOPLE ARE MORE LIKELY

TO LIVE.

IT'S PRICEY TO GET A HOTEL ROOM.

LESS LIKELY TO HAVE A ROOM OR

MONEY TO STASH SUPPLIES.

IN SOME STORES YOU CAN SEE THE

FACT THAT THERE IS SADLY AND

FRIGHTENINGLY A DISPARINGLY IN

WHO KNOWS HOW TO SWIM.

FOR A PERSON THAT DOESN'T KNOW

HOW TO SWIM, FIVE INCHES OF

WATER IS POTENTIALLY A DEATH

SENTENCE.

AND THEN AFTERWARDS, YOU HAVE

THE FACT THAT LESS LIKELY TO

HAVE FLOOD INSURANCE, LESS

LIKELY TO BE ABLE TO KIND OF

FILL THE VOID BETWEEN WHEN

BENEFIT PAYMENTS COME IN AND

REPAIRS YOU NEED TO MAKE ON YOUR

HOUSE TO MAKE IT MORE LIVABLE.

AFTER SANDY THERE WERE PROGRAMS

TO BUY OUT SOME PROPERTIES IN

VULNERABLE AREAS.

IF YOUR MORTGAGE IS UNDERWATER,

IF YOU HAVE SPLIT DEEDS, SOME OF

THE PROBLEMS THAT AFFECT

LOW-INCOME HOMEOWNERS, THOSE ARE

MUCH LESS ACCESSIBLE.

>> YOU CAN'T CASH OUT.

>> FROM PREVIEW TO AFTERMATH,

THERE IS AN ELEVATED DEGREE OF

RISK.

>> LET ME TALK ABOUT YOUR

ORGANIZATION.

HOW DID IT GET STARTED?

AND WHAT IS ITS PURPOSE?

>> SO THE ORGANIZATION WAS AN

IDEA TO BEFORE SANDY, 2011, OF

YOUNG PEOPLE HAVING A VOICE IN,

SAY, LOCAL POLITICS AND JUST A

VOICE IN GENERAL BEING THAT

YOUNG PEOPLE DON'T USUALLY GET

THAT PLATFORM OR A SEAT AT THE

TABLE WHEN IT COPS TO IMPORTANT

CONVERSATIONS.

AND IT WASN'T UNTIL AFTER SANDY

THAT WE STEPPED IN AND SAID,

LIKE, IF WE'RE NOT GETTING THE

RESOURCES AND THE HELP THAT WE

NEED POST SANDY, THEN WE HAVE TO

DO IT OURSELVES.

PROVIDED WATER, FOOD, LIKE

MEDICAL ATTENTION TO FOLKS WHO

LIVED IN LIKE HIGH-RISE

BUILDINGS AND WAS REALLY THE

HELP THAT OUR COMMUNITY NEEDED.

AND TODAY WE HAVE SHIFTED OUR

FOCUS AND WORKED MORE THAN

SOCIAL JUSTICE ISSUES SUCH AS

PIPELINES, FOOD JUSTICE.

WE HAVE A HALF ACRE URBAN FARM

WHICH TIES INTO IF ANOTHER

HURRICANE -- WHEN ANOTHER

HURRICANE.

>> YEAH, WHEN.

>> OUR FARM HELPS TO PREVENT

DAMAGE IN TERMS OF LIKE WATER

AND EVERYTHING.

THERE HAS BEEN, LIKE, STUDIED.

>> THE COMMUNITY YOU WERE IN AT

THE TIME, HOW HAS IT RECOVERED?

>> WELL, OUR BOARD WALK IS BACK.

IT TOOK A WHILE.

BUT IN TERMS OF HOMES, THERE IS

STILL ACTUALLY SOME PEOPLE WHO

HAVEN'T MOVED INTO THEIR HOMES.

I ACTUALLY HAD A FRIEND WHO IT

TOOK HER THREE YEARS TO MOVE

BACK INTO HER HOME AFTER SANDY.

AND IT JUST CAUSES LIKE

DISPLACEMENT REALLY.

>> IN LOOKING AT GOVERNMENT

POLICIES, GOVERNMENT ACTIONS,

WHAT HAVE YOU FOUND IN TERMS OF

ANY PROPOSALS AND CONCRETE

THINGS THAT HAD BEEN DONE SINCE

SANDY THAT MIGHT HELP TO E MEAL

RATE THIS -- WE WERE SAYING IF,

BUT WE SHOULD SAY WHEN THE NEXT

HURRICANE HITS.

>> THE CITY HAS ENGAGED IN A

MULTIBILLION EFFORT TO SHORE UP

THE FENCES IN MORE VULNERABLE

NEIGHBORHOODS.

THAT IS LAGGING IN A LOT OF

PLACES.

IT'S NOT GOTTEN NEARLY HALF

ENOUGH.

THE THING THAT COMES OUT IN A

LOT OF SITUATIONS THAT PEOPLE

HAVE LOOKED AT IS THAT PLANNING

IS REALLY KEY.

IT'S WHEN PEOPLE ARE IN AN

EMERGENCY IN CHAOS MAKING

DECISIONS ON THE FLY, THAT'S

WHEN MORE VULNERABLE PEOPLE TEND

TO GET HURT WORSE.

SO TO THE EXTENT THE CITY WANTS

TO HAVE A CONVERSATION ABOUT

CLIMATE CHANGE, ABOUT REALLY,

REALLY SERIOUS RESILIENCY

MEASURES, DOING THAT AHEAD OF

TIME AND HAVING THOSE PLANS WELL

IN PLACE FOR THE INEVITABILITY

OF MORE SEVERE STORMS, THAT'S

REALLY KEY.

NOT JUST AFFECTING EVERYBODY BUT

MORE VULNERABLE PEOPLE.

>> WE OFTENTIMES HEAR THE NOTION

OF GENTRIFICATION AROUND THE

CITY.

THERE WAS SOME SUGGESTIONS THAT

THIS MIGHT BE AN OPPORTUNITY FOR

DEVELOPERS TO KIND OF SWOOP IN

TO AREAS WHERE LOW-INCOME FOLKS

WERE LIVING AND BASICALLY FOR

THE REASONS YOU MENTIONED BEFORE

CANNOT AFFORD NOW TO REBUILD AND

SAY, OKAY, THIS CLOSE TO THE

WAERT, WE CAN MAKE THIS MUCH

MORE ATTRACTIVE PROPERTY WHICH

WILL CHANGE THE NATURE, THE

COMPLEXION, LITERALLY AND

FIGURATIVELY.

ARE YOU SEEING THAT?

>> SHE TALKED ABOUT THE BAY AND

THE OCEAN MEETING.

WE SEE AN EXISTING WAY OF

GENTRIFICATION MEETING WITH

WHATEVER PROCESS HAS BEEN

TRIGGERED BY ITSELF.

WE HAVE SEEN IT IN LOTS OF

PLACES.

NEW ORLEANS, PEOPLE SUDDENLY

WERE ALERTED TO THIS GREAT CITY

BY ALL THE COVERAGE OF THE

HORRIBLE STORM.

THERE IS SOME EVIDENCE OF THAT.

DISEVEN TANGLING FROM IT IS HARD

TO DO.

PEOPLE WHO ARE VULNERABLE NEED

HELP FROM THE GOVERNMENT AND

FINANCIAL INDUSTRY TO MAKE SURE

THEY ARE NOT TAKEN CARE OF,

WHETHER IT'S FROM THE STORM,

LOSS OF INCOME, WHATEVER.

>> ARE YOU SEEING THOSE CHANGES

AT ALL TAKING PLACE IN YOUR

NEIGHBORHOOD AND OTHERS?

>> YEAH.

I WOULD DEFINITELY SAY I THINK

IT HAS TO DO WITH THE -- I THINK

THE BIGGEST FACTOR IS THAT

ATTENTION THAT THE COMMUNITY

GETS AFTER LIKE A DISASTER LIKE

THAT.

SO I DEFINITELY DID SEE THAT.

THEY GOT A LOT OF ATTENTION AND

IT COULD BE GOOD AND IT COULD BE

BAD IN THE WAY THAT, OH, IT'S

NEAR THE WATER.

IT CAN BE MADE MORE BEAUTIFUL.

AND WITH ALL THE DEVELOPMENT

THAT'S HAPPENING IN ROCKAWAY, I

THINK IT'S IMPORTANT TO BE

CAUTIOUS OF LIKE THE POTENTIAL

HARMS OF THAT IN DISPLACING

FAMILIES AND CAUSING

GENTRIFICATION.

I HAVE SEEN SOME CHANGES.

IT IS SCARY OR JUST SOMETHING

DIFFERENT IN THAT I'M NOT USED

TO.

BUT, YEAH, WE'LL SEE HOW IT

PLAYS OUT.

I HOPE THE CITY DOES TAKE AN

ACTIVE ROLE IN TAKING

ANTI-GENTRIFICATION MEASURES IN

HOUSING DEVELOPMENT.

>> METROFOCUS IS MADE POSSIBLE

BY SUE AND ED WAR WATTEN HIEM,

III, PROGRAMMING ENDOWMENT TO

FIGHT ANTI-SEMITISM, BARBARA

HOPE ZUCKERBERG, JODY AND JOHN

ARN HOLD, SHERYL AND PHILLIP

MILL STEEN FAMILY, BERNARD AND

DENISE SCHWARTZ, DR. ROBERT C.

AND TINA STONE FOUNDATION.