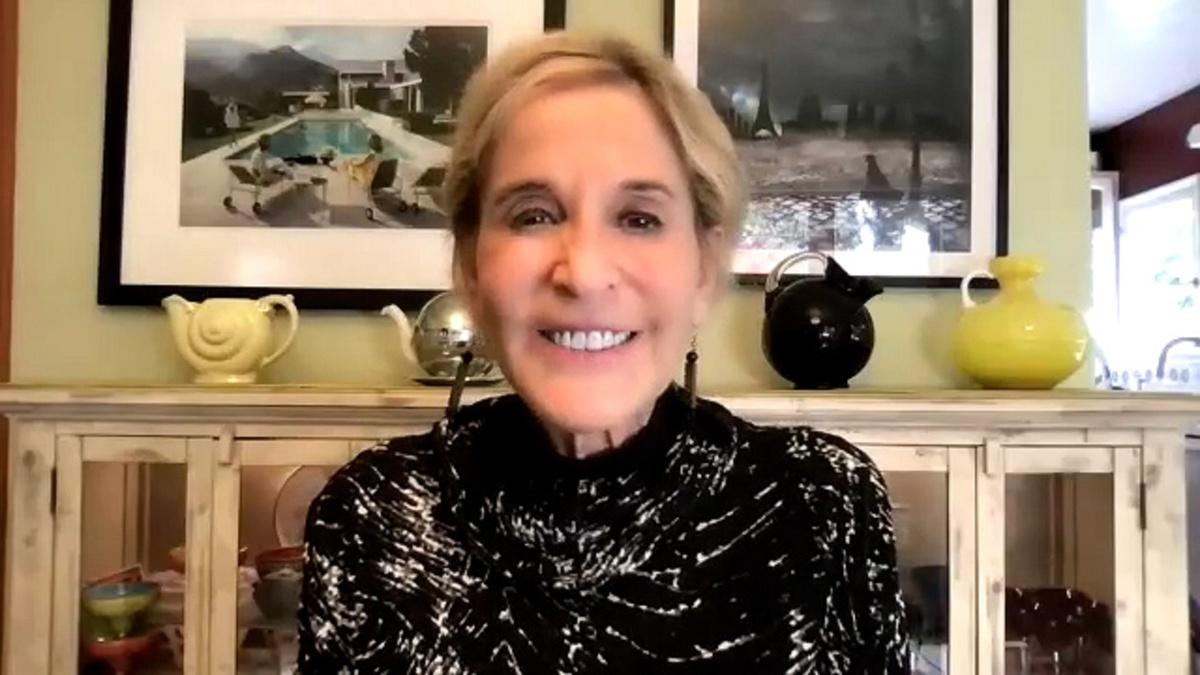 FULL EPISODE
MetroFocus: November 4, 2021
On October 21st Halyna Hutchins, a cinematographer working on the set of the film "Rust," was tragically shot and killed by actor Alec Baldwin after he fired a gun he'd been told was safe but actually contained live ammunition. Tonight we discuss the tragedy with award-winning NY cinematographer Nancy Schreiber. Plus, Emmanuel Acho previews his book "Uncomfortable Conversations with a Black Man."
TRANSCRIPT

♪

>>> THIS IS "METROFOCUS," WITH

RAFAEL PI ROMAN, JACK FORD AND

JENNA FLANAGAN.

>>> "METROFOCUS" IS MADE

POSSIBLE BY --

SUE AND EDGAR WACHENHEIM III,

SYLVIA A. AND SIMON B. POYTA

PROGRAMING ENDOWMENT TO FIGHT

ANTI-SEMITISM,

THE PETER G. PETERSON AND JOAN

GANZ COONEY FUND,

BERNARD AND DENISE SCHWARTZ,

BARBARA HOPE ZUCKERBERG,

THE AMBROSE MONELL FOUNDATION.

AND BY --

JANET PRINDLE SEIDLER,

JODY AND JOHN ARNHOLD,

CHERYL AND PHILIP MILSTEIN

FAMILY,

JUDY AND JOSH WESTON,

DR. ROBERT C. AND TINA SOHN

FOUNDATION,

THE JPB FOUNDATION.

>>> GOOD EVENING AND WELCOME TO

"METROFOCUS," I'M RAFAEL PI

ROMAN.

ON OCTOBER 21st, HALYNA

HUTCHINS, THE CINEMATOGRAPHER

WORKING ON THE SET OF THE

WESTERN FILM "RUST" WAS

TRAGICALLY SHOT AND KILLED BY

ACTOR ALEC BALDWIN WHEN HE FIRED

A REVOLVER WHEN HE TOLD WAS SAFE

BUT IN REALITY CONTAINED LIVE

AMMUNITION.

THE SITUATION IS CURRENTLY BEING

INVESTIGATED BY LOCAL

AUTHORITIES AND IT REMAINS

UNCLEAR HOW EXACTLY THIS LETHAL

MISTAKE OCCURRED.

THE SHOOTING HAT SENT SHOCKWAVES

THROUGHOUT THE ENTERTAINMENT

INDUSTRY WITH MANY LEFT

WONDERING HOW AN EVENT LIKE THIS

COULD HAVE HAPPENED AND IF THERE

ARE CURRENTLY ENOUGH SAFETY

PROTOCOLS IN PLACE TO PROTECT

CAST AND CREW MEMBERS.

THE SHOOTING TOOK PLACE JUST

DAYS AFTER THE UNION THAT

REPRESENTS MOST BELOW THE LINE

CREW MEMBERS AND THE STUDIOS

THAT EMPLOY THEM HAD REACHED A

TENTATIVE CONTRACT AGREEMENT

THAT MUST NOW BE RATIFIED BY

UNION MEMBERS.

AND JOINING US NOW TO DISCUSS

THE TRAGIC SHOOTING, HOW IT

HAPPENED AND WHAT MUST NOW

HAPPEN TO ENSURE THAT A SIMILAR

TRAGEDY DOES NOT OCCUR AGAIN IS

NANCY SCHREIBER.

SHE'S AN AWARD-WINNING

CINEMATOGRAPHER BASED IN NEW

YORK AND LOS ANGELES.

SHE WAS THE FOURTH WOMEN EVER

VOTED INTO THE AMERICAN SOCIETY

OF CINEMATOGRAPHERS AND SHE IS A

MEMBER OF LOCAL 600, LOCAL

CINEMATOGRAPHERS OF THE

INTERNATIONAL ALLIANCE OF

THEATRICAL STAGE EMPLOYEES.

NANCY, WELCOME TO THE PROGRAM.

SO NICE TO HAVE YOU HERE.

>> THANK YOU SO MUCH.

I REALLY APPRECIATE THIS.

>> AND I SHOULD SAY, NANCY, THAT

YOU'RE NOT ONLY A MEMBER, YOU

ARE A MEMBER OF THE UNION THAT I

HAD THE HONOR OF REPRESENTING

FOR TEN YEARS IN VARIOUS JOBS

AND I HAVE TO TELL OUR VIEWERS

THAT YOU ARE THE FIRST WOMAN

GAFFER IN THE UNION AND THE

FIRST WOMAN

DIRECTOR/PHOTOGRAPHER IN THAT

UNION, SO, PEOPLE KNOW YOU ARE A

TRAIL BLAZER.

AND A LEGEND, I HAVE TO SAY.

>> OH, MY.

THAT I HAVE STAYING POWER AND WE

CAN KEEP GOING NO MATTER

WHATEVER OUR AGE.

>> SO, LISTEN, LET ME START OF

WITH THIS.

YOU KNOW, WHEN I TALK TO PEOPLE

WHO ARE NOT IN THE FILM

BUSINESS, ABOUT WHAT HAPPENED TO

HALYNA, THEY ARE IN SHOCK THAT

SOMETHING LIKE THIS COULD HAPPEN

ON A PROFESSIONAL FILM SET

TODAY.

I WONDER IF YOU WERE SO SHOCKED

THAT THIS HAPPENED.

>> THE EMOTIONS ARE REALLY

COMPLEX.

YES, SHOCKED, ANGER, DISBELIEF

THAT IT REALLY HAPPENED,

ESPECIALLY BECAUSE ALEC BALDWIN

HAS BEEN AROUND A VERY LONG TIME

WITH VERY MANY GUNS ON SET, AS

HAVE I.

AND WHY WAS LIVE AMMUNITION EVEN

PERMITTED AND WE DON'T KNOW ALL

THE FACTS, BUT WHAT WE DO KNOW

IS THAT, YES, THERE WAS LIVE

AMMUNITION, YES THE FIRST A.D.

SAID HE DIDN'T THOROUGHLY CHECK.

THIS IS, NUMBER ONE, WHAT ALWAYS

HAPPENS ON EVERY SET I'VE EVER

BEEN ON WITH GUNS WITH BLANKS,

NEVER LIVE AMMUNITION.

24-YEAR-OLD ARMORER HAS GOTTEN A

LOT OF BLAME.

WHAT ABOUT THE PRODUCERS, THE

ACTUAL ON THE GROUND PRODUCERS,

NOT THE EXECUTIVE PRODUCERS LIKE

ALEC BALDWIN?

AND I THINK THAT WHAT WE'RE

GOING TO FIND OUT IS THAT IN THE

PAST, THERE WERE MANY ISSUES

WITH THE PRODUCERS, THE ARMORER

WAS QUITE YOUNG, BUT THERE HAS

BEEN PROBLEMS ON THE SET PRIOR.

THE FIRST A.D. HAD BEEN FIRED.

NOW, IT WAS AMAZING THAT ALL OF

THIS HAPPENED ON ONE PRODUCTION

AND ALSO SOME PEOPLE KNOW THAT

THE CAMERA DEPARTMENT, WHICH WAS

UNION, THE WHOLE TEAM WAS NOT,

BUT THEY DID WALK BECAUSE OF

CONDITIONS, NOT GETTING PAID,

NOT BEING PUT UP -- ACTUALLY,

THEY WERE PUT UP IN A MOTEL --

>> FAR AWAY.

FAR AWAY, WHICH MEANT THE

TRAVEL.

THEY HAD LESS REST TIME AS A

RESULT.

>> EXACTLY.

AND THAT IS THE ISSUE -- ONE OF

THE ISSUES WE HAVE BEEN FACING

WITH OUR UNION AND AS YOU SAID,

JUST DAYS BEFORE WE FINALLY HAVE

A TENTATIVE AGREEMENT THAT IS

STILL NOT VOTED ON --

>> AND I'LL ASK YOU ABOUT THAT.

BUT AMONG THE THINGS THAT ALEC

BALDWIN SAID IN A BRIEF

CONVERSATION THAT HE HAD WITH

REPORTERS WAS THAT THIS WAS A

WELL-OILED TEAM, CREW AND THAT

CATASTROPHES LIKE THIS SHOW THAT

NEW MEASURES S HAVE TO BE

IMPLEMENTED.

IT'S CLEAR THIS WASN'T A

WELL-OILED CREW.

AND FROM MY EXPERIENCE, FROM

YOUR EXPERIENCE, I KNOW, A FILM

LIKE THIS, YOU CAN TELL A MILE

AWAY, THAT IT'S NOT GOING TO BE

WELL-OILED, PARTICULARLY BECAUSE

OF THE PEOPLE THEY HIRE.

THEY HIRE THEM BECAUSE THEY'RE

KNOWN AS -- AS PEOPLE WHO CAN

MAKE LOW BUDGET FILMS WORK, LET

ME PUT IT KINDLY, AND NO IN

SPITE OF IT.

BUT IN ANY EVENT, IS IT REALLY

THE FACT THAT NEW MEASURES HAVE

TO BE IMPLEMENTED, OR SIMPLY

THAT THE MEASURES EXIST, THE

PROTOCOLS THAT EXIST HAVE TO BE

IMPLEMENTED?

>> I THINK WE STILL DON'T KNOW

WHAT WILL HAPPEN.

WE HAVE BEEN CIRCULATING A

PETITION TO KEEP WORKING GUNS,

WORKING FIREARMS, WITHOUT LIVE

AMMO, OFF THE SET.

YES, THERE ARE SAFER

ALTERNATIVES, THERE ARE GUNS

THAT LOOK ALMOST REAL AND

CERTAINLY THE EFFECTS HAVE BEEN

USED.

I WAS SPEAKING TO TO THE -- ONE

OF THE FX PEOPLE WAY BACK ON "IN

GLOR

"INGLORIOUS GBASTERDS" IN 2009.

THEY CAN DO THIS.

PEOPLE SAY, WE NEED THE REALITY

OF THE KICKBACK -- THERE ARE

WAYS THAT YOU CAN ADAPT GUNS.

SO, YES, WE HAVE REGULATIONS.

THE ARMORERS ARE EXTREMELY

CAREFUL, TRAINED, EVERY SET I'VE

EVER BEEN ON, NOT ONLY THE FIRST

A.D., BUT MYSELF AND MY

OPERATORS, WE ALL LOOKED AT

THESE GUNS TO MAKE SURE THERE'S

NOTHING IN CHAMBERS.

I DO HAVE TO SAY THAT WHEN WE

HAVE GUNS, LIVE GUNS, WELL, WITH

BLANKS, EVEN, IT DOES TAKE TIME.

WE'RE PUT TING THINGS IN FRONT F

OUR LENSES, THE SETUPS ARE MUCH

MORE RESTRICTIVE.

WE DIDN'T HAVE REAL GUNS, LIKE,

NO BLANKS AT ALL, WE COULD MOVE

THE CAMERA EASIER, CHEAPER FOR

THE EFFECTS, TO GET CLOSER TO AN

ACTOR.

THAT CAN ENHANCE THE REALITY OF

THE MOMENT.

SO -- I THINK IT'S GOING TO BE A

LONG DISCUSSION AND MANY

CINEMATOGRAPHERS HAVE SIGNED

THIS PETITION TO KEEP WORKING

FIREARMS OFF THE SET.

>> A LOT OF PEOPLE HAVE WONDERED

WHY THAT HASN'T HAPPENED

ALREADY, BUT THEY'RE NOT IN THE

BUSINESS AND THEY DON'T KNOW

HOW, YOU KNOW, TIGHT BUDGETS

SOMETIMES ARE AND THAT PLAYS

INTO IT.

>> AND SOME DIRECTORS FEEL THEY

WANT THE REALITY, BUT AS WE

KNOW, FILMS ARE BEING SHOT

EVERYWHERE IN THE WORLD AND, YOU

KNOW, I'VE SHOT LOS ANGELES FROM

NEW YORK, I'VE SHOT, YOU KNOW,

CANADA FOR SO MANY LOCATIONS, IS

THAT REAL?

YOU KNOW, IF YOU REALLY SLOW

DOWN AND LOOK, IT'S NOT REAL.

>> YEAH.

>> SO --

>> SO, NANCY, YOU KNOW, WHEN I

WAS WORKING ALL THOSE YEARS AGO,

THERE WERE VERY FEW WOMEN

DIRECTORS OF CINEMATOGRAPHER.

I LOOK AROUND, I DON'T SEE THAT

MANY WOMEN DIRECTORS OF

CINEMATOGRAPHY NOW.

AM I RIGHT?

AND IF I AM, HOW COME?

>> THERE ARE SO MANY MORE IN THE

LAST DECADE THAT HAVE BEEN ABLE

TO PROGRESS, ESPECIALLY IN

TELEVISION, IN EPISODIC AND MORE

RECENTLY IN FEATURE FILMS.

WHICH WAS THE LAST BASTION.

I UNDERSTAND WHY HALYNA DID NOT

WALK OFF THE SET, BECAUSE I HAD

BEEN THERE, NEVER IN AN UNSAFE

SITUATION, BUT IN LOW BUDGET

FILM MAKING, WHERE I FELT THERE

WERE ABUSES AND NEGATIVE ENERGY

DUE TO PERSONALITIES.

THIS WAS A BIG BREAK FOR HER,

YOU KNOW, ALEC BALDWIN AND A

WESTERN.

IT WASN'T SOME SMALL INDIE,

INTIMATE, YOU KNOW, TWO-PERSON

IN AN APARTMENT IN NEW YORK

FILM.

THIS WAS A BREAK FOR HER.

AND I GET WHY SHE DIDN'T WANT TO

LEAVE.

>> SHE PUT UP WITH A LOT, YEAH.

YOU KNOW, NANCY, GUN -- THE

PROBLEMS WITH GUNS, THAT'S NOT

THE ONLY SAFETY ISSUE ON A FILM

SET.

AS YOU KNOW, FILM SETS CAN BE

DANGEROUS.

THERE ARE A LOT OF MOVING PARTS,

THERE ARE A LOT OF HEAVY PARTS

THAT NEED EXPERT RIGGING.

AND MORE IMPORTANTLY, THERE ARE

A LOT OF EXPERTS ON THE SET WHO

ARE WORKING DAY AFTER DAY WITH

14-HOUR-PLUS DAYS WITH VERY

LITTLE REST.

AND THAT LEADS TO ACCIDENTS, I

REMEMBER, THAT YOU DON'T SEE IN

THE NEWSPAPERS EVERY DAY, BUT

THEY DO.

AS WE TALKED ABOUT, THE CONTRACT

HAS JUST BEEN NEGOTIATED WITH

THE PRODUCERS.

I DON'T KNOW IF YOU'VE SEEN THE

CONTRACT YET --

>> YEAH, FOR SURE.

>> HAVE SAFETY ISSUES BEEN AN

IMPORTANT PART OF THIS CONTRACT

AND DOES IT DEAL WITH IT WELL?

>> SAFETY ISSUES ARE VERY MUCH

APART OF THIS NEW CONTRACT.

IT'S UNFORTUNATE OUR PRESIDENT

OF LOCAL 600, JOHN LINLEY, WAS

THE DIRECTOR OF PHOTOGRAPHY ON

"PLEASANTVILLE" WHEN HIS FIRST

ASSISTANT BRETT HIRSCHMAN DIED

FALLING ASLEEP AT THE WHEEL.

THIS WAS A LONG TIME AGO.

AND EVEN AT THAT TIME, WE TRIED

TO GET OUR HOURS REDUCED.

A FILM LIKE "PLEASANTVILLE" AND

EVERY TELEVISION SERIES HAS

ENOUGH MONEY TO LET PEOPLE GET

THE REST THEY NEED SO THEY CAN

FUNCTION AND DO THE WORK THAT WE

ARE HIRED FOR.

SO, IT'S BEEN ON FOR A LONG TIME

AND THIS IS THE CLOSEST WE'VE

GOTTEN TO GUARANTEED TEN-HOUR

TURNAROUND, WHICH MEANS FROM

WRAP, YOU NEED TO BE ON SET TEN

HOURS AFTER.

MOST PEOPLE LIVE AN HOUR AWAY

AND THEY WILL HAVE TO COMMUTE,

SO IT'S REDUCED.

THE OTHER THING THAT HAPPENED,

AND THIS HAPPENED TO ME, I

HAPPENED TO WORK A LOT IN NEW

MEXICO, ACTUALLY, AND I WAS

DOING AN AMAZON PILOT IN THE

SPRING WITH COVID, WE WERE

TESTED EVERY DAY, EVEN THOUGH

EVERYONE WAS DOUBLE VAXED BY

THAT POINT, MASKED AND THINGS

SLOWED DOWN.

WE DID NOT STOP FOR MEAL BREAKS.

AND THAT IS ANOTHER ISSUE,

BECAUSE THERE'S CERTAIN

DEPARTMENTS, MY DEPARTMENT,

CAMERA, NO ONE CAN GO AND LEAVE

THE SET TO GO EAT --

>> THAT'S INCREDIBLE, YEAH.

>> RIGHT.

AND YES, IT WAS NICE TO FINISH

EARLY AND JUST GO TEN HOURS AND

FORTUNATELY, OUR PRODUCERS WERE

REALLY GOOD ABOUT OUR HOURS ON

THAT SHOW, BUT THERE ARE MANY

THAT JUST DON'T CARE AND THEY

WANT TO PUSH, PUSH, PUSH AND

ACCIDENTS WILL HAPPEN.

>> YEAH.

WE HAVE ABOUT 30 SECONDS LEFT,

THAT'S ALL AND I -- YOU KNOW,

THERE'S NO SILVER LINING OUT OF

THIS INCREDIBLE TRAGEDY,

HALYNA'S DEAD AND YOU CAN'T FIX

THAT.

BUT DO YOU HAVE A HOPE THAT

SOMETHING GOOD CAN COME OUT OF

IT IN THE LONG RUN THAT YOU, WHO

WORK IN THIS INDUSTRY, CAN BE

BETTER PROTECTED?

15 SECONDS.

>> I HOPE SO.

THE CORPORATIONS THAT ARE

PRODUCING, NEGOTIATING PARTNERS

ARE AMAZON AND NETFLIX AND

AMAZON AND APPLE, THEY ARE NOT

PRODUCERS, SO, WE HAVE A LONG

WAY TO GO FOR FILM MAKING TO BE

CONSIDERED AN IMPORTANT ART.

>> WE'RE GOING TO HAVE TO END IT

THERE.

THANK YOU SO MUCH FOR JOINING US

TODAY.

>>> GOOD EVENING AND WELCOME TO

"METROFOCUS," I'M JACK FORD.

DURING THIS EXTRAORDINARY PERIOD

OF SOCIAL AND POLITICAL TURMOIL,

WE'VE COME TO REALIZE THAT ONE

OF THE THINGS WE DESPERATELY

NEED IS MEANINGFUL CONVERSATION.

A COMMODITY THAT HAS BEEN SCARCE

UP UNTIL NOW, BUT WE ARE

FORTUNATE THAT ONE MAN HAS

STEPPED FORWARD.

MANUEL ACHO HAS USED HIS STATUS

AS A FORMER FOOTBALL STAR,

UNIVERSITY OF TEXAS, IN THE NFL,

TO CREATE A PLATFORM FOR

CONVERSATIONS THAT ARE

MEANINGFUL, THAT ARE REAL, THAT

ARE RELEVANT AND PERHAPS, MOST

IMPORTANT, THAT ARE DIFFICULT.

AND HE JOINS US NOW TO TALK

ABOUT HIS NEW BOOK, HIS BOOK HAS

BORROWED, IF I CAN, THE TITLE

FROM HIS ENORMOUSLY SUCCESSFUL

VIDEO SERIES.

AND THE BOOK IS ENTITLED

"UNCOMFORTABLE CONVERSATIONS

WITH A BLACK MAN."

AND EMANUEL JOINS US AS PART OF

OUR "CHASING THE DREAM"

INITIATIVE ON POVERTY, JUSTICE

AND ECONOMIC OPPORTUNITY IN

AMERICA.

EMANUEL, WELCOME.

THANK YOU FOR JOINING US.

>> JACK, THE PLEASURE IS MINE

AND THANK YOU FOR THE KIND

INTRODUCTION, MY FRIEND.

>> I HAVE TO SAY, I READ THE

BOOK YESTERDAY, IT WAS FABULOUS.

IT WAS ALL OF THOSE THINGS THAT

I MENTIONED.

BUT I THOUGHT, AS IMPORTANT, IT

WAS AS IF -- AS I WAS READING

THE BOOK, I WAS ACTUALLY HAVING

A CONVERSATION WITH YOU.

YOU KNOW, DIFFERENT BOOKS ARE

WRITTEN IN DIFFERENT FASHIONS

AND I SUSPECT THAT'S WHAT YOU

WANTED.

I WANT TO GET TO THE BOOK IN A

SECOND, BUT I THINK FOR PEOPLE

TO UNDERSTAND WHERE THIS BOOK IS

COMING FROM, I THINK WE NEED TO

KNOW A LITTLE BIT MORE ABOUT

YOU.

AND I WAS STRUCK BY THE FACT,

AGAIN, I MENTIONED YOUR

EXTRAORDINARY FOOTBALL SUCCESS,

BUT I WAS STRUCK BY THE FACT

THAT IN YOUR BOOK, YOU SAY THIS,

EARLY ON, YOU SAY, YOUR WORDS,

"I'VE BEEN NAVIGATING THE LANES

BETWEEN WHITENESS AND BLACKNESS

ALL OF MY LIFE."

WHAT DO YOU MEAN BY THAT?

>> SO, JACK, IF WE CAN START

THIS OFF BY BEING UNCOMFORTABLE,

I'VE REALIZED THAT THERE'S A

DIFFERENCE BETWEEN COLOR AND

CULTURE.

SO, JACK, I WENT TO AN AFFLUENT,

WHITE PRIVATE SCHOOL FROM GRADES

5 THROUGH GRADE 12.

YOU ARE SUPPOSED TO BE A

NATIONAL MERIT SCHOLAR, GO TO

HARVARD, GO TO YALE.

I WAS 6'4", 240 POUNDS.

YOU KNOW WHAT, I'LL PLAY

FOOTBALL.

LET ME PUT THIS IN CON TICKET.

THERE WERE PERFECT S.A.T. SCORES

FROM STUDENTS IN MY HIGH SCHOOL

CLASS.

THERE WERE 16-YEAR-OLDS WHO WERE

ALREADY COMPOSING MUSIC FOR

VIOLINS AND CELLO.

LIKE, I WAS AT A SCHOOL WITH THE

CREAM OF THE CROP.

IT'S CALLED ST. MARK'S SCHOOL IN

TEXAS, NUMBER ONE PRIVATE SCHOOL

IN DALLAS.

SO, I WAS IMMERSED IN WHITE

CULTURE, JACK.

THEN I GO TO THE UNIVERSITY OF

TEXAS PLAYING FOOTBALL IN

AUSTIN, THEN GO TO THE NFL, I

WAS IMMERSED IN BLACK CULTURE,

BUT I'M FIRST GENERATION

AMERICAN.

MY PARENTS WERE BORN IN NIGERIA,

SO, WHILE MY SKIN IS BLACK, I

GREW UP NIGERIAN CULTURE, SO, I

HAD TO LEARN WHITE CULTURE.

AND THEN I HAD TO LEARN BLACK

CULTURE.

SO, I HAD TO NAVIGATE WHITE

SPACES AND I HAD TO NAVIGATE

BLACK SPACES.

THAT'S WHY I CAN HAVE THESE

CONVERSATIONS BECAUSE WHILE WE

ALL SPEAK ENGLISH, JACK.

THERE IS A CLEAR, LARGE

COMMUNICATION BARRIER BETWEEN

WHITE PEOPLE AND HOW THEY

COMMUNICATE TO BLACK PEOPLE AND

HOW THEY COMMUNICATE.

>> I SHOULD NOTE, BY THE WAY, I

PLAYED FOOTBALL AT YALE AND I

WOULD HAVE LOVED TO HAVE YOU

COME UP TO NEW HAVEN TO PLAY FOR

THE YALE BULLDOGS, BUT -- OUR

LOSS AND THE LONGHORNS' GAIN.

LET ME GO WITH THE TITLE OF THE

BOOK, BECAUSE I THINK TITLES ARE

SO INTERESTING AND SO IMPORTANT

AND THEY ARE SO DIFFICULT TO

COME UP WITH, OFTENTIMES.

I KNOW YOU HAD A WORKING TITLE

THAT WAS DIFFERENT FROM THIS.

WHY IS THE NOTION OF

UNCOMFORTABLE CONVERSATIONS SO

IMPORTANT?

>> BECAUSE I THINK THAT ANYTHING

WORTH DOING, IT IS THROUGH

DISCOMFORT.

ANYTHING GREAT, JACK -- AND

PLAYING FOOTBALL, IN ORDER TO

START THE SEASON, YOU HAVE TO GO

THROUGH TRAINING CAMP.

AND TRAINING CAMP, FOR THOSE

THAT ARE WATCHING AND DON'T KNOW

WHAT THAT IS, TRAINING CAMP IS

GRUELING PRACTICES IN THE TEXAS

HEAT, FOR ME, WITH ABOUT 12

POUNDS OF PADDING ON.

YOU HAVE TO GO THROUGH THAT

DISCOMFORT TO ACHIEVE YOUR GOAL.

WOMEN GO THROUGH NO SMALL AMOUNT

OF DISCOMFORT AND PAIN TO BIRTH

THE NEXT GREAT CHILD THAT WILL

ACCOMPLISH THE NEXT GREAT THING.

I THINK, JACK, IF WE WANT TO DO

ANYTHING SIGNIFICANT IN OUR

COUNTRY, WHICH IS MEND THE

DIVIDE OF RACISM, WHICH IS

BRIDGE THE GAPS AND LEAD TO

RACIAL RECONCILIATION, IT WILL

HAVE TO BE UNCOMFORTABLE.

>> THE STRUCTURE OF THE BOOK, I

THINK, IS VERY INTERESTING AND

VERY COMPELLING.

DIFFERENT SUBJECTS ARE TREATED

IN EACH ONE.

SUCH AS, WHAT SHOULD YOU CALL

US?

YOU KNOW, AND YOU HAVE THIS --

THE WHOLE -- WHERE YOU LOOK

ABOUT BACK IN HISTORY, YOU LOOK

AT COLORED AND NEGRO AND

AFRICAN-AMERICAN AND BLACK AND

YOU FOCUS ON ALL OF THOSE.

YOU TALK ABOUT HOW YOU CAN BE AN

ALLY.

YOU CAN TALK ABOUT HOW YOU HAVE

CONVERSATIONS.

IN TERMS OF STRUCTURE, EACH

CHAPTER STARTS WITH A QUESTION

AND IT'S SO INTERESTING TO SEE

THOSE QUESTIONS, BECAUSE THEY'RE

NOT -- THEY'RE NOT REALLY YOUR

QUESTIONS.

WHERE DO THE QUESTIONS COME

FROM?

>> GREAT QUESTION.

AFTER THE FIRST EPISODE, JACK, I

GOT 25 MILLION VIEWS IN ABOUT

FOUR DAYS.

AND I WAS, LIKE, I DON'T KNOW

WHAT TO DO, BUT THE HEART OF THE

SHOW WAS TO TALK TO PEOPLE, SO I

READ EVERY SINGLE EMAIL,

PROBABLY 1,300 EMAILS IN THE

FIRST FOUR DAYS AND I WOULD FLAG

EMAILS OF QUESTIONS THAT I

WANTED TO GET TO IN MORE DETAIL.

SO, EVERY QUESTION THAT YOU SEE

IN MY BOOK WHICH STARTS EVERY

CHAPTER COMES FROM A REAL

PERSON, A GENUINE SPACE AND

SINCERITY AND I FLAGGED THESE

QUESTIONS FROM WAY BACK WHEN AND

I HAD TRIED TO FIND DUPLICATING

THEMES.

SO, I START EVERY CHAPTER WITH

REAL QUESTIONS FROM REAL PEOPLE.

>> ONCE AGAIN, TALKING WITH

EMANUEL ACHO, WHO AMONG OTHER

ACCOMPLISHMENTS IN HIS LIFE IS

THE AUTHOR OF THE NEW BOOK

TITLED "UNCOMFORTABLE

CONVERSATIONS WITH A BLACK MAN."

LET ME ASK YOU ABOUT SOME

SPECIFICS HERE.

AND EACH OF THESE CHAPTERS ARE

JUST SO COMPELLING.

I WANT TO TOUCH BASE ON A COUPLE

OF THEM HERE.

IN ONE OF THEM, YOU TALK ABOUT

THE FACT -- AND PEOPLE MAY FIND

THIS ODD -- YOU TALKED ABOUT THE

FACT THAT WE SHOULD STOP

CELEBRATING COLOR BLINDNESS.

MOST PEOPLE, IF YOU ASK THEM,

THEY WOULD THINK, IF THEY WOULD

SAY THEY ARE COLOR BLIND, THAT

WOULD BE SOMETHING THAT WOULD BE

A POSITIVE.

BUT YOU'RE SAYING THAT'S NOT

NECESSARILY WHAT WE SHOULD BE

DOING.

WHY NOT AND WHAT SHOULD WE BE

DOING?

>> AH, BECAUSE THERE'S A

DIFFERENCE BETWEEN INTENTION AND

DIRECTION.

THE INTENTION BEHIND BEING COLOR

BLIND IS PURE.

IT'S TRYING TO SAY THAT, I TREAT

ALL PEOPLE EQUALLY, BECAUSE I'M

COLOR BLIND.

WHEN, IN FACT, WHAT WE SHOULD BE

DOING IS SEEING EACH OTHER'S

COLORS, CULTURES AND

APPRECIATING THEM NONETHELESS.

JACK, IMAGINE HOW SILLY IT WOULD

BE IF I WALKED OUTSIDE AFTER AN

OVERCAST DAY AND YOU WERE LIKE,

OH, EMANUEL, LOOK AT THAT

RAINBOW.

WELL, JACK, I CAN'T SEE THE

RAINBOW, I'M COLOR BLIND.

THAT'S SO SILLY.

WHEN YOU DON'T SEE COLOR, YOU

DON'T SEE THE BEAUTY THAT COMES

WITH THAT.

THERE'S A BEAUTY THAT COMES WITH

MY COLOR BEING BLACK AND BEING

BROWN AND THERE'S A BEAUTY THAT

COMES WITH MY CULTURE.

I DON'T ASK YOU NOT TO SEE IT,

BECAUSE THAT WOULD BE TO NOT SEE

ME.

EVERY ATTRIBUTE THAT DESCRIBES

ME, MY HEIGHT, MY WEIGHT,

WHATEVER THE CASE MAY BE, BUT

SEE THE BEAUTY THAT IS IN THAT.

SO, DON'T BE COLOR BLIND.

SEE COLOR AND APPRECIATE COLOR.

>> YOU ALSO TALK ABOUT, IN ONE

OF THE CHAPTERS, ONE OF THE

CHAPTERS IS CAPTIONED, "HOW TO

BE AN ALLY."

WHAT DO YOU MEAN BY THAT?

>> AGAIN, I SAY, INTENTION

WITHOUT DIRECTION IS

MEANINGLESS.

JACK, SO MANY PEOPLE, AFTER THE

MURDER OF GEORGE FLOYD, THEY

MESSAGED ME, THEY SAY, EMANUEL

I WANT TO HELP.

EMANUEL, I'M HERE FOR YOU,

EMANUEL, WHAT CAN I DO?

SEE, JACK, THEY WANTED TO BE AN

ALLY, BUT THEY DIDN'T KNOW HOW

TO BE AN ALLY.

AND I WANTED TO EDUCATE MY WHITE

BROTHERS AND SISTERS AND ALL

THOSE WHO WANT TO GET INTO THIS

FIGHT FOR EQUALITY, WHICH WILL

GREATLY IMPROVE THIS GREAT

NATION.

I WANT TO EDUCATE THEM ON THE

HOW TO BE.

YOU GOT TO SHOW UP DECISIVELY,

PROMPTLY AND YOU HAVE TO BE

ACCURATE IN YOUR SPEECH WHEN YOU

DO SHOW UP.

SO, IT'S NOT ENOUGH TO WANT TO

BE AN ALLY, A LOT OF PEOPLE HAVE

GREAT INTENTIONS.

WHAT ARE YOU DOING WITH THOSE

INTENTIONS?

>> I MENTIONED IN THE

INTRODUCTION THAT YOU HAD

STARTED THIS VIDEO SERIES

SHORTLY AFTER THAT TRAGIC AND

HORRIFIC DEATH OF GEORGE FLOYD.

AND HOW THIS -- THE BOOK HAS

FLOWN, IF YOU WILL, FROM THAT.

LET ME GO BACK TO THE VIDEO

SERIES AND ASK YOU, THERE ARE A

LOT OF THINGS YOU'RE DOING.

YOU ARE A HOST AND AN ANALYST

WITH FOX SPORTS, YOU DO MANY

THINGS.

WHAT MADE YOU SAY, THIS IS WHAT

I HAVE TO DO NOW, RIGHT TIME AND

PLACE TO CREATE THESE VIDEOS AND

HAVE THE UNCOMFORTABLE

CONVERSATIONS.

>> I THINK IT WAS MY FORM OF

GRIEF.

I THINK -- I'VE NEVER SAID THAT

BEFORE, BUT NOW THAT, FOR THE

FIRST TIME, I'VE -- IT'S DAWNED

ON ME JUST NOW THAT EVERY --

SOME PEOPLE WERE CRYING, SOME

PEOPLE WERE SCREAMING, SOME

PEOPLE WERE QUIET, SOME PEOPLE

WERE DISTRAUGHT.

I WAS A LITTLE BIT OF ALL OF

THOSE THINGS.

BUT I KNEW I HAD TO SPEAK.

I HAD TO GET MY FEELINGS OUT

THERE.

JACK, I'M NOT THE TYPE OF PERSON

WHO LIKES TO COMPLAIN, WHETHER

IT IS JUSTIFIED AND DO NOTHING

ABOUT IT.

AND SO WHILE SO MANY OF MY BLACK

BROTHERS AND SISTERS WERE

JUSTIFIABLY MARCHING AND

PROTESTING AND SEEKING JUSTICE

IN DIFFERENT FORMS, I REALIZED

THAT MY VOICE IS MY SWORD.

AND SO, I'M GOING TO FIGHT FOR

JUSTICE THE WAY I KNOW HOW.

>> WERE YOU SURPRISED BY THAT

EXTRAORDINARY REACTION, AS YOU

SAID, MILLIONS OF YOUTH.

RIGHT NOW, I THINK LAST TIME I

LOOKED, IT WAS MORE THAN 70

MILLION VIEWS OF THIS.

AND AGAIN, IF YOU WATCH IT, YOU

MAKE CERTAIN TO BRING ON PEOPLE

AND CONVERSATIONS THAT ARE

UNCOMFORTABLE.

WERE YOU SURPRISED AT SUCH A

POSITIVE REACTION TO IT?

>> YEAH.

YOU CAN'T NOT BE SURPRISED WHEN

ONE EPISODE OF JUST ME SITTING

IN AN ALL-WHITE ROOM GETS 25

MILLION VIEWS IN FOUR DAYS.

PUT THIS IN CONTEXT.

I PLAYED IN THE NFL, BUT I

WASN'T, LIKE, A HALL OF FAMER.

IT'S NOT LIKE I'M MICHAEL

STRAHAN, LIKE, LET'S MAKE NO

MISTAKE ABOUT THAT.

LET'S CATEGORIZE ME PROPERLY IN

MY NFL CAREER.

WHILE I KNEW IT WAS A GREAT

CONCEPT, I DIDN'T KNOW THE

RECEPTION WOULD BE SO RADICAL.

I DIDN'T KNOW THAT I WOULD GET

CALLS FROM PEOPLE LIKE MATTHEW

McCONAUGHEY WITH NO CALLER I.

NU

D. NUMBERS, THAT OPRAH WOULD

CALL ME, THAT THE COMMISSIONER

OF THE NFL COULD CALL ME, I HAD

NO IDEA IT WOULD LEAD TO THIS.

>> LAST QUESTION FOR YOU.

AND AGAIN, IT'S SOMETHING THAT

YOU SAY IN THE BOOK THAT STRUCK

ME, AND YOU SAID THAT -- THIS

MIGHT BE SURPRISING FOR PEOPLE.

YOU SAY ENDING RACISM IS NOT A

FINISH LINE, RIGHT?

RATHER, IT'S A ROAD WE'LL

TRAVEL.

WHAT DO YOU MEAN BY THAT?

>> YEAH.

IN SPORTS, YOU HAVE AN OBJECTIVE

TO SCORE A TOUCHDOWN IN

FOOTBALL.

YOU CROSS THE THICK, WHITE LINE,

YOU SCORE A TOUCHDOWN, YOU'RE

GOOD.

IN SOCCER, YOU CROSS THE

THRESHOLD, GOAL.

IN TRACK AND FIELD, YOU CROSS

THE 100-METER MARKER, THE FINISH

LINE, YOU KNOW THERE IS AN END

POINT.

BUT I REALIZE WITH RACIAL

RECONCILIATION, JACK, THERE

ISN'T SOME SORT OF END POINT

THAT WE KNOW WE WILL GET TO.

SO, WE MUST CONTINUE TO TRAVEL

THE ROAD TOGETHER.

WE WON'T LOOK UP IN 30 DAYS FROM

NOW AND SAY, WE DID IT!

WE SOLVED RACISM!

THAT'S NOT GOING TO HAPPEN.

BUT WHAT WE CAN LOOK UP AND SAY

IS, WE'RE DOING IT.

WE'RE SOLVING IT TOGETHER.

>> WE'RE ON THAT ROAD, RIGHT?

ONCE AGAIN, THE BOOK IS TITLED

"UNCOMFORTABLE CONVERSATIONS

WITH A BLACK MAN."

EMANUEL ACHO, IT IS A MARVELOUS

BOOK, IT IS SUCH AN IMPORTANT

AND THOUGHTFUL AND COMPELLING

DIRECTION FOR US TO FOLLOW.

AS HAVE BEEN YOUR VIDEO SERIES.

SO, EMANUEL, PLEASURE, MAN.

BE WELL AND THANK YOU SO MUCH.

LOOK FORWARD TO TALKING AGAIN

WITH YOU.

>>> "METROFOCUS" IS MADE

POSSIBLE BY --

SUE AND EDGAR WACHENHEIM III,

SYLVIA A. AND SIMON B. POYTA

PROGRAMING ENDOWMENT TO FIGHT

ANTI-SEMITISM,

THE PETER G. PETERSON AND JOAN

GANZ COONEY FUND,

BERNARD AND DENISE SCHWARTZ,

BARBARA HOPE ZUCKERBERG,

THE AMBROSE MONELL FOUNDATION.

AND BY --

JANET PRINDLE SEIDLER,

JODY AND JOHN ARNHOLD,

CHERYL AND PHILIP MILSTEIN

FAMILY,

JUDY AND JOSH WESTON,

DR. ROBERT C. AND TINA SOHN

FOUNDATION,

THE JPB FOUNDATION.