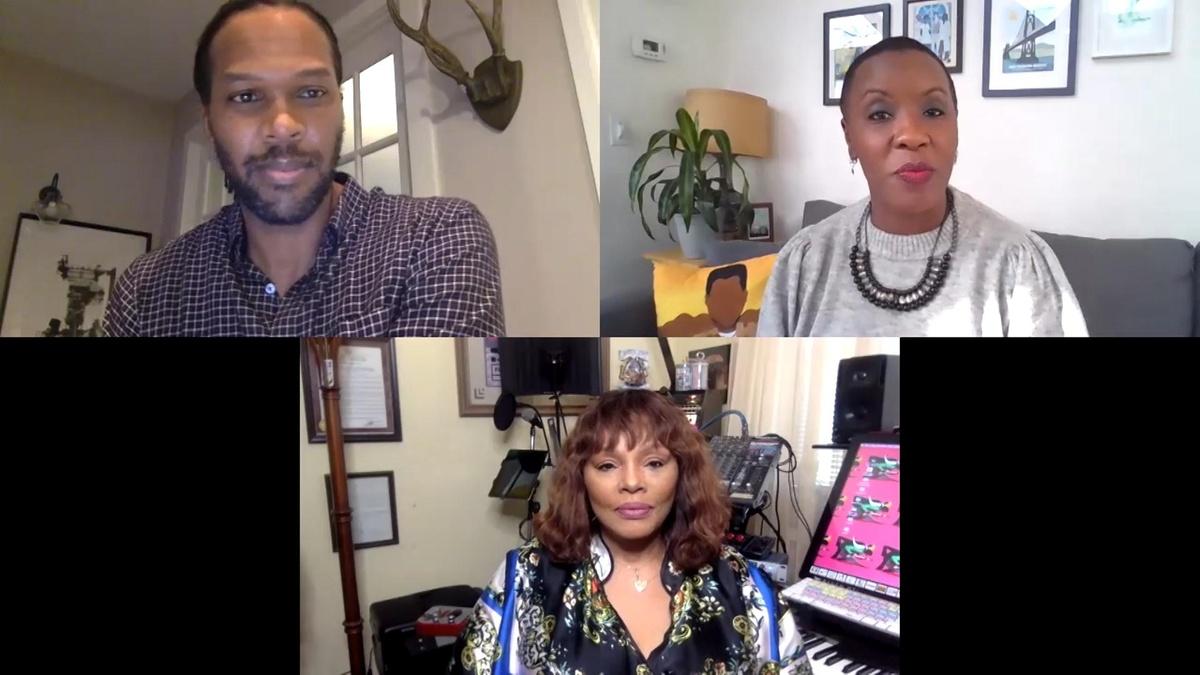 FULL EPISODE
MetroFocus: November 19, 2020
New EPIX docuseries "By Whatever Means Necessary: The Times Of Godfather Harlem" brings to life the excitement of 1960s Harlem and introduces the artists who dared to use their voices, instruments, and lyrics to take a stand against systemic injustice. Also, Muhammad Ali's daughter, Hana Ali shares the intimate side of growing up with "the greatest."
TRANSCRIPT

>>> THIS IS "METROFOCUS" WITH

RAFAEL PI ROMAN, JACK FORD, AND

JENNA FLANAGAN.

"METROFOCUS" IS MADE POSSIBLE BY

SUE AND EDGAR WACHENHEIM III,

SYLVIA A. AND SIMON B. POYTA

PROGRAMMING ENDOWMENT TO FIGHT

ANTI-SEMITISM, BERNARD AND

DENISE SCHWARTZ, BARBARA HOPE

ZUCKERBERG, AND BY JANET PRINDLE

SEIDLER, JODY AND JOHN ARNHOLD,

CHERYL AND PHILIP MILSTEIN

FAMILY, JUDY AND JOSH WESTON,

DR. ROBERT C. AND TINA SOHN

FOUNDATION.

>>> HI, I'M JENNA FLANAGAN.

WHEN EPIC PREMIERED THE DRAMA -

IN 2017, IT NOT ONLY TOLD THE

STORY OF ELLIS WORTH BUMPY

JOHNSON.

IT PORTRAYED A COMMUNITY PUSHING

FOR SOCIAL CHANGE.

AMERICA'S MOST FAMOUS BLACK

NEIGHBORHOOD IS KNOWN FOR ITS

INNOVATIVE, PROVACATIVE AND

GROUND BRACKING SOCIAL SCENE.

IT'S FRONT AND CENTER IN A NEW

DOCUMENTARY SERIES ON EPIC.

TAKE A LOOK.

>> IN HARLEM AND IN THAT TIME,

THINGS WERE COMING TO A HEAD.

>> MUSIC BECAME A GUIDING FORCE.

>> IT GAIFS A SENSE OF

COMMUNITY.

>> WE STARTED A REVOLUTION.

>> THERE WAS A TRANSITION

HAPPENING.

>> WHEN YOU LOOK AT HARLEM, THE

PEOPLE, THEY WERE TRYING TO BE

TREATED WITH RESPECT.

THE ONLY THING EVERYONE AGREED

ON, IT WAS TIME FOR REAL CHANGE.

>> THAT WAS JUST A CLIP OF SOME

OF THE FOUR-PART DOCU-SERIES "BY

WHATEVER MEANS NECESSARY, THE

TIMES OF THE GODFATHER OF

HARLEM."

I'D LIKE TO WELCOME SERIES

DIRECTOR AND EXECUTIVE PRODUCER

KEITH McCOURTER.

WELCOME TO THE PROGRAM.

>> THANK YOU FOR HAVING ME.

>> AND MUSICIAN AND VOCALIST

ROBIN CLARK ALSO FEATURED IN THE

SERIES.

ROBIN, WELCOME.

>> THANK YOU.

IT'S A PLEASURE BEING HERE.

>> I'M GLAD TO HAVE YOU BOTH ON.

KEITH, I WANT TO START WITH YOU

AND ASK HOW DID THIS DOCUMENTARY

COME TOGETHER?

THE GOD FATHER OF HARLEM IS AN

IMPRESSIVE SERIES ON ITS OWN,

BUT WHAT WAS THE INSPIRATION FOR

THIS DOCUMENTARY SERIES?

>> I HAD A CONVERSATION WITH THE

PRODUCERS OF THE SCRIPTED

SERIES, AND THEY HAD CREATED A

REALLY EXCITED FAN BASE FOR THE

SERIES, AND THEY WERE GOING INTO

THEIR SECOND SEASON.

THEY WANTED TO KEEP THE FANS

FROM THE WORLD OF HARLEM.

I PITCHED THE IDEA OF DOING A

DOCUMENTARY SERIES AND EXPLORING

THE CULTURE AND POLITICS OF THE

MUSIC AS A WAY TO TAKE A DEEP

DIVE INTO THAT TIME PERIOD.

THAT'S KIND OF HOW IT A ALL CAME

TOGETHER AND CAME ABOUT.

>> OKAY.

AND WHAT STRUCK ME THE MOST WAS

THE FRONT AND CENTER LINK

BETWEEN MUSIC AND, IF YOU WILL,

POPULAR OR POP CULTURE WHICH CAN

SOMETIMES BE DISMISSED AS

FRIVOLOUS AND THE ROLE THAT THAT

PLAYED IN CREATING THE SPACE FOR

SOCIAL CHANGE.

WHY WAS THAT PLACED SO FRONT AND

CENTER IN THIS DOCU-SERIES?

>> BECAUSE THERE IS SO MUCH TO

LOOK AT WHEN IT COMES TO THE

MUSIC AND POLITICS, NOT ONLY IN

THE 1960s, BUT TODAY, WHAT'S

GOING ON TODAY.

SO 2020 HAS BEEN A YEAR OF

CHANGE AND A YEAR -- EYE OPENING

YEAR FOR SO MANY PEOPLE ACROSS

THE COUNTRY AND THE WORLD.

AND SO TAKING A LOOK AT 1960 AS

A PARALLEL WAS AN AWESOME

OPPORTUNITY.

SO WHAT WE FOUND WAS, FOR

INSTANCE, T"THE TWIST" BY CHUBB

CHECKER IS AN INNOCENT POP SONG

THAT YOU CAN DANCE TO AND IS

FUN.

BUT THERE WAS REAL MESSAGE IN

THAT SONG.

IT BROUGHT BLACK CULTURE INTO

WHITE HOUSEHOLDS FOR THE FIRST

TIME, AND THE WHITE TEENAGERS

TOOK ON THIS DANCE CRAZE AND IT

WAS UNSTOPPABLE.

SO JAMAL JOSEPH, WHO WE

INTERVIEW IN OUR SERIES, A

PROFESSOR AT COLUMBIA AND BLACK

PANTHER IN THE '60s QUOTED

ELDRIDGE CLEAVER AND SAID THE AT

WHICH TIME DID MORE THAN LAW,

POLITICS AND RELIGION COULD EVER

DO.

THAT'S ONE EXAMPLE OF HOW POP

CULTURE IS SO INTEGRATED INTO

OUR EVERYDAY LIVES THAT WE TAKE

FOR GRANTED OFTENTIMES.

>> AGAIN, THAT'S WHAT I FOUND TO

BE SO UNIQUELY INTERESTING ABOUT

THIS, THAT DOESN'T SEEM TO BE A

NARRATIVE THAT WE REALLY FULLY

EXPLORE.

BUT, ROBIN, I WANT TO TURN TO

YOU AND ASK, FIRST OFF, HOW DID

YOU GET INVOLVED WITH THIS

PROJECT?

>> WE GOT A PHONE CALL FROM ONE

OF THE PRODUCERS OF THE SHOW,

AND I WAS ASKED TO DO IT.

MY HUSBAND WAS ACTUALLY ASKED TO

DO IT.

AND I STARTED TALKING IN THE

BACKGROUND, AND THE PERSON SAID

CAN I SPEAK WITH YOUR WIFE AS

WELL.

THAT'S WHY I'M HERE.

THAT'S HOW I GOT HERE.

>> THEN, GIVEN YOUR PERSPECTIVE,

I'M WONDERING IF THROUGH YOUR

PARTICIPATION IN THIS, AND EVEN

SOME OF THE POINTS THAT KEITH

WAS MAKING, DID IT CHANGE THE

WAY THAT YOU LOOKED AT THE ROLE

YOUR CAREER PLAYED IN A LARGER

MOVEMENT, OR DID IT SORT OF

REENFORCE SOMETHING THAT YOU

ALREADY KNEW BUT WAS BEING

BETTER EXPLAINED TO A LARGER

AUDIENCE?

>> I THINK IT REINFORCED

SOMETHING I ALREADY KNEW.

I STARTED IN A GROUP NAMED

LISTEN MY BROTHER WITH LUTHER

VANDROSS AT THE APOLLO

THEATERMENT WE WERE TEENAGERS IN

HIGH SCHOOL.

IT WAS A REPERTOIRE COMPANY THAT

TALKED ABOUT THE TIMES.

WE SANG SONGS ABOUT THE TIME WE

WERE LIVING IN.

SO THEY WERE SONGS OF

EMPOWERMENT.

WE WERE EMPOWERED AT AN EARLY

AGE.

THE MOVEMENT WAS STARTING TO

HAPPEN.

WE WERE TERRIFIED, BUT WE WERE

ENGAGED AT THE SAME TIME, AND

BECAUSE OF THAT APOLLO THEATER

AND THE SONGS AND THE REPERTORY

THAT WE DID, IT REALLY GOT US IN

TOUCH WITH OURSELVES AND OUR

CULTURE AND OUR BLACKNESS.

FOR THE FIRST TIME IN OUR LIVES,

NOT BE AFRAID TO SAY I AM BLACK

AND I AM PROUD.

UNTIL THEN YOU DIDN'T HEAR A LOT

OF "I'M BLACK AND I'M PROUD."

SO WE WERE REINFORCED, I WAS

REINFORCED AS A TEENAGER IN THE

UNDERSTANDING THAT I COULD DO

SOMETHING FOR MY CULTURE AND I

COULD DO IT THROUGH MUSIC

BECAUSE THAT'S WHERE I WOULD GO.

WE HAD BEEN EMPOWERED AT THAT

POINT IN TIME IN OUR LIVES.

I WOULD SAY 17, 18, 16, 18 YEARS

OLD.

IT JUST REINFORCED WHAT I --

WHERE I STARTED AND WHAT I KNEW.

>> ABSOLUTELY.

THE NOTION, I THINK, OF BEING

THAT KID SOMETIMES CAN AGAIN BE

SOMETHING THAT'S EASILY

DISMISSED.

BUT IF YOU LOOK THROUGH OUT

HISTORY, IT'S FREQUENTLY YOUNG

PEOPLE WHERE THESE YOUNG SOCIAL

MOVEMENTS GERMINATE.

KEITH, I WAS WONDERING IF YOU

COULD TALK, ALSO, ABOUT THE

PERSPECTIVE OF THE DOCUMENTARY.

THE THEORY, OF COURSE, IS TOLD

FROM VERY MUCH BUMPY'S POINT OF

VIEW, WITHOUT GIVING AWAY TOO

MUCH, BUT COMING OUT OF JAIL

FROM BEING LOCKED UP FOR ABOUT

TEN YEARS INTO A TRANSFORMED

HARLEM IN THE 1960s.

SO MANY GANGSTER MOVIES, FOR

LACK OF A BETTER DESCRIPTION OR

SERIES, ARE OFTEN MARKED BY

THEIR SOUND TRACK.

I'M WONDERING IF THE SOUND TRACK

OF THE MOVEMENT WAS AS IMPORTANT

IN TELLING THE STORY.

>> 100%.

I THINK WHEN YOU LOOK AT "THE

GODFATHER OF HARLEM," AND BUMPY

JOHNSON'S STORY, LIKE YOU SAID,

ABOUT THE CRIMINAL UNDERWORLD OF

THAT TIME PERIOD.

BUT THE MESSAGE IN THAT STORY IS

A CIVIL RIGHTS STORY, TOO.

BUMPY JOHNSON WAS SEEKING

ECONOMIC EMPOWERMENT THROUGH THE

CRIME WORLD WHERE A BLACK MAN IN

THAT TIME, IN THE LEGITIMATE

WORLD AND THE CRIME WORLD HAD

LIMITED OPPORTUNITIES.

YOU SEE HIM PLOWING THROUGH

BARRIERS.

SO THE DOCUMENTARY SERIES TAKES

A LOOK AT A DIFFERENT PALLET.

THE CONNECTING TISSUE IS THE

TIME PERIOD IN HARLEM AND A LOT

OF KEY PLAYERS IN THE SCRIPTED

SERIES LIKE MALCOLM X, CLAYTON

POWELL, BUMPY JOHNSON AND SO

MANY OTHERS.

SO WE REALLY WANTED TO TAKE A

COMPREHENSIVE LOOK OF HOW MUSIC

WAS ENGAGING THE COUNTRY THROUGH

THE POB OF HARLEM.

YOU LOOK AT 1960 TO 1969, THE

EARLY PART OF A DECADE, LOOK AT

GOSPEL MUSIC WHICH WAS UNIVERSAL

AS FAR AS BLACK AMERICANS ARE

CONCERNED, THE CHURCH AND HOW

THE CHURCH WAS SO MUCH THE

CENTER OF OUR COMMUNITY AND HOW

THOSE GOSPEL SONGS TRANSITION TO

FREEDOM SONGS DURING THE CIVIL

RIGHTS MOVEMENT.

INCORPORATED INTO THE MARCH ON

WASHINGTON, SO MANY OTHER

MARCHES.

THOSE ARE THE SOUNDS YOU'RE

HEARING.

WE CAN GO FROM THERE TO JAZZ AND

LOOK AT HOW JAZZ WAS IMPACTFUL,

HOW JAZZ TOOK ON ITS ROLE.

FOR INSTANCE, JOHN COAL WHEN THE

FOUR LITTLE GIRLS WERE MURDERED

IN BIRMINGHAM, JOHN COLTRANE

CREATED A SONG THAT FOLLOWED THE

SAME CADENCE AT MARTIN LUTHER

KING JUNIOR'S SPEECH ON THE FOUR

LITTLE GIRLS.

YOU LOOK AT THE EMERGENCE OF THE

POETS.

YOU SEE CURTIS MAY FIELD, A

COMPLETE TRAJECTORY FROM EARLY

PARTS TO THE ENTIRE DECADE WHEN

HE WAS MORE POP AND MORE FEEL

GOOD.

BY THE END OF THE DECADE HE WAS

MORE -- HE MADE A SONG -- IT'S

CALLED -- THE INJUSTICES AND THE

POLLUTION.

HE'S SAYING, LISTEN, WE HAVE A

LOT OF PROBLEMS.

IF WE DON'T FIX THEM, WE'RE ALL

GOING TO GO TO HELL.

HE WAS TALKING ABOUT EVERYONE

ACROSS THE BOARD.

YOU HAVE JUST THIS BOW OF MUSIC

THAT TELLS A STORY OF HOW BLACK

PEOPLE WERE STARTING TO BECOME

EMPOWERED THROUGH THAT DECADE.

THAT'S WHAT OUR SERIES TAKES A

LOOK AT.

>> BUILDING ON THAT, BECAUSE

EARLIER YOU DID MENTION THAT A

LOT OF THE THINGS THAT HAPPENED

IN THE '60s IN TERMS OF CULTURE

AND MUSIC HELPED CHANGE THINGS.

THAT'S STILL TRUE FOR TODAY.

EVEN JUST IN YOUR DESCRIPTION OF

BUMPY JOHNSON, A BLACK MAN

COMING OUT OF JAIL WITH NOT A

LOT OF OPPORTUNITIES, HONESTLY

SOUNDS LIKE THE BIO OF SOME

POPULAR RAPPERS TODAY.

I'M WONDERING IF YOU SEE ANY

SIMILARITIES AT ALL OR ANY

COMMON THREAD BETWEEN THE MUSIC

AND THE CULTURE AND THE SOCIAL

MOVEMENT THAT SORT OF FUELED

THEM OR VICE VERSA AS OPPOSED TO

TODAY, THE '60s VERSUS NOW.

>> YOU KNOW, HIP-HOP HAS ALWAYS

BEEN FRONT AND CENTER WHEN IT

CAME TO ACTIVISM AND SPEAKING

TRUTH TO POWER AND SPEAKING

PLAINLY WHAT ONE EXPERIENCES

FROM THEIR NEIGHBORHOOD.

SO IT WASN'T ALWAYS AN INCLUSIVE

ART FARM.

IT WAS VERY SPECIFIC TO A

POPULATION, AND THAT'S WHAT

MAKES IT SO STRONG AND SO GREAT.

BUT NOW I THINK BEYOND HIP-HOP,

REMOVING -- WE'RE SEEING AN

EMERGENCE OUT OF POP CULTURE

WHERE PEOPLE ARE NO LONGER

PLAYING THE BUSINESS CARD AND

SAYING I WANT TO BE KIND OF FREE

OF THE POLITICS.

THEY'RE DIVING RIGHT IN.

IF YOU LOOK AT BEYONCE, ONE OF

THE BIGGEST POP STARS WE HAVE,

HER MUSIC HAS HAD ITS OWN ART,

RIGHT?

WHERE SHE IS NOW UNAFRAID TO

SPEAK TO POWER.

HER PERFORMANCE AT THE SUPER

BOWL A FEW YEARS BACK WAS VERY

MUCH AN EMPOWERMENT PERFORMANCE.

IF YOU LOOK AT J. LO, THE SAME

THING, HER PERFORMANCE AT THE

SUPER BOWL THIS YEAR WAS A

DIRECT -- WAS SPEAKING DIRECTLY

TO THE ISSUES HAPPENING AT THE

BORDER THIS YEAR AND HOW

IMMIGRANTS ARE UNDER ATTACK

UNDER THIS CURRENT CLIMATE.

SO THE LIST IS LONG.

WE'VE SEEN A PROLIFERATION OF

ARTISTS KNOWN AND UNKNOWN WHO

ARE MAKING MUSIC IN HIGH NUMBERS

LIKE YOU'VE NEVER SEEN BEFORE.

AND THE '60s WAS ONE MAJOR

STEPPING STONE FOR ARTISTS TODAY

TO COME -- WHERE THE ARTISTS

TODAY CAME FROM.

IN THE '60s THEY'RE DOING IT IN

WAYS WE HADN'T SEEN BEFORE THAT

TIME.

>> ACTUALLY, ROBIN, I WANT TO

BRING YOU IN ON THIS AND ASK, AS

A MUSICIAN, ARE THERE ANY

ASPECTS OF THE RHYTHMS AND THE

BEATS AT THAT TIME THAT YOU

STILL HEAR CARRYING THROUGH

TODAY, JUST MUSICALLY?

>> ABSOLUTELY, ABSOLUTELY.

MARVIN GAYE IS THE SOUND TRACK

OF THIS GENERATION AS WELL AS MY

GENERATION.

MARVIN GAYE, HIS SOUND TRACK.

ARETHA FRANKLIN, THE

IMPRESSIONS, AGAIN, JAMES BROWN,

HUGE INFLUENCE IN HIP-HOP.

SAMPLED OVER AND OVER AND OVER

AGAIN.

THAT MUSIC FROM THE '60s TOTALLY

INSPIRED HIP-HOP MUSIC.

>> THE LAST POETS --

>> I WAS GOING TO SAY, THE LAST

POET.

>> FATHERS OF HIP-HOP, RIGHT?

>> I CAN'T EVEN -- THE

FOUNDERS -- THE FOUNDING FATHERS

OF HIP-HOP, ALONG WITH, BELIEVE

IT OR NOT, CAB CALLOWAY.

YOU CAN GO BACK THAT FAR.

THIS MUSIC THAT'S HAPPENING NOW,

THE NEW GENERATION OF MUSIC, THE

HIP-HOP, THE R&B THAT'S

HAPPENING NOW, IT'S ALL

RECYCLED.

A LOT OF RECYCLING GOING ON.

YES, THE LYRICS ARE ABOUT THE

TIME WE'RE LIVING IN.

I'VE BEEN IN THE MUSIC BUSINESS

FOR 51 YEARS, SUNG FOR A LOT OF

PEOPLE.

I'VE HEARD THE SAME THEMES

RUNNING THROUGH THE MUSIC FOR

DECADES.

>> UNFORTUNATELY WE ARE GOING TO

HAVE TO LEAVE IT THERE, ALTHOUGH

I COULD ABSOLUTELY CONTINUE WITH

THIS CONVERSATION.

KEITH, VERY QUICKLY, FOR PEOPLE

WHO WANT TO BE ABLE TO SEE THIS

DOCU-SERIES "BY ANY MEANS

NECESSARY, THE LIFE AND TIMES OF

THE GODFATHER OF HARLEM," WHERE

CAN YOU FIND IT.

>> EPIC.COM, STREAM IT AND YOU

CAN GO TO AMAZON PRIME AS WELL

AND STROOEM STREAM IT THERE.

>> KEITH McCOURTER, THANK YOU

FOR BRINGING US THIS

DOCU-SERIES.

ROBIN CLARK, YOUR CONTRIBUTIONS

NOT ONLY TO THE DOCU-SERIES BUT

MUSIC ARE IMMEASURABLE.

THANK YOU VERY MUCH FOR JOINING

ME.

>>> ATHLETE, ACTIVIST, ICON, THE

GREATEST.

FORMER HEAVYWEIGHT CHAMPION

MOHAMMAD ALI WAS ALL OF THOSE

THINGS.

FROM HIS CHILDHOOD IN THE

SEGREGATED SOUTH TO HIS FINAL

FIGHT WITH PARKINSON'S DISEASE,

MUHAMMAD ALI NEVER BACKED DOWN.

BANNED FROM BOXING DURING HIS

PRIME BECAUSE HE REFUSED TO

FIGHT IN VIETNAM, HE BECAME A

SYMBOL OF THE ANTI-WAR MOVEMENT

AND DEFENDER OF CIVIL RIGHTS.

AS THE GREATEST, HE WAS A BOXER

OF UNDENIABLE TALENT AND

COURAGE, AND IN THE RING, ONLY

ALI COULD FLOAT LIKE A BUTTERFLY

AND STING LIKE A BEE.

WHAT WAS ALI LIKE AT HOME AS A

FATHER AND A HUSBAND?

THE ANSWERS CAN BE FOUND IN THE

NEW BOOK "AT HOME WITH MUHAMMAD

ALI: A MEMOIR OF LOVE, LOSS AND

FORGIVENESS" WRITTEN BY HIS

THIRD YOUNGEST CHILD, HAN TNAH I

AND BASED ON 80 HOURS OF VOICE

RECORDINGS A DAD LEFT FOR HIS

DAUGHTER.

WELCOME TO THE PROGRAM.

>> THANK YOU FOR HAVING ME.

>> THIS IS REALLY AN AMAZING

COLLECTION OF STORIES YOU WERE

ABLE TO TELL ABOUT YOUR FATHER.

FIRST I WANT TO ASK YOU, WHAT

WAS YOUR INSPIRATION TO DO THIS

BOOK?

>> OH, MY GOSH.

I HAD A FEW.

THERE WAS A SITUATION WITH MY

FATHER.

I ALWAYS SAY HE BELONGED TO THE

WORLD.

PEOPLE LOVED HIM AND THEY WERE

ALWAYS SHARING STORIES ABOUT HIM

AND ASKING QUESTIONS.

THE QUESTION WE GET THE MOST IS

WHAT WAS HE LIKE AT HOME, AS A

FATHER?

WAS HE THAT BOASTFUL AND

BRAGGADOCIOUS.

I WANTED TO SHARE THAT SIDE OF

MY FATHER WITH THE WORLD.

I LEARNED A LOT FROM THE AUDIO

RECORDINGS.

I WANTED TO SHARE THAT

INFORMATION.

SHARE MY MOTHER'S STORY AND

THEIR RELATIONSHIP AND MY

RELATIONSHIP WITH MY FATHER.

>> SO WHILE THIS IS A BOOK, SO

OBVIOUSLY WE AREN'T GOING TO

HEAR AUDIO RECORDINGS, BUT THERE

ARE TRANSCRIPTS IN THERE.

WHAT I THOUGHT WAS SO

INTERESTING WAS THAT HE, MAYBE

NOT INTERESTING, WOULD FIT WITH

THE CHARACTER, THAT HE HAD THE

FOR SITE TO MAKE SOME OF THESE

AUDIO RECORDINGS, HE THOUGHT

IT'S IMPORTANT TO MAKE SURE SOME

OF THESE ARE PRESERVED FOR TIME.

>> YEAH.

PEOPLE DON'T REALIZE THIS, BUT

HIS GREATEST -- IN HIS MIND HIS

GREATEST ACCOMPLISHMENT WAS

BEING A FATHER.

HE LOVED BEING A FATHER.

THEY USED TO SAY HE'S THE DADDY

TO THE WORLD.

HE NOT ONLY WANTED TO BE OUR

FATHER, BUT THE WORLD'S FATHER.

HE ACTUALLY WAS A HOME BODY.

HE LOVED BEING AT HOME.

HE COULD SIT IN HIS OFFICE FOR

HOURS AT A TIME ON THE PHONE

TALKING.

HE THOUGHT THE LITTLE FLEETING

MOMENTS WE TAKE FOR GRANTED WERE

SO BEAUTIFUL AND IT TOUCHED HIM.

HE KNOWS THAT ABOUT HIMSELF.

HE WAS TELLING US ALL YOU'LL BE

SO GLAD I THOUGHT ABOUT THIS.

I'M SO GLAD I'M HISTORY

CONSCIOUS.

IT'S SO GOOD I KNOW TO THINK

ABOUT THIS AND PREPARE FOR THE

FUTURE.

I WISH I HAD TAPES OF MYSELF

WHEN WE WERE YOUNG.

LIFE IS SO BEAUTIFUL AND LIFE IS

SO SHORT.

HE JUST WANTED TO CAPTURE THOSE

MOMENTS THAT WERE GOING TO PASS.

>> I WANT TO TAKE A MOMENT FOR

OUR AUDIENCE TO HEAR ONE OF

THEM, SUCH A PRECIOUS MOMENT.

YOU AND YOUR DAD SINGING "THIS

IS DEDICATED TO THE ONE I LOVE."

>> READY?

>> YEAH.

♪ THIS IS DEDICATED TO THE ONE I

LOVE ♪

♪ EACH NIGHT BEFORE YOU GO TO

BED, MY BABY ♪

>> ONE OF THE THINGS I FIND SO

INTERESTING IS THAT OFTENTIMES

WHAT LITTLE THE PUBLIC KNOWS,

PARTICULARLY ABOUT A SPORTS

FIGURE IS WHAT WE READ THROUGH

THE SPORTS PRESS.

WAS IT IMPORTANT FOR YOU TO MAKE

SURE THAT THIS WAS A CHANCE TO

ACTUALLY SHOW THE HUMAN BEING

BEHIND THE, IN SOME WAYS, DTHE

MAN YOUR FATHER WAS, BUT ALSO IN

TERMS OF THE CHARACTER HE WAS

PLAYING FOR THE PRESS.

>> YES.

MY FATHER, HE WAS ALWAYS

OUTGOING AND REALLY GREAT AT

MARKETING.

HE KNEW HOW TO MARKET HIMSELF

AND SELL TICKETS.

THAT WAS A LARGE PART OF WHAT HE

DID.

HE WAS ALSO TRYING TO PROMOTE

BLACK LOVE AND SELF-PRIDE.

HE WAS ALSO VERY HUMBLE.

UP UNTIL HIS LAST DAYS, HE WOULD

BE, DOES PEOPLE STILL REMEMBER

ME?

HE WAS EXCITED TO KNOW HE WAS

STILL MAKING NEWS.

DADDY, ARE YOU KIDDING ME?

YES, THEY REMEMBER YOU.

IT WAS GENUINE.

HE KNEW HE WAS GREAT, BUT HE

NEVER TOOK IT FOR GRANTED AND HE

WAS ALSO VERY HUMBLED BY IT.

HE NEEDED PEOPLE'S LOVE AND

ATTENTION LIKE HE NEEDED AIR TO

BREATHE.

HE GAVE THAT LOVE RIGHT BACK

TENFOLD.

OUR DOOR WAS ALWAYS OPEN.

IT WAS A NORMAL OCCURRENCE TO

COME HOME AND FIND HOMELESS

FAMILIES THERE, NORMAL TO PICK

THEM UP AND PUT THEM IN THE BACK

OF THE CAR.

WHEN WE WERE EATING AND HE SAW

SOMEONE REFUSED SERVICE, HE

BROUGHT THEM IN AND THEY ATE

WITH US.

I'M TALKING HOMELESS PEOPLE

SLEEPING ON THE STREETS AND

HADN'T HAD A BATH IN GOD KNOWS

HOW LONG.

HE NEVER MADE A FACE AT THEM.

HE WOULD HUG THEM.

I KNOW THIS IS GRAPHIC BUT EVEN

WHEN I WAS A LITTLE GIRL, HE

MADE ME FEEL SO LOVED.

I WOULD BE FIVE, SIX YEARS OLD,

PE

PEE IN THE BED.

HE WOULD LAY DOWN AND KEEP

HUGGING ME.

THAT'S A BIG DEAL.

YOU FELT SO LOVED.

THERE WAS NEVER A TIME WHERE HE

WOULD SEND YOU AWAY OR PUT YOU

OUT.

I WAS AN ANNOYING LITTLE GIRL.

SOME OF THOSE TAPES, HE'S ON THE

PHONE TALKING ABOUT FREEING

HOSTAGES IN TEHRAN.

HE WOULD BE LIKE PLEASE SHUT UP.

YOU HAVE THE HOUSEKEEPER, HEY,

YOU WANT ME TO COME GET HER.

I'LL LET YOU KNOW.

I JUST GOT FINISHED DISTURBING

HIM.

GIVE ME TALKIE, DADDY.

I HAD THAT FEELING AND THE TAPES

VALIDATED IT.

THAT'S WHY I HAD THE EVIDENCE.

>> THAT WAS ONE OF THE THINGS,

SO MUCH OF THE BOOK, IT WAS LIKE

GOING WITH YOU THROUGH AN OLD

FAMILY PHOTO ALBUM.

WHEN YOU LOOK BACK AT SOME OF

THOSE PHOTOS, THE MEMORIES OF

THIS TIME AND THIS PLACE AND THE

PEOPLE THAT YOUR PARENTS WERE AS

THEY GREW AS ADULTS, I'M

WONDERING WHAT WAS IT, ASIDE

FROM THE GREAT TALKING, WAS

THERE ANYTHING ELSEWHERE YOU

THOUGHT, I ALMOST COMPLETELY

FORGOT ABOUT THAT?

>> YES.

THINGS I LEARNED, TOO, AND

DIDN'T KNOW ABOUT.

I NEVER SAW MY PARENTS ARGUING.

AND I DON'T REMEMBER -- I

COMPLETELY BLOCKED OUT MOVING

AND THE LAST NIGHTS AT THE

HOUSE, ALL OF THAT.

I WAS TEN YEARS OLD.

I SHOULD HAVE MEMORY OF IT.

I REMEMBER MY PSYCHOLOGIST AT

THE TIME, I WAS STRUGGLING WITH

WORRYING ABOUT MY FATHER SO

MUCH.

TELLING ME HOW YOU FEEL ABOUT

YOUR PARENTS DIVORCED, AND I

BLANKED OUT AFTER THAT.

MY MOTHER WOULD SAY YOU BOTH

LIKE -- WHY CAN'T YOU GET ALONG

OR BE TOGETHER.

THERE WAS NO MEMORY OF THEM

ARGUING.

MY MOTHER GREW OUT OF HER FATHER

AND WANTED TO GET OUT ON HER

OWN.

SHE MET HIM WHEN SHE WAS 18.

LONG LIFE WITH HIM AND

INFIDELITIES, EVEN THOUGH THEY

WERE GOOD FRIENDS.

WE DISCOVERED THE LETTERS HE

WROTE TO HER IN 2012 OR '13.

SHE NEVER SAW THEM.

I LEARNED ABOUT THAT, AND THEN,

ALSO, AS I WAS COMING HOME WITH

ALL THESE NEWSPAPER CLIPPINGS

AND REMEMBERING LITTLE BITS OF

HISTORY, I WAS LEARNING

SOMETHING MORE.

SOME THINGS WERE INACCURATELY

RECORDED.

I WOULD GO TO MY MOM AND WE

TALKED IT THROUGH.

IT WAS BORN ON ITS OWN AS I WAS

WRITING IT AND I WAS LEARNING AS

I WAS ACTUALLY WRITING IT,

TRYING TO SHARE THE STORY WITH

EVERYONE.

IT WAS VERY OVERWHELMING AND I

HAD TO FIGURE OUT HOW TO TELL

THESE STORIES COHESIVELY AND IN

A WAY THAT WOULD MAKE PEOPLE

INTERESTED AND STILL NOT TORE

GET TO INCLUDE ME IN A MEMOIR

THAT'S SUPPOSED TO BE ABOUT

PERSONAL FAMILY.

IT WAS A HUGE ACCOMPLISHMENT FOR

MYSELF.

I CONSIDER IT MY GREATEST

ACCOMPLISHMENT.

I DON'T KNOW HOW I GOT THROUGH

IT, GUYS.

>> THAT'S SOMETHING REALLY

IMPORTANT.

FREQUENTLY, THE TRIAL OF A

CELEBRITY WHO WANTS TO MAINTAIN

THAT CELEBRITY'S AURA OR THEIR

LEGEND, ET CETERA, MAYBE THERE

ARE SOME THINGS THAT ARE STILL

IN THE HOUSE THAT WE'RE GOING TO

KEEP TO OURSELVES, IS HOW A LOT

OF PEOPLE WOULD APPROACH IT.

YOU SPOKE ABOUT EVERYTHING.

>> I DID.

IT'S FUNNY.

IF THERE ARE SECRETS THAT I'M

NOT EXPOSING, THEY'RE JUST NOT

MINE TO TELL.

IT'S NOTHING THAT WOULD ACTUALLY

MAKE MY FATHER LOOK BAD.

IT'S STUFF THAT WOULD REALLY, HE

WOULD LOOK A LOT BETTER.

BUT I ADDRESS THAT SOMETIMES,

SOME OF THESE AREN'T MINE TO

TELL.

BUT THEY'RE NOT REALLY ABOUT MY

DAD, PER SE.

IT'S HIM PROTECTING OTHER

PEOPLE.

DADDY LIVED HIS LIFE LIKE AN

OPEN BOOK.

EVEN WHEN HE WAS WITH MY MOTHER

HE WAS MARRIED.

HE DIDN'T HIDE HER.

THERE'S NOTHING THAT THE WORLD

WILL EVER REALLY FIND OUT ABOUT

HIM THAT HE DIDN'T ALREADY SHOW

TO THE WORLD IN THAT REGARD.

I THINK HOW WE ARE AT HOME AND

AROUND THE HOUSE AND THE

STRUGGLES HE WAS DEALING WITH.

THE WORRIES AND CONCERNS HE HAD,

HE WAS A HUMAN BEING LIKE ANYONE

ELSE.

HE WASN'T AFRAID TO SHARE IT OR

SHOW IT.

HE WOULD CRY AND NOT BE

EMBARRASSED BY IT.

TEARS WOULD FALL.

YOU'D SEE A TEAR AND LOOK

AROUND, DADDY IS CRYING, THERE

MUST BE SOMETHING AROUND THAT

MADE HIM SAD OR MADE HIM HAPPY.

A LOT OF MEN ARE AFRAID TO SHOW

THEIR EMOTIONS.

I ALWAYS THOUGHT TRUE STRENGTH

WAS BEING ABLE TO OWN IT AND

EXPRESS IT AND BE COMFORTABLE

WITH ALL YOUR EMOTIONS.

THAT'S HOW MY FATHER WAS.

HE WAS VERY AFFECTIONATE, VERY

OPEN WITH EVERYTHING, HIS LIFE,

HIS FEELINGS.

IN THE BOOK I TRIED TO SHOW THAT

SIDE OF HIM BECAUSE HE WAS

STRUGGLING WITH A LOT, IF HE

SHOULD COME BACK AND FIGHT LARRY

HOLMES AT A TIME WHEN HE JUST

RETIRED.

HE KNEW SOMETHING WASN'T RIGHT

WITH HIS HEALTH BUT HE COULDN'T

PUT HIS FINGER ON IT.

THEY THOUGHT HE HAD PARKINSON'S

SYNDROME BUT IT WAS REALLY THE

DISEASE.

EVEN THE SPRINGS FIGHT HE HAD

PARKINSONS.

WHEN HE STARTED SLOWING DOWN, IT

LOOKED LIKE HE WAS TALKING AT

REGULAR SPEED, BUT REALLY HE WAS

SLOWING DOWN.

IT GOT TO THE POINT WHERE YOU

COULDN'T DENY IT.

EVEN ME AS A LITTLE GIRL, I'D

SEE HIM STUMBLE, FIND HIM

SLEEPING ON THE SOFA OR ON THE

COUCH ON THE FRONT PORCH.

HE DIDN'T WANT TO DISTURB

ANYBODY.

HE HAD THIS WEIRD THING OF NOT

WAKING PEOPLE.

IF SOMEONE WAS TAKING A NAP,

SHH, IT COULD BE A STRANGER.

WE'D BE WAITING FOR A FLIGHT IN

THE PRIVATE ROOM AND SOME

STRANGER IS ASLEEP ON THE SOFA,

HE'LL TELL US SHH IF HE SEES ONE

IS TRYING TO REST.

SHARING HIS FOOD.

IF HE WAS EATING, IT DOESN'T

MATTER WHO YOU ARE, HE WOULD

HAND YOU FRUIT FROM HIS PLATE.

IN RESTAURANTS, HE'D HAVE

PRE-SIGNED AUTOGRAPHS AND START

PASSING THEM OUT, HERE YOU GO,

GOING TABLE TO TABLE.

THANK YOU MUHAMMAD ALI, THANK

YOU.

DADDY WAS SO DOWN TO EARTH.

THERE WAS NO WAY YOU COULDN'T

SHARE HIM WITH THE WORLD THAT HE

ALWAYS BELONGED TO AND GAVE

HIMSELF TO FULLY.

I SHARE A LOT OF STUFF.

EVEN SOME THINGS THAT PROBABLY

SHOCK PEOPLE THAT ARE A LITTLE

PERSONAL.

MY DAD LIVED HIS LIFE LIKE AN

OPEN BOOK.

THE WORLD WAS FAMILY TO HIM.

HE LOVED PEOPLE.

>> I THINK THAT'S A WONDERFUL

NOTE TO LEAVE IT ON.

THAT I THINK ENCAPSULATES REALLY

WHAT THE STORY WAS.

THANK YOU SO MUCH FOR TAKING THE

TIME TO JOIN US.

THIS IS SUCH A GREAT BOOK.

>> THANK YOU.

>> SUCH A DIFFERENT LOOK AT A

MAN THAT WE ALL THINK THAT WE

KNOW.

>> THANK YOU.

>>> "METROFOCUS" IS MADE

POSSIBLE BY SUE AND EDGAR

WACHENHEIM III, SYLVIA A. AND

SIMON B. POYTA PROGRAMMING

ENDOWMENT TO FIGHT

ANTI-SEMITISM, BERNARD AND

DENISE SCHWARTZ, BARBARA HOPE

ZUCKERBERG, AND BY JANET PRINDLE

SEIDLER, JODY AND JOHN ARNHOLD,

CHERYL AND PHILIP MILSTEIN

FAMILY, JUDY AND JOSH WESTON,

DR. ROBERT C. AND TINA SOHN

FOUNDATION.