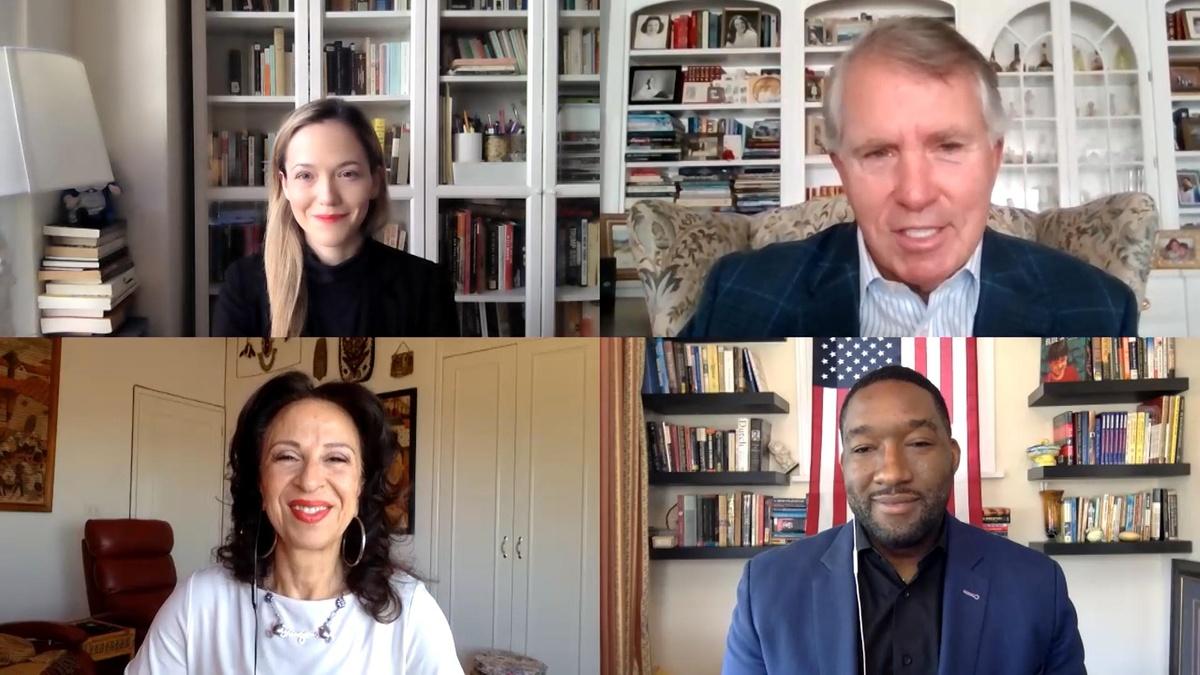 FULL EPISODE
MetroFocus: November 16, 2020
A look at the news making local and national headlines this week. Weighing in tonight are Maria Hinojosa, who is anchor and executive producer of "Latino USA" and President and founder of Futuro Media, Joseph Pinion, the Founder and Chairman of The Conservative Color Coalition, and Laura Nahmias, NY Daily News editorial board member.
TRANSCRIPT

>>> THIS IS "METROFOCUS" WITH

RAFAEL PI ROMAN, JACK FORD, AND

JENNA FLANAGAN.

>> "METROFOCUS" IS MADE POSSIBLE

BY

SUE AND EDGAR WACHENHEIM III,

SYLVIA A. AND SIMON B. POYTA

PROGRAMING ENDOWMENT TO FIGHT

ANTI-SEMITISM.

BERNARD AND DENISE SCHWARTS

BARBARA HOPE ZUCKERBERG,

JANET PRINDLE SEIDLER,

JODY AND JOHN ARNHOLD,

CHERYL AND PHILIP MILSTEIN

FAMILY,

BERNARD AND DENISE SCHWARTZ,

JUDY AND JOSH WESTON,

DR. ROBERT C. AND TINA SOHN

FOUNDATION.

>>> GOOD EVENING.

WELCOME TO "METRO FOCUS."

EVERY MONDAY NIGHT WE TAKE A

LOOK WITH YOU AT THE NEWS MAKING

LOCAL AND NATIONAL HEADLINES AND

HOW ALL THAT NEWS MAY IMPACT THE

TRISTATE.

WE'RE GOING TO LOOK TONIGHT AT

THE ESCALATING FEUD BETWEEN

PRESIDENT DONALD TRUMP AND

GOVERNOR ANDREW CUOMO OVER THE

DISTRIBUTION OF A CORONAVIRUS

VACCINE, THIS ON THE HEELS OF

NEWS OF YET MORE PROMISING

RESULTS FROM ANOTHER VACCINE

MANUFACTURER.

WE'RE ALSO GOING TO TAKE A LOOK

ABOUT NEW YORK CITY SCHOOLS,

WHETHER THEY SHOULD BE SHUTTING

DOWN IN THE FACE OF THIS

RESURGENCE OF THE CORONAVIRUS OR

WHETHER THERE MAY WELL BE MORE

TARGETED SHUTDOWNS THAT MIGHT

MAKE MORE SENSE.

AND THEN WE'RE GOING TO TAKE A

LOOK AT THE IMPACT THAT THE

DELAYED TRANSITION MIGHT BE

HAVING ON THE INCOMING BIDEN

ADMINISTRATION.

SO MUCH FOR US TO TALK ABOUT.

TO HAVE THAT CONVERSATION, WE'RE

RIGHT

DELIGHTED TO HAVE WITH US SOME

WONDERFUL GUESTS.

JOINING US TONIGHT WE HAVE MARIA

YUNAHOSA EXECUTIVE PRODUCER OF

LATINA USA.

MARIA ARE WELCOME TO YOU.

GLAD TO YOU HAVE YOU HERE WITH

US.

A COUPLE GOOD FRIENDS, LAURA

N

NONEA AND JOSEPH PINION, FOUNDER

OF THE ORGANIZATION WHICH

PROMOTES POLITICAL ENGAGEMENT.

SO, LET'S GET INTO OUR

CONVERSATION.

I WANT TO START WITH WHAT WE SAW

TAKING PLACE DURING PRESIDENT

DONALD TRUMP'S -- I DON'T WANT

TO CALL IT A PRESS CONFERENCE,

I'LL CALL IT A STATEMENT HE GAVE

AT THE END OF NEXT WEEK, TALKING

ABOUT THE DEVELOPMENT, VERY

POSITIVE DEVELOPMENT, IT WAS

PFIZER AT THE TIME AND THEY

PRONOUNCED A 90% EFFICACY

FINDING IN TERMS OF THEIR

VACCINE.

AS YOU ALL SAW, IT STARTED OFF

BEING A SCRIPTED DELIVERY BY THE

PRESIDENT AND THEN WE SAW HIM GO

OFF SCRIPT.

WE KNOW OFTEN TIMES WHAT HAPPENS

WHEN HE GOES OFF SCRIPT, HE

ATTACKS.

THIS IS A NONPARTISAN

OBSERVATION AND I KNOW YOU

PROBABLY AGREE.

WE SAW HIM ATTACKING GOVERNOR

CUOMO IN NEW YORK WHEN HE WAS

TRUMPETING HOW EFFECTIVE THE

DISTRIBUTION, HE SAID EXCEPT FOR

NEW YORK, SINCE THE GOVERNOR

SAID HE DOESN'T WANT IT, HE

BASICALLY WON'T BE SENDING IT.

AND THERE WERE REPUBLICANS WHO

WERE SUPPORTERS OF PRESIDENT

DONALD TRUMP THAT I HAD

CONVERSATIONS WITH SAID TO

THEMSELVES WHY?

WHY NOW ARE WE DOING THIS?

SO I GUESS MY QUESTION TO YOU IS

THIS, MARIA, LET ME START WITH

YOU.

MY QUESTION IS WERE YOU

SURPRISED WHEN YOU SAW THAT TAKE

PLACE?

>> NO.

NOT AT ALL.

SO, JACK, I DON'T THINK YOU KNOW

THIS AND IT'S GREAT TO BE WITH

YOU.

I'M A COVID SURVIVOR.

I HAD COVID EARLY ON.

I BECAME SICK IN MARCH AND FOR

MUCH OF APRIL AND SO ACTUALLY

DURING THAT TIME GOVERNOR

CUOMO -- YOU KNOW, I'M LIKE YOU,

I'M A JOURNALIST, I DON'T HAVE

FUZZY FEELINGS TOWARDS

POLITICIANS.

I JUST DON'T.

BUT GOVERNOR CUOMO BECAME THAT

ROOT FOR ME, THAT STABILITY,

THAT CLARITY, THAT HONESTY IN

TERPS OF HIS OWN FAMILY AND

EXPERIENCES.

SO WHEN YOU SEE THIS KIND OF A

BATTLE HAPPENING, DO YOU THINK

NEW YORKERS ARE GOING TO TRUST

DONALD TRUMP OVER GOVERNOR CUOMO

RIGHT NOW?

AND, BY THE WAY, INDEP'M NOT SA

GOVERNOR CUOMO DID EVERYTHING

PERFECTLY WELL.

EARLY ON WE WERE ASKING FOR DATA

IN TERMS OF HOW THIS WAS I

PABP --

IMPACTING PEOPLE OF COLOR AND

LATINO COMMUNITIES.

THIS KIND OF ATTACK AGAINST NEW

YORK IS EXACTLY WHY DONALD TRUMP

HAS BEEN VOTED OUT OF OFFICE,

BECAUSE WE ARE A COUNTRY, ONE

COUNTRY, MADE UP OF 50 STATES

AND THIS KIND OF STATE BATTLING,

IT'S NOT PRODUCTIVE DURING A

PANDEMIC WHEN PEOPLE ARE DYING.

>> LAURA, HOW ABOUT YOU?

WHAT WAS YOUR REACTION?

>> I ALSO WAS NOT SURPRISED.

THERE IS NOTHING THAT THIS

PRESIDENT WON'T USE AS A

POLITICAL FOOTBALL OR AS

SOMETHING TO WITHHOLD IN ORDER

TO GET BACK AT HIS POLITICAL

FOES AND WE'RE TALKING ABOUT

POTENTIALLY LIFE-SAVING VACCINE

FOR 19 MILLION NEW YORKERS THAT

HE THREATENED TO DELAY BECAUSE

GOVERNOR CUOMO RAISED QUESTIONS

ABOUT THE POTENTIAL EFFICACY OF

THE TRUMP ADMINISTRATION'S

VACCINE REVIEW PROCESS.

TOTALLY FAIR QUESTIONS,

ESPECIALLY IN THE GOVERNOR'S

CAPACITY AS THE HEAD OF THE

NATIONAL GOVERNORS ASSOCIATION.

HE'S ONE OF TWO GOVERNORS WHO

REPRESENTS ALL THE GOVERNORS IN

THE COUNTRY, RAISING GOVERNORS'

CONCERNS.

AND IT'S TOTALLY UNSURPRISING

ALSO BECAUSE OF THE WAY THAT

DONALD TRUMP HAS TREATED HIS

HOME STATE OF NEW YORK

THROUGHOUT HIS TENURE AS

PRESIDENT.

THE STATE AND LOCAL TAX

DEDUCTIONS, DISPROPORTIONATELY

IMPACTED NEW YORK.

HE HAS THREATENED TO WITHHOLD

APPROVALS FOR CONGESTION

PRICING.

EARLIER THIS YEAR HE SENT OUT A

MEMO ASKING ALL OF HIS FEDERAL

AGENCIES TO FIND WAYS TO CUT

MONEY FROM THE BUDGETS OF, QUOTE

UNQUOTE, ANARCHIST JURISDICTIONS

OF WHICH NEW YORK CITY WAS ONE

OF THEM.

HE WILL DO ANYTHING TO GET BACK

AND RETALIATE AT HIS ENEMIES AND

CUOMO IS A FOE FOR HIM AT THIS

POINT.

>> FROM YOUR PERSPECTIVE AS A

STRATEGIST HERE, IF DONALD TRUMP

HAD SAID TO YOU GIVE ME SOME

ADVICE HERE, HOW DO YOU THINK I

SHOULD GO AHEAD WITH THIS?

I WANT TO GET OUT FRONT, THIS IS

VERY POSITIVE NEWS, A 90%

EFFICACY FINDING HERE, AND IF HE

HAD SAID TO YOU BUT I'M ALSO,

YOU KNOW, I'M ALSO STILL UPSET

AT NEW YORK AND GOVERNOR CUOMO.

WHAT WOULD YOU HAVE SUGGESTED TO

HIM IN TERMS OF HOW HE SHOULD

HAVE APPROACHED THAT STATEMENT

AND WHETHER HE SHOULD HAVE

INCLUDED HIS -- I'M NOT SURE

WHAT THE PROPER TITLE IS FOR IT

BUT LET'S SAY HIS CONCERN, LET'S

CALL IT THAT, HIS CONCERN OVER

GOVERNOR CUOMO'S CONDUCT.

WHAT WOULD YOU HAVE ADVISED?

>> WELL, I WOULD PERSONALLY

WOULD HAVE ADVISED HIM TO

REMEMBER THAT PART OF THE REASON

WHY HE BECAME PRESIDENT IN THE

FIRST PLACE WAS BECAUSE THERE

WAS A GROUNDSWELL OF INDIVIDUALS

WHO FELT AS IF CAREER

POLITICIANS WERE PLAYING

POLITICAL GALES WITHMES WITH TH

LIVES.

THERE IS NO GREATER

MANIFESTATION OF THAT THAN WHAT

HAS TRANSPIRED ON THIS COVID-19

CRISIS.

THERE'S A LOT OF BLAME THAT CAN

BE PASSED AROUND HERE.

AT THE TEND OF THE DAY, IF WE'RE

SITTING HERE SAYING TRUST THE

EXPERTS, SAYING EITHER WE HAVE A

COUNTRY OR WE DON'T, THE DOCTORS

HAVE TAKEN AN OATH TO DO NO

HARM, WE HAVE A PLETHORA OF

ORGANIZATIONS, WHETHER YOU'RE

TALKING ABOUT PFIZER, TALKING

ABOUT MULTI-BILLION DOLLAR

MULTINATIONAL COMPANIES, WE HAVE

TO ON SOME LEVEL TRUST THAT THE

REVIEW PROCESS GOING TO WORK AND

IF WE DO WANT A THIRD PARTY

INDEPENDENT REVIEWS OF THESE

VACCINES, THAT IS A GOOD THING.

MAYBE IF PRESIDENT TRUMP WAS

UNHAPPY WITH THE CONCERNS

RAISED, PERHAPS HE WOULD HAVE

SAID IF THEY NEED TO HAVE THESE

CONCERNS, THEY NEED TO HAVE THEM

FOR EVERYBODY.

HE SAID A VACCINE BY THE END OF

THE YEAR MOST LIKELY WAS NOT

GOING TO HAPPEN.

>> JOSEPH, LET ME STAY WITH YOU

FOR A SECOND.

RECOGNIZING THE FACT THAT THE

PRESIDENT HAS STAKED OUT A VERY

DIFFERENT POSITION DURING THE

COURSE OF THE CORONAVIRUS

PANDEMIC, HAS NOT BEEN AS UP

FRONT ABOUT SAYING WE WILL

FOLLOW THE SCIENCE, INDEED HAS

QUESTIONED THE SCIENCE.

USING THAT AS A BACKDROP, I

INTERVIEWED A GENTLEMAN WHO

WORKED AS AN ADVISOR ON

PRESIDENT DONALD TRUMP'S

CAMPAIGN BACK IN 2016, AND HIS

ANSWER TO A SIMILAR QUESTION WAS

IT'S WHO HE IS, HE CAN'T HELP

HIMSELF.

HE SAID IN ONE WAY, THAT WAS ONE

OF THE ENDEARING QUALITIES OF

THE PRESIDENT THAT BROUGHT A LOT

OF PEOPLE, 71 MILLION VOTES.

WE DON'T KNOW OF THAT 71 MILLION

HOW MANY OF THEM WERE REPUBLICAN

VOTES, HOW MANY WERE DONALD

TRUMP VOTES AND HOW MANY WERE

BOTH.

BUT WHAT DO YOU THINK ABOUT THAT

SORT OF REFERENCE TO IT'S WHO HE

IS, HE CAN'T HELP IT?

>> I THINK IN A LOT OF WAYS YOU

COULD HAVE MADE THE ARGUMENT IN

A PRE-COVID WORLD WALKED OFF THE

STAGE THE MOST POWERFUL

INCUMBENT AS FAR AS WHERE THE

ECONOMY WAS, WHERE THE SUPPORT

WAS AS FAR AS HIS BASE, BUT I

THINK YOU CAN ALSO MAKE THE

ARGUMENT THAT FOR BETTER AND FOR

WORSE, THE CORE NATURE OF

PRESIDENT DONALD TRUMP WAS

UNIQUELY ALMOST CONSTITUTIONALLY

INCAPABLE OF DEALING WITH THE

HUMAN NUANCES OF BATTLING A

GLOBAL PANDEMIC.

SO WHAT I MEAN BY THAT IS

TALKING ABOUT THE FACT THAT

PEOPLE WANT SECURITY, PEOPLE

WANT STABILITY, THAT IS NOT THE

TIME FOR INFIGHTING.

I THINK ANY OTHER INCUMBENT IN

THE HISTORY OF HUMANITY WILL

TELL YOU IF YOU'RE DEALING WITH

EITHER A WAR OR PANDEMIC OR SOME

TYPE OF UPHEAVAL STANDPOINT, I

THINK THE FACT WE'RE SIT HEARING

WITH TWO OF THE THREE THINGS

MOST INCUMBENTS WOULD TELL YOU

ARE LINCHPINS TO BEING A

BELLWETHER FOR VICTORY AND

PRESIDENT DONALD TRUMP LOOKS

LIKE HE'S GOING TO BE FINISHED

WITH HIS TIME AT THE OVAL

OFFICE, IT SPEAKS TO THAT POINT

YOU'RE TALKING ABOUT, THIS KIND

OF INABILITY TO UNDERSTAND THAT

THERE IS THIS THREAD THAT UNITES

US AND THAT IN TIME OF UPHEAVAL,

WE HAVE TO FIND WAYS TO COME

TOGETHER AROUND CORE BELIEFS.

>> AN OBSERVATION REAL QUICK.

I EXPECT THERE ARE A LOT OF

REPUBLICANS OUT THERE SAYING,

JOSEPH, I WISH YOU WERE ADVISING

PRESIDENT DONALD TRUMP LEADING

UP TO THIS.

MARIA, YOU WERE GOING TO SAY

SOMETHING.

>> I WAS GOING TO SAY, I'M STUCK

ON THE WORD ENDEARING, THAT 71

MILLION PEOPLE OR SOME -- LET'S

SAY JUST SAY SOME OF THEM ARE

THE REPUBLICAN PARTY FINDS THAT

WHAT DONALD TRUMP DOES, THE WAY

HE SPEAKS IS ENDEARING.

I HAVE LOST SO MANY PEOPLE TO

COVID.

ACROSS THE COUNTRY, RIGHT HERE

IN MEXICO WHERE I AM RIGHT NOW,

I HAVE -- I'M TALKING TO

REFUGEES ON A DAILY BASIS WHOSE

LIVES ARE IN LIMBO BECAUSE OF

THE POLICIES THAT DONALD TRUMP

ENACTED.

SO THE NOTION OF ENDEARING IS A

HARD WORD.

BUT, YOU ARE KNOW WHAT, I THINK

THAT IS EXACTLY WHAT WE HAVE TO

DO.

HOW IS IT POSSIBLE THAT SO MANY

AMERICANS COULD SEE DONALD TRUMP

IN THIS MOMENT AND TAKING ON A

STATE LIKE NEW YORK, HIS HOME

STATE AND STILL FEEL LIKE THAT'S

MY GUY.

THAT'S THE GUY THAT WE WANT.

>> YEAH.

IT'S ONE OF THE INTERESTING

ASPECTS OF ALL THIS.

LET ME SHIFT GEARS FOR A SECOND

AND LET'S GET US INTO, PERHAPS,

THE NEW YORK CITY SCHOOL SYSTEM.

LAURA, LET ME ASK YOU FIRST,

ONCE AGAIN WE'VE SEEN THIS TUG

OF WAR ERUPT BETWEEN MAYOR de

BLASIO AND GOVERNOR CUOMO.

WE'VE SEEN IT REPEATEDLY, IT'S

THEIR RELATIONSHIP, FOR BETTER

OR WORSE, IT'S THEIR

RELATIONSHIP.

WE'VE SEEN THAT THE MAYOR IS

SAYING AS THE NUMBERS ARE

CREEPING UP, WE ARE GETTING VERY

CLOSE TO A THRESHOLD WHERE HE

HAS SAID IT WOULD THEN BE TIME

TO SHUT THE SCHOOLS DOWN.

GOVERNOR CUOMO AS RECENTLY AS

THIS MORNING WAS SAYING BY THE

NUMBERS SCHOOLS MIGHT BE THE

SAFER PLACE FOR CHILDREN TO BE.

WHAT DO YOU THINK ABOUT THAT TUG

OF WAR BETWEEN THE TWO OF THEM?

>> I THINK IT'S ACTUALLY

EXTRAORDINARILY INTERESTING

BECAUSE THE GOVERNOR IS ACTUALLY

NOT, IT DOESN'T SEEM, PLANNING

TO OVERRIDE THE MAYOR AND ORDER

SCHOOLS TO STAY OPEN.

I THINK IN PART BECAUSE HE'S A

SAVVY POLITICAL OPERATOR AND

DOING SO WOULD REALLY ALIENATE

THE VERY POWERFUL TEACHERS

UNION.

THAT'S WHO MAYOR de BLASIO MADE

THIS DEAL WITH BEFORE SCHOOLS

REOPENED THAT IF WE HIT THAT 3%

CITYWIDE VIRUS RATE, THE

SCHOOL'S INDOOR LEARNING WOULD

SHUT DOWN.

CUOMO DOESN'T WANT TO ALIENATE

OF TEACHERS UNNECESSARILY, SO HE

HAS OFFERED SOME GENTLE

SUGGESTIONS AND UNLIKE IN OTHER

AREAS, A POLICY THROUGHOUT THE

COURSE OF THIS PANDEMIC WHERE

CUOMO DID STEP IN AND OVERRULE

THE MAYOR, I DON'T THINK THAT

WE'RE GOING TO SEE HIM DO THAT

IN THIS CASE BECAUSE THERE'S NO

REAL POLITICAL BENEFIT FOR HIM.

THE REALLY TROUBLING PART OF ALL

OF THIS IS WHO'S OUT THERE

ADVOCATING FOR THE CHILDREN OF

NEW YORK CITY?

THE DAMAGE TO THEM THAT COULD BE

CAUSED THIS LONG INTERRUPTION IN

SOCIALIZING WITH OTHER PEOPLE,

LEARNING IN PERSON, WE DON'T

KNOW THE IMPACT OF THAT.

BUT IT'S LIKELY TO BE AWFUL.

AND SEEING ALL THE POLITICIANS

IN NEW YORK CITY, THEY'RE

LOYALTY TO THIS ARBITRARY NUMBER

THAT WAS PART OF A DEAL WITH THE

TEACHERS UNION AND WE'VE SEEN

HOW IN-PERSON LEARNING HAS BEEN

REMARKABLY SAFE COMPARED TO A

LOT OF OTHER ACTIVITIES, IT'S

ASTONISHING ACTUALLY.

>> MARIA, LET ME FIRST ECHO

SOMETHING THAT SOMEONE SAID VERY

RECENTLY AND THEY ARE SAYING NOT

TO DENIGRATE THE TEACHERS UNION.

TEACHERS DO MARVELOUS WORK.

MY MOTHER WAS A TEACHER, MY

WIFE'S A TEACHER, I TEACH.

GREAT VALUE IN TEACHING.

THE QUESTION RAISED WAS WHY IS

IT THE TEACHERS UNION STRIKING

THIS DEAL?

CERTAINLY INPUT FROM THIS MAKE

SENSE BUT SHOULDN'T THIS BE MADE

BETWEEN THE GOVERNING BODY AND

THE SCIENTISTS, THE MED PEICAL

PEOPLE.

>> I WOULD HOPE THAT THEY'RE

LISTENING TO THE SCIENCE ON

THIS.

THEY'RE THE TAEEACHERS AND WE ND

THEM TO BE LISTENING TO THE

SCIENCE.

[ PHONE RINGING ]

>> OOPS, THAT'S A BAD THING TO

HAPPEN WHEN YOU'RE ON THE AIR.

>> DON'T WORRY ABOUT IT.

>> SO YOU WOULD THINK THAT RIGHT

NOW KIDS WANT TO BE IN SCHOOL,

PARENTS WANT THEIR KIDS TO BE IN

SCHOOL.

IT DOESN'T SEEM TO MAKE SENSE

THAT A SCHOOL WOULD BE A SAFE

PLACE.

BUT IF THAT'S WHAT THE SCIENCE

IS TELLING US, THEN WE SHOULD

LISTEN TO THAT.

ON THE OTHER HAND, WHAT I DON'T

QUITE GET, THIS IS NOT -- THIS

IS THE OPPOSITE OF SCHOOLS, IS

WHY ARE YOU KEEPING INDOOR

DINING AND BARS OPEN?

THAT'S WHAT I DON'T UNDERSTAND.

FOCUS ON WHAT WE ARE HEARING

FROM THE SCIENTISTS AND, BY THE

WAY, I'M VERY SORRY FOR

TEACHERS.

I KNOW THAT THEY FEEL A

TREMENDOUS BURDEN BUT LIKE YOU,

JACK, I'M A PROFESSOR.

I'VE BEEN TEACHING ONLINE FOR

MONTHS.

I'M DYING TO GET BACK INTO THE

CLASSROOM.

IF IT'S SAFE, I WANT TO BE

THERE.

BUT ALSO I WANT TO RESPECT

EVERYBODY'S LIMITS.

I'M JUST TELLING YOU, I DON'T

LIKE HAVING TO BE -- THAT'S WHY

I'M A JOURNALIST AND NOT A

POLITICIAN.

I DON'T WANT TO HAVE TO BE IN

THESE NEGOTIATIONS.

>> I'M THE SAME AS YOU.

I TAUGHT OF COURSE THE LAST FIVE

WEEKS WHERE WE WERE REMOTE.

WAS IT TERRIBLE?

NO.

IT WAS BETTER THAN I THOUGHT IT

WAS GOING TO BE.

PROBABLY BECAUSE WE HAD THE

FIRST SEVEN WEEKS TOGETHER SO WE

HAD A RELATIONSHIP.

BUT IT'S JUST DIFFERENT.

AND I'M NOT TRYING TO SAY IT'S

NOT SOMEWHAT EFFECTIVE.

IT'S JUST DIFFERENT.

WHAT DO YOU THINK?

>> I MEAN TO THAT POINT AND TO

LAURA'S POINT, SOMEBODY HAS TO

BE LOOKING OUT FOR THE CHILDREN.

WE ALREADY KNOW THAT

DISPROPORTIONATELY BLACK AND

BROWN PEOPLE, THE EDUCATIONAL

GAP WAS ALREADY WIDENING.

AND NOW YOU START TALKING ABOUT

THESE EXTENDED PERIODS OF TIME

WHERE YOU HAVE CHILDREN TO

DISPROPORTIONATELY DO NOT HAVE

ACCESS TO HIGH-SPEED INTERNET,

DI

DISPROPORTIONATELY HAVE THE

EQUIPMENT TO BE EQUIPPED TO

BECOME THE SHEPHERDS FOR THEIR

DAY-TO-DAY DEVELOPMENT.

AND CHILDREN WHO ARE GOING TO BE

FOUR YEARS, FIVE YEARS FROM NOW,

TWO AND THREE YEARS BEHIND IN

THEIR EDUCATIONAL ACUITY.

IT'S JUST DISASTROUS.

ALMOST TO MY EARLIER POINT, IF

WE'RE UPSET ABOUT BRINKSMANSHIP

AND POLITICS THAT WE SEE BETWEEN

WASHINGTON, D.C. AND NEW YORK,

THEN CERTAINLY WE SHOULD BE ABLE

TO UNDERSTAND THAT WE HAVE A

MAYOR THAT FOR MANY PURPOSES

SEEMS AS IF HE'S MADE WHATEVER

DEALS HE'S MADE WITH THE

TEACHERS UNION AND A GOVERNOR

WHO HAS ONE FOOT IN THE

GOVERNOR'S MANSION AND AN EYE

LOOKING AT BEING THE NEXT

SECRETARY OF STATE AND LOST IN

ALL OF THAT ARE THE CHILDREN,

WHO WOULD DESPERATELY NEED

SOMEONE TO UNDERSTAND CONCRETELY

IF WE HAVE GOT TO FIND WAYS TO

PROTECT FROM THIS PERNICIOUS

DISEASE, MAYBE OLDER TEACHERS

TEACH FROM HOME AND WE HIRE

YOUNGER CLASSROOM ATTENDANTS TO

COME INTO THE CLASSROOM, BUT BY

HOOK OR BY CROOK WE HAVE TO FIND

A WAY TO MAKE SURE THE

EDUCATIONAL JOURNEY OF THESE

CHILDREN IS NOT IMPACTED TO A

GREAT DEGREE BECAUSE THAT IS NOT

JUST IMPACT ON THOSE

COMMUNITIES, IT'S A NATIONAL

SECURITY RISK, IT IS A GLOBAL

BRAIN DRAIN THAT AMERICA WILL BE

UNIQUELY IMPACTED BY.

>> CAN I JUST RESPOND?

>> GO AHEAD.

>> IN OUR MIND WE HAVE TO FLIP

THE WAY WE'RE SEEING ALL OF

THIS.

WE'RE ALL DISGUSTED BY WHAT WE

HAVE TO LIVE THROUGH.

HERE'S ONE THING I SAID TO MY

STUDENTS IS I'VE SAID WHAT'S

HAPPENED HERE -- OF COURSE,

THEY'RE COLLEGE STUDENTS.

I WOULD LOVE FOR US TO FLIP THE

CONVERSATION TO SAY WHAT WE HAVE

LEARNED DURING THIS WHATEVER

WILL BE YEAR AND A HALF OF

PANDEMIC IS STUFF THAT WILL

CHANGE US AND WE -- I DON'T LOVE

THE WORD RESILIENCE BECAUSE I

THINK IT'S OVERUSED BUT, YES, IN

FACT, WE HAVE LIVED THROUGH

THIS, WE HAVE LOST TOO MANY BUT

WE HAVE LIVED THROUGH THIS, WE

HAVE SURVIVED, WE HAVE REACHED

HEIGHTS IN OUR OWN SELVES THAT

WE DIDN'T KNOW.

IF ANYBODY WOULD HAVE TOLD US

THAT NEW YORK WAS GOING TO BE

SHUT DOWN ENTIRELY, WE WOULD

HAVE SAID YOU'RE CRAZY, THERE'S

NO WAY THAT'S GOING TO HAPPEN.

WE DID IT.

I WOULD LOVE TO REFRAIN

RESPECTING EVERYTHING THAT WAS

SAID SO THAT YOU BEGIN TO SAY,

YES, BUT WE ARE SURVIVORS, WE

HAD LEARNED SO MUCH THAT WE HAVE

NOT LEARNED IN A BOOK BUT BY

SURVIVING THIS TOGETHER, WE ARE

SO MUCH STRONGER AND SOMETHING

MORE AMAZING WILL COME AT THE

END.

>> JUST A REMINDING, THIS IS

OPINION ABOUT ALL OF THESE

ISSUES AND NATIONAL AND LOCAL

HEADLINES AND THE IMPACT THEY

CAN HAVE ON US IN THE TRISTATE

AREA.

LAURA, IN OUR LAST SEGMENT HERE

LET ME START WITH YOU.

WE HAVE SEEN NOW THIS CONTINUING

DELAY IN THE TRANSITION EFFORTS,

MOVING FROM THE TRUMP

ADMINISTRATION TO THE BIDEN

ADMINISTRATION.

YOU KNOW, WE CAN ARGUE ABOUT THE

PROPRIETY, CERTAINLY THAT'S A

DIFFERENT CONVERSATION WE CAN

HAVE, ALTHOUGH WE'RE SEEING NOW

EVEN REPUBLICAN VOICES SAYING,

ALL RIGHT, IT'S TIME TO MOVE

FORWARD AND MOVE FORWARD HANES

THIS

-- AND MOVING FORWARD MEANS

THIS TRANSITION.

STAYING WITH THIS NOTION OF THE

PANDEMIC, WHAT DO YOU IS SEE,

LAURA, THE IMPACT OF THIS DELAY

IN THE TRANSITION, OR IS IT

SIGNIFICANT, BEING ON THE

ABILITY OF THE INCOMING BIDEN

ADMINISTRATION TO BASICALLY HIT

GROUND RUNNING WITH REGARD TO

FIGHTING THIS RESURGENCE WE'RE

SEEING NOW?

>> IT'S EXTRAORDINARY.

WE'RE TALKING ABOUT DELIVERING

THE FIRST DOSES OF A POTENTIAL

VACCINE, WHICH HAS YET TO BE

APPROVED AT THE END OF DECEMBER,

BEGINNING OF THE YEAR, ROUGHLY

AROUND THE TIME THE TRANSITION

START, BUT THIS RACE TO DEVELOP

THE VACCINE AND THE GOVERNMENT'S

ACQUISITION OF IT IS ONLY THE

FIRST STEP IN A REALLY

COMPLICATED SUPPLY CHAIN THAT IT

HAS TO BE MANAGED BY THE STATE

AND THE FEDERAL GOVERNMENT

WORKING IN TANDEM, AND IT

INVOLVES THINGS LIKE THE

VACCINES, A LOT OF THE

CANDIDATES REQUIRE STORAGE AT

100 DEGREES BELOW ZERO, FROM

BEGINNING TO END, COLD STORAGE.

IT REQUIRES HUNDREDS OF

THOUSANDS OF PEOPLE TO ACTUALLY

ADMINISTER THE VACCINE TO PEOPLE

AND THE TRUMP ADMINISTRATION'S

CURRENT PLAN IS JUST FOR THE

EXISTING STAFF AND HOSPITALS AND

CHAIN PHARMACIES TO BE THE ONE

WHO

TO ADMINISTER THAT.

AS IF THEY DIDN'T HAVE ENOUGH TO

DO ALREADY.

THERE'S NO FUNDING TO HIRE AND

TRAIN PEOPLE TO ADMINISTER THE

VACCINE.

YOU DON'T WANT THE BIDEN

ADMINISTRATION COMING IN ON

JANUARY 21st AND HAVING NO REAL

INSIDE INFORMATION ABOUT THE

LOGISTICS, THE DETAILS, MINUTE

LOGISTICS OF HOW YOU'RE GOING TO

DISSEMINATE THIS VACCINE.

WE NEED THIS TO GO OUT TO AS

MANY PEOPLE AS POSSIBLE AS SOON

AS POSSIBLE AND WE NEED THE WORK

TO BEGIN OF CONVINCING PEOPLE

THAT IT IS SAFE TO TAKE BECAUSE

ALL OF THOSE EFFORTS ARE FOR NOT

IF ENOUGH PEOPLE DON'T TAKE IT.

HERD IMMUNITY RELIES ON A HUGE

PERCENTAGE OF AMERICANS ACTUALLY

GOING OUT AND GETTING THE

VACCINE.

SO IT'S THE IMPACT OF DELAYING

THE TRANSITION ON THE

DISSEMINATION OF THE VACCINE

CANNOT BE UNDERSTATED.

IT COULD BE DEVASTATING.

>> LET ME GET ABOUT TWO

QUESTIONS HERE.

JOSEPH, TO YOU, LET ME ASK YOU

FROM YOUR PERSPECTIVE, AS A

STRATEGIST, A POLITICAL ADVISER,

WHAT WOULD YOU SAY TODAY TO

PRESIDENT DONALD TRUMP ABOUT

THIS TRANSITION?

>> WELL, LOOK, AT THE LOWEST

POINT TRYING TO GET A VACCINE TO

A NATION OF OVER 300 MILLION

PEOPLE IS A GARGANTUAN TASK.

WE NEED TO START HAVING

MESSAGING AT THAT AT LEAST IN

THE MINDS OF PEOPLE LETS THEM

UNDERSTAND THAT WE ARE UP TO THE

TASK.

I THINK THAT'S THE FIRST THING

THAT NEEDS TO HAPPEN.

LOOK, WE CAN TALK -- OBVIOUSLY

2020 IS NOT 2000 BUT WE DID

LEARN SOME THINGS FROM 2000.

THERE WAS THAT EXTENDED DELAY IN

THE TRANSITION OF POWER AS WE

WAITED TO FIGURE OUT WHO WON THE

ELECTION.

AND THE WALLS OF JERICHO DID NOT

COME TUMBLING DOWN.

I THINK AS WE GO THERE AND TALK

ABOUT IT FROM THAT PERSPECTIVE

AND MARIA'S EARLIER POINT, WE

SHOULD STUNDERSTAND THIS IS A

RESILIENT NATION AND WE ARE

CAPABLE OF DOING GREAT THINGS

AND WHILE I CAN SAY WITH CLEAR

EYES THIS IS NOT AN IDEAL

SCENARIO WE'RE GOING THROUGH

WITH THIS KIND OF GRIDLOCK AS IT

PERTAINS TO WHO IS GOING TO BE

THE NEXT PRESIDENT OF THE UNITED

STATES, WE SHOULD ALSO

UNDERSTAND INTUITIVELY THAT WE

WILL GET THROUGH THIS AND THAT

WE WILL BE ABLE TO GET THIS

VACCINE OUT TO THE PEOPLE WHO

NEED IT AND VERY SOON.

>> WHAT ABOUT THE IMPACT OF THIS

ON THE INTEGRITY OF THE

ELECTORAL PROCESS AND OUR

DEMOCRACY?

>> DEVASTATING.

I MEAN, JUST DEVASTATING.

LOOK, I AGREE WITH JOSEPH.

WE'VE BEEN THROUGH THIS BEFORE.

REMEMBER THE ELECTION OF 2000,

THE PRESIDENCY WASN'T DECIDED

IMMEDIATELY AND THE COUNTRY KEPT

ON GOING.

SO WE'RE GOING TO BE, I HOPE,

ULTIMATELY OKAY.

BUT THE IMPACT, YOU KNOW, DONALD

TRUMP, WHAT HIS POLICIES ARE IS

TO DESTROY.

DESTROY THIS, DESTROY THAT.

AND IN HIS WAKE JUST WALK AWAY.

I'M REALLY BASING THAT ON MARY

L. TRUMP'S BOOK WHEN SHE TALKS

ABOUT HIS KIND OF PSYCHE AND

WHAT HE DOES.

SADLY HE IS LEAVING US BEHIND

WITH A DEMOCRACY THAT IS

WOUNDED, THAT MANY PEOPLE DON'T

BELIEVE IN AND ALL OF US NOW

HAVE TO DO THE WORK OF BUILDING

IT BACK UP, CHANGING THE

NARRATIVE.

WE HAVE GOT SO MUCH WORK TO DO

AND FOR MANY PEOPLE, THIS IS

CHALLENGING, I DON'T HAVE ANY

JOY IN SAYING THIS.

IMAGINE IF DONALD TRUMP HAD BEEN

RE-ELECTED FOR ANOTHER FOUR

YEARS, WHAT WE WOULD HAVE TO BE

FACING.

IT'S A VERY DIFFERENT SCENARIO,

I HOPE.

>> I WANT TO THANK YOU ALL FOR A

THOUGHTFUL CONVERSATION.

WE LOOK FORWARD TO TALKING TO

ALL OF YOU AGAIN REAL SOON.

>> "METROFOCUS" IS MADE POSSIBLE

BY

SUE AND EDGAR WACHENHEIM III,

SYLVIA A. AND SIMON B. POYTA

PROGRAMING ENDOWMENT TO FIGHT

ANTI-SEMITISM.

BERNARD AND DENSE -- DENISE

SC

SC

SCHWARTZ,

BARBARA HOPE ZUCKERBERG,

JANET PRINDLE SEIDLER,

JODY AND JOHN ARNHOLD,

CHERYL AND PHILIP MILSTEIN

FAMILY,

BERNARD AND DENISE SCHWARTZ,

JUDY AND JOSH WESTON,

DR. ROBERT C. AND TINA SOHN

FOUNDATION.