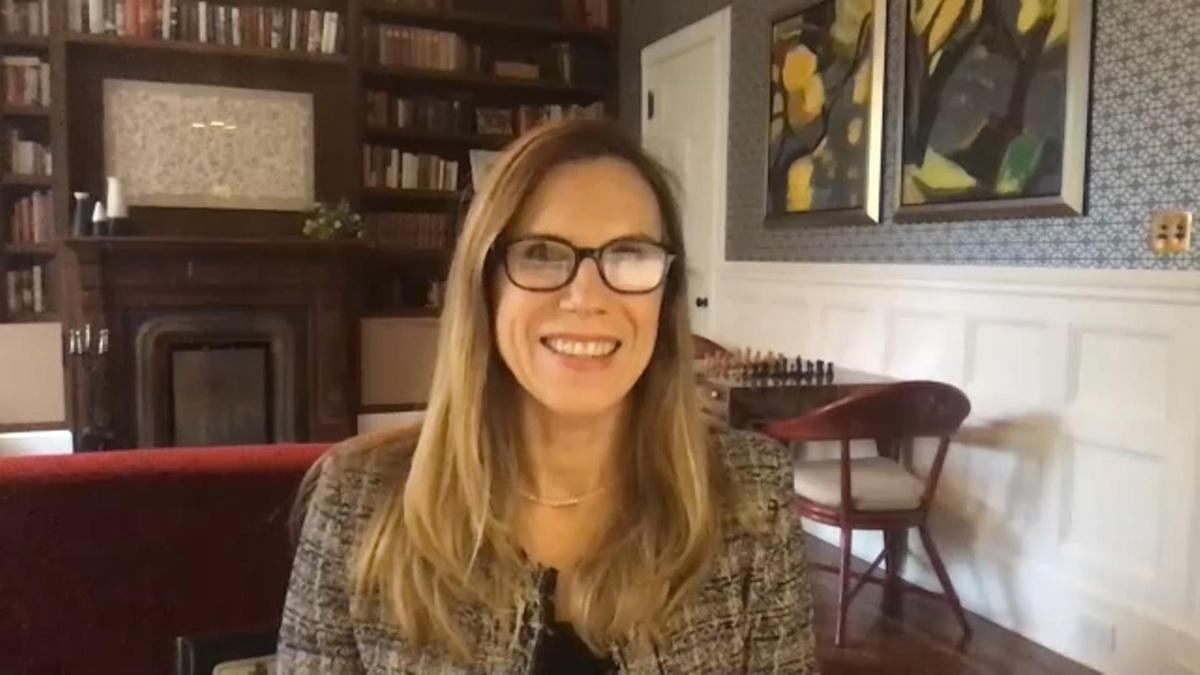 FULL EPISODE
MetroFocus: November 11, 2020
Former Federal Prosecutor and Lecturer-In-Law at Columbia Law School, Jennifer Rodgers joins us to discuss the cases, presidential immunity, and how likely it is that a Biden Justice Department will prosecute a former President. Also, we honor the brave men and women who fought for our country as well as the four-legged heroes helping them to recover from the emotional effects of war.
TRANSCRIPT

>>> THIS IS "METROFOCUS" WITH

RAFAEL PI ROMAN, JACK FORD, AND

JENNA FLANAGAN.

"METROFOCUS" IS MADE POSSIBLE BY

SUE AND EDGAR WACHENHEIM III,

SYLVIA A. AND SIMON B. POYTA

PROGRAMMING ENDOWMENT TO FIGHT

ANTI-SEMITISM, BERNARD AND

DENISE SCHWARTZ, BARBARA HOPE

ZUCKERBERG, AND BY JANET PRINDLE

SEIDLER, JODY AND JOHN ARNHOLD,

CHERYL AND PHILIP MILSTEIN

FAMILY, JUDY AND JOSH WESTON,

DR. ROBERT C. AND TINA SOHN

FOUNDATION.

>>> WELCOME TO "METROFOCUS."

I AM JACK FORD.

ALTHOUGH PRESIDENT TRUMP HAS

CONTINUED TO REFUSE TO CONCEDE

THE ELECTION, ALL REASONABLE

INDICATIONS ARE THAT COME

JANUARY HE WILL BECOME ONCE

AGAIN PRIVATE CITIZEN TRUMP.

NOW, AS A PRIVATE CITIZEN WHAT

SORT OF LEGAL ENTANGLEMENTS IS

HE GOING TO BE DEALING WITH?

WELL, WE KNOW THAT THERE ARE

INVESTIGATIONS CIVIL AND

POTENTIALLY CRIMINAL THAT ARE

BEING CONDUCTED BY THE MANHATTAN

DISTRICT ATTORNEY'S OFFICE, BY

THE NEW YORK STATE ATTORNEY

GENERAL'S OFFICE.

WE KNOW THAT THERE ARE TWO CIVIL

DEFAMATION LAWSUITS THAT HAVE

BEEN BROUGHT BY TWO WOMEN WHO

CONTEND HE HAD ENGAGED IN

INAPPROPRIATE SEXUAL CONDUCT

WITH THEM.

THEN THERE'S THE QUESTION OF

ROBERT MUELLER'S INDICATION AS

PART OF HIS INVESTIGATION THAT

IT MIGHT BE POSSIBLE FOR A

PRIVATE CITIZEN DONALD TRUMP TO

BE PROSECUTED FOR OBSTRUCTION OF

JUSTICE WHILE IN OFFICE.

AND THEN THERE'S THE ISSUE OF

PRESIDENTIAL PARDONS.

INCLUDING COULD THE PRESIDENT ON

HIS WAY OUT OF THE OFFICE

ACTUALLY PARDON HIMSELF?

ALL INTERESTING, COMPELLING AND

SOMEWHAT CONFUSING QUESTIONS FOR

US TO DEAL WITH.

SO TO HELP US UNDERSTAND IT

WE'RE DELIGHTED TO HAVE BACK

WITH US OUR GOOD FRIEND JENNIFER

RODGERS, FORMER FEDERAL

PROSECUTOR, CURRENTLY A LECTURER

AT LAW AT COLUMBIA UNIVERSITY.

AND SOMEBODY WE CAN ALWAYS COUNT

ON FOR ANSWERS TO THESE

CONFUSING QUESTIONS.

JENNIFER, GOOD TO SEE YOU AGAIN.

THANKS FOR JOINING US.

>> THANKS, JACK.

THANKS FOR HAVING ME.

>> LET'S GO THROUGH THIS SORT OF

LITANY OF OUTSTANDING POSSIBLE

LITIGATION THAT THE PRESIDENT

COULD BE LOOKING AT.

THE IRONY IS THAT HE HAS ALWAYS

BEEN KNOWN AS A VERY LITIGIOUS

PERSON AND NOW WHEN HE LEAVES

OFFICE HE'S GOING TO BE

CONFRONTED WITH THIS ARRAY THAT

WE MENTIONED.

SO LET'S START WITH THE

MANHATTAN DISTRICT ATTORNEY'S

INVESTIGATION.

THERE HAS BEEN A DECENT AMOUNT

WRITTEN ABOUT IT AND TALKED

ABOUT.

GIVE US A SENSE, WHAT IS THAT

FOCUSING ON AND WHAT COULD

POSSIBLY, I'M STRESSING

POSSIBLY, COME OUT OF IT?

>> WELL, AS FAR AS WE KNOW,

JACK, THEY'VE BEEN WORKING FOR A

COUPLE OF YEARS NOW ON AN

INVESTIGATION THAT RELATES TO

PRESIDENT TRUMP PERSONALLY AND

THE TRUMP ORGANIZATION.

VARIOUS KINDS OF FRAUD.

SO IT WOULD BE TAX FRAUD, OTHER

FINANCIAL FRAUD, FOR EXAMPLE,

INFLATING ASSETS IN ORDER TO GET

LOANS.

AND THERE'S ALSO IN THE STATE

VARIOUS BUSINESS CRIMES RELATING

TO BOOKS AND RECORDS, KIND OF

ALTERING YOUR ACCOUNTING

DOCUMENTS, THAT SORT OF THING.

SO WE THINK THAT THAT IS THE

FOCUS OF THE D.A.'S

INVESTIGATION.

AS WE KNOW, THEY'VE BEEN

INVOLVED IN A HIGH-PROFILE FIGHT

FOR THE PRESIDENT'S PERSONAL TAX

RETURNS FOR A COUPLE OF YEARS

AND THEY DON'T HAVE THOSE

OFFICIALLY YET.

THAT HASN'T RESOLVED.

BUT IF THEY ACTUALLY MANAGE TO

GET THE TAX RETURNS, SAY,

THROUGH A LEAK THE WAY "THE NEW

YORK TIMES" DID, THEN THEY'RE

PROBABLY FAIRLY FAR ALONG IN

THAT INVESTIGATION AND IT'S

POSSIBLE THAT THEY WOULD LOOK TO

BRING CHARGES SHORTLY AFTER THE

PRESIDENT LEAVES OFFICE.

>> SO PEOPLE MIGHT HAVE

QUESTIONS ABOUT, ALL RIGHT, WAIT

A MINUTE, WHAT KIND OF CHARGES

COULD YOU HAVE AGAINST POSSIBLY,

AND I'M STRESSING POSSIBLY HERE,

THE PRESIDENT HIMSELF IF YOU'RE

TALKING ABOUT THINGS THAT THE

BUSINESS MIGHT HAVE DONE WRONG?

AND A LOT OF PEOPLE MIGHT THINK,

WELL, IF YOU ARE A PUBLICLY HELD

COMPANY COULD YOUR EXECUTIVES BE

PERSONALLY RESPONSIBLE, EITHER

CIVILLY OR CRIMINALLY?

WHAT ABOUT NOW CURRENTLY

PRESIDENT TRUMP, THEN PRIVATE

CITIZEN TRUMP, AND THE TRUMP

ORGANIZATION?

HOW WOULD THAT ALL FIT INTO THAT

CALCULUS?

>> WELL, IT REALLY DEPENDS ON

THE SITUATION.

IF YOU HAVE WRONGDOING BY A

COMPANY, AS TO WHETHER YOU CAN

CHARGE ITS CHIEF EXECUTIVE OR A

HIGH-RANKING OFFICIAL.

HERE THE TRUMP ORGANIZATION IS

VERY SMALL.

IT'S PRIVATELY HELD.

AND BY ALL ACCOUNTS THAT WE'VE

HEARD PRESIDENT TRUMP, IF YOU'RE

TALKING ABOUT THINGS THAT

HAPPENED BEFORE HE BECAME

PRESIDENT, THEN IT'S PRETTY

LIKELY THEY'D BE ABLE TO PROVE

THAT DECISION THAT'S WERE MADE

ABOUT HOW TO TALK ABOUT

DIFFERENT ASPECTS OF THE

COMPANY, WHETHER YOU PUMP THEM

UP TO TRY TO GET A LOAN, WHETHER

YOU DEFLATE THEM TO TRY TO GET

YOUR TAX BILLS TO BE LOWER, THE

KEY WOULD BE HE WOULD BE

INVOLVED IN THOSE DECISIONS AND

THEREFORE THERE WOULD BE

EVIDENCE THAT HE WAS INVOLVED IN

THE FRAUD AND COULD BE CHARGED.

>> NOW, YOU WERE A PROSECUTOR.

YOU CONDUCTED INVESTIGATIONS AND

PROSECUTIONS.

AND OFTENTIMES PROSECUTORS ARE

ASKED, WHAT'S YOUR TIME SCHEDULE

HERE?

WHEN CAN WE EXPECT THINGS?

AND THOSE ARE ALWAYS DIFFICULT

QUESTIONS TO ANSWER.

BUT I'M GOING TO ASK YOU ANYWAY.

LOOKING AT THE MANHATTAN

DISTRICT ATTORNEY'S

INVESTIGATION, IS THERE ANY

SENSE OF WHAT A TIME FRAME MIGHT

BE?

>> WELL, THEY'VE BEEN LOOKING AT

IT FOR A WHILE, AND I KNOW

THEY'VE BEEN ABLE TO GET AT

LEAST SOME DOCUMENTS FROM THE

ORGANIZATION AND FROM OTHER

ENTITIES, BANKS AND SO ON.

SO I THINK THAT THEY CAN WRAP IT

UP PRETTY QUICKLY IF AND WHEN

THEY GET THE PRESIDENT'S TAX

RETURNS.

AND THAT'S REALLY THE UNKNOWN

HERE.

WE KNOW THE "TIMES" HAS THEM.

WE KNOW THE OFFICE HAS BEEN

FIGHTING FOR THEM.

AND THEY DO NEED TO GET THEM

THROUGH OFFICIAL CHANNELS TO BE

ABLE TO USE THEM IN THE GRAND

JURY.

BUT IF IT'S JUST A MATTER OF

THEY'VE ALREADY HAD THEM AND

BEEN ABLE TO INVESTIGATE BASED

ON THEM AND THEY JUST NEED TO

GET THEM IN THEIR HANDS TO HAND

TO THE GRAND JURY, THEN WE MAY

SEE A CHARGE FAIRLY SOON AFTER

JANUARY 20th.

IF THEY DON'T HAVE THEM YET AND

THEY NEED TO SPEND THAT TIME

AFTER THEY GET THEM DIGGING INTO

IT WITH FORENSIC ACCOUNTING AND

SO ON, IT COULD TAKE LONGER.

>> LET'S SHIFT OUR FOCUS TO THE

NEW YORK STATE ATTORNEY

GENERAL'S INVESTIGATION.

TELL US WHAT THAT IS ABOUT.

>> WELL, THERE'S A LOT OF

OVERLAP, IT SEEMS, IN THE SENSE

THAT THEY'RE ALSO LOOKING AT THE

PRESIDENT PERSONALLY AND THE

ORGANIZATION AS FAR AS POTENTIAL

FRAUD WITH LOANS AND WITH TAXES.

THE DIFFERENCE IS THAT THEY SAY

AT THIS TIME IT'S A CIVIL

INVESTIGATION.

SO THEY MAY NOT BE SHIFTING

GEARS TO CRIMINAL.

AND I ASSUME THAT THEY WILL BE

TALKING WITH THEIR COUNTERPARTS

AT THE D.A.'S OFFICE TO MAKE

SURE THEY'RE COORDINATING.

BUT IF IT'S A CIVIL

INVESTIGATION, THEN THEY WILL BE

LOOKING AT ACTUALLY TAKING

ACTION AGAINST THE COMPANY

ITSELF INSTEAD OF LOOKING AT

TRINL LIABILITY FOR INDIVIDUALS

INVOLVED.

AND THAT ALSO HAS BEEN ONGOING

FOR SOME TIME.

WE DON'T IS MUCH OF A SENSE OF

WHEN THEY MIGHT PULL THE TRIGGER

ON THAT.

BUT WE ALL KNOW THAT IT WAS VERY

CHALLENGING, LET'S SAY, TO BRING

SUITS AND DO THINGS WHILE THE

PRESIDENT IS IN OFFICE.

SO IT MAY BE THAT EVEN THOUGH

TECHNICALLY THEY DIDN'T HAVE TO

WAIT IN THE SAME WAY YOU HAVE TO

WAIT ON A CRIMINAL CHARGE FOR A

PRESIDENT, THAT THEY MAY BE

WAITING ALSO UNTIL JANUARY TO

BRING THEIR CASE AGAINST THE

TRUMP ORGANIZATION AND THE

PRESIDENT AND POTENTIALLY HIS

CHILDREN AS WELL.

>> I MENTIONED IN THE

INTRODUCTION THAT THERE ARE TWO

ONGOING CIVIL LAWSUITS.

AND I MADE IT CLEAR THEY'RE

DEFAMATION LAWSUITS.

BUT THEY ARE BASED UPON

ALLEGATIONS THAT THE PRESIDENT

BEFORE HE WAS THE PRESIDENT

ENGAGED IN INAPPROPRIATE SEXUAL

CONDUCT WITH TWO DIFFERENT

WOMEN.

WHY ARE THESE DEFAMATION

LAWSUITS AND NOT SOME TYPE OF AN

ASSAULT, A SEXUAL ASSAULT EITHER

CRIMINAL PROSECUTION OR CIVIL

LAWSUIT?

>> WELL, THEY'RE NOT CRIMINAL

PROSECUTIONS IN LARGE PART

BECAUSE OF THE TIMING.

PARTICULARLY THE CASE INVOLVING

E. JEAN CARROLL.

SHE ALLEGES A RAPE THAT HAPPENED

DECADES AGO.

SO THE STATUTE OF LIMITATIONS

WOULD PROHIBIT ANY SORT OF

CRIMINAL CHARGE FOR THAT

CONDUCT.

AND SIMILARLY, SUMMER ZERVOS, I

THINK HER CASE IS FROM THE EARLY

2000s, SO IT LIKELY TIMED OUT AS

WELL.

BUT THE CONDUCT THEY'RE ACTUALLY

ALLEGING HAPPENED MORE RECENTLY.

IT HAPPENED IN THE LAST FEW

YEARS WHEN THEY CAME OUT IN

PUBLIC WITH THEIR ALLEGATIONS

AND THE PRESIDENT SAID THEY

CLAIMED FALSELY, IT DIDN'T

HAPPEN, THEY'RE LYING, AND THAT

IS THE DEFAMATION THAT'S BEING

ALLEGED IN THE CIVIL LAWSUIT.

SO THAT'S WHY THEY CAN GO AHEAD

AND PROCEED ON THOSE.

CIVIL LAWSUITS ALSO HAVE

STATUTES OF LIMITATIONS.

SO YOU CAN'T ALLEGE SOMETHING IN

A CIVIL LAWSUIT THAT'S VERY,

VERY OLD EITHER.

SO THAT'S WHY WE'RE NOW SEEING

THESE AND THAT THEY'RE BASED ON

THE DEFAMATION INSTEAD OF THE

ASSAULTS THEMSELVES.

>> THEY'RE INTERESTING LAWSUITS.

I'M CURIOUS ABOUT YOUR OPINION.

IF THE PRESIDENT HAD SIMPLY COME

OUT AND SAID LOOK, I DENY THAT

THIS -- I'VE DENIED FROM THE

BEGINNING THAT THIS EVER

HAPPENED, AND IF HE DIDN'T TAG

ON THE LINE SAYING THEY'RE

LYING, WOULD THERE BE A

LEGITIMATE BASIS FOR A

DEFAMATION LAWSUIT IF THE PERSON

ON THE OTHER SIDE SIMPLY SAID, I

JUST DENY, THIS NEVER HAPPENED?

>> I DON'T THINK SO.

BECAUSE TO PROVE DEFAMATION YOU

HAVE TO PROVE SOME DAMAGE TO

THEIR REPUTATION.

CERTAINLY WHEN YOU'RE SUED OR

WHEN YOU'RE CHARGED CRIMINALLY

YOU'RE ALWAYS PERMITTED TO SAY

THAT YOU'RE INNOCENT, THAT YOU

DIDN'T DO IT, THAT YOU CONTEST

THE ALLEGATIONS, YOU'LL SEE THEM

IN COURT, ET CETERA.

BUT WHEN HE CROSSES THE LINE TO

SAY THIS PERSON IS A LIAR, THIS

PERSON IS NOT A TRUTH TELLER,

THEN YOU START TO SEE THAT YOU

HAVE A CLAIM TO SAY THAT HE IS

DAMAGING THEIR REPUTATIONS

INAPPROPRIATELY BECAUSE THEY SAY

WHAT THEY'RE SAYING IS TRUE.

>> ONCE AGAIN, WE'RE TALKING

WITH JENNIFER RODGERS, FORMER

FEDERAL PROSECUTOR, CURRENTLY

LECTURER AT LAW AT COLUMBIA

UNIVERSITY, ABOUT THE LEGAL

ENTANGLEMENTS THAT PRIVATE

CITIZEN DONALD TRUMP MAY WELL BE

DEALING WITH.

STAYING IN THE CATEGORY OF THESE

TWO CIVIL LAWSUITS, WHAT SORT OF

DIFFICULTIES IN TERMS OF WE

REFER TO THE NOTION OF

DISCOVERY -- I'LL ASK YOU TO

EXPLAIN THAT.

WHAT SORT OF DIFFICULTIES AND

SITUATIONS, IF YOU WILL, MIGHT

PRIVATE CITIZEN DONALD TRUMP BE

PLACED IN AS THESE LAWSUITS ARE

ALLOWED TO PROCEED?

>> WELL, THAT'S BEEN THE VERY

FRUSTRATING THING FOR ZERVOS AND

CARROLL, IS THAT THEY HAVE TRIED

TO PROCEED WITH THEIR LAWSUITS

OVER THE PAST COUPLE YEARS, EVEN

LONGER ON ZERVOS'S PART, AND

THEY HAVE BEEN THWARTED BECAUSE

THE PRESIDENT HAS CLAIMED, HIS

LAWYERS HAVE GONE IN AND CLAIMED

HE'S THE BUSIEST MAN ON THE

PLANET, HE'S THE PRESIDENT OF

THE UNITED STATES, HE DOESN'T

HAVE TIME TO SIT FOR A

DEPOSITION-E DOESN'T HAVE TIME

TO COLLECT DOCUMENTS, ET CETERA.

SO AT EVERY TURN THEY HAVE HAD

OBSTACLES THROWN UP BASED ON THE

FACT THAT HE'S THE PRESIDENT AND

CAN'T POSSIBLY BE EXPECTED TO

DEFEND THIS WHILE HE IS IN THAT

POST.

NOW THAT EXCUSE GOES AWAY.

NOW HE'S A PRIVATE CITIZEN AND

THERE'S NO REASON HE CAN'T SIT

FOR A DEPOSITION, FOR EXAMPLE.

I WOULD EXPECT THE DISCOVERY,

WHICH IS RELIGION WHAT'S BEEN

HOLDING THESE LAWSUITS UP ALL

ALONG, THAT THAT WILL FREE UP A

BIT.

THE COURTS WILL SAY OKAY, NOW

IT'S TIME, LET'S MOVE, LET'S

FINISH IT UP AND GET GOING.

SO I THINK THEY'RE PLEASED THIS

PERIOD IS COMING TO AN END AND

THEY'LL BE ABLE TO PROCEED WITH

THEIR CLAIMS NOW.

>> AND IF THEY DO, BRIEFLY, IT

MEANS THAT THE PRESIDENT CAN BE

DEPOSED PERSONALLY UNDER OATH?

AND WHAT ABOUT WE HEARD

SUGGESTIONS OF DNA TESTING.

>> THAT'S RIGHT.

SO E. JEAN CARROLL APPARENTLY IN

A THROWBACK TO ANOTHER TIME WITH

ANOTHER PRESIDENT KEPT THE DRESS

THAT SHE WAS WEARING DURING THE

RAPE THAT SHE ALLEGED HAPPENED.

AND THERE'S A POSSIBILITY THAT

THERE MIGHT BE DNA MATERIAL ON

IT.

IT SEEMS UNLIKELY GIVEN THE

TIME.

BUT YOU KNOW, WHO KNOWS?

AND SO SHE WANTS TO GET A SAMPLE

OF DNA FROM THE PRESIDENT IN

ORDER TO CONDUCT THAT MATCHING

PROCEDURE FOR DNA.

SO YOU KNOW, THERE'S REALLY NO

REASON THAT THE PRESIDENT

COULDN'T PROVIDE DNA BEFORE.

IT DOESN'T TAKE MUCH TIME.

A FEW SECONDS.

BUT IN ANY EVENT, HE HASN'T DONE

SO YET THAT WE KNOW OF.

AND PRESUMABLY THAT WILL BE

ANOTHER PIECE OF DISCOVERY THAT

THEY'LL BE PUSHING FOR IN THE

DAYS AFTER JANUARY 20th.

>> WHAT ABOUT THE SPECTER THAT

CAME FROM ROBERT MUELLER'S

REPORT AND INDEED EVEN HIS

TESTIMONY ABOUT IT FOCUSING ON

WHETHER OR NOT PRESIDENT TRUMP

ONCE HE IS OUT OF OFFICE COULD

POSSIBLY -- AGAIN, WE'RE

STRESSING POSSIBLY HERE WITH ALL

THESE ISSUES.

COULD POSSIBLY BE PROSECUTED FOR

THE OBSTRUCTION OF JUSTICE THAT

WAS OUTLINED ACCORDING TO ROBERT

MUELLER IN HIS INVESTIGATION IN

HIS REPORT.

>> WELL, THERE'S THAT AND

THERE'S ALSO, REMEMBER, THE

UKRAINIAN ATTEMPTED BRIBERY

MATTER THAT LED TO THE

PRESIDENT'S IMPEACHMENT.

YOU KNOW, THESE ARE BOTH THINGS

THAT IN THEORY COULD RESULT IN

FEDERAL CRIMINAL CHARGES AGAINST

THE PRESIDENT.

IT'S NEVER BEEN DONE BEFORE, OF

COURSE.

SO HE WOULD FIGHT IT AND WE

DON'T KNOW WHERE IT END UP IN

WHETHER YOU COULD CHARGE A

PRESIDENT FOR ACTIVITIES HE DOES

WHILE PRESIDENT.

BUT I ALSO THINK THERE'S A

BIGGER OBSTACLE TO THOSE WHICH

IS I THINK THAT JOE BIDEN IS NOT

GOING TO WANT ANY PART OF DOING

THAT.

HE SEEMS TO BE ALREADY SETTING A

TONE OF LET'S TURN THE PAGE,

LET'S MOVE FORWARD, LET'S GET

PAST THIS PERIOD OF DIVISIVENESS

AND GET ON WITH THINGS.

SO IT SEEMS TO ME THAT FEDERAL

CRIMINAL CHARGES AGAINST THE

PRESIDENT FOR THOSE SORTS OF

THINGS, ACTIVITIES HE DID AS

PRESIDENT, WHILE PRESIDENT, ARE

UNLIKELY TO BE PURSUED BY A NEW

BIDEN ATTORNEY GENERAL.

BUT IT'S POSSIBLE.

I MEAN, YOU KNOW --

>> IT'S THAT ISSUE OF EVEN IF

YOU HAVE THE RIGHT TO DO

SOMETHING IS IT THE RIGHT THING

TO DO?

AND I THINK THAT YOUR

OBSERVATIONS ARE PROBABLY

CORRECT ABOUT PRESIDENT-ELECT

BIDEN WANTING TO MOVE ON FOR

THIS.

IT BRINGS US TO AN INTERESTING

LAST TOPIC FOR US TO TALK ABOUT.

WE'VE GOT 2 1/2 MINUTES OR SO TO

CHAT.

SO I WANT TO GIVE YOU ENOUGH

TIME HERE.

WE KNOW THAT WHEN PRESIDENT

RICHARD NIXON LEFT OFFICE HE WAS

UNDER INVESTIGATION AND THERE

WERE INDICATIONS THAT HE MIGHT

HAVE BEEN PROSECUTED FOR ACTS

COMMITTED WHILE HE WAS IN

OFFICE.

THEN PRESIDENT GERALD FORD TOOK

OVER AND HE PARDONED HIM.

AGAIN, THE NOTION OF LET'S MOVE

ON HERE.

SO WE HAVE HEARD SOME

SPECULATION.

WE KNOW THAT THE PRESIDENT HAS

ALMOST UNBRIDLED PARDON POWERS.

WHAT ABOUT THIS NOTION OF -- AND

GIVE ME A QUICK DEFINITION OF

WHY THEY HAVE THESE POWERS.

AND WHAT ABOUT THE NOTION OF

WHETHER A PRESIDENT COULD PARDON

HIMSELF ON HIS WAY OUT OF THE

OFFICE?

SORT OF PROSPECTIVELY.

>> IT'S A REALLY INTERESTING

QUESTION.

AND LAWYERS EVERYWHERE INCLUDING

THE TWO OF US, I SUSPECT, ARE

MULLING IT OVER.

THE PARDON POWER COMES FROM THE

CONSTITUTION.

AND AS YOU SAID, IT'S VERY

BROAD.

HE HAS THE POWER TO PARDON

PEOPLE FOR FEDERAL CRIMES.

THE QUESTION IS CAN YOU PARDON

YOURSELF?

OF COURSE IT'S NEVER BEEN TRIED.

AND I THINK WE WON'T EVER KNOW

THE ANSWER.

WE WON'T KNOW THE ANSWER IN

CONNECTION WITH THIS PRESIDENT.

BECAUSE IN ORDER FOR US TO KNOW

THE ANSWER HE WOULD HAVE TO

PARDON HIMSELF AND THEN HE WOULD

HAVE TO BE ACTUALLY CHARGED.

BECAUSE ONCE HE'S CHARGED, THEN

IT WOULD START THE LITIGATION

PROCESS.

EVENTUALLY WE'D GET UP TO THE

SUPREME COURT WITH AN ANSWER

ABOUT WHETHER THAT SELF-PARDON

ACTUALLY PROHIBITS THE CHARGE.

SO I DON'T THINK WE'RE GOING TO

GET THERE, BUT I THINK AS I

THINK MOST LEGAL OBSERVERS DO

THAT YOU CAN'T PARDON YOURSELF.

THAT IS NOT WHAT THE FRAMERS

INTENDED.

THE FRAMERS WERE VERY CONCERNED

ABOUT CORRUPTION AND

SELF-DEALING IN PARTICULAR, AND

IT'S MY GUESS THAT A FAIR AND

IMPARTIAL CONSIDERATION OF THAT

QUESTION WOULD RESULT IN THE

ANSWER THAT A SELF-PARDON IS NO

GOOD.

>> YOU MENTIONED THAT IT WOULD

APPLY ONLY TO FEDERAL CRIMES.

SO THERE ARE STATE

INVESTIGATIONS HERE.

LAST QUESTION FOR YOU.

WE'VE GOT ABOUT A MINUTE OR SO.

IS THERE ANY REVIEW -- WE TEND

TO SEE IN ALMOST EVERY ASPECT OF

OUR LIVES SOMEBODY MAKES A

DECISION AND SOMEBODY TAKES A

LOOK AT, IT ANOTHER AGENCY OR A

COURT TAKES A LOOK AT IT.

WHAT ABOUT THE ABILITY OF A

PRESIDENT TO ISSUE PARDONS?

IS THERE ANY REVIEW OF THAT

DECISION?

>> NOT AT THIS TIME.

NOT AT THIS TIME.

AND YOU WOULD NEED A

CONSTITUTIONAL AMENDMENT TO

CHANGE THE PROCEDURE.

SOME PEOPLE HAVE RECOMMENDED

THAT WE CHANGE THE PARDON POWER.

THIS IS NOT THE FIRST TIME THE

PARDON POWER HAS BEEN ABUSED.

MOST PRESIDENTS, OR MANY AT

LEAST -- DECIDING, YOU KNOW, ON

A WHIM WHAT TO DO AND WITH HIS

OWN INTERESTS IN MIND.

>> RIGHT.

IT IS INTERESTING.

JENNIFER, AGAIN, WE ALWAYS

APPRECIATE YOU -- YEAH.

WE ALWAYS APPRECIATE YOU

SPENDING SOME TIME WITH US AND

HELPING US TO UNDERSTAND ALL OF

THIS.

THANK YOU SO MUCH.

YOU TAKE CARE.

WE'LL TALK AGAIN SOON.

>>> BUILDING A BOND WITH HIM?

HE STARTED DOING STUFF FOR ME

THAT HE WASN'T EVEN TRAINED FOR.

NOT TOO LONG AGO I WAS IN

THERAPY AND WE WERE TALKING

ABOUT SOMETHING PRETTY INTENSE.

I GOT VERY PANICKY.

HE GOT UP OFF THE FLOOR AND HE

LITERALLY CLIMBED UP ON TOP OF

ME AND PUT HIS WEIGHT ON ME AND

STARTED LICKING MY FACE.

AND MY THERAPIST AND I STARTED

LAUGHING ABOUT IT.

SO I WENT FROM ALMOST HAVING A

PANIC ATTACK TO LAUGHING BECAUSE

MY DOG IS LICKING MY FACE.

>> IT'S AN ORGANIZATION THAT

PLACES RESCUED ANIMALS WITH

VETERANS.

THIS FACILITY IS DESIGNED TO BE

THEIR SECOND HOME.

>> UH, UH.

>> I AM A MILITARY SPOUSE.

MY FIANCE'S IN THE ARMY.

WE HAVE A 5-YEAR-OLD CHILD

TOGETHER.

SO BASICALLY, I HAD TO DO THE

JOB OF MILITARY SPOUSE WHILE HE

WAS AWAY.

IN THE MEANTIME, I KIND OF

STARTED DOING THIS TO HELP WITH

ME, TO HELP WITH MY FAMILY.

WE'RE A BIG SUPPORT NETWORK

HERE.

WE ALL WORK HAND IN HAND.

>> WE STARTED FIVE YEARS AGO

PLACING DOGS.

AND WE ARE PROUD OF THE

PLACEMENTS.

WE ARE PROUD OF THE LETTERS AND

E-MAILS AND TEXTS THAT WE GET

TALKING ABOUT HEY, JUST WANT TO

SAY HELLO AND TODAY'S ANOTHER

DAY THAT I'M ALIVE AND I AM SO

GRATEFUL FOR THIS DOG AND FOR

YOU GUYS.

>> TREAT THE SAME WAY EVERY

TIME.

OKAY?

EVENTUALLY TREAT GOES AWAY.

WE'RE GOING TO PUT THAT RIGHT TO

HIS NOSE AND I'M GOING TO LEAD

HIM RIGHT TO MY TOES.

ARE YOU READY?

>> WHEN THE GUYS COME HOME YOU

EXPECT THE WORLD FOR THEM

BECAUSE THEY CAME HOME, RIGHT?

THEY SHOULD BE THE SAME.

BUT 9 OUT OF 10 THEY'RE NOT.

I MEAN, THEY'VE BEEN THROUGH A

TRAUMATIC EVENT.

>> WHEN HE HITS YOUR HAND SAY

YES.

RAISE IT UP.

SIT.

>> SO I WANTED TO BECOME A

MILITARY POLICE OFFICER.

I HAD TO BE 19.

I WASN'T.

I WAS 17.

SO I TOOK THE NEXT BEST THING.

I JOINED THE MARINE CORPS

SECURITY FORCES.

THAT'S A SECONDARY JOB.

YOU HAVE TO CHOOSE A PRIMARY

JOB.

SO MY PRIMARY JOB WAS INFANTRY.

WHEN I FIRST GOT OUT THIRNGSZ

WERE A LITTLE WEIRD FOR ME.

THE SYMPTOMS THAT I HAD

ASSOCIATED WITH PTSD WERE NOT

REALLY MAJOR AT THE TIME.

IT KIND OF GREW.

LITTLE THINGS GREW FROM SEEDS

AND IT GOT BIGGER AND BIGGER AND

BIGGER AND WORSE AND WORSE.

SO I STARTED DOING THINGS TO TRY

TO COPE WITH IT.

DIDN'T EVEN KNOW IT WAS PTSD.

DIDN'T EVEN RECOGNIZE IT.

I THOUGHT IT'S JUST ME, I'M JUST

SCREWED UP.

AND I'D HAVE A NIGHTMARE.

AND THEN I'D BE AFRAID TO GO

BACK TO SLEEP.

SO I WOULDN'T GO TO SLEEP FOR

TWO DAYS.

I DIDN'T WANT PEOPLE TO SEE ME

LIKE THAT.

SO I WOULD ISOLATE.

I'D STAY HOME FOR TWO OR THREE

DAYS UNTIL IT PASSED.

SO I STARTED TAKING PAIN

MEDICATION PRESCRIBED FROM MY

DOCTOR.

I FOLLOWED THE PRESCRIPTION THAT

I WAS SUPPOSED TO DO.

BUT AFTER A TIME I STARTED

TAKING IT NOT BECAUSE I WAS IN

PAIN, BECAUSE IT WOULD JUST MAKE

ME FEEL BETTER.

SO I STARTED TAKING MORE AND

MORE.

I JUST HAD A FEW NIGHTS THAT I

WOULD JUST -- I LOOKED IN THE

MIRROR AND I SAID I CAN'T LIVE

MY LIFE LIKE THIS, SOMETHING'S

WRONG.

ONCE I STARTED WORKING WITH THE

V.A. AND I STARTED MEETING OTHER

PEOPLE IN GROUPS AND IN THERAPY

AND IN PROGRAMS, I MET OTHER

PEOPLE THAT WERE DEALING WITH

THE SAME STUFF THAT I WAS.

I DIDN'T FEEL SO ALONE ANYMORE.

I FELT LIKE WOW, HERE'S SOME

OTHER PEOPLE THAT REALLY DO GET

ME.

>> THE FIRST PLANE HIT THE

TOWER.

THEN WHEN THE SECOND PLANE HIT,

THAT'S WHEN MY NATIONAL GUARD

UNIT WAS DEPLOYED AND WE WERE

SHIPPED OUT ON BUSES TO THE

OUTSKIRTS OF GROUND ZERO.

AS WE WALKED CLOSER AND CLOSER

TO THE PILE, IT WAS BURNING.

IT SMELLED REALLY BAD.

PEOPLE WERE SEARCHING IN THE

PILE FOR BODY PARTS.

IF WE HAPPENED TO FIND ANY

REMAINS, THEN WE WOULD HAVE TO

BRING THE PARTS TO THE MORGUE.

I STARTED DRINKING A LOT AT THAT

POINT.

AND USING ILLEGAL DRUGS.

AND IT WAS ALL TO NUMB ALL THE

THINGS THAT I WITNESSED.

I STARTED REALIZING IT AS THE

PROBLEMS WERE GETTING WORSE, MY

IRRITABILITY WAS GETTING WORSE.

I STARTED GETTING PARANOID.

AND WHEN I GOT TO THAT POINT,

THAT'S WHEN I WENT TO THE V.A.

HOSPITAL IN EAST NORTHPORT AND I

GOT HELP.

>> GREAT JOB.

GOOD JOB.

>> JAMES IS AN AMAZING

INDIVIDUAL.

HE'S THE FIRST TO VOLUNTEER FOR

ANY SERVICES.

HE'S THE FIRST TO HELP OUT.

HE'S THE FIRST TO BUILD

SOMETHING.

HE'S THE FIRST TO COLLECT DOG

FOOD AND BRING IT TO US.

HE'S ALWAYS BEEN ACTIVE IN HIS

COMMUNITY.

>> GUARDIANS RESCUE RESCUED 11

PUPPIES FROM LOUISIANA AND THEN

DONATED IT TO PAWS OF WAR FOR

THE VETERANS.

THEY WERE IN A HURRICANE AND IN

LOUISIANA THEY WERE GOING TO

EUTHANIZE ALL 11 OF THEM.

STARTING OUT WITH HIM, IT'S

STARTING OUT WITH LIKE A NEW

CHILD BUT IT'S A PUPPY AND NOW

YOU HAVE TO MOLD IT.

>> I MET SOMEONE NAMED TODD WHO

WAS A MEMBER OF PAWS OF WAR AND

HAD A SERVICE DOG.

SO ONCE I MET TODD AND I SAW HOW

MUCH HELP THE SERVICE DOG WAS

GIVING HIM, I WAS LIKE, I

STARTED THINKING MAYBE A SERVICE

DOG WOULD BE GOOD.

THIS WAS EARLY WHEN I FIRST

STARTED IDENTIFYING EVERYTHING.

HIS DOG HELPED ME SO MUCH

BECAUSE IT WAS A FULLY TRAINED

SERVICE DOG THAT I WAS LOOKING

AFTER AND TAKING WITH ME

EVERYWHERE.

HE WAS FANTASTIC.

AND I'M SORT OF SMILING.

I STARTED SMILING AGAIN, I

STARTED LAUGHING AGAIN.

SO I THOUGHT WHAT'S THE CHANCES

I CAN GET A DOG?

THEY SAID THE CHANCES ARE PRETTY

GOOD.

SO I PUT IN AN APPLICATION AND I

WENT THROUGH THE PROCESS THAT

I'M NOW IN CHARGE OF.

AND I GOT ROCKY.

ROCKY HAS JUST EXCEEDED MY

EXPECTATIONS.

I MEAN, HE'S VERY WELL TRAINED.

HE'S A VERY GOOD DOG.

I COULDN'T BE HAPPIER WITH

ROCKY.

>> HARRY'S PART OF MY CLASS AND

HE'S GOING FOR THE REST OF THE

BADGES FOR ROCKY.

WE'RE TAKING HIM THROUGH ALL THE

LEVELS.

AND THEY'RE VERY GOOD STUDENTS.

EVERY CLASS IS AT LEAST FOUR TO

SIX DOGS IF NOT MORE.

IF ANY OF THE GUYS SAY THEIR

WORK SCHEDULE IS TOO HECTIC

WE'LL HELP WITH DOG WALKING.

WE CAN BRING THE VETERINARIAN TO

THE SERVICE DOG IN NEED.

IF ANYONE NEEDS HELP WITH DRUG

OR SUBSTANCE ABUSE ISSUES WE DO

HAVE A LIAISON THAT CAN DIRECT

THEM IN THE RIGHT FACILITY TO

GET THEM IN THE DIRECTION THAT

THEY NEED.

SO WE CAN GET THE SERVICEMEN

AROUND IT AS WELL.

>> YOU WANT ME TO TAKE ROCKY?

>> SERVICE DOG IS AN EXTENSION

OF YOUR ARM.

SERVICE DOG MEANS THE SERVICE

DOG HAS A JOB TO DO AND MUST BE

ATTACHED TO SAID SERVICE

PERSON'S HIP.

>> HE'S JUST THERE EVEN, SAY, IF

I'M DREAMING AT NIGHT AND I'M

SWEATING AT NIGHT HE'LL COME

OVER TO ME, HE'LL POUNCE ON ME,

HE'LL LICK MY PACEFACE.

HE'LL LICK ME UP FROM MY DREAM.

HE GOES TO SCHOOL WITH ME.

HE'S TRAINED TO LAY DOWN OR SIT.

I TELL HIM THE COMMANDS

DEPENDING UPON WHAT'S GOING ON

IN THE CLASSROOM.

AND HE STAYS THERE.

HE DOESN'T CARRY NOTES OR BOOKS.

>> MOST OF THESE DOGS IN THE

BEGINNING ONCE WE TRAIN THAT

MUTUAL CONNECTION THEY START TO

TRIGGER AND I START TO SHOW THE

GUYS WHEN THEY'RE ACTUALLY --

THEIR DOG IS TRIGGERING THAT

BECAUSE YOU'LL SEE IT.

VERY EARLY STAGES OF TRAINING IF

WE HAVE THE RIGHT FIT.

>> SIT.

GOOD BOY.

PICKED HIM UP.

I DIDN'T TOUCH ANY OTHER PUPPY.

I'M LIKE, I WANT HIM.

AND I KNEW THAT HE WAS THE ONE

FOR ME.

HE WAS NICE AND CALM.

HE WAS CONSOLING ME RIGHT AWAY.

HE JUST LIKE NUZZLED UP TO ME

AND HE DIDN'T WANT TO GET OFF MY

LAP.

YOU KNOW.

AND EVEN NOW STILL HE FOLLOWS ME

EVERYWHERE.

>> YOU WANT TO HAVE SOME FREE

TIME?

OKAY.

LEAVE IT.

>> THE DOG CAN BE A NORMAL DOG.

>> ROCKY.

>> WHEN THE VEST IS ON THE DOG

IS IN WORKING MODE.

SO THE DOG DOES KNOW THE

DIFFERENCE OF WHEN HE NEEDS TO

BE DOING HIS JOB AND WHEN IT'S

OFF THE CLOCK TIME.

>> WE WANT TO MAKE SURE THAT THE

VETERANS ARE INTERESTED IN THE

ORGANIZATION, THAT A DOG REALLY

WILL BE A GOOD FIT, AND THAT

THEY ARE RECEIVING CARE ALREADY.

IF A VETERAN COMES TO US AND HAS

PTSD AND IT'S NEVER BEEN

DIAGNOSED, THEY'RE NOT GETTING

OUTSIDE HELP FOR, IT THAT'S

WHERE OUR PURE SPECIALIST WILL

COME IN AND POINT THEM IN THE

RIGHT DIRECTION, SAY THIS IS

REALLY WHAT YOU MIGHT NEED.

>> GOOD BOY.

>> US HERE AT PAWS OF WAR, WE'RE

JUST OTHER VETERANS THAT HAVE

BEEN THROUGH THIS.

>> EVERYONE'S AFFECTED A

DIFFERENT WAY.

THE FACT THEY ARE IN A UNIFORM

SOMETIMES IT'S HARD FOR THEM TO

ACCEPT THAT'S WHO THEY ARE NOW

AND THAT'S THE BIGGEST HURDLE A

LOT OF THESE GUYS GO THROUGH.

BUT WITH THE DOGS IT HELPS THEM

MORE EASILY TRANSITION AND

ACCEPT WHAT THEY'RE GOING

THROUGH.

AND BE ABLE TO PROCEED FORWARD

AND LEAD A MORE FULFILLED LIFE.

>> WELL, YOU ALWAYS HAVE A

FRIEND.

YOU'LL NEVER BE LONELY.

YOU ALWAYS HAVE SOMEONE TO TALK

TO.

THEY MIGHT NOT TALK BACK.

BUT THEY'RE THERE FOR YOU WHEN

YOU'RE HAVING THOSE HARD MOMENTS

OR THOSE DOWN TIMES.

YOU ALWAYS HAVE A FRIEND WITH

YOU.

>> THIS IS OUR SERVICE.

WE ARE VERY GRATEFUL FOR IT.

THIS IS OUR GIFT BACK TO THOSE

THAT GAVE US A GIFT BIGGER THAN

WE COULD EVER ASK FOR.

♪

♪

♪

>> "METROFOCUS" IS MADE POSSIBLE

BY SUE AND EDGAR WACHENHEIM III,

SYLVIA A. AND SIMON B. POYTA

PROGRAMMING ENDOWMENT TO FIGHT

ANTI-SEMITISM, BERNARD AND

DENISE SCHWARTZ, BARBARA HOPE

ZCKERBERG, AND BY JANET PRINDLE

SEIDLER, JODY AND JOHN ARNHOLD,

CHERYL AND PHILIP MILSTEIN

FAMILY, JUDY AND JOSH WESTON,

DR. ROBERT C. AND TINA SOHN

FOUNDATION.