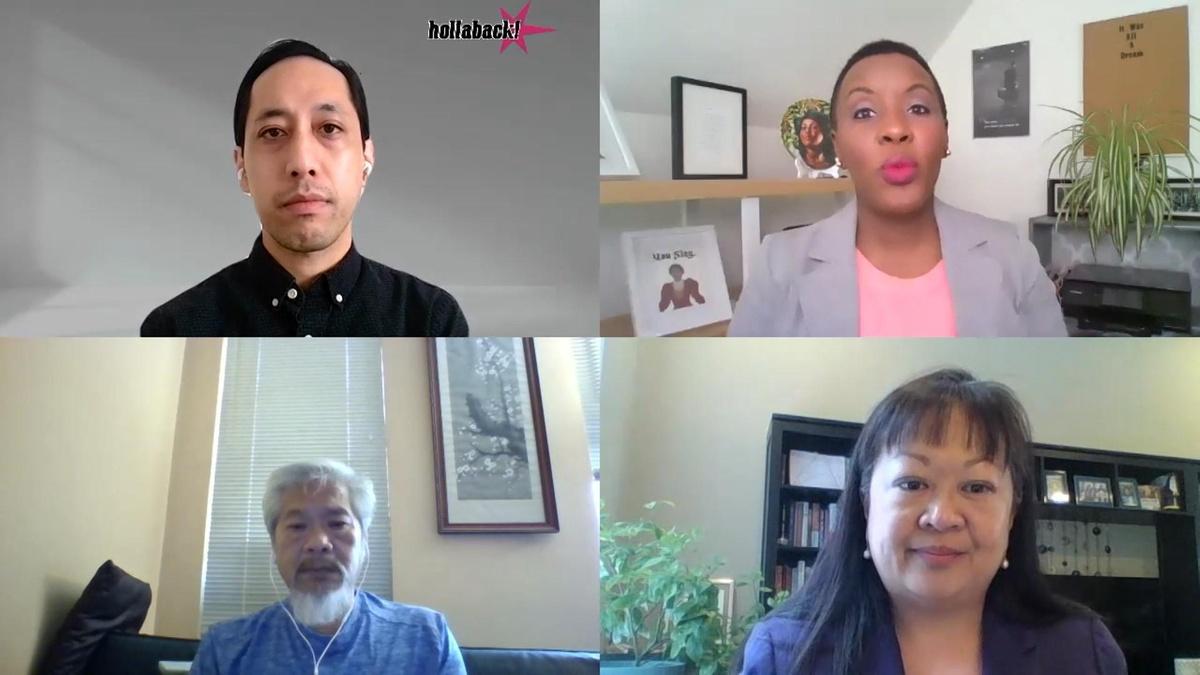 FULL EPISODE
MetroFocus: May 6, 2021
What should you do if you witness a hate crime, harassment, or assault? Tonight we're talking with three people who have been working on precisely this issue. Marita Ectubañez, the senior director of strategic initiatives for the group Asian Americans Advancing Justice (A-A-J-C), Dax Valdes, a senior trainer at the group Hollaback, and Karlin Chan, the founder of the Chinatown Block Watch.
TRANSCRIPT

♪

>>> THIS IS "METROFOCUS" WITH

RAFAEL PI ROMAN, JACK FORD, AND

JENNA FLANAGAN.

>>> "METROFOCUS" IS MADE

POSSIBLE BY --

SUE AND EDGAR WACHENHEIM III.

SYLVIA A. AND SIMON B. POYTA

PROGRAMING ENDOWMENT TO FIGHT

ANTI-SEMITISM.

THE PETER G. PETERSON AND JOAN

GANZ COONEY FUND.

BERNARD AND DENISE SCHWARTZ.

BARBARA HOPE ZUCKERBERG.

THE AMBROSE MONELL FOUNDATION.

AND BY

JANET PRINDLE SEIDLER.

JODY AND JOHN ARNHOLD.

CHERYL AND PHILIP MILSTEIN

FAMILY.

JUDY AND JOSH WESTON.

DR. ROBERT C. AND TINA SOHN

FOUNDATION.

PAT'S ASKWITH KENNER.

♪

♪

♪

>>> GOOD EVENING AND WELCOME TO

"METROFOCUS."

I'M JENNA FLANNIGAN.

ATTACKS AGAINST ASIAN-AMERICANS

CONTINUE TO BE ON THE RISE.

A RECENT ANALYSIS OF HATE CRIME

DATA FOUND THAT WHILE ANTI-ASIAN

HATE CRIME IS UP ACROSS THE

COUNTRY, NEW YORK HAS HAD THE

SHARPEST INCREASE ANY CITY OVER

THE LAST YEAR.

THIS WEEK ALONE THERE HAVE BEEN

A NUMBER OF VIOLENT ATTACKS THAT

ARE NOW BEING INVESTIGATED BY

THE NYPD HATE CRIMES TASK FORCE.

MANY OF THESE ATTACKS, BOTH

VERBAL AND PHYSICAL HAPPENED OUT

IN THE OPEN.

MANY WILL REMEMBER THE BRUTAL

ATTACK IN FRONT OF A MIDTOWN

MANHATTAN APARTMENT BUILDING

EARLIER THIS YEAR WHICH WAS

CAUGHT ON SURVEILLANCE VIDEO.

IN IT, A DOORMAN INSIDE THE

BUILDING WAS SEEN WATCHING AS A

65-YEAR-OLD WOMAN WAS BEATEN AND

THEN CLOSED THE DOOR AS THE

ATTACKS TOOK PLACE.

THAT DOORMAN WAS LATER FILED.

IT DOES BRING UP THE QUESTION,

WHAT SHOULD YOU DO IF YOU

WITNESS ANTI-ASIAN HARASSMENT OR

ASSAULT?

TONIGHT IS PART OF OUR ONGOING

EXPLORING HATE INITIATIVE,

EXAMINING THE INTERSECTION OF

ANTI-SEMITISM, RACISM AND

EXTREMISM IN AMERICA.

WE'RE GOING TO TALK WITH THREE

PEOPLE WHO HAVE BEEN WORKING ON

PRECISELY THAT QUESTION.

SO FIRST, I'D LIKE TO WELCOME TO

THE SHOW MAURITA, SHE IS THE

SENIOR DIRECTOR OF STRATEGIC

INITIATIVES FOR THE GROUP

ASIAN-AMERICANS ADVANCING

JUSTICE, AAJC.

MAURITA, WELCOME TO THE SHOW.

>> THANK YOU VERY MUCH.

>> I'D ALSO LIKE TO WELCOME JACK

VALDES, HE IS A SENIOR TRARN AT

THE GROUP HOLLER BACK.

WELCOME.

>> THANK YOU FOR HAVING US.

>> THESE TWO ORGANIZATIONS HAVE

JOINED FORCES TO OFFER BYSTANDER

INTERVENTION TRAININGS WHICH

HAVE GROWN IN DEMAND NATIONALLY.

WE ARE ALSO JOINED BY COLIN CHEN

AND FOUND OF THE CHINATOWN BLOCK

WATCH IN NEW YORK CITY AND HE

LAUNCHED THE ALL-VOLUNTEER LAST

FEBRUARY WHEN THE CORONAVIRUS

WAS JUST BEGINNING AND THERE WAS

ALREADY A RISE IN ATTACKS

AGAINST ASIAN-AMERICANS.

>> GOOD MORNING.

THANK YOU FOR HAVING ME.

>> ABSOLUTELY.

SO FIRST OFF, WHAT I WANT TO ASK

EVERYONE IS IF YOU CAN SORT OF

GIVE US YOUR OWN EXPERIENCE AND

BY YOUR OWN PERSONAL EXPERIENCE

I MEAN THAT NEW YORK IS A CITY

THAT IS KNOWN FOR SORT OF

MINDING YOUR BUSINESS AND

KEEPING IT MOVING NO MATTER WHAT

AND SO I THINK ALL NEW YORKERS

AT SOME TIME HAVE BEEN IN A

POSITION WHERE THEY HAVE

WITNESSED SOMETHING AND PERHAPS

FELT HELPLESS AND SO THEY JUST

KEPT GOING OR JUST CHOSE TO, YOU

KNOW, THAT'S NONE OF MY BUSINESS

AND KEPT MOVING OR THEY'VE BEEN

VICTIM OF SOMETHING AND FELT A

DIFFERENT KIND OF HELPLESSNESS

AS THEY WATCHED THEIR FELLOW NEW

YORKERS JUST KEEP IT MOVING.

SO I JUST WANT TO GET EVERYONE'S

TAKE ABOUT WHERE THEY'RE COMING

TO THIS PARTICULAR ISSUE FROM

PERSONALLY AND DAX, I'LL START

WITH YOU.

>> THANK YOU.

SO THINKING BACK ABOUT MY OWN

EXPERIENCES WITH HARASSMENT

BEFORE I STARTED DOING THIS WORK

AND NOT HAVING LANGUAGE TO

IDENTIFY WHAT WAS GOING ON, NOW

I KNOW WHAT IT IS AND ALSO,

LIKE, THINKING BACK ABOUT MY OWN

EXPERIENCES IN NEW YORK,

DEFINITELY, LIKE, IT'S NOT MY

BUSINESS.

I'M NOT GOING TO GET INVOLVED,

BUT WITH THINGS ESCALATING THE

WAY THAT THEY ARE, IT'S HARD TO

SHARE THE SAME IDENTITY AS THE

PERSON IN CONFLICT NOW AND NOT

BE ABLE TO SAY SOMETHING.

SO WHILE THERE IS STILL LESSONS

IN THE MOMENT, WHEN I SEE

SOMETHING HAPPENING AND LOOKING

AROUND MAKING SURE THAT I'M OKAY

BEFORE I SAY SOMETHING, THAT IS

STILL SOMETHING THAT I HAVE TO

NAVIGATE NO MATTER WHERE I AM

AND ALSO JUST GET OVER THAT

MOMENT OF ANXIETY, YES, I CAN DO

THIS, AND I SHARE THIS WITH

OTHER PEOPLE, YES, YOU CAN DO

THIS AND IT'S ALWAYS GOING TO BE

A NEGOTIATION.

>> MAURITA, WHAT ABOUT YOU?

>> I WILL FIRST LET YOU KNOW

THAT I AM NOT A NEW YORKER, BUT

I THINK THAT THAT EXPERIENCE

THAT YOU DESCRIBED IS UNIVERSAL,

RIGHT?

PEOPLE EVERYWHERE, I THINK,

QUESTION IS THIS SOMETHING I

SHOULD GET INVOLVED IN?

WILL MY SAFETY BE COMPROMISED IF

I DO?

WHAT DO I DO, RIGHT?

THAT IS COMPLETELY

UNDERSTANDABLE, BUT I ALSO

BELIEVE THAT WE HAVE THIS

INSTINCT TO TAKE CARE OF ONE

ANOTHER AND THAT IS ONE OF THE

REASONS I REALLY VALUE THE WORK

THAT MY ORGANIZATION HAS BEEN

DOING WITH HOLLA BACK BECAUSE

THEY GIVE THEM CHANNEL THAT

IMPULSE TO HELP OTHER PEOPLE AND

HOPEFULLY TO DO IT IN PRODUCTIVE

WAYS THAT KEEP THEM SAFE.

>> COLLIN, I FEEL LIKE THIS IS

SOMETHING YOU MIGHT BE COMING TO

HAVING BEEN WORKING WITH THE

COMMUNITY THAT IS SO DEEPLY

IMPACTED.

JUST TELL US ABOUT WHAT YOUR

PERSPECTIVE IS.

IT'S STRANGE HOW YOU BROUGHT UP

THE ATTACK ON THE 65-YEAR-OLD

WOMAN IN MIDTOWN, BECAUSE AS I

WAS HEADING THERE TO THE

CONFERENCE TO SPEAK I WAS

HARASSED BY 42nd STREET.

I HEARD SOMEONE DWRLING THAT

ASIAN MAN THIS AND THAT ASIAN

MAN THAT AND I RELL REALIZED I

WAS THE ONLY ASIAN MAN AND THIS

PERSON HAD A CELL PHONE OUT AND

DID I EXACTLY WHAT MAURITA DID,

I HOLLERED BACK AT THE GUY AND

THANKFULLY THE PERSON BACKED

DOWN, BUT I DID NOTICE A COUPLE

OF PEOPLE THAT WERE WALKING ON

THE SIDE WAUG, THEY HAD SLOWED

DOWN AND THEY HAD -- I WAS GOING

TO HELP THEM LOOK IN THE EYES TO

ME, BUT THESE ATTACKS HAVE BEEN

GOING ON FOR A WHILE, AND I FEEL

THAT MANY PEOPLE ARE BEING

ENCOURAGED TO ACT WITH IMMUNITY.

I DON'T WANT TO ADDRESS THIS LAW

ENFORCEMENT THING, BUT --

>> OF COURSE, WE DO WANT TO TALK

ABOUT JUST THE WAY THAT WE'RE

TREATING EACH OTHER ESPECIALLY

AS FELLOW CITIZENS OF THIS

COUNTRY AND OF NEW YORK CITY, ET

CETERA, BUT MAURITA, I KIND OF

WANT TO GO BACK TO JUST THE WAY

THAT PEOPLE ARE FEELING OKAY TO

PERHAPS TAKE THEIR ANXIETIES OUT

ON OTHER INDIVIDUALS.

I DON'T THINK THAT ANYONE WOULD

ARGUE THAT AFTER THE YEAR OF

QUARANTINING AND SICKNESS AND

JOB LOSS FOR A LOT OF PEOPLE

SOMETIMES ALL WRAPPED UP

TOGETHER THAT THERE IS A

SIGNIFICANT AMOUNT OF STRESS ON

THE POPULATION, BUT I GUESS --

THERE -- IT SEEMS TO BE PEOPLE

ARE LOOKING FOR SOMEONE TO

BLAME, AND THAT SEEMS TO BE

WHAT'S DRIVING, BUT I WONDER

FROM YOUR PERSPECTIVE AGAIN,

WHEN PEOPLE PERHAPS HAVE MIXED

EMOTIONS ABOUT HOW THEY EVEN

FEEL ABOUT CERTAIN ISSUES, WHAT

IS THE RESPONSIBILITY THAT WE

HAVE TOWARDS ONE ANOTHER?

>> YES.

IT IS, OF COURSE, UNDERSTANDABLE

THAT PEOPLE ARE FEELING GREATER

STRESS.

GREATER PRESSURE, RIGHT?

THE PANDEMIC HASN'T BEEN EASY ON

ANYONE, AND IT IS, PERHAPS, SO

UNDERSTANDABLE THAT PEOPLE ARE

LOOKING FOR SOMEONE TO BLAME FOR

WHAT THEY'RE FACING.

UNDERSTANDABLE, BUT NOT OKAY,

RIGHT?

I DON'T THINK THAT THOSE

STRESSES, THOSE PRESSURES SHOULD

EVER GIVE US LICENSE TO ACT OUT

AGAINST ANYONE, MUCH LESS ACT

OUT ON BIASSES AND PREJUDICES,

AND PEOPLE MIGHT NOT BE AWARE

THAT THEY HAVE THESE BIASSES AND

PREJUDICES AND THAT'S SOMETHING

THAT WE NEED TO DELVE INTO MORE

AND UNCOVER AND GET PEOPLE TO

GRAPPLE WITH THE FACT THAT THEY

ARE LIKELY ACTING ON STEREOTYPES

AND, YOU KNOW, SCAPEGOATING

OTHER PEOPLE WHICH ISN'T RIGHT.

OF COURSE.

DAX, I'M WONDERING IF YOU CAN

TELL ME A LITTLE BIT ABOUT WHAT

IS IT THEN THAT ARE THE BEST

STEPS TO TAKE?

UNFORTUNATELY, EVEN PRIOR TO THE

PANDEMIC, LIKE I'VE DESCRIBED

EARLIER, MY FIRST QUESTION, NEW

YORK HAS BEEN A CITY WHERE WE'VE

SEEN PEOPLE TARGETED FOR SIMPLY

WHO THEY ARE FOR DECADES AND

WE'VE, FOR BETTER OR PROBABLY

FOR WORSE BECOME DESENSITIZED TO

IT, WE LEARNED HOW TO SHRUG IT

OFF.

WHERE IS IT THAT YOU WOULD BEGIN

WITH ADVISING SOMEONE, YOU SEE

SOMETHING, YOU KNOW IT'S WRONG.

WHAT DO YOU DO OTHER THAN TAKE

THOSE NEXT FEW STEPS TO JUST GET

AWAY FROM IT?

>> I THINK -- WELL, I WILL SAY,

I WILL OFFER BACK HOLLA BACK'S

TRAINING.

THEY'RE FREE TO THE PUBLIC.

THESE ARE SMALL STEPS THAT YOU

CAN USE TO TAKE CARE OF YOURSELF

AND OTHERS WHEN THERE IS

HARASSMENT OR DISRESPECT AND

ALSO, IT IS AN INVITATION FOR

PEOPLE TO EDUCATE THEMSELVES AND

DO A LOT OF SELF-REFLECTION TO

IDENTIFY WHY THEY THINK THESE

THINGS AND ALSO LEARN ABOUT THE

HISTORY OF DISCRIMINATION NOT

AGAINST ASIANS AND

ASIAN-AMERICANS IN THIS COUNTRY

AND ALL MARGINALIZED

COMMUNITIES.

WE HAVE TO CHALLENGE THE STATUS

QUO.

TO GO BACK TO THE INITIAL

QUESTION, KNOWING WHAT YOU CAN

DO TO TAKE CARE OF OTHERS AT

THAT MOMENT AND HOW YOU CAN GET

OVER THOSE FLIGHT, FIGHT FREE

RESPONSES FOR STANDING UP AND

SHOWING UP FOR EACH OTHER WHEN

BAD THINGS HAPPEN.

>> WELL, I UNDERSTAND -- OH, I'M

SORRY.

WHAT WERE YOU SAYING?

>> I WAS GOING TO BREAK DOWN THE

FIVE-STEP METHODOLOGY THAT I

THINK IS REALLY ACCESSIBLE.

FIRST ONE IS DISTRACT, WHICH IS

SIMPLY CREATING A DISTRACTION TO

DE-ESCALATE A SITUATION.

DELEGATE IS ASKING SOMEBODY ELSE

TO HELP YOU OUT.

DOCUMENT IS TAKING A FPHOTO OR

VIDEO OF WHAT'S GOING ON IF YOU

FEEL SAFE.

DELAY IS SIMPLY WAITING UNTIL

THE INCIDENT OF HARASSMENT IS

OVER AND YOU CHECK IN WITH THE

PERSON WHO EXPERIENCED THAT

DISRESPECT OR HARASSMENT AND YOU

MAKE AN OFFER ON HOW YOU CAN

SUPPORT THEM AND THEN DIRECT IS

THE ONE THAT EVERYBODY THINKS

ABOUT WHEN THEY THINK ABOUT

BYSTANDER INTERVENTION.

IT'S SOME VERSION OF HEY, STOP

DOING THAT AND WE ALSO SHARE

EXAMPLES AND STRATEGIES IF THEY

DO DECIDE TO INTERVENE.

>> ARE THESE THE KIND OF STEPS

THAT HAVE BEEN UTILIZED THAT YOU

FOUND HELPFUL WITH YOUR

ORGANIZATION WORKING WITH THE

RESIDENT OF CHINATOWN?

>> YES, ACTUALLY, THEY ARE.

WHAT THEY DID IS EXACTLY WHAT

THEY DO IF WE COME UPON A SCENE

OF SOMEONE BEING HARASSED.

WE WOULD VERBALLY INTERVENE AND

QUESTION IT, SINCE WE HAVE A

GROUP AND WE NEED TO BE SPLIT

INTO TEAMS OF FOUR AND FIVE THAT

DISTRACTS THE PERSON AND A LOT

OF TIMES THEY MAY FEEL

EMBARRASSED AND THEY MAY STAND

DOWN A BIT AND WALK AWAY, BUT IF

IT'S A PHYSICAL EFFECT NOW

THAT'S A DIFFERENT STORY AND IF

THERE WAS A WEAPON INVOLVED I

WOULD NEVER JUMP BETWEEN SOMEONE

WITH A KNIFE OR STICK OR

SOMETHING, BUT YOU KNOW -- THAT

IN ITSELF, EVERY CASE OF THE

HARASSMENT IS UNIQUE AND THE

CIRCUMSTANCES ARE UNIQUE AND

IT'S A SPLIT-SECOND ANALYSIS AND

THE REACTION IS MORE REACTIVE

WHEN IT IS A PHYSICAL ASSAULT

GOING ON, BUT I'M CONFIDENT WE

CAN TAKE CARE OF IT.

>> IS THERE PERHAPS SOME CONCERN

FOR -- ESPECIALLY IF THERE IS A

PHYSICAL ASSAULT GOING WHICH ARE

SOME OF THE MORE HEARTBREAKING

STORIES THAT WE'VE BEEN SEEING

IN THE NEWS, BUT THERE'S ALSO A

SUBSEQUENT CONVERSATION

SPECIFICALLY AROUND THE EXAMPLE

THAT I GAVE IN THE INTRO OF THE

DOORMAN WHO WITNESSED THIS

ATTACK ON THIS 65-YEAR-OLD WOMAN

AND THEN ON TOP OF THAT, CLOSED

THE DOOR.

HE WAS FIRED FROM HIS JOB AND

SOME PEOPLE ARE SAYING, WAIT A

SECOND.

HE'S NOT TRAINED.

THAT'S NOT PART OF HIS JOB

DESCRIPTION.

THAT'S NOT, YOU KNOW, YOU DON'T

KNOW WHAT KIND OF DANGER HE

MIGHT HAVE BEEN EXPOSING HIMSELF

INTO IF HE GOT INVOLVED WITH

THIS.

I'M WONDERING, WHAT IS THE LINE

OF EXPECTATION FOR US TO LOOK

OUT FOR EACH OTHER AND STAND UP

FOR EACH OTHER.

IS THAT SOMETHING THAT'S --

YEAH?

>> WELL, THE IDEA BEHIND, WHEN I

CREATED THIS, WAS TO ENCOURAGE

PEOPLE TO REPORT AN INCIDENT, IF

YOU HEAR A COMMOTION AND YOU SEE

A CRIME BEING COMMITTED OUTSIDE

YOUR WINDOW, YOU CAN INTERVENE

BY REPORTING IT TO THE POLICE

FROM THE SAFETY OF YOUR HOME,

YOU DO NOT HAVE TO JUMP OUT

THERE TO TRY TO STOP THIS ATTACK

PHYSICALLY YOURSELF, BUT ANYBODY

CAN CALL THE POLICE AND THAT IS

THE LEVEL OF INTERVENTION HERE

OR TRY TO RECORD AN INDIVIDUAL

DURING AN ATTACK TO PROVIDE

EVIDENCE IN THE ONGOING CASE IF

THE PERSON WAS ARRESTED.

.

I WOULD NEVER ADVOCATE FOR

SOMEONE TO JUMP INTO A FIGHT

BECAUSE YOU NEVER KNOW IF THE

PERSON IS ARMED OR NOT AND YOU

HAVE TO CONSIDER YOUR OWN

PERSONAL SAFETY.

EACH HAS UNIQUE CIRCUMSTANCES

AND YOU HAVE TO DO A QUICK

ANALYSIS OF IT AND ACT.

>> MAURITA, I'M WONDERING ALSO

HOW MUCH OF THIS RE-ENTRY THAT I

GUESS WE'RE EXPERIENCING, I

DON'T KNOW HOW ELSE TO DESCRIBE

IT, BUT AS WE SORT OF COME INTO

VACCINATION AND WE COME OUTSIDE

OF QUARANTINE, SO TO SPEAK,

THERE DOES THERE NEED TO BE A

BETTER UNDERSTANDING, PERHAPS,

WHO NOT ONLY ALL OF THIS HAS

AFFECTED US, BUT WHO OUR

NEIGHBORS ARE BECAUSE AGAIN, IN

NEW YORK, WE'VE BECOME SO MUCH

OF A CITY WHERE WE DON'T ALWAYS

KNOW WHO THE QUOTE, UNQUOTE,

OTHER PERSON IS.

WE JUST KNOW THEY EXIST.

WE SEE THEM ON THE SUBWAY AND IF

THEY'RE NOT IN OUR LIVES WE

DON'T KNOW ANYTHING ABOUT THEM

AND THAT FURTHERS THEM WITH THE

SAME COMMUNITY THAT WE WOULD

EXPERIENCE WITH PEOPLE WE DO

KNOW.

HOW IMPORTANT IS RE-CREATING

COMMUNITY IN THIS POST-COVID

WORLD.

>> VERY IMPORTANT.

I APPRECIATE THE QUESTION.

AND THE TRAININGS THAT ADVANCING

JUSTICE ARE JOIN TRAININGS ON

ADDRESSING ANTI-ASIAN, HATE AND

HARASSMENT, MORE THAN 75,000

PEOPLE AND SO WE TALK IN OUR

TRAINING ABOUT THAT COMMUNITY

THAT WE'RE BUILDING OF PEOPLE

WHO KNOW THESE TACTICS AND

HOPEFULLY ARE EQUIPPED TO GO OUT

IN THE WORLD TO SEE SOMEONE ELSE

WHO IS FACING HARASSMENT OR

CONFLICT.

YES, WE NEED TO BE BUILDING

BRIDGES AND CONNECTING WITH OUR

NEIGHBORS AND BUILDING

COMMUNITY, BUT THAT CAN TAKE SO

MANY DIFFERENT FORMS INCLUDING

BUILDING A XHIENTS OF PEOPLE WHO

ARE WILLING TO STEP UP AND

INTERVENE IF THEY SEE SOMETHING

HAPPENING.

>> OF COURSE.

OF COURSE, JUST TO ALSO GIVE

PEOPLE WHO, AGAIN, IF YOU

HAVEN'T HAD FIRST-HAND

EXPERIENCE OF ANY OF THIS, AND

YOU SORT OF HEARD ABOUT MAYBE

THE MORE EGREGIOUS, PHYSICAL

ATTACKS.

I'M WONDERING IF MY PANELISTS

CAN GIVE ME AN IDEA OF WHAT

WE'RE TALKING ABOUT.

IS IT JUST VERBAL HARASSMENT

WHICH AGAIN, IN A CITY LIKE NEW

YORK HAS BEEN VERY NORMALIZED OR

ARE THERE OTHER THINGS THAT

PEOPLE SHOULD ALSO PERHAPS BE

AWARE OF THAT YOU TRAINED

YOURSELF TO IGNORE?

>> SO THINKING ABOUT.

>> OH, SORRY.

GO AHEAD, PLEASE.

>> RAILROAD HARASSMENT IS

PREDOMINANT IN THE 15 MONTHS

THAT WE'VE PATROLLING THE

STREETS OF CHINATOWN.

>> UNFORTUNATELY, WAS THERE A

SPATE OF PHYSICAL ATTACKS HERE

STARTING TWO MONTHS AGO, EXPECT

I REALIZED, I MEAN, AGZS?

THIS COUNTRY ARE VIEWED AS

PERPETUAL FOREIGNERS AND THERE'S

A MISUNDERSTANDING INVOLVING

ASIANS EXPECTATION STUDIES ARE

NOT IMPORTANT IN THE COUNTRY AND

WHAT'S THE BEST WAY TO KNOCK

DOWN THE BARRIERS OF RACISM, BUT

TO TEACH ABOUT THE DIFFERENT

ETHNICITIES?

WE HAVE BLACK STUDIES AND LATINO

STUDIES.

WE DO NOT HAVE ASIAN STUDIES.

SO WHAT PEOPLE VIEW US.

I'VE BEEN APPROACHED MANY TIMES.

WHAT ARE YOU OR WHERE DO YOU

COME FROM?

>> BROOKLYN, BUT THIS IS AN

IMPLICIT BIAS ON A PERSON ASKING

ME.

THEY DON'T REALIZE, IF I GIVE A

CLASSIC EXAMPLE, IF TWO PEOPLE

FROM THE SAME EUROPEAN COUNTRY,

SAY FRANCE, OKAY, IS AN ASIAN

PERSON AND THERE'S A CAUCASIAN

PERSON.

IF THE CAUCASIAN PERSON WALKS

INTO A STORE IN NEW YORK AND

SPOKE WITH THE HEAVY FRENCH

ACCENT IT'S CONSIDERED SEXY, BUT

IF AN ASIAN PERSON DOES THE SAME

THING IT'S CONSIDERED WE DON'T

SPEAK THE RIGHT LANGUAGE HERE

AND THIS IS A GREAT EXAMPLE

HERE.

>> WHY WOULD THAT PERSON BE

CONSIDERED SEXY WITH THAT

ACCENT, BUT I WOULD BE

CONSIDERED THE DUMB ASIAN.

>> THAT'S AN EXCELLENT EXAMPLE.

DAX, WERE YOU GOING TO ADD IN?

>> SO THINKING ABOUT THE POINT,

YES, ALSO EDUCATION IS GOING TO

BE A BIG FACTOR IN ELIMINATING

IMPLICIT BIAS THAT PEOPLE HAVE

AND USING BYSTANDER

INTERVENTION, IT CAN BE APPLIED

ACROSS THE SPECTRUM OF

HARASSMENT AND DISRESPECT AND

NOT ONLY IN THE ESCALATED

EXAMPLES THAT WE'VE BEEN SEEING

ON THE NEWS AND THINGS THAT

HAPPEN ON THE STREET THAT YOU

OVERHEAR THAT MAKE YOU GO, HMMM.

TO CHALLENGE THINGS LIKE

MICROAGGRESSIONS AND HEY, WHAT

DID YOU MEAN BY THAT OR CAN YOU

EXPLAIN WHAT'S SO FUNNY ABOUT

THAT JOKE YOU JUST SHARED?

THINGS LIKE SHUNNING AND ASKING

A PERSON WHY THEY INSTINCTIVELY

FLINCHED FROM YOU AS YOU PASSED

THEM ON THE STREET OR AS YOU GET

INTO AN ELEVATOR.

THOSE ARE OPPORTUNITIES TO USE

BYSTANDER INTERVENTION TO

CHALLENGE THOSE BEHAVIORS AND

THOUGHT PATTERNS SO THAT IT'S AN

OPPORTUNITY FOR THAT PERSON TO

REFLECT AND THINK ABOUT HOW THEY

ACT.

IT MIGHT NOT ALWAYS WORK, BUT

THOSE ARE THINGS THAT WE WANT TO

ADDRESS THOSE ROOT CAUSES OF

DISRESPECT AND HARASSMENT BEFORE

IT EVEN GETS TO THE THINGS WE'VE

BEEN SEEING IN THE NEWS.

>> YOU KNOW, AS THE WORD OF THIS

GOES OUT, NOT JUST IN NEW YORK,

BUT ACROSS THE COUNTRY, MAURITA,

I'M WONDERING, FROM YOUR

PERSPECTIVE, HOW DO YOU ADVOCATE

FOR THESE THAT SEEM LIKE SIMPLE

LITTLE ACTION, BUT TO A POPULOUS

THAT ARE JUST EXHAUSTED.

PEOPLE ARE JUST EXHAUSTED AND

YOU TELL ME YOU WANT ME TO DO

ONE MORE THING.

HOW DO YOU ADVOCATE, THIS IS

JUST A SIMPLE, LITTLE THING THAT

YOU CAN INCORPORATE INTO YOUR

ROUTINE OR INTO YOUR LIFE?

>> YEAH.

WE'RE ALL FACING PANDEMIC

FATIGUE, RIGHT?

THAT IS ALSO COMPLETELY

UNDERSTANDABLE, BUT I WOULD SAY

THAT THE TRAININGS THAT WE'VE

BEEN DOING ARE ONLINE, AND

THEY'RE ONE HOUR, WHICH MIGHT

SOUND LIKE A LOT, BUT

PERSONALLY, I FIND GOING THROUGH

THE SESSIONS AND GIVING THE

TRAINING TO BE BOTH HEALING AND

INSPIRING.

SO I WOULD ENCOURAGE PEOPLE TO

MAKE THE TIME BECAUSE I DO THINK

THERE'S A LOT OF VALUE IN

LEARNING THE TACTICS AND ALSO

FEELING IN THAT YOU ARE NOT

ALONE IN YOUR CONCERN, FEELINGS

AND ANXIETIES AND LEARNING THAT

YOU ARE A PART OF THIS LARGER

COMMUNITY OF PEOPLE THAT IS

EMPOWERED, HOPEFULLY TO TAKE

ACTIONS IF THEY NEED TO.

>> AND --

>> WE HAVE PEOPLE -- OH, SORRY.

>> NO, ABSOLUTELY.

>> IT IS A PRIVILEGE TO BE

HOLDING SPACE AND HOLDING THESE

STRATEGIES AND KNOWLEDGE.

WE HAVE FOLKS, THE GREAT THING

ABOUT BEING IN THIS VIRTUAL

WORLD IS WE HAVE FOLKS ACROSS

THE WORLD JOIN US 3,000, 4,000,

5,000 PEOPLE AT A TIME WHICH WAS

OVERWHELMING, BUT MAURITA AND I

ARE NAVIGATING JUST ALL OF THIS

GRIEF AND ALL OF THIS LOVE AT

THE SAME TIME OF FOLKS SHARING

THEIR EXPERIENCES IN THE CHAT

AND IT'S BEEN -- YEAH.

IT'S BEEN A RIDE, BUT IT HAS

BEEN VERY THERAPEUTIC TO END

HEALING AS WELL, TO BE A PART OF

THIS MOVEMENT AT THIS TIME.

>> AND I DO THINK THAT'S AN

INCREDIBLY IMPORTANT POINT TO

MAKE IS FOUR PEOPLE WHO HAVE

TAKEN THIS TRAINING WHO HAVE

ATTEMPTED TO INCORPORATE THIS,

THERE IS A SENSE OF EMPOWERMENT

AND THAT'S WHAT I'M GETTING IS

PEOPLE CAN COME AWAY FEELING

LIKE THERE IS ACTUALLY SOMETHING

I CAN DO TO KEEP WHAT MAY FEEL

LIKE A WORLD THAT'S SPINNING OUT

OF CONTROL FROM BEING TERRIBLE,

TERRIBLE, TO A LITTLE LESS

STRESSFUL.

IS THAT A CORRECT UNDERSTANDING?

>> ONE STEP AT A TIME.

OF COURSE, ONE STEP AT A TIME.

>> YEAH.

COLLIN, I WANT TO GET YOUR TAKE

FROM THE PEOPLE WHO HAVE BEEN

INVOLVED WITH YOUR ORGANIZATION,

WHAT HAS BEEN THEIR TAKEAWAY

FROM BEING ABLE TO ACTUALLY DO

SOMETHING TO STEP UP AND HELP

AND TO FEEL LIKE I'M PART OF

SOME KIND OF SOLUTION TO KEEP

THINGS FROM GETTING WORSE?

>> WELL, MOST OF OUR -- ALL OF

OUR VOLUNTEERS, THEY TAKE A

PROACTIVE APPROACH TO THIS, AND

SO THEY WANT TO PHYSICALLY BE

OUT THERE -- THEY OFFER A SORT

OF COMMUNITY POLICING.

WE ARE LIKE A GO-BETWEEN BETWEEN

THE NYPD AND THE RESIDENTS AND

THE BUSINESS OWNERS IN THIS

COMMUNITY.

WE ARE KNOWN FACES IN -- EXCUSE

ME.

WE ARE KNOWN TO THE COMMUNITY

AND THE BUSINESS OWNERS HERE, SO

THEY'RE MORE.

THEY WILL MORE FREELY COME UP

AND REPORT ANY PATTERNS OF

HARASSMENT, AND WE'RE LIKE A

GO-BETWEEN BETWEEN THE NYPD AND

THE COMMUNITY.

>> OKAY.

THAT'S DEFINITELY, I THINK,

INCREDIBLY HELPFUL ALSO FOR

PEOPLE TO KNOW SEEING AS HOW

WE'VE HEARD SO MANY REPORTS THAT

SOMETIMES PEOPLE ARE HESITANT TO

CONTACT THE POLICE BECAUSE

PERHAPS THEY DON'T FEEL AS

THOUGH THEY GET THE SAME

EMPATHETIC RESPONSE FROM A

GOVERNMENT ORGANIZATION.

>> MAURITA, WE ARE COMING UP TO

THE END OF OUR TIME TOGETHER SO

I DO WANT TO GIVE YOU THE LAST

WORD AND JUST ASK ABOUT YOUR

THOUGHTS ON HOW ANY OF THIS,

PERHAPS, COULD GET CODIFIED INTO

LAW IN TERMS OF LEGISLATION ON A

NATIONAL LEVEL, AND WE HAVE

ABOUT A MINUTE LEFT, BUT JUST

WHAT ARE YOUR THOUGHTS ON SHOULD

ANY OF THIS BE MADE PERMANENT?

>> THANK YOU FOR THAT QUESTION.

FIRST, I WILL SAY THAT THERE ARE

REALLY GREAT CONVERSATIONS

HAPPENING ACROSS THE COUNTRY

AMONG COMMUNITY GROUPS AND

ADVOCATES WITH WHAT DO WE MEAN

WHEN WE'RE TALKING ABOUT

COMMUNITY SAFETY.

WHAT MECHANISMS DO WE NEED IN

PLACE SO THAT WE CAN BE SAFE AND

FEEL SAFE AND OTHERS HAVE NOTED

THAT'S NOT ALWAYS GOING TO BE

THE POLICE, RIGHT?

SO IT'S IMPORTANT THAT THOSE

CONVERSATIONS CONTINUE AND WE

FIND WAYS TO BUILD IN MORE

MECHANISMS FOR COMMUNITY SAFETY

INTO OUR LIVES AND POLICIES, BUT

ONE POSITIVE STEP FORWARD IS

THAT JUST LAST MONTH, THE SENATE

PASSED THE COVID-19 HATE CRIME

ACTS.

I VOTED 94 TO 1 AND THIS LAW

DOES A LOT TO ADDRESS ISSUES ON

DATA COLLECTION AND REPORTING OF

HATE CRIMES BECAUSE WE NEED GOOD

DATA IN ORDER TO ADVOCATE FOR

SOLUTIONS.

ANOTHER ASPECT OF THE LAW THAT

WE THINK IS A GREAT STEP FORWARD

IS THAT IT MANDATES THAT THE

MECHANISMS THAT ARE SET UP FOR

REPORTING FOR COLLECTION OF

INFORMATION ABOUT HATE CRIMES IS

DONE IN DIFFERENT LANGUAGES

WHICH IS GOING TO BE CRITICAL

FOR THE ASIAN-AMERICAN

COMMUNITY.

SO THERE ARE LOTS OF PROVISIONS

IN THIS LAW, BUT IT'S A -- WE

SEE THIS AS A GREAT STEP FORWARD

THAT THE SENATE HAS PASSED THIS

BILL AND THE HOUSE OF

REPRESENTATIVES IS SLATED TO

TAKE IT UP THIS MONTH ASK WE ARE

HOPEFUL THAT THEY WILL PASS THE

COVID-19 HATE CRIMES ACT.

>> WE, UNFORTUNATELY, HAVE RUN

OUT OF TIME, BUT I WOULD LIKE TO

THANK ALL THREE OF MY GUESTS.

MAURITA, DAX VALDES, EXCUSE ME,

AND COLLIN CHAN, THANK YOU SO

MUCH FOR JOINING US IN HAVING

THIS CRITICALLY IMPORTANT

CONVERSATION.

>> THANK YOU FOR HAVING ME.

>> THANK YOU.

>> YOU ALL TAKE CARE.

BE SAFE.

♪

♪

>>> "METROFOCUS" IS MADE

POSSIBLE BY --

SUE AND EDGAR WACHENHEIM III.

SYLVIA A. AND SIMON B. POYTA

PROGRAMING ENDOWMENT TO FIGHT

ANTI-SEMITISM.

THE PETER G. PETERSON AND JOAN

GANZ COONEY FUND.

BERNARD AND DENISE SCHWARTZ.

BARBARA HOPE ZUCKERBERG.

THE AMBROSE MONELL FOUNDATION.

AND BYAÂ --

JANET PRINDLE SEIDLER.

JODY AND JOHN ARNHOLD.

CHERYL AND PHILIP MILSTEIN

FAMILY.

JUDY AND JOSH WESTON.

DR. ROBERT C. AND TINA SOHN

FOUNDATION.

PATTY ASWITH KENNER.