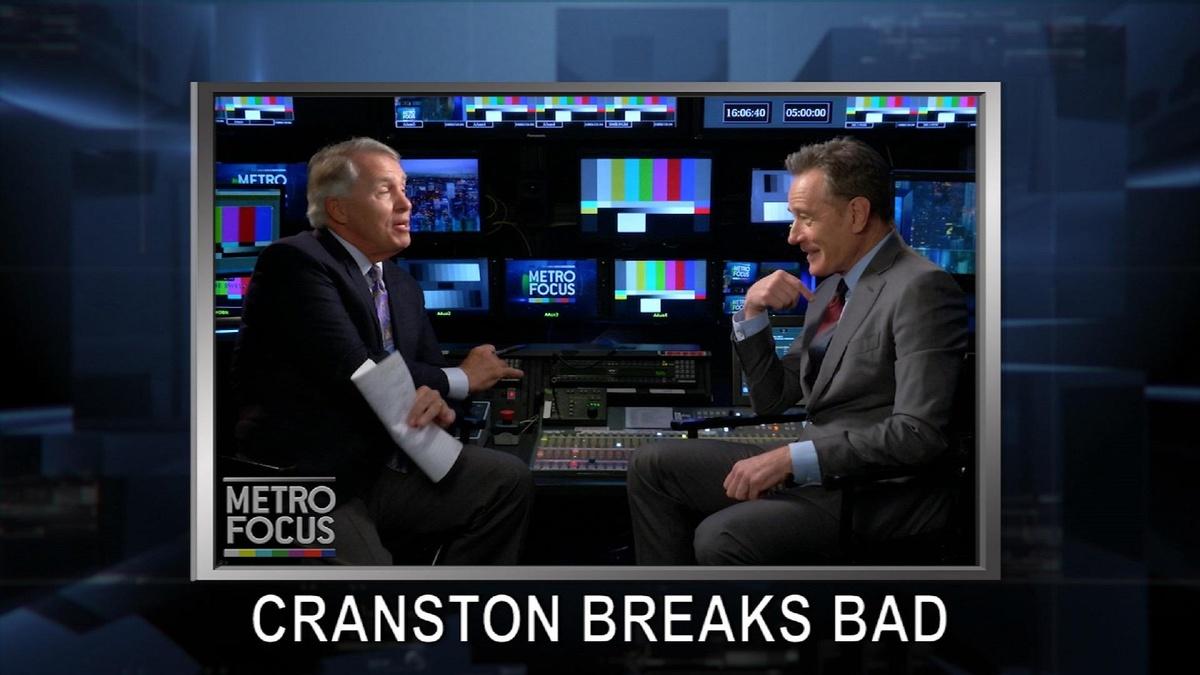 FULL EPISODE
MetroFocus: May 17, 2019
THE MTA'S OVERTIME PROBLEM, CRANSTON BREAKS BAD, RAMADAN PRAYERS & FEARS.
TRANSCRIPT

>>> TONIGHT ON "METROFOCUS."

THE TRANSIT AGENCY IS FACING

SERIOUS SCRUTINY AFTER DOZENS OF

EMPLOYEES RAKED IN MILLIONS FOR

EXTRA HOURS ON THE CLOCK.

THE LATEST.

>>> FROM BREAKING INTO ACTING TO

BREAKING BAD.

BRIAN CRANSTON IS BACK.

>> IF YOU WANT SOMEBODY TO SAY

TO YOU, HERE WHAT IS HAPPENING

IN THE WORLD.

LET US DISTILL IT AND PRESENT IT

TO YOU.

YOU DECIDE.

>> KNOW WHERE YOU GO?

>> RIGHT HERE.

>> FOR ME.

>> YEAH.

THIS IS WHERE YOU GO.

>> AND IT'S RAMADAN.

IT COMES WITH TRADITIONAL

PHASING AND PRAYERS.

IN THE WAKE OF RISING ISLAM

PHOBIA THERE'S NEWFOUND FEARS.

THOSE STORIES AND MORE AS

"METROFOCUS" STARTS NOW.

>>> THIS IS "METROFOCUS"

JACK FORD AND JENNA FLANAGAN.

IT'S BROUGHT TO YOU BY THE

SYLVIA A AND SIMON B.POITA

FOUNDATION.

BERNARD AND IRENE SCHWARTZ.

ROSSLYNN P. WALTER.

AND BY --

>>> GOOD EVENING AND WELCOME TO

"METROFOCUS."

WHEN IT COMES TO OVERTIME AT THE

MTA, AND PARTICULARLY AT THE

LONG ISLAND RAILROAD, THE

NUMBERS ARE SHOCKING.

FOR EXAMPLE, ONE LIIR EMPLOYEE

REPORTEDLY EARNED $344,000 IN

OVERTIME PAY LAST YEAR.

THAT'S NEARLY 4,000 HOURS OF

EXTRA WORK.

HE'S NOT ALONE.

THIS IS PART OF A TREND AT THE

MTA, WHERE DOZENS OF EMPLOYEES

HAVE PULLED IN MILLIONS IN OT.

GOVERNOR CUOMO IS NOT HAPPY

SAYING THIS IS NOT ABOUT

OVERTIME BUT RATHER ABOUT

STEALING AND FRAUD.

WHAT'S GOING ON HERE?

WHO IS TO BLAME?

WHAT CAN BE DONE ABOUT IT?

JOINING US WITH ANSWERS IS THE

TRANSIT REPORTER GREG MACKER.

I WONDER IF YOU CAN ELABORATE

AND GIVE US A BETTER SENSE OF

THE KIND OF OVERTIME WE'RE

TALKING ABOUT.

>> YEAH.

WE UNDERSTAND LONG DAYS HERE IN

NEW YORK AND PUTTING IN YOUR

TIME AND GETTING COMPENSATED FOR

IT.

BUT SOME OF THOSE SCHEDULES

WOULD BE HUMANLY IMPOSSIBLE TO

WORK THAT MANY HOURS OVER A

CERTAIN TIME.

>> YEAH.

THE PERSON I POINTED OUT TO IN

THE INTRODUCTION.

ACCORDING TO PEOPLE WHO DONE THE

MATH HE WOULD HAVE TO WORK 22.5

EVERY WORKDAY.

>> EXACTLY.

PART MIGHT BE BECAUSE OF THE WAY

THINGS ARE SET UP YOU GET CREDIT

OR DOUBLE TIME.

>> YEAH.

>> THEY NEED TO HAVE HAD THIS

CONVERSATION ALREADY.

THEY HAD AN EMERGENCY MEETING

LAST WEEK WITH THE BOARD TO

ADDRESS SOME OF THESE THINGS THE

SPECIFIC CASES AND THEN THE BIG

PICTURE OF HOW THEY KIND OF

MONITOR OVERTIME AGENCY BY

AGENCY.

>> SO THAT'S MY QUESTION, I

MEAN, THE MTA BOSSES WERE

SHOCKED.

SHOCKED WHEN IT BECAME PUBLIC.

LIKE YOU SAID, THEY HAD AN

EMERGENCY MEETING ABOUT IT AND

HIRED OUTSIDE CONSULT ASSISTANTS

TO LOOK INTO IT.

BUT THESE ARE THE SAME PEOPLE

WHO PAID THE OVERTIME.

>> YEAH.

>> AND THERE'S A PROCESS IN

THERE.

AND EACH AGENCY PRESIDENT WENT

THROUGH THAT.

THEY HAVE AN ELECTRONIC SYSTEM

OF SWIPING IN AND OUT.

THEY'RE MOVING TO UPGRADE THAT.

THAT OVERTIME DOES HAVE TO BE

APPROVED.

THEY POINTED OUT THIS IS A

HANDFUL OF WORKERS.

EVEN JUST IN TRANSIT.

THERE ARE 50,000 WORKERS.

THE LIRR HAS TENS OF THOUSANDS

OF WORKERS.

TO SEE THE TOP EARNERS ARE

GETTING THAT MUCH, IT HAS BEEN

RAISING RED FLAGS.

IT SHOULD HAVE.

IT COMES DOWN TO MAKING EVERY

DOLLAR COUNT.

>> YEAH.

>> DO THE BOSSES NOT KNOW OR NOW

IT'S PUBLIC THEY HAVE TO REACT?

>> I THINK IT'S A LITTLE BIT

THAT HAVE.

WE'RE IN THE MIDDLE OF THE

CONTRACT NEGOTIATION SEASON

AGAIN.

THE LIRR RAILROAD CONTRACTS ARE

UP, TRANSIT IS UP.

THIS CERTAINLY PUTS IT OUT IN

THE PUBLIC EYE NOW.

THIS KIND OF UNDERSTANDING THE

BU

BUREAUCRACY.

MANAGEMENT TOOK PART OF THE

RESPONSIBILITY.

YOU DON'T WANT TO BLAME THE WORK

FERS THEY'RE FOLLOWING WHAT THE

PROCEDURE IS.

ALSO, IF THEY'RE NOT, WHO IS

FINDING THAT OUT?

AND NO ONE COULD SAY AT THE

MEETING.

YOU KNOW, DID THAT GUY THAT MADE

OVERTIME --

>> RIGHT.

>> WAS WITHIN THE BOUNDS.

IF IT WAS, THEN THE SYSTEM IS

WHAT WE NEED TO TALK ABOUT AND

NOT TO CRITICIZE THE WORKER.

>> RIGHT.

>> AND LET ME GET TO THAT IN A

SECOND.

GOVERNOR CUOMO SAID IT'S ABOUT

THEFT AND FRAUD.

IS HE RIGHT?

>> THEY DON'T KNOW.

AND THE UNION REPS ON THE BOARD

WERE ANGRY THAT ALMOST THERE WAS

AN INDICTMENT OF THE WORKERS.

AND THEY TALKED ABOUT POSSIBLE

FRAUD OR THINGS.

AGAIN BECAUSE IT MIGHT BE

OPERATING WITHIN WHAT THESE WORK

RULES ARE.

THERE COULD BE SOME BAD APPLES.

THEY ALL SAID THAT, TOO.

THEY NEED TO FIGURE THAT OUT.

>> YEAH.

THERE'S A LOT OF PEOPLE.

POLICY ANALYSTS SAYING WHAT YOU

SAID.

OKAY, THERE'S LIKELY SOME FRAUD

INVOLVED HERE.

BUT THE REAL FUNDAMENTAL PROBLEM

IS THE STRUCTURE OF THE

CONTRACTS.

BECAUSE THEY INCLUDE A LOT OF

WORK RULES THAT KIND OF DEMAND,

KIND OF MAKE NECESSARY THE

EXTENSIVE AND EXPENSIVE

OVERTIME.

TALK ABOUT THAT.

>> AUTOMATIC DOUBLE TIME FOR

SOME THINGS, EVEN WORKING ON THE

WEEKENDS IS HARD TO SCHEDULE AND

OVERNIGHT.

IF YOU KNOW, THE SYSTEM THAT'S

WHEN THEY'RE DOING A LOT OF THIS

WORK.

BOTH ON THE RAILROADS AND WITHIN

TRANSIT.

BECAUSE THAT'S ALMOST AN

AUTOMATIC MULTIPLIER OF THINGS.

AND WE WANT TO REWARD PEOPLE FOR

DOING THEIR JOB AND FOR WORKING

OUTSIDE OF WHAT THE REGULAR TIME

IS.

BUT THIS HIGHLIGHTS KIND OF THE

STRUCTURE AND THE WAY THINGS

HAVE BEEN.

WE HEARD FROM ELECTED LEADERS

THAT DOING THINGS THE WAY WE

HAVE IS NOT THE WAY TO CONTINUE.

>> YEAH.

LET'S SEGUE.

WE HAVE ABOUT A MINUTE LEFT.

A STORY THAT MET THE HEADLINES

INTERNATIONALLY AND

INTERNATIONALLY.

THE ONE THAT WAS IGNITED BY A

VIDEO OF A GUY -- A VIDEO OF A

WORKER AS HE WAS HEADING FOR

WORK OF A SUBWAY CAR.

IT WAS A TWO GOING DOWNTOWN

EARLY IN THE MORNING.

I MEAN, AS WE SEE.

IT'S TERRIBLE.

>> YEAH.

>> AND THE QUESTION IS, IS THAT

THE NEW NORMAL?

>> WE HAVEN'T SEEN MORE OF THEM

BECAUSE PEOPLE ARE ON THE LOOK

OUT FOR THEM AND THEY'RE FED UP

WITH THEM AND WE POSTED ON

SOCIAL MEDIA AND TAKEN INTO THE

OFFICIALS.

AND AT ANY GIVEN TIME, THERE'S A

COUPLE THOUSAND, 3,000 CARS ON

THE SYSTEM.

FOR SOMEBODY TO BE ABLE TO GET

INTO ONE AND THEN HAVE IT RIDE

UP-AND-DOWN AND THEN MAYBE EVEN

CONTINUE TO BE IN OPERATION IS

NOT AN ACCEPTABLE THING.

THOSE CARS ARE SUPPOSED TO BE

WALKED THROUGH AT LEAST AT THE

END OF EVERY TERMINAL WHEN IT

GETS TO THE END OF ONE LINE THEN

THE OTHER.

>> HOW IS THE NTA RESPONDING?

>> THEY'RE SAYING NYPD AND

HOMELESS SERVICES AND SOME OF

THE OUTREACH ADMINISTRATORS NEED

TO WORK MORE WITH THEM TO

ADDRESS WHAT IS THE HOMELESS

PROBLEM.

CLEANING UP A CAR IS ONE THING.

BUT IF THERE IS A -- IF THE

SYSTEM IS BEING USED, AND IT IS,

PEOPLE ARE STAYING THERE OR

CAMPING THERE OR THEY'RE LIVING

THERE ALMOST AND THAT'S

INDICATIVE OF A BIGGER PROBLEM.

THEY'RE SAYING THEY'RE STEPPING

UP ENFORCEMENT.

THE MAYOR ACKNOWLEDGED THAT.

THAT NEEDS TO BE DONE.

WE SEE THIS AND IT'S A REMINDER

OF WHERE WE ARE.

>> RIGHT.

ALL RIGHT.

THANK YOU SO MUCH, GREG.

♪

>>> EMMY AND TONY AWARD WINNER

BRIAN CRANSTON IS UP FOR ANOTHER

AWARD FOR HIS PORTRAYAL OF

HOWARD BIEL.

BEFORE HIS SUCCESS ON BROADWAY,

AND IN THE HUGELY POPULAR

TELEVISION SHOW "BREAKING BAD"

HE ALMOST CHOSE A DIFFERENT

CAREER.

SOMETHING THAT MIGHT SURPRISE

YOU.

I RECENTLY HAD A CHANCE TO CHAT

WITH HIM ABOUT HOW HE DECIDED TO

BECOME AN ACTOR AND WHETHER

THERE WILL BE A BREAKING BAD

MOVIE.

I WAS THINKING THIS IS

DIFFERENT.

I SAW INITIALLY YOU WERE IN

COLLEGE AND YOU WERE TAKING

POLICE SCIENCE COURSES.

>> YEAH.

>> MAYBE THIS IS MY DIRECTION.

>> RIGHT.

>> TALK ABOUT WHAT GOT YOU THERE

AND WHAT ALL OF A SUDDEN GOT YOU

TO SAY, YOU KNOW, I DISCOVERED

SOMETHING.

ACTING

>>WELL, AS WE WERE TALKING

BEFORE THE SHOW ABOUT THE

TREMENDOUS SIMILARITIES WITH OUR

BACKGROUND GROWING UP WITHOUT A

FATHER FOR A SIGNIFICANT PART OF

OUR LIVES.

WHEN I -- BEFORE I WAS A TEEN,

MY FATHER WAS GONE FROM THE

FAMILY.

MY BROTHER JOINED THE LAPD

GROUP.

I WAS A POOR KID IN THE SUBURB

OF LOS ANGELES.

THEY WENT TO HAWAII.

THE GROUP OF KIDS WENT TO

HAWAII.

I'M LIKE MY GOSH!

HE HAD THE NERVE OF SENDING ME A

POSTCARD OF A GIRL IN A BIKINI

ON THE BEACH.

THE SECOND YEAR HE WENT TO JAPAN

WITH THE GROUP.

I MEAN, THEY'RE TRAVELING!

THAT WAS IT.

WHEN I'M 16, OF AGE, I'M JOINING

THIS GROUP.

I GRADUATED TOP OF MY CLASS.

OUT OF 111 16-YEAR-OLDS I HAD NO

IDEA I HAD ANY APTITUDE FOR

POLICE WORK.

I WENT TO EUROPE.

IT WAS GREAT.

IT WAS ME SEARCHING FOR A FATHER

FIGURE.

>> YEAH.

>> AND A MASCULINE SENSIBILITY.

A POLICEMAN AND I RESPECT THEM

AND THE INSTITUTION OF LAW, AND

I THOUGHT THIS IS WHAT I'M GOING

TO DO.

AND THEN IN COLLEGE, I TOOK AN

ACTING CLASS BECAUSE I PLAYED

A

AROUND IN ACTING WHEN I WAS

YOUNGER.

A YOUNG COUPLE IS KISSING ON A

PARK BENCH.

IT WAS LIKE MY GOSH.

AND I'M KISSING THIS REALLY

PRETTY GIRL.

>> I CAN DO THAT.

>> THAT WAS MY -- THAT'S WHAT I

WAS TASKED TO DO.

>> AH.

>> IT WAS THAT MOMENT I WENT

MAYBE I DON'T WANT TO BE A

POLICEMAN.

MAYBE I CAN PLAY A POLICEMAN!

GET TO KISS A PRETTY GIRL.

>> RIGHT.

>> THAT WAS YOUR TRANSITION.

>> YES.

YES.

A VERY NOBLE CAUSE OF GIRLS IS

WHY.

>> BUT, YOU KNOW, IT GOT YOU TO

THE RIGHT PLACE.

>> I THINK SO.

YEAH.

I THINK SO.

>> YEAH.

>> I FELL IN LOVE WITH IT.

>> AND NOT JUST BASED ON

SUCCESS.

PEOPLE CAN BE SUCCESSFUL AND NOT

LOVE WHAT THEY DO.

BUT HEARING YOU TALK, IT SEEMS

LIKE YOU GOT TO BE THE

EXTRAORDINARY SUCCESS OF DOING

SOMETHING YOU LOVE TO DO.

BOY, IT'S A MARVELOUS COMMENTARY

ON A LIFE.

>> IT WAS SOMETHING A CREDO I

CAPE UP WITH WHEN I WAS 22 YEARS

OLD.

AND I FINISHED READING THE BOOK.

I WAS ON THE ROAD ON MY

MOTORCYCLE NOT KNOWING -- I WAS

BASICALLY RUNNING AWAY BECAUSE I

DIDN'T KNOW WHAT I WANTED TO DO

OR SHOULD DO.

BUT I NEEDED THAT BUFFER TIME

JUST TO GROW UP.

JUST TO FIGURE OUT THAT IT'S

OKAY TO BE LOST BECAUSE YOU HAVE

AN OPPORTUNITY TO BE FOUND, IF

YOU'RE LOST.

AND FIND THE RIGHT PATH AS

OPPOSED TO A PATH.

AND I CAME UP WITH THIS CREDO

THAT I WAS GOING TO ATTEMPT TO

DO SOMETHING THAT I LOVED.

HOPEFULLY BECOME GOOD AT IT.

AS OPPOSED TO DOING SOMETHING I

WAS GOOD AT BUT DIDN'T LOVE.

AND I SIGNED OFF ON THAT AND SO

NO MATTER WHAT WAS GOING TO

HAPPEN, IN MY ACTING CAREER,

WHETHER IT MEANT AT THIS AGE I

WAS STILL HAD THREE ROOMMATES

AND WE WERE TRYING TO SHARE

SPAGHETTI DINNERS TOGETHER TO

SAVE MONEY.

IT DIDN'T MATTER.

I WAS ALL IN.

THIS IS WHAT I'M DOING.

AND I THINK BECAUSE OF THAT,

BECAUSE OF LOOKING AT THE LONG

ROAD OF IT, THE MARATHON IT IS,

I HAD NO DESIGNS ON I HAVE TO

REACH SOMETHING BY A CERTAIN

AGE.

>> YOU HAVEN'T SAID IF I'M NOT A

STAR BY --

>> I NEVER SAID ANYTHING ABOUT

BEING A STAR.

EVER.

I DIDN'T WANT -- MY GOAL WAS TO

BE ABLE TO HONESTLY SAY THAT I

MAKE A LIVING AS AN ACTOR.

NOW WHERE THAT LIVING WAS, I

WASN'T GOING TO SAY.

>> RIGHT.

>> I WANT TO BE ABLE TO SAY I

EARN MY LIVING AS AN ACTOR.

>> I'VE SEEN YOU TALK ABOUT

THIS.

ALL OF A SUDDEN 22 YOU SAID THIS

IS WHAT I WANT TO DO.

YOU HIT ABOUT 25 AND FROM THAT

POINT ON, YOU WERE ABLE TO DO

THAT.

>> YEAH.

>> YOU EARNED YOUR LIVING AS AN

ACTOR.

>> YEAH.

>> AND THEN IT GOT MUCH MORE

THAN JUST EARNING A LIVING.

YOU GOT "MALCOLM IN THE MIDDLE."

IT WAS A MARVELOUS FAMILY

COMEDY.

IT WAS A COMING OF AGE FOR NOT

JUST THE CHILDREN BUT THE

ADULTS.

>> YEAH.

>> AND COMES "BREAKING BAD."

RIGHT.

"BREAKING BAD" HAS BEEN IN THE

MINDS OF MANY OF THE REALLY

RESPECTED CRITICS IN THAT

INDUSTRY DESIGNATED AS ONE OF

THE BEST TV SERIES EVER.

SOME HAVE SAID PERHAPS THE BEST

EVER.

WHEN YOU FIRST LOOKED AT THE

SELF-INCR

SCRIPT OR SYNOPSIS OF WHATEVER

YOU SAW FIRST, DID YOU HAVE ANY

SENSE FROM THE BEGINNING HOW

SUCCESSFUL IT WOULD BE?

>> NO ONE DOES.

NO ONE CAN.

THE ONLY THING THAT ANY ACTOR

CAN DO IS TO CORRECTLY EVALUATE

THE MATERIAL.

THE LEVEL OF THE MATERIAL.

I DON'T KNOW WHY I KNEW THIS

EARLY ON -- THE WRITTEN WORD.

THE STORY ITSELF IS THE MOST

IMPORTANT ELEMENT IN PERFORMANCE

ART BAR NONE.

NO EXCEPTIONS.

I KNOW IT.

ABSOLUTE.

THERE'S NO ARGUMENT TO THAT.

THERE'S NO WAY YOU CAN ARGUE

THAT.

IT IS THE POWER OF THE STORY

THAT WILL PROPEL AN ACTOR TO

WHATEVER HEIGHT THEY MAY BE ABLE

TO GET TO.

>> THEY MIGHT HAVE TALENTED BUT

IF THEY DON'T HAVE THE STORY.

>> RIGHT.

MERYL STREEP.

IF MERYL STREEP WAS GIVEN

C-LEVEL MATERIAL AND SHE WORKS

AT HER ABSOLUTE BEST, B.

THERE'S NO WAY IT CAN GO HIGHER.

MERYL STREEP!

YOU KNOW, IT'S LIKE THAT'S IT.

SO WHEN YOU SEE A-LEVEL

MATERIAL, WHICH WHEN I READ THE

PILOT SCRIPT FOR "BREAKING BAD,"

MY EYES -- I WENT OH!

>> RIGHT AWAY YOU SAW IT?

>> YES.

>> THIS COULD BE SPECIAL.

I WANT TO BE A PART OF IT.

IT DOESN'T MEAN ANYTHING AS FAR

AS IS IT GOING TO BE SUCCESSFUL

IN THE EYES OF RATINGS OR MAKING

MONEY OR ALL THE THINGS THAT ARE

OUT OF OUR CONTROL.

THE ONLY THING I CAN BE INVESTED

IN IS THAT CHARACTER AND TELLING

THAT STORY THE BEST I CAN.

AND THEN IT'S LUCK.

>> LAST QUICK QUESTION ABOUT

"BREAKING BAD."

IS THERE A MOVIE COMING OUT?

>> NO.

>> BUT MY THOUGHT WAS, I WONDER

IF THERE'S A LOT OF BREAKING BAD

FANS OUT THERE SAYING WE DON'T

WANT ANYMORE.

IT WAS PERFECT.

>> YEAH.

>> YOU KNOW IT WAS FIVE SEASONS

OF PERFECTION THAT GOT BETTER

EACH YEAR.

>> RIGHT.

>> SO I WOULDN'T BE SURPRISED IF

A LOT OF FANS ARE SAYING THAT.

BUT, YOU KNOW, I CAN GO BACK AND

WATCH IT IF I WANT ANOTHER

BREAKING BAD.

>> IT'S FUNNY WHEN YOU SAY THAT.

PEOPLE ASK ME.

IT WASN'T PROVEN THAT WALTER

WHITE DIED.

HE WAS SHOT BUT -- THEY DIDN'T

SAY HE WAS DEAD.

MAYBE HE'S STILL ALIVE AND THE

REBOOTS YOU SEE OF THE OLD

SERIES THAT ARE COMING BACK,

WOULDN'T YOU LIKE TO DO A REBOOT

OF "BREAKING BAD" I FEEL THE

SAME WAY YOU DO.

NO.

I WOULDN'T.

BECAUSE I WAS FORTUNE, GREAT

GOOD FORTUNE OF BEING GIVEN A

BEAUTIFUL BEGINNING, MIDDLE, AND

END.

IT'S ALMOST LIKE THE PERFECT

MEAL.

YOU SIT DOWN AND HAVE A

WONDERFUL MEAL.

PERFECT.

JUST PERFECT.

AND IF SOMEONE BROUGHT YOU MORE

FOOD, OH, HUH, IT KIND OF RUINS

THE MEAL YOU HAD.

IT'S LIKE I DON'T NEED ANYMORE.

NOW I'M STUFFED.

>> EXACTLY.

>> NOW I DON'T FEEL AS GOOD.

>> IT'S BEEN A DELIGHT TO SPEND

SOME TIME WITH YOU.

I'VE BEEN A BIG FAN FOR A LONG

PERIOD OF TIME.

I WOULD LOOK FORWARD TO WHATEVER

THE NEXT PROJECTS WILL BE.

>> THANK YOU.

>> IT'S BEEN A PLEASURE.

THANK YOU SO MUCH.

>> THANK YOU VERY MUCH.

♪

FOR 30 DAYS, MUSLIMS AROUND THE

WORLD WILL GIVE UP PLEASURES AND

FOCUS ON PRAYER AND READ THE

KORAN IN CELEBRATION OF THE HOLY

HOLIDAY OF RAMADAN.

GATHERING IN MAOSQUES.

WHAT PRECAUTIONS MIGHT THE

COMMUNITY BE TAKING THIS

HOLIDAY?

WHAT CAN WE DO TO SUPPORT THEM?

HERE TO TALK WITH US ABOUT THE

HOLY MONTH IS ASSOCIATE CHAPLAIN

AT NEW YORK UNIVERSITY OF GLOBAL

CENTER OF SPIRITUAL.

IT'S A DELIGHT TO HAVE YOU HERE

WITH US.

>> THANK YOU SO MUCH.

>> I'M GOING TO ASK YOU TO

ASSUME YOUR ROLE OF PROFESSOR

HERE.

AND TO TEACH SOME OF US THE

SIGNIFICANCE AND MEANING OF

THESE EVENTS.

LET'S START WITH RAMADAN.

>> IT'S A NIGHT ON THE ISLAMIC

CALENDAR.

IT'S A MONTH OF REAL OBSERVANCE

OF THE ISLAMIC TRADITION BY

MEANS OF ABSTAINING FROM FOOD

AND DRINK, BY MEANS OF DEVOTION

AND SUBMISSION TO GOD, BY

NUMEROUS PRAYERS, READING OF THE

QURAN.

LIFE IS FILLED WITH SO MANY

FRACTIONS AND UPS AND DOWNS.

DURING THE COURSE OF THE 30

DAYS, WE STRIVE TOWARD ALLOWING

FOR OUR HEARTS TOWARD CONNECTING

TOWARD THINGS WHICH ARE FAR MORE

VALUABLE THAN FOOD AND DRINK.

THAT, OF COURSE, IS CONNECTING

WITH OUR MORALITY AND FOCUSSING

ON THEMES LIKE MERCY AND

PATIENCE AND COMPASSION AND

GENEROSITY.

ONCE IN AWHILE, WE NEED CERTAIN

THINGS TO RECENTER US IN LIFE

BECAUSE OF HOW BUSY THINGS GET.

SO THE MONTH OF RAMADAN IS AN

OPPORTUNITY TO DO JUST THAT.

>> FASTING, AS YOU MENTIONED, IS

A SIGNIFICANT PART OF THAT

PERIOD OF REFLECTION AND PRAYER.

WHAT IS THE ROLE THAT FASTING

PLAYS?

>> YEAH.

USUALLY WHEN -- USUALLY THE

FIRST THOUGHT THAT COMES TO

PEOPLE'S MINDS WHEN THEY HEAR

RAMADAN IS FASTING.

RIGHT NOW THE MONTH OF RAMADAN

IS GETTING CLOSE TOWARD THE

SUMMER PERIOD.

WE'RE FASTING IN UPWARDS OF 17

HOURS ABSTAINING FROM FOOD AND

DRINK.

MANY PEOPLE WONDER, LIKE, WHY?

DOES THAT MEAN FASTING FROM

WATER?

YEAH, IT DOES MEAN THAT.

>> IT DOES MEAN THAT.

GIVE ME THE PARAMETERS.

THE TIME.

>> YEAH, SO THE TIME OF FASTING

IS A LITTLE BIT PRIOR TO DAWN

UNTIL SOON AFTER SUNSET.

SO WE'RE TALKING ABOUT

APPROXIMATELY FROM 4:00 A.M. TO

A LITTLE BIT AFTER 8:00 P.M.

AND IT'S INCREDIBLY CHALLENGING

AND INCREDIBLY DIFFICULT, BUT,

AGAIN, WHAT IT ALLOWS US DO AND

THAT'S THE CRUX OF THE FAST IS

FOR US TO MARGINALIZE AND

ISOLATE SO MANY DISTRACTIONS IN

LIFE.

IF YOU THINK ABOUT HOW OUR DAYS

GO, THE FIRST THING WE THINK

ABOUT IN THE MORNING IS WHERE AM

I GOING TO GET THE FIRST CUP OF

COFFEE.

SIMILARLY WHAT AM I HAVING FOR

LUNCH.

WHERE AM I GOING FOR DINNER?

AND YOU'RE WALKING DOWN THE

STREET AND THERE'S A MILLION

COFFEE SHOPS IN NEW YORK CITY

AND YOUR MIND IS DIRECTED FOR

YOU TO JUST WALK IN, GRAB A CUP,

WALK OUT.

BUT OVER HERE YOU KNOW YOU HAVE

TO ABSTAIN FROM ALL OF THAT.

AND THAT REALLY CHANNELS THE ONE

WHO IS OBSERVING THE FAST TO

ALLOW FOR THEMSELVES TO FOCUS ON

THAT, WHICH IS HOPEFULLY A

LITTLE BIT MORE IMPORTANT.

>> YEAH.

>> STRIPPING AWAY THE

DISTRACTIONS.

>> STRIPPING AWAY THE

DISTRACTIONS ALLOW YOU TO BECOME

CENTERED.

>> EXACTLY.

>> BECOME PART OF YOUR BELIEVES

AND CONTEMPLATE YOUR BELIEVES.

>> YEAH.

SO MUCH IS REFLECTION,

CONTEMPLATION, MEDITATION.

IT ALLOWS FOR A MINDFULNESS.

YOU BECOME COGNIZANT WHY IT IS

YOU'RE DOING WHAT IT IS YOU'RE

DOING.

IF I WAS HUNGRY BECAUSE I MISSED

MY LUNCH BREAK, I'LL BE IN A BAD

MOOD.

RIGHT.

I'M GOING TO BE UPSET AND MY

HEAD WILL HURT.

BECAUSE I KNOW I'M DOING IT FOR

GOD'S SAKE, I'M DOING IT TO

OBSERVE MY TRADITION.

I'M DOING IT TO RECENTER MYSELF,

THOSE DISTRACTIONS DON'T POP

INTO MY HEAD.

WE THINK ABOUT THAT WHICH IS

MORE IMPORTANT THAN FOOD AND

DRINK.

>> HOW YOU DESCRIBED IT HERE IS

SOME PEOPLE MIGHT MISINTERPRET

TO THINK IT'S A SELF-PUNISHMENT.

YOU'RE DEPRIVING YOURSELF OF

THESE THINGS.

AS YOU SAID, IT'S DIFFERENT.

>> NO, IT'S ABSOLUTELY NOT.

DEFINITELY NOT DEPRIVING US.

AND NOT A SENSE OF

SELF-PUNISHMENT.

IT OFFERS AN OPPORTUNITY TO

REFOCUS, I WOULD SAY, PROBABLY

US LIVING IN THE SOCIETY OF,

LIKE, OVER CONSUMPTION IS

PUNISHING US AND THIS SORT OF

ALLOWS US TO HIT THE RESET

BUTTON AND SORT OF, YOU KNOW,

RETHINK ABOUT HOW WE ENGAGE

LIFE.

>> AND TALK ABOUT BREAKING THE

FAST.

IT'S NOT JUST OF A MATTER I CAN

GRAB SOMETHING TO EAT.

THERE'S MORE OF THE PART OF THE

RELIGIOUS CELEBRATION TO THE

BREAKING OF THE FAST.

>> YEAH.

MANY PEOPLE THINK THAT THE MONTH

OF RAMADAN IS A DEPRESSING TIME

FOR MUSLIMS WHERE WE STARE AT A

WALL ALL DAY.

I USED TO HEAR THESE THINGS

GROWING UP.

AND IT SEEMS LIKE A LOT OF

IGNORANCE BUT THE MONTH OF

RAMADAN IS FESTIVE.

AND THE BREAKING OF THE FAST IS

A MICROCAUSAM OF THAT FESTIVITY.

OFTENTIMES YOU DON'T BREAK YOUR

FAST ON YOUR OWN YOU GO TO A

LOCAL ISLAMIC CENTER AND DO IT

WITH YOUR FAMILY AND COMMUNITY

AB FRIENDS YOU HAVEN'T SEEN FOR

A LONG TIME.

AND PEOPLE GATHER TOGETHER AND

THEY EAT, THEY DRINK, THEY,

LIKE, SHARE CERTAIN EXPERIENCES.

IT BECOMES A -- THERE'S A

COMMUNAL ATMOSPHERE TO THE

BREAKING OF THE FAST EVERY

EVENING.

IT'S A WONDERFUL TIME.

>> AND IT'S IMPORTANT, I THINK,

FOR PEOPLE WHO ARE NOT FAMILIAR

WITH THE FAITH TO REALIZE IT'S A

PERIOD OF CELEBRATION.

>> ABSOLUTELY.

>> WHICH LEADS ME TO THE

DIFFICULT QUESTION WHICH IS ON

THE HEELS OF THE TERRIBLE EVENTS

IN NEW ZEALAND, WHAT SORT OF

IMPACTS DO YOU THINK THOSE --

THOSE EVENTS ARE GOING TO HAVE

OR WOULD HAVE ON THE PERIOD OF

TIME OF RAMADAN?

>> YEAH, I MEAN, THE LAST TWO

AND A HALF YEARS HAVE BEEN

INCREDIBLY TRYING FOR THE MUSLIM

COMMUNITY IN THE UNITED STATES

AND ACROSS THE WORLD DUE TO THE

ATTACKS AND POLITICAL RHETORIC

AND SEMANTICS.

NOT ONLY FOR THE MUSLIM

COMMUNITY BUT THE RELIGIOUS

COMMUNITIES, YOU KNOW, ACROSS

THIS COUNTRY.

AND, YOU KNOW, THE WAKE OF THE

ATTACKS THAT TOOK PLACE IN NEW

ZEALAND IN MARCH, THAT KILLED,

YOU KNOW, MORE THAN 50 PEOPLE,

MANY RELIGIOUS BASES ARE

ACTUALLY SEEING AN INCREASE IN

THE NUMBER OF PEOPLE WHO ARE

ATTENDING.

AND I THINK THAT SHOWS --

DEMONSTRATES THE NOTION OF

RESILIENCE THAT AS MUCH AS, YOU

KNOW, WHITE SUPREMACY WANTED TO

ISOLATE MUSLIMS FROM EMBRACING

THEIR FAITH AND EMBRACING THEIR

IDEOLOGY, THEY'RE FINDING PEOPLE

ARE COMING OUT IN SIGNIFICANT

NUMBERS THESE DAYS AND I'M SURE

AS THE MONTH OF RAMADAN

CONTINUES OVER THE NEXT COUPLE

OF WEEKS, WE'LL SEE THE NUMBERS

SIGNIFICANTLY BE ON THE UPTICK

AND A LOT OF PEOPLE ARE SORT OF

REALLY RALLYING AROUND THE

NOTION OF EMBRACEMENT OF ONE'S

IDENTITY IRREGARDLESS OF SORT OF

THE RHETORIC AND THE POTENTIAL

FOR VIOLENCE.

THAT'S NOT TO SAY THAT NOT MANY

ISLAMIC CENTERS AND MOSQUES ARE

NOT TAKING THE NECESSARY

PREREQUISITES AND MEASURES.

THERE ARE MANY COMMUNITIES THAT

ARE, YOU KNOW, HIRING CERTAIN

SECURITY TASK FORCES TO REALLY

PATROL THE CENTER.

OTHERWISE MEMBERS OF THE LOCAL

COMMUNITY ARE STANDING OUTSIDE

AND SORT OF CHECKING IN ON

FOLKS.

>> BEING VIGILANT.

>> BEING VIGILANT.

YEAH.

>> WE ALL KNOW THAT THE CORNER

STONE OF TOLERANCE IS

UNDERSTANDING.

>> ABSOLUTELY.

>> AND CERTAINLY YOU HELP US TO

UNDERSTAND THE MONTH AND THE

CELEBRATION AND THE

SIGNIFICANCE.

YOU'VE DONE A MARVELOUS JOB IN

YOUR ROLE OF A TEACHER.

WE APPRECIATE YOU SPENDING TIME

WITH US.

>> ABSOLUTELY.

"METROFOCUS" IS MADE POSSIBLE

BY --

JAMES AND MERYL TISCH, THE

SYLVIA A AND SIMON B. POITA

FOUNDATION.

ROSLYN P. WALTER, BARBARA HOPE

ZUCKERBERG, AND BY --

>>> CORPORATE FUNDING FOR

"METROFOCUS" WAS PROVIDED BY

MUTUAL OF AMERICA, YOUR

RETIREMENT COMPANY.

AND BY PSE&G.

SERVING CUSTOMERS, STRENGTHENING

THE BUSINESS COMMUNITY AND

INVESTING IN THE FUTURE.