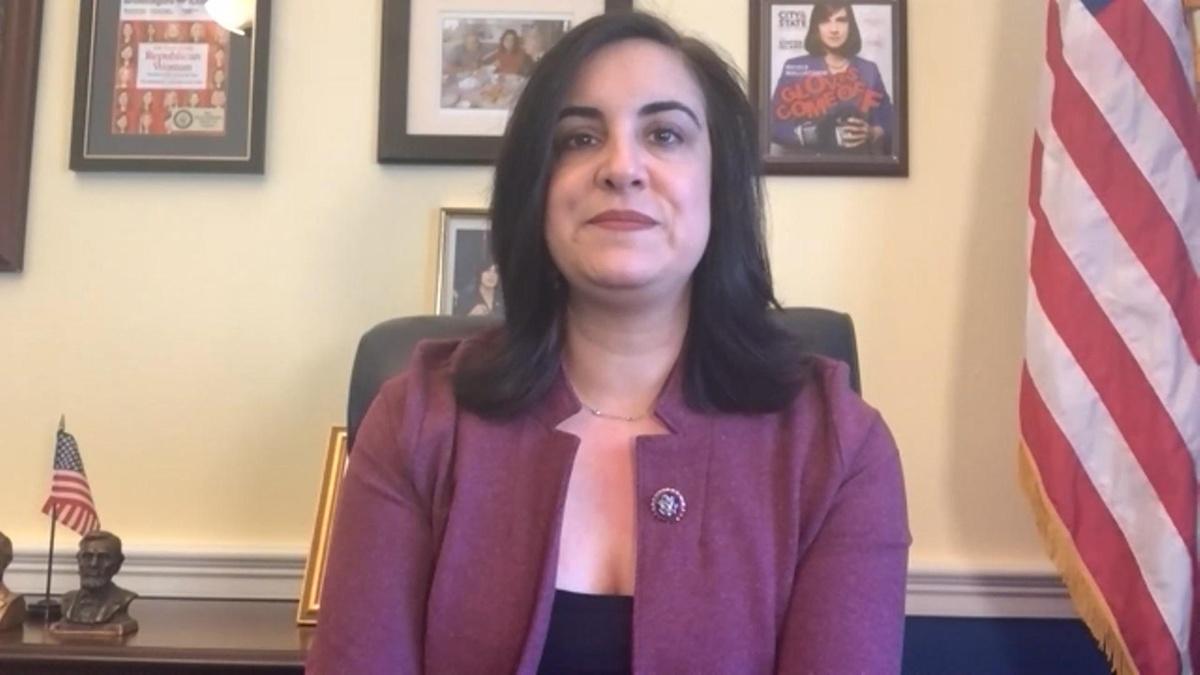 FULL EPISODE
METROFOCUS: March 2, 2021
Congresswoman Nicole Malliotakis shares her thoughts on COVID relief and on the growing sexual harassment scandal engulfing Governor Cuomo's office. Also, New York Times best-selling author, Father James Martin of the Society of Jesus joins us to discuss his most recent book "Learning To Pray: A Guide For Everyone."
TRANSCRIPT

>>> THIS IS "METROFOCUS" WITH

RAFAEL PI ROMAN, JACK FORD, AND

JENNA FLANAGAN.

>> "METROFOCUS" IS MADE POSSIBLE

BY

SUE AND EDGAR WACHENHEIM III,

SYLVIA A. AND SIMON B. POYTA

PROGRAMING ENDOWMENT TO FIGHT

ANTI-SEMITISM.

THE PETER J. PETERSON AND JOAN

CUNY FUND.

AND BY JANET BRINDLE SEIDLER.

CHERYL AND PHILIP MILSTEIN

FAMILY,

JOUDY AND JOSH WESTON.

DR. ROBERT C. AND TINA SOHN

FOUNDATION.

>>> GOOD EVENING AND WELCOME TO

"METROFOCUS."

I'M JACK FORWARD.

GOVERNOR ANDREW CUOMO HAS FOUND

HIMSELF AT THE CENTER OF A

SCANDAL OVER ALLEGATIONS OF

SEXUAL HARASSMENT.

IN THE PAST WEEK THREE WOMEN

HAVE COME FORWARD AND ACCUSED

THE GOVERNOR OF UNWANTED

ADVANCES, TWO ARE FORMER AIDES

WHO HAVE SINCE RESIGNED.

LETITIA JAMES IS HEADING UP AN

INDEPENDENT INVESTIGATION INTO

THESE ALLEGATIONS.

A THIRD WOMAN HAS RECENTLY

STEPPED FORWARD ACCUSING THE

GOVERNOR OF ENGAGING IN UNWANTED

ADVANCES TOWARDS HER AT A

WEDDING RECEPTION.

NOW A GROWING NUMBER OF

LAWMAKERS INCLUDING MEMBERS OF

THE GOVERNOR'S OWN PARTY ARE

CALLING ON HIM TO STEP DOWN.

ON THE REPUBLICAN SIDE ONE

LAWMAKER LEADING THAT CHARGE HAS

BEEN NEW YORK CONGRESSIONAL

REPRESENTATIVE NICOLE

MALLIOTAKIS.

SHE HAS BEEN CALLING ON THE

GOVERNOR TO STEP DOWN FOR A

NUMBER OF WEEKS NOW, FIRST OVER

THE NURSING HOME SCANDAL AND NOW

OVER THESE HARASSMENT AND

INAPPROPRIATE CONDUCT

ALLEGATIONS.

WE ARE PLEASED TO HAVE

REPRESENTATIVE NICOLE

MALLIOTAKIS JOINING US NOW TO

TALK ABOUT THOSE ISSUES AND ALSO

ABOUT HER POSITION ON THE COVID

RELIEF BILL WORKING ITS WAY

THROUGH CONGRESS.

THE ASPECTS THAT SHE SUPPORTS

AND ASPECTS SHE OPPOSES.

REPRESENTATIVE MALLIOTAKIS, A

PRESSURE TO HAVE YOU WITH US AS

ALWAYS.

THANKS SO MUCH FOR JOINING US.

>> GREAT TO BE WITH YOU.

THANK YOU FOR HAVING ME.

>> SO LET'S FOCUS FIRST ON THESE

ALLEGATIONS AGAINST THE

GOVERNOR.

AS I MENTIONED, YOU HAD TAKEN

THIS POSITION EARLIER WITH

REGARD TO THE NURSING HOME

INVESTIGATION, NURSING HOME

SCANDAL, AND NOW ESSENTIALLY

REINFORCING IT WITH THESE

ALLEGATIONS.

WHY DO YOU BELIEVE -- NOW, THIS

IS AN ELECTED OFFICIAL AND WE

KNOW THAT IN THE NEXT ELECTION

IF HE RUNS AGAIN THE PUBLIC

COULD WEIGH IN ON ALL OF THESE

THINGS, BUT WHY ARE YOU TAKING

THE POSITION THAT NOW AT THIS

STAGE HE SHOULD BE RESIGNING?

>> WELL, THERE HAVE BEEN A

NUMBER OF THINGS THAT HAVE

HAPPENED HERE OVER THE LAST

SEVERAL MONTHS.

I WAS ONE OF THE FIRST TO CALL

FOR A FEDERAL INVESTIGATION INTO

THE GOVERNOR'S MISHANDLING OF

NURSING HOMES.

SINCE THAT TIME, THOUGH, WE HAVE

LEARNED THAT NOT ONLY DOES THE

GOVERNOR MISHANDLE IN MY OPINION

OF COURSE IT'S BEING

INVESTIGATED AS WELL, BUT HE

UNDERREPORTED THE NUMBER OF

NURSING HOME DEATHS AS WELL AS

THE NUMBER OF COVID-POSITIVE

PATIENTS PLACED IN NURSING HOMES

THAT LED TO THOSE DEATHS.

HE STONEWALLED THE LEGISLATURE,

REFUSING TO ANSWER QUESTIONS.

I WAS A MEMBER OF THE STATE

LEGISLATURE AT THE TIME THAT

HELD THE HEARING IN WHICH HIS

HEALTH COMMISSIONER CAME AND

REFUSED TO ANSWER ANY OF OUR

QUESTIONS AND LEFT ABRUPTLY.

IN ADDITION TO THAT WE KNOW THAT

THERE WAS AN ADMITTED COVER UP,

AS HIS CHIEF OF STAFF SAID THAT

THEY WERE TRYING TO PURPOSELY

HIDE INFORMATION FROM THE

DEPARTMENT OF JUSTICE BECAUSE

THEY WERE CONCERNED ABOUT AN

INVESTIGATION.

THEN HE THREATENED ONE OF HIS

COLLEAGUES, ASSEMBLY MEMBER RON

KIM WHO IS A DEMOCRAT AS WELL,

AND WAS CONCERNED AND STOOD UP

TO THE GOVERNOR BECAUSE HIS

UNCLE DIED IN A NURSING HOME.

SO THESE ALONE I THINK ARE

ALLEGATIONS -- NOT ALLEGATIONS,

BUT SOME OF THE CASES IT'S

PROVEN, THESE ARE CIRCUMSTANCES

THAT I THINK ARE UNBECOMING OF A

GOVERNOR AND THE SEXUAL

HARASSMENT CLAIMS ONLY

EXACERBATE THAT.

I THINK THAT THAT ONLY ADDS ALL

THE MORE REASON WHY GOVERNOR

CUOMO NEEDS TO GO.

>> LET ME ASK YOU FIRST ABOUT

THE NURSING HOME SCENARIO HERE.

WE KNOW THAT THERE ARE A NUMBER

OF INVESTIGATIONS TAKING PLACE,

APPARENTLY THE FEDERAL

GOVERNMENT IS LOOKING AT IT, THE

FAITH AGENCIES ARE TAKING A LOOK

AT IT.

WHAT ABOUT THE SUGGESTION

THAT -- LET'S WAIT AND SEE WHAT

THEY COME UP WITH FIRST?

THE SUGGESTION THAT WOULDN'T

THAT BE THE PRUDENT COURSE,

THEN?

LET'S GET THE FACTS OUT, FIND

OUT WHAT THEY HAVE TO SAY AND

THEN WE CAN ASSESS WHAT THE

CONSEQUENCES SHOULD BE, WHAT

ABOUT THAT?

>> WELL, I THINK THAT THAT IS

THE CORRECT PATH FOR A CRIMINAL

PROSECUTION, WHICH MAY

POTENTIALLY HAPPEN, BUT WHAT I'M

TALKING ABOUT IS THE RESIGNATION

FROM A GOVERNOR WHERE WE DO KNOW

THAT THE NUMBERS WERE

UNDERREPORTED BECAUSE THE

ATTORNEY GENERAL HAS ALREADY

DONE AN INVESTIGATION AND HAS

EXPOSED THAT.

WE DO KNOW THAT HE STONEWALLED

THE STATE LEGISLATURE, REFUSING

TRANSPARENCY AND PROVIDING

ANSWERS THAT WE WERE DEMANDING.

WE DO KNOW BECAUSE HIS CHIEF OF

STAFF ADMITTED IT THAT THERE WAS

A COVER UP ON PURPOSE BECAUSE HE

WAS TRYING TO HIDE THAT

INFORMATION.

AND WE DO KNOW BASED ON

TESTIMONY BY ASSEMBLYMAN RON KIM

THAT HE HAS THREATENED AND

BULLIED OTHER LAWMAKERS.

SO THAT IN ITSELF, I BELIEVE, IS

REASON AND CERTAINLY FOR

CRIMINAL PROSECUTION THAT AN

INVESTIGATION NEEDS TO CONTINUE

INDEPENDENTLY AND WITHOUT ANY

INTERFERENCE.

>> LET ME ASK YOU A SIMILAR

QUESTION, THEN, ABOUT THESE

ALLEGATIONS OF EITHER HARASSMENT

OR INAPPROPRIATE -- OF THE

GOVERNOR.

AND IT'S A SIMILAR QUESTION IN

TERMS OF INVESTIGATIONS TAKING

PLACE.

WE KNOW THAT, WE REALIZE NOW,

WE'VE COME TO UNDERSTAND THAT

ALLEGATIONS SUCH AS THIS NEED TO

BE TAKEN -- AND NOT AS WE'VE

SEEN IN THE PAST CAN EITHER BE

DISMISSED OUT OF HAND OR SIMPLY

IGNORED.

BUT AS COROLLARY TO THAT SHOULD

WE ALSO BE SAYING THAT THESE

ALLEGATIONS NEED TO BE

INVESTIGATED BEFORE CONSEQUENCES

AT

ATTACH?

AGAIN, WE CANNOT IGNORE THESE

SIMPLY OUT OF HAND, BUT THE

ARGUMENT GOES WE SHOULD ALSO

MAKE SURE THAT ALL OF THESE ARE

THOROUGHLY INVESTIGATED BEFORE

WE ATTACH WHAT COULD BE

SIGNIFICANT CONSEQUENCES HERE

FOR A SIGNIFICANT GOVERNOR

ELECTED BY THE POPULOUS TO GIVE

UP THAT OFFICE.

WHAT DO YOU THINK ABOUT THAT

ARGUMENT WITH REGARD TO THESE

TYPES OF ALLEGATIONS?

>> WELL, I THINK THAT SOME OF

THE ALLEGATIONS ARE NO LONGER

ALLEGATIONS BECAUSE YOU HAVE HAD

TESTIMONY SPECIFIC BY HIS OWN

CHIEF OF STAFF OR AN

INVESTIGATION ALREADY DONE BY

THE ATTORNEY GENERAL.

CERTAINLY WITH THE SEXUAL

HARASSMENT THAT DOES NEED TO BE

INVESTIGATED AND I KNOW THAT --

AND I'M HAPPY THAT THE ATTORNEY

GENERAL IS GOING TO BE THE

PERSON THAT OVERSEES THAT AND

WILL APPOINT AN INDIVIDUAL WHO

IS A PRIVATE PRACTICE ATTORNEY

TO BE ABLE TO INDEPENDENTLY

REVIEW THAT.

BUT, LOOK, THE GOVERNOR HIMSELF

HAS PREVIOUSLY SAID THAT

INDIVIDUALS WHO -- FOR EXAMPLE,

LET'S USE ASSEMBLYMAN VETO LOPEZ

IN 2013 ACCUSED OF SEXUAL

HARASSMENT.

THE GOVERNOR CAME OUT AND SAID

HE SHOULD RESIGN IMMEDIATELY.

THAT HE SHOULD NOT SERVE ANOTHER

DAY IN OFFICE.

THE GOVERNOR CAN'T HAVE AN

OPINION WHEN IT'S SOMEBODY ELSE

BUT WHEN IT'S HIM HE DOESN'T

WANT TO ABIDE BY THOSE SAME

CIRCUMSTANCES.

>> CAN I ASK YOU ALSO, THEN, IN

LINE WITH THAT, WHAT YOU JUST

SAID, WHAT THE GOVERNOR SAID,

ONE OF THE LOCAL NEWSPAPERS HAD

COME OUT AND SAID WITH REGARD TO

YOUR POSITION, THE GOVERNOR

SHOULD STEP DOWN BECAUSE OF

THESE ALLEGATIONS, ESSENTIALLY

THEY SAID, ALL RIGHT, FINE, IF

THAT'S THE POSITION YOU'RE

TAKING AND YOU FEEL IT'S

JUSTIFIED THEN THAT'S

APPROPRIATE FOR YOU TO TAKE, BUT

THEY SAID, WELL, THEN WHY DIDN'T

YOU TAKE A SIMILAR APPROACH TO

THEN PRESIDENT DONALD TRUMP AND

NOT CALL FOR HIS RESIGNATION

WHEN SOME SIMILAR -- OBVIOUSLY

THERE ARE SOME ALLEGATIONS MADE

AGAINST HIM THAT WERE VERY

DIFFERENT, BUT THERE WERE SOME

WORKPLACE ALLEGATIONS BUT,

AGAIN, CLEARLY WE SHOULD NOTE

NOT WHILE HE WAS SITTING AS THE

PRESIDENT.

SO HOW WOULD YOU RESPOND THEN TO

THE NEWSPAPERS SAYING, WELL, WHY

DIDN'T YOU TAKE THAT SAME

POSITION AND INSIST THAT THE

FORMER PRESIDENT RESIGN?

>> WELL, I MEAN, I WASN'T A

MEMBER OF CONGRESS AT THAT TIME,

JUST LIKE I DIDN'T CALL FOR BILL

CLINTON TO RESIGN, EITHER, YOU

KNOW?

I THINK HERE I AM NOW AS A

MEMBER OF CONGRESS, THIS IS

RELATED TO MY SPECIFIC STATE OF

NEW YORK AND MY CALLS FOR

RESIGNATION ARE NOT SPECIFICALLY

ABOUT THE SEXUAL HARASSMENT.

I CALLED FOR HIM TO RESIGN OVER

THE NURSING HOMES.

I'M ONLY SAYING THAT THIS IS

GIVING MORE REASON AS TO WHY HE

NEEDS TO GO.

>> LET ME SHIFT OUR FOCUS FOR A

MOMENT BECAUSE THERE'S SO MUCH I

WANT TO TALK WITH YOU ABOUT AND

LET'S TALK ABOUT THE COVID

RELIEF BILL.

AS I SAID IN THE INTRODUCTION

WORKING ITS WAY THROUGH

CONGRESS.

WE KNOW IT PASSED THE HOUSE WITH

NO REPUBLICANS AND INDEED WITH A

COUPLE DEMOCRATS VOTING AGAINST

IT.

WORKING ITS WAY NOW INTO THE

SENATE.

YOU SAID THERE'S SOME PARTS OF

THIS THAT YOU CERTAINLY SUPPORT,

BUT SOME PARTS THAT YOU DON'T.

LET'S START WITH THE PARTS THAT

YOU DO SUPPORT.

WHAT ELEMENTS OF THIS BILL DO

YOU THINK ARE ESSENTIAL AND NEED

TO GET INTO PLAY QUICKLY?

>> WELL, JACK, I THINK WE ALL

AGREE THAT WE NEED TAILORED

RELIEF.

WE NEED TO MAKE SURE THAT THE

MONEY ACTUALLY GETS TO THE

PEOPLE AND THAT IT'S NOT GOING

TO BE HELD BY BUREAUCRACIES

ACROSS GOVERNMENT.

SO ONE OF THE THINGS IS THAT WE

KNOW THAT THERE'S A TRILLION

DOLLARS STILL REMAINING FROM THE

PREVIOUS PACKAGES THAT IS

UNSPENT.

WE NEED TO MAKE SURE THAT THAT

MONEY -- IF IT'S NOT GOING TO GO

FOR THOSE INTENDED PURPOSES THEN

THEY NEED TO BE REALLOCATED FOR

WHAT THE NEEDS ARE TODAY.

WE KNOW THAT WE WANT TO SUPPORT

INDIVIDUALS WHO ARE ON

UNEMPLOYMENT, WE NEED TO EXTEND

THOSE UNEMPLOYMENT BENEFITS, WE

WANT TO RETURN TAXPAYER MONEY TO

THE TAXPAYERS IN THE FORM OF

STIMULUS CHECKS.

WE DO WANT TO HELP OUT SMALL

BUSINESSES AND MAKING SURE THAT

THEY GET SUPPORT, PARTICULARLY

THOSE THAT WERE MANDATED TO

CLOSE BY GOVERNMENT.

AND WE NEED TO REOPEN OUR

SCHOOLS, BUT LET'S ALSO POINT

OUT THAT CDC SAID IT WOULD COST

$25 BILLION TO REOPEN OUR

SCHOOLS, PREVIOUS PACKAGES SET

ASIDE $64 BILLION.

A LOT OF THAT REMAINS UNSPENT.

SCHOOLS ARE STILL CLOSED.

SO IT'S NOT AN ISSUE OF MONEY

WITH REOPENING SCHOOLS IT'S AN

ISSUE OF ACTUALLY JUST DOING IT.

THIS BILL WOULD ADD ANOTHER $130

BILLION FOR REOPENING SCHOOLS.

SO BASICALLY WHAT YOU'RE SAYING

IS THIS MISMANAGEMENT --

GOVERNMENT WANDS TO SPEND EIGHT

TIMES WHAT CDC PREVIOUSLY SAYS

IS NECESSARY TO REOPEN AMERICA'S

SCHOOLS.

SO THAT'S ONE THING.

THE SECOND THING LESS THAN 1%

ACTUALLY GOES TO VACCINE

PRODUCTION AND DISTRIBUTION,

WHICH ASK ANY LEADER DEMOCRAT OR

REPUBLICAN, LOCAL OR NATIONAL,

THEY WILL TELL YOU THAT THAT IS

THE NUMBER ONE PRIORITY.

THE FACT THAT IT'S LESS THAN 1%

OF THIS PLAN SHOWS YOU HOW TRULY

BLOATED THIS BILL IS.

THERE'S ALL SORTS OF STUFF IN

HERE, NANCY PELOSI GETS A NEW

RAIL LINE FOR SILICON VALLEY,

PLANNED PARENTHOOD GETS MONEY,

$3.5 BILLION FOR THE GLOBAL

FUND, AIDS, MALARIA AND

TUBERCULOSIS.

WHY WOULD AMERICAN TAXPAYERS PAY

FOR 88% OF THIS INTERNATIONAL

FUND'S EXPENDITURE?

WHERE ARE THE OTHER COUNTRIES

THAT SHOULD BE INVOLVED?

IT NEEDS TO BE TAILORED TO COVID

RELIEF.

WE ARE APPROACHING THAT $30

TRILLION DEFINITE SIT IN THIS

COUNTRY.

I WANT TO MAKE SURE THE MONEY

GETS TO THE PEOPLE.

ANY STATE MONEY THAT COMES TO

NEW YORK THE MAYOR AND NEED TO

MAKE A COMMITMENT THAT THEY

WON'T RAISE INCOME TAXES AND

PROPERTY TAXES THAT ARE DRIVING

PEOPLE OUT THAT ARE INCREASING

THE COSTS OF LIVING IN THE CITY,

WHETHER YOU ARE A HOMEOWNER OR A

RENTER WHO THAT COST IS BEING

PASSED ON TO YOU.

THEY SHOULD NOT RAISE TOLLS.

MTA GOT $8 BILLION IN THE

PREVIOUS PACKAGE, THEY ARE SET

TO GET ANOTHER $6 BILLION HERE

AND THEY HAD THE AUDACITY TO

RAISE TOLLS ALL ACROSS THE CITY

OF NEW YORK.

THAT IS UNACCEPTABLE AND THE

GOVERNOR CAN STOP IT BECAUSE HE

CONTROLS THE MTA BOARD.

>> GOT ABOUT A MINUTE AND A

HALF.

AGAIN, THIS IS VERY COMPLICATED.

IT'S ALMOST IMPOSSIBLE EVEN IN

AN HOUR-LONG CONVERSATION TO

HIGHLIGHT ALL THE ELEMENTS.

BUT YOU HAVE LAID OUT SOME OF

THE THINGS -- LOOK, I THINK WE

ALL BELIEVE THAT YOU ARE ALL

PEOPLE OF GOOD WILL, REPUBLICANS

AND DEMOCRATS, I THINK EVERYBODY

RECOGNIZES WHAT YOU SAID IN THE

VERY BEGINNING.

THINGS NEED TO GET DONE.

I THINK WE CAN ALSO RECOGNIZE

THAT THE LEGISLATIVE PROCESS

OFTENTIMES GENERATES

DISAGREEMENTS ABOUT WHAT SHOULD

BE IN BILLS.

AS YOU MENTIONED, I'M SURE THAT

PEOPLE WOULD SAY ON THE OTHER

SIDE, WELL, THERE IS A VALUE TO

ALL OF THIS.

SO MY QUESTION TO YOU IS ARE YOU

AT ALL -- AND, AGAIN, I'VE GOT A

MINUTE AND I APOLOGIZE FOR

ASKING A QUESTION LIKE THIS IN

SUCH A SHORT PERIOD OF TIME, BUT

ARE YOU AT ALL CONFIDENT THAT

PEOPLE OF GOOD WILL, ALL OF NEW

CONGRESS WILL BE ABLE TO GET

TOGETHER AND SAY HERE IS WHAT WE

CAN COMPROMISE ON SO THAT PEOPLE

CAN BE HELPED?

>> IT'S FUNNY YOU'RE GIVING ME

ONE MINUTE WHICH IS THE SAME

AMOUNT OF TIME THAT NANCY PELOSI

GAVE ME TO ACTUALLY EXPOSE THE

600-PAGE BILL SPENDING $179

TRILLION.

A HALF AN HOUR FOR OUR ENTIRE

CONFERENCE TO DEBATE THIS BILL.

THAT'S THE DISGRACE OF WHAT'S

GOING ON IN WASHINGTON.

I HOPE WE CAN WORK TOGETHER.

THE PRESIDENT SAID HE WANTS TO

WORK WITH REPUBLICANS AS WELL.

I WROTE A LETTER TO THE

PRESIDENT SAYING AS A

REPUBLICAN, YOU KNOW, WITH ALL

THE FRESHMEN WE WANT TO WORK

TOGETHER AND FIND COMMON GROUND

AND TRANSPORTATION,

INFRASTRUCTURE, COVID RELIEF.

THERE ARE AREAS WE CAN WORK

TOGETHER BUT IT HAS TO BE IN

GOOD WILL.

THEY CHANGED THE RULES SO THAT

WAY THEY COULD PASS THIS BILL

WITH 5 # VOTES IN THE SENATE

WITHOUT ANY REPUBLICAN SUPPORT.

RIGHT NOW IT'S NOT A GOOD FAITH

EFFORT TO WORK ACROSS PARTY

LINES.

>> WELL, I THINK WE CAN ALL HOPE

THAT EVERYBODY -- PEOPLE OF GOOD

WILL, EVEN THOSE WHO DISAGREE

CAN AGREE ON ENOUGH ASPECTS OF

THIS TO GET IT MOVING FORWARD.

REPRESENTATIVE MALLIOTAKIS, WE

ARE ALWAYS HAPPY WHEN YOU JOIN

US HERE AND TO SHARE YOUR

THOUGHTS WITH US AND WE WILL

LOOK FORWARD TO HAVING YOU JOIN

US AGAIN SOMETIME REAL SOON.

THANK YOU SO MUCH.

YOU TAKE CARE.

.WELL.

>> THANK YOU.

♪

>>> WELCOME TO "METROFOCUS," I'M

RAFAEL PI ROMAN.

YOU KNOW, AT A TIME WHEN A

GLOBAL PANDEMIC HAS KILLED

MILLIONS AND TURNED OUR LIVES

UPSIDE DOWN AND AT A TIME WHEN

POLITICAL TURMOIL HAS ALL TOO

OFTEN TURNED AMERICAN AGAINST

AMERICAN AND EVEN FRIEND AGAINST

FRIEND, MANY OF US HAVE FRANKLY

TURNED TO PRAYER.

BUT WHAT IS PRAYER?

AND IF WE DO PRAY, WHY EXACTLY

DO BY PRAY?

HOW DO WE PRAY AND WHAT'S

SUPPOSED TO HAPPEN WHEN WE PRAY?

JOINING US NOW TO ANSWER THESE

AND OTHER QUESTIONS IS "NEW YORK

TIMES" BEST SELLING AUTHOR

FATHER JAMES MARTIN OF THE

SOCIETY OF JESUS BETTER KNOWN AS

THE JESUITS WHOSE MOST RECENT

BOOK IS TITLED "LEARNING TO

PRAY: A GUIDE FOR EVERYONE."

FATHER MARTIN, WELCOME BACK TO

THE PROGRAM, ALWAYS SO GREAT TO

TALK TO YOU.

>> MY PLEASURE, RAFAEL.

GREAT TO BE WITH YOU.

>> THE BOOK IS RIGHT BEHIND YOU,

IT'S A WONDERFUL READ.

I RECOMMEND T BUT THE TITLE OF

IT IS ALERTING TO PRAYER, A

GUIDE TO EVERYONE.

THAT'S A PRETTY BOLD CLAIM.

DOES EVERYONE INCLUDE

NONBELIEVERS?

SHOULD THEY READ THIS BOOK, TOO.

>> A NONBELIEVER COULD, I THINK

A CURIOUS NONBELIEVER.

IT'S FOR PEOPLE WHO WANT TO

ENTER INTO RELATIONSHIP WITH GOD

BUT THAT CERTAINLY INCLUDES

AGNOSTICS AND SEEKERS, PEOPLE

ARE REALLY TRYING TO EXPLORE HOW

TO COME TO KNOW GOD BETTER AND

ALSO HOW TO LET GOD COME TO KNOW

THEM.

>> SO, YOU KNOW, LET ME START

WITH A QUESTION I ASKED IN THE

INTRODUCTION, WHAT IS PRAYER?

IS THE ANSWER TO THAT OBVIOUS?

>> NO, I MEAN, THERE'S LOTS OF

DIFFERENT DEAF IGS INS, ONE OF

THE FAMOUS ONES IS A RAISING OF

THE MIND AND HEART TO GOD, IT

WAS TALKED ABOUT MUTUAL

CONVERSATION.

I LIKE TO THINK OF IT AS A

CONSCIOUS CONVERSATION WITH GOD.

IT'S A KIND OF BACK AND FORTH.

IT INCLUDES TALKING TO GOD, BUT

IT ALSO INCLUDES IN A SENSE

LISTENING TO GOD WHICH CAN SEEM

MYSTERIOUS, BUT THAT'S LISTENING

IN YOUR DAILY LIFE, FOR SCIENCE

OF GOD'S PRESENCE AND LISTENING

IN YOUR PRAYER AS WELL.

IT'S ABOUT A RELATIONSHIP.

>> SO YOU WRITE ABOUT MANY KINDS

OF PRAYERS IN SOME DETAIL AND

SOME OF THEM ARE FASCINATING.

SOME OF THEM I KNOW A LITTLE BIT

ABOUT AND IF WE HAVE TIME I WILL

ASK THEM ABOUT IT.

BUT THE ONE PRAYER THAT WE'RE

FAMILIAR ABOUT IS THE PRAYER OF

PETITION, THE ONE WE HAVE OFTEN

HEARD ATHEISTS PRACTICE IN THE

FOX HOLE.

YOU SAY THAT THE RAP OF THIS

PRAYER IS THAT IT'S TOO OFTEN

SELFISH OR CAN BE SELFISH.

FOR EXAMPLE, I MEAN, MIGHT IT

NOT BE OFF PUTTING EVEN FOR GOD

FOR US TO BE PRAYING FOR A RAISE

OR TO GET INTO HARVARD OR TO GET

AN A ON THE TEST OR EVEN TO FIND

THE PERSON OF OUR DREAMS WHEN WE

KNOW THAT AT THE VERY SAME TIME

THERE ARE MILLIONS STARVING,

THERE ARE THOUSANDS BEING

TORTURED AND KILLED?

TALK ABOUT THAT.

>> YEAH, I MEAN, I THINK IT'S

OKAY TO ASK GOD FOR THINGS, IN

THE OUR FATHER JESUS SAYS GIVE

US THIS DAY OUR DAILY BREAD,

IT'S A PRAYER OF PETITION.

IT GETS A RAP BECAUSE PEOPLE

SOMETIMES THINK IT'S SELFISH,

BUT I THINK AS LONG AS YOU KEEP

THOSE THINGS IN PERSPECTIVE,

THAT THERE ARE PEOPLE WHO ARE

WORSE OFF THAN YOU ARE, BUT IT'S

PART OF ALSO BEING IN AN HONEST

RELATIONSHIP WITH GOD.

IF THERE'S SOMETHING YOU REALLY

WANT, I MEAN, THINK OF SOMETHING

LIKE PRAYING FOR THE VACCINE,

RIGHT, SOMETHING LIKE THAT.

IF THAT'S SOMETHING YOU WANT TO

FOR YOURSELF AND YOUR FAMILY AND

YOUR FRIENDS, TO NOT PRAY ABOUT

IT IN A SENSE WOULD BE A BLOCK

BETWEEN YOU AND GOD BECAUSE IT

WOULD BE LIKE, YOU KNOW, NOT

SAYING SOMETHING THAT'S REALLY

ON YOUR HEART.

SO I THINK IT'S IMPORTANT TO BE

HONEST WITH GOD, BUT, AGAIN, AS

YOU SAY, TO KEEP IT IN

PERSPECTIVE.

>> FATHER, WHAT ABOUT GOD

ANSWERING OR NOT ANSWERING YOUR

PRAYERS?

YOU KNOW, IN THE SERMON ON THE

MOUNT JESUS SAYS, AND YOU QUOTE

THIS IN YOUR BOOK, ASK AND IT

SHALL BE GIVEN YOU, SEEK AND YOU

SHALL FIND, KNOCK AND IT SHOULD

BE OPENED TO YOU.

FOR EVERYONE WHO ASKS WILL

RECEIVE, EVERYONE WHO SEEKS

SHALL FIND AND WHO THOSE WHO

KNOCK IT SHALL BE OPENED BUT FOR

MOST OF US CHRISTIANS I THINK

IT'S FAIR TO SAY THAT THAT'S NOT

OUR EXPERIENCE OR AT LEAST

DOESN'T APPEAR TO BE OUR

EXPERIENCE.

THAT THE MAJORITY OF OUR PRAYERS

DON'T SEEM TO BE ANSWERED.

WHAT'S YOUR ANSWER TO THAT.

>> >> I THINK THAT IS FAIR TO

SAY.

I THINK WE HAVE TO BE CLEAR

ABOUT THAT AND CHRISTIANS AND

OTHER PEOPLE OF FAITH GRAPPLE

WITH THAT.

IF YOU PRAY FOR SOMEONE NOT TO

DIE AND THEY DIE OR NOT TO GET

SICK AND THEY GET SICK IT SEEMS

LIKE YOUR PRAYERS HAVE NOT BEEN

ANSWERED.

I LOOK AT THE DIFFERENT REASONS

FOR THAT OR THE EXPLANATIONS FOR

THAT.

I THINK THE MOST HONEST

EXPLANATION IS THAT IT'S A

MYSTERY.

WE DON'T KNOW EXACTLY WHY SOME

PRAYERS SEEM TO BE ANSWERED AND

SOME PRAYERS SEEM NOT TO BE

ANSWERED, BUT THE KEY IS CAN YOU

STILL BE IN A RELATIONSHIP WITH

THAT GOD EVEN IF YOU DON'T

UNDERSTAND GOD?

I THINK A LOT OF PRAYERS ABOUT

HONESTY, IT'S ABOUT TRUSTING GOD

AND THEN ULTIMATELY IT'S ABOUT

ACCEPTANCE WITH WHATEVER COMES.

BUT YOU'RE RIGHT, THE ANSWER TO

THAT QUESTION IS IT REALLY IS A

MYSTERY.

>> SO, FATHER, WHAT IS SUPPOSED

TO HAPPEN WHEN WE PRAY?

WHAT IS SUPPOSED TO BE OUR

EXPERIENCE?

>> WELL, THAT'S ONE OF THE

REASONS I WROTE THE BOOK BECAUSE

I THINK MOST PEOPLE THEY SIT

DOWN, THEY CLOSE THEIR EYES AND

THEY FEEL LIKE NOTHING HAPPENS

AND THEY SAY, WELL, I GUESS I'M

NOT MADE FOR PRAYER, BUT IN THE

BOOK I TALK ABOUT THE DIFFERENT

KINDS OF THINGS THAT CAN COME UP

IN YOUR PRAYER.

IF YOU ARE PRAYING ABOUT A

SCRIPTURE PASSAGE MAYBE EMOTIONS

WILL COME UP, DESIRES MAYBE TO

FOLLOW GOD MORE CLOSELY,

INSIGHTS ARE VERY IMPORTANT IN

PRAYER, FEELINGS LIKE CALM IF

YOU'RE PRAYING IN A STRESSFUL

MOMENT AND YOU GET A SENSE OF

CALM, SOMETIMES WORDS AND

PHRASES COME UP.

ALL THESE THINGS CAN COME UP IN

PRAYER, THEY DON'T ALWAYS COME

UP IN PRAYER AND THE KEY IS TO

BE ABLE TO DISCERN WHAT'S COMING

FROM GOD AND WHAT MIGHT JUST BE

IN A SENSE WISH FULFILLMENT FOR

MYSELF.

WITH DISCERNMENT PEOPLE CAN

START TO IDENTIFY WHAT GOD'S

VOICE IS IN THEIR LIFE AND

PRAYER.

>> THAT WAS MY SECOND -- MY

FOLLOWING QUESTION.

HOW DO WE KNOW IT'S NOT ALL

PSYCHOLOGICAL?

HOW DO WE KNOW WE ARE NOT

TALKING TO OURSELVES AND THAT IN

FACT WE'RE CREATING A STORY

ABOUT WHAT GOD IS TELLING US AND

ABOUT OUR LIVES?

YOU KNOW, WHAT IS IT, WISHFUL

THINKING?

>> AND THAT'S CERTAINLY A

DANGER.

I MEAN, NOT EVERY -- YOU HAVE TO

BE CLEAR, NOT EVERYTHING THAT

POPS INTO YOUR HEAD IS SOME

MESSAGE FROM GOD, RIGHT?

IF YOU'RE PRAYING ABOUT SOMEONE

YOU ARE ANGRY AT AND YOU FEEL

LIKE PUNCHING THEM IN THE FAITH

THAT'S PROBABLY NOT COMING FROM

FOD.

PEOPLE HAVE EXPERIENCED ENOUGH

THE PEOPLE THAT I KNOW AND THE

PEOPLE THAT COME TO ME FOR

COUNSELING, THEY EXPERIENCE

GOD'S VOICE IN THEIR PRAYER

ENOUGH TO BE ABLE TO IDENTIFY

IT.

FOR EXAMPLE, IT LEADS TO AN

INCREASE OF LOVE AND CHARITY, IT

MAKES SENSE IN THEIR LIVES, IT

GIVES THEM CONSOLATION, IT'S

LONG LASTING, RIGHT?

AND SO I THINK THE MORE YOU ARE

ABLE TO DISCERN THAT THE MORE

YOU ARE ABLE TO EXPERIENCE THAT

THE BETTER YOU ARE AT

RECOGNIZING WHAT'S COMING FROM

GOD AND WHAT MIGHT JUST BE WISH

FULFILLMENT OR JUST IN MY OWN

MIND.

WE HAVE TO BE CLEAR GOD DOES

COMMUNICATE WITH PEOPLE IN

PRAYER IN SOMETIMES VERY SUBTLE

WAYS AND SOMETIMES VERY OVERT

WAYS, TOO.

>> IN YOUR EXPERIENCE YOU'VE

BEEN A JESUIT NOW FOR 30 YEARS,

HAVE YOU EVER HAD THAT MOMENT

WHEN YOU SAY, WAIT A MINUTE --

NOT JUST AM I TALKING TO MYSELF

NOW OR HAVE I JUST BEEN TALKING

TO MYSELF ALL THESE YEARS, IF I

MAY ASK?

>> I DON'T SAY ALL THESE YEARS.

SOMETIMES IN MY PRAYER I HAVE TO

SAY WHERE IS THIS COMING FROM?

PART OF IT IS ALSO LOOKING

AROUND WHERE GOD IS ACTIVE IN

YOUR DAILY LIFE AS WELL NOT JUST

IN YOUR PERSONAL PRAYER.

I THINK, YOU KNOW, IN TIME YOU

GET TO KNOW WHAT GOD'S VOICE IS

LIKE.

FOR ME PRIMARILY GOD'S VOICE IS

A VOICE OF CALM AND PEACE AND

SORT OF HOPE.

I OFTEN SAY IN THE MIDDLE OF A

PANDEMIC, YOU KNOW, GOD'S VOICE

IS THAT VOICE OF HOPE.

SO IF YOU'RE FEELING THAT

INTERIORLY YOU CAN TRUST THAT.

THE VOICE THAT'S NOT COMING FROM

GOD IS THE VOICE OF DESPAIR LIKE

EVERYTHING IS HOPELESS.

THAT'S A VERY SIMPLE

ILLUSTRATION OF HOW WE CAN KIND

OF DISCERN WHAT GOD'S VOICE IS.

>> AND CAN WE DISCERN IF WE

ACCEPT THAT THERE IS A SPIRITUAL

DIMENSION THAT WE ARE IN

COMMUNICATION WITH, CAN WE

ALWAYS DISCERN THAT IT'S

COMING -- THAT THE VOICE THAT

WE'RE HEARING, QUOTE/UNQUOTE, IS

COMING FROM GOD RATHER THAN FROM

WHAT I THINK THE JESUITS CALL

THE EVIL SPIRIT?

BECAUSE THE EVIL SPIRIT OR THE

EVIL ONE IS VERY WISE, HE KNOWS

HOW TO LIE.

>> YEAH, NO, I MEAN, THAT'S WHY

THEY CALL SATAN THE PRINCE OF

LIES.

YEAH, IT IS, WITH PRACTICE.

AGAIN, IT'S AN ART MORE THAN A

SCIENCE, BUT, AGAIN, TO USE THE

PANDEMIC IMAGE, YOU KNOW, IF YOU

ARE PRAYING AND, YOU KNOW, ONE

DAY YOU FEEL LIKE EVERYTHING IS

HOP

HOPELESS, THIS IS AWFUL, I'M

NEVER GOING TO SUCCEED, WE'RE

NEVER GOING TO SORT OF SURMOUNT

THIS, AND YOU FEEL LOW AND KIND

OF DESPAIRING AND HOPELESS, I

WOULD SAY THAT IS NOT WHAT WE

KNOW ABOUT GOD.

SO THAT VOICE DOESN'T SOUND LIKE

THAT'S COMING FROM GOD.

IF THE NEXT DAY YOU HAVE THE

SENSE OF UPLIFT AND, YOU KNOW,

SOMEONE SAYS SOMETHING CONSOLING

TO YOU AND SOMETHING ENCOURAGING

AND YOU FEEL A SENSE OF HOPE AND

I CAN GET THROUGH THIS, THAT'S

WHAT WE KNOW ABOUT GOD.

GOD IS A VOICE OF HOPE.

GOD HAS GOOD PLANS FOR US.

SO WE ALSO FIT WITH -- WE FIT

WHAT WE HEAR IN PRAYER WITH WHAT

WE KNOW ABOUT GOD.

SO THAT'S ANOTHER WAY OF KIND OF

COMING TO UNDERSTAND.

AND EVENTUALLY YOU RECOGNIZE

THAT VOICE IN YOURSELF.

>> WHEN I WAS READING THIS IN

YOUR BOOK I WAS THINKING OF THAT

FAMOUS PICTURE OF THE

ANTI-CHRIST WHO LOOKS JUST LIKE

JESUS CHRIST, IN FACT, IT WASN'T

UNTIL VERY RECENTLY THAT I

REALIZED IT WAS THE ANTI-CHRIST,

WHICH IS TO SAY MAYBE THE THINGS

THAT YOU'RE TOLD ARE VERY

SIMILAR TO GOOD THINGS OR THINGS

THAT YOU BELIEVE ARE GOOD,

STEERING YOU IN THE WRONG PLACE

WHERE YOU MAY THINK IS THE RIGHT

PLACE.

>> WELL, AND THAT'S WHY WHERE

ST. IGNATIUS THE FOUNDER OF

JESUITS SAYS THAT'S WHERE YOU

HAVE TO SEE WHERE YOU'VE BEEN

LED.

IF YOU ARE LED DOWN THAT GARDEN

PATH AND YOU END UP IN A BAD

SPOT BY LISTENING TO THE WRONG,

YOU KNOW, IMPULSELESS WITHIN

YOU, YOU HAVE TO SAY, LOOK, I

KNOW WHERE THIS LEADS, I'VE BEEN

DOWN THIS ROAD BEFORE AND I'M

NOT GOING TO GO THE NEXT TIME

I'M TEMPTED THAT WAY.

SO, YEAH, I MEAN, AS MY CURRENT

SPIRITUAL DIRECTOR LIKES TO SAY,

YEAH, I MEAN, ON THE SURFACE IT

SEEMS GOOD, SOME OF THESE THINGS

THAT AREN'T GOOD FOR US BECAUSE

OTHERWISE WE WOULD REJECT THEM.

IF IT SEEMED BAD FOR US WE WOULD

SAY NO.

A LOT OF THINGS THAT WE'RE

SOMETIMES TEMPTED TO DO SEEM ON

THE FACE OF THEM GOOD, BUT WHEN

WE GO A LITTLE DEEPER WE REALIZE

IT'S NOT GOOD FOR US OR OTHER

PEOPLE.

>> SO WHAT ARE THE BIGGEST

CHALLENGES THAT WE FACE WHEN WE

BEGIN TO ENGAGE IN SERIOUS

PRAYER LIFE?

>> WELL, I THINK JUST THAT, IT'S

KNOWING WHAT IS COMING FROM GOD,

BUT IT'S ALSO TRUSTING THAT GOD

WANTS TO BE IN IN A RELATIONSHIP

WITH YOU AND REALLY GIVING GOD

IN A SENSE IS THE BENEFIT OF THE

DOUBT AND ALSO BEING OKAY WITH

DRY TIMES.

FOR ME ONE OF THE LESSONS OF THE

SPIRITUAL LIFE IS THAT EVERYBODY

FACES DRY TIMES IN PRAYER WHERE

I SIT DOWN AND IT DOESN'T FEEL

LIKE MUCH IS HAPPENING.

IT'S LIKE ANY RELATIONSHIP,

YOU'RE NOT GOING -- EVERY TIME

YOU GO OUT WITH A FRIEND IT'S

NOT GOING TO BE ALL BELLS AND

WHISTLES AND CONSTANT LAUGHTER,

SOMETIMES IT WILL BE KIND OF,

YOU KNOW, KIND OF ORDINARY.

AND PRAYER IS LIKE THAT, TOO.

SO JUST AS IN ANY RELATIONSHIP

YOU HAVE TO SPEND TIME WITH IT,

YOU HAVE TO BE OPEN, THE SAME

WITH YOUR RELATIONSHIP WITH GOD.

>> YOU TALK ABOUT THE SEVEN Ds,

ONE IS DRYNESS, CAN YOU GIVE US

SOME OF THE OTHER ONES.

>> >> IT'S DISCERNING BETWEEN

STUFF LIKE DEPRESSION,

DESOLATION, DESPAIR, DRYNESS.

A LOT OF TIMES PEOPLE LUMP THOSE

ALL TOGETHER.

THEY SAY BECAUSE MY PRAYER IS

DRY I MUST BE DEPRESSED.

SOME PEOPLE ARE DEPRESSED,

CLINICALLY DEPRESSED, CAN HAVE

VERY RICH PRAYER LIVES.

IT'S MAKING SURE YOU'RE

IDENTIFYING WHICH IS WHICH.

IT'S KIND OF IMPORTANT IN THE

SPIRITUAL LIFE.

>> I GUESS YOU TOUCHED ON THIS,

BUT LET ME ASK IT ANYWAY.

YOU WRITE THAT PRAYER IS

SUPPOSED TO CHANGE US, THAT IT

SHOULD MOVE US INTO ACTION.

HOW SHOULD IT CHANGE US AND WHAT

ACTION SHOULD IT MOVE US TO?

>> WELL, I THINK, YOU KNOW,

ARISTOTLE SAID WE BECOME LIKE

THAT WHICH WE CONTEMPLATE.

IF YOU'RE SPENDING -- IMAGINE

SPENDING TIME WITH JESUS FOR THE

CHRISTIAN AND YOU WOULD HOPE

THAT SPENDING TIME WITH JESUS

WOULD MAKE YOU MORE CHRIST-LIKE.

MAKE YOU MORE LOVING.

I THINK SPENDING TIME WITH GOD

FOR THE BELIEVER SHOULD ALSO DO

THE SAME THING, SHOULD MAKE US

MORE OPEN, MORE LOVING, MORE

CHARITABLE.

WHAT HAPPENS IS GOD KIND OF

MOVES US.

IF WE'RE REALLY OPEN TO PRAYER

AND WE'RE PRAYING ABOUT PEOPLE

WHO ARE SUFFERING, FOR EXAMPLE,

LIKE REFUGEES OR THE HOMELESS OR

MIGRANTS AND WE FEEL OUR HEART

MOVE, THAT'S GOD WORKING WITHIN

US.

SO TO KIND OF PAY ATTENTION TO

THAT AND LET GOD ACT WITHIN US

AND RESPOND TO THAT.

YOU KNOW, SEE IT AS A CALL, AS

AN INVITATION AND REALLY RESPOND

SHOO SO IF SOMEONE WATCHING US

RIGHT NOW IS INSPIRED BY THIS

CONVERSATION, WANTS TO BEGIN

PRAYER, WHERE SHOULD THEY

ACTUALLY BEGIN?

>> I WOULD SAY BY TRUSTING THAT

THAT DESIRE AND THAT INSPIRATION

IS COMING FROM GOD.

RIGHT?

AND TO START OFF ON THE JOURNEY

I THINK MY BOOK WILL HELP,

LEARNING TO PRAY, BUT BY REALLY

TRUSTING THAT IT IS AN

INVITATION.

IT'S NOT JUST SIMPLY YOUR BEING

CURIOUS OR BEING INTERESTED,

IT'S GOD'S CALL TO YOU AND THAT

MAKES IT MORE PROFOUND AND I

THINK ALSO EASIER FOR PEOPLE TO

TRUST.

>> AND IN LIKE 15 SECONDS, WHY

DID YOU DECIDE TO WRITE THIS

BOOK?

>> BECAUSE I THINK PEOPLE THINK

THAT PRAYER IS FOR THE OTHER

PERSON OR THAT THEY ARE THE ONLY

ONES THAT HAVE TROUBLE PRAYING

AND SO I WANTED TO SORT OF GIVE

PEOPLE SOME COMFORT IN THEIR

PRAYER LIFE.

>> ALL RIGHT.

FATHER MARTIN, THE BOOK IS

"LEARNING TO PRAY: A GUIDE FOR

EVERYONE."

I READ IT, IT MOVED ME AND I

RECOMMEND IT STRONGLY.

FATHER, THANK YOU SO MUCH FOR

JOINING US.

>> MY PLEASURE ALWAYS.

♪

>> "METROFOCUS" IS MADE POSSIBLE

BY

SUE AND EDGAR WACHENHEIM III,

SYLVIA A. AND SIMON B. POYTA

PROGRAMING ENDOWMENT TO FIGHT

ANTI-SEMITISM.

THE PETER G. PETERSON AND JOAN

COOPY FUND.

BERNARD AND DENISE SCHWARTZ,

BARBARA HOPE ZUCKERBERG,

JANET PRINDLE SEIDLER,

JODY AND JOHN ARNHOLD,

CHERYL AND PHILIP MILSTEIN

FAMILY,

JUDY AND JOSH WESTON,

DR. ROBERT C. AND TINA SOHN

FOUNDATION.