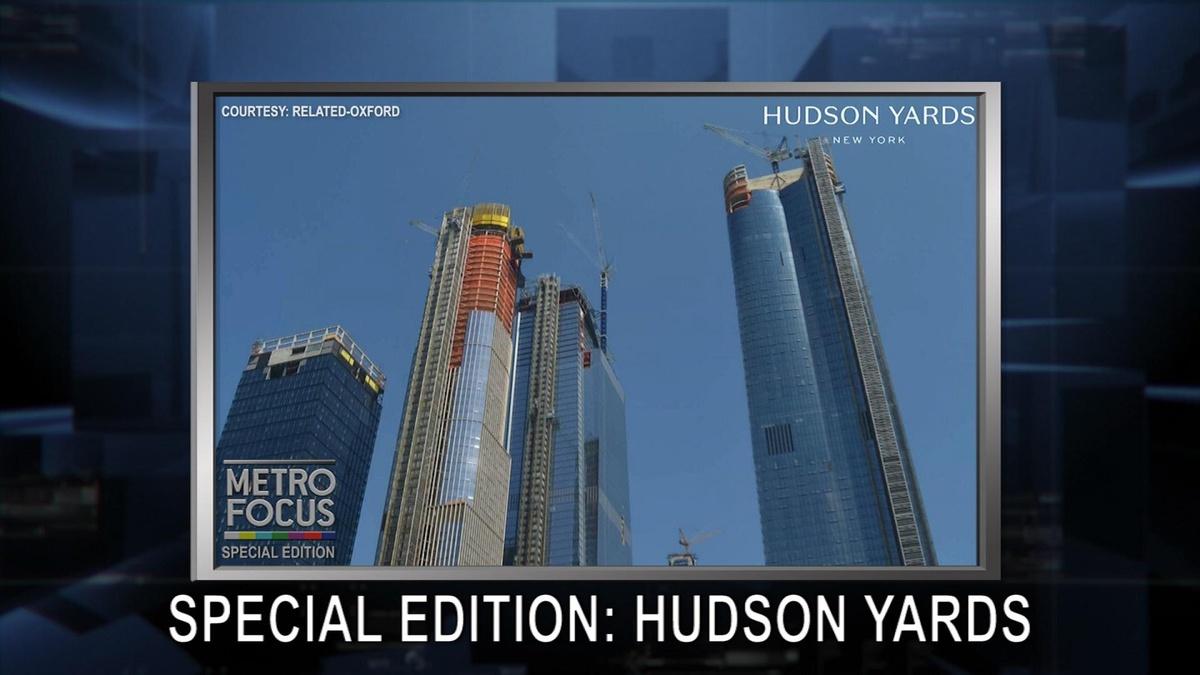 FULL EPISODE
MetroFocus: March 14, 2019
A VISION OF GREATNESS, CITY ACROSS THE RIVER, REAL ESTATE: BOOM OR BUST?
TRANSCRIPT

>>> TONIGHT A SPECIAL EDITION OF

"METROFOCUS," INSIDE NEW YORK'S

NEWEST NEIGHBORHOOD, HUDSON, NEW

YORK.

IN MOMENTS AN INTIMATE PROFILE

OF THE DEVELOPER WHOSE VISION

BECAME A REALITY.

AN UP-CLOSE VIEW OF THE CITY'S

NEW SKYLINE AND THE BRILLIANCE

THAT VUNS ITS TOWERS OF GLASS

AND STEEL.

THE YARD'S INCREDIBLE AND

ARTISTIC VESSEL, AN IMPRESSIVE

UNDERTAKING ON ITS WAY TO

BECOMING A MUST-SEE SITE IN

MANHATTAN.

THE OBSERVATION DECK THAT

LITERALLY LOOKS LIKE EVERYTHING

AND IS LIKE NOTHING BUILT IN

THIS CITY BEFORE.

AND THE HOUSING MARKET, FROM

RENTAL PROPERTIES TO PURCHASES,

THE YARD'S IMPACT ON SURROUNDING

NEIGHBORHOODS AND WHY THE

COMMUNITY'S NEW RITZY MALL MAY

NOT BE A DRAW AT ALL.

YOUR INSIDE LOOK AT THE

METAMORPHOSIS OF THIS MASSIVE

METROPOLIS IS UNDER WAY AS

"METROFOCUS" INSIDE THE HUDSON

YARDS STARTS RIGHT NOW.

>> THIS IS "METROFOCUS" WITH

RAFAEL PI ROMAN, JACK FORD, AND

JENNA FLANAGAN.

"METROFOCUS" IS MADE POSSIBLE BY

JAMES AND MERRILL TISCH.

THE ENDOWMENT TO FIGHT

ANTI-SEMITISM.

BERNARD AND IRENE SCHWARTZ.

RECOGNITION LIN P. WALTER.

BARBARA HOPE ZUCKERBERG.

AND BY --

>>> GOOD EVENING AND WELCOME TO

THIS SPECIAL EDITION OF

"METROFOCUS."

I'M RAFAEL PI ROMAN.

IT'S BILLED AS THE LARGEST

PRIVATE REAL ESTATE DEVELOPMENT

IN OUR NATION'S HISTORY.

THE CITY'S NEXT ROCKEFELLER

CENTER.

TONIGHT WE'RE TAKING YOU TO

HUDSON YARDS FOR A CLOSER LOOK

AT THE FIRST PHASE OF THIS

SPRAWLING DEVELOPMENT ON THE

CITY'S FAR WEST SIDE.

AS THE FOUNDER AND CHAIRMAN OF

RELATED COMPANIES, STEVEN ROSS

IS THE MAN BEHIND IT ALL.

THE BILLIONAIRE MANY TIMES OVER

IS AMONG THE RICHEST AND MOST

POWERFUL DEVELOPERS IN THE CITY

WITH A PORTFOLIO THAT INCLUDES

THE TIME WARNER CENTER IN

COLUMBUS CIRCLE, AND NOW HUDSON

YARDS, A PROJECT ALREADY

CRITICIZED AS A PLAYGROUND FOR

THE RICH.

IN AN ARTICLE TITLED "THE ONLY

MAN WHO COULD BUILD OZ," "NEW

YORK" MAGAZINE CHRONICLED ROSS'

FASCINATING RISE AS A

SUPER-DEVELOPER AS WELL AS HIS

RELENTLESS CAMPAIGN TO TRANSFORM

HUDSON YARDS FROM RAIL YARD TO

SPECTACULAR REALITY.

JOINING US NOW TO TALK ABOUT ALL

THAT IS THE AUTHOR OF THE PIECE

"NEW YORK" MAGAZINE EDITOR AT

LARGE CARL SWANSON.

WELCOME TO THE PROGRAM.

>> THANK YOU FOR HAVING ME.

>> FIRST OF ALL, YOU SPOKE TO

STEVEN ROSS IN THE COURSE OF

WRITING THE ARTICLE, OF COURSE.

YOU ALSO TOOK A TOUR OF HUDSON

YARD BEFORE ITS OFFICIAL

OPENING.

WHAT STRUCK YOU DURING THIS

BEHIND THE SCENES LOOK THAT YOU

FOUND PARTICULARLY SURPRISING OR

PARTICULARLY INTERESTING?

>> THE FIRST TIME I MET HIM WAS

A COUPLE OF YEARS AGO WHEN IT

WAS ANNOUNCED THEY WERE GOING TO

BUILD WHAT THEY CALL THE VESSEL

RIGHT NOW.

THIS ENORMOUS STRUCTURE OF

STAIRCASES THAT THEY PUT IN THE

MIDDLE OF IT.

HE WOULD SAY -- AND I WAS

CURIOUS ABOUT IT, IT SEEMED LIKE

AN ODD THING TO DO.

IN SOME WAYS IT TELLS YOU THE

STORY OF THE ENTIRE DEVELOPMENT

WHICH IS, YOU ARE GOING TO BUILD

AN ENORMOUS, EXPENSIVE OFFICE,

RETAIL, RESIDENTIAL DEVELOPMENT

IN A PLACE WHERE NO ONE REALLY

LIVES.

A PLACE NO ONE WOULD THINK OF

GOING TO.

NOT ONLY BECAUSE THERE WERE

TRAINS THERE BUT ALSO BECAUSE IT

WAS UNPLEASANT.

>> FOR MOST NEW YORKERS, THE

WEST SIDE ENDS LIKE AT NINTH

AVENUE.

>> ABSOLUTELY, MAYBE EIGHTH.

SO HE CAME IN THERE, AND HE

SAID, OKAY, WHAT'S GOING TO

BRING PEOPLE TO THIS, WHAT'S

GOING TO MAKE PEOPLE TALK ABOUT

THIS?

WE'RE GOING TO SPEND $200

MILLION.

WITHIN THE BUDGET OF THIS THING

TO BUILD BUILD WHAT HE CALLED A

ROCKEFELLER CENTER CHRISTMAS

TREE 365 DAYS A YEAR.

THE REASON I WAS EXCITED ABOUT

DOING THIS FOLLOW-UP STORY CLOSE

TO THE OPENING OF IT WAS HE'S A

GUY WHO FIGURES OUT, HE'S NOT

JUST BUILDING A BUILDING, HE'S

BUILDING AN IDEA.

THE REASON THAT WE'RE TALKING

ABOUT IT NOW, IT'S NOT JUST THAT

IT'S ONE OF THE BIGGEST REAL

ESTATE DEVELOPMENTS IN THE

WORLD.

CERTAINLY THE BIGGEST IN THE

COUNTRY RIGHT NOW.

BUT BECAUSE IT JUST DOES

SOMETHING THAT IS SO BEYOND WHAT

MOST PEOPLE WOULD EVEN THINK WAS

POSSIBLE.

>> BUT IT'S AN IDEA, IT'S

SOMETHING THAT MANY CRITICS,

INCLUDING ONE OF YOUR COLLEAGUES

AT "NEW YORK" MAGAZINE KIND OF

CHARACTERIZE AS A FORT RECESS

CITY-STATE WITHIN THE CITY FOR

RICH PEOPLE, WILLFULLY

SEPARATING ITSELF FROM NEW

YORK'S HOI POLLOI, FROM THE

COMMONERS.

WHAT'S YOUR TAKE ON THAT?

>> WELL, I THINK THAT -- I MEAN,

TO SOME EXTENT THEY DO

COMPLETELY COP TO THAT, THEY

CALL IT A CITY WITHIN A CITY.

WHEN I TALK TO STEVE ROSS, HE

LIVES RIGHT NOW IN KIND OF A

SMALLER -- HE CALLS ATE TEST RUN

FOR THIS, WHICH IS COLUMBUS

CIRCLE.

THAT'S THE TIME WARNER CENTER

WHICH IS ONE OF THE FIRST

LARGE-SCALE, MULTI-USE BUILDINGS

IN THE COUNTRY.

APPARENTLY IT'S PRETTY COMMON TO

DO THIS IN AIR SIA AND OTHER PA

OF THE WORLD.

BUT HERE THAT'S THE FIRST TIME

ANYONE'S REALLY DONE IT.

HE LIVES THERE AND HE EATS THERE

AND HIS OFFICES ARE THERE AND HE

WORKS OUT THERE AT THE EQUINOX.

THEY ALSO OWN OAEQUINOX.

IF HE WANTS TO SHOP AT WHOLE

FOODS HE COULD.

THE IDEA IS YOU WOULD HAVE, AS

HE PUT IT, EVERYTHING AT YOUR

FINGERTIPS.

YOU DON'T HAVE TO LEAVE IF YOU

DON'T WANT TO.

THAT'S KIND WHAT WAS HE'S

BUILDING THERE BUT A BIGGER

VERSION OF THAT.

AND ONE COULD ARGUE, AND I

THINK -- I LIVE IN EAST VILLAGE,

A WALK-UP BUILDING.

I HAVE TO GO DOWNSTAIRS TO GET

ANYTHING.

I LIKE THAT.

I LIKE THAT SORT OF IDEA OF -- I

GUESS THAT JAMES JACOBS IDEA OF

THE MIX OF PEOPLE AND -- BUT

THAT'S NOT EVERYONE'S IDEA OF

WHAT NEW YORK CITY IS.

AND I DON'T THINK THAT'S

NECESSARILY WHAT THE IDEA --

IT'S CERTAINLY NOT WHAT STEVE

ROSS' IDEA OF NEW YORK CITY IS

AND I DON'T THINK YOU COULD

ARGUE THAT IT WAS EXACTLY WHAT

THE BLOOMBERG ADMINISTRATION WAS

TRYING TO DO.

>> NO, I DON'T THINK SO, RIGHT?

SO YOU DESCRIBE ROSS AS POSSIBLY

THE MOST POWERFUL MAN IN NEW

YORK TODAY.

AND YOU CALL HIM QUOTE A ROBERT

MOSES FOR OUR AGE OF CONCIERGE

MEGA-URBANNISM.

FIRST OF ALL, WHAT IS CONCIERGE

MEGA-URBANNISM AND WHY IS HE SO

POWERFUL?

>> VERY POWERFUL I THINK BECAUSE

HE ACTUALLY -- FOR ONE THING

BECAUSE HE CAN GET THINGS DONE.

AND HE'S WILLING TO DO THINGS A

LOT OF OTHER DEVELOPERS AREN'T

WILLING TO DO.

ONE OF THE SORT OF SUBTEXTS THAT

A LOT OF PEOPLE HAVEN'T REALLY

PAID ATTENTION TO WITH HUDSON

YARDS IS THAT HE'S BEEN -- HAD A

VERY AGGRESSIVE STANCE TOWARD

THE UNIONS.

THE UNIONS ARE VERY POWERFUL BUT

THEY'RE WILLING TO GO UP AGAINST

THE UNIONS.

A LOT OF DEVELOPERS WON'T DEAL

WITH THAT.

A LOT OF DEVELOPERS WON'T DEAL

WITH SORT OF LIKE THE VARIOUS

THINGS -- THE VARIOUS AGENDAS OF

THE CITY.

HE'S VERY CLOSE TO DAN

DOCTOROFF, THE DEPUTY MAYOR OF

ECONOMIC DEVELOPMENT.

>> UNDER BLOOMBERG.

>> AND REALLY, HE'S KNOWN HIM

SINCE THEY WERE BOTH PART OWNERS

OF THE ISLANDERS IN THE 1990s.

THEY'RE BOTH FROM MICHIGAN.

HE'S A MICHIGAN GUY.

HE LOVES MICHIGAN GUYS.

AND SO THIS IDEA, THIS IDEA THAT

THIS TRAIN YARD AND THIS AREA

COULD BE THIS SERIES OF BIG

GLASS TOWERS FOR FIRST CLASS

CORPORATIONS AND WEALTHY PEOPLE

AND, YOU KNOW, SOME AFFORDABLE

HOUSING TUCKED IN THERE TOO, IS

VERY MUCH A BLOOMBERG IDEA, VERY

MUCH A DAN DOCTOROFF IDEA.

DAN WILL TELL YOU, HE'S SAID

THIS TO MANY PEOPLE, ONLY STEVE

ROSS COULD GET THIS DONE.

>> AS YOU'RE WRITING YOUR

ARTICLE, HUDSON YARDS IS GETTING

$5.6 BILLION OF TAXPAYER MONEY.

>> YES.

>> AS YOU JUST SAID, YOU KNOW,

SOMETIMES STEVEN ROSS MIXES IT

UP WITH THE UNIONS.

>> EXACTLY.

>> HE'S NOT THAT FRIENDLY TO THE

UNIONS.

HOW COME THERE WASN'T A HUE AND

CRY ABOUT THE HUDSON YARDS AS

THERE WAS ABOUT AMAZON?

>> I THINK TWO REASONS.

ONE IS THE KIND OF SUBSIDIES

THEY GOT.

AND THAT'S BECAUSE A LOT OF THE

MONEY WENT TO THE EXTENSION OF

THE 7 TRAIN.

IT'S HARD FOR ANYONE REALLY TO

OBJECT TO THE IDEA OF MORE

SUBWAYS.

THE SECOND THING IS I THINK IT'S

A DIFFERENT ERA.

IT REALLY WAS -- IT WAS THE

HEIGHT OF THE BLOOMBERG ERA WHEN

THIS HAPPENED.

PEOPLE WERE NOT AS CRITICAL OF

THESE THINGS.

THERE'S ALWAYS BEEN CRITICISM OF

SUBSIDIES, ESPECIALLY THINGS

LIKE STADIUMS AND THINGS LIKE

THAT, IN DID THIS CITY.

ECONOMIC DEVELOPMENT SUBSIDIES?

PEOPLE HAVE NOT BEEN AS

CRITICAL.

>> I GET IT.

SO WE ONLY HAVE ABOUT 30 SECONDS

LEFT.

15 YEARS FROM NOW, 20 YEARS FROM

NOW, ARE NEW YORKERS GOING TO

SEE HUDSON YARDS AS THIS

FORTRESS FOR RICH PEOPLE THAT'S

TURNING ITS BACK ON US?

OR ARE NEW YORKERS GOING TO SEE

IT WITH INDIFFERENCE?

OR MAYBE A LITTLE BIT OF PRIDE?

WHAT'S YOUR BEST GUESS?

>> IT'S FUNNY.

I WAS DOING RESEARCH ABOUT

ROCKEFELLER CENTER, EVERYONE

LOVES ROCKEFELLER CENTER NOW.

WHEN IT WAS FIRST BUILT, IT WAS

CRITICIZED BY A LOT OF PEOPLE

FOR BEING TOO OPULENT, SORT OF

THIS MONUMENT TO WEALTH, TO THE

ROCKEFELLERS.

>> YES.

>> NOW I'M NOT SAYING THIS IS AS

GOOD A PIECE OF URBANNISM OF

THATRESS IF YOU WALK AROUND

ROCKEFELLER CENTER, YOU CAN'T

BELIEVE THE SCALE OF IT, HOW

BEAUTIFULLY IT'S PUT TOGETHER.

IT IS TRUE THAT PEOPLE DO GET

USED TO THINGS.

>> EIFFEL TOWER.

>> I MEAN, YOU THINK OF THE

WORLD TRADE CENTER, NOT EXACTLY

THE MOST BELOVED THING WHEN IT

OPENED.

IT'S INTERESTING.

YOU DO SORT OF GET USED TO IT

AND IT BECOMES PART OF --

>> YOU THINK WE'LL GET TO LOVE

IT?

>> I THINK -- YES.

I THINK YOU'LL JUST SEE IT AS

BEING A PART OF THE CITY.

AND EVEN IF IT DOES EMBODY

SOMETHING THAT DOESN'T REALLY --

ISN'T FOR YOU, IT ALSO -- YOU'LL

JUST SORT OF, I THINK, ACCEPT

IT.

>> YEAH, OKAY.

ALL RIGHT, CARL, THANKS SO MUCH.

>>> PHASE ONE OF NEW YORK CITY'S

LARGEST DEVELOPMENTS SINCE

ROCKEFELLER CENTER OPENS TO THE

PUBLIC.

WHEN COMPLETED, HUDSON YARDS, A

COMPLEX CREATED BY RELATED

COMPANIES AND CODEVELOPER OXFORD

PROPERTIES GROUP, WILL COVER 28

ACRES OF THE WEST SIDE WITH

HOUSING, RETAIL, RESTAURANTS,

PUBLIC SPACE, AND MORE, MAKING

IT A GAME-CHANGER IN MORE WAYS

THAN ONE.

RELATED HUDSON YARDS PRESIDENT

JAY CROSS SPOKE WITH US ABOUT

THE PROJECT AND HOW IT WILL

SHAPE THE CITY.

HUDSON YARDS MAY BE NEW YORK

CITY'S SHINY NEW PLAYGROUND BUT

IT STORY BEGINS IN THE MID

1980s.

LONG ISLAND RAILROAD WAS

EXPANDING WESTWARD IN THE CITY

TO CREATE ESSENTIALLY A PARKING

LOT FOR ITS TRAINS.

THE WEST SIDE YARD.

PRESIDENT OF RELATED HUDSON

YARDS, JAY CROSS.

>> SO THE YARD, WHEN IT WAS

BUILT IN THE '80s, VERY

CLEVERLY, RICH RAVAGE WAS

CHAIRMAN OF MTA AT THE TIME,

SAID SOMEDAY SOMEBODY WILL WANT

TO BUILD OVER THESE YARDS.

THEY SPACED THE TRACKS IN SUCH A

WAY THAT WE COULD COME 40, 50

YEARS LATER AND PUT ALL OUR

CAISSONS DOWN BETWEEN THE TRACKS

AND THEN BUILD A TABLETOP ON TOP

OF THE CAISSONS.

>> IT TOOK 200 CAISSONS, TO BE

EXACT.

THEY SUPPORT A PLATFORM HOLDING

THE FIRST PHASE OF THIS HUDSON

YARDS PROJECT CALLED THE EASTERN

YARDS.

THE SECOND PHASE, THE WESTERN

YARDS, WILL BE COMPLETED IN THE

NEXT SIX TO TEN YEARS.

IT WILL BE BUILT ON TOP OF

ANOTHER PLATFORM COVERING THE

RAIL YARD BETWEEN 11th AVENUE

AND THE WEST SIDE HIGHWAY.

THIS STRETCH OF MANHATTAN, 28

ACRES THAT FALL IN THE BROADER

360-ACRE HUDSON YARDS DISTRICT,

IS LARGELY UNUTILIZED.

MOST OF THE LAND ON WHICH THE

REAL ESTATE DEVELOPMENT, RELATED

HUDSON YARDS, IS BUILT AND WILL

CONTINUE TO BUILD, WAS OCCUPIED

BY TRAIN TRACKS.

>> THIS IS THE ONLY PLACE LEFT.

BECAUSE OF THE INDUSTRIAL LEGACY

OF THE RAILROADS.

THERE WAS HELL'S KITCHEN TO THE

NORTH, CHELSEA TO THE SOUTH, A

BIG HOLE IN THE DOUGHNUT.

>> CROSS SAYS IN A VERY MATURE

CITY LIKE NEW YORK IT'S HARD TO

ASSEMBLE THIS MANY ACRES OF

AVAILABLE LAND.

A PROJECT LIKE RELATED HUDSON

YARDS RELIES ON THERE BEING OLD

INFRASTRUCTURE AVAILABLE FOR

REDEVELOPMENT.

CANARY WHARF BUILT ON LONDON'S

DOCK LANDS.

HE SAYS THIS MIGHT AN TREND.

>> FOR THE FIRST TIME EVER, 50%

OF THE POPULATION IN THE WORLD

LIVE IN CITIES.

THAT'S GOING TO PUT MORE

PRESSURE ON CITIES, PARTICULARLY

MATURE CITIES.

I THINK YOU'LL SEE MORE PROJECTS

LIKE HUDSON YARDS.

THEY'RE A LITTLE DIFFICULT TO

PUT TOGETHER LIKE UNICORNS.

>> THEY RELY HEAVILY ON

PUBLIC-PRIVATE PARTNERSHIPS

INCLUDING THE BUILDING-OUT OF

INFRAS

INFRASTRUCTURE, I.E., EXTENSION

OF THE 7 TRAIN, AND BUY-IN FROM

RETAIL BUSINESSES AND

CORPORATIONS WILLING TO RELOCATE

REIN THE WAKE OF AMAZON'S MOVE

TO LONG ISLAND FALLING THROUGH

LARGELY DUE TO PUSHBACK OVER TAX

BREAKS, THERE'S A STUDY SHOWING

THE CITY OFFERED $5.7 BILLION IN

INVESTMENTS AND TAX BREAKS.

ACCORDING TO COAUTHOR OF THE

STUDY BRIDGET FISHER THIS $5.7

BILLION WENT TO THE HUDSON YARDS

DISTRICT FOR INVESTMENT IN THE

EXTENSION OF THE 7 TRAIN, A NEW

PARK, A NEW PUBLIC SCHOOL, AND

TAX BREAKS FOR COMMERCIAL AND

RESIDENTIAL DEVELOPERS.

$685 MILLION WENT TO SITES

INVOLVED DIRECTLY WITH RELATED

HUDSON YARDS.

IT'S STILL A HEFTY PRICE TAG BUT

THAT HE BELIEVES WILL FUNNEL

BACK TO THE CITY IN GDP, TAXES,

AND JOBS.

CROSS BELIEVES THE INCENTIVES

HELPED COURT COMPANIES TO

RELOCATE TO HUDSON YARDS, A

NECESSITY IN HIS EYES TO DEVELOP

THE NEW NEIGHBORHOOD'S

ECOSYSTEM.

>> IF YOU HAVE ONLY ONE USE, SAY

OFFICE, YOU'RE GOING TO HAVE A

DEAD NEIGHBORHOOD AT NIGHT.

IF YOU DENSIFY WITH RESIDENTIAL,

YOU'RE NOT NECESSARILY GOING TO

BE HUMMING DURING THE BUSINESS

DAY.

I THINK IT'S THE RIGHT

COMBINATION OF USES IS REALLY

WHAT CREATES A GREAT

NEIGHBORHOOD.

>> THAT MIXED-USE CITY WITHIN A

CITY APPEAL IS ON FULL DISPLAY

IN A COMMERCIAL FOR HUDSON

YARDS.

>> A PLACE DESIGNED FOR HARMONY.

TO FEED OUR ASPIRATIONS AND

NOURISH OR SOULS AND OUR BODIES.

IMAGINEA PLACE THAT REFLECTS

THE SPIRIT OF CREATIVITY, THE

PROMISE OF TECHNOLOGY, FULL OF

LUXURY AND STYLE.

SEAMLESSLY CONNECTED TO THE

FUTURE OF FASHION, FOOD, ART,

ENTERTAINMENT, AND BUSINESS.

>> GARNERING A FAIR SHARE OF THE

HUDSON YARDS BUZZ ARE TWO

ATTRACTIONS, THE SHED AND THE

VESSEL.

THE SHED AT 200,000 SQUARE FOOT

ART SPACE SHOWCASING EVERYTHING

FROM VISUAL ART AND DIGITAL

MEDIA TO DANCE, CLASSICAL MUSIC,

HIP-HOP, IS SET TO OPEN IN EARLY

APRIL.

THE BUILDING IS MOST NOTABLE FOR

ITS RETRACTABLE SHELL THAT

COVERS THE ADJOINING PLAZA AND

CAN MOVE BACK TO OPEN UP OUTDOOR

SPACE.

>> I THINK IT'S REALLY GOING TO

PUTUS ON THE CULTURAL MAP YET

AGAIN FOR SOMETHING COMPLETELY

UNIQUE TO NEW YORK.

>> THE VESSEL STANDING AS THE

DEVELOPMENT'S CENTERPIECE IS A

GIANT SCULPTURE CREATED BY

DESIGNER THOMAS HEATHERWICK AND

HIS STUDIO.

IT'S COMPRISED OF 154

INTERLOCKING FLIGHTS OF STAIRS,

OFFERING DIFFERENT VIEWS OF THE

CITY.

BEYOND THE TOURISM-GRABBING

LANDMARKS, RELATED HUDSON YARDS

CAN FUNCTION AS A COMMUNITY UNTO

ITSELF.

THE REAL ESTATE PROJECT HAS ITS

OWN GROCERY STORE, 25

RESTAURANTS AND FOOD CONCEPTS, A

HOTEL, AND WILL EVENTUALLY HAVE

ITS OWN PUBLIC SCHOOL.

BUT CONVENIENCE COMES AT A COST.

APARTMENTS START AT $4 MILLION

TO BUY AND $5,000 A MONTH TO

RENT.

THE SHOPS AT HUDSON YARDS BOAST

SEVERAL LUXURY STORES IN

ADDITION TO MORE MAINSTREAM

STORES LIKE SEPHORA AND ZARA.

FOR SOME THIS LUXURY-ORIENTED

LIFESTYLE HAS GIVEN HUDSON YARDS

THE VIBE OF A PLAYGROUND FOR THE

WEALTHY BUT CROSS DOESN'T SEE IT

THAT WAY.

>> NO, I SEE IT AS AN EXTENSION

OF NEW YORK.

JUST THIS WEEK IT WAS PUBLISHED

THAT LONDON JUST PASSED NEW YORK

AS THE WEALTHIEST CITY IN THE

WORLD.

SO WE ARE WHAT WE ARE.

THAT'S NEW YORK.

BUT I THINK WITHIN THE CONTEXT

OF WHAT WE'RE OFFERING NEW

YORKERS, WE'VE GOT EVERYTHING,

ALL SORTS OF FOOD OF OFFERINGS,

AFFORDABLE APARTMENTS, 100 OF

THEM ALREADY, 300 MORE STILL TO

BUILD.

SO I THINK IN EVERY RESPECT

WE'RE TRYING TO BUILD HUDSON

YARDS AS A PLACE FOR ALL NEW

YORK RESPECT.

>> THAT MEANS THAT WHILE HUDSON

YARDS IS FAIRLY SELF-SUFFICIENT,

IT WAS IMPORTANT TO THE RELATED

TEAM TO CONNECT THE COMPLEX BACK

TO THE CITY.

>> HUDSON BOULEVARD GOES NORTH

FROM US.

THE SUBWAY IS JUST ABOVE US.

FIVE-ACRE PARK HERE ANCHORED BY

THE VESSEL FACING NORTH.

GO SOUTH, YOU WALK STRAIGHT ONTO

THE HIGH LINE.

WE'LL BE ABLE TO CONNECT

STRAIGHT BACK TO MOYNIHAN

STATION, THE EXTENSION OF PENN

STATION TO THE WEST, WEST OF

11th AVENUE WE'LL HOOK UP WITH

THE HUDSON RIVER PARK.

WE'LL BE CONNECTED UNDERGROUND

TO THE SUBWAY.

WE'RE CONNECTED THEREFORE TO THE

JAVITS CENTER.

>> NOT TO MENTION 10th OF A,

11th AVENUE, AND THE CROSS

STREETS.

IT WILL HAVE A RIPPLE EFFECT ON

THE CITY.

>> THE WEST SIDE IS CONTINUOUS.

I THINK WHAT'S INTERESTING,

THINK OF HUDSON RIVER PARK.

YOU CAN RIDE FROM YOUR BIKE FROM

THE GEORGE WASHINGTON BRIDGE TO

THE BATTERY, THAT'S PRETTY COOL.

NOW I THINK ALL THE

NEIGHBORHOODS ARE EQUALLY

CONNECTED TO A PARK SYSTEM, A

TRANSIT SYSTEM, NEW

DEVELOPMENTS.

THAT ALLOWS THE CITY TO THRIVE.

>> FROM ANY ANGLE --

ENGINEERING, URBAN PLANNING,

DESIGN -- HUDSON YARDS IS AN

AMBITIOUS PROJECT.

>> WE HEAR THIS A LOT.

WE NEED A NEW ROBERT MOSES.

I'M NOT SURE WE NEED A NEW

ROBERT MOSES BUT I THINK WE NEED

TO GO BACK TO THE AMBITION

ROBERT MOSES HAD.

I THINK WHAT WE'VE DEMONSTRATED

HERE AT HUDSON YARDS THAT WE CAN

STILL BE AMBITIOUS, AND WE CAN

BE AMBITIOUS AND ACTUALLY THRIVE

AND SUCCEED.

AND I THINK THAT'S SOMETHING

THAT WE HAVE TO SORT OF GET OUR

MOJO BACK AND PROVE THAT WE CAN

BE ONCE AGAIN.

>> IN MANHATTAN, I'M MADDIE

ORTON FOR "METROFOCUS."

>>> EXCITEMENT ABOUNDS AS THE

HUDSON YARDS DEVELOPMENT PROJECT

OPENS TO THE PUBLIC.

BUT DESPITE TAX BREAKS LARGER

THAN THOSE OFFERED TO AMAZON AND

A SUBWAY EXTENSION MEANT TO

SERVE ITS INCOMING RESIDENTS,

WHO CAN AFFORD TO MOVE THERE?

THE MULTIMILLION DOLLAR LUXURY

APARTMENTS MIGHT BE A TOUGH

SELL.

SOME REAL ESTATE EXPERTS SAY THE

LUXURY CONDO MARKET IS FLOODED

AND THAT WILL CUT INTO THE

HUDSON YARDS' BOTTOM LINE.

HOME PRICES IN MANHATTAN HAVE

SLID MORE THAN 3% ACCORDING TO A

RECENT REPORT CONDUCTED BY

STREET EASY.

BUT THE DEVELOPERS AT HUDSON

YARDS HAVE ONE AMENITY NOT FOUND

IN EVERY LUXURY DEVELOPMENT IN

MANHATTAN.

HERE WITH DETAILS ON WHAT THAT

LURE MIGHT BE AND THE SCOOP ON

NEW YORK'S HOTTEST NEW

NEIGHBORHOOD IS JAMES TAMRY,

REAL ESTATE REPORTER FOR

"BLOOMBERG NEWS."

WELCOME TO THE PROGRAM.

>> THANK YOU FOR HAVING ME.

>> FIRST WHAT IS IT THAT'S

HAPPENING?

THIS IS BEING PRESENTED AS THE

GRAND OPENING OF THE HUDSON

YARDS.

>> WELL, HUDSON YARDS HAS

ACTUALLY BEEN OPEN SINCE 2016.

PEOPLE HAVE BEEN IN THE

COMMERCIAL SPACES FOR SEVERAL

YEARS NOW.

THE GRAND OPENING IT'S HAVING

THIS WEEK IS THE GRAND OPENING

OF THE PUBLIC SPACES.

THE RESTAURANTS, THE VESSEL

WHICH IS THE ART OBJECT THAT HAS

STAIRS THAT PEOPLE CAN CLIMB,

THE PUBLIC KIND OF GARDENS AND

AREAS, AND OF COURSE ALSO THE

NEIMAN MARCUS.

>> ALL RIGHT.

SO WITH ALL OF THE HUBBUB THAT'S

BEEN AROUND ALL OF THIS, WHAT IS

I GUESS THE HOPE FOR THE

DEVELOPERS?

IS THIS JUST REALLY LIKE A

LUXURY DEVELOPMENT?

OR IS THIS MORE OF A PUBLIC

INTERACTIVE SPACE?

>> THE IDEA IS THAT IT'S

SOMETHING FOR EVERYONE.

THE IDEA IS THAT IT'S A CITY

WITHIN A CITY, EFFECTIVELY.

AND SO THERE ARE RESIDENTIAL

TOWERS, THERE ARE OFFICE TOWERS,

THERE'S THIS KIND OF MALL WITH

RESTAURANTS THAT WE'RE TALKING

ABOUT, IN PHASE TWO OF THE

PROGRAM THERE'S SUPPOSED TO BE A

PUBLIC SCHOOL AND FURTHER

RESIDENTIAL BUILDINGS.

IT'S SUPPOSED TO BE AN ENTIRE

COMMUNITY WITHIN NEW YORK CITY.

>> AND I NOTICE THAT THE WAY A

LOT OF PEOPLE KEEP TALKING ABOUT

IT, IT'S VERY MUCH LIKE, WELL,

IT'S SUPPOSED TO BE, BECAUSE

THERE'S BEEN NOTHING LIKE THIS,

CORRECT?

>> THAT'S TRUE.

THE CLOSEST ANALOG IS PROBABLY

BATTERY PARK CITY, BUT THAT

WASN'T NEARLY AS AMBITIOUS OR

LARGE OR AS EXPANSIVE IN TERMS

WHAT WAS IT'S OFFERING.

IT'S PRIMARILY RESIDENTIAL.

IN THE SENSE THAT IT WAS A

PLANNED COMMUNITY, YES.

BATTERY PARK CITY IS AS CLOSE AS

IT GETS.

NEW YORK REALLY HASN'T SEEN

ANYTHING LIKE THIS IN ITS

HISTORY.

>> WELL, OF COURSE GOING BACK TO

THE PUBLIC SPACES, A LOT HAS

BEEN MADE ABOUT -- I HESITATE TO

CALL IT A MALL BECAUSE I FEEL

LIKE THIS IS NOT A MALL IN THE

TRADITIONAL SENSE THAT WE KNOW

IT.

BUT IS THERE ANY INDICATION THAT

HAVING THIS RETAIL SPACE THAT

OFFERS RESTAURANTS AND HIGH-END

SHOPPING, ET CETERA, IS THAT

ACTUALLY HELPING TO SELL SOME OF

THESE HIGH-END PROPERTIES?

>> HUDSON YARDS IS ON THE FAR

WEST SIDE OF MANHATTAN IN A

NEIGHBORHOOD THAT'S RELATIVELY

INACCESSIBLE OR WAS RELATIVELY

INACCESSIBLE UNTIL THE 7 TRAIN

WAS EXTENDED BY THE CITY FOR THE

COST OF AROUND $2.4 BILLION.

IT IS NOT NECESSARILY PART OF

ANY OTHER NEIGHBORHOOD.

SO THE IDEA IS THAT ALL OF THESE

AMENITIES THAT ARE BEING OFFERED

VIA THE COMMUNITY OF HUDSON

YARDS WILL DRAW TENANTS,

COMMERCIAL AND OTHERWISE, AND

BUYERS FOR THE CONDOMINIUMS THAT

ARE QUITE HIGH-END THAT ARE

GOING UP.

>> BUT THE MARKET HAS ACTUALLY

BEEN CHANGING.

WE'VE SEEN SO MANY LUXURY

DEVELOPMENTS COME ONLINE IN THE

NEW YORK CITY MARKET.

AND IS IT STILL AS HOT AS IT

WAS?

OR IS IT STARTING TO DECLINE?

>> THE SHORT ANSWER IS, NO.

SO THE NEW YORK CITY CONDO

MARKET, RESIDENTIAL REAL ESTATE

MARKET ABOVE -- LUXURY REAL

ESTATE MARKET HAS BEEN IN

DECLINE PRETTY MUCH SINCE 2016.

THE PROBLEM IS THAT THERE

CONTINUES TO BE A LOT OF NEW

INVENTORY THAT'S HITTING THE

MARKET YEAR OVER YEAR OVER YEAR.

SINCE 2016 A LOT OF DEVELOPERS

HAVE ACTUALLY BEEN HOLDING BACK

EXISTING MATERIAL BECAUSE THEY

KNOW THAT THE MARKET HAS

SOFTENED SOMEWHAT.

AND SO AS A CONSEQUENCE, YOU

HAVE A BACKSTOCK OF INVENTORY

AND MORE INVENTORY COMING ON THE

MARKET.

AS A CONSEQUENCE YOU HAVE THIS

REAL GLUT OF AVAILABLE MATERIAL

AND A HEAVILY SLACKENED DEMAND

FROM BUYERS.

>> THAT'S FASCINATING

CONSIDERING HOW MUCH THE ISSUE

OF AFFORDABLE HOUSING HAS BEEN

ON THE FOREFRONT OF SO MANY

DISCUSSIONS HERE IN NEW YORK.

I DO WANT TO PIVOT A LITTLE BIT

TOWARDS THE ISSUE OF TAX BREAKS.

NOW ACTUALLY THERE WAS RECENTLY

A STORY PRINTED IN THE "TIMES"

ABOUT HOW THIS PROJECT GOT HUGE

AMOUNTS OF TAX BREAKS TO BE

DONE.

ACTUALLY BIGGER THAN AMAZON,

WHICH GOT A LOT OF PUBLIC

ATTENTION, DREW A LOT OF IRE.

I KNOW THEY'RE NOT A ONE-TO-ONE

COMPARISON BUT I WANTED TO GET

YOUR TAKE ON WHY AMAZON GOT SO

MUCH ATTENTION, AND YET THIS

PROJECT GOT MORE TAX BREAKS BUT

NOBODY SEEMED TO NOTICE.

>> RIGHT.

I THINK -- I CAN ONLY COMMENT ON

THIS SLIGHTLY.

BUT I THINK THE FUNDAMENTAL

POINT IS TWOFOLD.

ONE, THESE ARE VERY DIFFERENT

ISSUES WHEREIN HUDSON YARDS IS

ACTUAL DEVELOPMENT.

IT'S CREATING AN ENTIRELY NEW

BUSINESS DISTRICT WHICH

THEORETICALLY, AT LEAST, IS

BRINGING IN TONS OF NEW JOBS.

AND THEN TWO, IT'S REALLY A

QUESTION OF PR, RIGHT?

MANY COMPANIES AROUND THE

COUNTRY GET TAX BREAKS FOR

DEVELOPING IN DIFFERENT CITIES.

>> THAT'S A COMMON PRACTICE.

>> EVERYWHERE.

>> YEAH.

>> AMAZON, WHICH IS HELMED BY

THE RICHEST PERSON ON THE

PLANET, DID A VERY PUBLIC

CAMPAIGN WHEREIN THEY WENT

AROUND THE COUNTRY GETTING

SOLICITATIONS FOR PEOPLE WHO

WERE BENDING OVER BACKWARDS TO

GIVE THEM TAX BREAKS AND TAX

INCENTIVES IN WHATEVER CONTEXT.

AND SO BECAUSE THEY WERE

PUBLICIZING THIS, PEOPLE WERE

PAYING MORE ATTENTION TO IT.

AND THEN IN MANY RESPECTS THE

BACKLASH WAS SOMEWHAT

INEVITABLE.

>> ALL RIGHT.

FINAL QUESTION, THEN.

AS THE REAL ESTATE SALES, LET'S

SAY, START CLOSING AND PEOPLE

START MOVING INTO HUDSON YARDS,

WHAT IS IT WE SHOULD BE LOOKING

FOR TO DETERMINE HOW SUCCESSFUL

OF A PROJECT THIS IS AND HOW

MUCH TIME SHOULD WE GIVE IT?

>> WE NEED TO GIVE IT A LOT OF

TIME.

THIS IS NOT A FIVE-YEAR PROJECT,

A TEN-YEAR PROJECT.

IT'S A 20, 25-YEAR PROJECT.

THAT SAID THE DEVELOP WEIRS LOVE

TO SELL OUT THESE CONDOMINIUMS

THEY'RE BUILDING.

THEY'RE VERY EXPENSIVE.

THE CURRENT AVAILABLE APARTMENTS

AT 15 HUDSON YARDS STARTED

AROUND $4 MILLION, AND GO UP TO

OVER $30 MILLION.

THE MORE EXPENSIVE CONDOMINIUM

IS 35 HUDSON YARDS AND THAT HAS

YET TO BE BUILT BUT APARTMENTS

START AROUND $5 MILLION.

RIGHT?

THERE ARE HUNDREDS OF APARTMENTS

IN THESE BUILDINGS.

THERE ARE NOT NECESSARILY

HUNDREDS OF PEOPLE RIGHT NOW

EAGER TO BE SPENDING $5 MILLION,

$10 MILLION ON A RELATIVELY

UNTESTED PART OF NEW YORK CITY.

SO THE DEVELOPER UNDERSTANDS, I

THINK, TO SOME DEGREE, THAT THIS

IS NOT GOING TO BE AN OVERNIGHT

BLOWOUT SUCCESS.

>> ALL RIGHT.

THAT'S ASKING FOR PATIENCE FROM

NEW YORKERS.

THAT IN AND OF ITSELF I THINK IS

A HUGE -- THAT WOULD BE A BIG

GET.

JAMES, THANK YOU SO MUCH FOR

YOUR REPORTING AND HELPING US

GET A BETTER UNDERSTANDING OF

WHAT'S GOING ON, PARTICULARLY

WITH THE REAL ESTATE ANGLE OF

THE HUDSON YARDS DEVELOPMENT.

WE'D LOVE TO HAVE YOU BACK.

>> THANK YOU SO MUCH FOR HAVING

ME.

>> ABSOLUTELY.

>>> "METROFOCUS" MADE POSSIBLE

BY JAMES AND MERRILL TISCH.

SUE AND EDGAR WALKENHEIM III.

THE SYLVIA A. AND SIMON B.

ENDOWMENT TO FIGHT

ANTI-SEMITISM.

BERNARD AND IRENE SCHWARTZ.

ROSLYN P. WALTER.

BARBARA HOPE ZUCKERBERG.

AND BY -- R

CORPORATE FUNDING PROVIDED BY

MUTUAL OF AMERICA, YOUR

RETIREMENT COMPANY.

AND BY PSE&G.

SERVING CUSTOMERS, STRENGTHENING

THE BUSINESS COMMUNITY, AND

INVESTING IN THE FUTURE.