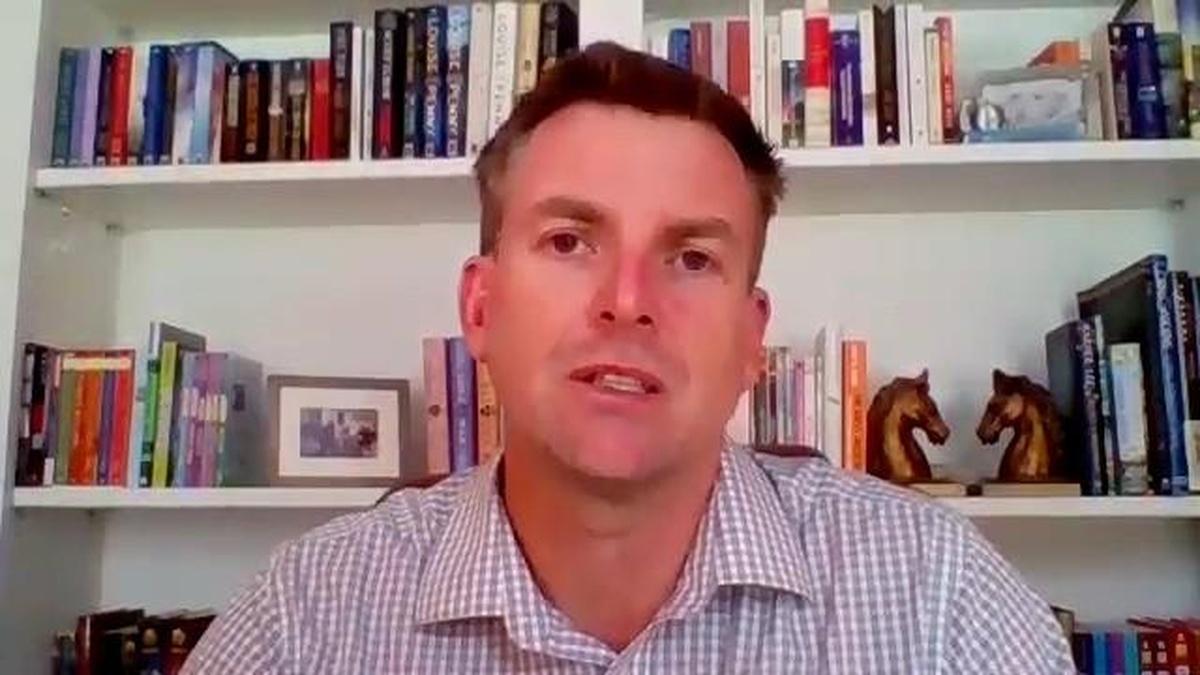 FULL EPISODE
MetroFocus: July 1, 2020
"The 20- to 40-year-olds appear to be spreading the infection unperceived. They are just as easily infected as the elderly, but much more likely to show no or mild symptoms.
TRANSCRIPT

SUE AND EDGAR WACHENHEIM III,

THE SYLVIA A. AND SIMON B. POYTA

PROGRAMING ENDOWMENT TO FIGHT

ANTI-SEMITISM.

BERNARD AND IRENE SCHWARTZ,

ROSALIND P. WALTER,

BARBARA HOPE ZUCKERBERG,

AND BY --

BEFORE ROBERT C. AND TINA STONE

FOUNDATION.

>> WELCOME TO "METROFOCUS."

I'M RAFAEL PI ROMAN.

YOU KNOW, IN THE SEARCH FOR

RELIABLE INFORMATION ABOUT THE

CORONAVIRUS AND ITS SPREAD, MANY

AMERICANS ARE TURNING TO A

COLLEGE PROFESSOR FOR GUIDANCE

WITH ROUGHLY 30 MILLION VIEWS

AND COUNTING, THE BLOG ABOUT

COVID-19 HAS CLEARLY GONE VIRAL.

AND THAT'S LIKELY DUE TO HIS

UNIQUE ABILITY TO TURN COMPLEX

IDEAS INTO EASILY UNDERSTANDABLE

CONCEPTS.

NOW AS COMMUNITIES AND CITIES

ACROSS THE COUNTRY REOPEN FOR

BUSINESS, HE SHOWS US HOW THE

ROLE OF THE YOUNG AND HEALTHY IN

THIS BAEND ISPANDEMIC IS BEGINN

REVEAL ITSELF.

AND NOW JOINING US NOW IS AARON,

A PROFESSOR OF BIOLOGY AT THE

UNIVERSITY OF MASSACHUSETTS

DARTMOUTH.

PROFESSOR, WELCOME TO THE

PROGRAM.

>> THANK YOU, RAF, IT'S GREAT TO

BE HERE.

>> PROFESSOR, YOU WERE STUDYING

THE CORONAVIRUS MONTHS BEFORE IT

BECAME A GLOBAL PANDEMIC AND

LONG BEFORE MOST PEOPLE OUTSIDE

OF CHINA KNEW ABOUT IT OR TALKED

ABOUT IT.

HOW COME?

>> SO SOME OF THE GROUPS THAT I

FOLLOW ON TWITTER AND JUST

THROUGH PUBLIC SOCIAL MEDIA

FOLLOW JUST GENERAL DISEASE

OUTBREAKS, BE IT INFLUENZA,

EBOLA IN AFRICA, AND SO WE'RE

JUST IN THIS GLOBAL COMMUNITY

TALKING ABOUT NEW EMERGING

INFECTIOUS DISEASE.

AND IN DECEMBER, WE STARTED TO

SEE THIS NEW PATHOGEN EMERGING.

SO BY THE END OF DECEMBER WE

KNEW WE HAD SOMETHING A LITTLE

INTERESTING.

WE WEREN'T QUITE SURE WHERE IT

WAS GOING TO GO, BUT THAT'S

DECEMBER ROLLING INTO JANUARY.

BY TIME WE GOT TO THE ABOUT THE

FIRST WEEK OF JANUARY, WE KNEW

THAT THIS IT WAS GOING TO BE

SOMETHING AT LEAST SIGNIFICANT

TO CHINA.

AND I STARTED WRITING ABOUT IT

AND I STARTED TO INCORPORATE IT

INTO MY CLASS SO THAT WE COULD

STAY RIGHT AT THE FOREFRONT OF

WHAT WAS ACTUALLY GOING ON.

>> SO, HOW DID YOUR INTEREST IN

COVID-19 EVOLVE FROM A SUBJECT

FOR YOUR STUDENTS TO STUDY TO

SOMETHING THAT YOU DID BEGIN TO

WRITE ABOUT AND IT'S SOMETHING

THAT CAUGHT ON LIKE WILDFIRE?

>> YEAH, SO ORIGINALLY IT WAS

PURELY AN ACADEMIC EXERCISE.

I TEACH A CLASS IN COLLEGE

INFECTIOUS DISEASE WHERE WE

UNDERSTAND -- LOOK AT HOSTS,

PATHOGEN, AND ENVIRONMENT AND

HOW THEY INTERACTS AND RESULT IN

DISEASE.

AND WE LOOK AT THIS FROM ANIMAL

PERSPECTIVE, HUMAN, PLANTS, WE

LOOK AT THAT TIME IN A VERY

HOLISTIC WAY.

BUT WHAT I LIKE TO DO IN MY

CLASS SIS INCORPORATE A CURRENT

THREAT THAT'S EMERGING.

LAST YEAR IT WAS TRIPLE E.

THIS YEAR IT WAS THIS NEW

VIOLENCE

CORONAVIRUS COMING OUT OF CHINA.

SO WE INCORPORATED THAT INTO THE

CLASS CURRICULUM.

MY STUDENTS AND I WERE TALK

ABOUT IT TWO OR THREE TIMES A

WEEK.

WE DEVELOPED A NOTICE BOARD PORE

IT WITH THE NEW RESEARCH AS IT

STARTED TO COME OUT.

PART OF MY ASSESSMENT FOR THEM

WAS TAKING THAT RESEARCH AND

SYNTHESIZING IT INTO DIGESTIBLE

CHUNKS OF INFORMATION THAT WAS

UNDERSTANDABLE.

AND SO IT EVOLVED FROM THERE.

BUT WHEN WE GOT TO THE BEGINNING

OF FEBRUARY, I WAS GIVING A TALK

AT A SCIENCE CAFE, IN NEW

BEDFORD, A TOWN CLOSE TO ME THEY

RUN THIS CAFE CALLED THE NEW

BEDFORD SCIENCE CAFE, WHICH

IS -- THEY GET SCIENTISTS TO GET

UP AND TALK ABOUT SOMETHING

INTERESTING, THEIR RESEARCH,

WHAT'S GOING ON IN THE

COMMUNITY, AND YOU GET TO ENGAGE

WITH THE COMMUNITY ABOUT IT.

I WAS THERE TALKING ON VACCINES,

BUT ALL THE QUESTIONS AT THE END

STARTED GOING TOWARDS THIS

VIRUS.

AND WE KNEW RIGHT ABOUT THEN

THAT IT WAS TIME TO NOT WORRY,

BUT TIME TO PREPARE.

AND SO AS I SAW THINGS STARTING

TO MOVE AND AS IT STARTED TO

MOVE ACROSS THE GLOBE, I STARTED

TAKING WHAT WAS AN ACADEMIC

EXERCISE AND JUST WRITING SHORT

POSTS.

A FEW PARAGRAPHS ABOUT IT AND

I'D POST IT ON MY FACEBOOK PAGE

FOR LITERALLY FAMILY AND

FRIENDS.

AND ONE POST DID I, IT WAS THE

END OF FEBRUARY, IT WAS THE

WARNING POSTS.

IT WAS YOU'RE GOING TO CALL ME

CRAZY, BUT, IT'S TIME TO

PREPARE, NOT TIME TO PANIC.

YOU NEED TO GET SOME ESSENTIALS

INTO YOUR HOME.

YOU NEED TO GET TOILET PAPER,

YOU NEED TO GET YOUR

PRESCRIPTION DRUGS, YOU NEED TO

GET A WEEK'S SUPPLY WORTH OF

FOOD BECAUSE SUPPLY CHAINS ARE

GOING TO BE BROKEN.

AND JUST RAN THROUGH THAT WITH

PEOPLE.

AND IT WAS LIKE, ARE YOU

SERIOUS?

I'M LIKE, YES.

I TOLD THEM NOT TO BUY ANYTHING

THAT THEY COULDN'T USE OR

DONATE.

SO BUY STUFF THAT WE USE FOR

CAMPING AND IF WE DON'T HAVE A

PANDEMIC, THEN YOU CAN JUST USE

IT THIS SUMMER FOR CAMPING.

BUT BASICALLY TOLD THESE PEOPLE

TO GET READY.

AND THEN EVERY LITERALLY EVERY

DAY WAS FOR NEARLY TWO MONTHS I

WAS WRITING ABOUT THE CHANGES

AND WHERE PEOPLE SHOULD TUNE

THEIR ATTENTION, WHAT THE NEW

INFORMATION MEANT, WHAT IT

DIDN'T MEAN, TRIED TO COUNTER

MISINFORMATION.

I JUST FOUND MYSELF WRITING

ABOUT IT AND TELLING PEOPLE WHAT

THE NEW SCIENCE WAS SAYING AND

WHERE THEY SHOULD TUNE THEIR

ATTENTION AND THEIR ANXIETY.

ONE OF THE INTERESTING THINGS,

THOUGH, WAS I WAS WRITING IT FOR

BOTH MY FAMILY IN AUSTRALIA, MY

FAMILY AND FRIENDS IN AUSTRALIA,

AND MY FRIENDS THAT LIVE IN THE

UNITED STATES.

SO I HAD TWO VERY DIFFERENT

CONTRASTING OUTBREAKS AND

RESPONSES TO TALK ABOUT.

AND I GUESS IT MADE IT A LITTLE

BIT MORE DIGESTIBLE FOR PEOPLE.

>> WHAT WAS THE CONTRAST?

>> SO, AUSTRALIA HAS A HUGE

NUMBER OF OF INTRODUCTIONS.

FROM TRAVEL, WE HAD 5,700

INTRODUCTIONS OF THE VIRUS INTO

THE COUNTRY.

BUT WHAT THE BIG DIFFERENCE WAS,

WAS AUSTRALIA INVESTED A HUGE

AMOUNT OF EFFORT EARLY INTO THE

TESTING AND TRACING AND

ISOLATING.

SO THEY WERE FINDING ALMOST

EVERY CASE OF CORONAVIRUS THAT

WAS COMING INTO THE COUNTRY.

SO THEY WERE BLOCKING THE

TRANSMISSION CHANGE REALLY

BEFORE THEY ACTUALLY STARTED.

AND THAT'S PART OF THE REASON

WHY THEY'VE HAD A TOTAL ENOUGH

TO 7.5 OR 8,000 CASES.

IN CONTRAST, IN THE UNITED

STATES, IT WAS JUST -- IT WAS SO

DIFFERENT.

WHEN WE FLEW TO AUSTRALIA IN

MARCH, WE WERE ASKED SEVEN OR

EIGHT TIMES WHETHER WE HAD A

FEVER, WHETHER WE HAD A COUGH,

WHETHER WE HAD TRAVELED TO CHINA

OR ITALY.

WHEN WE FLEW BACK INTO THE

UNITED STATES IN MARCH, THE END

OF MARCH, IT WAS JUST -- IT WAS

NOTHING.

IT WAS THEY CORRALLED US

ALTOGETHER IN ONE AREA TO PICK

UP OUR LUGGAGE.

IT WAS JUST LIKE THERE WASN'T A

PATHOGEN GOING AROUND.

SO IT WAS JUST A HUGE DIFFERENCE

IN THE WAY IN WHICH THE

GOVERNMENT RESPONDED TO THE

PATHOGEN IN THE TWO COUNTRIES

AND THE WAY THE PEOPLE IN THOSE

COUNTRIES ENDED UP RESPONDING.

WE HAD JUST AS A HARD LOCKDOWN

IN AUSTRALIA AS WE DID HERE, BUT

PEOPLE BOUGHT INTO IT.

AND THAT'S PART OF THE REASON

WHY.

THEY'RE BACK ALMOST COMPLETELY

OPEN AND ENJOYING LIFE.

>> SO LET'S TURN TO YOUR GENERAL

TAKE ON THE VIRUS TODAY.

YOU COMPARED WHAT'S GOING ON

WITH COVID NOW TO THE WILDFIRES

THAT BLIGHTED YOUR NATIVE

AUSTRALIA LAST YEAR.

WHAT'S THE ANALOGY?

>> YEAH.

SO WHAT WE -- WE SAW A HUGE

BLAZE IN NEW YORK AND NEW JERSEY

AND MASSACHUSETTS IN APRIL WITH

ALL THE DEATHS THAT WE SAW HERE.

AND THAT'S ESSENTIALLY LIKE THE

FOREST FIRE THAT WE SEE IN

CALIFORNIA OR WE SEE IN

AUSTRALIA.

BUT WHAT WE MISSED IN FEBRUARY

AND LEADING UP INTO MARCH WAS

THE CONDITIONS THAT WE NEEDED

FOR THAT FOREST FIRE, THAT HIN

INFERNO TO STOP.

THE FIRE WAS HERE, IT WAS

BURNING VERY, VERY SLOWLY

THROUGH A YOUNGER, HEALTHIER

POPULATION AND IT WAS BUILDING

AND BUILDING AND BUILDING IN THE

BACKGROUND.

AND THEN WHEN IT HIT THE RIGHT

CONDITIONS IN THIS CASE, THE

SENTINEL POPULATION, THE OLDER

PEOPLE, THE PEOPLE WITH TERMINAL

MORBIDITIES, IT JUST EXPLODED

INTO, YOU KNOW, ESSENTIAL

FLAMES, VIRAL FLAMES THAT WE ALL

WITNESSED AND THAT'S WHY WE HAVE

120,000 PEOPLE DEAD.

WE'RE NOW IN THAT SAME SCENARIO

NOW.

WE'VE PROTECTED OUR MOST

VULNERABLE POPULATION, BUT

UNFORTUNATELY WE HAVE TAKEN OUR

EYES OFF THE YOUNG PEOPLE WHICH,

AGAIN, IS THAT SIMMERING,

SMOLDERING FIRE THAT YOU HAVE

THAT WE SAW IN THE AUSTRALIAN

FIRE SEASON.

AND WE'RE NOW SEEING THESE CASES

RAMP UP IN FLORIDA, IN ARIZONA,

SOUTH AND NORTH CAROLINA, TEXAS

IN YOUNG PEOPLE.

THEY GET SICK, BUT NOT AS SICK.

SOME DO DIE, BUT NOT AS MANY.

BUT WHEN THAT MANY PEOPLE GET

INFECTED, WHEN THERE'S THAT MANY

EMBERS THAT ARE BURNING IN OUR

COMMUNITY, IT'S GOING TO GET

INTRODUCED INTO THOSE VULNERABLE

POPULATIONS.

AND THAT'S WHERE WE'RE GOING TO

SEE THIS FOREST FIRE ERUPT

AGAIN.

>> WELL, YOU KNOW, THAT MAY BE

POSSIBLE.

BUT -- BUT, YOU KNOW, AS YOU

SAY, WHEN THE OVERWHELMING

MAJORITY OF THE CASES TODAY ARE

OF YOUNGER PEOPLE WHO, AS YOU

SAY, TEND NOT TO GET AS SICK BY

NO MEANS AND SOME CASES THEY

DON'T EVEN SHOW SYMPTOMS AND

WHEN THEY SHOW SYMPTOMS IT'S

LIKE A COMMON COLD.

AND THEN IN MOST CASES THEY DO

NOT DIE COMPARED TO THE OLDER,

MORE VULNERABLE POPULATION.

SO ISN'T IT A GOOD THING THAT

RELATIVELY SPEAKING, THAT THIS

IS HAPPENING TO A YOUNGER

POPULATION?

DOESN'T IT TELL US THAT WE'VE

LEARNED HOW TO PROTECT THE MORE

VULNERABLE OLDER POPULATION?

>> YEAH.

SO POTENTIALLY, I MEAN, THERE IS

POTENTIALLY AN UPSIDE.

BUT LET'S LOOK AT THE DOWNSIDE

FIRST.

SO ONE IN EVERY 28 PEOPLE THAT'S

UNDER THE AGE OF 40 WILL END UP

IN HOSPITAL.

SO THAT'S THE PRETTY HIGH

HOSPITALIZATION RATE JUST TO

START OFF WITH.

WE DON'T SEE THAT WITH

INFLUENZA, WE DON'T SEE THAT

WITH MANY OTHER DISEASES.

ONE IN 28 END UP IN HOSPITAL.

AND OF THOSE ONES THAT END UP IN

HOSPITAL, 5% OF THEM WILL DIE.

SO, THEY DON'T GET OFF SCOTT

FREE.

I HAVE ABOUT HALF A DOZEN

FRIENDS THAT ARE ALL AROUND MY

AGE THAT HAVE ALL HAD IT NOW,

AND SOME OF THEM ARE THREE,

THRE

3 1/2 MONTHS OUT FROM RECOVERING

AND THEY STILL HAVE TROUBLE

WALKING TO THEIR MAILBOX.

THEY'RE YOUNG AND RECOVER, YES,

THEY MAY NOT DIE AT THE SAME

RATE, BUT THE LONG HAUL IS THE

DAMAGE TO THE LUNGS THAT WE

DON'T KNOW IS NOT THERE.

IT IS A LITTLE CONCERNING WITH

THAT.

THEY DON'T GET OFF SCOTT FREE.

BUT LET'S SAY WE DO LET IT RUN

THROUGH THAT POPULATION.

IT DOESN'T REALLY CHANGE THE

SITUATION IN REGARDS TO HERD

IMMUNITY, BECAUSE THAT

POPULATION, IT DOESN'T ACCOUNT

FOR THE 80% THAT WE NEED TO GET

TO TO BE PROTECTED AS A

COMMUNITY.

SO, IF IT BURNS THROUGH THEM,

IT'S NOT OVER.

AND THE PROBLEM IS, BECAUSE THEY

ARE ESSENTIAL WORKPLACE

EMPLOYEES, THEY DO GO INTO

NURSING HOMES.

THEY DO GO INTO VETERANS' CARE

FACILITIES.

THEY WORK IN GROCERY STORES.

THEY WORK IN, YOU KNOW, IN

BUILDINGS.

AND THAT WILL BRING THEM IN

CONTACT WITH THOSE PEOPLE.

>> IT'S IMPOSSIBLE TO SEGREGATE

THEM FROM THE ELDERLY

POPULATION, NO MATTER HOW YOU

TRY.

>> WE'RE HAVING TROUBLE JUST

SEGREGATING THE OLD AGE HOMES,

AND WE'RE LOOKING AT THE

PROBLEMS ASSOCIATED WITH THAT

WITH THE ISOLATION, THE PROBLEMS

THAT PEOPLE ARE HAVING JUST

BEING SO SEPARATED FROM EACH

OTHER.

IF WE TRIED TO WORK OUT A WAY TO

GET EVERYONE THAT WAS UNDER THE

AGE OF 50 ISOLATED FROM EVERYONE

THAT'S UNDER THE AGE OF 5 BUT

OVER THE AGE OF 50, THE

LOGISTICS OF THAT ARE JUST --

JUST INSANE.

>> SO WHAT ABOUT THE ARGUMENT --

WHAT ABOUT THE ARGUMENT THAT THE

PRESIDENT HAS MADE AND OTHERS

THAT THE SPIKE THAT WE'RE SEEING

IS DUE TO THE RESULT THAT WE'VE

JUST INCREASED TESTING BY MANY

LEVELS?

>> SO INCREASING TESTING IS

WONDERFUL, AND IT'S -- I'M GLAD

THAT THAT IS BEING DONE.

THE MORE WE TEST, THE MORE CASES

WE FIND, THE MORE PEOPLE CAN BE

ISOLATED AND WE BREAK MORE

CHAINS OF TRANSMISSION.

SO WE SHOULD NEVER VILIFY STATES

THAT ARE INCREASING THEIR

TESTING.

BUT MOST OF THE INCREASES THAT

WE'RE SEEING ARE NOT COMING JUST

FROM TESTING.

A GOOD EXAMPLE OF THAT IS IF YOU

HAD A THOUSAND CASES AND YOU

TESTED 10,000, YOU HAD 10,000

TESTS, YOU'D EXPECT TO GET A 10%

POSITIVE.

IF YOU DOUBLED THE NUMBER OF

TESTS, YOU'D EXPECT TO GET A 5%

POSITIVE OUT OF THOSE THOUSAND

CASES.

BUT WHAT WE'RE SEEING IS WHEN

WE'RE INCREASING TESTING, THAT

NUMBER THAT TESTS TO POSITIVE

RATIO IS NOT COMING DOWN, AND IN

MOST STATES IT'S ACTUALLY GOING

UP.

AS IT'S GOING UP, THAT MEANS

THERE'S MORE COMMUNITY SPREAD.

SO, IF TESTING IS JUST CAPTURING

MORE CASES, THE CASE TO TEST

RATIO WOULD DROP.

BUT WHAT WE'RE SEEING IS

INCREASED TESTING AND INCREASED

POSITIVE TO TEST RATIO WHICH

JUST MEANS THAT IT'S BUILDING

AND BUILDING.

>> SO WE'VE SEEN A NUMBER OF

PUBLIC OFFICIALS AROUND THE

COUNTRY, INCLUDING GOVERNOR KUM

MOW AND MAYOR de BLASIO CALLING

FOR A ROLLBACK OR SLOWING DOWN

OF THE REOPENING PROCESS.

I'M GUESSING YOU THINK THAT

THAT'S PROBABLY A PRUDENT THING

TO DO?

>> ONE OF THE THINGS THAT I'VE

REALLY ENJOYED ABOUT THIS

RESPONSE IN THE NORTHEAST, WE

MADE MISTAKES.

WE MADE MISTAKES AT THE START

WHEN WE DIDN'T KNOW ENOUGH ABOUT

IT.

BUT NOW LOOKING AT THE GOVERNORS

IN THE NORTHEAST, THEY'RE USING

DATA TO MAKE DECISIONS.

AND THE MASSACHUSETTS NUMBERS

LOOK GREAT.

RHODE ISLAND, NOT TOO BAD.

CONNECTICUT NOT TOO BAD.

NEW YORK HAS DONE AMAZING ON

TURNING THINGS AROUND AND NEW

JERSEY'S GETTING THERE.

IT IS PRUDENCE NOW, THOUGH, IN

LIGHT OF WHAT WE'RE SEEING IN

THE SOUTHERN STATES TO STOP,

PAUSE, REFLECT AND THEN WORK OUT

WHETHER THE TRENDS THAT WE'RE

SEEING IN THOSE SOUTHERN STATES

WILL EMERGE HERE IF WE DO THE

SAME THINGS.

WE HAVE A VERY SHORT SUMMER

HERE, SO WHEN IT REALLY STARTS

TO GET HOT AND WE START GETTING

DRIVEN INDOORS, DO WE REALLY

WANT TO HAVE THIS SAME EXPANSION

OF CASES THAT THEY'RE SEEING?

AND GIVEN THE DENSITY OF PEOPLE

IN NEW JERSEY AND IN NEW YORK,

IT WOULD TAKE OFF VERY, VERY

QUICKLY.

SO I THINK IT'S WISE TO STOP,

BREATHE, LOOK AT THE DATA AND

THEN MAKE INFORMED DECISIONS ON

THE DATA, WHICH I BELIEVE MOST

OF THE GOVERNORS IN THE

NORTHEAST HAVE DONE OVER THE

LAST MONTH IN THEIR EFFORTS TO

REOPEN.

>> SO WHAT ARE SOME OF THE OTHER

STEPS, DO YOU THINK, THAT

ELECTED OFFICIALS AND ALL OF US

SHOULD BE DOING IN ORDER TO TAMP

DOWN THE -- THESE INCREASING

HIKES?

>> SO, I REALLY DON'T LIKE TO

SEE THE EXTREMES THAT I'M SEEING

IN THE U.S. IN REGARDS TO

PEOPLE'S RESPONSES.

THE WORLD IS ENDING.

THE WORLD SENDINGIS ENDING ALL

THROUGH TO IT'S JUST THE FLU.

THERE DOESN'T SEEM TO BE A

MIDDLE GROUND AND THAT'S WHERE

WE NEED TO BE IN BOTH THE

RESPONSE TO THE PANDEMIC AND THE

WAY THAT WE EMBRACE WHAT THEY'RE

SAYING.

AND THAT IS JUST LET'S GET BACK

TO THE FUNDAMENTALS.

IF YOU DON'T GHNEED TO GO TO WO,

DON'T, WORK FROM HOME.

WASH YOUR HANDS OFTEN.

DON'T TOUCH YOUR FACE.

WEAR A MASK WHEN YOU CAN'T

SOCIALLY DISTANCE.

IF WE GET BACK TO THOSE SIMPLE

THINGS LIKE THAT, IT WILL STOP

THAT RAPID EXPANSION OF CASES.

THAT'S ALL THE MESSAGING THAT WE

NEED TO BE DOING IS DON'T DO --

LIKE TO DO THOSE THINGS THAT

I'VE DISCUSSED, DON'T GO INSIDE

WITH LOTS OF PEOPLE IN A CROWDED

SPACE DRINKING, YOU KNOW, WITH

NO MASKS BECAUSE WE KNOW THE

OUTCOME.

WE ABSOLUTELY KNOW THE OUTCOME.

SO JUST GET BACK TO THE SIMPLE

THINGS.

MASK USE WHEN YOU CAN'T SOCIALLY

DISTANCE.

WASH HANDS, DON'T TOUCH YOUR

FACE, WORK FROM HOME WHEN YOU

CAN AND WE CAN FIND A WAY TO

BALANCE LIVING WITH THIS VIRUS

AND KEEPING SOME NORMALCY GOING

FORWARD.

>> I'M SPEAKING WITH COVID-19

BLOGGER PROFESSOR AARON ABOUT

ALL THINGS COVID.

SO, PROFESSOR, I WONDER IF YOU

COULD NOW GIVE US SOME OF THE

NUTS AND BOLTS OF WHAT WE'VE

LEARNED ABOUT HOW THIS VIRUS

ACTUALLY WORKS.

WHAT ARE THE MYTHS AND WHAT ARE

THE REALITIES?

FOR EXAMPLE, I KNOW -- AND I

SPEAK FOR MYSELF -- THAT SOME OF

THE THINGS THAT WORRY ME THE

MOST LIKE GOING TO THE GROCERY

STREET AND HAVING A JOGGER RUN

PAST ME AND HE'S NOT WEARING A

MASK, OR SHE'S NOT WEARING A

MASK, ARE THESE THE THINGS WE

SHOULD BE CONCERNED ABOUT?

>> SO WE KNOW THAT THE MOST

RISKY BEHAVIOR THAT YOU CAN HAVE

IN REGARDS TO TRANSMISSION AND

INFECTION IS A FACE-TO-FACE

CONVERSATION WITH A PERSON OVER

A PERIOD OF MINUTES, FIVE, TEN

MINUTES.

SO, WE NEED TO NOT AVOID

CONVERSATIONS, BUT WE JUST NEED

HAVE THOSE CONVERSATIONS SAFELY.

IF YOU DON'T HAVE A MASK, BE SIX

FEET AWAY.

IF YOU HAVE A MASK ON BOTH OF

YOU, THE CONVERSATION IS FAIRLY

SAFE.

THAT IS THE EASIEST WAY FOR THIS

VIRUS TO FIND A NEW HOME.

NOW, PHYSICAL DISTANCING WE'VE

DISCUSSED THESE THINGS, I THINK

THEY'VE DONE PRETTY WELL WITH

THAT UP UNTIL RECENTLY IN SOME

STATES.

THE OTHER THING THAT I THINK

PEOPLE ARE HAVING A HARD TIME

EMBRACING IS I'M NOT TALKING TO

THAT PERSON ACROSS THE ROOM SO

HOW CAN THEY POSSIBLY AFFECT OR

INFECT ME?

AND WE KNOW AND WE'VE GOT SO

MUCH DATA ON THIS THAT WHEN YOU

PUT LOTS OF PEOPLE TOGETHER IN

AN ENCLOSED SPACE FOR AN

EXTENDED PERIOD, WHAT THEY ARE

BREATHING OUT, WHAT THEY ARE

SPITTING OUT OF THEIR MOUTH WHEN

THEY'RE TALKING OR SINGING AND

YELLING GOES UP INTO THE AIR AND

MOVES AROUND THE ROOM.

AND IF YOU'RE IN THAT ROOM FOR

LONG ENOUGH, IT CAN BE AS SHORT

AS AN HOUR, EVEN SHORTER IF IT'S

A SMALLER ROOM, BUT THOSE

DROPLETS GO UP INTO THE AIR, YOU

BREATHE THEM IN.

AND OVER A PERIOD OF THAT HOUR

YOU COULD BECOME INFECTED.

AND THIS IS THE SCARY PART, THE

SUPER SPREADING EVENTS.

IT IS IT'S NOT JUST ME INFECTING

YOU, IT IS ME GOING TO A BAR,

BREATHING OUT, AND TAKING OUT 50

PEOPLE.

WE SAW IN SOUTH KOREA IT'S OVER

ONE HUNDRED PEOPLE FROM ONE

SINGLE GENTLEMAN GOING TO A

CLUB.

WE SAW 15 OF THE 16 GIRLS IN

FLORIDA ALL BECOME INFECTED AS

WELL AS MANY OTHER PEOPLE AT

THAT CLUB THAT WERE THERE ON THE

SAME NIGHT.

TEXAS, WE HAD 85 PEOPLE NOW FROM

GOING TO A BAR.

SO WE KNOW THOSE INDOOR ENCLOSED

SPACES FOR AN EXTENDED PERIOD

ARE A PROBLEM, LEAD TO THE SUPER

SPREADING EVENTS THAT CAN REALLY

AMPLIFY THE VIRUS VERY, VERY

QUICKLY.

>> YOU KNOW, AS YOU'VE PUT IT

VERY WELL, THE DEGREE OF THREAT

IS THE AMOUNT OF VIRUS TIMES THE

AMOUNT OF TIME YOU SPEND AROUND

THE VIRUS.

SO THAT'S WHY THE DIFFERENCE

BETWEEN SPEAKING AND SINGING AND

SNEEZING MAKE ALL THE DIFFERENCE

IN HOW LONG YOU SPEND IN A

PLACE.

BUT WHAT ABOUT -- WHAT ABOUT

SURFACES?

TO WHAT DEGREE ARE THEY A REAL

THREAT?

>> SO SURFACES ARE THE AREAS

THAT ARE THE MOST VAGUE IN OUR

UNDERSTANDING RIGHT NOW.

IT WAS YESTERDAY JUST LIKE WE

FIND WITH INFLUENZA, THEN THE CC

REVISED THEIR GUIDANCE AND SAID,

NO, THEY'RE NOT REALLY A THREAT.

THEY THEN WENT OH, WE DIDN'T

MEAN THAT AND THEY MOVED IT

BACK.

AND SOME WORK JUST CAME OUT

RECENTLY THAT SAID THE VIRUS

DOES ACTUALLY PERSIST ON

SURFACES FOR QUITE A LONG TIME

AND MAYBE THEY CONTRIBUTE MORE

THAN WE THINK.

SO IT IS BOUNCING AROUND A

LITTLE BIT.

THERE'S CERTAINLY SOMETHING THAT

WE NEED TO THINK ABOUT WHEN

WE'RE OPENING OUR BUSINESSES, WE

DON'T WANT TO BE SPENDING HALF

OUR BUDGET ON CLEANING SERVICES

AT THE EXPENSE OF FIXING THE

HVAC OR AT THE EXPENSE OF

PUTTING UP PLEXIGLASS OR

SOMETHING LIKE THAT TO PROTECT

OUR WORKERS.

BUT WE DO NEED TO IDENTIFY

HIGH-CONTACT SURFACES, SO ATM

PIN PADS, DOOR HANDLES, THE

COFFEE -- YOU KNOW, THE COFFEE

MAKER, THE JUG, THE MICROWAVE

HANDLE, HANDRAILS, AND WE NEED

TO GET THOSE ON A BETTER

CLEANING PROTOCOL.

SO NOT JUST ONCE A DAY, MAYBE A

FEW TIMES A DAY DEPENDING ON HOW

MUCH THEY'RE BEING TOUCHED.

BUT SIMPLY, THOUGH, WITH

SURFACES, YOU CAN TAKE SURFACES

OUT OF THE EQUATION IF YOU DON'T

TOUCH YOUR FACE.

SO THAT'S WHERE WE GET BACK TO

THE ORIGINAL THING, WASH YOUR

HANDS OR SANITIZE YOUR HANDS

OFTEN AND DON'T TOUCH YOUR FACE.

AND THEN CONTACT SURFACES ARE

NOW A NON ISSUE.

>> OKAY.

SO LET'S TURN TO THE VACCINES.

AS YOU KNOW THE PRESIDENT HAS

SET A GOAL OF DEVELOPING A

VACCINE BY THE END OF THE YEAR.

DR. FAUCI SAYS THAT THAT'S

FEASIBLE.

DO YOU THINK THAT'S FEASIBLE?

AND, IF FEASIBLE, IS IT LIKELY?

>> SO ONE OF THE FASTEST

VACCINES WE'VE EVER BROUGHT OUT

TO MARKET WAS 4 1/2 YEARS.

SO IT TYPICALLY TAKES A LONG

TIME TO WORK OUT IS IT SAFE?

IS IT EFFECTIVE?

AND SO WE HAVE A LOT OF

REGULATORY HURDLES TO JUMP OVER

DURING THAT TIME.

AND ONE OF THE THINGS YOU'VE GOT

TO WORK OUT WITH BEING EFFECTIVE

IS YOU'VE GOT TO PUT A VACCINE

IN PEOPLE AND HAVE IT IN PEOPLE

FOR LONG ENOUGH THAT THEY GET

EXPOSED TO THE VIRUS.

AND WE'RE ACTUALLY JUST SEEING

THIS PROBLEM RIGHT NOW WITH ONE

OF THE VACCINES THAT HAS MOVED

VERY QUICKLY TO PHASE THREE.

THEY'RE IN THE STAGE WHERE THEY

WANT TO TEST, BUT THE COUNTRY

THAT THEY'RE IN HAS VERY, VERY

LOW INFECTION PREVALENCE.

SO THEY'RE NOT GOING TO BE ABLE

TO GET A GOOD BALANCE BETWEEN

THE PEOPLE THAT HAVE BEEN

VACCINATED AND NOT BECAUSE

THERE'S HARDLY ANY OF THE VIRUS

THERE.

WHAT WE'RE GOING TO HAVE TO DO,

AND THERE'S THIS DISCUSSION AT

THE MOMENT IN THE U.S., THAT

WE'RE GOING TO HAVE TO HAVE TWO

GROUPS OF PEOPLE, ONE THAT

RECEIVES THE VACCINE, ONE THAT

DOESN'T, AND THEN WORK OUT A WAY

TO EXPOSE THEM TO THE VIRUS SO

THAT WE CAN WORK OUT WHETHER IT

PROVIDE PROTECTION.

THAT'S A PRETTY ETHICAL, FOGGY

AREA TO GET INTO TO ACTIVELY

INFECT A PERSON WITH A PATHOGEN

WHEN THERE IS NO KNOWN

TREATMENT.

THAT IS SOMETHING THAT WE

HAVEN'T DONE FOR A VERY, VERY

LONG TIME.

I KNOW THEY'RE DISCUSSING THIS

AT THE MOMENT, BECAUSE IF WE CAN

DO THAT, WE CAN ACCELERATE THE

PHASE THREE TRIALS.

IT JUST -- IT WORRIES ME THAT

PEOPLE WOULD VOLUNTEER FOR THIS

KNOWING THAT WHAT I SAID, 1 IN

28 END UP IN HOSPITAL, EVEN IF

YOU PICK A YOUNG AGE GROUP AND

5% OF THOSE PEOPLE DIE.

PEOPLE ARE GOING TO LITERALLY

VOLUNTEER TO SACRIFICE THEIR

LIFE FOR THE BENEFIT OF

HUMANITY.

THAT'S QUITE AMAZING, BUT IT

MAKES YOU PAUSE.

I'M SURE IT'S MAKING THEM PAUSE

RIGHT NOW.

LET'S SAY IT'S EFFECTIVE.

WE NEED TO THEN GENERATE ENOUGH

DOSES TO GET IT INTO THE

POPULATION.

WE MAKE ABOUT 200 MILLION DOSES

OF INFLUENZA.

IT TAKES ABOUT 90 DAYS TO DO

THAT.

BUT THAT'S A SYSTEM THAT WE'VE

HAD FOR 20 YEARS.

WHEREAS, THIS VACCINE IS NEW, WE

HAVEN'T SCALED IT UP.

HOW DO WE GET 200 MILLION OR 400

MILLION 'IF WE NEED TWO DOSES

TOGETHER, HOW DO WE GET THAT

PRODUCED?

SO WE'RE SEEING THAT THE FEDERAL

GOVERNMENT IS ACTUALLY PRODUCING

FIVE OF THESE TARGETS AT RISK.

THEY'RE MAKING THEM NOW IN THE

HOPE THAT THEY GET THROUGH THAT

TRIAL.

AND THAT WAY WE'RE CUTTING OFF

ALMOST A YEAR OF THE PRODUCTION

SIDE OF THINGS.

SO, DECEMBER, JANUARY I DON'T

REALLY KNOW WE CAN BE THERE.

I THINK WE'RE GOING TO KNOW IF

IT WORKS BY DECEMBER OR JANUARY.

BUT IT'S A WHOLE DIFFERENT THING

TO GET 80% OF THE U.S.

POPULATION VACCINATED IN A QUICK

PERIOD OF TIME.

THAT LOGISTICS IS JUST ENORMOUS.

>> A LOT OF THINGS TO THINK

ABOUT THAT WE TEND NOT TO THINK

ABOUT.

WHAT CAN WE LEARN FROM THE

EXPERIENCE OF OTHER COUNTRIES

LIKE SOUTH KOREA, LIKE

AUSTRALIA, LIKE ITALY, SPAIN,

JAPAN, AND HOW ARE THEY DOING IN

TERMS OF RECOVERY COMPARED TO

US?

>> YEAH.

SO WHERE WE FAILED, WE FAILED IN

NOT RESPONDING FAST ENOUGH TO

THE THREATS.

BUT WE CAN'T DO ANYTHING ABOUT

THAT NOW.

WHERE WE'RE STILL FAILING IS WE

DON'T HAVE A NATIONAL, UNIFIED

RESPONSE TO THIS PATHOGEN, TO

THIS PANDEMIC.

WE HAVE -- WE'RE A BIG COUNTRY,

AND I UNDERSTAND THAT WE SHOULD

BE APPLYING DIFFERENT RULES TO

DIFFERENT PARTS OF THE COUNTRY

DEPENDING ON WHAT'S HAPPENING IN

THAT VICINITY.

BUT THE WHOLE GROUND RULES STILL

SHOULD BE THE SAME AND IT SHOULD

BE SET OUT THE SAME.

SO WHAT WE'VE ENDED UP WITH IS

50 FRAGMENTED STATES DOING THEIR

OWN THING WITH PERMEABLE

BORDERS.

WITHIN THOSE STATES WE'RE

FINDING THAT TURNS TO DOING

THEIR OWN THINGS.

WE'RE FOUNDING THAT WE'RE NOT

REPORTING THE DATA IN THE SAME

WAY SO IT'S IMPOSSIBLE TO

COMPARE WHAT'S HAPPENING IN

FLORIDA TO WHAT'S HAPPENING IN

MASSACHUSETTS.

THE DATA TRANSPARENCY IS JUST

TERRIBLE.

WHEREAS, IN OTHER COUNTRIES,

I'VE FOUND THEM TO BE VERY OPEN.

THEY'RE REALLY GIVING THE

NUANCES OF ALL THE DATA.

AND THEY'VE TAKEN THIS SERIOUSLY

FROM A FEDERAL, A STATE LEVEL SO

THAT THEY CAN DO IT UNIFIED.

>> ALL RIGHT.

WELL, I HAVE ABOUT 20 MILLION

OTHER QUESTIONS, BUT WE HAVE TO

END IT THERE.

THANK YOU SO MUCH FOR THE WORK

YOU TO AND FOR JOINING US TODAY.

>> THANK YOU FOR HAVING ME ON

THE SHOW TODAY, RAF.

♪

>> "METROFOCUS" IS MADE POSSIBLE

BY

SUE AND EDGAR WACHENHEIM III,

THE SYLVIA A. AND SIMON B. POYTA

PROGRAMING ENDOWMENT TO FIGHT

ANTI-SEMITISM.

BARBARA HOPE ZUCKERBERG,

JANUARY PENT BRING THE SEIDLER.

SHERYL AND PHILIP BERNSTEIN

FAMILY.

JUDY AND JOSH WESTON.

DR. ROBERT C. AND TINA STONE

FOUNDATION.