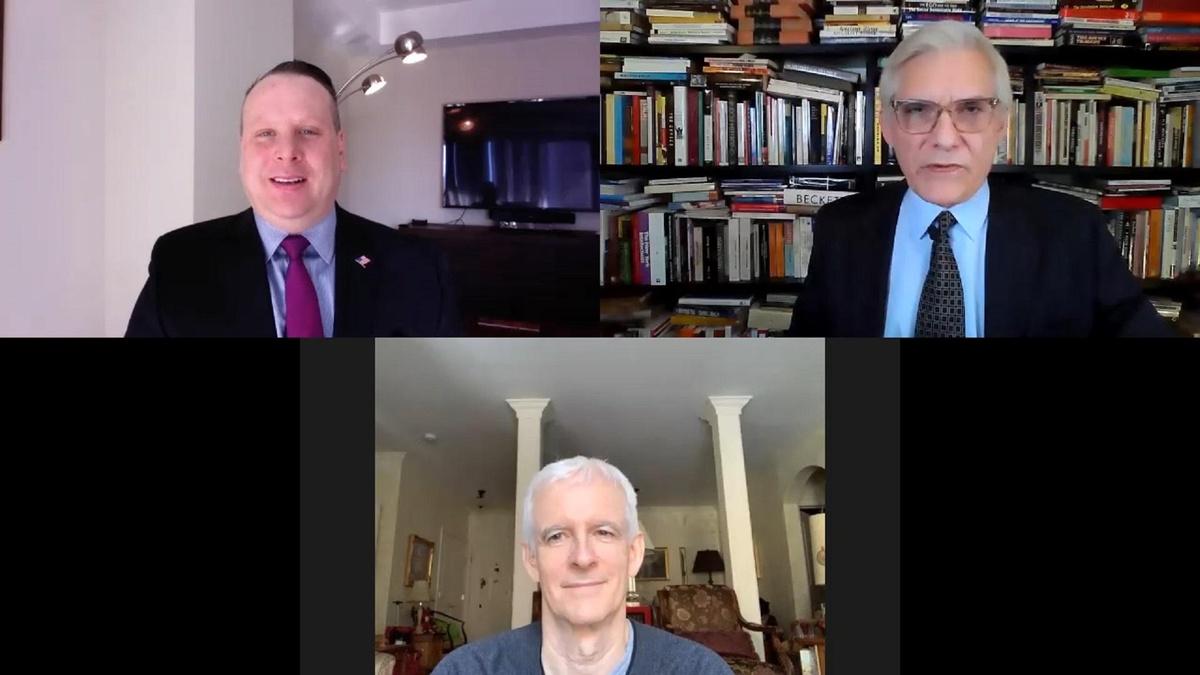 FULL EPISODE
METROFOCUS: January 7, 2021
Tonight Sam Nunberg, attorney and former political advisor to Trump's 2016 campaign and political commentator Ellis Henican join us to discuss the tally, the turmoil, the leadership and the mob that took over the recount sparking chaos and violence on a day that will go down as one of the darkest in American political history.
TRANSCRIPT

>>> THIS IS "METROFOCUS" WITH

RAFAEL PI ROMAN, JACK FORD, AND

JENNA FLANAGAN.

>> "METROFOCUS" IS MADE POSSIBLE

BY

SUE AND EDGAR WACHENHEIM III,

SYLVIA A. AND SIMON B. POYTA

PROGRAMING ENDOWMENT TO FIGHT

ANTI-SEMITISM.

BERNARD AND DENISE SCHWARTZ,

BARBARA HOPE ZUCKERBERG,

JANET PRINDLE SEIDLER,

JODY AND JOHN ARNHOLD,

CHERYL AND PHILIP MILSTEIN

FAMILY,

JUDY AND JOSH WESTON,

DR. ROBERT C. AND TINA SOHN

FOUNDATION.

>>> GOOD EVENING.

WELCOME TOP METROFOCUS.

LIKE SO MANY OF YOU AT HOME WE,

TOO, WERE WATCHING CLOSELY AS

YESTERDAY'S EXTRAORDINARY EVENTS

UNFOLDED ON CAPITOL HILL.

TONIGHT WE WANT TO TRY TO MAKE

SENSE OF WHAT TRANSPIRED, THE

STORMING OF THE CAPITOL BY PRO

TRUMP EXTREMISTS, TO CONGRESS

RECONVENING AND CERTIFYING JOE

BIDEN AS THE NEXT PRESIDENT OF

THE UNITED STATES.

JOINING US NOW FOR SOME

PERSPECTIVE AND A LOOK AT WHAT'S

NEXT FOR OUR COUNTRY, A PULITZER

PRIZE WINNING COLUMNIST AND "NEW

YORK TIMES" BEST SELLING AUTHOR

AND AN ATTORNEY AND FORMER TRUMP

ADVISER WHO WAS THE FIRST

FULL-TIME HIRE FOR THE

PRESIDENT'S 2016 CAMPAIGN.

GENTLEMEN, WELCOME TO THE

PROGRAM.

>> HEY, THANK YOU.

>> SAM, LET ME START WITH YOU.

IN MY WHOLE LIFE I'VE NEVER SEEN

A POLITICAL MOMENT LIKE

YESTERDAY.

I'VE SEEN A LOT.

I CERTAINLY NEVER THOUGHT AID

SAID

-- I'D SEE AMERICANS STORMING

CONGRESS AS MEMBERS TRY TO

FULFILL THEIR CONSTITUTIONAL

DUTY.

AFTER A FIERY SPEECH BY THE

PRESIDENT WHO MANY CLAIM STOKED

UP THAT ANGER.

I WONDER IF YOU COULD TELL US,

BIG QUESTION, WHAT DO YOU THINK

IS THE SIGNIFICANCE OF

YESTERDAY'S EVENTS TO OUR

HISTORY?

>> INTERESTING.

I WAS THINKING ABOUT THAT.

YOU KNOW, WHEN YOU THINK ABOUT

DONALD TRUMP GOING DOWN THE

ESCALATOR ON JANUARY -- JUNE

16th, 2015, AND YOU THINK ABOUT

AN HISTORIC WIN THAT HE HAD, AND

HOW THERE'S ALWAYS BEEN A

PROBLEM WITHIN HIS PRESIDENCY,

FRANKLY WITHIN HIS LIFE OF LEFT

TO HIS OWN DEVICES THIS IS WHAT

CAN HAPPEN.

WHAT YOU SAW YESTERDAY WAS THE

CULMINATION OF FOUR MONTHS OF

DONALD TRUMP WANTING ONLY TO

LISTEN TO ENABLERS SUCH AS RUDY

GUILIANI, SIDNEY POWELL, PETER

NAVARRO TO MISHANDLE LEGITIMATE

ELECTION, IN MY VIEW, ELECTION

BALLOT CONCERNS IN PARTICULAR

STATES.

NOT OVERALL BUT IN PARTICULAR

STATES.

AND YOU SAW SOMEONE THAT WAS

REALLY WILLING AT THE END OF THE

DAY DO WHATEVER HE COULD DO TO

NOT HAVE TO LEAVE THE OFFICE AND

BEING, QUOTE-UNQUOTE, LOSER.

IT

IT WAS VILE.

IT WAS DISGUSTING.

IT WAS SOMETHING WHERE EVEN THE

VICE PRESIDENT I'M TOLD WAS

TAKING ABUSE FROM DONALD TRUMP

BEFORE HE LEFT TO GO TO CONGRESS

TO ASSUME HIS CONSTITUTIONAL

DUTIES.

>> THE PRESIDENT INSULTED HIM

PUBLICLY.

>> AND IT WAS SOMETHING WHERE I

WOULD TELL YOU THAT HAD THE

PRESIDENT DONE ANYTHING ELSE

BESIDES RELEASING THE MESSAGE HE

RELEASED AROUND 3:30 A.M., HAD

HE CONTINUED THAT BEHAVIOR AND

REALLY FOMENTING WHAT HAPPENED

YESTERDAY AND FOMENTING MORE

SUBVERSION OF THE PROCESS HE

WOULD HAVE BEEN KICKED OUT OF

OFFICE AND REMOVED.

AND THEY MIGHT HAVE BEEN EITHER

THROUGH THE 25th AMENDMENT OR

YOU WOULD HAVE HAD PROBABLY

AROUND 30 REPUBLICAN SENATORS

VOTING TO INDICT HIM FOR

ARTICLES OF IMPEACHMENT.

>> MAYBE WE'LL GET BACK TO THAT

IN A SECOND BUT WHAT IS THE

SIGNIFICANCE OF YESTERDAY'S

EVENTS TO OUR HISTORY?

>> TO ME IT IS THE NATURAL

CONCLUSION OF THE LAST FIVE

YEARS.

RIGHT?

IT IS NO THE THAT DONALD TRUMP

POST ELECTION HAS TURNED INTO A

CRAZY MAN.

IT'S THAT WE HAVE SEEN THE

DEVOLUTION OF THIS CHARACTER IN

PUBLIC LIFE FOR 30 YEARS AND

POLITICAL LIFE FOR FIVE YEARS

AND THIS IS WHAT HAPPENS WHEN

YOU ARE LIKE THAT, WHEN YOU ONLY

HAVE ENABLERS AROUND YOU, WHEN

YOU SEE PEOPLE, LIES -- YOU FEED

PEOPLE LIES THAT PLAY TO THEIR

MOST BASE INSTINCTS AND YOU HINT

VERY, VERY BROADLY IT'S OKAY IF

YOU GO OUT AND DO VIOLENT, EVIL,

ANTI-DEMOCRATIC UNAMERICAN STUFF

AND YOU'RE THE PRESIDENT OF THE

UNITED STATES, THIS IS WHAT YOU

GET.

UTTERLY PREDICTABLE.

TOTALLY DEPRESSING.

DANGEROUS TO OUR FUTURE.

SOMETHING WE'VE GOT TO DEAL WITH

IN SOME PRETTY SERIOUS WAYS I

THINK.

>> TO BE CLEAR, HE DID LITERALLY

SAY ALL THOSE THINGS.

THERE WERE TENS OF THOUSANDS OF

PEOPLE THERE YESTERDAY.

PERHAPS A COUPLE HUNDRED

THOUSAND PEOPLE AND WHAT, MAYBE

A THOUSAND PEOPLE INVOLVED IN

THE TAKING OF THE CONGRESS.

SO, YOU KNOW, WE HAVE TO BE FAIR

ABOUT THAT.

>> YES.

THAT'S RIGHT.

BUT HOLD ON A SECOND.

IN THAT CROWD, HOWEVER LARGE IT

WAS, YOU KNOW THERE ARE THOSE

ZEALOTS WHO WITH A SLIGHT LITTLE

PUSH CAN BE SENT IN TO DO SOME

CRAZY STUFF.

THAT IS PART OF THE TRUMP BASE.

>> LOOK, LET ME JUST ADD, HE

WOULD HOLD NO RESPONSIBILITY HAD

HE NOT SAID IN HIS SPEECH, LET'S

WALK OVER TO CONGRESS.

I DON'T HAVE THE EXACT QUOTE.

BUT HE ESSENTIALLY GAVE A LOT OF

THESE PEOPLE THAT WERE THERE THE

IDEA THAT HE WAS GOING TO MARCH

OVER WITH THEM AND THEY WERE

GOING TO HAVE SOME KIND OF

REVOLUTION.

THAT'S WHERE THIS BECAME HIS

RESPONSIBILITY.

HIS RESPONSIBILITY OF NOT

CONTROLLING IT.

FURTHERMORE FROM MY

UNDERSTANDING FROM TALKING TO

PEOPLE WHO WERE ALMOST OUTSIDE

THE OVAL OFFICE, HE DIDN'T WANT

TO CALL IN THE NATIONAL GUARD.

HE HAD TO BE OVERRIDDEN.

ESSENTIALLY MIKE PENCE ACTED AS

PRESIDENT YESTERDAY.

I DON'T BELIEVE HE WOULD HAVE

HAD THE NATIONAL GUARD CALLED

HAD MIKE PENCE NOT COORDINATED

THAT WITH NATIONAL SECURITY

ADVISER O'BRIEN.

AND WHAT IT SHOWED WAS THIS IS

HIM, THIS IS DONALD TRUMP LEFT

AT HIS OWN DEVICES.

HE IS A REMARKABLE MAN WITH

REMARKABLE ACCOMPLISHMENTS.

HE'S HAD SOME DURING HIS

PRESIDENCY ON FOREIGN POLICY,

LEGISLATIVELY, BUT THIS IS THE

CONUNDRUM.

THIS IS HIM.

THAT, YOU KNOW, HE CAN ALSO

RESORT TO BEING THE KIND OF

PERSONNEL IS DESCRIBES HIM AS.

>> LET ME ASK YOU THIS.

CONSERVATIVE POLICY ANALYST AND

NEW YORK POST COLUMNIST BOB

McMANUS WROTE THIS MORNING THAT

IF YOU DIDN'T CONDEMN THE

LOOTING AND BURNING AND

DESTRUCTION THAT OCCURRED HERE

IN NEW YORK CITY AND IN CITIES

ACROSS THE COUNTRY BACK IN THE

SUMMER, THEN YOU DON'T REALLY

HAVE MUCH STANDING FOR

CONDEMNING WHAT HAPPENED

YESTERDAY BECAUSE, QUOTE,

THUGGERY BRINGS MORE THUGGERY

AND STREET FIGHTING BEGETS STORM

TROOPERS.

DOES HE HAVE A POINT?

>> I LOVE BOB McMANUS AND,

THANKFULLY, THE EQUATION THAT HE

LAYS OUT WE DON'T HAVE TO

WRESTLE WITH BECAUSE THOSE

THINGS WILL WIDELY AND

SERIOUSLY -- IT IS SIMPLY NOT

TRUE THAT DEMOCRATIC POLITICIANS

FAILED TO DENOUNCE RIOTING IN

THE STREETS.

ANYONE WITHIN A MILE OF MAIN

STREAM POLITICS IN AMERICA WAS

VERY CLEAR WITH THOSE

DEMONSTRATIONS ENDING VIOLENTLY

WHEN PEOPLE WERE BURNING DOWN

POLICE STATIONS OUT IN THE

MIDWEST.

LISTEN, IT IS WRONG EITHER WAY.

BUT THANKFULLY, IT WAS DENOUNCED

BOTH TIMES.

>> THE DEMOCRATIC CONVENTION I

DON'T REMEMBER IT BEING

MENTIONED.

THE LOOTING THAT WAS GOING ON IN

THE STREETS.

AT LEAST THAT'S WHAT SOME PEOPLE

SAY AND I THINK THEY'RE

ACCURATE.

>> WELL, LISTEN.

THE LINES ARE VERY CLEAR.

RESPONSIBLE PEOPLE DO NOT

SUPPORT GOING OUT AND BUSTING

INTO PUBLIC BUILDINGS OR BURNING

DOWN THE STORES.

I MEAN, THAT'S HORRIBLE

BEHAVIOR.

NO MATTER WHO DOES IT.

THERE SHOULD BE NO EQUIVOCATION.

BUT LET'S NOT USE THAT EVEN IF

WE THINK OUR OPPONENTS WERE TOO

SLOW WITH THEIR VERSION OF IT.

LET'S NOT USE THAT AS AN EXCUSE

TO BE WIMPY NOW.

>> I THINK JOE BIDEN AFTER

FOLLOWING HIM TWO WEEKS I

BELIEVE LAST SUMMER, I DON'T

BELIEVE HE WANTED TO, HE WAS

FORCED TO CONDEMN IT.

HE WANTED TO USE THE BLACK LIVES

MATTER NATIONAL PROTEST FOR HIS

WAY TO THE PRESIDENCY.

THAT'S FINE.

THAT'S POLITICS.

I ALSO RECALL THAT KAMALA

HARRIS, HER CAMPAIGN, AND EVEN

TWEETED ABOUT HOW TO BAIL OUT

PEOPLE THAT ARE ARRESTED FROM

THOSE PROTESTS.

BUT THAT'S NEITHER HERE NOR

THERE BECAUSE THE DIFFERENCE IS

THE FOLLOWING.

THIS IS THE DIFFERENCE I HOLD

PERSONALLY IN THE REPUBLICANS.

THAT IS FOR THEM NOT FOR US.

THAT'S FOR THEM NOT FOR US.

AND DONALD TRUMP, LET ME GET

BACK TO THIS, DONALD TRUMP COULD

HAVE HANDLED THESE PROBLEMS IN

PENNSYLVANIA PARTICULARLY WITH

WHAT I BELIEVE WAS

UN-CONSTITUTIONAL IN WISCONSIN

WITH WHAT I BELIEVE WAS

UN-CONSTITUTIONAL AND I DON'T

WANT TO BORE THE AUDIENCE GOING

INTO THE SPECIFICS, IN NEVADA AS

WELL.

AND NOTICE I DON'T SAY GEORGIA

RIGHT NOW.

AND I'M NOT SAYING ANYTHING

ABOUT MICHIGAN.

I'VE STUDIED THESE.

I KNOW THESE.

I HAVE COLLEAGUES THAT WORK ON

THESE, IN THESE STATES.

HE HANDLED THIS TERRIBLY.

AND THE ONLY WAY THIS IS GOING

TO BE RESOLVED I THINK IS IN THE

GUBERNATORIAL RACES IN 2022.

IT DIDN'T HAVE TO BE THAT WAY.

ONCE AGAIN IT GOES BACK TO THE

FACT DONALD TRUMP HAD TO MAKE

THIS ABOUT HIMSELF AND HIM

HAVING TO STAY ANOTHER FOUR

YEARS IN THE OVAL OFFICE, WHICH

BY THE WAY, HAD HE HANDLED THIS

ENTIRE THING DIFFERENTLY FROM

THE DAY AFTER THE ELECTION HE

VERY LIKELY COULD HAVE BEEN BACK

IN THE OVAL OFFICE FOUR YEARS

LATER.

SO, YES.

I DO UNDERSTAND AND I DO -- I DO

THINK THERE IS SOME HYPOCRISY ON

THE OTHER SIDE AS ALWAYS BUT I

THINK IT IS STILL UNEXCUSABLE

FOR THE PRESIDENT OF THE UNITED

STATES TO ACT LIKE THAT.

HE'S BEEN WARNED.

HE'S BEEN ASKED.

HE'S BEEN BEGGED.

PEOPLE AROUND HIM HAVE SAID GET

RID OF RUDY GUILIANI.

INSTEAD HE IS ABOUT TO PROBABLY

PARDON RUDY GUILIANI.

>> SO LISTEN, SAM.

YOU TOUCHED ON THIS.

HE'S BEEN ACTING -- SURROUNDED

BY -- RECENTLY, IT BRINGS OUT

THE WORST IN HIM AND EVEN KIND

OF ECHOED WHAT WE'VE READ IN THE

PAPER THAT SOME OF HIS CABINET

MEMBERS WERE THINKING ABOUT

INVOKING THE 25th AMENDMENT

WHICH WOULD PUT HIM OUT OF

OFFICE BECAUSE OF NOT BEING ABLE

TO FULFILL HIS DUTIES BECAUSE OF

INCOMPETENCE.

OR ANOTHER IMPEACHMENT IN THE

NEXT TWO WEEKS.

>> RIGHT.

>> WHAT IS HIS LONG TERM LEGACY

GOING TO BE AFTER YESTERDAY?

>> IT'S GOING TO -- WELL, I

WOULD SAY IN THE NICEST -- THE

WAY I LOOK AT IT IN THE MOST

POSITIVE LIGHT IT IS GOING TO BE

SOMEONE WHO REMARKABLY MADE A

MAJOR DECISION TO RUN FOR

PRESIDENT, REMARKABLY LED A

MOVEMENT FOR PEOPLE THAT DID

FEEL AND HAD RIGHTFULLY SO FELT

THEY HAD BEEN IGNORED DURING THE

LAST TWO ADMINISTRATIONS OF

GEORGE W. BUSH AND BARACK OBAMA

AND THEN SOMEBODY WHO LIKE MANY

OTHER PRESIDENTS BEFORE HIM WAS

NOT A PERFECT MAN.

ONLY IN THIS DAY AND AGE

ESPECIALLY THE WAY DONALD TRUMP

LIKES TO BE IN FRONT OF THE

MEDIA YOU GOT TO SEE THE WORST

PARTS OF HIM UNLIKE OTHER

PRESIDENTS.

>> ELLIS, HIS LONG TERM LEGACY?

>> WELL, A MAN OF SOME GIFTS.

A MAN WHO CAN STAND IN FRONT OF

AN AUDIENCE AND CAPTURE PEOPLE.

A MAN WHO KNOWS HOW TO GATHER

ATTENTION, SOMEONE WHO CREATED

GREAT LOYALTY AMONG NOT A

MAJORITY OF AMERICANS BUT A

FERVENT 30, 35, SOME DAYS EVEN

40% WHICH IS A HUGE ACHIEVEMENT.

BUT SOMEONE WHOSE PERSONAL

DEMONS MADE HIM A HORRIBLE FORCE

FOR OUR COUNTRY.

SOMEONE WHO UNDERMINED

DEMOCRACY, DIVIDED THE COUNTRY,

PLAYED TO PEOPLE'S VERY WORST

INSTINCTS, AND LEFT A HUGE, HUGE

MESS BEHIND.

ABOUT THE BEST SUMMARY I CAN

GIVE YOU.

>> WHAT IS THE FUTURE OF THE

REPUBLICAN PARTY?

EVEN BEFORE YESTERDAY IT WAS

CLEAR THAT THERE WAS A BIG SPLIT

BETWEEN THE, YOU KNOW, WHAT YOU

COULD CALL THE POPULOUS AND

ESTABLISHMENT WINGS OF THE

REPUBLICAN PARTY.

I THINK YESTERDAY AND WHAT

TRANSPIRED WITHIN THE CHAMBERS

AND THE DEBATE FRACTURED THE

REPUBLICAN PARTY EVEN MORE.

WHAT IS THE SHORT TERM FUTURE OF

THE REPUBLICAN PARTY THAT IS TO

SAY IN THE 2022 MIDTERMS AND THE

LONG TERM?

>> THAT DIVISION CAN'T BE

STITCHED BACK TOGETHER AGAIN.

I THINK IT IS TOO PROFOUND.

THE RESENTMENTS ARE TOO INTENSE

ON BOTH SIDES.

IF THERE IS NO WAY TO COME UP

WITH A COALITION THAT INCLUDES

LARRY HOGAN AND DONALD TRUMP.

I DON'T THINK YOU CAN GET THAT.

I DO THINK SOMETHING WILL COME

OUT OF THESE ASHES BUT IT WILL

BE A LONG TIME COMING.

THERE IS AN EMBITTERED CORE THAT

CAN'T BE EASILY PLAY CATED.

THERE ARE PEOPLE WHO BELIEVE IN

STUFF AND NEED A HOME, AND, YOU

KNOW, THAT IS WHAT REPUBLICANS

USED TO BE FOR.

AS LONG AS THIS RIGHT VERSION OF

POPULISM HAS SUCH A GRIP I THINK

IT IS IMPOSSIBLE TO ACHIEVE.

>> FIRST OF ALL, I THINK THE

REPUBLICANS FROM MERELY A

POLITICAL POINT OF VIEW ARE

ACTUALLY GOING TO BE IN A BETTER

PLACE THAN HAD THEY STILL

CONTROLLED THE SENATE.

NOW THEY ARE THE MINORITY PARTY.

AS THE DEMOCRATS LEARNED IN 2017

IT IS ALWAYS MUCH EASIER TO BE

THE MINORITY THAN THE MAJORITY.

MUCH EASIER TO SAY WHAT YOU

WOULD DO THAN TO ACTUALLY

GOVERN.

SO I DO THINK THAT THEY HAVE A

STRONG CHANCE TO RETAKE THE

HOUSE IN 2022.

IS DONALD TRUMP GOING TO BE A

FOUR LETTER WORD WITHIN THE

REPUBLICAN ELECTORATE?

NO.

IS DONALD TRUMP -- ARE HIS

POLICIES GOING TO BE COMPLETELY

ABANDONED?

ABSOLUTELY NOT.

SO WHAT YOU'RE GOING TO NEED TO

FIND IS SOMEONE WHO IS GOING TO

BE ABLE TO STRADDLE BOTH CAMPS

IN 2024.

AND I THINK THE DIFFERENCE IS

NOW FROM WHAT I HEAR FROM MY

FRIENDS, REPORTERS AT BREITBART,

ACTIVISTS, PEOPLE THAT SUPPORTED

TRUMP FOR 2015, WHAT I HEAR AND

THIS IS ANECDOTAL BUT WHAT I

WOULD SAY IS THEY'RE A LITTLE

MORE PRAGMATIC WHEN THEY TALK

ABOUT 2024.

I STILL THINK THE LIKELY

NOMINEES FOR 2024 ARE EITHER

GOING TO BE RON DeSANTIS IF HE

IS RE-ELECTED.

I DON'T THINK MIKE PENCE CAN RUN

ANYMORE BECAUSE TRUMP WOULD

PROBABLY TRY TO STOP HIM.

TED CRUZ OR NIKKI HALEY,

SOMEBODY LIKE THAT.

THE REPUBLICAN PARTY IS NOT

DEAD.

LET'S ALSO REMEMBER DONALD TRUMP

DID WIN FLORIDA.

HE DID WIN OHIO.

HE DID WIN IOWA.

HE STILL GOT 230 ELECTORAL

VOTES, MORE THAN JOHN McCAIN AND

MITT ROMNEY GOT.

SO ONCE AGAIN, HIS PERSONAL

DEMONS ARE WHAT WE HAVE SEEN THE

LAST SIX WEEKS OR TWO MONTHS.

WE ALSO SAW THE BEST OF HIM

POLITICALLY THE LAST TWO WEEKS

OF THE CAMPAIGN.

>> SO WHAT CAN POLITICAL LEADERS

DO TO MAKE SURE THINGS DON'T

DEGENERATE ANY FURTHER?

PRESIDENT-ELECT BIDEN HAS BEEN

CERTIFIED.

HE WILL BE PRESIDENT AFTER

JANUARY 20th.

WHAT CAN HE -- WHAT CAN THE

REPUBLICANS DO?

40% OF PEOPLE STILL BELIEVE THE

ELECTION WAS ILLEGITIMATE.

WHAT CAN BE DONE TO WIN THE

LEGITIMACY OF THIS ELECTION AND

THE SYSTEM AS A WHOLE?

>> THE SAME 40% WHO STILL

BELIEVE BARACK OBAMA WAS BORN IN

KENYA RIGHT?

GO FIGURE.

I DON'T THINK THERE IS ANYTHING

YOU CAN DO TO PERSUADE THAT

CROWD.

I THINK BIDEN'S TONE HAS BEEN

DEAD ON.

HE HAS BEEN VERY GOOD.

HE'S TRIED TO NOT ENGAGE ANY

MORE THAN HE NEEDS TO AND HAS

SAID VERY CLEAR MESSAGES OF CALM

AND RESPONSIBILITY AND UNITY.

AND I THINK THAT'S ABOUT ALL HE

CAN DO.

TO ME THE REAL FOCUS IS ON OTHER

REPUBLICANS, RIGHT, WHO I THINK

BEAR A HUGE PERCENTAGE OF THE

RESPONSIBILITY.

THIS WAS NOT A ONE MAN SHOW.

HE HAD A GREEN LIGHT FROM

REPUBLICANS IN CONGRESS, THE

MOST IN THE SENATE, AND MANY,

MANY REPUBLICAN ELECTED

OFFICIALS ACROSS THE COUNTRY.

THEY REALLY NEED TO FIGURE OUT

ARE YOU WITH THIS GUY OR AGAINST

THIS GUY?

AND I THINK UNTIL WE GET AN

ANSWER TO THAT IT'S GOING TO BE

HARD TO MOVE FORWARD.

BIDEN HAS ALL THREE BRANCHES OF

GOVERNMENT.

THAT WILL AT LEAST ALLOW HIM TO

BEGIN PURSUING AN AGENDA.

IT'S GOING TO BE TIGHT.

HE IS NOT GOING TO GET HUGE

SUCCESSES.

TONALLY I THINK HE HAS IT BUT

I'M WATCHING THOSE OTHER

REPUBLICANS.

>> SAM, SENATOR MITT ROMNEY SAID

YESTERDAY THAT HIS COLLEAGUES

HAD TO BE MORE PROACTIVE.

THEY HAD TO GO OUT AND TELL

THEIR CONSTITUENTS THAT BIDEN

HAD REALLY WON THE ELECTION.

AND THAT TRUMP HAD REALLY LOST

IT.

THAT IT WAS INCUMBENT ON THEM IN

ORDER TO MOVE AHEAD.

DO YOU THINK THAT HE HAD A

POINT?

>> NO.

LOOK, I THINK IF YOU'RE FROM

TEXAS, YOU'RE FROM OHIO, YOU'RE

FROM FLORIDA YOU HAVE LEGITIMATE

QUESTIONS ABOUT WHY THERE WAS

SUCH AN UPTICK IN VOTER

PARTICIPATION WITH THESE MAIL-IN

BALLOTS IN PHILADELPHIA,

MILWAUKEE, DETROIT.

YOU HAVE LEGITIMATE QUESTIONS

ABOUT WHY YOU CAN GO TO SLEEP

AND THEN SUDDENLY BOOM A HUNDRED

THOUSAND TOTALLY IN MICHIGAN

JUST GO TO JOE BIDEN.

THEY COULDN'T EVEN GIVE ONE TO

DONALD TRUMP.

THOSE ARE LEGITIMATE.

OKAY?

I THINK IF YOU REPRESENT THOSE

STATES AS TED CRUZ DOES, JAMES

LANGFORD, AS DOES HAWLEY, YOU

HAVE A RIGHT ON BEHALF OF YOUR

CONSTITUENTS TO STUDY THESE

ISSUES BECAUSE IT WASN'T TAKEN

IN THE COURTS.

JOHN ROBERTS ON A 4-4 DID NOT

TAKE THE PENNSYLVANIA ELECTION

BEFORE AMY CONEY BARRET WAS ON

THE SUPREME COURT.

THAT WOULD HAVE SOLVED A LOT OF

THESE ISSUES.

I THINK IT IS VERY EASY FOR MITT

ROMNEY.

HE HAS PERSONAL GRIEVANCES AND

HE IS JEALOUS OF THE PRESIDENT.

BACK TO ONE OTHER THING LET'S

ALSO REMEMBER AND I WAS THERE

ONE OF THE REASONS DONALD TRUMP

WAS ELECTED WAS A LOT OF THE

POLICIES AT THE END, THE LAST

EIGHT YEARS OF BARACK OBAMA AND

JOE BIDEN WERE NOT POPULAR.

JOE BIDEN DOES NOT HAVE DONALD

TRUMP ANYMORE.

JOE BIDEN HAS TO BE THE

PRESIDENT AND HAVE THE BULLY

PULPIT.

LET'S SEE HOW WELL HE DOES.

I SUSPECT HE WON'T BE A VERY

POPULAR PRESIDENT BY NEXT JUNE

WITHOUT DONALD TRUMP, WITHOUT

DONALD TRUMP AROUND.

BUT LET'S SEE.

I COULD BE WRONG.

WE'LL FIND OUT.

HE WAS ABLE TO RUN THANKS TO

DONALD TRUMP WHO WANTED THIS NO

MATTER WHAT.

YOU COULDN'T TELL HIM EITHER WAY

TO HIDE.

HE WAS ABLE TO RUN AND MAKE IT A

COMPLETE REFERENDUM ON DONALD

TRUMP.

LET'S SEE WHAT HAPPENS WHEN HE

TAKES HIS POLICIES, POLICIES OF

KAMALA HARRIS VOTED THE MOST

LIBERAL SENATOR BY "NEWSWEEK,"

LET'S SEE WHAT HAPPENS WHEN

THESE POLICIES ARE PUT IN FRONT

OF THE AMERICAN PEOPLE AND

PASSED.

I LIKE REPUBLICAN CHANCES THEN.

WE'LL FIND OUT.

>> SAM, I WISH YOU WOULDN'T KEEP

BEATING THE ELECTION DRUM.

SERIOUSLY.

THAT IS NOT A GOOD PLAY.

IT IS TIME TO GET PAST IT.

LET'S TRY TO BRING PEOPLE

TOGETHER AND NOT USE THESE UGLY

LABELS.

NOW IS THE TIME WE OUGHT TO BE

ABLE TO FIND SOME THINGS AS

AMERICANS WE CAN AGREE ON.

WE NEED TO SOLVE OUR IMMIGRATION

PROBLEM.

WE NEED TO GIVE PEOPLE BETTER

HEALTH CARE.

I CAN GIVE YOU A LIST OF ABOUT

EIGHT THINGS.

GET THE INFRASTRUCTURE FINALLY

DONE WE'VE BEEN HEARING ABOUT

ALL THESE YEARS.

NOW IS THE TIME TO DO THAT.

LET'S GET BEYOND THAT DIVISIVE

TALK.

>> THAT IS EASIER SAID THAN

DONE.

>> IT IS.

>> BUT THE ISSUE OF ELECTION

LEGITIMACY IS STILL A QUESTION

THAT LINGERS ON REAL PEOPLE'S

MINDS.

I THINK IGNORING IT MAY BE --

CAN YOU HAVE A UNITED COUNTRY

WHEN 40% OF THE PEOPLE BELIEVE

YOU WERE ELECTED ILLEGITIMATELY?

WE WERE TALKING ABOUT THIS

EARLIER.

I COME FROM CUBA.

AND IT DOESN'T MATTER WHAT

HAPPENS.

BUT IF PEOPLE BELIEVE THAT THE

SYSTEM IS RIGGED, THEN THEY

WON'T FOLLOW THE RULES.

IF THEY DON'T FOLLOW THE RULES,

THAT IS SOMETHING THAT IS VERY

HARD TO GET BACK TOGETHER AGAIN.

SO DON'T YOU HAVE TO?

I MEAN, ISN'T IT TO BIDEN'S

ADVANTAGE TO MAKE SURE THAT THE

NONSENSE IS EXPOSED AS NONSENSE?

>> YES.

BUT I'M NOT SURE IF IT'S WITHIN

HIS REACH.

WHAT HAS CAUSED THIS IS A GROUP

OF REPUBLICAN POLITICIANS LYING

TO PEOPLE ABOUT CONSPIRACY

THEORIES AND ELECTION THAT WAS

COMPLETELY STOLEN AND VOTES

SHOWING UP IN THE MIDDLE OF THE

NIGHT.

WHEN YOU AND I HAVE TIME I'LL GO

THROUGH EACH OF THOSE THINGS

WITH YOU BECAUSE THERE REALLY

IS, THIS IS REALLY A PRETTY GOOD

ELECTION.

I DON'T THINK YOU CAN CONVINCE

ALL THOSE PEOPLE BUT IN THE END

YOU GOT TO MOVE FORWARD AND SAY

WHAT CAN WE AGREE ON AS A PEOPLE

AND GET DONE HERE AND SOME OF

THIS STUFF IS REALLY MORE

IMPORTANT THAN THOSE BITTER

GRIEVANCES.

>> WELL, WHAT I WOULD SAY IS

THOSE ISSUES NEED TO BE SOLVED

IN THE COURTS.

THEY REALLY NEED TO BE SOLVED --

>> 60 COURTS, 60 COURTS, SAM.

HOW MANY DO YOU WANT?

>> PERHAPS EVEN IN THE SUPREME

COURT.

I'M NOT TALKING ABOUT

LEGISLATIVE.

I'M NOT TALKING ABOUT A

COMMISSION, BLUE RIBBON TYPE

COMMISSION TO LOOK AT ANYTHING.

ON THE LEGISLATIVE FRONT LET'S

SEE WHAT JOE BIDEN PROPOSES.

I THINK INFRASTRUCTURE WOULD BE

GREAT.

PARTLY DONALD TRUMP COULDN'T DO

IT BECAUSE OF HIS OWN PARTY.

ONE OF THE FAILINGS OF DONALD

TRUMP WAS HE GAVE TOO MUCH TO

McCONNELL AND TOOK TOO MUCH AND

NEVER SEEMED TO GET ANYTHING

HIMSELF.

YOU KNOW, YES.

HE DID THEORETICALLY HAVE THE

SENATE BUT I DON'T BELIEVE YOU

HAVE THE SENATE WHEN YOU HAVE A

JOHN McCAIN THERE WHO JUST WANTS

TO PUT A THUMB DOWN.

YOU KNOW, AND WHAT WE LEARNED

WAS WE WERE NOT READY TO GOVERN

OURSELVES.

THERE IS A DIFFERENCE OF WHEN WE

TRY TO DO THINGS AS OPPOSED TO

THE OTHER SIDE.

AND FOR BETTER OR WORSE.

AND THE PART OF THE FAILING IS

THAT WE AS REPUBLICANS ARE NOT

CAREER PEOPLE IN THE GOVERNMENT.

I THINK WE'VE LEARNED THAT.

BUT WE NEED PEOPLE THAT HAVE

HAD, IN THE NEXT ADMINISTRATION,

WE CERTAINLY NEED PEOPLE WITH

MORE EXPERIENCE.

AND EXPERIENCE IS NOT A FOUR

LETTER WORD EITHER ANYMORE.

>> WE GOT LESS THAN FOUR MINUTES

LEFT.

THE SENATORIAL RUN-OFF IN

GEORGIA, THE DEMOCRATS SWEPT.

NOW THEY HAVE CONTROL OF THE

SENATE OR THEY WILL HAVE CONTROL

OF THE SENATE.

WHEN ASKED ABOUT WHAT HIS PLANS

WERE SENATOR SCHUMER SAID,

QUOTE, BUCKLE UP.

WHICH MEANT HE IS GOING TO TRY

TO FOLLOW WHAT HE PROMISED WHICH

IS CHANGE AMERICA.

AT LEAST ONE COMMENTATOR SAID

THAT AFTER YESTERDAY PERHAPS

SENATOR SCHUMER MIGHT WANT TO

MODIFY OR RECALCULATE SOME OF

THE MORE RADICAL PROPOSALS FOR

THE SAKE OF THE MILLIONS THAT

ARE GOING TO OPPOSE IT IN ORDER

TO BRING THE POLITICAL

TEMPERATURE DOWN.

WHAT DO YOU THINK?

IS THAT LIKELY TO HAPPEN?

OR WOULD THAT BE A GOOD THING?

>> WELL, I'M NOT SURE WHAT

RADICAL PROPOSALS YOU'RE TALKING

ABOUT.

MOST OF THE THINGS THAT I THINK

ARE AT THE TOP OF THE AGENDA

POLL PRETTY WELL LIKE GETTING

MORE PEOPLE HEALTH CARE AND

PROVIDING SOME KIND OF MINIMUM

WAGE PEOPLE COULD LIVE ON.

BUT LET'S BE REALISTIC.

50/50 SENATE IS VERY TIGHT.

IT IS VERY DIFFICULT TO PASS

MAJOR LEGISLATION WHERE YOU

REALLY NEED 60 VOTES.

WE'LL HAVE TO SEE HOW CHARMING

JOE BIDEN CAN REALLY BE IN THE

END.

IT DOES PROVIDE A LOT OF THINGS

T.

IT ALLOWS THEM TO CONTROL THE

SCHEDULE AND MAKE JUDICIAL

APPOINTMENTS AND GIVES JOE BIDEN

THE CABINET HE WANTS AND GIVES

THE NEW ADMINISTRATION A CHANCE

TO HAVE AN AGENDA TO BELIEVE IN

SOMETHING, TO SAY, HEY.

THIS IS WHAT WE STAND FOR.

LET'S TAKE A VOTE ON IT.

I THINK THAT'S BIG.

THAT'S REALLY BIG.

THANK YOU, GEORGIA.

>> SAM, DO YOU BELIEVE WHAT MANY

REPUBLICANS ARE SAYING THAT NOW

WE MIGHT SEE THE END OF

FILIBUSTER, WE MAY SEE TWO NEW

STATES, PUERTO RICO AND D.C.

WITH FOUR DEMOCRATIC SENATORS IN

PERPETUITY AND A PACKED COURT?

>> I THINK YOU COULD HAVE HAD

THE REPUBLICANS IN NORTH

CAROLINA AND IOWA, I DON'T THINK

YOU CAN DO THAT WITH ONLY 50 AND

KAMALA HARRIS.

JOE MANCHIN FOR INSTANCE I

CANNOT SEE VOTING FOR A LOT OF

THAT EVEN IF HE'S NOT UP FOR

RE-ELECTION UNTIL 2024.

I WOULD ALSO NOTE THAT IN 2022

THE DEMOCRATS ARE PLAYING MORE

DEFENSE THAN OFFENSE IN THE

SENATE, IN THE SENATE RACES

AGAIN.

WE'LL SEE.

THESE THINGS ALWAYS HAPPEN.

JOE BIDEN WILL GET THE SAME WAY

BARACK OBAMA DID WITH HEALTH

CARE, HIS FIRST DOMESTIC

LEGISLATIVE PRIORITY WILL BE

PASSED.

WHATEVER THAT IS.

>> ALL RIGHT.

WE HAVE LESS THAN A MINUTE AND I

WANT TO GET THREE SECONDS FROM

EACH OF YOU ON THIS.

WHAT IS THE ONE LESSON THAT

PATRIOTIC AMERICANS OF ALL

POLITICAL PERSUASIONS SHOULD

TAKE FROM YESTERDAY'S EVENTS?

>> LISTEN.

HOW ABOUT THAT?

WHY DON'T WE SPEND A LITTLE TIME

LISTENING TO PEOPLE ON THE OTHER

SIDE?

YOU KNOW, WE ALL HAVE STRONG

PASSIONS.

WE'RE ALL PRETTY SURE WE'RE

RIGHT.

BUT IT IS A REALLY BIG, DIVERSE

COUNTRY.

YOU KNOW, I LOOK AT THOSE PEOPLE

BANGING IN THE WINDOWS IN THE

CAPITOL.

I DIDN'T WANT TO LISTEN TO THEM.

I STILL DON'T WANT TO.

BUT SOMEWHERE BENEATH ALL THE

CRAZINESS IS PROBABLY SOMETHING

I NEED TO HEAR.

>> SAM, IN 20 SECONDS?

>> I'M SITTING HERE AS THE FIRST

PERSON TO WORK FOR DONALD TRUMP

TELLING YOU I TOOK SOLACE IN THE

FACT THAT JOE BIDEN WAS FORMALLY

MADE PRESIDENT OF THE UNITED

STATES AND THE CONSTITUTION DID

WORK.

>> GOOD.

>> ALL RIGHT.

WE HAVE TO END IT THERE,

FELLOWS.

THANK YOU SO MUCH FOR JOINING

US.

>> GOOD BEING WITH YOU GUYS.

THANKS.

>> "METROFOCUS" IS MADE POSSIBLE

BY

SUE AND EDGAR WACHENHEIM III,

SYLVIA A. AND SIMON B. POYTA

PROGRAMING ENDOWMENT TO FIGHT

ANTI-SEMITISM.

BERNARD AND DENISE SCHWARTZ,

BARBARA HOPE ZUCKERBERG,

JANET PRINDLE SEIDLER,

JODY AND JOHN ARNHOLD,

CHERYL AND PHILIP MILSTEIN

FAMILY,

JUDY AND JOSH WESTON,

DR. ROBERT C. AND TINA SOHN

FOUNDATION.