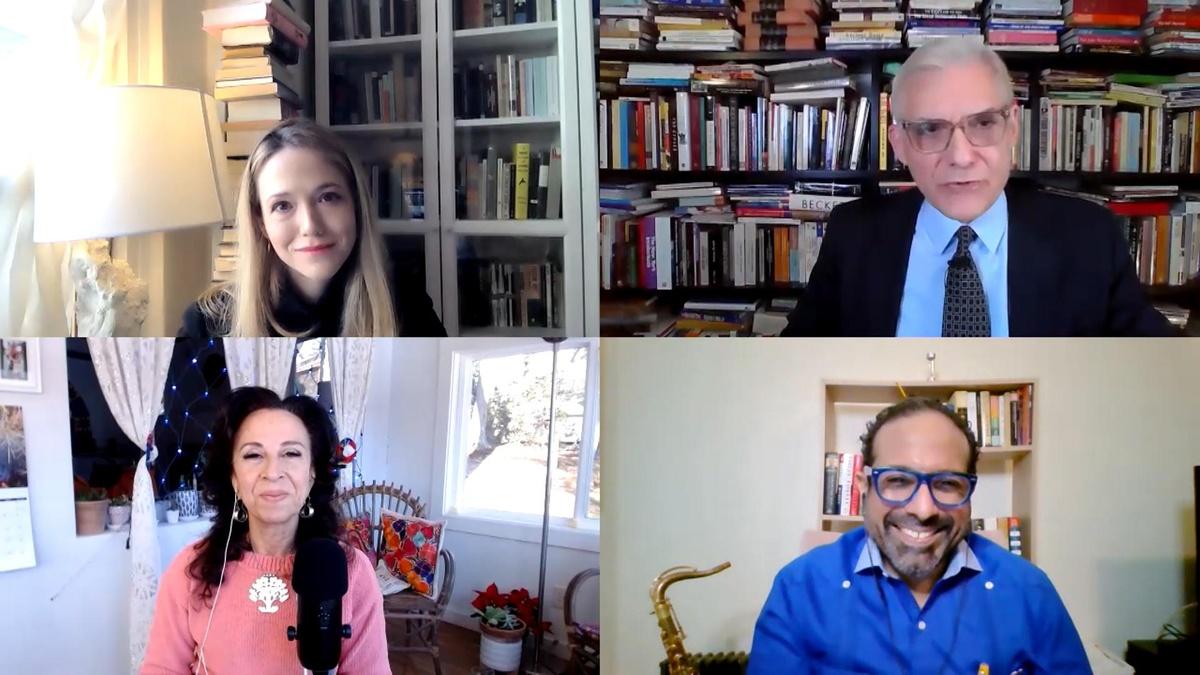 FULL EPISODE
METROFOCUS: January 25, 2021
A look at the news making local and national headlines this week and its impact on the tri-state area. Weighing in tonight are Emmy-award winning journalist, Anchor and Executive Producer of the weekly public radio show "Latino USA" Maria Hinojosa, CUNY Professor and former President of the New York City Board of Elections, J.C. Polanco and New York Daily News editorial board member Laura Nahmias.
TRANSCRIPT

>>> THIS IS "METROFOCUS" WITH

RAFAEL PI ROMAN, JACK FORD, AND

JENNA FLANAGAN.

>> "METROFOCUS" IS MADE POSSIBLE

BY --

SUE AND EDGAR WACHENHEIM III,

SYLVIA A. AND SIMON B. POYTA

PROGRAMING ENDOWMENT TO FIGHT

ANTI-SEMITISM.

THE PETER G. PETERSON FUND.

BERNARD AND DENISE SCHWARTZ,

BARBARA HOPE ZUCKERBERG, JANET

PRINDLE SEIDLER, JODY AND JOHN

ARNHOLD, CHERYL AND PHILIP

MILSTEIN JUDY AND JOSH WESTON,

DR. ROBERT C. AND TINA SOHN

FOUNDATION.

>>> GOOD EVENING, AND WELCOME TO

"METROFOCUS."

I'M RAFAEL PI ROMAN.

WE BEGIN TONIGHT AS WE DO EVERY

MONDAY, WITH OUR FRONT PAGE

FORECAST.

LOOK AHEAD AT THE NEWS MAKING

HEADLINES.

TONIGHT WE FOCUS ON THE VACCINE

ROLL-OUT AND NEW VARIANTS OF THE

VIRUS EMERGE.

WE ALSO EXAM THE RELATIONSHIP

BETWEEN GOVERNOR CUOMO AND

SENATOR SCHUMER AS HE TAKES

COMMAND OF THE SENATE.

JOINING US NOW TO DISCUSS THESE

AND OTHER ISSUES ARE THE ANCHOR

AND EXECUTIVE PRODUCER OF LATINO

USA, EDITORIAL BOARD MEMBER AT

THE NEW YORK DAILY BUZ AND A

POLITICAL COMMENTATOR, ATTORNEY,

FACULTY MEMBER AND FORMER

PRESIDENT OF THE NY BOARD OF

ELECTIONS.

IMPRESSIVE BUNCH.

THANKS SO MUCH FOR JOINING US

TODAY, GUYS.

SO LET ME START WITH YOU.

YOU KNOW, IT SEEMS THAT GOVERNOR

CUOMO FIRST AT THE BEGINNING OF

THE YEAR BLAMED MAYOR de BLASIO

FOR WORKING TOO SLOW.

THEN HE SWITCHED AND STARTED

BLAMING THE FEDERAL GOVERNMENT

FOR NOT GIVING US VACCINES.

NOW HE'S SAYING THAT WE'RE

RUNNING OUT.

WHAT IS THE FULL STORY HERE?

>> THE FULL STORY IS THAT A

LITTLE BIT OF PREVENTION WOULD

HAVE MADE UP FOR THE SORT OF

MASSIVE AMOUNT WE NEED TO MEET

TO DEAL WITH THIS PROBLEM NOW.

THE VACCINE ROLL-OUT, WE HAD

MONTHS TO PREPARE.

GRANT IT, IT WAS IN THE MIDDLE

OF A MASSIVE POLITICAL CRISIS,

TOO, BUT THE FEDERAL GOVERNMENT

SOUGHT PLANS FROM THE VARIOUS

STATES AND APPROVED THEM IN THE

FALL, BUT THEY DIDN'T PLAN TO

GIVE STATES ANY ADDITIONAL

FUNDING OR PROVIDE THEM WITH

HELP IN TERMS OF SETTING UP MASS

VACCINATION SITES OR TRAINING

PEOPLE TO VACCINATE WHO WEREN'

ALREADY IN THE HEALTH CARE

SYSTEM.

BUT THE ORIGINAL FEDERAL PLAN

RELIED ENTIRELY ON THE EXISTING

HEALTH CARE SYSTEM AND THE STAFF

AND PHARMACIES TO DO ALL THE

VACCINATIONS AND ALSO WANTED TO

RELY ON EXISTING HEALTH CARE

FACILITIES AND COMMUNITIES

ACROSS AMERICA TO DISTRIBUTE THE

VACCINE ITO GET SHOTS INTO ARMS

AFTER ALL THIS MASSIVE EFFORT

HAD BEEN PUT INTO DEVELOPING THE

VACCINES.

AND WE HAVE SEEN THAT APPROACH

TOTALLY FALL APART.

THE NEW ADMINISTRATION IS LESS

THAN A WEEK OLD, AND THEY HAVE

INHERITED THIS PROBLEM OF A LACK

OF PREPARATION.

THEY CAN'T DO EVERYTHING

THEMSELVES.

T

AND WE'RE SEEING WE'RE A LITTLE

BIT LATE TO THE GAME AND IT IS

GOING TO TAKE SEVERAL WEEKS, IF

NOT MONTHS, TO MAKE UP FOR THE

TIME THAT WE'VE LOST, AND THAT'S

INCREDIBLY UNFORTUNATE BECAUSE

WE'RE NOW BEING STRUCK WITH

THESE MULTIPLE VARIANT MUTATIONS

OF THE VIRUS.

THAT MEANS THAT WE ARE BATTLING

AN ENEMY THAT IS MORE POWERFUL

THAN IT WAS IN THE PAST YEAR.

>> SO, MARIA, ARE THE MEDS

RESPONSIBLE FOR THIS, BY AND

LARGE?

THEY BARE THE LION'S SHARE OF

THE BLAME.

DOES CUOMO BARE ANY

RESPONSIBILITY?

DOES de BLASIO?

ANYBODY ELSE?

>> WE HAVE TO REALIZE WE'RE

COMING OUT OF FOUR YEARS OF AN

ADMINISTRATION IN THE WHITE

HOUSE THAT BASICALLY RAN ON

CHAOS AND DESTRUCTION.

YOU KNOW, I KEEP THINKING WHAT

WOULD HAVE HAPPENED IF THIS HAD

HAPPENED UNDER ANOTHER

ADMINISTRATION.

WHAT WOULD IT HAVE LOOKED LIKE?

WOULD WE STILL BE HERE BECAUSE

I, LIKE EVERYBODY ELSE, AM

INCREDIBLY FRUSTRATED.

OF COURSE I'M FRUSTRATED TO SEE

FRIENDS AND FAMILY.

I'M A SURVIVOR, AND I'M STILL

LOSING PEOPLE.

WE JUST HEARD THIS WEEKEND OF A

23-YEAR-OLD YOUNG WOMAN WHO CAME

TO NEW JERSEY AND DIED.

SO THIS IS VERY REAL.

AND, AGAIN, I'M KIND OF LIKE

EVERY DAY JUST GIVING THANKS TO

BEING ALIVE AND ROOTING FOR

EVERYBODY WHO IS INFECTED.

BUT AT THE SAME TIME, IF I'M

LOOKING FOR BLAME, IT IS

ABSOLUTELY SQUARELY IN THE LAST

ADMINISTRATION FOR HAVING NO

POLICY WHATSOEVER, NO

ORGANIZATION, NO FORESIGHT, NO

CARE FOR PEOPLE.

SO AT THIS POINT, I THINK THAT'S

WHERE, YOU KNOW, IF WE HAD A

NATIONAL PLAN I DON'T THINK WE'D

BE HERE.

AND I DO THINK THAT THE STATES

HAVE TO PLAY CATCHUP.

AS LAURA SAID, THE STATES CAN'T

PRINT ENOUGH MONEY TO DEAL WITH

THIS REALITY.

SO IT MAKES ME SAD.

I WOULD LOVE TO GET THE VACCINE.

OF COURSE I WANT PEOPLE TO GET

IT AHEAD OF TIME WHO NEED IT.

BUT I'M AN IN PERSON COLLEGE

PROFESSOR.

I KIND OF COULD QUALIFY.

IT'S JUST LIKE, OKAY, IT'S NOT

GOING TO -- I TRY.

IT'S NOT GOING TO HAPPEN.

IT'S NOT GOING TO HAPPEN ANY

TIME SOON, AND THAT'S

FRUSTRATING, RIGHT?

>> AND LOOKING IS HARD.

>> THERE IS ANOTHER ELEMENT OF

THIS THAT I THINK IS SO

IMPORTANT THAT I THINK WE ALL

NEED TO FOCUS ON, WHICH IS THE

FACT THAT OUR CURRENT HEALTH

CARE DELIVERY SYSTEM IN AMERICA,

AND THIS IS NOT THE FAULT OF THE

TRUMP ADMINISTRATION.

IT IS THE FAULT OF EVERYONE IN

AMERICA, THE HEALTH CARE

INDUSTRIAL COMPLEX IS A SILO

PRIVATIZED OFTEN MORE PROFIT

SYSTEM WHERE INFORMATION IS NOT

SHARED BETWEEN HEALTH CARE

SYSTEMS.

IT IS NOT SHARED BETWEEN STATES.

THERE IS NOT SOME MASS RECORD OF

EVERY PERSON IN AMERICA WITH

THEIR E-MAIL ADDRESS IF THEY'RE

LUCKY ENOUGH TO HAVE INTERNET

ACCESS IN ORDER TO LET THEM KNOW

WHEN VACCINES ARE AVAILABLE,

WHICH IS A HUGE PROBLEM.

WE DON'T HAVE NATIONAL MEDICAL

RECORD SYSTEMS, IN PART BECAUSE

OF OUR PRIVILEGING OF PERSONAL

LIBERTIES AND PRIVACIES IN THE

UNITED STATES BUT ALSO BECAUSE

OF PROFIT MOTIVES THAT HOSPITAL

SYSTEMS AND HEALTH CARE DELIVERY

SYSTEMS HAVE IN KEEPING RECORDS

PRIVATE AND KEEPING PROPRIETARY

INFORMATION TO OURSELVES AND

THAT IS A HUGE FAILING OF SUCH

PRIVATIZED MEDICAL SYSTEM.

IT'S NOT ONLY COSTLY.

IT IS ALSO COMPLETELY

INEFFICIENT, AND WE ARE REALLY

SEEING THE FRUITS OF THAT

PROBLEM RIGHT NOW.

>> SO WHAT ARE YOUR THOUGHTS?

THIS IS THE SYSTEM.

THIS IS THE FEDS UNDER TRUMP.

CUOMO, de BLASIO, DO THEY BARE

ANY RESPONSIBILITY?

>> WE'RE WATCHING THE PANDEMIC

IN A MODERN ERA.

WE HAVEN'T HAD THIS SINCE 1918,

SO SEEING OUR PROGRESSES NOT

FUNCTION IN PERFECT SYNERGY IS

SOMETHING THAT WILL MAKE US

BETTER IN THE FUTURE.

THERE ARE A LOT OF LESSONS TO BE

LEARNED.

THERE ARE THINGS THAT PREVIOUS

GUESTS HAVE MENTIONED THAT ARE

VITAL IN TERMS OF SHARING

INFORMATION.

STATES AND LOCAL GOVERNMENTS

WORKING TOGETHER BETTER, GETTING

FUNDING SOURCES OUT THERE.

BUT WE ALSO HAVE TO REMEMBER

THAT WHEN WE WIN THIS AS A

PLANET IS THE INCREDIBLE SPEED

IN WHICH WE NOW HAVE A VACCINE

TO DEAL WITH THIS INCREDIBLE

KILLER VIRUS THAT HAD TAKEN OUT

SO IN PEOPLE WORLDWIDE.

I THINK THAT'S A TESTAMENT TO

OUR SCIENTISTS.

I THINK IT'S A TESTAMENT TO OUR

HEALTH CARE PROFESSIONALS, TO

THE GROUND BREAKING SPEED IN

WHICH WE'RE ABLE TO GET THIS

VACCINE INTO THE ARMS OF PEOPLE.

THERE ARE MANY SHORTCOMINGS, AND

WE HAVE SEEN THAT.

WE SAW IT IN OUR SCHOOL SYSTEM

IN NEW YORK CITY.

WE SEE IT IN OUR SCHOOL SYSTEM

ACROSS THE COUNTRY.

GOVERNMENTS HAVE FAILED TO

PREPARE, EVEN KNOWING WHAT WE

HAVE KNOWN TO GET STUDENTS IN

THE CLASSROOMS IN AN EFFICIENT

MANNER.

WE HAVE SEEN HOW GOVERNMENTS

HAVE FAILED TO GET THE VACCINES

INTO THE ARMS.

WE HAVE SEEN HOW DIFFERENT

STATES ARE DOING IT DIFFERENTLY.

IN FLORIDA, THE GOVERNOR THERE,

AND WE CAN DEBATE WHETHER OR NOT

HE'S A GOOD GOVERNOR OR NOT, BUT

WE HAVE SEEN HOW HE'S WORKED

WITH PRIVATE INDUSTRY, INCLUDING

SUPER MARKETS TO GET SOME OF

THESE VACCINES INTO THE ARMS OF

SENIORS AND LARGER NUMBERS WE

SUE IN NEW YORK.

THERE IS A LOT MORE US TO LEARN.

I THINK IT IS IMPORTANT FOR US

TO LEARN WHAT WE HAVE DONE

RIGHT, WHAT WE HAVE DONE WRONG

SO THAT WHAT THE NEXT STRAIN OR

NEXT PANDEMIC IS, WE'RE BETTER

PREPARE

PREPARED.

>> WHAT CAN PRESIDENT BIDEN DO

OR WHAT IS HE DOING THAT THE

PRESIDENT TRUMP ADMINISTRATION

WAS NOT DOING TO EASE THE

PROBLEMS THAT EXIST?

>> I THINK THERE IS A DIFFERENT

WAY OF GOVERNING.

AS A CONSERVATIVE PRESIDENT, I

THINK TRUMP ACTED VERY

DIFFERENTLY.

I THINK HE ALLOWED A LOT OF

STATES RIGHTS, A LOT OF

INDIVIDUAL ATTENTION TO WHAT A

GOVERNOR IN THEIR OWN STATE

DECIDES.

I THINK PRESIDENT BIDEN WILL

TAKE A DIFFERENT APPROACH EITHER

BY NATIONALIZING THAT.

I THINK IT IS A TESTAMENT TO HIS

STYLE OF GOVERNING, WHICH IS

GOING TO BE DIFFERENT.

I THINK IN THE LONG-RUN, IT WILL

BE BENEFICIAL NATIONWIDE TO HOW

HE CURTAILS THE SPREAD OF THE

VIRUS.

>> YOU TALKED ABOUT THE NEW

VARIANTS, VARIATIONS, THE NEW

STRAINS OF THE VACCINE.

WE HAVE SEEN A VARIATION OF THE

VARIANT IN SOUTH AFRICA.

APPARENTLY ONE IS EMERGING IN

CALIFORNIA AS WELL.

WHAT WILL THAT MEAN?

I MEAN, WHAT DOES IT MEAN FIRST

OF ALL TO THE VACCINE ROLL-OUT?

IS IT GOING TO MAKE IT ALL MOOT?

DO WE HAVE TO START FROM

SCRATCH?

AND WHAT DOES IT MEAN FOR OUR

FUTURE?

>> WELL, THE BEST AVAILABLE

SCIENCE AT THIS POINT AND

OBVIOUSLY IT'S STILL CHANGING IS

THAT IT DOESN'T MAKE THE

VACCINES MOOT, BUT IT COULD

IMPACT THE EFFECTIVENESS OF SOME

OF THE VACCINES, THE SLIGHT

VARIATIONS MEAN THAT THE VACCINE

IS NOW COMING UNDER THE MARKET

SLIGHTLY LESS EFFICACIOUS IN

PREVENTING, BUT IT WILL STILL

WORK.

JUST MAYBE NOT 95% EFFECTIVE OR

90% EFFECTIVE LIKE THE EARLY

CLINICAL TRIALS.

BUT THE MESSAGE THAT A LOT OF

THE PUBLIC HEALTH EXPERTS ARE

PUTTING OUT THERE IS THAT WE SEE

THESE VARIANTS HAPPENING BECAUSE

OF THE SPREAD OF THE VIRUS.

WE SEE IT HAPPENING BECAUSE THE

VIRUS MUTATES WHEN IT HAS AN

OPPORTUNITY TO KEEP GROWING AND

SPREADING TO MORE PEOPLE.

SO THE MORE WE CAN SLOW THE

SPREAD, IF AT ALL POSSIBLE, THE

MORE WE CAN PREVENT MORE NEW

STRAINS OF THIS FROM EMERGING.

BUT IN THE SHORT-TERM, THIS IS

EXTREMELY TROUBLING NEWS FOR US.

THIS IS ALREADY AN INCREDIBLY

CONTAGIOUS, THE ORIGINAL STRAIN,

AND SEEING THESE VARIANTS THAT

ARE NOT ONLY MORE CONTAGIOUS BUT

SOME EARLY EVIDENCE SHOWING MORE

DEADLY WITH THE U.K. VARIANT IS

REALLY -- THIS IS NOT A FAIT

ACCOMPLI THAT WE ARE GOING TO

GET OUT OF THIS IN THREE OR FOUR

OR FIVE MONTHS.

THIS IS LIKE A GAME OF INCHES AT

THIS POINT AND VERY TROUBLING,

THE U.K. AND SOUTH AFRICA AND

BRAZIL EXPERIENCE.

>> WHAT DO YOU THINK, WILL WE

WILL LOCKED DOWN FOR 2021?

>> I AM WRAPPING MY HEAD AROUND

THIS EVERY DAY.

I THINK THE BIG LESSON IS WE ARE

STRONGER THAN WE THINK.

IF ANYBODY WOULD HAVE TOLD US A

YEAR AGO THAT WE WOULD BE

APPROACHING A FULL YEAR IN

LOCKDOWN OR MOST OF US IN

LOCKDOWN, WE WOULD HAVE SAID

THAT'S COMPLETELY CRAZY.

THAT'S NEVER GOING TO HAPPEN.

SO WE ARE STRONGER THAN WE

THINK.

WE ARE CAPABLE OF DOING THIS.

BUT WITHOUT A NATIONAL PLAN, I

GUESS I'M A LITTLE BIT OLD

SCHOOL AT THIS POINT.

I'M LIKE -- AND IT IS NOT LIKE I

WANT THIS TO HAPPEN, BUT I'M

LIKE GO BACK TO SQUARE ONE.

LET'S DO A TOTAL FULL SHUT DOWN

COMPLETE THE WAY IT WAS BEFORE,

OKAY, EXCEPT PEOPLE WILL NOT

HAVE TIME TO BUY THEIR PAPER

TOWELS AND THEIR TOILET PAPER

BECAUSE WE WILL HAVE THREE WEEKS

OF WARNING, GET READY AND THEN

THE GOVERNMENT PAYS EVERYBODY TO

STAY INSIDE, NOT GO TO WORK, NOT

GO SHOPPING, NOT GO TO ANY OF

THE STORES, NOT DO IT BECAUSE I

DON'T UNDERSTAND HOW WE CAN BE

AT SUCH A HIGH POINT OF THE

VIRUS AND THINGS ARE SLOWLY

OPENING UP, EVEN IN PLACES LIKE

NEW YORK CITY.

I DON'T UNDERSTAND IT.

BY THE WAY, I'M A LUCKY HUMAN

BEING BECAUSE IN A MATTER OF

HOURS I WILL BE SPEAKING WITH

DR. FAUCI.

SO I WILL BE ABLE TO ASK HIM ONE

OF THE QUESTIONS I'M MOST

CONCERNED ABOUT, WHICH IS IF WE

ARE SO EDUCATED NOW ABOUT THIS

VIRUS, HOW IS IT THAT MORE

PEOPLE ARE GETTING INFECTED?

IS IT BECAUSE THEY ARE BEING

COMPLETELY IRRESPONSIBLE OR ARE

THEY GETTING INFECTED AND WE ARE

JUST NOT UNDERSTANDING HOW.

>> WHAT YOU SAID IS TRUE BECAUSE

EVEN AS THIS IS HAPPENING AND

BRITAIN IS LOCKING DOWN PRETTY

MUCH AS YOU SUGGESTED, WE HEAR

FROM LEADERS WHO WERE STRICT

LOCKDOWN PEOPLE LIKE THE

GOVERNOR OF MICHIGAN, LIKE THE

MAYOR OF CHICAGO AND EVEN

GOVERNOR CUOMO TALKING ABOUT,

OH, WE GOT TO OPEN UP THE

ECONOMY.

AND EVEN PRESIDENT BIDEN IS

SAYING WE HAVE TO SPEED UP THE

OPENING UP OF SCHOOLS.

HOW DO YOU SQUARE THAT CIRCLE?

>> I THINK, AS LAURA SAID, WE'RE

TALKING STRUCTURAL ISSUES HERE.

EVERYBODY IN THIS COUNTRY IS

AFRAID OF SOCIALISM.

BUT THE THING IS IF THIS

GOVERNMENT ACTUALLY WAS ABLE TO

TAKE CARE OF ITS PEOPLE AND SAY

THE PEOPLE COME FIRST, NOT

ANYTHING ELSE, SO WE ARE GOING

TO PAY YOU TO STAY HOME.

WE'RE ACTUALLY GOING TO SEND YOU

CHECKS SO THAT, YES, SADLY, FOR

PEOPLE OF COLOR WHO MOSTLY ARE

ESSENTIAL WORKERS AND DELIVERY

AND ALL THOSE THINGS BUT THAT

PEOPLE WOULD BE ABLE TO BUY

THINGS AT LEAST ONLINE AND THAT

WILL HELP KEEP THE ECONOMY GOING

TO A CERTAIN EXTENT.

BUT PEOPLE ARE LOSING THEIR JOBS

BECAUSE WE HAVE A FAILED ECONOMY

THAT GOES TO LARGER STRUCTURAL

ISSUES.

THIS STATISTIC IS IMPORTANT TO

REALIZE.

ONE OUT OF EVERY 800 BLACK

PEOPLE HAS DIED BECAUSE OF

COVID-19.

LATINOS AND LATINAS ARE ON THE

FRONT LINES IN TERMS OF THE

DEATHS THAT THEY ARE BRINGING

IN.

SO THIS IS A HUMAN STRATEGY.

AND I SAY MORE SACRIFICE SO THAT

WE CAN GET OUT OF THIS SOONER.

>> I MENTIONED IN THE

INTRODUCTION ABOUT THE REPORTS

OF A NEW FEUD BETWEEN GOVERNOR

CUOMO AND SENATOR SCHUMER EVEN

AS SENATOR SCHUMER IS NOW

LEADING THE U.S. SENATE.

WE TALK ABOUT THE FEUDS AND

GOVERNOR CUOMO AND SOMETIMES WE

JOKE ABOUT IT.

BUT IS IT REALLY THAT FUNNY

ANYMORE WHERE IT SEEMS -- GO

AHEAD.

>> IT'S NOT FUNNY.

IT IS EXPECTED.

YOU HAVE TWO SUPERSTARS.

YOU HAVE THE GOVERNOR OF ONE OF

THE MOST IMPORTANT STATES IN OUR

COUNTRY AND THE SENATE MAJORITY

LEADER COMING FROM THE SAME

PLACE, FROM THE STATEMENT CITY.

SO YOU EXPECT TO SEE THESE TWO

SUPERSTARS HAVE CONFLICT,

ESPECIALLY WHEN ONE IS FOCUSSED

ON THE NATIONAL AGENDA, THE

OTHER IS FOCUSSED ON THE STATE

AGENDA.

AND WHEN EVERYTHING IS RIGHT FOR

FINGER POINTING ENVIRONMENT, YOU

HEARD FROM A LAURA AND MARIA A

LITTLE EARLIER ABOUT HOW

DELICATE THE SITUATION IS AS FAR

AS THE CALLS FOR NATIONALIZING

THINGS.

HERE YOU HAVE THE GOVERNOR

BASICALLY SAYING, HEY, NATIONAL

GOVERNMENT, YOU HAVE TO BAIL US

OUT.

YOU HAVE TO DO THIS.

AND LOOKING AT SENATOR SCHUMER

LIKE, IF YOU DON'T DO THIS,

WE'RE GOING TO FAIL AND IT WILL

BE YOUR FAULT.

YOU CAN SEE THE CONFLICT ALMOST

IMMEDIATELY AGAIN.

THIS IS BOTH GOOD AND EXPECTED

TO HAVE THIS TYPE OF CONFLICT

BETWEEN LEADERS IN GOVERNMENT.

WHAT'S IMPORTANT IS HOW DO THEY

END UP WORKING TOGETHER AT THE

END OF THE DAY?

ARE THEY GOING TO WORK TOGETHER?

ARE THEY GOING TO JUST BLAME

EACH OTHER FOR OUR

SUBCOMMITTEES?

>> THAT'S THE QUESTION.

SOME PEOPLE ARE SAYING, LOOK,

PARTICULARLY IN POINTING AT

CORONAVIRUS VACCINE AND HOW WE

DEALT WITH IT IN NEW YORK STATE,

THAT IT WOULD HAVE BEEN DEALT

WITH MUCH MORE EFFICIENTLY IF

THERE HADN'T BEEN THE FEUD

BETWEEN THE GOVERNOR AND THE

MAYOR.

SO THESE FEUDS MAYBE ARE HAVING

A NEGATIVE IMPACT ON NEW

YORKERS.

>> I THINK THAT THAT HAS BEEN

THE CASE IN A LOT OF DIFFERENT

CIRCUMSTANCES OVER THE LAST FIVE

YEARS WHEN IT COMES TO THE FEUD

BETWEEN THE GOVERNOR AND THE

MAYOR.

THE GOVERNOR IS A PERSON WHO IS

EXTREMELY CLEVER AT POLITICS,

VERY PRACTICAL A LOT OF THE TIME

AND IN MY EXPERIENCE, IN MY

DECADES PLUS COVERING HIM, THE

ONLY TIME I HAVE SEEN HIM BEHAVE

IN A WAY THAT IS IRRATIONAL

POLITICALLY IS WHEN IT COMES TO

SOMETHING INVOLVING MAYOR de

BLASIO, HIS UNWILLINGNESS TO

MOVE TO A FULL LOCKDOWN

INITIALLY DURING THE PANDEMIC

BECAUSE de BLASIO CALLED FOR IT

FIRST, WAITING SEVERAL MORE DAYS

TO ISSUE THE ORDER HIMSELF,

MULTIPLE DIFFERENT LIKE THAT

OVER THE PAST FOUR YEARS.

AND I DON'T THINK THAT CUOMO'S

RELATIONSHIP WITH SCHUMER IS THE

SAME SORT OF IRRATIONAL CONFLICT

THAT IT IS WITH de BLASIO FROM

MY PERSONAL OBSERVATION.

I THINK THEY HAVE A FUNCTIONAL

RELATIONSHIP.

I THINK THAT CUOMO RESPECTS

HUMOR IN A LOT OF DIFFERENT WAYS

AND THAT THERE IS A LOT OF

POLITICKING GOING ON HERE,

WHEREAS THE FEUD BETWEEN THE

GOVERNOR AND THE MAYOR IS A

DEEPLY FELT DISLIKE THAT

TRANSCENDS RATIONALITY IN WAYS

THAT HAS BEEN, I THINK,

FREQUENTLY HARMFUL TO NEW

YORKERS.

>> SPEAKING OF SENATOR SCHUMER,

HE HAS SCHEDULED FORMER

PRESIDENT TRUMP'S IMPEACHMENT

TRIAL FOR FEBRUARY 8th TO BEGIN

AT THAT DATE.

>> WHAT'S GOING TO HAPPEN?

IS THE SENATE GOING TO CONFLICT?

>> I LOVE THAT YOU'RE ASKING, SO

WHAT'S GOING TO HAPPEN?

TELL US.

>> YOU KNOW THAT I ALWAYS GO TO

YOU FOR THE HARD QUESTIONS.

>> LOOK, THE TRUTH IS THAT

HERE'S ONE THING THAT I LOVE

THAT IS NOT HAPPENING, IS THAT

EVERY TIME I'M GETTING MY NEWS

ALERTS FROM MY PHONE, MY HEART

IS NOT GOING INTO A STATE OF

PANIC WONDERING WHAT HUMAN BEING

WILL BE ABUSED BY THE

GOVERNMENT.

SO THAT IS NOT HAPPENING.

I HAVE LIVED THROUGH NOW, R

RAFAEL.

I HAVE BEEN AROUND FOR A WHILE.

SO THE ALMOST IMPEACHMENT OF

RICHARD NIXON, THE IMPEACHMENT

OF BILL CLINTON AND NOW THIS

EXPERIENCE HERE.

SO AS AN IMMIGRANT WHO CHOSE TO

BECOME AN AMERICAN CITIZEN, AND

THIS IS NOT -- YOU KNOW, IT'S

NOT A QUESTION OF, YOU KNOW, A

PERSONAL ISSUE WITH TRUMP OR

NOT, THERE WERE LAWS THAT WERE

BROKEN.

I DO BELIEVE THAT IT IS THE

RESPONSIBILITY OF PEOPLE WHO

WERE ELECTED TO SERVE, IF

THEY'RE READING THE

CONSTITUTION, THAT THEY HAVE TO

CONFLICT.

AND THIS IS ONE OF THOSE SEMINAL

MOMENTS IN THE COUNTRY.

SO I'M NOT -- I'M NOT WORRIED

ABOUT IT AS MUCH AS I WOULD HAVE

BEEN AT ANOTHER TIME, BUT AM I

CONCERNED THAT THEY WILL DO THE

WRONG THING AND NOT CONVICT?

ABSOLUTELY.

WHAT KIND OF A MESSAGE DOES THAT

SEND TO ALL OF US WHEN WE WATCH

WHAT HAPPENED ON JANUARY 6th,

INCITED BY THIS PRESIDENT?

YOU KNOW WHAT, POLITICS IS A

VERY CONNIVING KIND OF WORLD.

AND THERE MAY BE WHERE THEY

THINK, THIS IS OUR TIME TO CUT

AND RUN AND MAYBE NOT HAVE TO

LISTEN TO DONALD TRUMP ANYMORE.

>> YEAH.

I THINK SOME REPUBLICANS -- I

THINK ROMNEY ALREADY SAID HE'S

MORE IMPEACHMENT.

BUT, J.C., SOME CRITICS OF THE

PROCESS ARE SAYING, LOOK, LOOK,

HOLD ON.

YOU HAVE TO THINK AHEAD.

RICHARD NIXON LEFT OFFICE

BECAUSE OF THE THREAT THAT HE

WOULD BE IMPEACHED IF HE DIDN'T

AND THAT IF THE LEGISLATORS

IMPEACH THE NEXT PRESIDENT, BAD

EX-PRESIDENTS WILL HAVE LESS

MOTIVATION TO GET OUT OF TOWN.

WHAT DO YOU THINK OF THAT?

>> I THINK THE TERMS HAVE

CHANGED A GREAT DEAL.

I THINK THAT POLITICALLY WE HAVE

BECOME A LOT MORE PARTISAN TO

RICHARD NIXON.

I THINK THE ADVENT OF SOCIAL

MEDIA HAS MADE IT ALMOST

IMPOSSIBLE TO NOW HAVE

INSTANTANEOUS NEWS AND MILLIONS

OF PEOPLE REVIEW AND MAKE A

DECISION.

I THINK THAT IT IS IMPOSSIBLE

FOR THERE TO BE THE 17

REPUBLICAN VOTES TO CONVICT THE

PRESIDENT, FORMER PRESIDENT

TRUMP.

IT'S JUST NOT THERE.

I DON'T SEE HOW YOU'RE GOING TO

GET 17.

ANY REPUBLICAN U.S. SENATOR THAT

VOTES TO CONFLICT THE PRESIDENT

IS MARKED FOR DEATH IN A

PRIMARY.

JUST THE TWITTER ONSLAUGHT, THE

SOCIAL MEDIA ONSLAUGHT WILL BE

INCREDIBLE.

AND I THINK IT'S ABOUT DID HE DO

WRONG.

I THINK AT THE END OF THE DAY

THE SENATORS ARE THINKING TO

THEMSELVES, AM I NOT GOING TO

HAVE A JOB NEXT TIME?

AM I NO LONGER GOING TO BE A

SENATOR?

THAT'S REALLY THE MOTIVATING

FACTOR HERE.

IN ADDITION, THEY WILL ALSO

JUSTIFY NOT PAYING CLOSE

ATTENTION TO THE IMPEACHMENT

BECAUSE OF WHAT WE HEARD

EARLIER.

YOU HAVE MILLIONS OF AMERICANS

SUFFERING WITHOUT ANY PAY.

THEIR BUSINESSES ARE CLOSED.

PEOPLE ARE LOOKING FOR HOW TO

GET OUT OF THIS COVID CRISIS.

AND THEY MAY SEE THE TRIAL AS A

TOTAL WASTE OF TIME CONSIDERING

THE PRESIDENT IS NO LONGER IN

OFFICE.

THE IDEA THAT WHAT HAPPENED ON

JAN 6th IS AWFUL, SHOULD BE

CRIMINAL, ALL OF THAT WILL BE

MOOT TO A LOT OF SENATORS

BECAUSE HE'S NO LONGER IN

OFFICE.

WE HAVE BIGGER THINGS TO TAKE

CARE OF AND THE FACT THAT THE

PRIMARY MAY BE THE END OF THEIR

POLITICAL CAREER.

>> AND THAT'S WHERE LEADERSHIP

IS WHAT MAKES IT DIFFERENT,

RIGHT?

AND THAT'S WHAT THE TEST OF THIS

MOMENT IS FOR THIS DEMOCRACY,

BECAUSE, OKAY, THEN IT REALLY

JUST COMES DOWN TO OUR

SELF-INTEREST OR, OH, MY GOD,

FIVE PEOPLE DIED.

I MEAN, MANY, MANY MORE.

DON'T EVEN BEGIN TO TALK ABOUT

THE IMMIGRANTS IN DETENTION

FACILITIES, RIGHT?

BUT HOW -- AND GEORGE FLOYD,

BREONNA TAYLOR, OKAY.

BUT THAT IS THE KEY MOMENT.

OUR COUNTRY THEN BECOMES THAT,

IT IS TOTAL SELF-INTEREST.

IT IS LIKE, WE'RE NOT GOING TO

DO THIS.

OKAY, THE UNITED STATES IS

PREPARED TO LIVE WITH THE MOST

CLEAREST FORM OF WHITE

SUPREMACY.

WE ALL SAW IT.

IT'S THOSE PROTESTS, THOSE

RIOTERS HAD BEEN PROTESTERS FROM

THE BLACK LIVES MATTER MOVEMENT,

WHAT WOULD HAVE HAPPENED?

WE ALL KNOW.

THEREFORE, I HEAR WHAT YOU'RE

SAYING AND, YEAH, THAT'S TRUE,

VERY CALCULATING, BUT I CONTINUE

TO HOPE THAT THIS COUNTRY, I

DON'T KNOW, I DON'T GIVE UP

HOPE.

>> SO WE HAVE ABOUT A MIN UTE

LEFT.

PRESIDENT BIDEN SPOKE ABOUT

UNITY.

A LOT OF PEOPLE WHO VOTED FOR

HIM SLVOTED IN ORDER TO ACHIEVE

THE UNITY PEOPLE WERE MISSING.

LAURA, LET ME START WITH YOU.

AFTER THE IMPEACHMENT OR EVEN

BEFORE, ARE WE GOING TO GET THIS

UNITY?

ARE WE GOING TO SEE IT ANY TIME

SOON?

>> NOT WITHOUT HAVING A RATIONAL

RECKONING ON THE CIRCUMSTANCES

THAT PRODUCED DONALD TRUMP AND

ALLOWED HIM TO BE ELECTED IN THE

FIRST PLACE AND THAT ULTIMATELY

LED UP TO THE RIOT, WHICH I

THINK IS A FUNDAMENTAL

ATMOSPHERE OF PARANOIA, DISTRUST

IN THE GOVERNMENT, ECONOMIC

INEQUALITY AND AT THE VERY ROOT

OF THE AMERICAN EXPERIMENT IS

THIS RACISM, RACIAL INEQUALITY,

RACIAL INJUSTICE.

AND UNTIL EVERYONE ACCEPTS THE

BASIC FACTS OF WHAT AMERICA'S

HISTORY HAS BEEN, I DON'T THINK

WE'RE GOING TO GET UNIFIED.

>> I THINK WE'RE GOING TO HAVE

UNITY WITH ABOUT 56% OF THE

COUNTRY, TRUTHFULLY.

I THINK 56% OF US ARE GOING TO

LOOK AT WHAT LAURA JUST

MENTIONED AND SAY, WE HAVE MORE

THAN UNITES US THAN DIVIDES US.

LET'S SEE WHAT GOT US HERE AND

WORK TOGETHER FOR A BETTER

FUTURE.

BUT I DON'T SEE THAT NUMBER

INCREASING OVER THAT.

>> MARIA?

>> I'M WORRIED RIGHT NOW THAT

AFTER WHAT WE HAVE ALL BEEN

THROUGH, I THINK IT'S JUST -- I

HATE TO SAY THIS BECAUSE I'M ALL

ABOUT UNITY.

BUT THERE HAS TO BE

ACCOUNTABILITY.

THERE HAS TO BE HONESTY.

THERE HAS TO BE ACCEPTANCE OF

WHAT EVERYTHING DID TO LEAD UP

TO THIS MOMENT.

AND THEN I THINK WE CAN BEGIN TO

TALK ABOUT UNITY.

BUT WE NEED SOME TIME.

WE NEED SOME TIME TO PIECE THIS

HORROR THAT WE HAVE ALL LIVED

THROUGH IN OUR MINDS AND BEGIN

TO THINK ABOUT POTENTIALLY

HAVING THAT CONVERSATION OF

UNITY.

>> ALL RIGHT.

I GUESS WE'RE GOING TO END WITH

THAT VNOTE.

THANK YOU ALL SO MUCH FOR

JOINING US TODAY.

I HOPE THAT YOU DIDN'T MIND THAT

JENNA WASN'T HERE AND THAT I

WAS.

>> THANK YOU.

>> THANK YOU.

>> THANK YOU, RAFAEL.

>> OKAY.

BYE-BYE.

>> "METROFOCUS" IS MADE POSSIBLE

BY --

SUE AND EDGAR WACHENHEIM III,

SYLVIA A. AND SIMON B. POYTA

PROGRAMING ENDOWMENT TO FIGHT

ANTI-SEMITISM.

THE PETER G. PETERSON AND JOAN

KUNI FUND.

BERNARD AND DENISE SCHWARTZ,

BARBARA HOPE ZUCKERBERG, JANET

PRINDLE SEIDLER, JODY AND JOHN

ARNHOLD, CHERYL AND PHILIP

MILSTEIN FAMILY, JUDY AND JOSH

WESTON, DR. ROBERT C. AND TINA

SOHN FOUNDATION.