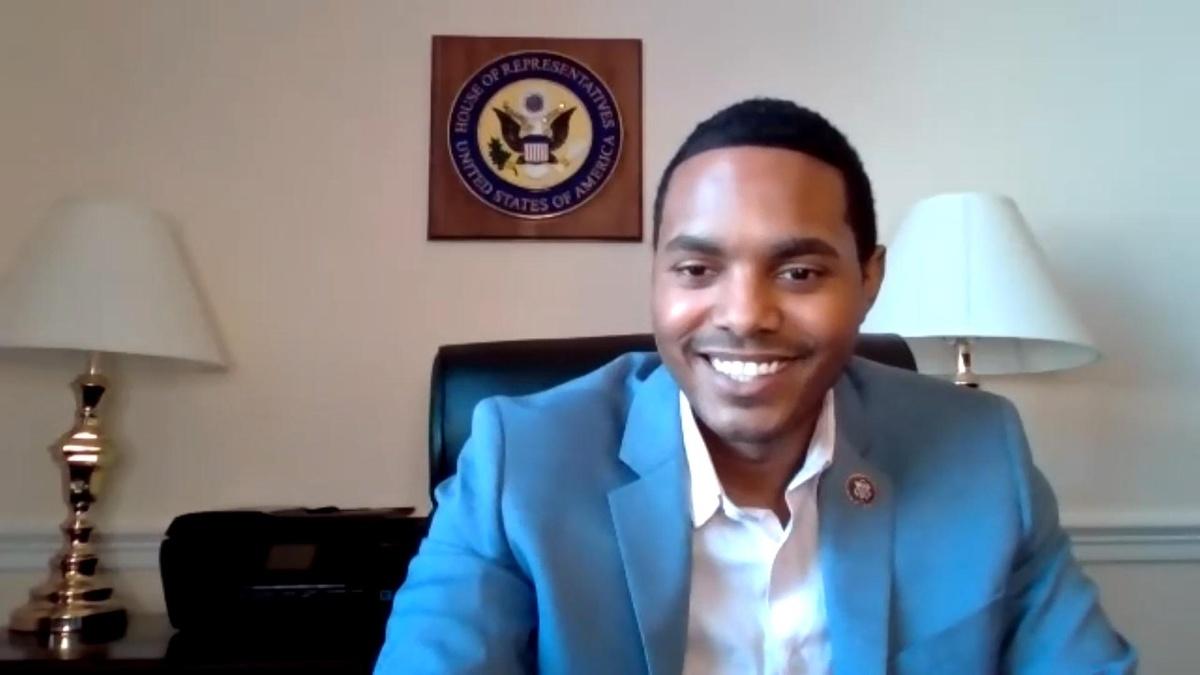 FULL EPISODE
METROFOCUS: January 21, 2021
New York Congressman Ritchie Torres is a man on a mission across the nation. Tonight- what he's thinking after the historic inauguration and impeaching President Donald Trump for inciting the Capitol Hill riot. Also, In her book "Leadership In Turbulent Times," famed historian Doris Kearns Goodwin explores our history to make sense of today's national narrative.
TRANSCRIPT

>>> THIS IS "METROFOCUS" WITH

RAFAEL PI ROMAN, JACK FORD, AND

JENNA FLANAGAN.

>> "METROFOCUS" IS MADE POSSIBLE

BY --

SUE AND EDGAR WACHENHEIM III,

SYLVIA A. AND SIMON B. POYTA

PROGRAMING ENDOWMENT TO FIGHT

ANTI-SEMITISM.

BERNARD AND DENISE SCHWARTZ,

BARBARA HOPE ZUCKERBERG,

JANET PRINDLE SEIDLER,

JODY AND JOHN ARNHOLD,

CHERYL AND PHILIP MILSTEIN

JUDY AND JOSH WESTON,

DR. ROBERT C. AND TINA SOHN

FOUNDATION.

>>> GOOD EVENING, AND WELCOME TO

"METROFOCUS."

I'M JENNA FLANAGAN.

IN JUST HIS FIRST MONTH IN

CONGRESS, BRONX REPRESENTATIVE

RICHIE TORRES AND HIS FRESHMAN

COLLEAGUES HAVE SURVIVED AN

ATTACK ON THE CAPITOL IMPEACHED

A PRESIDENT AND WATCHED ANOTHER

ONE TAKE THE OATH OF OFFICE.

IT'S BEEN AN EXTRAORDINARY AND

SOMETIMES TERRIFYING START TO A

CAREER IN CONGRESS BUT TORRES

WOULD LIKELY BE THE FIRST TO

TELL YOU, IT'S JUST THAT, A

START.

AFTER SPENDING THE BETTER PART

OF THE LAST DECADE SERVING THE

BRONX ON THE CITY COUNCIL, THE

DEMOCRAT NOW REPRESENTS THE

BOROUGH'S 15th CONGRESSIONAL

DISTRICT.

HE'S ARRIVED IN CONGRESS WITH

PLANS TO CONTINUE HIS FIGHT TO

ADDRESS THE STATE OF PUBLIC

HOUSING.

AND HE'S ONCE AGAIN BREAKING

BARRIERS AS THE FIRST OPENLY DAY

AFR-LATINO MEMBER OF CONGRESS.

BUT WHAT EXACTLY ARE HIS GOALS

FOR HIS FIRST TERM IN CONGRESS?

WHAT DOES HE THINK A BIDEN WHITE

HOUSE WILL MEAN FOR THE

TRI-STATE?

AND WHY IS HE ENDORSING FORMER

PRESIDENTIAL CANDIDATE ANDREW

YANG TO BE THE NEXT MAYOR OF NEW

YORK?

I RECENTLY GOT THE CHANCE TO ASK

HIM.

TAKE A LOOK.

CONGRESSMAN TORRES, WELCOME BACK

TO "METROFOCUS."

WE ARE ALWAYS GLAD TO SEE YOU.

>> IT'S AN HONOR TO BE WITH YOU.

>> THANK YOU FOR JOINING US.

AND, OF COURSE, WE ALSO WANT TO

SAY WE'RE THANKFUL TO SEE THAT

YOU'RE OKAY AFTER EVERYTHING, OF

COURSE, THAT HAPPENED WITH THE

SIEGE ON THE CAPITOL.

BUT FIRST OFF, I JUST WANT TO

GET YOUR TAKE.

YOU'RE ONE OF THE FEW PEOPLE WHO

GOT A CHANCE TO ATTEND THE

INAUGURATION AND ACTUALLY SEE IT

AND I'M WONDERING WHAT WAS YOUR

EXPERIENCE?

WHAT WAS YOUR TAKEAWAY FROM

HAVING BEEN THERE AFTER

EVERYTHING THAT YOU ALREADY HAD

BEEN THROUGH IN YOUR FIRST FEW

DAYS IN WASHINGTON?

>> WELL, I HAD WHAT I CALLED THE

WILDEST WEDNESDAY.

ON JANUARY 6th, I SAW AN

INSURRECTION AGAINST THE U.S.

CAPITOL.

ON JANUARY 13th, I SAW -- I

VOTED TO IMPEACH DONALD TRUMP.

HE WAS THE FIRST PRESIDENT TO BE

IMPEACHED NOT ONCE BUT TWICE.

AND ON JANUARY 20th, I SAW THE

INAUGURATION OF JOE BIDEN AND

KAMALA HARRIS.

SO I'M ALMOST AFRAID TO ASK WHAT

WILL NEXT WEDNESDAY BRING, BUT

IT'S BEEN THE MOST EVENTFUL

THREE WEEKS OF MY LIFE.

AND IT WAS DEEPLY MOVING TO BE

PART OF THE INAUGURATION OF THE

KAMALA HARRIS, THE FIRST WOMAN,

FIRST AFRICAN-AMERICAN, FIRST

ASIAN AMERICAN IN THE

PRESIDENCY, BEING SWORN IN BY

JUSTICE SONJA IA SOTOMAYOR, THE

FIRST LATINA ON THE SUPREME

COURT, TELLS A POWERFUL STORY

ABOUT HOW FAR WE'VE COME AS A

NATION.

IT CAPTURES THE IDEA OF AMERICA

AS A MULTIRACIAL, MULTI ETHNIC,

INCLUSIVE DEMOCRACY AND IT

SERVES AS A POWERFUL REMINDER

THAT THE FUTURE OF OUR COUNTRY

DOES NOT BELONG TO DONALD TRUMP

AND THE EXTREMISM THAT HE HAS

UNLEASHED, IT BELONGS TO

MULTIRACIAL, MULTIETHNIC

DEMOCRACIES.

>> WELL, BEFORE WE GO BACK AND ,

WHICH WILL COME UP AGAIN WITH

THE SENATE TRIAL, BUT MORE

IMPORTANTLY, I WANT TO TALK TO

YOU ABOUT THE LEGISLATIVE

AGENDA.

NOW, PRESIDENT BIDEN IS STARTING

OFF WITH A LOT OF EXPECTATIONS

FROM A LOT OF PEOPLE.

AND I'M JUST TALKING ABOUT THE

LEFT, NOT NECESSARILY WHAT ALL

OF THE COUNTRY IS EXPECTING OR

HOPING AND WANTING HIM TO DO.

BUT YOU'VE ALWAYS BEEN AN

ADVOCATE FOR PUBLIC HOUSING, AND

I'M WONDERING, I KNOW IT'S ONLY

BEEN A FEW DAYS, BUT DO YOU HAVE

ANY IDEA OR INCLINATION ABOUT

HOW YOU'RE GOING TO BE ABLE TO

IMPLEMENT SOME ACTUAL TANGIBLE

CHANGES THAT PEOPLE WHO ARE IN

PUBLIC HOUSING CAN FEEL?

>> LOOK, TO SPEAK BROADLY, YOU

KNOW, I'M CONFIDENT THAT A

DEMOCRATIC PRESIDENT AND A

DEMOCRATIC HOUSE AND A

DEMOCRATIC SENATE MEANS THAT WE

HAVE THE MAKING OF AN FDR, WE

HAVE AN HISTORIC OPPORTUNITY TO

GOVERN AS BOLD IN THE 2 1st

CENTURY AS FDR DID IN THE 20th

CENTURY.

IN THE DEMOCRATIC PARTY, THERE'S

A WIDESPREAD RECOGNITION THAT

HOUSING IS INFRASTRUCTURE AND

PUBLIC HOUSING IS

INFRASTRUCTURE, AND SO I FEEL

LIKE WE HAVE AS STRONG OF AN

OPPORTUNITY AS WE EVER HAD TO

SECURE BILLIONS OF DOLLARS IN

FUNDING FOR PUBLIC HOUSING.

AS YOU KNOW, PUBLIC HOUSING IS

IN A STATE OF EMERGENCY.

IT'S BEEN SO SAVAGELY STARVED

WITH FUNDING AT THE HANDS OF THE

FEDERAL GOVERNMENT THAT IT HAS

THE CAPITAL NEED OF $40 BILLION

AND COUNTING.

THERE ARE TENANTS WHO ARE LIVING

IN MOLDY AND LEAKY CONDITIONS,

TENANTS WITH NO CONSISTENT HEAT

AND HOT WATER IN THE WINTER,

CHILDREN POISONED BY LEAD AND

THE EFFECTS OF LED POISONING

HAUNTS YOU FOR THE REST OF YOUR

LIFE.

SO THERE'S A HUMANITARIAN CRISIS

IN PUBLIC HOUSING THAT REQUIRES

BILLIONS OF DOLLARS, TENS OF

BILLIONS OF DOLLARS IN

REINVESTMENT IN PUBLIC HOUSING.

FOR ME, PUBLIC HOUSING LIES AT

THE INTERSECTION OF AFFORDABLE

HOUSING AND CLIMATE CHANGE.

LIKE WE SHOULD NOT SIMPLY

REBUILD PUBLIC HOUSING IN THE

SAME FORM, WE SHOULD REINVENT

PUBLIC HOUSING AS THE GREENEST

CITY IN AMERICA.

IMAGINE NYCHA WITH ENERGY

RETROFIT AND ROOFTOP SOLAR

PANELS AND ROOP FTOP HEATING

SYSTEMS?

NYCHA CAN BECOME A LABORATORY

FOR THE GREEN REVOLUTION IN

AMERICA.

>> OKAY.

WELL, ONE OF THE OTHER THINGS

YOU DID MENTION WAS THAT AMERICA

HAS A CHANCE FOR AN FDR MOMENT,

BECAUSE, OF COURSE, THE

DEMOCRATS NOW HAVE THE HOUSE AND

THE SENATE.

BUT AT THE SAME TIME THE SENATE

IS A THIN MARGIN.

I MEAN, IF YOU, AGAIN, WE

UNDERSTAND THAT MADAM VICE

PRESIDENT HARRIS WILL BE THE

DECIDING VOTE, BUT OTHERWISE

IT'S A 50/50 SPLIT AND THERE'S

STILL A FILIBUSTER THAT HAS TO

BE DEALT WITH, ET CETERA.

SO ARE YOU AT ALL CONCERNED THAT

THAT MIGHT GUM UP THE WORKS, I

GUESS, FOR LACK OF A BETTER

DESCRIPTION?

>> LOOK, I'M CAUTIOUSLY

OPTIMISTIC.

THE STRUCTURE OF AMERICAN

GOVERNMENT IS OFTEN CONDUCIVE TO

PARALYSIS AND GRIDLOCK.

HAVING SAID THAT, FOR ME THE

GREATEST OBSTRUCTION ON THE PATH

TO PROGRESS IS MITCH McCONNELL,

WHO HAS BEEN DETHRONED AS

MAJORITY LEADER.

WITH CHUCK SCHUMER AS MAJORITY

LEADER, WE'RE GOING TO PASS

LEGISLATION THAT OTHERWISE WOULD

LANGUISH IN THE SENATE.

THE SENATE IS NO LONGER GOING TO

BE A GRAVEYARD FOR EVERY

PROGRESSIVE PIECE OF LEGISLATION

THAT THE HOUSE PASSES.

LIKE THERE WERE BILLS, THERE

WERE ISSUES ON WHICH THERE WAS A

BICAM EARL, BIPARTISAN VOTE.

AND THAT IS NO LONGER THE CASE

BECAUSE HE'S NO LONGER THE

MAJORITY.

AND THERE WERE SOME SESSIONS

WHERE UNDER SOME CIRCUMSTANCES

IT ALLOWS YOU TO SIR VUM VENT

THE FILIBUSTER.

THE FILIBUSTER IS GOING TO BE A

CHALLENGE.

I'M IN FAVOR OF ABOLISHING IT.

BUT EVEN WITH THE FILIBUSTER I'M

IN FAVOR FOR EFFECTUATING CHANGE

FOR THE AMERICAN PEOPLE.

EVEN IN THE LAST YEAR, WE

ENACTED THE TWO LARGEST STIMULUS

PACKAGES IN AMERICAN HISTORY.

IMAGINE WHAT WE CAN DO WITHOUT

THE OBSTRUCTIONISM OF MITCH

McCONNELL?

>> CAN I THINK THAT'S A LOT FOR

A LOT OF AMERICANS TO IMAGINE.

BUT SPEAKING OF GRIDLOCK IN

GOVERNMENT, YOU AS A FORMER CITY

COUNCIL MEMBER KNOWS POLITICS

THAT AFFECTS MOST PEOPLE'S LIVES

ARE GOING TO BE LOCAL POLITICS.

OF COURSE, WE'VE SEEN MAYOR de

BLASIO AND GOVERNOR CUOMO, LET'S

CALL IT JUST DISAGREE OVER THE

YEARS, OVER THE YEARS, OVER THE

YEARS.

WE HAVE ANOTHER MAYORAL RACE

UPON US AND FIRST OFF, WHAT I

WANT TO GET YOUR TAKE ON IS WHAT

DIFFERENCE A BIDEN

ADMINISTRATION MIGHT MAKE FOR

THE METROPOLITAN AREA BEFORE WE

EVEN GET TO THE MAYORAL RACE?

>> NEW YORK CITY HAS BEEN HIT

THE HARDEST BY COVID-19.

IT'S BEEN A CATASTROPHE FOR NEW

YORK CITY GOVERNMENT, FOR THE

BUSINESSES, AND FAMILIES OF NEW

YORK CITY.

NEVER IN THE HISTORY OF OUR

COUNTRY HAS NEW YORK CITY

GOVERNMENT AND NEW YORK STATE

GOVERNMENT AND THE MTA, PUBLIC

TRANSIT SYSTEM, ALL BEEN MFOUR

BEEN IN A FISCAL CRISIS AT THE

SAME TIME.

SO ONLY THE FEDERAL GOVERNMENT

CAN PROVIDE A DEFICIT AND ONLY

THE FEDERAL GOVERNMENT IS IN A

POSITION TO SHORE UP OUR LOCAL

AND STATE GOVERNMENTS, WHICH AS

YOU SAID ARE AT THE FOREFRONT,

THE FRONTLINES OF IMPLEMENTING

PUBLIC SERVICES.

SO OUR HIGHEST PRIORITY SHOULD

BE TO STABILIZE LOCAL AND STATE

GOVERNMENT WITH EMERGENCY

FUNDING.

THERE'S NO QUESTION ABOUT IT.

>> WHY DID YOU CHOOSE TO ENDORSE

FORMER PRESIDENTIAL CANDIDATE

MAYOR YANG FOR MAYOR OF NEW

YORK?

>> SO I HAVE TO TREAD CAREFULLY,

I'M SPEAKING TO YOU IN MY

OFFICIAL CAPACITY, SO I WANT TO

BE CAREFUL NOT TO COMMENT ON

POLITICS, BUT HERE'S WHAT I WILL

SAY, I WILL COMMENT ANDREW AS A

PERSON.

ANDREW HAS BEEN THE SINGLE VOICE

IN AMERICAN POLITICS FOR A

UNIVERSAL BASIC INCOME.

AND FOR ME HIS VISION OF UBI IS

ESPECIALLY POWERFUL IN A WORLD

OF DEPRESSION-LEVEL.

IN THE TSUNAMI BRONX WE'VE SEEN

A CABBAGE LOSS OF INCOME AND IN

THE WEST IT'SES AS HIGH AS 25%.

UBI WOULD BE A GAME-CHANGER FOR

THE FAMILIES IN MY DISTRICT.

ALL POLITICS IS LOCAL, AND I ASK

MYSELF WHAT IS BEST FOR THE

PEOPLE I REPRESENT?

AND HE CHAMPIONS POLITICS THAT

WILL LIFT PEOPLE OUT OF POVERTY.

I DON'T WANT TO COMMENT ON

POLITICS BUT I WILL COMMENT ON

HIS RECORD OF FIGHTING FOR THE

THINGS THAT MATTER.

>> THEN WITHOUT NECESSARILY

COMMENTING ON POLITICS, I DO

WANT TO ASK JUST IN TERMS OF

POLITICKING, DO YOU THINK THAT

CAMPAIGNING IN PERSON DURING A

PANDEMIC IS THE RIGHT WAY TO GO

ABOUT IT OR SHOULD CAMPAIGNING

EVERYTHING BE IN THIS SORT OF

ONLINE EXISTENCE THAT YOU AND I

ARE TALKING IN RIGHT NOW?

>> ZH AS LONG AS YOU'RE

FOLLOWING THE PROPER

PRECAUTIONS, AS LONG AS YOU'RE

WEARING A MASK AND MAINTAINING

SOCIAL DISTANCING, THEN THE RISK

OF TRANSMISSION IS MINIMAL.

SO AS LONG AS YOU'RE FOLLOWING

TO PUBLIC HEALTH GUIDELINES, YOU

CAN SAFELY CAMPAIGN OUTDOORS.

AND KEEP IN MIND TRANSMISSION

INDOORS IS MUCH -- PRESENTS A

MUCH GREATER RISK, MUCH MORE

COMMON THAN TRANSMISSION

OUTDOORS.

YOU REMEMBER FROM THE BLM

RALLIES FOLLOWING THE MURDER OF

GEORGE FLOYD, THERE WERE MASSES

OF PEOPLE ON THE STREET, AND

THERE WERE ALMOST NO CASES OF

COVID TRANSMISSION BECAUSE WE'VE

COME TO DISCOVER THAT

TRANSMISSION IN CLOSE

INTERACTIONS AND CRAMPED SPACES

IS MUCH MORE COMMON THAN

TRANSMISSION OUTDOORS WHEN

THERE'S SOCIAL DISTANCING AND

MASK ORDERS.

>> WELL, TURNING FROM THE

POLITICS OF THE MAYORAL RACE AND

JUST TURNING TO YOUR STORY

SPECIFICALLY, WHAT HAS THIS

TRANSITION BEEN LIKE GOING FROM

THE CITY COUNCIL TO CONGRESS?

I MEAN, IS THERE A SENSE OF --

ARE THERE THINGS THAT ARE

FAMILIAR?

IS IT ALL COMPLETELY DIFFERENT?

WHAT IS YOUR EXPERIENCE BEEN

LIKE?

>> YOU'RE OPERATING ON A MUCH

LARGER STAGE.

YOU'RE NOT PAW PART OF A LEGISLE

THAT WAS ONCE HOME TO ABRAHAM

LINCOLN.

MY OFFICE WAS THE SAME OFFICE AS

JOHN F. KENNEDY DURING HIS TIME

IN THE HOUSE OF REPRESENTATIVES.

MY FIRST SPEECH ON THE FLOOR OF

THE HOUSE CONCERNED IMPEACHMENT.

SO WHEN YOU'RE A MEMBER OF

CONGRESS, YOU FEEL THE WEIGHT OF

HISTORY ON YOUR SHOULDERS.

THERE HAVE BEEN ABOUT 130 LATINO

MEMBERS IN CONGRESS, ABOUT 160

BLACK MEMBERS IN CONGRESS, AND

NONE OF THEM WERE LGBTQ.

SO I BLAZED A NEW TRAIL FOR A

SEGMENT OF THE AMERICAN

POPULATION THAT MIGHT HAVE FELT

ALIENATED FROM OUR GOVERNMENT.

AND IT'S IMPORTANT FOR PEOPLE TO

SEE THEMSELVES IN THEIR ELECTED

LEADERSHIP, TO FEEL INSPIRED, TO

BE POLITICALLY ENGAGED AND MAYBE

RUN FOR OFFICE ONE DAY

THEMSELVES.

THE SO I FEEL THE WEIGHT OF

HISTORY ON MY SHOULDERS.

IT'S AWE-INSPIRING AND

EMOTIONALLY OVERWHELMING.

AND I WILL TELL YOU, MY MOTHER

HAS NEVER BEEN MORE EXCITED

ABOUT WATCHING C-SPAN.

>> ALL RIGHT.

WELL, CONGRESSMAN RICTCHIE

TORRES, THANK YOU VERY MUCH FOR

JOINING US AGAIN.

WE LOOK FORWARD TO CONTINUING

CONVERSATIONS AND FOLLOWING YOUR

WORK ON ADVOCACY AND BILLS YOU,

OF COURSE, WILL BE PRESENTING TO

CONGRESS AND CHECK BACK IN

PERHAPS WITH YOU ON THE MAYORAL

RACE FOR NEW YORK CITY.

THANK YOU VERY MUCH FOR JOINING

US.

>> ALWAYS A PLEASURE.

TAKE CARE.

>> IT ALL RIGHT.

>> SO WHAT MAKES A LEADER?

AND ARE LEADERS BORN OR MADE?

PULITZER PRIZE AUTHOR AND

HISTORIAN DORIS KEARNS GOODMAN

HAS SPENT THE PAST DECADE

WRITING BIOGRAPHIES OF AMERICAN

LEADERS AND HER LATEST BOOK HE

TITLED "LEADERSHIP IN PUSH LEAPT

TIMES 00 IS "SHE DRAWS UPON FOUR

PAST PRESIDENTS AND EXAMINES

WHAT MADE EACH THE RIGHT LEADER

FOR HIS TIME.

AND WHAT TODAY'S ASPIRING AND

ESTABLISHED LEADERS CAN LEARN

FROM THEM.

AND WE'RE DELIGHTED TO WELCOME A

GOOD FRIEND FROM A LONG TIME

GOOD, DORIS KEARNS GOODMAN HERE

TO "METROFOCUS."

>> THANK YOU, I'M SO GLAD TO BE

WITH YOU.

>> THEY'RE SO DIFFERENT THESE

FOUR CHARACTERS BUT WHEN YOU

LOOK AT THEM AGAIN THROUGH THE

LENS OF LEADERSHIP DID YOU FIND

SIMILARITIES THAT MAYBE HAD NOT

BEEN REVEALED TO YOU BEFORE?

>> I THINK IT'S TRUE, THEY CAME

FROM ENTIRELY DIFFERENT

BACKGROUND.

TWO OF THEM VERY PRIVILEGED,

LINCOLN AND LBJ MUCH MORE

DIFFICULT, POVERTY, CONCERN

ABOUT ECONOMICS.

THEY HAD DIFFERENT TEMPERAMENTS.

THEY'RE AT DIFFERENT TIMES.

AND I THINK IT'S TRUE SOMETIMES

THE TEMPERAMENT FITS THE TIME.

BUT THERE WAS A FAMILY

RESEMBLANCE I COULD SEE WHEN I

LOOKED AT THEM ALL TOGETHER,

HUMILITY.

YOU WOULDN'T THINK LBJ HUMILITY

AT FIRST THE BUT NOT HUMBLENESS,

IT'S THE ABILITY TO KNOWLEDGE

ERRORS AND LEARN FROM YOUR

MISTAKES.

>> WHAT DO YOU MEAN ABOUT

HUMILITY REFERS TO HUMBLENESS?

THE FOUR, MAYBE LINCOLN BUT THE

FIRST THREE IS NOT THE WORD THAT

POPS INTO MIND.

>> IT DOESN'T MEAN YOU HAVE A

LOW ESTIMATE OR WEAK OR HUMBLE,

IT JUST MEANS YOU ACCEPT HUMANS

HAVE LIMITATIONS AND LEARN FROM

FROM YOURSELF AS WHEN YOU MAKE

MISTAKES.

TEDDY ROOSEVELT, NOBODY THOUGHT

OF HIM AS HUMBLE.

THEY SAID HE LOVED TO BE THE

CENTER OF ATTENTION SO MUCH HE

WANTED TO BE THE BABY AT THE

BAPTISM, THE BRONX WEDDING.

AND WHEN HE GETS TO THE

LEGISLATURE, HE REALIZES HE HAS

A SWELLED HEAD.

HE'S SO GLAD TO BE THERE.

HE'S POUNDING HIS FISTS, HE

MAKES HEADLINES, HE BECKS FAMOUS

AND ALL OF A SUDDEN HE CAN'T GET

ANYTHING DONE.

HE SAID, HE REALIZED I HAD TO

CHANGE MY WAY.

I WAS NOT ALLOWING MYSELF TO GET

ANY COMPROMISE OR COLLABORATION.

SO THAT'S THE ABILITY TO LEARN

AND GROW IN OFFICE.

THAT'S WHAT I MEAN BY HUMILITY.

>> WE OFTEN HEAR FOLKS TALKING

ABOUT OUR TIMES NOW AS BEING

SUCH PUSHTURBULENT TIMES.

YET YOU ALMOST FORGET WHEN YOU

LOOK AT THESE FOUR FIGURES, TALK

ABOUT THE TURBULENCE THAT

SURROUNDED THEM AND THEIR

ASCENSION TO THE OFFICES AND

WHAT THEY HAD TO DEAL WITH,

ESPECIALLY WHEN THEY FIRST

WALKED IN.

>> THINK ABOUT LINCOLN COMING

INTO OFFICE.

HE LATER SAID IF HE HAD KNOWN

THE TURMOIL HE WOULD FACE, THE

SOUTH WAS ALREADY SECEDING

BEFORE HE EVEN GOT THERE, WAR

WAS BEGINNING TO RAMP UP,

600,000 PEOPLE WOULD SOON DIE,

HE SAID HE COULDN'T HAVE THOUGHT

HE COULD HAVE LIVED THROUGH IT.

OR TEDDY ROOSEVELT TOO, COMING

IN AFTER THE ASSASSINATION OF

McKINLEY.

THERE'S A REAL MOOD OF REBEL

ANTICIPATE IN THE COUNTRY

BECAUSE OF THE INDUSTRIAL

REVOLUTION AND THERE'S A GAP

BETWEEN THE RICH AND POOR AND

THE WORKING CLASS ARE FEELING

LIKE THEY'RE NOT GETTING A FAIR

SHAKE, AND THEY'RE NOT.

AND HE COMES IN AND HAS TO DEAL

WITH ALL OF THAT TENSION.

THERE'S BOMBS IN THE STREETS,

THERE'S A NATIONWIDE STRIKE

GOING ON.

AND, OF COURSE, FDR COMING IN AT

THE HEIGHT OF THE DEPRESSION.

WHEN HE SAID HE WAS AFRAID THE

WHOLE HOUSE OF CARDS MIGHT

COLLAPSE BEFORE HE EVEN TOOK THE

ONLY OF OFFICE, AND LBJ'S GOT

THE ASSASSINATION IN FRONT OF

HIM AND THE COUNTRY IS OBSESSED

WITH LOOKING AT THE KILLING OF

JFK AND THEN THE KILLING OF

OSWALD, AND THE FEELING THAT

HE'S NOT WORTHY OF BEING THE

SUCCESSOR.

AND THE CIVIL RIGHTS MOVEMENT

HAS HEATED UP AND THE BILL IS

STUCK IN THE SENATE.

EACH OF THOSE ARE REALLY PUSH

LEAPT TIURBULENT TIME BUT IT'S

IMPORTANT FOR US TO REMEMBER

THAT.

AND THE CITIZENS WERE ACTIVE,

WHICH MAKES A BIG DIFFERENCE.

>> THERE ARE SO MANY STORIES

HERE AND SO MANY WAYS THAT MAKE

YOU FEEL YOU'RE CONNECTED IN

SOME WAY.

I WAS FASCINATED WHEN YOU TALKED

ABOUT THE WAY EACH OF THEIR

HEROES WERE.

TELL ME ABOUT THAT.

>> IT CAME AT THE END, I

SUDDENLY REALIZED THERE'S A

FAMILY TREE THAT COVERS THE

WHOLE HISTORY OF OUR COUNTRY

BECAUSE LBJ'S HERO WAS FDR.

HE CALLED HIM HIS POLITICAL

DADDY.

HE MET HIM WHEN HE WAS RUNNING

FOR CONGRESS AND HE WAS IN THE

NYA, NATIONAL YOUTH

ADMINISTRATION.

AND ELEANOR ROOSEVELT HAD COME

AND SAID IT WAS THE BEST PROGRAM

IN THE COUNTRY.

THAT WAS HIS HERO AND HE MODELS

HIS EARLY LIFE AS A WHOLE YOUNG

YOU IN DEALER ON FDR.

FDR'S HERO WAS TEDDY ROOSEVELT.

IN FACT HE WAS HOPING HE WOULD

HAVE THE SAME TRAJECTORY AS

TEDDY WHEN HE WAS A YOUNG LAW

CLERK AT 28 AND THEY'RE ALL

TALKING ABOUT WHAT'S GOING TO

HAPPEN TO US.

HE SAID, I KNOW WHAT I WOULD

LIKE, I LIKE THE STATE

LEGISLATURE AND THEN GO

EVENTUALLY TO THE HE ASSISTANT

SECRETARY OF THE NAVY AND THEN I

WOULD LOVE TO BECOME GOVERNOR.

WHO KNOWS, THEN MAYBE THE

PRESIDENCY.

POLIO CUT THAT IN A DIFFERENT

WAY, WHICH HE DIDN'T KNOW AT THE

TIME.

BUT ANYWAY, TEDDY ROOSEVELT'S

HERO IS ABRAHAM LINCOLN.

IN 19 IT 2 WHEN HE WAS FACING

THIS HUGE COAL STRAIGHT, HE READ

ALL NINE VOLUMES OF "NICKEL IN

THE HAY."

HE CAME OUT AND SAID HE GOT

THROUGH THIS, THERE'S A RIGHT

AND LEFT AND I AM IN THE MIDDLE

AND CAN DO THE SAME THING.

HE LEARNED FROM HIM OVER AND

OVER AGAIN.

AND HIS HERO WAS ABRAHAM

LINCOLN'S HERO WAS GEORGE

WASHINGTON.

SO IT'S AMAZING TO JUST THINK

YOU GO FROM LBJ TO FDR, FROM FDR

TO TEDDY ROOZ VILT TO ABRAHAM

LINCOLN INTO GEORGE WASHINGTON.

IT'S THE HISTORY OF OUR COUNTRY.

>> THE THREAD RUNNING THROUGH

THE FABRIC OF ALL OF THEIR

LIVES.

WHEN YOU LOOK AT THE FOUR OF

THEM, THEY'RE SUCH DIFFERENT

MEN.

LOOK AT THE ROOSEVELTS, SAME

EXTENDED FAMILY, SAME LIVES OF

PRIVILEGE BUT STILL SO TERRIBLY

DIFFERENT.

DID YOU FIND A SINGLE SORT OF

CONSISTENT STRAND OR TRAIT, A

LEADERSHIP TRAIT, THAT

IDENTIFIED EACH OF THEM?

>> I THINK I'D WHICH TO CHOOSE

THE MOST IMPORTANT ONE IS

EMPATHY.

IT'S EITHER BORN IN YOU, WHICH

IT WAS FOR I THINK LINCOLN, OR

MAYBE LBJ, WHICH MEANS YOU

UNDERSTAND OTHER PEOPLE'S POINTS

OF VIEW, YOU CAN HAVE A FEELING

ABOUT OTHER PEOPLE'S WAYS OF

LIFE.

I MEAN, LINCOLN FELT THAT AS A

YOUNG KID.

WOE WATCH HIS FRIENDS PUTTING

HOT COALS ON TURTLES AND KNOWING

IT WAS PRODUCING PAIN AND HE

WOULD GO AFTER THEM FOR DOING

THAT.

AND LBJ TOO, WHEN HE WAS A YOUNG

PERSON, AND HE TAUGHT AT THE

SCHOOL AND HE SAW THE PAIN OF

PREJUDICE ON THESE KIDS' FACES

AND HE FELT IT EMOTIONALLY.

HE DID EVERYTHING HE COULD TO

MAKE THEIR LIVES BETTER THAT

YEAR HE WAS TEACHING.

WHERE AS FOR BOTH ROOSEVELTS,

THEY HAD TO DEVELOP EMPATHY.

THEY LED SUCH A PRIVILEGED

BACKGROUND FOR OTHER PEOPLE

THROUGH POLITICS.

THAT'S WHEN POLITICS CAN BE THE

MOST BROAD ANTICENING THING.

FOR TEDDY, HE SAID WHEN I WENT

INTO POLITICS THE FIRST TIME, IT

WASN'T TO MAKE PEOPLE'S LIFE

BETTER.

THE I LIKED THE TENETS OF IT.

BUT THEN HE SAW FACTORIES AND

CHILDREN WORKING AND SAID I WANT

TO CHANGE THEIR LIVES.

FOR FDR POLIO PRODUCED EVEN MUCH

DEEPER EMPATHY THAN SOME OF THE

NATURAL EMPATHY HE MUST HAVE

HAD.

HE SAW FATE HAVE AN UNKIND HAND.

I THINK IF THAT'S A QUALITY

MISSING IN A LEADER, HOW DO YOU

GET TO OTHER PARTS OF THE CUP

THE WHERE PEOPLE FEEL

DIFFERENTLY THAN YOU?

HOW DO YOU HELP PEOPLE WHO ARE

DIFFERENT FROM YOUR REGION OR

CLASS OR YOUR RACE?

THEN THE ABILITY TO COMMUNICATE

THAT EMPATHY IN THE TECHNOLOGY

OF YOUR TIME AND BE ABLE TO

PERSUADE THEM TO MOBILIZE THEM

TO ACTION WOULD BE THE OTHER

SIDE OF THAT EMPATHY, I THINK.

>> WHEN YOU LOOK AT THE TURMOIL

THAT WE'RE EXPERIENCING TODAY,

AND I'M NOT TALKING ABOUT JUST

POLITICALLY, I'M TALKING ABOUT

BOTH SIDES OF THE AISLE,

SOCIETALLY, CULTURALLY, WHICH OF

THE FOUR THAT YOU CHRONICLE

HERE, WHICH OF THE FOUR DO YOU

THINK WOULD BE BEST SUITED TO BE

A LEADER TODAY?

>> I THINK IT WOULD BE TEDDY

ROOSEVELT.

I MEAN, THE REASON BEING HIS

TIME WAS SIMILAR TO OURS.

HE ALWAYS WARNED THE ROCK OF

DEMOCRACY WOULD FLOUNDER IF

PEOPLE IN DIFFERENT REASONS OR

RACES OR RELIGIONS BEGAN TO

THINK OF THEMSELVES AS THE

OTHER.

AND IT'S THAT DIVISION IN OUR

COUNTRY TODAY THAT I THINK

UNDERLAYS MUCH OF THE POLITICAL

TURMOIL, THE LARGER DIVISION

THAT'S THERE.

HE KNEW HOW TO SPEAK TO PEOPLE

IN DIFFERENT PARTS OF THE

COUNTRY.

HE ALSO WOULD BE GREAT TWEETING,

I THINK.

HE HAD SHORT PHRASES HE COULD

SPEAK SOFTLY.

>> CAN YOU IMAGINE TEDDY

ROOSEVELT TWEETING?

>> ABSOLUTELY.

BUT HE WOULD THINK, I THINK,

BEFORE HE TWEETED BUT DON'T HIT

UNTIL YOU HAVE TO AND THEN HIT

HARD.

HE EVEN GAVE MAXWELL HOUSE THE

SLOGAN, GOOD TO THE VERY LAST

DRON.

>> THAT'S RIGHT, THAT'S RIGHT,

TEDDY ROOSEVELT.

>> BUT I THINK MOST IMPORTANTLY

WHAT HE ARGUED FOR WAS A SQUARE

DEAL.

SO HE WAS ARGUING SO THERE'S

PEOPLE ON THE LEFT, THERE'S

PEOPLE ON THE RIGHT AND HE'S

SAYING I WANT TO DEAL FOR THE

CAPITALIST AND WAGE WORKER, RICH

AND POOR.

IF YOU'RE A RICH PERSON, THAT'S

FINE, AS LONG AS YOU DEAL

FAIRLY.

IF YOU'RE A UNION GUY, I WILL BE

BEFORE YOU UNLESS YOU DEAL

UNFAIRLY.

HE WOULD STAND RIGHT IN THE

CENTER BUT PROGRESSIVELY MOVING

THE COUNTRY FORWARD.

HE HAD A SELF-DEPRECATING SENSE

OF HUMOR.

MY FAVORITE STORY IS WHEN THE

FAMOUS JOURNALIST WROTE A REVIEW

OF HIS SPANISH-AMERICAN WAR MEM

WAR AND HE SAID HE SO PLACED

HIMSELF IN THE CENTER OF EVERY

ACTION IN THE WAR HE SHOULD HAVE

CALLED IT "ALONE IN CUBA."

WHAT DOES HE DO, HE WRITES A

LETTER TO THE JOURNALIST SAYING

I REGRET TO TELL YOU MY WIFE AND

MY INTIMATE FRIENDS ABSOLUTELY

LOVE YOUR REVIEW OF MY BOOK.

NOW YOU OWE ME SOMETHING.

I WANT TO SEE YOU.

I WANT TO MEET YOU.

AND THEY BECOME FRIENDS.

HE WAS ABLE TO BE FRIENDS WITH

JOURNALISTS KNOWING THEY WOULD

STILL CRITICIZE HIM.

HE COULD CRITICIZE THEM.

AND THE PARTNERSHIP HE JOINED

WITH THE INVESTIGATIVE

REPORTERS, THE MUCKRAKERS WHO

BECOME THE GOLDEN AGE OF

JOURNALISM.

SO I THINK HE HAD THE ENERGY, HE

UNDERSTOOD -- IN TODAY'S WORLD

YOU HAVE TO BE SOMEWHAT THE

CENTER OF ATTENTION AT LEAST AT

THE MOMENT GIVEN THE MEDIA

WORLD.

AND HE COULD DEFINITELY BE THAT.

HE WAS THE MOST COLORFUL

PRESIDENT WE HAD UP UNTIL THAT

TIME.

>> LAST QUESTION FOR YOU.

IN TRYING TO LEARN THE LESSONS

OF HISTORY, AND WE'RE SO OFTEN

TOLD THINGS SUCH AS IF WE DON'T

LEARN HISTORY'S LESSONS, WE'RE

BOUND TO REPEAT THEM.

THE NOTION OF THE PAST, WHEN

FAULKNER SAID THE PAST ISN'T

EVEN PAST.

DO YOU GET A SENSE THAT OUR

LEADERS OF TODAY -- AND I'M

TALKING ABOUT ACROSS THE BOARD

HERE -- THAT OUR LEADERS OF

TODAY DON'T GRASP THAT, DON'T

GRASP THE NEED TO LEARN FROM

THESE MEN AND THEIR TURMOIL AND

THEIR LEADERSHIP SKILLS?

NOW, DON'T GRAPHIC THE NEED TO

LEARN SO THEY CAN LEAD BETTER?

>> YEAH, I MEAN, I WORRY THAT'S

NOT HAPPENING.

EVEN FORGETTING ONLY OUR

LEADERS, I MEAN HISTORY COURSES

ARE BEING NARROWED IN A LOT OF

OUR COLLEGES NOW BECAUSE OF

S.T.E.M. STUFF.

AND WHAT YOU GET FROM HISTORY AS

A HUMAN BEING, NOT SIMPLY A

LEADER, IS YOU SEE HOW OTHER

PEOPLE DEALT WITH TROUBLES AND

HOW THEY CAME THROUGH

ADVERSITIES AND WHAT WERE THEIR

STRENGTHS AND WHAT WERE THEIR

WEAKNESSES.

I WOULD LIKE TO THINK STUDYING

LEADERSHIP HELPS YOU IN YOUR

EVERYDAY LIVES.

YOU JUST NEED TO TAKE THE TIME

TO GO BACK A FEW DECADES AND

IT'S LIKE YOU LEARN FROM YOUR

PARENTS, YOUR GRANDPARENTS, SO

LEARN FROM ABRAHAM LINCOLN,

LEARN FROM GEORGE WASHINGTON.

THESE PEOPLE KNEW SOMETHING

ABOUT THE STRENGTH OF

LEADERSHIP.

AND SOME OF THE TECHNIQUES YOU

CAN ACTUALLY FOLLOW.

I THINK ABOUT LINCOLN WRITING A

HOT LETTER WHEN HE WAS MAD AT

SOMEBODY AND THEN PUTTING IT

ASIDE UNTIL HE COOLED DOWN

PSYCHOLOGICALLY, NEVER SENDING

IT.

HOW HELPFUL THAT WOULD BE TO

KIDS WRITING EMAILS TOO QUICKLY

TODAY.

>> SURE, ABSOLUTELY.

>> AND FOR BROADER THAN THAT,

YOU UNDERSTAND THEIR EMOTIONAL

INTELLIGENCE WHEN THEY'RE

DEALING WITH A TEAM, HOW THEY'RE

ABLE TO SHARE CREDIT AND

SHOULDER BLAME.

THESE ARE HUMAN QUALITIES MANY

OF THEM MAGNIFY BY BECOMING

LEADERS AND HOW YOU GROW THROUGH

YOUR MISTAKES.

I JUST GOT TO BELIEVE EVERYBODY

SHOULD LOVE HISTORY BECAUSE IT

REALLY CAN TEACH PEW.

YOU.

IT TEACHES YOU ABOUT HUMAN

NATURE.

ONE OF THE THINGS TEDDY ROOZ VET

SAID, IF YOU WANT TO BE A

LEADER, YOU HAVE TO READ.

BOOKS ARE HUMAN NATURE.

YOU READ IT IN POETRY AND YOU

READ IT IN PROSE AND DRAMA AND

YOU LEARN IT IN HUMAN NATURE.

THAT'S WHAT HUMAN LEADERS NEED

TO LEARN NOTHING ANYTHING.

>> NO MATTER WHAT YOU WANT TO

BE, YOU HAVE TO READ THIS BOOK

HERE.

AS ALWAYS, YOU TAKE US ON A

FABULOUS AND VERY PERSONAL

JOURNEY INTO THEIR BACKGROUNDS.

THE STORIES, YOU COME AWAY -- AS

YOU SAID, YOU COME AWAY WHEN YOU

CLOSE THE BOOK SAYING, I'M

SAYING BEST FRIEND AND I'M NOT

THAT COMFORTABLE WITH THAT.

YOU AND I COULD TALK FOR HOURS

ABOUT THIS.

IT'S ALWAYS SO NICE TO CONNECT

WITH YOU AND SPEND SOME TIME

TALKING WITH YOU.

AND, AGAIN, JUST ANOTHER

FABULOUS WORK BY YOU, DORIS.

SO GOOD TO SEE YOU.

>> THANK YOU, THANK YOU.

>> BE WELL.

>> "METROFOCUS" IS MADE POSSIBLE

BY --

SUE AND EDGAR WACHENHEIM III,

SYLVIA A. AND SIMON B. POYTA

PROGRAMING ENDOWMENT TO FIGHT

ANTI-SEMITISM.

BERNARD AND DENISE SCHWARTZ,

BARBARA HOPE ZUCKERBERG, JANET

PRINDLE SEIDLER, JODY AND JOHN

ARNHOLD, CHERYL AND PHILIP

MILSTEIN FAMILY, JUDY AND JOSH

WESTON, DR. ROBERT C. AND TINA

SOHN FOUNDATION.