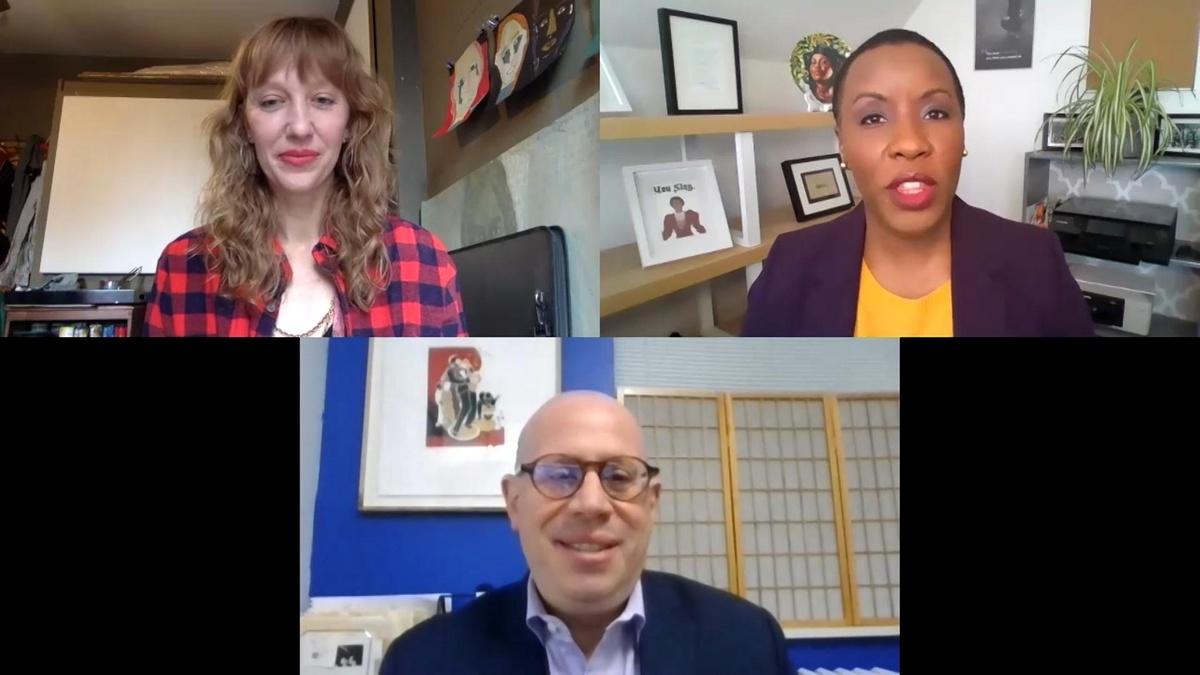 FULL EPISODE
METROFOCUS: January 18, 2021
In the third and final installment of our special series produced in conjunction with PBS' American Portrait project, we bring you a look at the unwavering resiliency of our nation as seen through the eyes of everyday America. Tonight, Leonard Jacobs, Interim Executive Director for The Jamaica Center For Arts and Learning and Tara DePorte, the Founder of The Human Impacts Institute join us.
TRANSCRIPT

>>> THIS IS "METROFOCUS" WITH

RAFAEL PI ROMAN, JACK FORD, AND

JENNA FLANAGAN.

"METROFOCUS" IS MADE POSSIBLE

BY --

SUE AND EDGAR WACHENHEIM III,

SYLVIA A. AND SIMON B. POYTA

PROGRAMING ENDOWMENT TO FIGHT

ANTI-SEMITISM.

BERNARD AND DENISE SCHWARTZ,

BARBARA HOPE ZUCKERBERG, JANET

PRINDLE SEIDLER, JODY AND JOHN

ARNHOLD, CHERYL AND PHILIP

MILSTEIN FAMILY, JUDY AND JOSH

WESTON, DR. ROBERT C. AND TINA

SOHN FOUNDATION.

>>> GOOD EVENING AND WELCOME TO

"METROFOCUS," I'M JENNA

FLANAGAN.

TO CELEBRATE ITS 50th

ANNIVERSARY, PBS HAS SPENT THE

PAST YEAR TRYING TO ANSWER ONE

QUESTION -- WHAT DOES IT REALLY

MEAN TO BE AN AMERICAN TODAY?

11,000 STORIES AND A GLOBAL

PANDEMIC LATER, PEOPLE FROM

ACROSS THE COUNTRY ARE STILL

WEIGHING IN, AND THEIR ANSWERS

COLLECTED AS PART OF THE

STORYTELLING PROJECT "PBS

AMERICAN PORTRAIT" CAPTURED THE

REMARKABLE EVENTS OF 2020

THROUGH THE VOICES OF EVERYDAY

PEOPLE FROM EVERY STATE AND

EVERY TERRITORY.

SO THE MISSION, YOUR SUBMISSION,

ARE NOW THE FOUNDATION OF THE

FOUR-PART DOCUMENTARY SERIES

FROM "PBS AMERICAN PORTRAIT."

TO ENSURE THE "NEW YORKER" STORY

WAS PART OF THIS NATIONAL

SERIES, SEVERAL KEY

ORGANIZATIONS STEPPED UP AND

HELPED US HERE AT "METROFOCUS"

AND THE WNET GROUP GATHERED

VIDEO SUBMISSIONS.

AND JOINING ME NOW ARE TWO

DIRECTORS OF THE LOCAL COMMUNITY

ORGANIZATIONS.

FIRST UP WE HAVE

LEONARD JACOBS, INTERIM

EXECUTIVE DIRECTOR FOR THE

JAMAICA CENTER FOR ARTS OF

LEARNING.

LEONARD, WELCOME TO

"METROFOCUS."

>> HOW ARE YOU DOING, JENNA?

IT'S A PLEASURE TO BE WITH YOU.

>> AND WE'RE ALSO JOINED BY TARA

DePORTE, EXECUTIVE DIRECTOR AND

FOUNDER OF THE HUMAN IMPACT

INSTITUTE.

TARA, WELCOME.

>> THANK YOU.

IT'S GREAT TO BE HERE.

>> FIRST, I JUST WANT TO START

WITH I GEGS AN EVEN DEEPER

INTRODUCTION FROM PEOPLE WHO

MIGHT NOT BE FAMILIAR WITH YOUR

TWO ORGANIZATIONS.

TARA, SINCE I JUST INTRODUCED

YOU, CAN YOU TELL US WHAT IS THE

HUMAN IMPACT INSTITUTE?

WHO DO YOU SERVE?

WHAT IS IT THAT YOU DO?

>> SURE.

WE'RE A BROOKLYN-BASED NONE FOR

PROFIT AND WE'RE IN OUR TENTH

YEAR, JUST FINISHING OUR TENTH

YEAR, WHICH IS REALLY

INTERESTING AND DAUNTING AT THE

SAME TIME.

AND WE USE ARTS AND CULTURE AS A

WAY TO INSPIRE PEOPLE TO GET

ENGAGED ON ENVIRONMENTAL AND

SOCIAL JUSTICE ISSUES AND TO

REALLY MOVE BEYOND CONVERSATIONS

TO ACTION IN PERSONAL WAYS.

>> OF COURSE.

AND THEN LEONARD, FOR PEOPLE

WHO, AGAIN, MIGHT NOT FULLY KNOW

WHO THE JAMAICA CENTER FOR ARTS

AND LEARNING, WHAT THE

ORGANIZATION IS, WHO YOU SERVE

AND WHAT IS IS IT THAT YOU DO?

>> SO, WE'RE A CULTURE

INSTITUTION IN SOUTHEAST QUEENS.

WE WERE FOUNDED IN 1972 WITH A

MISSION TO PROVIDE ARTS AND

CULTURE PROGRAMMING AS WELL AS

ARTS EDUCATION TO THE RESIDENTS

OF THIS COMMUNITY.

SO IT'S REALLY JAMAICA BUT THERE

ARE 14, 15 COMMUNITIES

SURROUNDING JAMAICA WE'VE BEEN

SERVING ALL OF THESE YEARS.

WE'RE ALSO A MEMBER OF THE

CULTURE INSTITUTIONS GROUP,

WHICH IS A GROUP OF 34 CULTURAL

ORGANIZATIONS THAT OCCUPY CITY

BUILDINGS OR SIT ON CITY LAND.

SO WE ARE SUPPORTED BY THE CITY

OF NEW YORK TO A GREAT DEGREE

AND EXCHANGE FOR THAT, SERVE THE

COMMUNITY DIRECTLY THROUGH ARTS

AND CULTURE.

>> OF COURSE, THIS QUESTION

MIGHT SEEM A BIT GLIB TO THE TWO

OF YOU, BUT AS WE BEGIN TO -- OR

NOT BEGIN BUT AS WE GET

COLLECTIVE NARRATIVES OF WHAT IT

IS TO BE AN AMERICAN, WHY IS IT

SO IMPORTANT TO INCLUDE VOICES

FROM PEOPLE WHO ARE IN THE ARTS

COMMUNITY, NOT JUST IN GENERAL

FOR AMERICA, BUT VERY

SPECIFICALLY FOR NEW YORKERS?

TARA, I WILL START WITH YOU.

>> SURE.

I THINK A LOT OF OUR ARTISTS AND

CULTURE CREATORS AS WE CALL THEM

ARE THE ONES THAT ARE SHARING

THE STORIES OF OUR COMMUNITIES

AND OUR LIVES AND OUR DAILY

STRUGGLES AND OUR SUCCESSES AND

INNOVATIONS.

SO I THINK INCLUDING THEM IN

THESE CONVERSATIONS IS SO

IMPORTANT, AND ALSO IF WE LOOK

BACK IN THE PAST YEAR IN 2020

AND ONGOING, WE'VE CERTAINLY

SEEN OUR ARTS COMMUNITY AND

INSTITUTIONS STRUGGLE IN WAYS OF

HAVING TO FIGURE OUT HOW TO NOT

ONLY KEEP THEIR DOORS OPEN BUT

TO SURVIVE BEYOND THIS, PAY

RENT, THINGS LIKE THAT.

AND CERTAINLY WITHIN OUR

ORGANIZATION, ARTISTS ARE ONES

THAT ARE REALLY THINKING

CREATIVELY ABOUT SO MANY OF THE

ISSUES IN OUR COMMUNITY AND ARE

NOT ONLY MAKING BEAUTIFUL,

ENGAGING WORKS OF ART BUT ARE

ENGAGING OUR COMMUNITIES TO DIVE

DEEPER INTO ISSUES OF SOCIAL

JUSTICE, CLIMATE AND SO MANY

OTHER TROOPICS.

>> OF COURSE.

AND LEONARD ALSO TO YOU, AGAIN,

WHY IS THE ARTS COMMUNITY'S

VOICE SO CRITICAL TO PROPERLY --

AND I GUESS IT SOUNDS KIND OF

RIDICULOUS TO SAY, TO PAINT AN

AMERICAN PORTRAIT, BUT I GUESS

SERIOUSLY, WHY?

>> OR SKETCH AN AMERICAN

PORTRAIT OR HUM AN AMERICAN

PORTRAIT.

LISTEN, NEW YORK IS NOT NEW YORK

WITHOUT ARTS AND CULTURE, THAT'S

JUST THE BOTTOM LINE.

IT'S THE ECONOMIC AND SOCIAL

LIFE-BLOOD OF THE CITY AND I

WOULD ARGUE FROM THE STATE.

THERE'S NO RECOVERY FROM THE

PERIOD WE'RE LIVING THROUGH

RIGHT NOW WITHOUT ARTS AND

CULTURE.

IT DRIVES THE ECONOMY BUT MORE

THAN JUST THE ECONOMY, IT DRIVES

OR SORT OF DEFINES WHO WE ARE AS

NEW YORKERS.

PEOPLE COME HERE BECAUSE OF OUR

INSTITUTIONS.

PEOPLE BECAUSE HERE FOR ALL OF

THE PROGRAMMING.

AND ARTISTS -- AND I THINK THIS

IS THE REALLY KEY THING AND

BUILDS ON WHAT TARA WAS SAYING,

ARTISTS HAVE ALWAYS POINTED THE

WAY TOWARDS PROGRESS.

IT GOES BACK TO THE ENLIGHTMENT

AND RENAISSANCE.

ARTISTS HAVE ALWAYS BEEN THE

LIGHT AT THE END OF A DARK

TUNNEL.

ARTISTS HAVE ALWAYS POINTED THE

WAY TOWARDS WHAT IS GOOD AND

RIGHT AND JUST AND NEXT.

SO IT IS RIGHT NOW.

AND, THEREFORE, IT'S THE PERFECT

QUESTION BUT FOR PEOPLE WHO DO

WHAT TARA AND I DO, IT'S KIND OF

A NATURAL QUESTION.

LIKE IT DOESN'T TAKE A LOT OF --

SHOULD WE INVOLVE ARTISTS IN

THIS?

YOU KNOW, THIS IS EXACTLY WHAT

ARTISTS DO.

ARTISTS SPEAK CREATIVELY TO THE

MOMENT.

>> OF COURSE.

>> AND POINT THE WAY FOR THE

REST OF SOCIETY, EVEN WHEN IT'S

UNCOMFORTABLE.

>> SO ONE OF THE POINTS TARA

BR

BROUGHT UP IS SOMETHING THAT I

THINK CAN FREQUENTLY GET LOST

WHEN YOU'RE TALKING ABOUT THE

ARTS AND THAT IS THE ARTS HAVE

JUST BEEN ABSOLUTELY DECIMATED

BY THIS VIRAL PANDEMIC.

NOW SO OFTEN, WHEN DISCUSSIONS

AROUND THE PANDEMIC HAPPEN, IT'S

VERY NUTS AND BOLTS LIKE JOBS

AND DOLLARS AND CENTS AND WHAT

IT'S DOING TO THE STOCK MARKET

AND IT DOESN'T NECESSARILY

INCLUDE THE TYPES OF PERHAPS NOT

JUST NARRATIVES BUT PERSPECTIVES

THAT ARTISTS ARE GOING TO BRING

TO ANY SITUATION.

LEONARD, FROM YOUR PERSPECTIVE,

AND YOU SORT OF TOUCHED ON IT

ALREADY, BUT WHAT IS IT THAT'S

SO UNIQUE THAT ARTISTS CAN BRING

TO ANY OF THESE MASSIVE

CONVERSATIONS THAT WE'RE HAVING

RIGHT NOW, ESPECIALLY OVER WHAT

HAS HAPPENED IN 2020 THAT MIGHT

BE GETTING MIXED WHEN YOU FOCUS

JUST SO HARD ON BOTTOM LINE

NUMBERS?

>> WELL, JOBS AND ECONOMICS AND

DOLLARS AND CENTS ARE ARTS AND

CULTURE ISSUES THEMSELVES.

ARTISTS EAT.

THERE MAY BE A MISCONCEPTION

THAT ARTISTS DON'T BUT ARTISTS

STILL EAT AND THEY DO PAY RENT

AND THEY DO CONTRIBUTE MIGHTILY

TO THE ECONOMY.

I KNOW THIS IS NOT JUST AN

ECONOMIC CONVERSATION, BUT IF

YOU LOOK AT NUMBERS BOTH

NATIONALLY AND AT THE STATE

LEVEL AND CITY LEVEL, ARTS

CULTURE AND ENTERTAINMENT, I

WOULD PUT ALL OF THOSE IN ONE

BASKET, IS A HUGE ECONOMIC

DRIVE.

AND SO FROM THAT POINT OF VIEW

ALONE, SINCE YOU MENTIONED IT,

IT'S REALLY IMPORTANT TO HAVE

ARTISTS IN THIS CONVERSATION.

WELL, I MEAN TARA, LIKE WHAT YOU

DO IS SO DIRECTLY RELATED TO

IDEAS OF SOCIAL JUSTICE, RIGHT.

AND WHERE ELSE IS THAT -- WHERE

ELSE IS THAT MUSCULARITY AND

ENERGY GOING TO COME FROM, BUT

IF NOT FROM THE ARTS RIGHT NOW,

RIGHT?

THE ONLY OTHER THING I WAS GOING

TO SAY, JENNA, YOU MENTIONED THE

STOCK MARKET.

I DON'T KNOW HOW MANY ARTISTS

ARE IN THE STOCK MARKET, I

IMAGINE A LOT WOULD LIKE TO BE,

BUT THERE ARE ALSO A LOT WHO

THINK ARTS CONSTITUTE AN

INVESTMENT AND I DON'T

NECESSARILY MEAN A FINANCIAL

INVESTMENT.

THE FOUNDATIONS AND CORPORATIONS

AND INDIVIDUALS WHO CONTRIBUTE

TO NOT FOR PROFITS LIKE THE

JAMAICA CENTER FOR ARTS AND

LEARNING OR FOR TARA'S

ORGANIZATION UNDERSTAND THAT

THAT LARGESS IS AN INVESTMENT OF

WHO WE ARE AS PEOPLE, AND THAT

IT PAYS DIVIDENDS IN THE FORM OF

THE WORK AND IN THE FORM OF A

SERVICE THAT IT PROVIDES TO THE

PEOPLE IN OUR COMMUNITIES.

SO SOMETIMES IT'S BUYING STOCK,

BUT SOMETIMES IT'S LEVERAGING

CAPITAL BECAUSE IT BENEFITS

SOCIETY AS A WHOLE.

I TOTALLY MADE THAT UP OFF THE

TOP OF MY HEAD.

>> IT WAS VERY ELOQUENTLY PUT,

WHICH AGAIN I THINK IS

INDICATIVE OF THE WORK THAT YOU

DO.

TARA, WOULD YOU LIKE TO ADD ON?

>> YEAH, AND THANK YOU, LEONARD,

FOR REALLY SHOWING HOW MUCH THE

ARTS COMMUNITY CONNECTS WITH OUR

ECONOMY AND WITH THE STRENGTH OF

OUR COMMUNITIES.

I WOULD ADD ON TO THAT, THAT I

THINK MORE THAN ANY TIME -- OR

MOST TIMES IN MY LIFE, WE'RE

SEEING THAT A LOT OF THE SYSTEMS

THAT WE'VE BECOME VERY DEPENDENT

ON AREN'T WORKING FOR MANY, MANY

PEOPLE.

AND WE'VE SEEN THAT IN THE PAST,

IN 2020 AND WE'VE SEEN THAT IN

THE PAST FEW WEEKS.

SO THERE'S A LOT OF TURMOIL IN

OUR COUNTRY.

AND WE NEED TO THINK CREATIVELY

ABOUT HOW WE ARE GOING TO

RECOVER.

WE NEED TO THINK DEEPLY AND

CREATIVELY ON THE RISKS THAT OUR

COMMUNITIES, INEQUITABLE RISKS

THAT OUR COMMUNITIES EVER

FACING, THAT COMMUNITIES OF

COLOR, THE FRONTLINE COMMUNITY,

THE COMMUNITIES THAT DON'T HAVE

RESOURCES TO BOUNCE BACK, THAT

ARE NOT GOING TO BE ABLE TO PAY

RENT.

AND RENT IS DUE IN THE SPRING.

WE ABSOLUTELY NEED TO THINK OF

NEW SYSTEMS AND NEW WAYS TO

INNOVATE IN OUR COMMUNITIES AND

WHAT BETTER PEOPLE TO BRING US

TOGETHER FOR THOSE CONVERSATIONS

THAN OUR ARTISTS, THAN OUR

CREATIVES, THAN THE MINDS THAT

THINK OUTSIDE OF THE BOX.

AND FOR US AS AN ORGANIZATION,

WHAT WE DO IS PAIR THEM THEN

WITH PEOPLE WHO ARE EXPERTS IN

THE EDUCATIONAL SYSTEM IN

POLICY, ET CETERA, SO THAT YOU

HAVE A COMBINATION OF THE DEPTH

OF KNOWLEDGE OF EACH OF THESE OF

THE ECONOMIC SYSTEM, OF OUR

EDUCATION SYSTEM, POLICING, ET

CETERA, WITH THE PEOPLE WHO CAN

PUSH US TO BE LIKE IMAGINE IF.

BUT WHAT IF WE DID IT THIS WAY?

AND THAT TO ME IS WHAT'S SO

EXCITING, WE NEED BOTH.

WE NEED EXPERTS IN THERE.

WE CAN'T EXPECT AN ARTIST TO

SUDDENLY BECOME AN ECONOMIST.

AND VICE VERSA.

BUT IF WE CAN BRING THOSE TWO

EXPERTISE TOGETHER, I THINK WE

SEE A LOT OF POTENTIAL FOR GOOD

GROWTH.

>> SPEAKING OF THE IDEA OF GOOD

GROWTH, DO EITHER ONE OF YOU SEE

WHAT 2020 HAS WROUGHT AS PERHAPS

BEING A CHANCE TO REBUILD IN A

BETTER WAY?

THERE'S BEEN SEVERAL DISCUSSIONS

OF PEOPLE SAYING FROM THE ASHES

WE HAVE A CHANCE TO REALLY

REBUILD OUR SOCIETY AND PERHAPS

WHERE OUR VALUES LIE?

AND LEONARD, IF YOU WANT TO --

>> WE BOTH TOOK A BREATH, AS YOU

CAN SEE.

SURE, I WILL BEGIN.

I WOULD SAY IT DEPENDS ON THE

DAY.

I THINK LIKE MANY OF US, THE

OPTIMIST AND PESSIMIST, THERE'S

ONE ON EACH SHOULDER AND ONE

GETS LOUDER DEPENDING ON THE

MOMENT.

BUT I WOULD SAY CERTAINLY, WE

HAVE FOR ONE I THINK IT'S VERY

HARD TO BE APATHETIC THESE DAYS.

I THINK WE'RE VERY MUCH IN THE

PAST YEAR OR SO, FOR THOSE OF US

THAT HAD THE PRIVILEGE OF NOT

SEEING SOME OF THE ISSUES AS

MUCH THAT WE'RE DEALING WITH IN

OUR SOCIETY, INCLUDING CLIMATE

CHANGE AND RACIAL INJUSTICE, WE

CAN'T SAY WE DON'T KNOW WHAT'S

HAPPENING ANYMORE.

AND I THINK THAT IS REALLY GOOD.

APATHY IS ONE OF THE BIGGEST

BARRIERS TO ACTION AND THAT'S

CERTAINLY SOMETHING WE THINK OF

A LOT, HOW DO WE GET PEOPLE TO

THINK BEYOND, WELL, I GOT TO

DEAL WITH EVERYTHING ELSE IN MY

LIFE.

I WOULD THINK THAT'S ONE GOOD

THING.

AND I THINK ANOTHER IS WHETHER

WE LIKE IT OR NOT, WE DO NEED TO

BREAKDOWN TO BUILD UP AND TO

QUESTION THINGS BECAUSE WE'RE SO

AS A SPECIES WHETHER WE LIKE IT

OR NOT, STATUS QUO IS OUR

COMFORT ZONE.

AND SO WE ARE ALL -- I THINK I

FEEL PRETTY CONFIDENT I CAN SAY

MOST OF US ARE VERY MUCH OUT OF

OUR COMFORT ZONE RIGHT NOW.

AND I THINK THAT IS A GOOD

THING.

BECAUSE WE'RE GETTING

COMFORTABLE WITH A LOT OF THINGS

THAT AREN'T GOOD TO FEEL

COMFORTABLE ABOUT.

LEONARD, I'LL PASS IT ON TO YOU.

>> ABSOLUTELY.

>> I'M FEELING VERY COMFORTABLE

RIGHT NOW, EVEN THOUGH IT'S THE

SORT OF UNNATURAL THING WHERE

WE'RE LOOKING AT EACH OTHER ON

SCREENS, RIGHT?

I LIKE THE NATURE OF YOUR

QUESTION, JENNA, VERY MUCH.

IT'S DIFFICULT THOUGH TO WAKE UP

IN THE MORNING AND THINK ABOUT

HOW ONE PERSON CAN SORT OF

TACKLE AND CONQUER THESE VERY

LARGE MACRO FORCES THAT WE'RE

LIVING WITH EVERY DAY.

SO ONE OF THE GREAT ADVANTAGES

OF WORKING WITH A

COMMUNITY-BASED CULTURE

INSTITUTION IS WE KIND OF MICRO

DOWN.

WE LOOK AT OUR COMMUNITY, OUR

MISSION, OUR BOARD, OUR STAFF,

ALL OF THE PROGRAMS, ALL OF THE

PEOPLE THAT WE SERVE AND WE

THINK, WELL, WE CAN'T

NECESSARILY CONQUER -- USED THAT

WORD A SECOND TIME -- ALL OF THE

DISTURBING MACRO FORCES WE WERE

CONFRONTED WITH DURING 2020 BUT

WE CAN TAKE THE STEPS THAT WE

CAN TAKE IN OUR COMMUNITY TO DO

THE WORK THAT WE SHOULD DO IN

ORDER TO ADDRESS THOSE ON A

MICRO LEVEL.

SO WHEN WE'VE ALWAYS HAD THE

TECHNOLOGY TO DO WHAT WE'RE

DOING NOW, WE'RE HAVING THIS

CONVERSATION, WE'RE REGARDING

THIS OVER ZOOM, RIGHT, IF WE

WERE DOING PROGRAMMING AT OUR

PERFORMING ARTS CENTER, WE CAN

PUT 400 PEOPLE IN THE HOUSE AND

DO A PROGRAM AND THAT'S GREAT.

WE WANT TO GET BACK TO THAT AND

WE WILL DO THAT.

BUT WHAT THE COVID CRISIS FORCED

US TO DO IS SAY, WAIT A MINUTE,

WE HAVE TECHNOLOGY, WE DON'T

HAVE TO DO OUR WORK, WE CAN DO

OUR WORK DIFFERENTLY.

AND IN A POST-COVID WORLD WE CAN

STILL PUT 400 PEOPLE IN A

THEATER, BUT WHEN WE TALK ABOUT

INCLUSION, AND WE'RE ALL TALKING

ABOUT THAT IN THIS CONVERSATION,

WE CAN BE TRULY INCLUSIVE OF OUR

COMMUNITY.

PEOPLE WHO MAYBE DON'T WANT TO

LEAVE THEIR HOMES FOR WHATEVER

REASON OR NEED TO TAKE CARE OF

THE KIDS AT 8:00 BUT WANT TO

TUNE IN, IF YOU WILL, TO WATCH

X, Y AND Z.

WE CAN LEVERAGE TECHNOLOGY TO

MAKE IT A MUCH MORE, IN OUR

CASE, FOR NOT FOR PROFITS, A

MUCH MORE INCLUSIVE EXPERIENCE

FOR THE KINDS OF PROGRAMS THAT

WE OFFER.

THERE DON'T HAVE TO BE WALLS AND

BARRIERS.

WE CAN LEVERAGE TECHNOLOGY TO

MAKE OUR PROGRAMMING AVAILABLE

FOR MORE PEOPLE.

AND THAT'S A REALLY GOOD THING.

THAT'S WHERE LARGER

CONVERSATIONS GET TO HAPPEN, I

THINK.

>> MAY I?

>> ABSOLUTELY.

I WOULD ALSO LIKE TO SAY BEYOND

TECHNOLOGY, I THINK AS LOOKING

AT OUR COMMUNITIES AND HOW DO WE

BRING PEOPLE TOGETHER SAFELY AND

BEYOND THE SCREEN AS WELL,

BECAUSE I THINK VERY FEW OF US

WANT TO LIVE ONLY IN THE SCREEN.

AS YOU SAID, WE WANT TO RETURN

TO COMING TOGETHER.

IT'S FORCED US TO THINK OF OTHER

WAYS WE CAN BRING OUR

PROGRAMMING TO COMMUNITIES.

YOU KNOW, FOR INSTANCE, WE ENDED

UP TAKING A TRADITIONAL GALLERY

SHOW THAT WE DO EVERY YEAR OF

CLIMATE ARTISTS AND PUTTING IT

IN EMPTY STOREFRONTS ACROSS THE

CITY SO IT WASN'T BRINGING

PEOPLE TOGETHER ALL AT ONCE BUT

SO PEOPLE CAN SEE IT WHEN

THEY'RE MOVING AROUND.

SO I THINK IT'S EXCITING BOTH TO

HAVE THAT PUSH FOR EXPLORING

WHAT WE CAN DO VIRTUALLY BUT

ALSO HOW DO WE USE COMMUNITY

SPACES, HOW DO WE USE PARKS?

HOW DO WE USE OTHER SPACES THAT

WE HAVEN'T THOUGHT OF AS

THEATERS OR THOUGHT OF AS

GALLERIES TO REALLY BRING

PROGRAMMING TO THE COMMUNITY AS

OPPOSED TO BRINGING COMMUNITIES

TO OUR PROGRAM.

>> OF COURSE, OF COURSE.

AND THAT SPEAKS TO ONE OF THE

OTHER LARGE ISSUES THAT THE

PANDEMIC HAS CREATED, AND THAT

IS, OF COURSE, WHAT HAPPENS WITH

E

EMPTY STOREFRONTS IN

COMMUNITIES, ET CETERA.

BUT I DO WANT TO TURN A LITTLE

BIT AND ASK SPECIFICALLY ABOUT

THE ORGANIZATIONS THAT BOTH OF

YOU ARE DIRECTOR OF, HOW ARE YOU

FARING AS A RESULT OF THIS

PANDEMIC?

JUST IN TERMS OF PEOPLE BEING

ABLE TO PARTICIPATE THE WAY THEY

USED TO, OUTREACH THE WAY YOU

USED TO BE ABLE TO DO AND, OF

COURSE, THE MOST CRITICAL LINE,

FUNDING.

TARA?

>> WELL, I CAN SAY A LOT OF MY

ANSWER TO THAT IS I'M NOT SURE.

I THINK IT'S HARD -- THERE ARE

SO MANY PIVOTS THAT HAD TO

HAPPEN AND I THINK WE'RE ON OUR

THIRD PIVOT OF PROGRAMMING RIGHT

NOW IN TERMS OF THE PAST YEAR

HAVING TO CHANGE HOW WE ARE

THINKING OF IMPLEMENTING

PROGRAMS, AND IN TERMS OF

FUNDING, I'LL MAYBE START WITH

THAT, WE KNOW FUNDING IS GOING

TO BE MORE COMPETITIVE.

IT'S ALWAYS VERY COMPETITIVE.

WE DEFINITELY LOST A COUPLE

BOARD MEMBERS BECAUSE OF

WHATEVER HAS HAPPENED IN

THETHEIR

WORK OR LIFE OR THINGS LIKE

THAT, AND THAT'S VERY RELIABLE

LEADERSHIP AND ECONOMIC SUPPORT.

SO WE KNOW IT'S GOING TO BE

HARD.

BUT AT THE SAME TIME I HAVE SEEN

SOME PEOPLE AND ONE OF THE

GROUPS THAT ARE BEST PREPARED

FOR THIS ECONOMY ARE THROUGH

THESE RISKS BECAUSE WE'RE ALWAYS

LEAN.

WE DON'T HAVE MUCH OVERHEAD.

WE DON'T HAVE BIG BONUSES.

WE DON'T HAVE WHATEVER AMENITIES

OTHER -- OTHER CAREERS HAVE.

SO MOST OF OUR ORGANIZATIONS,

WE'RE MISSION FOCUSED AND WE'RE

ABOUT CONNECTING WITH OUR

COMMUNITY.

SO IN THAT, THAT BUILDS A

RESILIENCE THAT WE HAVE

COMMUNITY, AND WE HAVE FOUND A

WAY TO BUILD EVEN WITHOUT THAT

SUPPORT.

SO I THINK THAT'S EXCITING.

I HAVE MORE TO SAY, BUT,

LEONARD, I WANT TO GIVE YOU A

CHANCE AS WELL.

>> I WOULD SAY NO, THAT'S FINE,

IT'S FUNNY.

I WAS JUST CHECKING THE OXYMORON

DIFFERENCE AND BONUS AND

NONPROFIT WERE RIGHT NEXT TO

EACH OTHER.

>> THAT'S WHY I SAID AND OTHER

THINGS.

MENT I DON'T EVEN KNOW THE TERM

FOR OTHER THINGS.

>> IT'S TRUE.

WE'RE USED TO DOING A LOT WITH A

LEVEL.

THIS INSTITUTION IS SUBSIDIZED

TO A GREAT DEGREE BY THE CITY OF

NEW YORK.

WE KNOW THE CITY HAS BEEN IN A

VERY TENUOUS AND INCREASINGLY

DARK FINANCIAL POSITION.

THERE WERE -- THERE WAS A LEVEL

OF DEPENDENCE ON CITY MONEY THAT

WE HAVE TO WEAN OURSELVES OFF OF

FOR THE FORESEEABLE FUTURE.

BUT WE ALSO HAVE DECIDED TO

DOUBLE DOWN ON OUR PROGRAMMING

AND THE RESULT OF THAT HAS BEEN

AN INCREASE FOCUS FROM

INDIVIDUALS IN THE COMMUNITY

THAT WANT TO SUPPORT US THAT WE

HAVEN'T EVEN NECESSARILY ALWAYS

HAD TO REACH OUT.

WE DO LOTS OF FUND-RAISING TO

INDIVIDUALS AND FOUNDATIONS, OF

COURSE, AND CORPORATIONS, BUT

WE'VE BEEN REALLY BLESSED BY

INDIVIDUALS IN THE COMMUNITY WHO

JUST PRESSED A LITTLE BUTTON AND

SEND WHAT IT IS THEY CAN SEND.

SO WE HAVE IN TURN REDOUBLED OUR

COMMITMENT TO BE IN

COMMUNICATION WITH THOSE

INDIVIDUALS AND BEING IN

COMMUNICATION IN THE FOUNDATIONS

THAT BELIEVE IN THE WORK THAT WE

DO AND FIGURING OUT, WHAT ARE

THE WAYS IN WHICH WE CAN

CONTINUE TO SERVE OUR COMMUNITY

TO KEEP THAT GOING?

WHAT ARE THE EXPECTATIONS OF US?

WHAT ARE OUR EXPECTATIONS OF

THEM?

IN THE CASE OF THIS PARTICULAR

INSTITUTION, I THINK WE'VE

LEARNED MAYBE THE HARD WAY TO BE

LESS DEPENDENT ON PUBLIC FUNDS.

HERE WE ARE ON PUBLIC

TELEVISION, SO THE IRONY IS NOT

LOST ON ME, BUT THE TAX BASE HAS

TAKEN A HIT AS A RESULT OF

COVID, AND THAT'S JUST A FACT.

SO WE'RE GOING TO CONTINUE TO DO

MORE WITH LESS, BUT WE'RE NOT

GIVING UP ON OUR MISSION.

AND IT'S FUNNY, TARA, YOU WERE

TALKING ABOUT YOUR 27 TIDBITS,

AND I THINK WE'RE AROUND 24 OF

27.

BUT ONE OF THE THINGS THAT'S

REALLY EXCITING IS WE HAVE TO

REIMAGINE ALL OF OUR PROGRAMS,

WE HAVE MUSIC PROGRAMS, DANCE

PROGRAMS.

WE HAVE A DANCE FESTIVAL THAT'S

FUNDED STILL, THANK GOD, THE

NATIONAL ENDOWMENT OF THE ARTS

BUT WE HAVE TO THINK ABOUT, HOW

DO YOU DO A DANCE FESTIVAL ON

YOUTUBE?

AND WE FIGURED THAT OUT.

BECAUSE IT'S EITHER THAT OR GIVE

ALL OF THE MONEY BACK TO THE

NEA, WHICH WE WERE NOT VERY KEEN

ON DOING.

SO YOU GO PROGRAM BY PROGRAM.

WE'RE STARTING A NEW THEATER

PROGRAM HERE THAT'S NOT ABOUT

LET'S DO A READING OF A 2

1/2-HOUR PLAY ON ZOOM.

HERE'S A GROUP OF NEW PLAYS

WE'RE INTERESTED IN CULTIVATING,

WE WILL HAVE A SCENE READ WITH

THE OPPORTUNITY TO MEET THE PLAY

RIGHT, THAT'S WHAT IT'S CALLED,

ET CETERA, ET CETERA AND IT'S

BITE-SIZE AND PERFECT FOR

ZOOM -- PERFECT FOR ZOOM IS

ANOTHER OXYMORON, BUT PERFECT

OPPORTUNITY TO SAY LET'S MAKE

THAT PIVOT AND WHO ARE THE

FUNDERS, THE INDIVIDUALS,

CORPORATIONS, FOUNDATIONS THAT

WILL LOOK AT THAT PIVOT AND SAY,

THAT'S GREAT SERVICE.

THAT'S A GREAT WAY TO CONTINUE

TO WORK FOR ARTISTS FOR ARTISTS,

WITH ARTISTS ON BEHALF OF

ARTISTS AND THEY WILL SUPPORT US

A LITTLE BIT.

AND IT DOESN'T COST US AS MUCH

TO DO A READ EGG ON ZOOM AS MUCH

AS IT WOULD TO HAVE TEN ACTORS

ON A STAGE, FOR EXAMPLE.

I WOULD REALLY LIKE TO HAVE TEN

ACTORS ON A STAGE RIGHT NOW BUT

IF IT'S A CHOICE OF NOT BEING

ABLE TO DO THAT AND DO NOTHING,

WE'RE NOT GOING TO DO NOTHING.

WE'RE GOING TO FINE ANOTHER

DIGITAL ANALOG, ANOTHER

OXYMORON, FOR WHAT WE USED TO

DO.

AND WE'VE BEEN DOING THAT AND

WE'VE BEEN BLESSED IN THAT WHILE

WE HAD A LOSS OF INCOME CLEARLY,

IT'S NOT BEEN EXISTENTIAL.

AND I SAY WE'RE DEEPLY GRATEFUL

FOR THAT.

>> OF COURSE, OF COURSE.

AS YOU SAID, YOU WOULD LOVE TO

HAVE TEN ACTORS ON STAGE, I

WOULD LOVE TO HAVE YOU BOTH IN

PERSON IN STUDIO.

BUT UNFORTUNATELY, WE CAN'T DO

THAT.

BEFORE I LET YOU BOTH GO, I WAS

WONDERING OF THE STORIES THAT

WERE SUBMITTED THROUGH YOUR

ORGANIZATIONS, OR IF THERE'S ANY

PERHAPS THAT DIDN'T GET

SUBMITTED THAT REALLY TOUCHED,

JUST TO GIVE PEOPLE A TASTE, ARE

THERE ANY PARTICULAR NARRATIVES

THAT JUST REALLY STUCK WITH YOU

THAT YOU WERE HEARING FROM

PEOPLE WHO WORKED WITH OR

THROUGH YOUR ORGANIZATION?

LEONARD, I'LL GO BACK TO YOU.

>> EASILY TWO-THIRDS OF THE

AMERICAN PORTRAIT SUBMISSIONS

THAT WE PROVIDED WERE FROM

INDIVIDUALS IN THE COMMUNITY WHO

ARE UNDER 30 AND TYPICALLY

EITHER IMMIGRANTS THEMSELVES OR

FIRST GENERATION.

AND BEING ABLE TO PROVIDE THEM

WITH THE THOUGHTS AND HEARING

THEIR STORIES PUTS A LOT OF

PERSPECTIVE WHERE WE ARE

POLITICALLY NOW, AND IT WAS

INCREDIBLY REFRESHING AND

FRANKLY INSPIRING FOR ALL OF US.

I DON'T WANT TO SELECT JUST ONE

BECAUSE I WANT YOUR VIEWERS TO

WATCH ALL OF THEM.

>> OF COURSE.

>> IS BUT THEY WERE -- THE

SOUTHEAST QUEENS IS ARGUABLY THE

MOST DIVERSE NEIGHBORHOOD IN THE

MOST DIVERSE BOROUGH AND HAVING

THOSE VOICES AND AMPLIFY THEM

AND GIVING THEM A PLATFORM,

TYPICALLY BECAUSE THEY WERE

IMMIGRANT VOICES FOR US, FOR

YOURS AND FOR THE GROWING

OPPOSITION, I PUT MY VOTE WITH

THE TWO-THIRDS OF THE ONES THAT

WERE SUBMITTED.

>> TARA, FOR YOU?

>> YEAH, I WOULD ECHO LEONARD

WHAT IS REALLY EXCITING, AND

THIS IS AN EXTENSION OF WHAT WE

DO AT OUR ORGANIZATION, IS THE

IDEA OF SHOWING OUR CONSTITUENTS

HOW THEIR STORIES ARE IMPORTANT.

AND THAT'S WHAT THIS PLATFORM

DID.

SHOWING THAT PEOPLE NEED TO HEAR

WHO THEY ARE AND WHAT THEY'RE

DOING, NOT JUST THEIR WORK BUT

WHO THEY ARE AND WHY THEY DO

WHAT THEY DO.

OUR STORIES REALLY COMPRISE

EVERYTHING FROM ARTISTS THAT WE

WORK WITH TO YOUTH ADVISERS TO

SOME OF THOSE WONKY POLICY AND

SCIENCE EXPERTS THAT WE WORK

WITH AND I WOULD SAY THAT

NECESSARILY STUCK OUT TO ME ARE

ALWAYS THE STORIES THAT ARE

WILLING TO BE MOST VULNERABLE

AND REALLY SHARE AS MUCH OF

THEMSELVES.

AND ONE WHO WAS A LONGTIME

MENTOR OF MINE REALLY SHARED HOW

THIS MOMENT AS A SCIENTIST, AS

AN EDUCATOR, SHE IS JUST SO

CERTAIN IN THE SENSE THAT SOCIAL

JUSTICE HAS TO LEAD THE WAY THAT

YOU CAN'T DO CLIMATE WORK, YOU

CAN'T DO WATER WORK WITHOUT

ADDRESSING RACIAL INEQUITIES AND

THAT'S JUST A FOREFRONT.

ANOTHER ONE THAT REALLY STUCK

OUT FOR ME IS ONE OF OUR ARTISTS

FROM THIS PAST YEAR, WHO THIS

AMAZING VIDEO, THIS BEAUTIFUL

PIECE, SPOKEN WORD PIECE, ABOUT

SHIFTING THE NARRATIVE OF HIS

COMMUNITY, OF NOT LIKING WHAT HE

HEARS OTHER PEOPLE SAY, AND

ABOUT OWNING THE NARRATIVE OF

STATEN ISLAND AND SHARING THE

STRENGTH OF THEIR COMMUNITY.

AND I THINK BEING ABLE TO SHARE

THAT TYPE OF ART ON THIS

PLATFORM TO A NATIONAL AUDIENCE

HAS BEEN REALLY EXPONENTIAL FOR

HIS LIFE AND HOPEFULLY HIS

CAREER, AND TO BE ABLE TO SEE

THAT HAPPEN IN A REALLY SHORT

AMOUNT OF TIME, IT'S BEEN

REALLY -- IT'S REINFORCED WHAT

WE DO IS IMPORTANT SO I THANK

YOU FOR THAT.

>> ABSOLUTELY.

UNFORTUNATELY, WE ARE GOING TO

HAVE TO LEAVE IT THERE BUT I

WOULD LIKE TO THANK, AGAIN, MY

GUESTS LEONARD JACOBS, INTERIM

EXECUTIVE DIRECTOR FOR THE

JAMAICA CENTER FOR ARTS AND

LEARNING, AND TARA DePORTE, THE

EXECUTIVE DIRECTOR AND FOUNDER

OF THE HUMAN IMPACT INSTITUTE.

THANK YOU BOTH FOR JOINING US.

AS JUST A REMINDER FOR OUR

AUDIENCE, IF YOU WOULD LIKE TO

FIND OUT MORE ABOUT "PBS

AMERICAN PORTRAIT," INCLUDING

HOW TO WATCH, HEAD OVER TO OUR

WEBSITE AT METRO FOCUS.ORG.

♪

>> "METROFOCUS" IS MADE POSSIBLE

BY

SUE AND EDGAR WACHENHEIM III,

SYLVIA A. AND SIMON B. POYTA

PROGRAMING ENDOWMENT TO FIGHT

ANTI-SEMITISM.

BERNARD AND DENISE SCHWARTZ,

DR. ROBERT C. AND TINA SOHN

FOUNDATION.