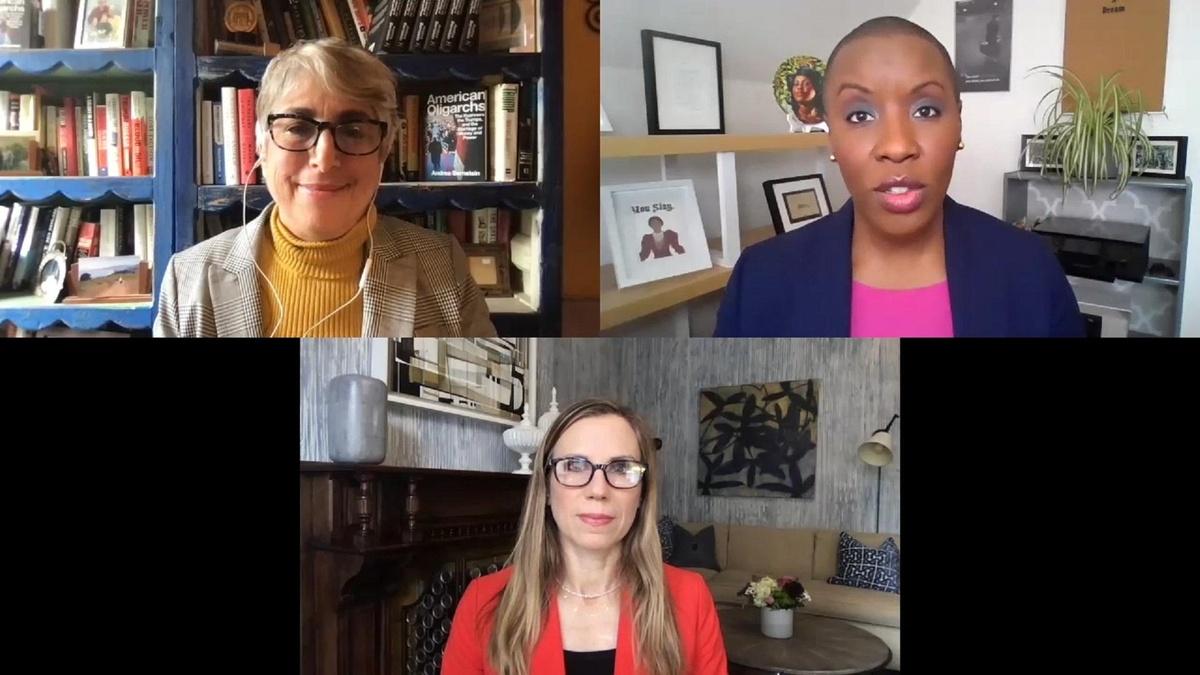 FULL EPISODE
METROFOCUS: January 14, 2021
Former federal prosecutor and Lecturer-In-Law at Columbia Law School Jennifer Rodgers and investigative journalist and "American Oligarchs" author Andrea Bernstein discuss Donald Trump's legacy, foreboding future and additional charges he now stands to face.
TRANSCRIPT

>>> THIS IS "METROFOCUS" WITH

RAFAEL PI ROMAN, JACK FORD, AND

JENNA FLANAGAN.

"METROFOCUS" IS MADE POSSIBLE BY

SUE AND EDGAR WACHENHEIM III,

SYLVIA A. AND SIMON B. POYTA

PROGRAMING ENDOWMENT TO FIGHT

ANTI-SEMITISM.

BERNARD AND DENISE SCHWARTZ,

BARBARA HOPE ZUCKERBERG, JANET

PRINDLE SEIDLER, JODY AND JOHN

ARNHOLD, CHERYL AND PHILIP

MILSTEIN FAMILY, JUDY AND JOSH

WESTON, DR. ROBERT C. AND TINA

SOHN FOUNDATION.

>>> GOOD EVENING, AND WELCOME TO

"METROFOCUS."

I'M JENNA FLANAGAN.

24 HOURS AFTER PRESIDENT TRUMP'S

EXTRAORDINARY SECOND IMPEACHMENT

FOR INCITING THE CAPITOL RIOT,

THERE ARE STILL SO MANY

QUESTIONS LEFT TO BE ANSWERED,

SPECIFICALLY WHAT HAPPENS NEXT.

HOW WILL THE SENATE HANDLE THE

TRIAL OF A PRESIDENT NO LONGER

IN OFFICE?

IS WHAT POLITICAL CALCULATIONS

CAN BE HAPPENING BEHIND THE

SCENES?

WHAT IS THE PRESIDENT'S LEGAL

EXPOSURE, AND HOW DOES THAT

DETERMINE TRUMP'S FUTURE?

THOSE ARE JUST SOME OF THE

PRESSING QUESTIONS WE'LL TRY TO

TACKLE WITH OUR TWO GUESTS

TONIGHT.

FIRST WE HAVE WNYC'S ANDREA

BERNSTEIN.

SHE'S AN AWARD-WINNING

JOURNALISM INVESTIGATOR AND

AUTHOR OF "AMERICAN OLIGARCH:

THE KUSHNERS, THE TRUMP AND THE

MARRIAGE OF MONEY AND POWER."

ANDREA, WELCOME TO "METROFOCUS."

>> SO GREAT TO BE HERE, JENNA.

>> JOINING US AGAIN WE HAVE

JENNIFER ROGERS.

IN ADDITION TO BEING A FORMAL

FEDERAL PROSECUTOR, SHE'S

CURRENTLY A LECTURER IN LAW AT

COLUMBIA LAW SCHOOL.

WELCOME, JENNIFER.

>> THANKS, JENNA.

GOOD TO BE WITH YOU.

>> FIRST I JUST WANT TO START

WITH GETTING A READ FROM BOTH OF

YOU.

SO MANY AMERICANS WATCHED THOSE

IMPEACHMENT HEARINGS BUT,

JENNIFER, I'LL START WITH YOU,

WHAT'S YOUR BIG TAKEAWAY?

WHAT STRUCK YOU ABOUT THE WAY

THOSE IMPEACHMENT PROCEEDINGS

WERE CONDUCTED?

>> IT'S REALLY INTERESTING,

JENNA, BECAUSE SOME WAYS IT WAS

THE REVERSE OF WHAT WE SAW WITH

THE FIRST IMPEACHMENT, WHICH WAS

A VERY THOROUGH HEARING IN THE

HOUSE WITH WITNESSES AND EXPERTS

AND ALL SORTS OF EVIDENCE COMING

IN.

AND, OF COURSE, WHEN WE GOT TO

THE SENATE TRIAL AROUND THEY

PROCEEDED WITHOUT ANY WITNESSES

OR EVIDENCE AT ALL.

THIS TIMES IT'S GOING TO BE THE

REVERSE.

YESTERDAY WHAT WE SAW WAS A

FAIRLY RUSHED SINGLE-COUNT

HEARING ON THE IMPEACHMENT BUT

ONLY WITH NO WITNESSES, WITH NO

EVIDENCE, WITH JUST TWO HOURS

WORTH OF SPEECHES AND THEN A

VOTE.

SO IT WAS VERY QUICK BECAUSE OF

THE TIMING.

THE PRESIDENT, OF COURSE, IS

LEAVING OFFICE IN A WEEK.

SO I THINK WE CAN EXPECT WHEN WE

GET TO THE SENATE TRIAL TO SEE A

MUCH MORE THOROUGH AND LENGTHY

PROCESS WHERE THERE WILL BE

EVIDENCE AND MORE DELIBERATION

THAT WE'VE SEEN SO FAR.

>> ANDREA, WAS THERE ANYTHING

THAT STUCK OUT TO YOU ABOUT THE

WAY THE IMPEACHMENT HEARINGS

WENT?

>> ITYES, A COUPLE OF THINGS

STRUCK ME.

ONE IS UNLIKE LAST YEAR WHEN

THEY WERE DISCUSSING A

TRANSCRIPT OF A PHONE CALL MADE

TO THE PRESIDENT OF UKRAINE,

WHICH IS A PLACE WHERE PEOPLE

SORT OF PROBABLY HAVE NO

CONCEPTION OF, MOST OF THEM IN

CONGRESS, THIS WAS A SITUATION

IN WHICH ALL OF THEM WERE

WITNESSES THEMSELVES.

SO THEY DIDN'T NEED A LOT OF

EVIDENCE BECAUSE THEY LIVED

THROUGH IT.

OBVIOUSLY, THERE WAS DEBATE

ABOUT WHAT THE SORT OF FACTS

WERE BUT THIS WAS AN EVENT THAT

WAS VERY VIVID FOR ALL OF THE

HUNDREDS OF MEMBERS OF CONGRESS

WHO VOTED YESTERDAY.

SO I THINK THAT WAS QUITE

STRIKING THAT THEY WERE SORT OF

THE INTENDED TARGET OF SOME OF

THE PEOPLE WHO WERE VIOLATING

THE CAPITOL LAST WEEK.

AND THEN ALSO, I DO REALLY THINK

IT IS VERY HISTORICALLY

SIGNIFICANT THAT TEN REPUBLICANS

VOTED FOR IMPEACHMENT.

ON THE ONE HAND, IT SEEMS LIKE A

VERY SMALL NUMBER.

BUT ON THE OTHER HAND IT IS A

SIGNIFICANT BREAK WITH THE

PARTY.

I THINK WHAT WE'VE SEEN GLOBALLY

WITH REGIMES THAT HAVE

AUTHORITARIAN TENDENCIES IS THEY

HAVE THIS VERY TIGHT SET OF

PEOPLE WHO KEEP GIVING THE

LEADER PERMISSION TO DO THINGS.

ONCE YOU HAVE SOME PEOPLE SAYING

NO, YOU DO CREATE A SPACE WHERE

PEOPLE FEEL LIKE THEY CAN SAY

NO.

AND WE'RE ALREADY SEEING THAT

WITH McCONNELL.

McCONNELL IS SAYING I MIGHT VOTE

FOR IMPEACHMENT.

AND THAT IS REALLY SOMETHING

WHEN YOU THINK ABOUT WHERE WE

WERE JUST A YEAR AGO TODAY.

>> AND, OF COURSE, SPEAKING OF

THAT SMALL MINORITY, OR MINORITY

IF YOU WILL, ONE PERSON THAT

SEEMED TO BE BROUGHT UP MORE

WITH REFERENCES TO ABRAHAM

LINCOLN WAS, OF COURSE, LIZ

CHENEY, THE CONGRESSPERSON FROM

WYOMING.

AND THAT SEEMED TO BE SO UNIQUE

BUT AT THE SAME TIME SHE DIDN'T

MAKE A SPEECH, SHE SIMPLY

RELEASED A STATEMENT THAT

DEMOCRATS KEPT READING OVER AND

OVER AND OVER.

SO, JENNIFER, FROM YOUR

PERSPECTIVE, DOES THAT ALSO SHOW

A CRACK WITHIN THE STRONGHOLD OR

THE GRIP THAT THE PRESIDENT

SEEMED TO HAVE ON THE GOP?

>> WELL, THERE'S NO QUESTION AS

ANDREA SAID THERE NOW ARE TWO

SIDES IN THE REPUBLICAN PARTY,

WHERE BEFORE THERE WAS ONLY ONE.

IT WAS ALL ABOUT TRUMP AND

SUPPORTING HIM.

SO NOW THERE ARE THESE TWO

DIVISIONS AND WE DON'T KNOW YET

WHICH ONE OF THOSE DIVISIONS

WILL EMERGE VICTORIOUS IN THE

POST-TRUMP ERA BUT THERE IS NOW

SPACE FOR PEOPLE WHO WANT TO

BREAK WITH TRUMP TO DO SO.

AND LIZ CHENEY IS LEADING THAT

CHARGE.

McCONNELL IS AT LEAST BEHIND THE

SCENES SEEMING TO SUPPORT THAT

SIDE OF THINGS.

McCARTHY'S STILL SORT OF ON THE

FENCE ALTHOUGH POSSIBLY LEANING

THAT DIRECTION.

I DO THINK WE WILL SEE MORE AND

MORE PEOPLE COMING OUT AGAINST

THE PRESIDENT.

OF COURSE, YOU COULD SAY IT'S

NOT NECESSARILY PROFILE IN

COURAGE AS HIS TERM IS ENDING IN

DAYS NOW BUT AT LEAST WE ARE

SEEING FOR THE POST-TRUMP ERA

SOME MOVEMENT AWAY FROM HIM AND

TOWARDS A DIFFERENT TYPE OF

LEADERSHIP FOR THAT PARTY.

>> BEFORE WE GET TOO DEEP INTO

THE IMPACT THIS MIGHT BE HAVING

ON THE PRESIDENT HIMSELF,

JENNIFER, I DO WANT TO ASK ONE

OF THE THINGS WE SAW SEVERAL

DEMOCRATS SAY ON THE HOUSE FLOOR

WAS THAT IF WE DON'T IMPEACH FOR

THIS, THEN WHAT IS THE PURPOSE

OF IMPEACHMENT PERIOD?

I'M JUST WONDERING IF YOU COULD

GIVE US A LITTLE BIT OF CONTEXT,

IS THIS -- IT SEEMS TO A LOT OF

PEOPLE THIS IS A VERY OBVIOUS

THING TO DO.

DO DEMOCRATS HAVE A SOLID POINT

WITH THAT?

SECONDLY, DOES THAT GIVE US ANY

INSIGHT INTO WHAT KIND OF A

SENATE TRIAL WE WITH MIGHT BE

SEEING?

>> IT'S INTERESTING BECAUSE

SUBSTANTIVELY I THINK THEY'RE

RIGHT, THIS CONDUCT ESSENTIALLY

WHIPPING UP A VIOLENT MOB TO

STOP A CONSTITUTIONAL PROCESS

THAT THE GOVERNMENT IS

UNDERTAKING FROM PROCEEDING IS

ABOUT AS BAD AS IT GETS.

MAYBE YOU CAN SAY TRUE TREASON,

ACTUALLY BANDING TOGETHER WITH A

FOREIGN POWER TO OVERTHROW A

GOVERNMENT MIGHT BE WORSE, BUT

THEY'RE ABOUT ON PAR.

SUBSTANTIVELY, I THINK THEY'RE

RIGHT.

WHERE SOME REPUBLICANS ARE

TRYING TO MAKE A POINT IS

PROCEDURALLY IT'S NOT THE WAY TO

GO BECAUSE HIS TERM IS ENDING.

SO IMPEACHMENT USUALLY IS FOR

REMOVING THAT PERSON FOR OFFICE

SO THEY CAN NO LONGER CONTINUE

TO DAMAGE THE COUNTRY.

HE'S LEAVING IN SIX DAYS, AND HE

WILL NOT BE REMOVED BEFORE THAT

TIME.

SO ONE OF THE THINGS REPUBLICANS

ARE SAYING IS EVEN IF THE

CONDUCT IS BAD, THIS ISN'T THE

WAY TO GO ABOUT IT.

LET'S JUST LET HIS TERM END.

THERE'S NO POINT IN ALL OF THIS.

SO IT KIND OF GOES BOTH WAYS

WHETHER YOU'RE THINKING ABOUT

THE SUBSTANCE OF THE ACTION OR

THE PROCESS IS GOING TO HAPPEN.

>> NOW, ANDREA, THIS IS

SPECIFICALLY WHY I WAS REALLY

LOOKING FORWARD TO SPEAKING WITH

YOU, AND THAT IS, OF COURSE, THE

ISSUE OF CONSEQUENCES.

WE ALSO HEARD A LOT OF DEMOCRATS

REALLY STRESS THAT WE CAN'T

BEGIN TO MOVE FORWARD AS A

COUNTRY WITHOUT PEOPLE BEING

HELD TO ACCOUNT AND PERHAPS

NECESSARY CONSEQUENCES BEING

ENFORCED.

YOU BEING SUCH A STUDENT OF, I

GUESS, ALL THINGS TRUMP FOR A

WHILE NOW, I'M WONDERING WHAT

WOULD YOU SAY IS THE PRESIDENT'S

EXPERIENCE WITH THE IDEA OR THE

NOTION OF EVER PAYING

CONSEQUENCES?

>> YEAH, THIS IS SOMETHING THAT

GOES WAY BACK IN THE TRUMP

FAMILY TO DONALD TRUMP'S FATHER

FRED TRUMP.

FRED TRUMP AT ONE POINT WAS

CALLED BEFORE THE U.S. SENATE TO

EXPLAIN WHY HE USED CERTAIN

FEDERAL HOUSING MONEY IN THE WAY

HE HAD.

THE SENATORS WERE VERY

DISPLEASED WITH THE WAY FRED

TRUMP AND HIS FAMILY USED THESE

BENEFITS, BUT THEY SAID IT WAS

BAD, AND FRED TRUMP WENT ON TO

DO IT AGAIN AND AGAIN AND AGAIN.

AND THAT WAS THE SORT OF HISTORY

OF THE TRUMP FAMILY.

DONALD TRUMP IN HIS FIRST MAJOR

MANHATTAN PROJECT, THE THING

THAT MADE HIM A MANHATTAN MEDIA

MOGUL, LIED TO THE BANK, LIED TO

THE STATE AND THEN BRAGGED ABOUT

THE WHOLE THING IN HIS BOOK "THE

ART OF THE DEAL."

THE SENSE WAS WITH TRUMP, YOU

COULD ALWAYS GET AWAY WITH IT.

YOU COULD ALWAYS FIND AWAY TO

AVOID RESPONSIBILITY FOR IT.

WHETHER IT WAS CAJOLING, AS HE

ONCE DID WHEN AN FBI AGENT CAME

TO INTERVIEW HIM AND HE DID IT

IN HIS FATHER'S OFFICE IN

BROOKLYN WITH HIS THEN WIFE AND

HIS TODDLER SON DON JR. IN

ATTENDANCE DURING AN INTERVIEW,

WHETHER IT WAS THROUGH

INTIMIDATION, WHETHER IT WAS

THROUGH DONATING TO LOCAL

PROSECUTORS, TAKING THEM FOR

LUNCH, FOR HELICOPTER RIDES,

THERE WAS ALWAYS A SENSE THAT

YOU COULD GET LAW ENFORCEMENT TO

GO EASY ON YOU.

AND THAT WAS DONALD TRUMP'S

HISTORY AS A BUSINESSMAN.

HE'S BEEN INVOLVED IN THOUSANDS

OF LAWSUITS, BUT NEVER BEEN

CRIMINALLY CHARGED.

NEVER BEEN SERIOUSLY TOLD WHAT

YOU HAVE DONE CROSSES A LINE

THAT SHOULD NOT BE CROSSED.

AND LAST YEAR WHEN HE WAS

ACQUITTED BY THE SENATE, THERE

WERE A LOT OF PEOPLE THAT SAID

WELL, NOW, WHAT'S THE CHECK ON

HIM?

THE ONLY CHECK IS THE ELECTION,

AND THE ELECTION, THE VOTERS

CHOSE NOT TO RE-ELECT DONALD

TRUMP.

SO THE VOTERS WERE A CHECK BUT

THEN DONALD TRUMP REJECTED THAT

AND WHAT WE SAW, THE CULMINATION

OF THAT, IS WHAT WE SAW LAST

WEEK WAS THE INTERACTION AT THE

CAPITOL.

SO WHEN DEMOCRATS SAY IF THERE

ARE NO CONSEQUENCES FOR TRUMP,

IF HE DOESN'T GET TOLD HE CANNOT

DO SOMETHING, HE WILL DO

SOMETHING EVEN BIGGER AND MORE

OUTRAGEOUS THE NEXT TIME, THERE

IS HISTORICAL PRECEDENT FOR THEM

TO BELIEVE THAT.

>> JENNIFER, IS THAT SOMETHING

YOU THINK CAN BE BROUGHT INTO A

SENATE TRIAL?

AGAIN, I ASK, IS THIS GOING TO

BE SOMETHING WHERE THEY FOCUS

SPECIFICALLY ON THE PRESIDENT'S

BEHAVIOR SINCE THE ELECTION, OR

IS THERE POSSIBLY A CHANCE TO

MAKE A CASE THAT THIS IS AN

ONGOING PATTERN THAT, AS ANDREW

POINTED OUT, HAS BEEN GOING ON

FOR YEARS?

>> I DO THINK THEY WILL TRY TO

MAKE A POINT OF HIS LACK OF

ACCEPTING CONSEQUENCES AND

REPEATED PATTERNS OF OF BEING

EMBOLDENED BY WHAT'S HAPPENING

AND CONTINUING TO PROCEED.

SO IT WON'T NECESSARILY BE PART

OF THE EVIDENCE AND PROOF PER SE

BUT AS PART OF THEIR ARGUMENT,

CERTAINLY, I THINK THEY WILL

BRING UP THE FACT HE HAS THIS

PATTERN BREAKING NORMS, GOING

AGAINST TRADITIONS AND BREAKING

THE LAW IN CERTAIN CIRCUMSTANCES

AND WITHOUT HAVING TO BE HELD IN

CONSEQUENCES, WE SEE THAT AGAIN

AND AGAIN.

BUT MOST OF THE EVIDENCE I DO

THINK WILL BE FOCUSED ON HIS

PATTERN OF DENYING WHAT HAPPENED

IN THE ELECTION, PREPPING AND

GROOMING HIS SUPPORTERS TO FIGHT

THE ELECTION RESULTS AND

OVERTURN THE ELECTION RESULTS,

WHICH CULMINATED IN LAST WEEK'S

EVENTS.

>> JENNA, IF I COULD JUST JUMP

IN --

>> ABSOLUTELY.

>> I THINK WE SAW WITH THE

MAJORITY OF THE MEMBERS OF THE

CONGRESS JOINED A LAWSUIT THAT

WENT TO THE U.S. SUPREME COURT

IN WHICH THE STATE OF TEXAS IS

SAYING WE SHOULD OVERTURN THE

RESULTS IN ALL OF THESE OTHER

STATES.

A MAJORITY OF THE CONGRESS OF

THE UNITED STATES.

SO WHEN TRUMP GOES OUT IN FRONT

OF WHAT IS ABOUT TO BECOME AN

ANGRY MOB AND SAYS THE ELECTION

SHOULD BE OVERTURNED, WELL, HE

JUST HAD HUNDREDS OF MEMBERS OF

CONGRESS SAY THAT WAS OKAY.

SO WE SEE RIGHT THERE THE

PERMISSION STRUCTURE THAT WAS

CREATED FOR TRUMP TO DO WHAT HE

DID, AND LED HIM TO BELIEVE THAT

HIS ACTIONS THAT DAY WERE FINE.

>> OF COURSE, NOTHING HAPPENS IN

A VACUUM, AND I THINK SOMETHING

ANDREA JUST SAID,I JENNIFER SAI

TO YOU, ANDREA, AND THAT WAS

JUST TELLING IN THE WAY THE

PRESIDENT PREPS AND GROOMS

PEOPLE TO DO THINGS.

I'M WONDERING IF YOU CAN JUST

TOUCH ON THAT, HOW THIS FITS

INTO A PATTERN OF BEHAVIOR, HOW

HE'S ABLE TO GET PEOPLE TO BEND

HIS WILL.

>> YEAH, I HAVE TALKED TO SCORES

OF PEOPLE OVER THE YEARS,

HIGH-LEVEL EXECUTIVES IN THE

TRUMP ORGANIZATION, BUSINESS

PARTNERS, LENDERS, ALL KINDS OF

PEOPLE WHO BASICALLY SAID,

AGAINST MY BETTER JUDGMENT, I

WENT WITH TRUMP.

I GOT UP THERE TO THE 26th FLOOR

OF TRUMP TOWER AND I SAW THE

BEAUTIFUL VIEW, AND I THOUGHT

THIS IS GOING TO BE INCREDIBLY

EXCITING.

AND I THINK THAT IS SOMETHING

TRUMP HAS MANAGED TO OFFER

PEOPLE, YOU'RE GOING TO GO ON AN

EXCITING RIDE IF YOU GO WITH

HIM.

PEOPLE FEEL LIKE OKAY, MIGHT AS

WELL TRY IT AND SEE WHAT

HAPPENS.

WHAT CAN GO WRONG?

MICHAEL COHEN IN HIS PUBLIC

TESTIMONY TALKED ABOUT EXACTLY

WHAT COULD GO WRONG, WHICH IS

TRUMP ASKS YOU TO DO SOMETHING

THAT CROSSES A LINE, AND YOU DO

IT.

AND THEN YOU DO SOMETHING ELSE,

AND THEN YOU DO ANOTHER THING

AND SUDDENLY YOU'RE AT A POINT

WHERE YOU CANNOT GO BACK BECAUSE

YOU'RE ENTIRELY COMPLICIT WITH

HIM.

HE'S DONE THIS OVER AND OVER

WITH PEOPLE WHO WORK FOR HIM,

WITH OTHER POLITICAL LEADERS,

WITH HIS WIVES, WHERE HE CREATES

A CONDITION WHERE THEY FEEL THEY

CAN'T SAY NO UNTIL HE HAS NO USE

FOR THEM ANYMORE.

WE'RE NOW SEEING REPORTS HE HAS

NO USE FOR RUDY GIULIANI.

HE IS DENYING THAT BUT THIS IS

HIS BEST LEGAL FRIEND, HIS MOST

STAUNCH ALLY WHO HE'S NOW

TURNING AGAINST.

HE EVEN TURNED AGAINST ROY COHN,

HIS ORIGINAL LAWYER.

SO THERE'S A SENSE WITH TRUMP

THAT HE'S ALWAYS MANAGED TO GET

SOMEBODY ELSE.

AND I THINK ONE OF THE THINGS WE

SEE HIM FACING NOW IS A

SITUATION WHERE SO MANY PEOPLE

KNOW WHAT HE HAS DONE THAT IT IS

VERY, VERY HARD FOR HIM TO FIND

PEOPLE WHO ARE GOING TO SAY, OH,

YEAH, I'LL DO THAT.

WHAT COULD GO WRONG?

>> JENNIFER, THAT DOES BRING UP

A VERY IMPORTANT POINT, AND THAT

IS WHO IS GOING TO BE HIS

DEFENSE TEAM?

WE HEARD SOME RUMORS, AS ANDREA

MENTIONED, RUDY GIULIANI.

MAYBE THEY'RE ON THE OUTS, MAYBE

THEY'RE NOT.

WHAT EXACTLY IS THESTHE PRESIDE

LEGAL EXPOSURE GOING INTO THIS?

HOW MUCH DOES HE STAND TO LOSE?

>> IT'S INTERESTING BECAUSE

THERE HAVE BEEN SUGGESTIONS HE

WON'T REALLY HAVE A DEFENSE AT

ALL THIS TIME AROUND.

WE'LL HAVE TO SEE WHAT HE DOES.

HE CERTAINLY FACES EXPOSURE

OUTSIDE OF THE IMPEACHMENT

PROCESS.

WE KNOW HE FACES A POTENTIAL

CRIMINAL INVESTIGATION.

WE KNOW HE FACES CIVIL LAWSUITS.

SO HE'S GOING TO HAVE A LOT OF

LEGAL TROUBLES GOING FORWARD.

IN TERMS OF IMPEACHMENT, I DON'T

KNOW WHO'S GOING TO SHOW UP TO

DEFEND HIM THIS TIME AROUND.

ALAN DERSHOWITZ APPARENTLY HAS

REPORTED HE'S ON BOARD.

AND I'M SURE HE WILL BE ABLE

TO -- TO SCROUNGE UP A COUPLE OF

PEOPLE TO DO IT.

THE PROBLEM IS, HE HASN'T HAD

THE BEST OF THE BEST IN A LONG

TIME.

SO HE'S GOING TO HAVE TROUBLE

ATTRACTING TRUE LEGAL TALENT

HERE.

BUT THE CONSEQUENCES ARE

UNCLEAR.

HE ALREADY WILL BE GONE SO HE

CAN'T TECHNICALLY BE REMOVED.

REALLY THE ONLY PENALTY IS IF

HE'S CONVICTED OF THE

IMPEACHMENT PROCESS IS THEY CAN

VOTE BY MAJORITY VOTE AFTER

CONVICTING HIM BY TWO-THIRDS TO

BAR HIM FROM EVER HOLDING

FEDERAL OFFICE AGAIN.

OF COURSE, WE KNOW HE'S FLOATED

THE IDEA OF RUNNING IN 2024.

SO THAT WOULD BE THE ONE PENALTY

THAT COULD COME OUT OF THESE

PROCEEDINGS, ALTHOUGH I WOULD

SUGGEST KNOWING TRUMP AS WE DO

THAT HE MAY EVEN TRY TO FIGHT

THAT IN LITIGATION IF HE DECIDES

TO DO SO AFTER THE FACT.

>> AND I DO WANT TO COME BACK TO

THAT POINT, BUT, ANDREA, I

WANTED TO ASK YOU, SO JENNIFER

DID MENTION THAT THERE ARE OTHER

LEGAL EXPOSURES THAT THE

PRESIDENT IS MOST LIKELY GOING

TO FACE, AND WHAT ARE THEY JUST

SO THAT WE ALL UNDERSTAND?

WE KNOW HE HAS DEALINGS WITH

DEUTSCHE BANK, THAT THERE'S A

LOT OF MONEY OWED.

THOSE PAYMENTS ARE GOING TO

START COMING UP SOON.

AND THERE'S OTHER LEGAL EXPOSURE

THAT HE HAS AND HE DOESN'T

NECESSARILY HAVE THE INCOME

STREAM HE HAD BEFORE AND SO MANY

BUSINESSES HAVE BEEN CUTTING

TIES.

>> YEAH, I MEAN, THERE ARE A

NUMBER OF INVESTIGATIONS WHICH

ARE PRETTY FAR ADVANCED.

THERE IS ONE BY THE DISTRICT OF

COLUMBIA ATTORNEY GENERAL

TONIGHT INAUGURAL COMMITTEE THE

LAST TIME AROUND.

THE NEW YORK ATTORNEY GENERAL IS

LOOKING INTO WHETHER THE TRUMP

ORGANIZATION VIOLATED CIVIL TAX

LAWS.

BUT THE MOST SERIOUS IS THE

MANHATTAN DISTRICT ATTORNEY IS

ENGAGED IN A FAIRLY ADVANCED

CRIMINAL INVESTIGATION OF THE

TRUMP ORGANIZATION, WHICH WE

ONLY KNOW ABOUT BECAUSE TRUMP

SUED TO PREVENT THE DISTRICT

ATTORNEY FROM GETTING HIS TAX

RETURNS.

BUT BECAUSE OF THAT SUIT, THERE

HAVE BEEN ALL OF THESE LEGAL

PAPERS FILED.

SO WE KNOW THAT AMONGST THE

CHARGES THAT THE D.A. IS LOOKING

AT IS VARIOUS FRAUD STATUTES,

WHICH COULD BE FOUNDED.

IT'S A VERY SERIOUS FELONY IN

NEW YORK.

ONCE TRUMP IS NO LONGER

PRESIDENT ON JANUARY 20th,

THERE'S AN EXPECTATION THE

SUPREME COURT WILL BASICALLY

ALLOW THE D.A. TO GET THOSE TAX

RETURNS.

AND HE WILL PROCEED WITH HIS

CRIMINAL INVESTIGATION QUITE

QUICKLY.

AND IT LOOKS TO BE A VERY

SERIOUS, VERY THOROUGH

INVESTIGATION FROM WHAT WE CAN

TELL FROM THE COURT FILINGS THAT

ARE ALREADY IN THE PUBLIC.

SO THAT IS A SERIOUS MATTER AND

THE D.A. HAS ALREADY SAID HE'S

LOOKING AT TRUMP, HIS ASSOCIATES

AND HIS BUSINESS.

SO TRUMP MAY BE FACING THAT

INVESTIGATION.

THERE IS ALSO TALK THAT THE

FULTON COUNTY MAY BE LOOKING

INTO WHETHER TRUMP VIOLATED

CIVIL STATUTES IN GEORGIA WHEN

HE CALLED ELECTION OFFICIALS

THERE TO TRY TO HAVE THE RESULTS

OVERTURNED.

AND THEN THERE ARE SO MANY CIVIL

SUITS.

THERE IS HIS NIECE, MARY TRUMP,

WHO SUED HIM FOR FRAUD.

THERE'S E. JEAN CARROLL, THE

FORMER ADVICE COLUMNIST, WHO

SUED HIM FOR DEFAMATION.

THERE'S A FORMER CONTESTANT.

AND JENNIFER, MAYBE YOU HAVE

SOME IDEAS, WHO WILL REPRESENT

HIM?

WE SEE WHOLESALE BUSINESSES

RUNNING AWAY FROM TRUMP FLEEING

AND A LOT OF LAW FIRMS, I WOULD

IMAGINE, WOULD BE FEELING A LOT

OF PRESSURE IF THEY GO AHEAD AND

REPRESENT DONALD TRUMP.

SO I THINK HE'S IN A BIT OF A

SQUEEZE THERE.

>> JENNIFER, DOES THAT MAKE

SENSE TO YOU, THAT HE MIGHT

REALLY HAVE TROUBLE FINDING

LEGAL REPRESENTATION?

>> I THINK SO.

THERE'S NO SHORTAGE OF LAWYERS

WILLING TO TAKE A HIGH-PROFILE

MATTER BUT THE PROBLEM WITH

DONALD TRUMP IS NOT JUST HE

TAKES POSITIONS THAT HAVE NO

MERIT AND HE'S ABUSIVE TO THE

PEOPLE WHO WORK FOR HIM AND HE

DOESN'T LISTEN TO HIS LAWYERS,

BUT HE DOESN'T PAY HIS BILLS.

THE ONE THING THAT LAWYERS WANT

IS TO BE PAID.

SO I DO THINK THAT HE IS GOING

TO HAVE TROUBLE FINDING GOOD

COUNSEL FOR THESE SUITS.

SOME OF SUITS, OBVIOUSLY,

ALREADY HAVE COUNSEL.

THAT SAID, THERE ARE A LOT OF

LAWYERS IN THE WORLD.

SO UNQUESTIONABLY HE WILL BE

ABLE TO FIND SOMEONE.

WE'LL JUST HAVE TO SEE WHETHER

THESE PEOPLE ARE MAGICALLY ABLE

TO PUT UP A GREAT DEFENSE.

>> ANDREA, SO MUCH OBVIOUSLY

WHAT WE'VE BEEN TALKING ABOUT IS

VERY SPECIFICALLY DONALD TRUMP.

HOWEVER, TRUMP, INC., IS HIS

WHOLE FAMILY.

FROM YOUR PERSPECTIVE, THEY

DEFINITELY SEE THEMSELVES AS A

DYNASTY AND NOW REAND BBRANDING

HOPEFULLY A POLITICAL DYNASTY.

WHICH TRUMP DO YOU EXPECT TO

TAKE UP THE BANNER AND GO

FORWARD WITH THE TRUMP BRAND?

>> I THINK THE QUESTION IS DOING

WHAT?

IVANKA TRUMP AS WHITE HOUSE

ADVISER WAS THE PERSON WHO WAS

ACTING THE MOST AS IF SHE HAD A

POLITICAL FUTURE.

BY THAT I MEAN SHE WAS VERY

DISCIPLINED IN HER MESSAGING FOR

THE MOST PART, UNLIKE DON JR.

AND EVEN ERIC, SHE WASN'T

INVOLVE ED REALLY, FOR THE MOST

PART, BETWEEN TWEETING CONSPIRA

THEORIES, BEING OPPOSITIONAL,

FUJLEISTIC, SHE OFTEN HAD

PICTURES OF HERSELF IN AFRICA

WITH WOMEN AND CHILDREN, FOR

EXAMPLE, OR THE MILITARY.

THE KINDS OF IMAGES PEOPLE WHO

WANT A FUTURE IN POLITICS

PROJECT.

I DO THINK THE LAST WEEK REALLY

COMPLICATES THAT FOR IVANKA

TRUMP.

THERE IS NO INDICATION SHE WANTS

TO GO BACK SELLING HANDBAGS AND

SHOES, THAT SHE LEFT THAT

BUSINESS BEHIND.

NOR IS THERE AN INDICATION SHE

PARTICULARLY WANTS TO GO BACK TO

THE REAL ESTATE BUSINESS.

SO I THINK IT IS A REAL QUESTION

MARK WHAT SHE DOES NEXT.

AND ERIC TRUMP, I IMAGINE, WILL

SORT OF CONTINUE TO HAVE SOME

SORT OF ROLE IN THE FAMILY

COMPANY, WHICH IS IN DEEP, DEEP

TROUBLE.

ITS BANKERS ARE FLEEING.

ITS BROKERS ARE FLEEING.

ITS CUSTOMER BASE IS FLEEING

BECAUSE IF YOU'RE A PRIVATE

GOLFER AND A MEMBER OF A PRIVATE

CLUB, THE LAST THING YOU WANT IS

TO SEE YOUR PICTURE ASSOCIATED

WITH TRUMP CONTROVERSY.

SO DONALD TRUMP'S CUSTOMERS ARE

NOT HIS POLITICAL BASE AND

THERE'S ABOUT TO BE, I BELIEVE,

A RECKONING IN THE TRUMP

ORGANIZATION ABOUT HOW TO

STRADDLE THAT DIFFERENCE.

>> WELL, ONE THING PEOPLE OFTEN

SAY ABOUT DONALD TRUMP IS TO

NEVER COUNT HIM OUT.

SO, JENNIFER, I UNDERSTAND THAT

THERE IS A LEGAL THEORY ABOUT

THE PRESIDENT THAT MIGHT BRING

HIM BACK TO POLITICAL LIFE.

>> WELL, LEGAL SCHOLARS DIFFER

ABOUT WHETHER A FORMER OFFICIAL

CAN BE IMPEACHED AND REMOVED.

WE KNOW THAT BY THE TIME THE

SENATE HEARS THE TRIAL AND

VOTES, HE WILL BE GONE.

SO THE QUESTION BECOMES, IS IT

LEGITIMATE TO CONVICT DONALD

TRUMP AFTER HIS TERM ENDS?

IS IT LEGITIMATE TO VOTE TO BAR

HIM FROM FURTHER FEDERAL SERVICE

AFTER HIS TERM ENDS?

A DISTINGUISHED FORMER APPELLATE

JUDGE, MICHAEL LUD IG, WROTE AN

OP-ED SAYING HE THOUGHT THE

ANSWER WAS NO.

ANOTHER LEGAL SCHOLAR SAID YES.

BUT WE DON'T KNOW BECAUSE IT'S

NEVER BEEN LITIGATED.

BUT SENATE COULD CONVICT, VOTE

TO BAR HIM FROM FURTHER FEDERAL

OFFICE AND THEN THE PRESIDENT

CAN FILE PAPERS TO BE ON THE

BALLOT SOMEWHERE, PRESUMABLY HE

WOULD BE BANNED FROM THAT AND

FILE A LAWSUIT SAYING THIS WHOLE

THING WAS CONSTITUTIONALLY

IMPERMISSIBLE AND I DEMAND TO BE

ON THE BALLOT.

SO AS LITIGIOUS AS HE IS, I

WOULD NOT BE THAT SHOCKED TO SEE

HIM CHALLENGE THIS IN COURT.

HE COULD EVEN FRANKLY CHALLENGE

THE FACT HIS PENSION AND OTHER

BENEFITS WOULD BE TAKEN AWAY

POST PRESIDENCY WITH THE

CONVICTION.

SO HE MAY GO TO COURT TO TRY TO

STOP THIS.

I DON'T KNOW IF HE WILL, BUT

IT'S CERTAINLY SOMETHING TO KEEP

AN EYE ON GIVEN HIS PAST

HISTORY.

>> ANDREA, DOES THAT TRACK WITH

THE MAN YOU'VE BEEN FOLLOWING

FOR ALL OF THESE YEARS?

>> YES.

HE'S NOT SOMEONE WHO SLINKS

SILENTLY INTO THE WIND OR TO

TRUMP BEDMINSTER PLAY A FEW

ROUNDS OF GOLF NEVER TO BE HEARD

OF AGAIN.

HIS INSTINCT IS TO SUE AND HIS

INSTINCT IS TO LITIGATE AND HIS

INSTINCT, AS WE SAW LAST WEEK,

IS TO FIGHT AND I ASSUME HE WILL

TRY TO DO SO.

THE QUESTION BEFORE US IS HOW

MANY PEOPLE WILL GO ALONG WITH

THAT KNOWING WHAT WE NOW KNOW

ABOUT THE POSSIBLE OUTCOME OF

THOSE TENDENCIES?

>> WELL, THEN, KEEPING THAT VERY

IMPORTANT POSSIBILITY OF LEGAL

LITIGATION IN MIND, MY FINAL

QUESTION TO BOTH OF YOU IS GOING

FORWARD, ESPECIALLY ONCE THE

SENATE TRIAL GYPS, IS THERE

ANYTHING SPECIFICALLY THAT YOU

WOULD BE KEEPING AN EYE OUT FOR?

IS IT A TYPE OF DEFENSE THAT

GETS MOUNTED, PERHAPS EVEN WHO

SHOWS UP AS HIS LAWYER?

WHAT IS IT YOU WOULD BE LOOKING

FOR GOING FORWARD?

JENNIFER, I'LL START WITH YOU.

>> I'M REALLY LOOKING FOR A

COMPREHENSIVE STORY TO EMERGE

FROM THE TRIAL, WHICH IS IT HAS

TO START LONG BEFORE JANUARY

6th.

THEY REALLY HAVE TO ESTABLISH

THAT THIS WHOLE, BIG LIE THAT

THE PRESIDENT HAS BEEN TELLING

AND HE SET UP FOR EVEN BEFORE

THE ELECTION, THAT HE REALLY WON

THE ELECTION AND PEOPLE NEED TO

FIGHT FOR HIM TO OVERTURN IT, IS

SOMETHING THAT WAS PLANNED, IT

WAS DELIBERATE, IT WAS

METHODICAL, AND THAT'S WHAT LED

US KIND OF BUILDING BLOCK BY

BUILDING BLOCK TO GET TO WHERE

WE WERE.

HE USED PERFECTLY LEGAL MEANS,

FILING MORE THAN 60 LAWSUITS,

AND ARGUABLY ILLEGAL MEANS TO

FORCE THE GEORGIA OFFICIALS TO

"FIND VOTES."

SO THERE ARE A LOT OF PIECES OF

EVIDENCE THERE, INCLUDING A LOT

OF EVIDENCE WE HAVE NOT SEEP.

THERE'S EVIDENCE COMING OUT NOW

HOW DIFFERENT GROUPS PLANNED IN

ADVANCE TO GO WITH VIOLENT

INTENTIONS AND WEAPONS AND SO

ON.

THERE'S A LOT OF INFORMATION TO

COME OUT.

I'M LOOKING FOR THEM TO PUT

TOGETHER A STORY OF ALL OF THOSE

EVENTS, NOT JUST TALKING ABOUT

THE LEAD UP TO THE JANUARY 6th.

AND IT'S INTERESTING WHAT

DEFENSE THERE WILL BE.

I WONDER IF THE PRESIDENT OR HIS

LEGAL REPRESENTATIVES WILL

CHANGE COURSE AND ULTIMATELY

ADMIT THIS WAS A BIG LIE, THAT

HE DIDN'T WIN, THAT HE LOST.

I DON'T THINK IT'S GOING TO

HAPPEN BUT THAT REALLY WOULD BE

THE ONE THING THAT HE COULD DO

THAT COULD BRING THE COUNTRY

BACK TOGETHER IS ADMIT THAT BIG

LIE, AND ONLY THEN, I THINK, CAN

WE MOVE FORWARD.

>> ANDREA, WE HAVE A FEW MOMENTS

LEFT, I'M SORRY, BUT WHAT WOULD

YOU BE LOOKING FORWARD TO?

>> I AM LOOKING FORWARD TO THE

LEGAL RECKONING.

I DO THINK WE NEED TO TELL THIS

WHOLE STORY IN THE FULLNESS THAT

IT NEEDS, THAT IT'S VERY, VERY

IMPORTANT TO THE HEALING OF THIS

COUNTRY, AND WE REALLY CAN'T

MOVE ON AND BECOME A MORE

UNIFIED DEMOCRACY UNTIL WE

UNDERSTAND WHAT WENT SO BADLY

WRONG.

>> LADIES, WE'RE GOING TO HAVE

TO LEAVE IT THERE.

I WANT TO THANK YOU BOTH SO MUCH

FOR JOINING ME.

WNYC'S ANDREA BERNSTEIN AND

LECTURER-IN-LAW AT COLUMBIA LAW

SCHOOL, JENNIFER ROGERS, THANK

YOU BOTH FOR JOINING ME.

>> THANK YOU SO MUCH.

>> "METROFOCUS" IS MADE POSSIBLE

BY --

SUE AND EDGAR WACHENHEIM III,

SYLVIA A. AND SIMON B. POYTA

PROGRAMING ENDOWMENT TO FIGHT

ANTI-SEMITISM.

BERNARD AND DENISE SCHWARTZ,

BARBARA HOPE ZUCKERBERG, JANET

PRINDLE SEIDLER, JODY AND JOHN

ARNHOLD, CHERYL AND PHILIP

MILSTEIN FAMILY, JUDY AND JOSH

WESTON, DR. ROBERT C. AND TINA

SOHN FOUNDATION.