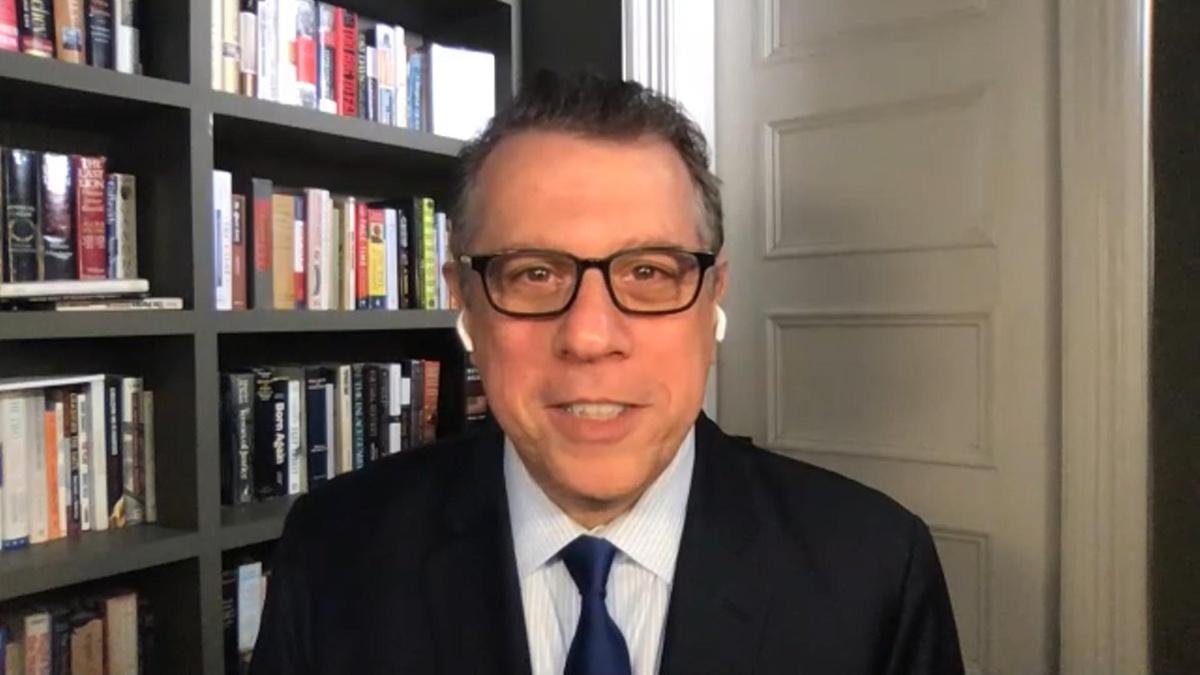 FULL EPISODE
METROFOCUS: January 13, 2021
As the countdown begins to the end of his term, Congress and President Trump face-off once again. With only one week left in office, will the Constitution be his undoing? Michael Waldman, constitutional attorney and President of Brennan Center for Justice discusses how the outcome will forever change our nation's history.
TRANSCRIPT

>>> THIS IS "METROFOCUS" WITH

RAFAEL PI ROMAN, JACK FORD, AND

JENNA FLANAGAN.

"METROFOCUS" IS MADE POSSIBLE BY

SUE AND EDGAR WACHENHEIM III,

SYLVIA A. AND SIMON B. POYTA

PROGRAMMING ENDOWMENT TO FIGHT

ANTI-SEMITISM, BERNARD AND

DENISE SCHWARTZ, BARBARA HOPE

ZUCKERBERG, AND BY JANET PRINDLE

SEIDLER, JODY AND JOHN ARNHOLD,

CHERYL AND PHILIP MILSTEIN

FAMILY, JUDY AND JOSH WESTON,

DR. ROBERT C. AND TINA SOHN

FOUNDATION.

>>> GOOD EVENING AND WELCOME TO

"METROFOCUS."

I'M JACK FORD.

AS YOU ALL KNOW, THIS

PRESIDENTIAL ELECTION CYCLE HAS

BEEN ONE OF THE MORE

EXTRAORDINARY MOMENTS IN OUR

NATION'S HISTORY, MARKED BY ONE

OF THE MORE EXTRAORDINARY AND

TERRIFYING MOMENTS IN OUR

NATION'S HISTORY LAST WEEK WHEN

THE RIOTOUS MOB ATTACKED THE

CAPITOL.

WELL, THOSE EXTRAORDINARY

MOMENTS ARE CONTINUING TODAY AS

CONGRESS IS SET TO VOTE ON

IMPEACHING PRESIDENT TRUMP FOR

THE SECOND TIME.

BUT THERE ARE QUESTIONS SWIRLING

ABOUT ALL OF THIS.

ASSUMING THAT THE HOUSE OF

REPRESENTATIVES DOES INDEED VOTE

TO IMPEACH, THEN IT WOULD GO TO

THE SENATE FOR A TRIAL AND THE

FIRST QUESTION IS CAN THE SENATE

ENGAGE IN A TRIAL TO REMOVE A

PRESIDENT WHO HAS ALREADY LEFT

OFFICE, OUT OF OFFICE?

ALSO A QUESTION ABOUT THE 25th

AMENDMENT.

HOW MIGHT THAT HAVE BEEN AND

PERHAPS STILL BE USED.

AND THEN QUESTIONS ABOUT THE

PRESIDENT'S ABILITY TO PARDON

HIM

HIMSELF.

ALL COMPELLING AND COMPLEX

QUESTIONS.

AND WE'RE DELIGHTED TO HAVE WITH

US TODAY A MAN WHO CAN HELP US

UNDERSTAND ALL OF THE HISTORY

BEHIND THIS AND PERHAPS ANSWER

MANY OF THESE QUESTIONS.

MICHAEL WALDMAN JOINS US ONCE

AGAIN.

MICHAEL ONE OF THE PREEMINENT

NATIONAL PRESIDENTIAL HISTORIANS

AND EXPERT ON OUR DEMOCRACY, ON

OUR SYSTEMS, AND ON THE

CONSTITUTION.

MICHAEL ALSO THE PRESIDENT OF

THE BRENNAN CENTER FOR JUSTICE

AT NYU'S SCHOOL OF LAW, WHICH IS

A NON-PARTISAN LAW AND POLICY

INSTITUTE THAT FOCUSES ON

IMPROVING SYSTEMS OF DEMOCRACY

AND JUSTICE.

AND WE'RE DELIGHTED TO HAVE HIM

AS A GUEST.

MICHAEL, GOOD TO SEE YOU AGAIN.

>> GOOD TO SEE YOU IN THIS TIME

OF INTENSE CRISIS FOR OUR

COUNTRY.

>> IT IS INDEED.

WE HAVE MUCH TO TALK ABOUT AS WE

ALWAYS DO WHEN YOU JOIN US.

LET'S START WITH THE IMPEACHMENT

PROCESS.

I MENTIONED HISTORICAL.

WE HAVE TO ASSUME, AND I'LL

MENTION FOR OUR VIEWERS YOU AND

I ARE HAVING THIS CONVERSATION

AROUND NOONTIME NOW.

THE PROCESS HAS GOTTEN STARTED.

IT WILL TAKE A LONG TIME.

IT MIGHT BE INTO THE NIGHT.

WE'RE NOT SURE.

BECAUSE OF COVID PROTOCOLS.

THE VOTING WILL TAKE A LONG

TIME.

BUT THE HOUSE IS ENGAGED IN THAT

RIGHT NOW.

LET'S ASSUME THAT THEY ARE GOING

TO VOTE INDEED TO IMPEACH THE

PRESIDENT.

WE KNOW.

IT'S THE FIRST STEP IN THE

PROCESS.

BEFORE WE GET TO THE NEXT STEP,

LET ME ASK YOU TO GIVE US A

LITTLE HISTORICAL SENSE OF THIS.

WHAT DID THE FOUNDERS HAVE IN

MIND?

AFTER THEY WRESTLED MIGHTILY

WITH THIS WHOLE CONCEPT.

WHEN THEY PUT IN PLACE THE TERMS

OF AN IMPEACHMENT PROCEDURE IN

THE CONSTITUTION.

>> WELL, WHEN THE FOUNDERS PUT

IMPEACHMENT IN THE CONSTITUTION,

THEY WERE DRAWING ON THE HISTORY

OF WHAT HAD HAPPENED IN ENGLAND

WITH MINISTERS FOR THE KING AND

THEY VIEWED THIS AS A VERY

IMPORTANT WAY OF HOLDING

POTENTIALLY ABUSIVE EXECUTIVE

BRANCH OFFICIALS TO ACCOUNT.

THIS WAS A SIGNIFICANT POWER

GIVEN TO CONGRESS WHICH WAS AS

THEY SAW IT SUPPOSED TO BE THE

KIND OF PREEMINENT BRANCH IN THE

FIRST PLACE.

AND IT IS IMPORTANT TO

UNDERSTAND THAT THEY SAW THIS

NOT AS QUITE THE SAME THING AS A

CRIMINAL TRIAL BUT IN FACT

RELATING TO THE POLITICAL ABUSES

THAT THEY KNEW YOU COULD GET

FROM PEOPLE IN POWER.

?

AND I THINK IT'S AN IMPORTANT

POINT FOR PEOPLE TO UNDERSTAND.

IN THE LAST IMPEACHMENT

PROCEDURE FOR PRESIDENT TRUMP

THERE WAS SIGNIFICANT ARGUMENTS

ABOUT, WELL, IS WHAT HE DID OR

WAS WHAT HE DID A CRIME?

AND DO YOU NEED ACTUALLY -- NOW,

WE KNOW THE CONSTITUTION TALKS

ABOUT BRIBERY, TREASON, AND THEN

THE FOUNDERS THREW IN THIS OTHER

PHRASE, OTHER HIGH CRIMES AND

MISDEMEANORS, WHICH BY

DEFINITION HIGH CRIMES AND

MISDEMEANORS SOUND SORT OF

COUNTERINTUITIVE THERE.

SO EXPLAIN WHY THIS IS A

POLITICAL PROCESS AND WHERE THE

RULES COME FROM.

>> WELL, THEY DECIDED NOT TO

INCLUDE MALADMINISTRATION, FOR

EXAMPLE, AS A BASIS FOR

IMPEACHMENT, THAT IT HAD TO BE

SOMETHING REALLY BAD AND

INVOLVING AN ABUSE.

AND THE WAY IT HAS PLAYED OUT IN

AMERICAN HISTORY, THERE HAVE

BEEN ONLY A FEW SERIOUS

IMPEACHMENT EFFORTS.

ONE WAS ANDREW JOHNSON IN THE

1860s.

RICHARD NIXON IN 1974.

BILL CLINTON, WHO I WORKED FOR,

IN 1998.

AND DONALD TRUMP I GUESS IN 2020

AND 2021.

THE WAY IT HAS EVOLVED IS FIRST

OF ALL THEY REALLY DO GENERALLY

LOOK FOR SOME CRIMINAL ACTIONS

BUT THEY THEN ON TOP OF THAT

HAVE TO HAVE ABUSE OF POWER,

ABUSE OF THE OFFICE OF THE

PRESIDENCY FOR IMPROPER ENDS.

AND YOU REMEMBER A YEAR AGO IT

FELT LIKE 30 YEARS AGO THE

QUESTION WAS WHETHER WHAT DONALD

TRUMP DID IN CALLING THE

PRESIDENT OF UKRAINE AND

PRESSURING HIM TO DIG UP DIRT ON

JOE BIDEN IN EXCHANGE FOR

MILITARY AID, WAS THAT THE KIND

OF THING THAT IMPEACHMENT WOULD

BE CONSIDERED FOR?

BUT I WOULD HAVE TO SAY THAT

GEORGE WASHINGTON AND JAMES

MADISON AND THE REST WOULD MOST

CERTAINLY THINK THAT A PRESIDENT

CALLING UP AN INSURRECTION TO

ATTACK THE CAPITOL AND THE

CONGRESS, THAT WOULD COUNT.

THIS ONE IS NOT A VERY HARD

QUESTION AS A CONSTITUTIONAL

MATTER.

IF THIS IS NOT AN IMPEACHABLE

ACT, IT'S KIND OF HARD TO THINK

ABOUT JUST ABOUT ANYTHING THAT

WOULD BE.

>> THEN REPRESENTATIVE GERALD

FORD WAS FAMOUSLY QUOTED BACK IN

THE NIXON -- THE TIME OF THE

NIXON TURMOIL, WHEN ASKED WHAT

IS AN IMPEACHABLE OFFENSE,

SAYING SOMETHING TO THE EFFECT

OF IT IS WHATEVER THE CONGRESS

AT THAT MOMENT SAYS IT IS.

IS THAT ACCURATE?

>> YES, IT IS ACCURATE.

BUT AS I SAY, THEY HAVE EVOLVED,

LOOKING FOR ABUSE OF POWER AND

USUALLY COUPLING IT WITH

SOMETHING RESEMBLING CRIMINAL

CONDUCT.

YOU KNOW, IN THIS INSTANCE THERE

WAS EXTRAORDINARY ABUSE OF POWER

AND THERE WAS CRIMINAL CONDUCT

BY THOUSANDS OF PEOPLE EGGED ON

BY DONALD TRUMP AND IN SO MANY

WAYS IT WOULD BE HARD PERHAPS TO

BRING A CRIMINAL PROSECUTION

AGAINST TRUMP IN A COURT OF LAW

FOR SENDING PEOPLE UP TO

CONGRESS TO BUST THE PLACE UP

BECAUSE OF THE FIRST AMENDMENT

PROTECTIONS THAT COURTS OFTEN

RELY ON.

BUT AGAIN, AS A POLITICAL CRIME,

AS IT WERE, IT'S AS CLOSE TO AN

OPEN AND SHUT CASE AS YOU GET.

AND YOU EVEN HAVE PEOPLE IN THE

DEBATES TODAY SAYING, WELL, YOU

KNOW, HOW CAN WE DO THIS WITHOUT

WITNESSES?

AND THE OTHER MEMBERS OF

CONGRESS ARE SAYING, WELL, WE

WERE THE WITNESSES.

WE HAD OUR -- I MEAN, WHEN YOU

SAY IT OUT LOUD, IT'S JUST SO

OUTLANDISH.

THAT BASICALLY, PRESIDENT TRUMP

SENT A MOB TO BREAK INTO THE

CAPITOL, MAYBE THREATEN, MAYBE

KILL VICE PRESIDENT PENCE AND

THE CONGRESS, TO STOP THE

COUNTING OF THE ELECTORAL VOTES,

ALSO IN THE CONSTITUTION, AND

THUS IN EFFECT STOP THE PEOPLE'S

VOTES FROM BEING COUNTED.

IT IS -- IT'S AN INSURRECTION.

IT WAS AN INSURRECTION WHICH WE

ALL SAW UNFOLDING IN REAL TIME.

SO THE KIND OF BASICS OF IS THIS

IMPEACHABLE CONDUCT, I THINK

THEY'VE GOT THAT ONE KIND OF

NAILED DOWN PRETTY GOOD.

>> AND AS YOU SAID, THE

DIFFERENCE BETWEEN THIS ONE AND

THE FIRST ONE THE FIRST ONE

PEOPLE WERE ARGUING WELL, WHAT

WAS THE CONDUCT, AND WAS THE

CONDUCT OKAY OR WAS IT JUST

MISGUIDED POLICY OR WAS IT

APPROPRIATE POLICY ACCORDING TO

PRESIDENT TRUMP'S SUPPORTERS?

HERE AS YOU SAID, WE KNEW

EXACTLY WHAT IT WAS.

WE SAW IT ON TELEVISION.

IT'S ALMOST LIKE REMEMBER THE

OLD GROUCHO MARX LINE?

WHO ARE YOU GOING TO BELIEVE, ME

OR YOUR OWN EYES?

>> EXACTLY.

>> LET ME ASK YOU A QUESTION

BEFORE I GET TO THE SECOND STEP

WOULD BE THE POSSIBLE TRIAL IN

THE SENATE.

AND YOU RAISE AN INTERESTING

POINT, AND THAT IS THE MEMBERS

OF THE HOUSE WILL BE VOTING ON

THIS WERE IN SOME WAYS THE

VICTIMS OF WHAT HAPPENED HERE.

IN MANY WAYS.

AND COULD WELL HAVE BEEN, GIVEN

WHAT WE'VE SEEN AND WHAT WE'RE

LEARNING NOW ABOUT THIS RIOTOUS

MOB, THEY COULD HAVE BEEN

VICTIMIZED SIGNIFICANTLY,

PERSONALLY.

SO THE QUESTION IS, WELL, IS

THERE ANYTHING THAT WOULD

PROHIBIT THEM ESSENTIALLY AS

VICTIMS AS SITTING IN JUDGMENT

AT LEAST FOR THE FIRST PART OF

THIS PROCESS, DETERMINING

WHETHER THE PRESIDENT SHOULD BE

IMPEACHED OR NOT?

WHAT DO YOU THINK ABOUT THAT?

>> WELL, AGAIN, IF THIS WERE A

CRIMINAL TRIAL FOR SHOPLIFTING

IN FOLEY SQUARE COURTHOUSE,

YEAH, YOU WOULDN'T HAVE THOSE

PEOPLE -- YOU WOULDN'T HAVE THE

SHOPKEEPER ON THE JURY.

BUT THE CRIME, THE ASSAULT BY

THIS WHITE SUPREMACIST MOB WAS

AGAINST THE CONSTITUTION BUT IT

WAS ALSO AGAINST THESE PEOPLE.

AND THESE PEOPLE WERE NOT JUST

BYSTANDERS.

THEY WERE THE ELECTED

REPRESENTATIVES DOING A DUTY

THAT WAS ASSIGNED TO THEM BY THE

CONSTITUTION.

SO I DON'T THINK THAT THAT IS SO

MUCH OF A CHALLENGE.

I THINK THE CHALLENGE, AS YOU

IDENTIFIED, IS THAT THEY'RE

ACTING, THERE WILL BE BIPARTISAN

SUPPORT, LIZ CHENEY AS OF THIS

CONVERSATION, THE NUMBER 3

REPUBLICAN IN THE HOUSE OF

REPRESENTATIVES, STRONGLY CAME

OUT FOR IMPEACHMENT.

WE'VE LEARNED TOO THAT MITCH

McCONNELL, THE SENATE REPUBLICAN

LEADER, IS PRIVATELY SUPPORTIVE

OF IT AS WELL AT THE VERY LEAST.

SO YOU KNOW, WHAT HAPPENS IN THE

HOUSE WILL PROCEED PRESUMABLY

ACCORDING TO THE RULES THAT HAVE

BEEN LAID OUT, BUT THEN THE

QUESTION IS THIS GUY'S LEAVING

OFFICE IN A FEW DAYS ANYWAY AND

WHAT HAPPENS THEN.

>> SO LET'S TALK ABOUT THAT.

AS YOU SAID, THERE WILL BE

BIPARTISAN SUPPORT IN THE HOUSE.

A QUESTION ABOUT HOW MUCH THAT

WILL BE, BUT SOME SIGNIFICANT

BIPARTISAN SUPPORT.

WE'RE SEEING NOW INDICATIONS

THAT A NUMBER OF REPUBLICAN

SENATORS COULD ALSO VOTE.

AS PEOPLE REMEMBER IMPEACHMENT

IS THE EQUIVALENT OF THE

INDICTMENT.

THEN YOU GO TO THE TRIAL, WHICH

TAKES PLACE IN THE SENATE.

SO LET'S TALK ABOUT THAT.

BECAUSE A NUMBER OF MOSTLY

REPUBLICAN SENATORS ARE

COMMENTING THAT, WELL, WHY ARE

WE DOING THIS?

PERHAPS MORE IMPORTANTLY CAN WE

DO THIS?

SO LET'S GO TO THE CAN PART

FIRST WITH YOU.

AS A PRESIDENTIAL SCHOLAR, A

SCHOLAR OF THE CONSTITUTION, IS

THERE ANYTHING THAT WOULD

PROHIBIT THE SENATE FROM

CONDUCTING A TRIAL AND VOTING

WHEN THE PRESIDENT HAS ALREADY

LEFT OFFICE?

>> WELL, YOU KNOW, THERE'S A

FIRST TIME FOR EVERYTHING.

APPARENTLY, EARLY IN THE

COUNTRY'S HISTORY FOR LESSER

OFFICES THIS WAS DONE.

TWICE.

BUT CERTAINLY NOT FOR PRESIDENT.

AND THE MAIN SANCTION OF COURSE

WITH IMPEACHMENT IS REMOVING

FROM OFFICE.

AND YOU NEED A 2/3 VOTE.

IN OTHER WORDS, 67 VOTES TO

REMOVE FROM OFFICE.

AND TO THE EXTENT THAT THE

PURPOSE HERE IN PART WAS TO KEEP

TRUMP FROM DOING MORE CRAZY

STUFF, PARDONING ALL THE

RIOTERS, TRYING TO USE THE

MILITARY OR ANY OF THESE OTHER

THINGS, IF HE'S OUT OF OFFICE

THOSE THINGS ARE DONE.

BUT THERE'S ANOTHER SANCTION

THAT THE CONSTITUTION IDENTIFIES

THAT COMES WITH IMPAECHT WHICH

IS IF YOU'VE BEEN IMPEACHED AND

CONVICTED THEN THE CONGRESS CAN

VOTE TO BAR YOU FROM RUNNING FOR

FEDERAL OFFICE AGAIN.

WE THINK.

NONE OF THIS HAS EVER BEEN FULLY

NAILED DOWN.

IT ALL HAS TO GO TO THE COURTS.

AND CERTAINLY THAT PROHIBITION

ON TRUMP AND HIS MILITANT

INSURRECTIONIST, FORGIVE THE

EDITORIALIZING, TREASONOUS BAND

OF SUPPORTERS, KEEPING THEM FROM

GOING FORWARD IS A GOAL.

BUT NOBODY REALLY KNOWS.

AND OF COURSE WHAT MITCH

McCONNELL HAS SUGGESTED IS HE'S

ENCOURAGED THIS TO WAIT UNTIL

BIDEN IS PRESIDENT IN EFFECT AND

THE QUESTION REALLY IS WOULD

THIS JUST UPEND THE FIRST FEW

WEEKS OF BIDEN'S TERM OR COULD

CONGRESS PROCEED ON THIS AND

ALSO CONFIRM THE NOMINEES FOR

TOP CABINET APPOINTMENTS AND

THINGS LIKE THAT?

THOSE ARE THINGS THEY'RE WORKING

OUT.

AGAIN, NO ONE'S EVER DEALT WITH

THIS BEFORE.

SO CHUCK SCHUMER OF BROOKLYN IN

NEW YORK WILL HAVE A LOT TO DO

WITH THAT.

HE WILL BECOME THE MAJORITY

LEADER WHEN KAMALA HARRIS IS

SWORN IN AS VICE PRESIDENT ON

JANUARY 20th.

>> SO IF THE SENATE CAME TO YOU

AND SAID ALL RIGHT, MICHAEL, YOU

ARE, AS I SAID, ONE OF OUR

PREEMINENT EXPERTS IN THE

PRESIDENCY, WRITTEN EXTENSIVELY

ON VARIOUS ASPECTS OF THE

PRESIDENCY, I LOVE YOUR BOOK

ABOUT PRESIDENTIAL SPEECHES, YOU

ARE AN EXPERT ON THE

CONSTITUTION, ON OUR DEMOCRATIC

PROCESSES.

SO IF THEY CAME AND SAID TO YOU

THIS IS AN EXTRAORDINARY

SITUATION, CAN WE PROCEED, EVEN

IF HE'S OUT OF OFFICE, AFTER

JANUARY 20th, CAN WE PROCEED AS

A SENATE TO CONDUCT THIS TRIAL,

WHAT WOULD YOU SAY TO THEM?

>> I THINK SO.

THAT'S NOT A VERY GOOD ANSWER.

>> THAT'S THE LAWYER PART OF

YOU.

>> I THINK SO.

BUT WHAT'S INTERESTING OF COURSE

IS THAT WHERE IT WOULD GET TESTS

IS IF THEY DID CONVICT TRUMP AND

THEN DID VOTE THAT HE COULDN'T

RUN AGAIN AND THEN HE TRIED TO

RUN AGAIN THEN IT WOULD END UP

IN COURT AND THAT IS REALLY

WHERE IT WOULD PLAY OUT.

YOU KNOW, THERE'S NOT A LOT OF

GREAT ANSWERS HERE BECAUSE THE

FUNDAMENTAL THING, AND I'M

CERTAIN THIS IS WHAT THE MEMBERS

OF CONGRESS OF BOTH PARTIES ARE

THINKING, IS THEY HAVE TO DO

SOMETHING.

THEY HAVE TO ARTICULATE THE

OUTRAGE OF THE COUNTRY AND TO

STAND UP FOR THE CONSTITUTIONAL

ORDER AND FOR JUST THE REPUBLIC

AND THE GOVERNMENT ITSELF.

AND IMPEACHMENT'S THE PRINCIPAL,

THOUGH NOT THE ONLY TOOL THEY'RE

GIVEN.

>> LET ME ASK YOU ABOUT WHEN YOU

TALK ABOUT OTHER TOOLS.

BASICALLY, WE HAVE SOME TIME,

BUT LET'S TALK ABOUT THE 25th

AMENDMENT.

AND WE KNOW THAT THE HOUSE

YESTERDAY TRIED TO PASS A

RESOLUTION URGING THE VICE

PRESIDENT AND A MAJORITY OF THE

CABINET TO ENGAGE IN THE

ELEMENTS AND THE PROCEDURES

UNDER THE 25th AMENDMENT TO

REMOVE THE PRESIDENT.

AGAIN, LET ME ASK YOU TO PUT ON

YOUR PROFESSORIAL HAT HERE FOR A

SECOND.

EXPLAIN TO US BRIEFLY IF YOU

WOULD THE HISTORY BEHIND THE

25th AMENDMENT.

>> YES.

IT'S AN INTERESTING ONE.

THE 25th AMENDMENT IS BY THE

NUMBERS YOU HEAR IT'S ONE OF THE

MORE RECENT AMENDMENTS.

IT WAS PASSED IN THE 1960s AFTER

THE ASSASSINATION OF PRESIDENT

JOHN F. KENNEDY.

AND IT CREATED THE ORDER OF

SUCCESSION THAT YOU COULD HAVE A

NEW VICE PRESIDENT.

BUT THEY WERE ALSO WORRIED, HEY,

WHAT WOULD HAVE HAPPENED IF

PRESIDENT KENNEDY HAD BEEN

WOUNDED AND UNABLE TO SERVE AS

PRESIDENT BUT NOT PASSED AWAY?

AND EARLIER IN THE 20th CENTURY

WOODROW WILSON HAD A VERY SEVERE

STROKE AS PRESIDENT BUT NEVER

RESIGNED.

HIS WIFE, THE FIRST LADY,

BASICALLY RAN THE PRESIDENCY,

RAN THE COUNTRY FROM HIS

BEDROOM.

AND THAT WAS NOT REALLY ANYTHING

ANYBODY HAD THOUGHT THROUGH.

SO THE 25th AMENDMENT

PRINCIPALLY IS SUPPOSED TO BE

ABOUT THE HEALTH, THE PHYSICAL

HEALTH OF THE PRESIDENT.

AND IT'S SOMETIMES BEEN INVOKED

WHEN PRESIDENT'S GO UNDER

ANESTHESIA FOR A COLONOSCOPY

ORRING?

LIKE THAT, THE VICE PRESIDENT

GETS THE POWER TEMPORARILY AND

THEN IT'S GIVEN BACK.

THE PROCEDURE IS THAT THE VICE

PRESIDENT AND A MAJORITY OF THE

CABINET, THE MAIN OFFICES OF THE

CABINET IT SAYS, CAN SIGN A

LETTER SAYING THE PRESIDENT IS

TEMPORARILY NOT PRESENT ANYMORE,

AND THEN THE POWER GOES BACK.

BUT IT DOESN'T SAY ONLY THAT

IT'S HEALTH.

IT SAYS THAT THE PRESIDENT IS

UNABLE TO FULFILL THE DUTIES OF

PRESIDENT.

AND THAT CAN INCLUDE MENTAL

HEALTH AND THAT CAN INCLUDE AS

WELL AS PHYSICAL HEALTH.

BUT THAT CAN ALSO INCLUDE

PERHAPS DERELICTION OF DUTY.

SO WHAT CONGRESS WAS URGING MIKE

PENCE TO DO WAS TO SAY HEY, THIS

GUY IS NOT REALLY ACTING AS

PRESIDENT ANYMORE, WE NEED AN

ORDERLY TRANSITION AND WE'RE

BASICALLY TAKING AWAY THE

STEERING WHEEL.

BUT MIKE PENCE HAS SAID HE ISN'T

GOING TO DO IT.

NOW, THERE IS A PROVISION WHICH

CONGRESS DID NOT USE.

>> I WANT TO ASK YOU ABOUT THAT

BECAUSE THEY BASICALLY WANTED TO

PASS A RESOLUTION.

RESOLUTION IS IF YOU'RE SAYING

HEY, GUYS, PAY SOME ATTENTION TO

THIS FOR A MINUTE BUT IF YOU

DON'T WANT TO THERE'S NO

CONSEQUENCES FOR THAT.

BUT COULD THEY HAVE DONE

SOMETHING MORE?

>> YOU KNOW, THERE'S ALSO

LANGUAGE, AND ALL OF THESE --

IT'S IMPORTANT TO NOTE ALL OF

THESE ARE THINGS YOU HAVE TO

KIND OF DUST OFF BEFORE EVEN

READING THEM BECAUSE THEY'RE IN

THE CONSTITUTION BUT THEY'VE

NEVER BEEN USED OR EVEN

CONTEMPLATED IN ANY SERIOUS WAY.

IT SAYS ALSO THAT NOT ONLY THE

VICE PRESIDENT AND THE CABINET

BUT ANY BODY DESIGNATED BY THE

CONGRESS COULD ALSO MAKE THIS

DETERMINATION.

AND AGAIN, IF YOU THINK ABOUT

IT, WHAT IF THE VICE PRESIDENT

AND THE PRESIDENT WERE BOTH

WOUNDED IN A TERRORIST ATTACK?

THEN CONGRESS WOULD APPOINT A

COMMITTEE OF DOCTORS TO SAY HEY,

YOU KNOW, THIS IS NOT WORKING,

WE NEED TO HAVE SOMEBODY ELSE BE

ACTING PRESIDENT.

BUT YOU KNOW, IT WAS CERTAINLY

POSSIBLE I SUPPOSE THAT CONGRESS

COULD DESIGNATE SOME PEOPLE TO

MAKE THE DETERMINATION.

AND YOU KNOW, WHAT WE'VE HAD IN

THE WAKE OF THE ATTACK ON

DEMOCRACY LAST WEEK IS A LOT OF

EVIDENCE THAT DIFFERENT PARTS OF

THE GOVERNMENT ARE NOT REALLY

LISTENING TO TRUMP ANYMORE.

I MEAN, HE BASICALLY SITS IN HIS

BEDROOM AND NOW I GUESS HE

WATCHES TV SINCE HE'S NOT ABLE

TO TWEET.

BUT IT SEEMS THAT MIKE PENCE

DIRECTED THE NATIONAL GUARD TO

GO PROTECT THE CONGRESS AND THE

CAPITOL.

WE SAW THAT SPEAKER PELOSI WAS

IN TOUCH WITH THE JOINT CHIEFS

TO MAKE SURE THERE WASN'T GOING

TO BE ANY USE OF THE MILITARY TO

TRY TO CHANGE THE SUBJECT OR

NUCLEAR STRIKES.

WE HAD AN EXTRAORDINARY LETTER,

EXTRAORDINARY, RELEASED

YESTERDAY BY THE JOINT CHIEFS OF

STAFF ALL SIGNING IT SAYING THAT

WHAT HAPPENED WAS SEDITION.

AND YOU HAD THE GENERAL IN

CHARGE OF U.S. FORCES IN KOREA

SENDING A MESSAGE TO THE TROOPS

IN KOREA, AMERICA'S TROOPS IN

KOREA, SAYING REMEMBER, WE SWORE

TO UPHOLD AN OATH AGAINST ALL

ENEMIES OF THE CONSTITUTION,

FOREIGN AND DOMESTIC.

WELL, WHO'S THE DOMESTIC ENEMY?

HE'S TALKING ABOUT THE PRESIDENT

OF THE UNITED STATES.

SO YOU'RE SORT OF SEEING POWER

EBBING AWAY FROM TRUMP.

WHETHER HE SITS IN THE WHITE

HOUSE OR NOT.

YOU KNOW, AS YOU REMEMBER, THIS

ACTUALLY HAPPENED TO SOME DEGREE

WITH NIXON.

IN 1974.

IT IS BELIEVED, AT IT HASN'T

EVER FULLY BEEN PROVEN, IT IS

BELIEVED THAT THE SECRETARY OF

DEFENSE OF THE TIME WAS WORRIED

THAT NIXON MIGHT ORDER A NUCLEAR

STRIKE OR TRY TO USE TROOPS TO

SEIZE THE CAPITOL OR SOMETHING

LIKE THAT, AND HE TOLD THE

PENTAGON DON'T FOLLOW ANY ORDERS

FROM NIXON.

YOU'VE GOT TO TAKE THEM FROM ME.

AND HE'S DENIED IT.

BUT THAT KIND OF THING SEEMS

EFFECTIVELY TO BE HAPPENING NOW

TOO.

>> I HEARD A REPUBLICAN LEADER

RECENTLY SAYING THAT PERHAPS THE

PRESIDENT'S SPELL HAS BEEN

BROKEN.

AND THAT'S ONE OF THE POLITICAL

CONSEQUENCES OF THIS, IS TO

SHAKE A LOT OF PEOPLE AWAKE.

I HOPE.

AND TO GIVE A LOT OF PEOPLE THE

CHANCE TO BE ALMOST DEPROGRAMMED

FROM THIS.

YOU KNOW, WE HAVE TWO POLITICAL

PARTIES.

THE COUNTRY BENEFITS FROM HAVING

TWO POLITICAL PARTIES.

BUT THE REPUBLICANS TO FAR TOO

GREAT A DEGREE BECAME JUST AN

ARM OF TRUMP AND HIS EGO.

AND THIS DOES SEEM TO HAVE SPLIT

THAT OFF FROM HAPPENING.

>> A COUPLE OF AREAS I WANT TO

GET TO.

FIRST OF ALL ABOUT THE

POSSIBILITY OF THE SHOULDth

AMENDMENT.

THEN I WANT TO TALK ABOUT THE

IDEA AND YOU MENTIONED THIS, THE

PRESIDENT'S PARDON POWERS.

BRIEFLY IF I CAN, WE HEARD A

NUMBER OF DEMOCRATIC MEMBERS OF

CONGRESS SAYING THEY WANTED TO

EXERCISE THE POWERS OF THE 14th

AMENDMENT TO ESSENTIALLY EXPEL

MEMBERS OF CONGRESS, HOUSE AND

SENATE, WHO SUPPORTED THIS, WHAT

THEY'VE DESCRIBED AS THIS ACT OF

SEDITION, OF INSURRECTION.

LET ME TELL OUR VIEWERS WHAT

WE'RE TALKING ABOUT.

14th AMENDMENT SAYS NO PERSON

SHALL BE A SENATOR OR

REPRESENTATIVE IN CONGRESS OR

ELECTOR OR PRESIDENT OR VICE

PRESIDENT OR HOLD ANY OFFICE

CIVIL OR MILITARY UNDER THE

UNITED STATES OR UNDER ANY STATE

WHO HAVING PREVIOUSLY TAKEN AN

OATH AS A MEMBER OF CONGRESS OR

AS AN OFFICER OF THE UNITED

STATES, WAS A MEMBER OF ANY

STATE LEGISLATURE, TO SUPPORT

THE CONSTITUTION OF THE UNITED

STATES, THAT PERSON SHALL HAVE

ENGAGED IN INSURRECTION OR

REBELLION AGAINST THE SAME OR

GIVEN AID OR COMFORT TO THE

ENEMIES THEREOF.

RIGHT?

NOW, FIRSTLY, GIVE US A QUICK

HISTORY.

14th AMENDMENT.

WHY DID IT COME INTO EXISTENCE?

>> SO THE 14th AMENDMENT WAS

PASSED DURING RECONSTRUCTION, IN

THE YEARS AFTER THE CIVIL WAR,

WHEN YOU HAD STILL IN THE SOUTH

THE FORMER SLAVE POWER, THE

ENSLAVERS WHO HAD BEEN DEFEATED

IN THE CIVIL WAR, WERE ENGAGING

IN TERRORISM AND WERE TRYING TO

RESURRECT THEIR CAUSE.

AND ACTUALLY ANDREW JOHNSON, THE

PRESIDENT OF THE TIME, WAS

TRYING TO PARDON A NUMBER OF

THEM AND GET THEM SO THEY COULD

RUN FOR OFFICE AND BE BACK IN

CONGRESS AGAIN.

AND WHAT THIS PROVISION SAID AT

THE TIME WAS BASICALLY ROBERT E.

LEE AND JEFFERSON DAVIS COULD

NOT RUN FOR CONGRESS, THAT THE

PEOPLE WHO HAD TAKEN UP ARMS

AGAINST THE UNITED STATES UNDER

THE BANNER OF THE CONFEDERATE

FLAG WERE ENEMIES OF THE UNITED

STATES AND COULD NOT JUST GET

THEMSELVES INTO CONGRESS.

WELL, FAST FORWARD TO RIGHT NOW.

I THINK THERE'S A VERY IMPORTANT

PROVISION.

AND THE GREAT HISTORIAN ERIC

S

HONER, THE HISTORIAN OF THE

RECONSTRUCTION AND THE CIVIL

WAR, HAS POINTED OUT THE

RELEVANCE OF THIS.

WE HAVE HERE FIRST OF ALL PEOPLE

WHO ENGAGED IN INSURRECTION AS

THE JOINT CHIEFS OF STAFF

IDENTIFIED IT AS I NEXT

MENTIONED IN THEIR LETTER.

NOT THAT THEY'RE THE ONES TO

MAKE THE DECISION BUT IT'S

PRETTY CLEAR.

YOU HAD A WHITE SUPREMACIST MOB

CLEARLY AND INCREASINGLY CLEARLY

ORGANIZED, THE MORE WE LEARN THE

SCARIER IT IS, ORGANIZED TO TRY

TO SEIZE THE CAPITOL, KIDNAP

SOME PEOPLE, MAYBE KILL SOME

PEOPLE, AND THEY WERE CARRYING,

MANY OF THEM, THE CONFEDERATE

FLAG, LITERALLY THE SAME FLAG

THAT THAT AMENDMENT WAS WRITTEN

FOR.

AND I THINK, AND WHAT THIS FOCUS

ON THE 14th AMENDMENT SAYS, IS

YES, BLAME THOSE RIOTERS, YES

BLAME TRUMP, BUT ALSO THE

MEMBERS OF CONGRESS WHO WERE

PEDDLING THE LIE THAT THE

ELECTION HAD BEEN STOLEN, THAT

THE PEOPLE'S VOTES WERE NOT

LEGITIMATE, THAT THEY SHOULD

IGNORE THE VOTES OF THE PEOPLE

IN THE ELECTION AND JUST TURN

THE ELECTION OVER TO TRUMP, THAT

THEY ARE RESPONSIBLE TOO.

THAT MOB MARCHED IN THE SERVICE

OF THAT LIE.

WE ALSO HEAR THAT LIE IN STATES

ALL OVER THE COUNTRY AS STATES

TRY TO PASS LAWS TO RESTRICT

VOTING.

BUT WHAT THIS PROVISION MIGHT

SUGGEST IS THAT CERTAINLY THE

MEMBERS OF CONGRESS WHO SEEM TO

HAVE WORKED CLOSELY WITH THE

RIOTERS, LIKE MO BROOKS OF

ALABAMA WHO SPOKE AT THE RALLY

AND OTHERS WHO WERE REALLY IN

CLOSE TOUCH WITH THEM BUT EVEN

PEOPLE LIKE TED CRUZ AND SENATOR

HAWLEY WHO WENT OUTSIDE AND GAVE

THAT VERY KIND OF LIKE MEDIOCRE

CLENCHED FIST TO THE CROWD OR

KEVIN McCARTHY, THE REPUBLICAN

LEADER OF THE HOUSE OF

REPRESENTATIVES WHO SPEWED THE

SAME LIE THAT THOSE RIOTERS WERE

FIGHTING FOR, THAT THEY HAVE TO

BE HELD ACCOUNTABLE TOO.

WILL THEY BE EXPELLED?

YOU KNOW, I THINK IT WOULD BE

UNFORTUNATE IF THERE WERE NO

ACCOUNTABILITY AT ALL.

AGAIN, IT'S ALL NEW STUFF.

>> NEW AND FASCINATING.

WHETHER IT MIGHT BE APPLIED OR

NOT.

LAST QUESTION FOR YOU.

I HAVE ABOUT A MINUTE AND A HALF

LEFT.

IT GOES BACK TO SOMETHING YOU

MENTIONED.

AND PEOPLE HAVE BEEN ASKING THIS

QUESTION BEFORE.

YOU ARE AN EXPERT ON THE

CONSTITUTION.

WE KNOW THE CONSTITUTION GIVES

THE PRESIDENT EXTRAORDINARY

PARDON POWER.

THAT'S NOT REVIEWABLE.

DO YOU THINK THE PRESIDENT HAS

THE POWER TO PARDON HIMSELF?

>> WELL, WE DON'T KNOW FOR SURE.

IT'S NEVER BEEN DONE.

HE HAS BROAD PARDON POWER.

BUT IT IS SOMETIMES REVIEWABLE

BY COURTS IF THERE'S CORRUPTION.

ONE OF THE ARTICLES OF

IMPEACHMENT AGAINST RICHARD

NIXON WAS THAT HE DANGLED

IMPROPERLY PARDONS IN FRONT OF

THE WATERGATE BURGLARS.

WHEN MY OLD BOSS BILL CLINTON

GAVE SOME CONTROVERSIAL PARDONS

AT THE END OF HIS TERM, THERE

WAS A CRIMINAL INVESTIGATION,

WHICH EXONERATED HIM, BUT STILL

PEOPLE KNEW YOU COULD REVIEW

THESE THINGS IN SOME WAYS.

THE JUSTICE DEPARTMENT IN 1974

LOOKING AT NIXON SAID NO, THE

PRESIDENT CAN'T PARDON HIMSELF.

I MEAN, THINK ABOUT IT.

IF THE PRESIDENT -- THE VIEW

GENERALLY IS PRESIDENTS CAN'T BE

PROSECUTED WHILE IN OFFICE.

AND THEN THE PRESIDENT COULD

PARDON HIMSELF FOR AFTERWARDS,

THERE WOULD BE NO ACCOUNTABILITY

TO THE RULE OF LAW AT ALL FOR

THINGS PRESIDENTS DID.

BUT NO COURT HAS EVER RULED ON

IT.

SO TRUMP WOULD BE TAKING, YOU

KNOW, MATTERS INTO HIS OWN

HANDS.

HE WOULD BE DARING MERRICK

GARLAND AND THE JUSTICE

DEPARTMENT TO PUT IT TO THE

TEST.

AND IT WOULD BE ONE OF THE MORE

OUTLANDISH AND OUTRAGEOUS THINGS

ANY PRESIDENT HAS EVER DONE.

TRYING TO MAKE HIMSELF ABOVE THE

LAW AS THEY LEAVE -- WALK OUT

THE DOOR WITH THEIR POCKETS

FILLED.

>> GIVEN WHAT WE'VE SEEN,

EXTRAORDINARY CIRCUMSTANCES, WE

WOULDN'T BE SURPRISED.

MICHAEL WALDMAN, ALWAYS A

PLEASURE.

YOU ALWAYS HELP US UNDERSTAND

ALL OF THESE VERY COMPLEX

TOPICS.

YOU BE WELL AND WE'LL SEE YOU

AGAIN SOON.

>> THANK YOU.

THANKS FOR HAVING ME.

>> "METROFOCUS" IS MADE POSSIBLE

BY SUE AND EDGAR WACHENHEIM III,

SYLVIA A. AND SIMON B. POYTA

PROGRAMMING ENDOWMENT TO FIGHT

ANTI-SEMITISM, BERNARD AND

DENISE SCHWARTZ, BARBARA HOPE

ZUCKERBERG, AND BY JANET PRINDLE

SEIDLER, JODY AND JOHN ARNHOLD,

CHERYL AND PHILIP MILSTEIN

FAMILY, JUDY AND JOSH WESTON,

DR. ROBERT C. AND TINA SOHN

FOUNDATION.