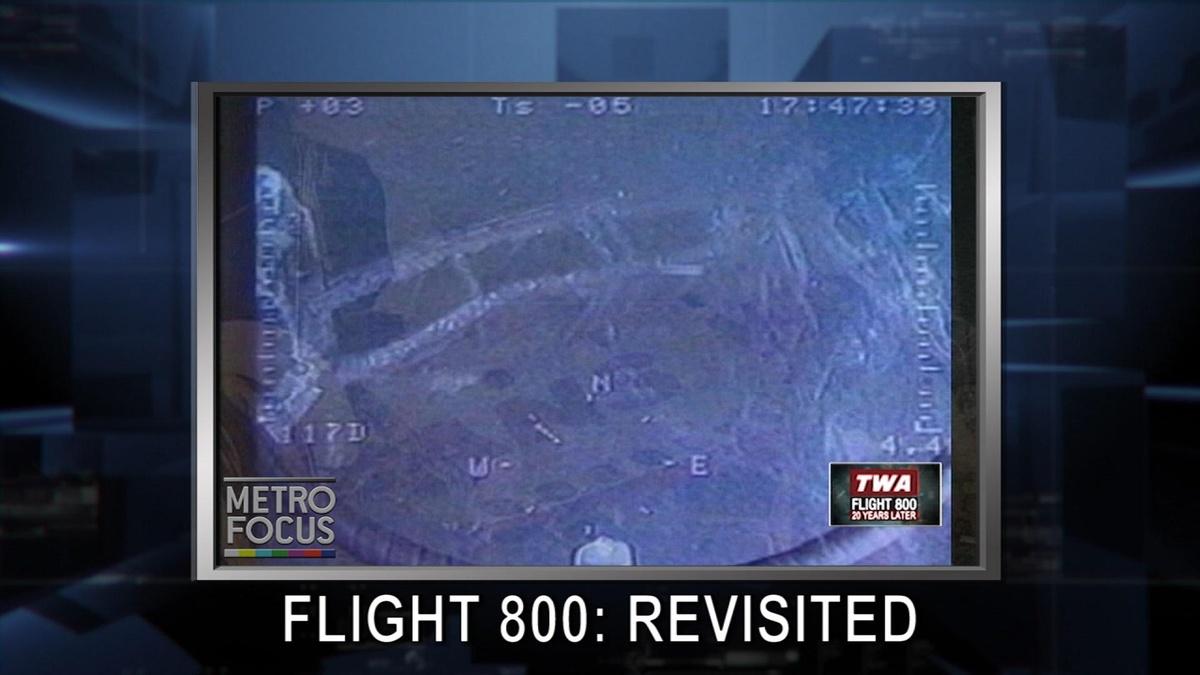 FULL EPISODE
MetroFocus: August 25, 2017
It's been more than 20 years since TWA Flight 800 crashed 12 minutes after take off, off of Long Island, leaving death and unanswered questions in its wake. With the new school year comes hopes and dreams of college for high school seniors and juniors and their parents. The lovely and talented Broadway icon Kristin Chenoweth stops by for a visit to discuss her latest album, "The Art of Elegance.
TRANSCRIPT

>>> TONIGHT ON "METROFOCUS,"

IT'S BEEN MORE THAN 20 YEARS

SINCE TWA FLIGHT 800 CRASHED OFF

THE COAST OF LONG ISLAND, JUST

12 MINUTES AFTER TAKEOFF,

LEAVING DEATH AND UNANSWERED

QUESTIONS IN ITS WAKE.

IN A MOMENT, A LOOK AT THE

CLAIMS THAT WE MAY NEVER HAVE

GOTTEN THE TRUE STORY OF HOW AND

WHY 230 PEOPLE DIED ON THAT

FATEFUL NIGHT.

>>> WITH A NEW SCHOOL YEAR COMES

HOPES AND DREAMS FOR COLLEGE FOR

HIGH SCHOOL SENIORS AND JURORS

AND THEIR PARENTS.

BUT FRANK BROKENY HAS SOME

SOBERING NEWS.

WHERE YOU GO IS NOT WHO YOU WILL

BE.

HE IS HERE IS A VERY IMPORTANT

MESSAGE FOR ALL.

>>> AND THE WONDERFUL AND

TALENTED BROADWAY ICON, KRISTEN

CHENOWETH, STOPS BY FOR A VISIT.

ALL THAT AND MORE AS

"METROFOCUS" STARTS RIGHT NOW.

♪♪

>>> THIS IS "METROFOCUS."

WITH RAFAEL P. ROMAN, JACK FORD.

FUNDING FOR THIS PROGRAM WAS

PROVIDED BY:

>>> CORPORATE FUNDING FOR

"METROFOCUS" WAS PROVIDED BY

MUTUAL OF AMERICA, YOUR

RETIREMENT COMPANY.

AND BY PSE&G, SERVING CUSTOMERS,

STRENGTHENING THE BUSINESS

COMMUNITY AND INVESTING IN THE

FUTURE.

>> TO THIS DAY, IT REMAINS BOTH

ONE OF THE GREATEST AVIATION

MISSION MYSTERIES IN HISTORY AND

A DEEPLY PERSONAL TRAGEDY IN OUR

AREA.

JUST OVER 20 YEARS AGO, FLIGHT

800 TOOK OFF FROM JOHN F.

KENNEDY INTERNATIONAL AIRPORT,

HEADED FOR PARIS.

12 MINUTES LATER, THE BOEING 747

JETLINER EXPLODED OFF THE COAST

OF LONG ISLAND, KILLING ALL 230

PEOPLE ON BOARD.

AFTER A LENGTHY INVESTIGATION,

NATIONAL TRANSPORTATION SAFETY

BOARD FOUND THAT THE PLANE CAME

DOWN AFTER A SHORT-CIRCUIT LED

TO AN EXPLOSION ON BOARD.

BUT NOT EVERYONE HAS AGREED WITH

THAT CONCLUSION.

NEWS12 LONG ISLAND RECENTLY WENT

BACK AND INTERVIEWED MANY OF

THOSE INVOLVED WITH THE CASE TO

TRY TO FIGURE OUT WHAT EXACTLY

HAPPENED.

HERE'S A LOOK AT SOME OF WHAT

THEY FOUND.

>> WE JUST SAW AN EXPLOSION OUT

HERE.

>> TWA 800.

>> 16,000 FEET OR SOMETHING LIKE

THAT.

JUST WENT DOWN.

>> TWA 800, IDENT.

>> I THINK THAT WAS HIM.

>> I THINK SO.

>> AT 8:31 P.M. ON JULY 17th,

1996, 230 PEOPLE DIED WHEN TWA

FLIGHT 800 EXPLODED MID-AIR AND

FELL INTO THE OCEAN.

AFTER AN INVESTIGATION BY THE

NATIONAL TRANSPORTATION SAFETY

BOARD, THE FBI AND THE CIA, THE

OFFICIAL REPORT CONCLUDED THAT A

SPARK IN THE 747 CENTER WING

FUEL TANK LIKELY CAUSED THE

EXPLOSION.

>> BUT AGAIN, NO EVIDENCE OF AN

EXPLOSION, JUST FROM LOOKING AT

THE BOXES.

>> CERTAINLY CAN'T TELL.

>> WE COULDN'T TELL --

>> IT WAS BECAUSE THE WAY THE

AIRCRAFT HAD EXPLODED, PORTIONS

OF THE AIRCRAFT CONTINUED.

NOSE PIECE FELL OFF AND THEN THE

BULK OF THE AIRCRAFT.

>> BUT NUMEROUS EYE-WITNESSES,

ALONG WITH MEMBERS OF THE

INVESTIGATION ITSELF, SAY THAT

CONCLUSION IS WAY OFF COURSE.

>> THERE IS MORE THAN PLENTY

WITNESS EVIDENCE THAT THERE WERE

TWO MISSILES FIRED AT SEA, AND

ONE MISSILE FIRED FROM SHORE.

>> AND WE ALL LOOKED OUT THE

WINDOW, AND WE SAW A LARGE

FIREBALL COMING UP OUT OF THE

WATER.

>> DEBRIS GOING OUT THE RIGHT

SIDE OF THE AIRPORT IN EXCESS OF

MACH 4.

>> HENRY HUGHES WAS THE SENIOR

ACCIDENT INVESTIGATOR FOR THE

NTSB AT THE CRASH SITE.

HE SAYS RADAR TRACES SHOW PIECES

OF WRECKAGE ROCKETING AWAY FROM

THE JET AT THREE TO FOUR TIMES

THE SPEED OF SOUND.

HE ALSO POINTS TO CHEMICALS

FOUND ON THE SEATS AND PORTIONS

OF THE FUSELAGE.

THE GOVERNMENT CALLED IT GLUE.

HE SAYS IT WAS EXPLOSIVE

MATERIAL.

HUGHES BELIEVES THERE'S NO DOUBT

SOMETHING HIT TWA FLIGHT 800.

>> THAT'S AN EXPLOSION THAT

OCCURRED EXTERNAL TO THE

AIRPLANE, AND WE KNOW THAT FROM

LOOKING AT THE VICTIMS, AND THE

INTERIOR.

>> EVERY YEAR ON THE

ANNIVERSARY, FRIENDS AND FAMILY

GATHER HERE AT THE MEMORIAL TO

REMEMBER THOSE LOST IN THE

CRASH.

IT'S AN OMINOUS TRIBUTE TO THE

THIRD-MOST DEADLY AVIATION

ACCIDENT IN THE U.S.

HOWEVER, FOR MANY, THE QUESTION

WHETHER IT WAS AN ACCIDENT

REMAINS.

MORE THAN 200 PEOPLE CLAIM THE

NIGHT OF THE CRASH THEY SAW A

BRIGHT LIGHT HEAD UP INTO THE

SKY, ARCH ABOVE AND THEN HEAD

DIRECTLY TOWARD FLIGHT 800.

AND NONE OF THOSE WITNESSES WERE

EVER ALLOWED TO PUBLICLY TESTIFY

AT THE NTSB HEARINGS.

>> THE OFFICIAL REPORT IS

SOMEBODY'S FANTASY.

>> FRED MEYER IS A RETIRED AIR

NATIONAL GUARD HELICOPTER PILOT

AND DECORATED VIETNAM VETERAN.

HE WAS FLYING A PRACTICE

APPROACH AT THE AIRPORT NEAR

WEST HAMPTON THE NIGHT OF THE

CRASH.

DIRECTLY AHEAD OF ME, MY SCAN

PICKS UP A ROCKET PLUME MOVING

ABOUT 10 DEGREES ABOVE THE

HORIZON, MOVING FROM MY LEFT

CENTER TO MY FURTHER LEFT.

>> THOSE WERE CLEARLY FOUR

MISSILES.

EXPLOSIONS OF FOUR MISSILES.

OR ANTI AIRCRAFT WEAPONS.

>> CRITICS OF THE OFFICIAL

FINDINGS POINT TO SOME OF THE

DAMAGE IN THE FUSELAGE AS MORE

CONSISTENT WITH THE MISSILE

STRIKE THAN AN INTERNAL

EXPLOSION.

HOWEVER, JIM HALL, CHAIRMAN OF

THE NTSB AT THE TIME, STILL

STANDS BY THE REPORT.

>> THERE WAS ENOUGH EVIDENCE

THERE.

I REVIEWED EVERY PIECE OF

INFORMATION.

EVERYTHING THAT YOU MENTIONED

WAS REVIEWED BY EVERYONE

INVOLVED.

>> BUT HUGHES, A VETERAN

GOVERNMENT CRASH EXPERT, SAYS

THIS INVESTIGATION WAS ANYTHING

BUT NORMAL.

>> EVERYTHING FROM PEOPLE

BREAKING INTO MY HANGAR AT 3:00

IN THE MORNING AND REMOVING

PARTS, PEOPLE WHO WEREN'T

AUTHORIZED TO, I MIGHT ADD.

THE FBI CAUGHT THEIR OWN PEOPLE

BREAKING IN, AND DIDN'T -- SAID

THEY DIDN'T KNOW WHY THEY WERE

DOING IT.

THE WHOLE THING WAS CONTROLLED.

>> OUR AGENCY DID AN OUTSTANDING

JOB AT THE TIME.

AND I DON'T KNOW WHAT PURPOSE

SOME OF THESE PEOPLE MAY HAVE IN

TRYING TO KEEP THE MATTER ALIVE.

>> 20 YEARS HAS DONE NOTHING TO

CALM THE WATERS BETWEEN THE

OFFICIAL FINDINGS OF THE

GOVERNMENT AND THOSE WHO REMAIN

ON BOARD WITH A MISSILE THEORY.

>> THIS WAS ON AMERICAN SOIL.

ON A BEAUTIFUL SUMMER DAY.

AND 230 PEOPLE ON A COMMERCIAL

AIRLINER WERE KILLED WHEN IT WAS

SHOT DOWN OFF LONG ISLAND.

>> JOINING US NOW WITH MORE ON

THE NEWS12 LONG ISLAND

INVESTIGATION IS BRAD TRITINE,

THE PRODUCER OF THE PIECE YOU

JUST WATCHED.

WELCOME AND THANK YOU.

LOOKING AT THIS STORY FROM 20

YEARS AGO, WHAT WERE YOU HOPEFUL

YOU MIGHT BE ABLE TO ACCOMPLISH?

>> SOME OF THE THINGS THAT MY

NEWS DIRECTOR WANTED TO GET IN

THE PIECE.

NEWS12 COVERED IT FROM THE

BEGINNING.

WE HAD PEOPLE THERE THAT NIGHT

AND WE COVERED EVERY MAJOR

UPDATE AS WELL AS ALL THE

ANNIVERSARIES.

SO WANTED TO MAKE SURE WE GOT

THE FAMILIES IN THERE.

20 YEARS LATER.

IT WAS DIFFICULT TO GET THOSE.

WE WANTED TO GET LESSONS

LEARNED, BECAUSE THAT IS WHAT IS

THE LEGACY OF THIS CATASTROPHE.

AND WANTED TO JUST LOOK AT THE

MISSILE THEORY AND SEE, YOU

KNOW -- LOOK AT BOTH SIDES.

THERE'S BEEN SOME NEWS SINCE THE

LAST COUPLE YEARS WITH THAT, AND

WE WANTED TO SEE WHAT THE LATEST

WAS.

>> AS YOU KNOW, PUTTING A STORY

LIKE THIS TOGETHER, YOU'RE NOT

ENTIRELY SURE WHERE YOU'RE GOING

TO END UP, WHERE THE STORY IS

GOING TO TAKE YOU.

WAS THERE ANYTHING THAT

PARTICULARLY SURPRISED YOU ONCE

YOU PUT THIS WHOLE THING

TOGETHER?

>> MOST SURPRISING THING WAS

WHAT I LEARNED PUTTING TOGETHER

THE PIECE WE JUST SAW.

I WAS VERY YOUNG WHEN IT

HAPPENED.

BUT I DO REMEMBER THAT NIGHT

WATCHING IT ON TV.

I REMEMBER WATCHING JIM CALSTROM

PRESS CONFERENCES.

AS A KID I WAS INVOLVED IN THE

NEWS AND I REMEMBER HEARING

ABOUT THIS FUEL TANK EXPLOSION.

WORKING ON THIS, I WASN'T REALLY

INTO MISSILE THEORIES, I'M NOT A

BIG CONSPIRACY THEORY PERSON,

VERY SKEPTICAL.

BUT TALKING TO THE PEOPLE, HAD

THE BENEFIT OF SPEAKING WITH

SOMEBODY LIKE HANK HUGHES, WHO

RECENTLY RETIRED AND IS SPEAKING

OUT -- SPEAKING WITH THE MEDICAL

EXAMINER WHO RECENTLY SPOKE OUT.

SO SPEAKING WITH THEM AND THEN

SPEAKING WITH A JIM HALL TYPE.

JIM HALL, ASKING HIM WAS THERE

ANY PHYSICAL EVIDENCE OF A

CENTER FUEL TANK EXPLOSION AND

HE SAID NO.

GOT VERY DEFENSIVE.

SPEAKING WITH THE FAA WHEN I WAS

IN WASHINGTON ABOUT -- THEY SAID

NO, IT WAS VERY DIFFICULT TO GET

ANY KIND OF THING IN PLACE,

BECAUSE HE SAID, QUOTE, THE NTSB

DID THEIR BEST TO PUT THEIR

FINGER ON IT, BUT NEVER

IDENTIFIED THE ACTUAL CAUSE.

AND THEN YOU TALK TO SOMEBODY

LIKE HANK HUGHES, WHO HAS

EVIDENCE SHOWING THE PEOPLE THE

DAMAGE WAS ONLY ON THE OUTSIDE.

THE SEATS ON THE CENTER FUEL

TANK WERE FINE.

THE MEDICAL EXAMINER SAYS THE

CAUSE OF DEATH FOR ALL THOSE 230

PEOPLE ARE STILL UNDETERMINED,

BECAUSE HE SAID IT ABSOLUTELY

WASN'T A FUEL TANK EXPLOSION.

THERE'S NO SOOT IN THEIR LUNGS,

NO SMOKE.

PEOPLE PASSED AWAY FROM FALLING

OUT OF THE AIRPLANE.

THE DAMAGE TO THE INDIVIDUAL

PASSENGERS WERE ONES ON THE

OUTSIDE, CONSISTENT WITH AN

EXPLOSION TEEXERROR OF THE

PLANE, NOTHING TO DO WITH THE

CENTER FUEL TANK AND I DON'T

THINK A LOT OF PEOPLE KNOW THAT.

AND THE FAA ADMITTED THERE WAS

NO DETERMINATION, THAT THEY PUT

THEIR FINGER ON THE MOST LIKELY

THING.

THE FBI INVOLVEMENT WAS

SURPRISING.

ASKING JIM HALL, HE JUST SAID

THAT, WELL, THEY HAD MANPOWER.

THE CIA WAS INVOLVED, FBI WAS

INVOLVED.

THERE WAS OVER 500 WITNESSES WHO

SAW THE MISSILE.

AND THESE WERE VERY CREDIBLE

WITNESSES.

MARINERS, PILOTS, CONSISTENT

THINGS OF WHAT THEY SAW.

>> I WAS WITH NBC NEWS AT THE

TIME.

I WAS DOWN AT THE OLYMPICS, THE

ATLANTA OLYMPICS COVERING THE

ATLANTA OLYMPICS WHEN MSNBC HAD

JUST GOTTEN UP ON THE AIR.

SO EVERYBODY WAS INVOLVED IN

SOME WAY IN THE COVERAGE.

AND I'M STRUCK BY HOW 20 YEARS

LATER, THERE'S STILL NO

RESOLUTION.

AND INDEED, LOOKING AT SOME OF

THE PEOPLE YOU TALK ABOUT, FOLKS

SEEM EVEN MORE CONSISTENT AND

MORE ADAMANT THAN EVER ABOUT NO,

THIS WASN'T CAUSED BY A

SHORT-CIRCUIT.

THIS WAS CAUSED BY SOMETHING

MUCH MORE NEFARIOUS.

AND I GUESS MY QUESTION IS TO

YOU AS A JOURNALIST LOOKING AT

IT, WERE YOU STRUCK BY, AGAIN,

HOW ADAMANT THESE PEOPLE ARE?

IN TAKING A POSITION THAT THIS

WAS NOT -- THIS DIDN'T HAPPEN

THE WAY THE BOARD SAID IT

HAPPENED.

>> AS A JOURNALIST, YOU ALWAYS

LOOK AT PEOPLE'S MOTIVES.

WHY WOULD THIS PERSON HAVE A

MOTIVE TO SAY THAT?

INVESTIGATORS RESEARCHED THE

INDIVIDUALS INVOLVED AND THAT I

SPOKE WITH THAT WERE PUSHING

THAT -- LIKE YOU SAID.

AND IT SEEMED TO ME LIKE THE

MEDICAL EXAMINER JUST KEPT UP AT

NIGHT ABOUT THE FACT HE HAS 230

PEOPLE HE'S WORKED ON WHERE IT'S

STILL LEFT UNDETERMINED.

HE SAID IF IT WAS AN ACCIDENT

WHERE THE NAVAL -- MISFIRED A

MISSILE, IT WOULD BE ACCIDENTAL.

IF IT WAS A TERRORIST, IT WOULD

BE MURDER.

BUT HE SAYS HE'S NEVER HAD

SOMETHING WHERE THE

INVESTIGATIVE BODY NEVER

LISTENED TO HIM.

USUALLY THEY FACTOR IN WHAT THE

MEDICAL EXAMINER SAYS.

WHAT THE NTSB SAYS.

THE -- THEY DIDN'T FACTOR INTO

IT.

IT WAS BASICALLY COMING FROM THE

FBI.

THE WAY I LOOK AT IT, YOU KNOW,

TRY TO BE OBJECTIVE.

YOU HAVE THE CAMERAMAN, THE

EDITORS INVOLVED.

THEY DON'T REALLY GET INVOLVED

WITH THE EDITORIAL PROCESS.

THEY'RE INVOLVED IN TECHNICAL

THINGS BUT AFTER GOING TO D.C.

AND VIRGINIA, INTERVIEWING THOSE

INDIVIDUALS AND IN THE CAR

HEARING THEM SAY, WOW, REALLY

MORE LOOKS LIKE THIS THAN THIS,

AND IT SEEMS LIKE, YOU KNOW --

REALLY HOLDING BOTH PARTIES

ACCOUNTABLE THAT IT WASN'T, YOU

KNOW, WHAT THE FINAL FINDINGS

WERE.

AND THE FINAL FINDINGS WEREN'T

BASED ON ANYTHING SCIENTIFIC.

JIM HALL SAID EARLIER IN THE

'90s HE WAS GOING TO GO THROUGH

ALL 500 MILES OF CABLE AND FIND

ONE.

AND HE DIDN'T.

AND REMEMBER, THIS WAS A HUGE

INVESTIGATION.

THEY RECONSTRUCTED THAT WHOLE

THING AND PICKED UP EVERY LITTLE

PIECE.

THIS WAS THE MOST --

>> FASCINATING TO SEE --

>> SINGLE INVESTIGATION, AND

THEY COULD NOT FIND THAT THING.

AND PEOPLE I SPOKE WITH IN THE

AVIATION INDUSTRY JUST SAY NO

WAY.

IF THAT WAS THE CASE, YOU WOULD

HAVE 747s GROUNDED IMMEDIATELY.

AND THE FACT IT TOOK SO LONG.

>> LAST QUESTION FOR YOU.

HAVING LOOKED AT THIS THROUGH

THE PRISM OF 20 YEARS, DO YOU

HAVE ANY SENSE THAT THEY'LL

EVER -- THERE WILL EVER BE ANY

FINAL DEFINITIVE RESOLUTION OF

WHAT CAUSED FLIGHT 800 TO GO

DOWN?

>> IT MIGHT JUST BE ONE OF THOSE

STORIES THAT GOES DOWN IN

HISTORY WITH A QUESTION MARK.

I THINK THE FAMILIES THAT I

SPOKE TO, THE VICTIMS, YOU

KNOW -- IT'S GONE.

THEY WANT IT TO KIND OF GO AWAY.

YOU KNOW, SOME SPOKE TO US

BECAUSE IT WAS THE ANNIVERSARY.

THEY DON'T WANT TO GET INTO WHAT

HAPPENED.

A LOT OF THE WITNESSES WHO SPOKE

EARLIER ARE NOW WORRIED OR

SCARED.

THEY WOULD ONLY TALK TO US --

[ NO AUDIO ]

>> GREAT WORK BY YOU FOLKS OUT

THERE.

>> THANKS FOR HAVING ME.

>> YOU TAKE CARE.

>> COLLEGE OF THEIR DREAMS,

HOURS OF TUTORING FOR THEIR

S.A.T.s AND A.C.T.s.

THE PAYOFF HAS BEEN INCREASING

LIE A REJECTION LETTER FROM THE

MOST ELITE SCHOOLS IN THE WORLD.

IT'S A HARD LOAD FOR MANY KIDS

AND THEIR PARENTS.

BUT WHEN ALL IS SAID AND DONE,

DOES THE COLLEGE YOU ATTEND

REALLY DETERMINE YOUR FUTURE

SUCCESS?

"NEW YORK TIMES" FRANK GOONY

ARGUES IT DOES NOT AND HOPES TO

DISPEL WHAT HE CALLS THE

ADMISSIONS MANIA.

IN THE UPDATED AND EXPANDED

EDITION OF HIS BOOK, WHERE YOU

GO IS NOT WHO YOU WILL BE.

FRANK ROONEY JOINS US NOW.

WELCOME.

>> THANK YOU.

>> I SHOULD ALSO SAY THE

HARD-COVER VERSION OF THE BOOK

WAS A "NEW YORK TIMES"

BEST-SELLER.

>> VERY FORTUNATE, YEAH.

>> SO WHAT MOTIVATED YOU TO

WRITE THIS BOOK IN THE FIRST

PLACE?

>> I HAVE A BUNCH OF NIECES AND

NEPHEWS, MANY FRIENDS WHOSE KIDS

ARE AGES OF GOING TO HIGH SCHOOL

AND COLLEGE.

AND THE FRENZY, THE

OBSESSIVENESS, THIS COMPULSION

TO GET INTO THE MOST SELECTIVE

SCHOOL POSSIBLE IS OFF THE

CHARTS THESE DAYS.

AND YET WHEN I LOOK AROUND ME,

AND I'M A JOURNALIST.

I'VE INTERVIEWED HUNDREDS OF

PEOPLE IN SCORES OF PROFESSIONS.

AND WHEN I THINK ABOUT WHAT MADE

THEM SUCCESSFUL, THERE IS NOT A

COMMON LINK OF HAVING GONE TO A

CONVENTIONALLY ELITE SELECTIVE

SCHOOL.

AND SO THIS BELIEF THAT YOUR

FUTURE CAN BE MADE SIMPLY BY

GOING TO A SELECTIVE SCHOOL OR

UNMADE BY BEING REJECTED SO

INCONSISTENT WITH REAL LIFE I

NEEDED TO SHOUT THAT OUT.

>> SO THAT'S WHAT YOU CALL THE

MANIA, THE EXAGGERATED VERSION

OF THINKING IT MATTERS SO MUCH.

AND WHO IS CAUGHT UP IN THIS

MANIA?

>> YOU KNOW, IT'S LARGELY

AFLUENT KIDS AND THEIR PARENTS

BUT IT FANS OUT TO ALL OF

SOCIETY.

IT'S PEOPLE WHO ARE

ACHIEVEMENT-ORIENTED, AMBITIOUS

AND THINK THE ONLY WAY THEY'RE

GOING TO ATTAIN THEIR DREAMS AND

THE ONLY WAY THEY'RE GOING TO

REACH THE PINNACLE OF SUCCESS IS

IF THEY GET INTO ONE OF THESE

SCHOOLS THAT HAS AN ACCEPTANCE

RATE OF 10% OR 7% OR IN THE CASE

OF STANFORD NOW, 5%.

AND WHEN YOU THINK ABOUT IT, IF

YOU ARE HITCHING YOUR DREAMS AND

YOUR SELF WORTH TO A 5%

ACCEPTANCE RATE, YOU ARE SIMPLY

SETTING YOURSELF UP FOR FAILURE.

AND I WANT TO SAY, YOU KNOW

WHAT, YOU CAN GET WHERE YOU'RE

GOING WITHOUT STANFORD.

>> BUT FRANK, HOW DO YOU RESPOND

TO THE MANY PEOPLE WHO WILL TELL

YOU THIS MANIA IS JUSTIFIED?

FOR EXAMPLE, THE LAST FOUR

PRESIDENTS ABOUT IVY-LEAGUERS.

IS THAT JUST A COINCIDENCE?

>> NO, IT'S NOT JUST A

COINCIDENCE BUT I'M REALLY GLAD

YOU ASKED THAT.

TWO OF THOSE PRESIDENTS WERE

BUSHES.

THEIR FOR BEARERS WENT TO YALE,

WHICH IS WHERE THEY WENT.

DID YALE MAKE THEM PRESIDENTS OR

DID THEY END UP AT YALE BECAUSE

OF A BLOOD LINE AND A TRAJECTORY

THAT WAS GOING TO LEAD TO THE

WHITE HOUSE AND YALE WAS JUST A

STOP ALONG THE WAY?

WE SAY, OH, ALL THE PRESIDENTS

HAVE GONE TO IVY LEAGUE SCHOOLS.

AS IF IVY LEAGUE SCHOOLS MADE

THE PRESIDENTS.

I DON'T THINK SO.

I THINK IN MANY OF THOSE

SITUATIONS AND HOPEFULLY SOMEDAY

WE'LL SAY WOMEN TOO, THEY WERE

BOUND FOR THAT SORT OF FUTURE

AND THEY HAPPENED TO GO THROUGH

THE IVY LEAGUE.

SO WE NEED TO BE CAREFUL ABOUT

CAUSATION VERSUS CORRELATION.

>> SO YOU ALSO LOOKED AT TOP TEN

FORTUNE 500 COMPANY CEOs BACK IN

2014, AND WHAT DID YOU FIND?

>> OF THE TEN LARGEST COMPANIES,

THE CEOs OF THOSE COMPANIES ONLY

ONE OF THEM WENT TO A SCHOOL

THAT YOU OR I OR ANYONE ELSE

WOULD CONSIDER CONVENTIONALLY

ELITE AND THE REST WENT TO STATE

WHEN YOU LOOK AT SUCCESSFUL

PEOPLE, IT'S VERY RELEVANT WHAT

THEY PUT INTO THEIR COLLEGE

EDUCATION.

HOW THEY SPENT THAT TIME.

MUCH LESS RELEVANT WHERE THAT

SCHOOL WAS OR WHETHER ITS NAME

MADE YOUR HEARTBEAT FASTER.

>> SO ELABORATE ON THAT.

WHAT DOES MAKE FOR FUTURE

SUCCESS?

>> THERE HAVE ACTUALLY BEEN SOME

STUDIES AND THERE IS A WONDERFUL

PROJECT CALLED THE GALLUP PURDUE

INDEX.

PEOPLE WHO TEND TO GET DEEPLY

INVOLVED IN COLLEGE DO BETTER

LATER ON.

PEOPLE WHO DEVELOP A CLOSE

RELATIONSHIP WITH A PROFESSOR

WHO IS A MENTOR TEND TO DO

BETTER.

AND IF YOU GO THROUGH ALL OF

THOSE THINGS THAT SEEM TO AUGER

BETTER SUCCESS THEY'RE ALL

MEASURES OF ENGAGEMENT.

PEOPLE WHO GET FULLY ENGAGED IN

WHAT THEY'RE DOING AND COMMIT TO

IT AND ARE PASSIONATE ABOUT IT,

THEY ARE SUCCESSFUL, WHETHER

THEY WENT TO THE UNIVERSITY OF

TEXAS OR M.I.T.

>> ALL MY FRIENDS ARE EXAMPLES

OF WHAT YOU JUST SAID.

NEVERTHELESS, I MYSELF WHO WAS

GUILTY OF THIS DELUSION.

WHERE DOES THE DELUSION COME

FROM?

>> A SELECTIVE REALITY.

WE TELL A SELECTIVE AND UNTRUE

STORY.

TAKE THE PRESIDENTIAL RACE.

IF YOU WENT OUT AND ASKED PEOPLE

READING UP ON IT FAIRLY WELL,

WHERE DID TED CRUZ GO TO

COLLEGE, HE'LL TELL YOU HE WENT

TO PRINCETON.

IF YOU ASK WHERE DID MARCO RUBIO

GO TO COLLEGE, THEY WON'T BE

ABLE TO ANSWER THE QUESTION,

BECAUSE EVERY PROFILE ABOUT TED

CRUZ TELLS YOU HE WENT TO

PRINCETON AS IF THAT EXPLAINS

HIS SUCCESS.

THE PROFILES OF MARCO RUBIO

DON'T TELL YOU WHERE HE WENT TO

SCHOOL.

BECAUSE IT WASN'T A BIG BRAND

NAME SCHOOL.

AND THAT SOMEHOW IS SEEN AS

IRRELEVANT OR CONTRADICTORY.

BUT IT HAD EVERY BIT AS MUCH TO

DO WITH THE MAN HE BECAME AS

PRINCETON DID.

>> UNIVERSITY OF MIAMI, AFTER --

>> WELL, NO, UNIVERSITY OF

FLORIDA.

BUT THAT'S THE THIRD COLLEGE HE

WENT TO.

HE STARTED OUT AT A PLACE IN

MISSOURI, WHICH DOESN'T EVEN

EXIST ANY MORE AS A FULL-FLEDGED

FOUR-YEAR COLLEGE AND THEN

COMMUNITY COLLEGE AND ONLY THEN

DID HE GRADUATE -- AND NO ONE

HEARS ABOUT THAT.

THAT HAS EVERY MUCH TO DO AS

PRINCETON.

>> HOW DO WE HEAL THIS MANIA

BESIDES WRITING BOOKS LIKE THIS?

BUY BOOKS LIKE THIS.

>> WE TELL THE WHOLE STORY.

WE TALK IN A MUCH, MUCH MORE

HONEST, FULL WAY ABOUT HOW

PEOPLE GET WHERE THEY'RE GETTING

IN LIFE.

AND THE ANSWER TO THAT IS IT HAS

TO DO WITH THINGS THEY DID IN

HIGH SCHOOL, THINGS THEY DO

AFTER COLLEGE.

IT'S SO STRANGE TO ME THAT WE

ATTRIBUTE THIS MAGICAL POWER TO

THESE FOUR YEARS OF COLLEGE OR

FOR SOME PEOPLE FIVE OR SIX.

AS IF IT'S THE MOST IMPORTANT

YEARS OF LIFE.

THEY'RE IMPORTANT YEARS, BUT SO

ARE THE YEARS THAT CAME BEFORE,

THE YEARS THAT COME AFTER.

AND WE HAVE TO STOP GIVING KIDS

THE MESSAGE THIS ONE JUNK AT

YOUR IS GOING TO DETERMINE THEIR

ENTIRE FUTURE.

>> FRANK, YOUR BOOK IS "WHERE

YOU GO IS NOT WHO YOU'LL BE, AN

ANTIDOTE TO THE COLLEGE

ADMISSIONS MANIA."

IT'S A GREAT BOOK AND DISPELS

THE ILLUSION THAT HURTS US ALL.

THANK YOU FOR JOINING US.

>> THANK YOU FOR HAVING ME.

>>> WE LOVED HER IN "WICKED" AND

"GLEE" BUT NOW THE EMMY AND TONY

AWARD WINNING ACTRESS KRISTEN

CHENOWETH IS SHOWING US THE ART

OF ELEGANCE WITH HER ALBUM OF

AMERICAN SONG BOOK CLASSICS.

TAKE A LISTEN.

♪♪

♪ I GET ALONG WITHOUT YOU VERY

WELL ♪♪

♪ OF COURSE I DO

>> IT'S A SOUND THAT ONLY COMES

FROM LIFE.

AND IT'S NOT GOING TO BE

♪ UP HERE ANY MORE

IT'S MAYBE GOING TO BE DOWN HERE

A LITTLE BIT.

AND THAT CAN ONLY COME THROUGH

EXPERIENCE, HARDSHIP,

GRATEFULNESS AND THAT'S WHY I'M

READY TO SING THIS MUSIC.

>> AND WE ARE VERY PLEASED TO

HAVE KRISTEN CHENOWETH JOINING

US NOW.

I DON'T OFTEN GUSH OVER MY

GUESTS, BUT I HAVE TO TELL YOU

HOW THRILLED WE ARE TO HAVE YOU

HERE WITH US.

>> THANK YOU.

>> IT'S JUST A DELIGHT TO MEET

YOU AND HAVE YOU HERE.

LET'S START OFF WITH THE ALBUM.

MENTIONED TO YOU MY WIFE AND I

LISTENED TO IT, AND THE SENSE WE

GOT WAS WE WERE SITTING IN OUR

LIVING ROOM AND YOU WERE OVER IN

THE CORNER IN THE PIANO SINGING

TO US.

THAT'S THE WAY IT FELT.

>> THAT'S WHAT I WANTED.

>> WELL, WHERE DID -- I'M ALWAYS

FASCINATED BY TITLES.

"THE ART OF ELEGANCE."

WHY DOES ELEGANCE ENTER INTO THE

TITLE?

>> I THINK IT'S A TWO-PARTER FOR

ME.

THE FIRST, MY MOM USED TO ALWAYS

TELL ME, KRISTEN IN WHATEVER YOU

DO, ALWAYS BE A LADY AND

REMEMBER TO BE ELEGANT.

AND I REMEMBER LOOKING THAT WORD

UP IN THE DICTIONARY.

YOU KNOW, BACK WHEN WE HAD THE

BIG BOOK.

>> HAD REAL DICTIONARIES.

>> YEAH.

AND I THOUGHT, I THINK I

UNDERSTAND THAT.

AND I SAID, LET'S GO TO THE

EXPENSIVE STORE IN TOWN AND GET

ME A PRETTY EASTER DRESS.

AND SHE SAID, YOU CAN GO TO

TARGET.

YOU CAN GO -- DOESN'T MATTER

WHERE WE GO.

JUST ALWAYS BE ELEGANT.

AND I GUESS I LOOK FOR

QUALITIES, WHICH IS CLASS AND

ELEGANCE IN MY LIFE.

NOT JUST IN MY MUSIC.

AND THE WAY I PRESENT MYSELF

AND, OF COURSE, I CAN HAVE FUN

AND GET DOWN AND ALL OF THAT

STUFF.

BUT I TRY TO -- YOU KNOW --

THERE'S A SENSE OF MANNERS, I

THINK, THAT I DON'T KNOW IF IT'S

A SOUTHERN THING.

BY I JUST THINK THAT IT'S

IMPORTANT.

AND I THINK ESPECIALLY NOW WITH

WHAT I'M SEEING IN OUR YOUNG

PEOPLE, I SEE A LACK OF THAT A

LITTLE BIT GOING OUT THE DOOR.

AND I'M LIKE, YOU ACTUALLY DON'T

HAVE TO BE THAT.

YOU CAN BE TALENTED AND NOT

CLASSLESS.

AND SO I WANTED PEOPLE TO KNOW

THERE'S AN ART TO IT.

AND THERE'S AN ART TO EACH OF

THESE SONGS.

THERE'S AN ARC TO EACH OF THESE

SONGS.

AND THEY DON'T WRITE THEM LIKE

THAT AS MUCH ANY MORE.

SO --

>> LET ME ASK YOU ABOUT THE

SONGS.

>> YES.

>> GOING THROUGH THEM, AND THERE

ARE SO MANY ONES -- FABULOUS

SONGS.

PROBABLY "SKYLARK" MAY BE MY

FAVORITE.

>> WHICH MADE ME SO HAPPY

BECAUSE THAT'S MY FAVORITE.

>> I'M DELIGHTED TO HEAR THAT

ALSO.

WHEN YOU DECIDED TO DO THIS

PROJECT WITH ALL OF THE

MARVELOUS SONGS OUT THERE,

"AMERICAN SONG BOOK," JUST

FANTASTIC SONGS FOR YOU TO SING,

HOW DO YOU CHOOSE THE ONES YOU

WANT TO DO?

>> THERE'S A LOT OF TEARS

INVOLVED, BECAUSE I DIDN'T WANT

TO CUT A LOT OF THE ONES I DID.

I HAVE TO DO THE ONES THAT SPEAK

THE LOUDEST TO ME.

SO I MADE A LIST.

MUCH LIKE WE WOULD OF SONGS YOU

WANT TO SING.

AND I KEPT MAKING THAT LIST.

REALLY WHAT SONGS YOU HAVE TO

CUT, WHAT SONG DO YOU HAVE TO

CUT.

AND THEN IT JUST REVEALED ITSELF

TO ME.

BUT THE INTERESTING THING ABOUT

THIS ALBUM IS I WAS DONE, AND I

WAS IN -- DOING CHILDREN'S

THEATRE ONE NIGHT, AND I WAS IN

MY TUB TAKING A BATH AND

LISTENING TO SOME OF THE TRACKS,

YOU KNOW, CRITIQUING AND NOT

BEING EXTREMELY HAPPY WITH

CERTAIN THINGS.

I KNEW I WAS GOING TO GO BACK IN

THE STUDIO AND I CALLED STEVE

TYRELL AND I SAID I JUST HEARD A

RANDOM SONG ON THE RADIO, AND IT

WAS ON SERIOUSLY SINATRA AND

IT'S "I'M A FOOL TO WANT YOU"

AND I DIDN'T KNOW IT, AND IT WAS

NEW TO ME.

AND WE WENT --

>> NOT HEARD OFTEN.

THE FACT THAT SINATRA WAS

INVOLVED IN WRITING IT WAS

EXTRAORDINARY.

>> RIGHT.

HE WROTE IT, PERFORMED IT.

RECORDED IT AND THEN NEVER DID

IT AGAIN.

WITH THE HISTORY OF SONGS, THAT

SONG I WENT, I'M PUTTING IT ON.

AND WE DID.

>> DO YOU -- IS ASKING YOU IF

YOU HAVE A FAVORITE SONG LIKE

ASKING SOMEBODY IF YOU HAVE A

FAVORITE CHILD?

>> YES.

IT'S IMPOSSIBLE.

I -- YOU KNOW, DOLLY PARTON SAYS

ABOUT ALL OF HER SONGS THAT

SHE'S WRITTEN, I LOVE THEM,

THEY'RE ALL MY CHILDREN.

SOME OF THEM I LIKE BETTER THAN

OTHERS.

I DON'T KNOW WHAT I WOULD PICK.

I DEFINITELY HAVE MY TOP THREE

OR FOUR ON HERE.

"SOMEONE TO WATCH OVER ME" IS

HARD TO BEAT.

IT'S GERSHWIN, "AMERICAN SONG

BOOK" AT ITS BEST.

AND A LOT OF PEOPLE KNOW THAT.

I ALSO CERTAINLY LOVE THE LYRICS

TO "SMILE."

NOT MANY PEOPLE KNOW THAT

CHARLIE CHAPLAIN WROTE THE MUSIC

TO THAT.

>> I DIDN'T KNOW THAT EITHER.

>> YEAH.

AND THEN THERE IS "SKYLARK" AND

I GET ALONG WITH THAT VERY WELL.

YOU KNOW, I COULD GO ON AND ON.

IT'S IMPOSSIBLE.

AND, YOU KNOW, EVERY TIME THAT

OCCURS TO ME TO MAKE THAT

FAVORITE, I JUST TOSS IT OUT.

>> I SUGGEST EVERY ONE OF THOSE

SHOULD BE YOUR FAVORITE, BECAUSE

YOU DO A MARVELOUS JOB ON EVERY

ONE OF THEM.

I KNEW IT WAS GOING TO BE A

DELIGHT TO MEET YOU.

I DIDN'T REALIZE IT WOULD BE

SUCH A DELIGHT -- WE STARTED

TALKING ABOUT "THE ART OF

ELEGANCE" AND I'M SURE YOUR MOM

WOULD BE VERY PROUD OF HOW

ELEGANT YOU HAVE BECOME.

>> THAT'S PROBABLY THE BEST

THING YOU COULD SAY TO ME.

>> YOU BE WELL, AND WE LOOK

FORWARD TO ALL OF THE THINGS YOU

HAVE GOING ON.

>> THANK YOU, DARLING.

>>> AND FOR MORE INFORMATION ON

KRISTEN CHENOWETH'S ALBUM, "THE

ART OF ELEGANCE," AND OUR

EXTENDED INTERVIEW, PLEASE GO TO

METROFOCUS.ORG.

>>> BEFORE WE SAY GOOD NIGHT, WE

OFFER YOU A GIFT.

NOW, YOU CAN TAKE "METROFOCUS"

WITH YOU ANYWHERE, ANY TIME.

IT'S SIMPLE AND IT'S FREE.

DOWNLOAD THE "METROFOCUS" APP

AVAILABLE FOR iPHONE AND

ANDROID.

WHEN YOU DO, YOU'LL GET THE

LATEST NEWS, WEATHER, AND

TRAFFIC FOR THE ENTIRE METRO

AREA.

IT'S ALL JUST A CLICK AWAY.

DID WE MENTION THAT IT'S FREE?

IN THE MEANTIME, REMEMBER TO

FOLLOW US ON FACEBOOK AND

TWITTER FOR UP TO THE MINUTE

INFORMATION IMPACTING OUR

COMMUNITY.

WE'LL SEE YOU AGAIN TOMORROW.

>>> FUNDING FOR THIS PROGRAM WAS

PROVIDED BY:

>>> COMING UP, THE POTENTIAL

FUTURE OF FOOD.

>> THE ABILITY TO INTEGRATE LOTS

OF INGREDIENTS AND COOK THEM IN

A SOFTER, DETERMINED WAY, REALLY

ALLOWS US TO EXPLORE A NEW FOOD

SPACE.

>> THE EVOLUTION OF THE

LEGENDARY NEW YORK CITY RAT.

>> THERE SEEMS TO BE THE SPLIT

IN MIDTOWN WHERE YOU HAVE UPTOWN

RATS THAT ARE MORE RELATED TO

EACH OTHER THAN THEY ARE TO

DOWNTOWN RATS.

>>> A BREAKTHROUGH TELESCOPE

THAT MAY LEAD TO GALACTIC

DISCOVERIES.

>> IT ALLOWS US TO MAP THE WHOLE

SKY REALLY FAST.

>> MATH MEETS ART.

>> THE DRIVING MOTIVATION OF MY

WORK IS A SEARCH FOR UNUSUAL

BEHAVIORS, THINGS THAT ARE

NONINTUITIVE, THAT MAYBE SEEM

IMPOSSIBLE.

>> IT'S ALL AHEAD.

>>> FUNDING FOR THIS PROGRAM IS

MADE POSSIBLE BY: SUE AND EDGAR

WACHENHEIM III AND CONTRIBUTIONS

TO THIS STATION.