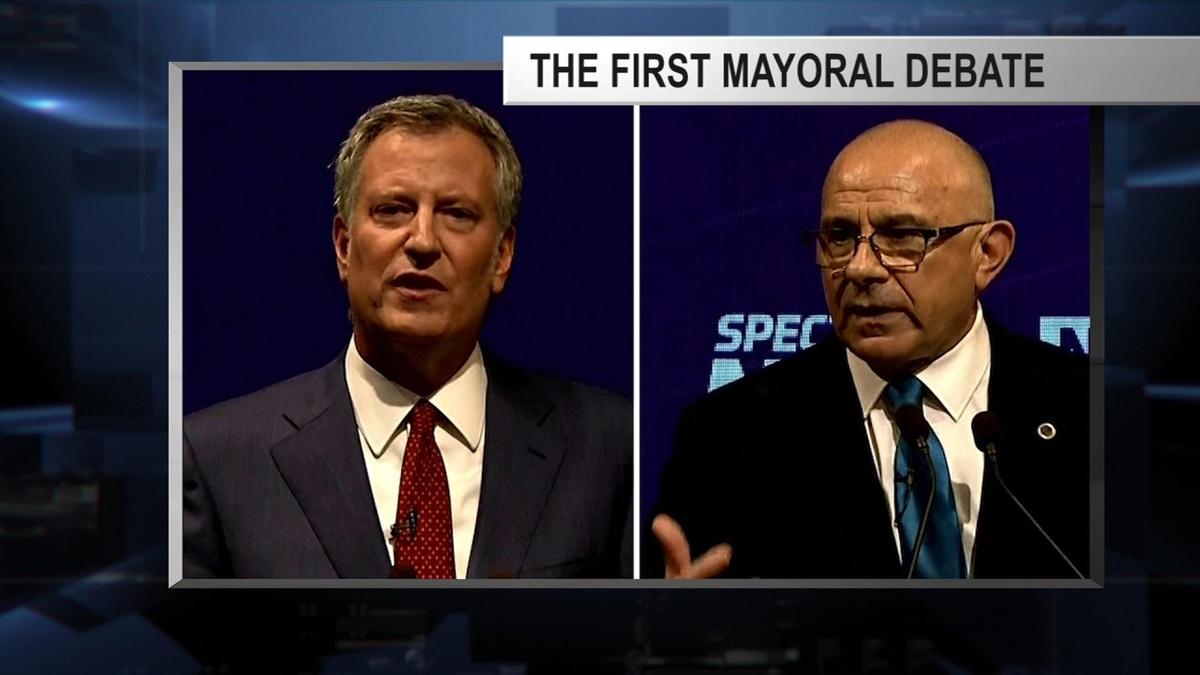 FULL EPISODE
MetroFocus: August 24, 2017
Mayor de Blasio squares off against Sal Albanese in the first New York City Mayoral debate of the upcoming race for City Hall. The President and the First Lady announce they will not be attending this year's Kennedy Center Honors. The Village People's Randy Jones will be here with memories of those halcyon nights in the Big City.
TRANSCRIPT

>>> TONIGHT ON "METROFOCUS,"

MAYOR DE BLASIO SWORE OFF

AGAINST ALBANESE IN THE FIRST

UPCOMING MAYORAL RACE.

IF YOU MISSED IT, FEAR NOT.

WE HAVE A RECAP AND ANALYSIS.

>>> THE PRESIDENT AND FIRST LADY

ANNOUNCED THAT THEY WOULD NOT BE

ATTENDING THIS YEAR'S KENNEDY

CENTER HONORS AFTER SOME OF THE

RECIPIENTS SAID THEY WOULD BE

SKIPPING IT TO PROTEST THE

PRESIDENT'S PROPOSED CUTS FOR

THE ARTS AND HIS POLITICS IN

GENERAL.

ALL OF THIS HAPPENS AS HIS

ENTIRE ARTS AND HUMANITY COUNCIL

RESIGNED CITING THE SAME ISSUES.

ROBIN BRONK IS HERE FOR

DISCUSSION.

>>> AND STUDIO 54, THE DANCE

FLOOR WAS THE PREMIER SOCIAL

SCENE AND THE PULSE OF THE CITY

WAS SET TO A THROBBING BEAT.

WHO BETTER TO TAKE US THERE THAN

A COWBOY.

THE VILLAGE PEOPLE'S RANDY JONES

IS HERE.

ALL OF THAT AND MORE AS

"METROFOCUS" STARTS RIGHT NOW.

♪♪

>> THIS IS "METROFOCUS" WITH

RAFAEL P.ROMAN, JACK FORD AND

JANA FLANAGAN.

FUNDING FOR THIS PROGRAM WAS

PROVIDED BY --

>> GOOD EVENING AND WELCOME TO

"METROFOCUS."

I'M JACK FORD.

IT WAS BILLED AS A CHANCE FOR

THE CHALLENGER TO TAKE ON MAYOR

BILL DE BLASIO AND DURING THE

FIRST DEMOCRATIC DEBATE, HE

SPARRED ON A NUMBER OF ISSUES,

INCLUDING HOMELESSNESS AND MASS

TRANSIT ON MANHATTAN'S UPPER

EAST SIDE.

THIS COULD DETERMINE THE

NOVEMBER ELECTION IN A HEAVILY

DEMOCRATIC CITY LIKE NEW YORK.

MAYOR DE BLASIO TRIED TO QUIET

SPECULATION THAT HE WILL RUN FOR

PRESIDENT IN 2020.

LISTEN.

>> LOOKING IN THAT CAMERA RIGHT

NOW, TO MY FELLOW NEW YORKERS,

I'M RUNNING FOR ONE THING AND

ONE THING ONLY, AS MAYOR OF NEW

YORK CITY.

IT'S MY HONOR TO RUN AND I WILL

SERVE FOR FOUR MORE FULL YEARS.

>> ANOTHER FOUR YEARS OF BILL DE

BLASIO, HE WAS ABSENT FOR ALMOST

100 DAYS.

THIS IS HIS FIRST TERM.

AND I CAN TELL YOU THIS, I CAN

TELL YOU THIS, THAT IF BILL DE

BLASIO GETS RE-ELECTED, THE BEST

JOB IN THE CITY WILL BE THESE

TRAVEL AGENTS.

YOU'LL NEVER SEE HIM.

>> FOR REACTION AND ANALYSIS, WE

TURN NOW TO POLITICAL STRATEGIST

HANK SHACKCOUGH WHO HAS WORKED

ON CAMPAIGNS INVOLVING PRESIDENT

BILL CLINTON AND FORMER MAYOR

MICHAEL BLOOMBERG.

WE'RE DELIGHTED AS ALWAYS TO

HAVE YOU HERE.

>> THANK YOU FOR HAVING ME.

>> SO LET'S START OFF WITH

DESCRIBING FOR FOLKS WHO DIDN'T

SEE THIS LAST NIGHT THE TENOR OF

THIS DEBATE.

HOW THESE THINGS PLAY OUT,

SOMETIMES THEY ARE ON A HIGHER

LEVEL, A HIGHER PLAIN.

SOMETIMES THEY ARE DOWN AND

DIRTY.

>> BOTH SIDES WERE ACRIMONIOUS.

THE MAYOR DIDN'T LIKE BEING

QUESTIONED AND ALBANESE DIDN'T

LIKE THE QUESTIONS HE GOT.

>> I'M STRUCK BY ONE THING AS A

JOURNALIST BECAUSE YOU LOOK AT

DETAILS AND THINGS THAT YOU'RE

INVOLVED WITH AS A CONSULTANT.

I LIKE TO SEE HOW THEY'RE GOING

TO REFER TO EACH OTHER AND HERE

YOU WEREN'T GETTING MR. MAYOR

AND MR. ALBANESE OR

COUNCILMAN -- YOU WERE GETTING

KIND OF JUST SORT OF FIRST

NAMES, ALMOST IN A DEROGATORY

FASHION.

IS THAT ALMOST INTENTION?

DO PEOPLE SAY TO CLIENTS, THIS

IS THE WAY YOU SHOULD HANDLE

THIS?

>> OH, ABSOLUTELY.

THIS IS DEROGATORY BEHAVIOR.

BOTH SIDES WERE TRYING TO BE

MORE DEROGATORY TO EACH OTHER

AND IT DIDN'T WORK OUT AT ALL.

WHEN YOU WANT TO TAKE OUT AN

INCUMBENT, YOU NEED A KNOCKOUT

PUNCH AND THERE WASN'T ONE OF

THOSE.

>> WHAT DID SAL ALBANESE NEED TO

DO IN THIS DEBATE?

>> HE NEEDED TO COME OUT OF THAT

WITH ONE PARTICULAR PHRASE,

DESCRIBING ONE HOT BUTTON ISSUE

THAT WOULD BE BELIEVABLE TO THE

LARGER ELECTORATE AND HE DID NOT

DO THAT.

>> WHAT WOULD YOU HAVE SUGGESTED

TO HIM THAT WOULD HAVE BEEN THAT

ONE ISSUE THAT PERHAPS HE COULD

HAVE THROWN A SADDLE ON AND THEN

TRIED TO RIDE THROUGH THIS

CAMPAIGN?

>> I WOULD HAVE SAID, THE MAYOR

SAYS HE'S GOING TO CLOSE RECORDS

IN X YEARS.

WE CAN'T WAIT THAT LONG.

THE MAYOR SAYS HE'S GOING TO

MAKE THINGS MORE AFFORDABLE BY

"X" YEAR.

WE CAN'T WAIT THAT LONG.

IT'S ALL GREAT PLANS, MAYOR, BUT

WE NEED SOLUTIONS NOW.

SEE, HE DIDN'T DO THAT.

>> SOMETIMES IF YOU'RE THE

INCUMBENT, YOUR APPROACH TO

THESE IS YOU'RE SORT OF ABOVE

THE FRAY.

YOU'RE ALMOST GAINING TO GET

INVOLVED IN THIS CONVERSATION

AND YOU WANT THAT, I IMAGINE, TO

PROTECT AN IMAGE TO THE VOTERS

TO SAY, HE'S THE GUY.

HE'S THE MAYOR.

YOU SHOULD KEEP HIM AS THE

MAYOR.

IS THAT THE WAY THAT MAYOR DE

BLASIO APPROACHED THIS?

>> HE DID TO SOME EXTENT.

THERE ARE OTHER ISSUES INVOLVED,

JACK.

HE'S NOT DOING WELL IN THE

POLLS.

MAYORS TEND TO GET RE-ELECTED

OVERALL.

ONLY TWO HAVE NOT BEEN

RE-ELECTED IN THE LAST 50 YEARS.

ACTUALLY, THREE.

COCH DIDN'T WIN THE PRIMARY.

DAVID DIGGINS DID NOT WIN THE

ELECTION AND THAT'S THREE IN 50

YEARS AND IT'S NOT THAT COMMON

OF AN EVENT.

>> WHY DO YOU THINK THAT IS?

WHAT IS IT ABOUT NEW YORK CITY

THAT EVEN IF BASED ON POLLS

YOU'RE NOT IN LOVE WITH THE

MAYORS OVER THE YEARS AND HIS

NUMBERS HAVEN'T BEEN GREAT AND

I'M SURE HIS PEOPLE WOULD ADMIT

THAT.

WHY IS IT THAT NEW YORKERS SAY,

WE'LL KEEP YOU ANYWAY.

>> BECAUSE THE CITY IS BIG, THE

EFFORT IS VERY HARD AND THE

POWERS THAT GET CAMPAIGNS

TOGETHER LIKE UNIONS, THE

FINANCIAL SECTOR, THE REAL

ESTATE SECTOR, DON'T LIKE TO

TAKE RISK.

YOU KNOW WHAT YOU'VE GOT AND

UNLESS IT'S AWFUL, YOU'RE GOING

TO KEEP IT.

>> WE'VE INTERVIEWED MOST OF THE

MAJOR CANDIDATES HERE ON

"METROFOCUS" AND I STARTED EACH

INTERVIEW WITH THE SAME

QUESTION.

THIS IS A HARD JOB.

THERE ARE PEOPLE WHO SAY TO YOU

THAT BEING THE MAYOR OF NEW YORK

CITY IS AN UNWINNABLE JOB.

I SAID TO THEM, WHY DO YOU WANT

THIS?

WHY DO YOU THINK THE JOB IS SO

HARD?

>> IT'S HARD BECAUSE YOU HAVE A

VERY STRATIFIED POPULATION AND

YOU HAVE A PLACE WHERE ANYTHING

CAN HAPPEN ON ANY DAY AND GREAT

GROUP COMPETITION FOR RESOURCES

AND JOBS AND MONEY FROM THE

GOVERNMENT AND AT SOME POINT

YOU'RE GOING TO GET BOUGHT.

MONEY MANAGEMENT ISSUES, PENSION

COSTS, ON AND ON AND ON, IT

GROWS.

NEW YORK IS A GROWING

INSTITUTION.

BY THE WAY, THE INCESSANT CHANGE

MAKES IT DIFFICULT TO CONTROL

ANYTHING.

>> WE TALKED ALREADY ABOUT -- IN

TERMS OF SAL ALBANESE.

>> SURE.

>> WHAT YOU WOULD HAVE SUGGESTED

HE DO HERE.

HOW ABOUT MAYOR DE BLASIO?

IF YOU WERE ADVISING HIM, WHAT

WOULD YOU HAVE SAID TO HIM THAT

HE NEEDED TO DO IN THIS DEBATE?

>> DO EXACTLY WHAT YOU DID LAST

NIGHT.

DON'T BE SEEN TOO MUCH.

WALK AROUND WHEN YOU HAVE TO AND

RIDE IT OUT AND DON'T ENGAGE

WHEN YOU DON'T HAVE TO.

EXPLAIN THE RECORD, WHETHER IT'S

FACTUAL OR NOT, DOESN'T MATTER.

TAKE THE TOP LINE RAW NUMBERS,

DON'T EXPLAIN WHAT THEY MEAN AND

RUN LIKE HELL.

>> AS A SPORTS METAPHOR, WE TALK

ABOUT THE STARTING QUARTERBACK

AND YOU SAY IT'S THEIR JOB TO

LOSE.

IS THAT A REALISTIC ASSESSMENT,

THEN, OF MAYOR DE BLASIO?

HIS JOB -- AND IT WILL KEEP IT

AS HIS JOB UNLESS HE DOES

SOMETHING TO LOSE IT?

>> IT'S HIS JOB TO LOSE AND THE

OPPONENT'S JOB TO FIND A WAY FOR

HIM TO LOSE AND THAT'S DIFFICULT

TO DO WITH MAYORS IN NEW YORK

CITY.

>> MOVING OUT OF THE DEBATE HERE

BUT WHEN YOU HAVE A PRIMARY.

>> SURE.

>> IT'S A LITTLE UNUSUAL TO HAVE

AN INCUMBENT TO HAVE A PRIMARY

AND YOU LOOK ACROSS THE AISLE TO

SEE WHAT THE REPUBLICANS HAVE

DONE HERE.

HAVE THEY BEEN ABLE TO GENERATE

ANY REAL TRACTION IN THIS RACE?

>> THE REPUBLICAN CHALLENGER IS

A SMART WOMAN, SHE'S A WOMAN AND

CERTAINLY REPRESENTS A PORTION

OF THE CITY THAT DOESN'T FEEL

LIKE IT BELONGS THE THE QUESTION

IS, FRANKLY, ELECTORAL TURNOUTS

IN GENERAL ELECTIONS HAVE BEEN

POOR OF LATE.

I THINK -- I MAY BE WRONG, BUT

ELECTION TURNOUT.

JOE LHOTA LOST.

GOOD FOR BILL DE BLASIO.

HE'S NOW THE MTA.

BLESS HIM.

HE'S A GREAT MAN.

THAT BEING SAID, TURNOUTS HAVE

BEEN LOUSY.

COULD HE BE DEFEATED IN THE

FALL?

YES.

IS IT LIKELY?

VERY, VERY HARD TO DO.

WHY?

IT'S ALL ABOUT WHO TURNS OUT TO

VOTE.

ALL ELECTIONS ARE DETERMINED BY

WHO SHOWS UP.

>> AND WHO THEY ARE.

>> AND WHO THEY ARE.

>> THANK YOU.

THANKS FOR VISITING US.

>> I'M GRATEFUL TO BE HERE.

>> WE'LL TALK WITH YOU AGAIN AS

THIS PROGRESSES DOWN THE ROAD.

YOU BE WELL.

>>> THIS YEAR'S KENNEDY CENTER

HONORS WILL BE MISSING ONE

NOTABLE GUESS, PRESIDENT TRUMP.

HE'S SKIPPING THE EVENT SAYING

HE DOES NOT WANT POLITICS TO GET

IN THE WAY OF THIS YEAR'S

RECIPIENTS.

THOSE HONOREES INCLUDE GLORIA

STEFAN, LEGENDARY PRODUCER

NORMAN LEER, L.L. COOL JAY AND

LIONEL RICHIE.

ALSO, CITING THE PRESIDENT'S

STANCE ON CHARLOTTESVILLE, THE

HUMANITY COUNCIL SAYS IT WOULD

MAKE US COMPLICIT IN YOUR WORDS

AND ACTIONS.

VITRIOL IS NOT AMERICAN VALUES.

YOUR VALUES ARE NOT AMERICAN

VALUES.

WE MUST BE BETTER THAN THIS.

WE ARE BETTER THAN THIS.

AND IF THIS IS NOT CLEAR TO YOU,

THEN WE CALL ON YOU TO RESIGN

YOUR OFFICE, TOO.

POWERFUL WORDS.

JOINING US NOW WITH MORE ON THIS

IS THE CEO OF THE CREATIVE

COALITION, ROBIN BRONK.

WELCOME TO THE SHOW.

>> HI, JENNY.

HOW ARE YOU?

>> I WANT TO GIVE OUR AUDIENCE A

BETTER UNDERSTANDING OF THE

CREATIVE COALITION.

WHO ARE YOU GUYS, WHAT IS IT

THAT YOU'RE REPRESENTING AND

WHAT IS IT THAT YOUR

ORGANIZATION DOES?

>> ESTABLISHED 30 YEARS AGO BY

THE ACTORS -- ACTUALLY, THE

ACTIVISTS WHO HAPPENED TO BE

SARANDON, CHRIS REEVE, REALLY

THE GODPARENTS OF CELEBRITY

ADVOCATES.

WE'RE NONPROFIT AND SET UP

SPECIFICALLY TO PUT THE POWER

BEHIND THE SOCIAL WELFARE CAUSE.

>> I WANT TO FIND OUT, WHAT ARE

YOUR THOUGHTS ON THE PRESIDENT

AND FIRST LADY ANNOUNCING THAT

THEY'RE NOT GOING TO BE

ATTENDING THE KENNEDY CENTER

HONORS?

>> MY REACTION IS, LET'S LOOK AT

THE BIGGER PICTURE.

WHEN DID THE ARTS BECOME A DIRTY

WORD?

WHEN DID WE DECIDE AS A COUNTRY

THAT WE COULD IGNORE THE ARTS?

AND THIS PRESIDENT CALLED FOR

THE ELIMINATION OF FUNDING FOR

THE NATIONAL ENDOWMENT OF THE

ARTS.

AND THE BIGGER ISSUE IS THE

KENNEDY HONORS JUST A SYMPTOM OR

IS IT A MORE SERIOUS CONDITION

OF AN ADMINISTRATION AND OF A

CONGRESS THAT WANTS TO IGNORE

SUPPORTING THE ARTS.

>> WELL, THIS ISN'T THE FIRST

TIME THAT THE ARTS HAS COME ON

TO THE CHOPPING BLOCK.

MANY WILL SAY THIS IS JUST

NORMAL AND YOU SHOULD SIT DOWN

AND RELAX.

>> I'M ALL FOR CALMING DOWN AND

RELAXING.

NAMASTE.

BUT WE CAN'T BE SILENT

BYSTANDERS.

WE CAN'T.

WE CARE ABOUT THE NEXT

GENERATION AND WE HAVE TO -- FOR

SOME REASON, WHY ARE ARTS ON THE

CHOPPING BLOCK?

IT'S CRAZY.

IF YOU LOOK AT THE STATISTICS,

IT'S NOT A RED ISSUE, IT'S NOT A

BLUE ISSUE.

THE ARTS TEACH US.

THE ARTS SCULPT US.

HOW CAN WE LET IT GO?

IT'S THAT FAMOUS CHURCHILL

QUOTE.

>> OF COURSE.

>> IF WE'RE NOT FIGHTING FOR THE

ARTS, WHAT ARE WE FIGHTING FOR?

>> WHAT ARE WE FIGHTING FOR.

>> AND I THINK THAT SAYS IT ALL.

>> LISTEN, PRESIDENT TRUMP ISN'T

THE FIRST PRESIDENT TO MISS THE

KENNEDY CENTER HONORS.

AS I UNDERSTAND, BILL CLINTON

DID, I BELIEVE, PRESIDENT CARTER

DID, RONALD REAGAN DID.

SO THIS ISN'T THE FIRST TIME

THAT THIS HAS HAPPENED.

BUT WHAT IS IT THAT MAKES THIS

INSTANCE DIFFERENT WHERE THE

PRESIDENT AND FIRST LADY ARE NOT

GOING TO BE IN ATTENDANCE?

>> IT'S INTERESTING.

BECAUSE AS I UNDERSTAND IT FROM

HISTORY, THERE'S SOME BIG WORLD

ISSUES GOING ON AND THEY WERE IN

VARIOUS INTERNATIONAL TREATIES

AND IN RELATIONS.

>> IRAN-CONTRA --

>> RIGHT.

>> THERE WERE ISSUES.

THE HOSTAGES.

>> RIGHT.

SO THERE WERE PRESSING ISSUES.

WITH PRESIDENT TRUMP SAYING THAT

HE AND THE FIRST LADY ARE NOT

GOING TO GO, IT'S STUMPING US

BECAUSE HOW DID THE ARTS BECOME

A POLITICAL ISSUE?

AND THE ARTS ARE A CORNERSTONE

IN OUR NATION AND WHY WOULD YOU

TURN YOUR BACK ON THE ARTS?

>> ALL RIGHT.

TO SAY THAT ARTS AREN'T

POLITICAL, WHEN YOU HAVE THE

PRESIDENT'S ENTIRE ARTS COUNCIL

RESIGN BECAUSE OF HIS REACTION

TO CHARLOTTESVILLE AND IN THAT

LETTER, THE FIRST LETTER OF

EVERY PARAGRAPH SPELLED OUT THE

WORD RESIST.

SO THAT IN AND OF ITSELF YOU CAN

SAY WAS A POLITICAL ACT AND THEN

YOU HAVE THE TRADITION OF

ARTISTS WRITING PROTEST SONGS OR

IF ARTISTS ARE ORGANIZING

POLITICAL EVENTS OR SITUATIONS

THEY DON'T LIKE.

SO THE ARTS HAVE BEEN POLITICAL.

>> ARTISTS ARE OUR BEST

ACTIVISTS.

THEY CAN SPEAK TO THE CITIZENRY.

THEY ARE SOME OF OUR BEST

MEANGS, WHATEVER IT IS, WHETHER

IT'S ARTISTS COMING OUT FOR A

CANCER WALK OR ARTISTS COMING

OUT TO SAVE THE SPOTTED OWL,

THESE ARE OUR BEST MESSENGERS

AND HOW DO YOU HARNESS THE POWER

OF THE ARTS TO PROMOTE SOCIAL

WELFARE?

>> I GUESS WHAT I'M TRYING TO

GET AT, IT'S NOT UNUSUAL TO HAVE

ARTISTS WRITE PROTEST SONGS

AGAINST A WAR OR ARTIST WHO IS

RALLY AROUND A PIECE OF

LEGISLATION OR SOMETHING THEY

MIGHT FIND OFFENSIVE AND EVEN

WITH THE PRESIDENT'S COUNCIL ON

THE ARTS AND HUMANITIES, IN

THEIR LETTER, THEY SPECIFICALLY

CRITICIZE THE PRESIDENT IN THEIR

RESIGNATION.

ISN'T THAT IN AND OF ITSELF

BEING POLITICAL?

>> IT IS A PRESIDENTIALLY

APPOINTED BODY.

IF THEY THINK THAT THE BEST USE

OF THEIR TIME AND THE BEST WAY

THAT THEY CAN BE ARTS ACTIVISTS

WAS TO RESIGN AND MAKE A

STATEMENT AND I DON'T DOUBT THAT

THEY'RE GOING TO CONTINUE TO USE

THEIR STRENGTH AND THEIR

PLATFORMS TO PROMOTE THE ARTS

AND ARTS PROGRAMS AND ARTS IN

THE COMMUNITIES.

THEY AS ARTISTS AND MESSENGERS

FEELS LIKE THAT WAS THE

STRONGEST WAY THAT THEY COULD

SUPPORT THE ARTS.

SOMETIMES YOU HAVE TO TAKE A

STEP BACK IN ORDER TO TAKE TEN

STEPS FORWARD.

>> ALL RIGHT.

I WANT TO END THIS ON A POSITIVE

NOTE BECAUSE WITH THE CREATIVE

COALITION, THERE'S A WIDE

DIVERSITY OF ARTISTS THAT YOU

GUYS REPRESENT AND WHAT I WANT

TO GET AT IS THE ROLE THAT THE

ARTS PLAY IN AMERICAN CULTURE IN

AND OF ITSELF.

WOULD WE HAVE THE AMERICAN

CULTURE THAT WE HAVE THAT WE ALL

RECOGNIZE AND ARE FAMILIAR WITH

IF WE DIDN'T HAVE THE ARTS, IF

WE CAN'T HAVE THAT UNIFYING

FACT?

>> ARTS ARE A KEY COMPONENT.

IT'S A CROSS-CURRICULUM TEACHING

TOOL.

WE KNOW THAT THE ARTS ARE USED

SO SUCCESSFULLY AND WE KNOW THAT

THE ARTS ARE SO SUCCESSFUL IN

PTSD AND WE KNOW THAT A STRONG

MILITARY DEPENDS ON ARTS.

WE KNOW THAT SCIENCE DEPENDS ON

ARTS.

WHY ARE WE KICKING ARTS TO THE

CORNER?

IT BAFFLES MY MIND.

WE LIVE IN A GREAT COUNTRY, IN A

VIBRANT COUNTRY THAT WAS BUILT

AND DON'T TAKE THAT AWAY FROM

US.

>> ROBIN BRONK, THANK YOU FOR

TALKING ABOUT THE CREATIVE

COALITION AND THE IMPORTANCE OF

THE KENNEDY CENTER HONORS.

>> THANK YOU.

♪♪

♪ MACHO MACHO MAN

♪ MACHO MACHO MAN

>> IT WAS ABOUT THIS TIME 40

YEARS AGO THAT HERE IN

MANHATTAN, JEANS GOT TIGHTER,

HAIR GOT LONGER AND TRACKS GOT

LOOSER AND BEHIND IT ALL WAS THE

BEAT OF DISCO.

IT WAS STUDIO 54 WITH HALSTON

AND BIANCA AND, OF COURSE, THE

VILLAGE PEOPLE.

THERE HAVE BEEN FEEL GOOD EVENTS

LIKE WEDDINGS AND MACHO MAN ARE

PRETTY MUCH PLAYED AS STANDARD

FAIR.

RANDY JONES WAS THE ICONIC

COWBOY OF THE VILLAGE PEOPLE AND

HE'S HERE TODAY TO TAKE US BACK

TO THOSE DAYS OF DISCO.

RANDY, WHAT A THRILL IT IS TO

HAVE YOU HERE.

WELCOME TO THE SHOW.

>> IT'S GREAT TO BE HERE.

PBS, WNET HAS BEEN A HUGE PART

OF MY LIFE.

EVER SINCE I CAME TO NEW YORK IN

1975.

AND TO BE ABLE TO SIT HERE IN

THE STUDIOS AND TALK WITH YOU,

WHO I'VE BEEN AWARE OF FOR -- WE

WON'T GO BACK HOW MANY DECADES.

>> YES.

WE CAN'T LIE ABOUT OUR AGE

ANYMORE.

>> I CAN'T LIE ABOUT IT.

YOU MENTIONED MACHO MAN AND MY

AGE IS ON THE BACK COVER OF

MACHO MAN.

>> IS THAT RIGHT?

>> EVER SINCE THEN, IT'S ONE OF

THOSE THINGS IN LIFE THAT'S KEPT

ME HONEST BECAUSE I CAN'T LIE

ABOUT MY AGE.

I'LL BE 65 YEARS OLD SEPTEMBER

13th.

>> OH, MY.

YOU STILL LOOK --

>> I'M AMBULATORY.

>> SO TALKING ABOUT -- 40 YEARS

AGO.

>> YEAH.

>> THIS IS WHEN "MACHO MAN"

BECAME A HIT.

I CAN'T BELIEVE IT.

CAN YOU?

>> WELL, YES, I BELIEVE IT.

IT'S CERTAINLY NOTHING THAT I --

IT'S CERTAINLY NOT WHAT PEOPLE

THOUGHT OR NOT WHAT MAYBE THE

22, 23-YEAR-OLD IN ME THOUGHT.

BUT WHAT I FIND INVIGORATING, IT

GIVES ME DRIVE, 40 YEARS AGO AS

AN ORIGINAL MEMBER OF VILLAGE

PEOPLE, WE HIT THE BILLBOARD

DANCE CLUB CHARTS FOR THE FIRST

TIME AND NOW 40 YEARS LATER,

JUST THIS PAST WEEK, AS THE

ONLY -- THE FIRST AND ONLY

MEMBER OF VILLAGE PEOPLE, I HIT

THE BILLBOARD DANCE CHARTS AGAIN

AS A SOLO ARTIST WITH MY NEW

SONG "HARD TIMES" SO I FEEL

REJUVENATED.

I FEEL LIKE, MAN, I STILL HAVE

SOME BUTT TO KICK OUT THERE AND

I'M STILL GOING.

>> THAT'S GREAT.

TALK ABOUT YOUR CURRENT LIFE IN

A MOMENT BUT LET'S GO BACK, WHAT

WAS IT LIKE BACK THEN?

>> DISCO DIDN'T REALLY BECOME

MAINSTREAM UNTIL SATURDAY NIGHT

FEVER BROKE AND NICOLAS,

WHATEVER HIS NAME IS, THAT DID

THAT ARTICLE IN "NEW YORK"

MAGAZINE, THAT WAS SATURDAY

NIGHT FEVER.

IT WAS AN INCREDIBLE TIME AND IT

WAS NOT ON THE RADAR SO MUCH BUT

ONCE WE CAME OUT AND DID OUR --

WITH WHAT WE WERE DOING, WE WERE

KIND OF AN IRRESISTIBLE LITTLE

PACKAGE.

>> IT'S A REALLY UNIQUE IDEA.

HOW DID YOU GUYS COME UP WITH

THIS AND GET TOGETHER SF.

>> TOTALLY UNIQUE IDEA.

AN IDEA THAT WASN'T DONE BEFORE

AND HASN'T BEEN REPLICATED

SINCE.

ALTHOUGH, WE COULD BE CALLED THE

GODFATHERS, IF YOU WILL, OF BOY

BANDS.

BEFORE US, THERE WAS THE

MONKEYS.

>> YEAH.

YEAH.

>> BUT WE MET, THE SIX ORIGINAL

GUYS OF VILLAGE PEOPLE, WE MET

THROUGH THE TWO FRENCH

PRODUCERS, JACQUE MORALLY, HE

HAD A SISTER GROUP OUT CALLED

THE RICHIE FAMILY THAT HAD DONE

AFRICAN QUEENS AND BRAZIL AND

WERE FAMOUS FOR THE BEST DISCO

IN TOWN.

SO WE MET THROUGH THEM AND THEY

PUT US TOGETHER AND WE REHEARSED

AND RECORDED SOME ALBUMS BUT

MACHO MAN WAS THE ONE TO HIT THE

CHARTS FOR US.

>> HOW DID IT FEEL FOR YOU GUYS

WHEN THAT HAPPENED?

>> YOU KNOW, WHEN YOU'RE A

KID --

>> FIRST OF ALL, WHEN YOU'RE A

KID AND IN YOUR 20s AND I'M A

TRAINED ACTOR.

I TRAINED AT UNIVERSITY OF NORTH

CAROLINA IN CHAPEL HILL WITH A

DEGREE IN ACTING AND A FURTHER

DEGREE IN DANCE AND CHOREOGRAPHY

FROM NORTH CAROLINA SCHOOL OF

THE ARTS.

WHEN I CAME TO NEW YORK, I WAS

OVERQUALIFIED TO BE THE GUY

SINGING "YMCA," HOWEVER, I KIND

OF KNEW THIS WAS AN OPPORTUNITY.

SO I LOOKED AT IT AS FURTHERING

MY EDUCATION ESSENTIALLY AND I

LEARNED THINGS ABOUT BEING

BEHIND THE CAMERA, IN FRONT OF

THE CAMERA, THE TECHNICAL

ASPECTS OF IT.

>> YOU WERE HUGE WITH THE DISCO

SCENE AT LEAST BUT QUICKLY

BECAME KIND OF LIKE AN ICON

GROUP.

MAYBE THE FIRST.

>> RIGHT.

>> DID YOU BECOME AWARE OF THAT

RIGHT AWAY?

>> WELL, I WAS AWARE THAT OUR

GOAL WAS -- WE GARNERED OUR

EARLIEST SUPPORT WITH BLACK,

LATIN AND GAY CLUBS.

YOU CAN'T SELL 135 MILLION

RECORDS.

>> RIGHT.

>> TO JUST ONE SPECIFIC SEGMENT

OF A POPULATION OR A

DEMOGRAPHIC.

SO WE WANTED TO APPEAL TO AS

MANY PEOPLE AS POSSIBLE.

SO, IN MY MIND, GOING BACK TO

THE QUESTION OF HOW WE GOT

STARTED AND HOW WE FELT ABOUT IT

AND HOW WE DID IT, I KNEW THAT

THE COWBOY IMAGE WAS PROBABLY

THE MOST SUBSTANTIAL, THE

SECUREST, THE EPITOME OF WHAT IT

MEANT TO BE AN AMERICAN.

I WAS COMFORTABLE WITH THAT.

75 YEARS BEFORE I GOT THERE,

TELLING PEOPLE ALL ABOUT WHAT

COWBOYS WERE LIKE, WHAT I DID

WAS, IN MY MIND, I LOOKED AT IT

AS TAKE A LITTLE BIT OF THE MARX

BROTHERS AND THE THREE STOOGES

AND WE HAD WELL-CRAFTED POP

SONGS LIKE "MACHO MAN," "YMCA"

AND "IN THE NAVY" AND WE HAD TO

GO OUT AND SELL IT.

I KNEW THE FIRST TIME I WENT TO

A COUNTY FAIR, WHERE I SAW A

STRIPPER OFF THE MAIN RUNWAY A

LITTLE OUT OF HER PRIME, I KNEW

WHEN SHE LOOKED AT ME SHE SAID,

SON, IT'S ALL RIGHT.

I KNOW YOU'RE SEEING THIS FOR

THE FIRST TIME.

SO I REMEMBERED THAT.

I INCORPORATED ALL OF THAT INTO

MY PERFORMANCE.

PEOPLE SITTING IN THE AUDIENCE

TO LOOK AT US, I GAVE THEM A

WINK, A WIGGLE AND A WAVE TO LET

THEM KNOW THAT IT WAS ALL RIGHT

TO LAUGH WITH US, NOT AT US.

>> IT CERTAINLY WORKED.

>> YEP.

>> ONE FINAL QUESTION.

OUR EXECUTIVE PRODUCER, I KNOW

YOU KNOW HIM, HIS FAVORITE

QUESTION, IF YOU WERE TO GO BACK

40 YEARS AND MEET YOURSELF 40

YEARS AGO, WHERE WOULD YOU BE

AND WHAT ADVICE WOULD YOU GIVE

YOURSELF?

>> I WOULD SAY, DON'T BE AFRAID,

FIRST OF ALL.

IT'S ALL GOING TO WORK OUT.

IT'S POSSIBLE TO BE MORE

FRIENDLY, MORE OPEN, HAVE MORE

COMPASSION FOR PEOPLE AND BE

MORE LOVING AND THAT IS HONESTLY

HOW I'VE TRIED TO LIVE MY LIFE.

I UNDERSTAND THAT WE ALL HAVE

INDIVIDUAL JOURNEYS AND ALL HAVE

INDIVIDUAL PATHS.

I'VE UNDERSTOOD THAT MY PATH, I

WANT TO WALK AND BE AS HONEST

AND TRUTHFUL IN THIS LIFE AS

POSSIBLE AND I HAVE ALWAYS

STRIVED TO LIVE A LIFE THAT IS

IN LIGHT.

AND I TEND TO CARRY THAT FORWARD

AND I'M AS PLEASED AS PUNCH TO

BE ON THE CHARTS AGAIN AS A SOLO

ARTIST.

YES, KIDS, I'M STILL AT IT AND

I'M AMBULATORY.

>> RANDY, IT'S A THRILL.

THANK YOU SO MUCH.

>> THANK YOU.

♪♪

>>> AND BEFORE WE SAY GOOD

NIGHT, WE OFFER YOU A GIFT.

YOU CAN TAKE "METROFOCUS" WITH

YOU ANYWHERE, ANYTIME.

IT'S SIMPLE AND FREE.

DOWNLOAD THE "METROFOCUS" APP

AVAILABLE FOR iPHONE AND

ANDROID.

WHEN YOU DO, YOU'LL GET THE

LATEST NEWS, WEATHER AND TRAFFIC

FOR THE ENTIRE METRO AREA.

IT'S ALL JUST A CLICK AWAY.

DID WE MENTION THAT IT'S FREE?

IN THE MEANTIME, FOLLOW US ON

FACEBOOK AND TWITTER FOR

UP-TO-THE MINUTE INFORMATION.

>>> FUNDING FOR THIS PROGRAM WAS

PROVIDED BY -- CORPORATE FUNDING

WAS PROVIDED BY MUTUAL OF

AMERICA, YOUR RETIREMENT

COMPANY.

AND BY PSE & G, SERVING

CUSTOMERS, STRENGTHENING THE

BUSINESS COMMUNITY AND INVESTING

IN THE FUTURE.