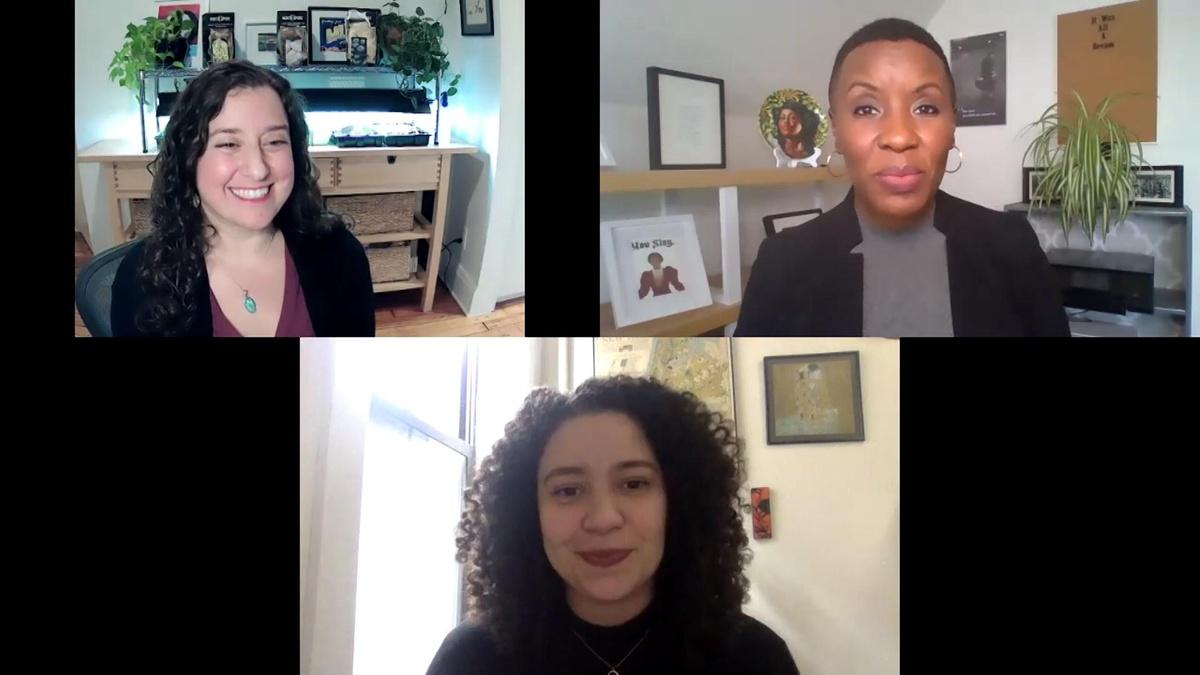 CLIP
MEET THE NYC URBAN FOREST TASK FORCE
According to the New York Nature Conservancy, the neighborhoods with the least tree cover tend to be low-income communities. A task force was created to address the problem. Some of the people behind those efforts- Emily Noble Maxwell, Cities Director for The Nature Conservancy in New York and Annel Hernandez, Associate Director of the New York City Environmental Justice Alliance, join us.
TRANSCRIPT

>>> HI.

I'M JENNA FLANAGAN.

DID YOU KNOW THAT IF YOU TOOK

ALL THE TREES IN NEW YORK CITY

AND PUT THEM TOGETHER, IT WOULD

MAKE UP AN ENTIRE FOREST?

THESE APPROXIMATELY 7 MILLION

TREES ARE LIVING, BREATHING

PARTS OF THE CITY'S ECOSYSTEM

AND VITAL RESOURCES TO OUR

COMMUNITIES.

THEY CLEAN AND COOL OUR AIR,

PROVIDE A CONNECTION TO NATURE

THAT CAN BE OTHERWISE PRETTY

HARD TO FIND.

BUT THIS URBAN FOREST IS NOT

DISTRIBUTED EVENLY ACROSS BOROU.

ACCORDING TO THE NEW YORK NATURE

CONSERVANCY, THE AREAS WITH THE

LOWEST TREE COVER TEND TO BE

COMMUNITY OF COLOR AND LOW

INCOME COMMUNITIES.

TO TALK ABOUT A TASK FORCE AND

PART OF AN INITIATIVE, OUR EMILY

NOBLE MAXWELL, CITY'S DIRECTOR

FOR THE NATURE CONSERVANCY IN

NEW YORK.

WELCOME TO "METROFOCUS."

>> THANK YOU, JENNA.

>> AND WE'RE ALSO JOINED TODAY

BY ANEL HERNANDEZ, ASSOCIATE

DIRECTOR OF THE NEW YORK CITY

ENVIRONMENTAL AND JUSTICE

ALLIANCE.

WELCOME.

>> THANK YOU SO MUCH.

>> FOR PEOPLE WHO MIGHT BE

SCRATCHING THEIR HEAD AT THE

NOTION OF AN URBAN FOREST, I

GUESS WE GET A SENSE OF THE

DESCRIPTION IN THE INTRO, BUT

HOW WOULD YOU DESCRIBE AN URBAN

FOREST AND WHAT IS ITS

SIGNIFICANCE IN A CITY LIKE NEW

YORK?

>> ABSOLUTELY.

OUR URBAN FOREST IS EVERY TREE

IN NEW YORK CITY, WHICH IS MORE

THAN 7 MILLION TREES, AND ALL OF

THE PHYSICAL AND SOCIAL

INFRASTRUCTURE UPON WHICH THEY

DEPEND.

FORESTS ARE ALWAYS UNIQUE AND

FASCINATING SYSTEMS.

OUR URBAN FOREST IS NO LESS

FASCINATING.

IT'S ALL OF THE INFRASTRUCTURE

THAT SUPPORTS OUR FOREST AS

WELL.

WHY IS IT IMPORTANT?

IT'S FOR ALL THE REASONS YOU

SHARED.

IT PROVIDES US TREMENDOUS

BENEFITS, BOTH TANGIBLE AND

INTANGIBLE.

WE ALL KNOW WHAT IT FEELS LIKE

TO WALK DOWN THE STREET WITH

SHADE ON A HOT SUMMER DAY.

I ASK YOU TO HOLD THAT IN YOUR

MIND AS WE TALK ABOUT THE

FOREST.

>> OF COURSE.

I ALSO MENTIONED THAT THE FOREST

OR THE TREE COVER, AS IT'S

PROBABLY BETTER DESCRIBED, ISN'T

DISTRIBUTED EVENLY.

I MEAN, WHEN YOU THINK ABOUT IT,

IT DOES MAKE SENSE, UNFORTUNATE

SENSE BUT IT DOES MAKE SENSE.

CAN YOU SORT OF EXPAND ON WHAT

IT WAS THAT THE TASK FORCE WAS

ABLE TO SUSS OUT?

>> MY ORGANIZATION, WE REALLY

FOCUS ON UPLIFTING THE ADVOCACY

OF COMMUNITIES OF COLOR AND LOW

INCOME COMMUNITIES AS THEY FIGHT

FOR HEALTHIER COMMUNITIES AND

AGAINST THESE CLUSTERING

ENVIRONMENTAL BURDENS.

REALLY, STREET TREES AND OUR

URBAN FOREST CAN HELP DEAL WITH

THAT DISPROPORTIONATE BURDEN

WE'RE FACING BY HELPING IMPROVE

THE AIR QUALITY AND HELPING

MITIGATE URBAN HEAT ISLAND.

WE ALREADY KNOW, ACCORDING TO

THE NEW YORK CITY PANEL ON

CLIMATE CHANGE, THAT THE NUMBER

OF 90-DEGREE DAYS IS EXPECTED TO

DOUBLE, IF NOT MORE BY 2050.

WE REALLY HAVE TO START BEING

MORE FORWARD-THINKING AND REALLY

VALUING OUR NATURE-BASED

SOLUTIONS AS THEY SHOULD BE.

>> YOU KNOW, EVERY SUMMER THE

NOTION OF THE URBAN HEAT INDEX

COMES UP A LITTLE BIT, BUT FOR

PEOPLE WHO MIGHT NOT EITHER BE

IN THE NEW YORK CITY AREA OR

PERHAPS DON'T LIVE IN A

NEIGHBORHOOD WHERE THAT REALLY

IS GOING TO AFFECT THEM, CAN YOU

SORT OF EXPLAIN FOR THE AUDIENCE

WHAT THAT IS AND THE IMPACT IT

HAS ON A NEIGHBORHOOD?

>> YES, DEFINITELY.

THINK OF COMMUNITIES LIKE HUNTS

POINT, WHERE THEY'RE SURROUNDED

BY INDUSTRIAL INFRASTRUCTURE, BY

ENDLESS CONCRETE AND BUILDINGS

WITH NO GREENERY ON THEM, AND

ALL OF THAT IS REALLY RETAINING

THE HEAT.

SO YOU HAVE THAT EFFECT, PLUS

THE ADDITIONAL NUMBER OF HEAT

WAVES THAT WE'RE DEALING WITH, A

LACK OF GREEN SPACE, A LACK OF

PARKS IN THE COMMUNITY AND THEN

THAT REALLY CAN EXACERBATE THE

PREEXISTING HEALTH CONDITIONS IF

YOU ALREADY HAVE ASTHMA OR

ANOTHER PREEXISTING CONDITION,

IT'S GOING TO MAKE YOU MORE

VULNERABLE TO THESE HEAT WAVES.

IT'S PARTICULARLY TRUE FOR OUR

SENIOR CITIZENS AND FOR THE

CHILDREN IN OUR COMMUNITIES.

>> SO THEN, EMILY, I UNDERSTAND

THAT THE NATURE CONSERVANCY

CONVENED A TASK FORCE TO ADDRESS

THIS URBAN FOREST INEQUITY.

IS THIS JUST A MATTER OF JUST

PLANTING MORE TREES IN DIFFERENT

AREAS, OR WHAT EXACTLY NEEDS TO

BE DONE?

>> THAT'S A FANTASTIC QUESTION.

SO I WANT TO BE CLEAR, THE NEW

YORK CITY URBAN FOREST TASK

FORCE IS NEARLY 50 ORGANIZATIONS

THAT HAVE COME TOGETHER TO SET

AN AGENDA FOR NEW YORK CITY'S

URBAN FOREST.

IT FOCUSES DEFINITELY ON EQUITY,

BUT ALSO ON RESILIENCY AND

SUSTAINABILITY.

TOGETHER WE'VE REALLY

ESTABLISHED WHAT THAT AGENDA CAN

BE.

WHILE I CAN'T TELL YOU THE

ENTIRETY OF THE AGENDA WHICH

WILL BE PUBLICLY RELEASED IN

JUNE, WHAT I CAN SHARE IS THAT

PLANTING IS FANTASTIC AND

PLANTING ALONE ISN'T SUFFICIENT.

WE ALSO NEED CARE AND

MAINTENANCE OF OUR EXISTING

TREES TO ENSURE THAT THEY THRIVE

AND GROW AND SUSTAIN.

WE NEED ONGOING SCIENCE AND

MONITORING TO MAKE SURE THAT WE

KNOW WHAT'S GOING ON WITH THAT

SYSTEM AND WE ALSO KNOW THAT

SOMETIMES EVEN WHEN WE DO OUR

BEST TO TAKE CARE OF TREES, WE

FACE TREE LOSS THROUGH

CATASTROPHIC EVENTS LIKE STORMS

AND SOMETIMES INTENTIONAL TREE

REMOVAL.

WHEN TREES ARE LOST AND REMOVED,

WE NEED TO BE SURE THAT THAT

ASSET IS SOMEHOW REPLACED OR

MADE UP FOR.

SO WE NEED TO PRESERVE WHAT WE

HAVE, WE NEED TO CARE, STEWARD

AND MAINTAIN WHAT WE HAVE, AND

WE NEED TO PLANT NEW, IN MORE

EQUITABLE WAYS AND THEN CARE FOR

THAT.

>> I'M JUST WONDERING HOW DOES

SOMETHING LIKE THAT WORK?

OF COURSE IN A CITY LIKE NEW

YORK WHERE IT SEEMS LIKE EVERY

SQUARE INCH IS JUST SO VALUABLE,

HOW DO YOU BEGIN TO FIND SPACE

THAT IS GOING TO BE USED JUST

FOR GREENERY, FOR TREES OR FOR

OTHER PLANTS?

>> I LOVE THIS QUESTION, BECAUSE

ACTUALLY THERE IS TREMENDOUS

POTENTIAL IN NEW YORK CITY FOR

INCREASING BOTH THE NUMBER OF

TREES AND THE TREE CANOPY WHICH

IS THE COVER THAT IT PROVIDES

FOR US.

SO RIGHT NOW, THE MAJORITY OF

OUR URBAN TREE CANOPY IS MANAGED

BY NEW YORK CITY PARKS, ABOUT

53% OF IT.

SO 47% OF OUR TREE CANOPY IS

SITTING ON EITHER NON PARKLAND,

ON GOVERNMENT LAND OR ON PRIVATE

PROPERTY.

PRIVATE PROPERTY IS HOVERING

AROUND 36%.

SO WITH THAT WE ALSO KNOW THAT

THERE IS TREMENDOUS POTENTIAL ON

EACH OF THESE LAND TYPES.

SO THERE IS ROOM FOR MORE STREET

TREES.

THERE IS ROOM FOR MORE PLANTING

ON PARKLAND, BUT THERE'S ALSO

TREMENDOUS POTENTIAL FOR PRIVATE

PROPERTY.

SO BUILDING A CULTURE OF

STEWARDSHIP AND A CULTURE OF

VALUING NATURE AND TREES IS

GOING TO BE CRITICAL TO

REALIZING THE TRUE POTENTIAL OF

OUR URBAN FOREST.

>> I WAS WONDERING IF YOU COULD

TELL US, FROM YOUR PERSPECTIVE

AT LEAST, WHAT ARE SOME OF THE

POLICIES THAT COULD MAKE A

DIFFERENCE IN CREATING MORE

GREEN SPACE?

WE'VE OVER THE YEARS HEARD

STORIES ABOUT LOW INCOME

NEIGHBORHOODS OR COMMUNITIES OF

COLOR THAT HAVE REALLY HAD TO

FIGHT FOR PLOTS OF LAND TO PUT

IN URBAN GARDENS, BUT ALSO

SOMETIMES YOU FIND LANDLORDS ARE

RESISTANT TO GREEN ROOFS OR

OTHER GREEN SPACES.

WHAT DO YOU THINK NEEDS TO BE

DONE?

>> YEAH.

I WANT TO BUILD ON WHAT EMILY

SAID.

SHE TALKED ABOUT ALL OF THE

DIFFERENT TYPES OF TREES.

ONE OF MY PRIORITIES ARE STREET

TREES.

THEY ARE SUCH AN IMPORTANT ASSET

WHEN WE'RE WALKING TO THE

COMMUNITY, WHEN KIDS ARE WALKING

TO SCHOOL, WHEN ELDERLY PEOPLE

MAY BE WALKING TO A COOLING

CENTER OR GOING TO VISIT FAMILY.

HAVING THAT TREE CANOPY COVERAGE

IS CRITICAL TO PROVIDE CLEANER

AIR, TO PROVIDE JUST SHADE, A

PLACE TO HANG OUT EVEN, YOU

KNOW?

SO THAT'S CRITICAL.

AND THE CITY NEEDS TO INVEST

MORE IN THIS IMPORTANT ASSET.

RIGHT NOW THE PARKS DEPARTMENT

HAS A HUGE MANDATE IN FRONT OF

THEM.

THEY HAVE MILLIONS OF TREES THAT

THEY HAVE TO MANAGE.

AND THE CITY OF NEW YORK NEEDS

TO GIVE THEM THE FUNDING THEY

NEED TO DO IT AND DO IT WELL.

LIKE YOU MENTIONED, IT'S NOT

JUST ABOUT PLANTING TREES, IT'S

ABOUT MAINTAINING THE TREES AND

ENSURING THAT THEY'RE HEALTHY,

ENSURING THAT IF A STORM HAPPENS

AND THEY GET KNOCKED DOWN THAT

SOMEBODY COMES IN AND REPLACES

THEM.

RIGHT NOW THE TIMELINE FOR

REPLACEMENT CAN BE UP TO TWO

YEARS.

THAT'S OUTRAGEOUS.

WE NEED TO REALLY VALUE OUR

STREET TREES AND OUR URBAN

CANOPY COVERAGE.

THERE IS A LOT THAT NEEDS TO BE

DONE.

OF COURSE, LIKE YOU MENTIONED,

THERE'S OTHER TYPES OF GREEN

INFRASTRUCTURE THAT WE SHOULD

ALSO BE PRIORITIZING, WHETHER

IT'S THE BIOSWALES AND RAIN

GARDENS THAT DEP IS BUILDING OR

WHETHER IT'S COASTAL PROTECTION

AND WATERFRONT PARKS ALONG OUR

WATE

WATERWAYS.

THESE ARE ALL CRITICAL PIECES OF

THE SOLUTION.

>> OKAY.

EMILY, ONE OF THE THINGS THAT

SEEMS TO LEAD INTO MY NEXT

QUESTION, WHICH IS OF COURSE THE

COST OF ALL OF THIS.

WE ALL KNOW IN NEW YORK NOTHING

IS FOR FREE.

MY NEXT QUESTION WHICH KIND OF

LEADS INTO THAT IS, HOW DID

COVID, WHICH SEEMS TO HAVE

IMPACTED EVERYTHING, HOW DID

THAT IMPACT THE WORK THAT THE

TASK FORCE WAS DOING?

>> SO COVID REALLY DID TWO

THINGS FOR THE TASK FORCE.

THE FIRST WAS, AND AFSIT WAS AN

INCREDIBLE THING TO SEE, IT

GALVANIZED US.

WE ASKED THE QUESTION TO THE

ALMOST 50 MEMBERS, WE JUST

STARTED THIS PROCESS, SHALL WE

CONTINUE IN THIS NEW REMOTE

WORLD?

AND NOT A SINGLE MEMBER SAID NO.

EVERY MEMBER SAID LET'S KEEP

GOING.

WE SEE THE NEED FOR TREES MORE

THAN EVER AS NEW YORKERS SPEND

MORE TIME OUTSIDE WITH FAMILIES

FOR RECREATION, SAFETY, TAKING A

BREAK FROM WORK.

WE'VE ALL NEEDED OUR OUTDOORS

REALLY AS MUCH OR MORE THAN WE

EVER HAVE THIS YEAR.

I THINK TREES HAVE BECOME THAT

MUCH MORE PRECIOUS TO US.

SO IT GALVANIZED US, BUT IT ALSO

CHALLENGED US.

OBVIOUSLY THERE HAVE BEEN

TREMENDOUS BUDGET CUTS UNDER

COVID FOR LITERALLY EVERYTHING.

AT THE SAME TIME, TREES AND OUR

URBAN FOREST HAVE RECEIVED A

DISPROPORTIONATE CUT.

SO WHILE THE PARKS DEPARTMENT

ITSELF RECEIVED JUST A

TREMENDOUS CUT TO ITS BUDGET, IF

WE LOOK AT TREES SEPARATELY,

THEIR BUDGET GOT CUT EVEN MORE,

NEARLY 90%.

NOW WE'RE IN THE BUDGET CYCLE

FOR THE COMING YEAR.

WE REALLY DO NEED TO RESTORE THE

BUDGET FOR TREES.

SO OUR TREE BUDGET REALLY WAS

PARTICULARLY THE EXPENSE SIDE,

THE CARING FOR TREES SIDE, WAS

LEFT AT ITS LOWEST POINT IN 11

YEARS LAST YEAR.

WE DON'T WANT TO SEE THAT

CONTINUE.

>> WE'VE GOT ABOUT 30 SECONDS

LEFT, BUT I'D LOVE TO KNOW IF

YOU'RE AT ALL OPTIMISTIC ABOUT

THIS RENEWED FOCUS ON

ENVIRONMENTAL JUSTICE AND

ENVIRONMENTAL EQUITY IN NEW

YORK?

>> DEFINITELY.

I'M VERY OPTIMISTIC ABOUT WHAT

WE CAN MAKE HAPPEN.

WE'RE WORKING CLOSELY WITH OUR

MEMBER ORGANIZATIONS TO REALLY

HONE IN ON THIS ISSUE,

UNDERSTAND OUR AIR QUALITY

ISSUES, UNDERSTAND OUR HEAT

VULNERABILITIES AND ACT ON IT.

I'M VERY HOPEFUL OF THAT AND I'M

PERSONALLY EXCITED TO SEE MORE

STREET TREES ON MY BLOCK.

>> ALL RIGHT.

WE'RE GOING TO END THIS ON AN

OPTIMISTIC NOTE.

LADIES, THANK YOU SO MUCH.

EMILY NOBLE MAXWELL, THE CITY'S

DIRECTOR FOR THE NATURE

CONSERVANCY IN NEW YORK.

AND ARNELL HERNANDEZ OF THE

ENVIRONMENTAL JUSTICE ALLIANCE.

THANK YOU FOR JOINING ME.

>> THANK YOU SO MUCH.

>> ABSOLUTELY.