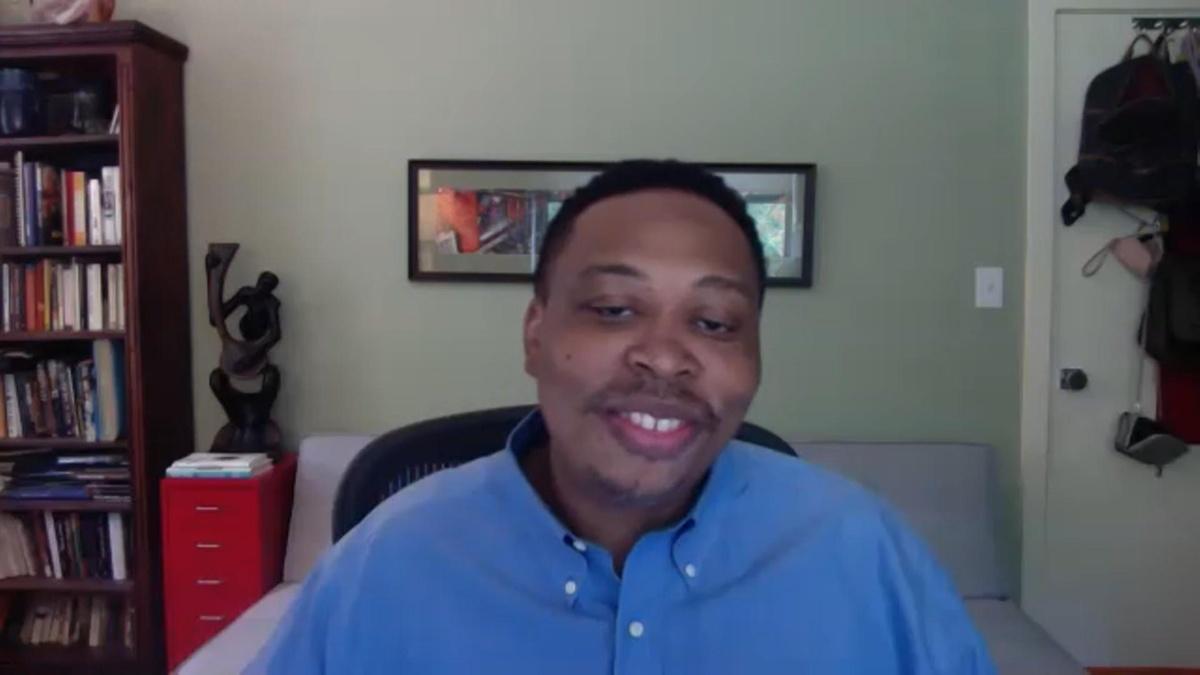 CLIP
KEY TAKEAWAYS FROM TUESDAY'S PRIMARY
Missing absentee ballots. Incomplete ballots and long lines at the polls. These were just some of the obstacles facing New Yorkers as they tried to vote in the primary election held on Tuesday, the first during the coronavirus pandemic.
TRANSCRIPT

>>> GOOD EVENING AND WELCOME TO

"METROFOCUS."

I'M RAFAEL P. ROMAN.

MISSING ABSENTEE BALLOTS,

INCOMPLETE BALLOTS AND LONG

LINES AT THE POLLS.

THESE ARE JUST SOME OF THE

OBSTACLES FACING NEW YORKERS AS

THEY TRIED TO VOTE IN THE

PRIMARY ELECTIONS ON TUESDAY,

THE FIRST DURING THE CORONAVIRUS

PANDEMIC.

WHILE WE COULD BE WAITING DAYS

IF NOT WEEKS FOR THE FINAL

RESULTS OF MANY OF THESE RACES

THANKS TO THE POTENTIALLY

HUNDREDS OF THOUSANDS OF

ABSENTEE BALLOTS THAT MUST STILL

BE COUNTED, WE ALREADY KNOW SOME

OF THE BIG WINNERS AND LIKELY

LOSERS IN YESTERDAY'S ELECTIONS.

JOINING US TO TALK ABOUT ALL OF

THAT IS "NEW YORK TIMES" METRO

POLITICS REPORTER JEFF MASON.

WELCOME BACK TO THE PROGRAM.

>> THANKS FOR HAVING ME.

>> FIRST OF ALL, AS I UNDERSTAND

IT, OVER 700,000 ABSENTEE

BALLOTS COMPARED TO 65,000 FOR

THE PRIMARIES FOUR YEARS AGO.

A TENFOLD INCREASE.

DO WE HAVE ANY IDEA HOW MANY OF

THOSE WERE ACTUALLY SENT IN, AND

DO WE HAVE ANY IDEA IF THE FINAL

RESULT, WHICH WE'LL ONLY FIND

OUT IN ABOUT A WEEK, COULD TURN

ON ITS HEAD SOME OF THE RESULTS

THAT WE DISCOVERED YESTERDAY?

>> I JUST WANTED TO SAY, THIS IS

AN UNPRECEDENTED ELECTION

BECAUSE OF THE CORONAVIRUS

PANDEMIC.

MANY MORE PEOPLE REQUESTED

ABSENTEE BALLOTS EITHER BECAUSE

THEY WERE FEARFUL OF GOING OUT

TO THE POLLS, OR SOME NEW

YORKERS HAVE LEFT TOWN OR

ELSEWHERE RIDING OUT THE

PANDEMIC ELSEWHERE.

SO ABOUT 93,000 OF THOSE

ABSENTEES HAD BEEN RETURNED BY

TUESDAY.

IT STILL REMAINS TO BE SEEN HOW

MANY WILL ACTUALLY BE RETURNED.

BUT CERTAINLY THIS IS AN

UNPRECEDENTED THING. IT'S

RAISING ISSUES OF PEOPLE WHO NOW

WANTED TO VOTE BY MAIL AND

CHANGE OUR ELECTION SYSTEM.

YEAH, THOSE RESULTS, A LOT OF

THESE RESULTS ARE TENTATIVE.

MOST RACES STILL HAVEN'T BEEN

CALLED.

GOING TO HAVE TO WAIT A WEEK

BEFORE THEY CAN START COUNTING

THE ABSENTEE BALLOTS.

>> SO FROM WHAT WE KNOW SO FAR,

WHAT WAS THE BIGGEST HEADLINE

FROM YESTERDAY'S ELECTION?

>> I THINK IT'S TWO THINGS.

ONE, I'M INTERESTED IN THE

NUMBER OF NEW BLACK LATINO MEN

YOU HAVE GOING TO CONGRESS.

YOU HAVE RITCHIE TORRES WHO IS

LEADING IN THE BRONX RIGHT NOW

IN THAT RACE OVER MICHAEL BLAKE

AND REVEREND DIAZ.

THEN YOU ALSO HAVE JAMAAL BOWMAN

WITH WHAT LOOKS LIKE A MASSIVE

UPSET OF ELIOT ENGEL AS WELL.

THEN YOU HAVE MONDARE JONES.

SO WITH THAT, THE FIRST OPENLY

GAY BLACK MEMBER OF CONGRESS IF

HE GOES.

RITCHIE TORRES IS ALSO AN OPENLY

GAY MAN AND WOULD BE ONE OF THE

FIRST AFRO LATINO OPENLY GAY

MEMBERS.

SECONDLY, I THINK WHAT WE'RE

SEEING IS THIS PROGRESSIVE SORT

OF SHIFT, THIS LEFTWARD SHIFT.

WHEN AOC WON HER ELECTION IN

2018, SOME PEOPLE WERE UNSURE IF

IT WAS A ONE-TIME THING, WHETHER

SHE JUST CAUGHT JOE CROWLEY OFF

GUARD.

LAST NIGHT SHE SENT OUT A

MESSAGE SAYING THIS WAS NO

FLUKE.

THIS IS REAL.

IF YOU LOOK AT JAMAAL BOWMAN'S

RACE AND MON DEAR JONES AND HIS

RACE, THEY RECEIVED ENDORSEMENTS

FROM PEOPLE LIKE ELIZABETH

WARREN, BERNIE SANDERS AND AOC

HERSELF.

THERE'S A REAL LEFT WARD PUSH

GOING ON RIGHT NOW.

>> WE SAW IN 2018 A LOT OF

PROGRESSIVES WERE ELECTED TO

AL

ALBANY.

WE HAD THE BAIL REFORM LAW AND

OTHER PROGRESSIVE LAWS WERE

PASSED.

WHAT WOULD IT MOEAN IF THIS

CONTINUES FOR NEW YORK?

>> I THINK YOU'LL SEE THE SAME

SORT OF THING.

WHAT YOU'LL SEE IS A PUSH ON A

LOT OF THESE ISSUES, ESPECIALLY

RIGHT NOW AS THIS COUNTRY IS

DEALING WITH THE FALLOUT FROM

THE CORONAVIRUS PANDEMIC WHICH

EXPOSED EXISTING HEALTH

DISPARITIES.

BLACK AND LATINOS WERE MUCH MORE

HEAVILY AFFECTED BY THE

CORONAVIRUS PANDEMIC THAN

WHITES.

YOU'LL SEE ISSUES ABOUT JOBS

NOW.

UNEMPLOYMENT IS VERY HIGH.

SO THERE ARE GOING TO BE

QUESTIONS ABOUT HOW DO WE GIVE

JOBS TO PEOPLE THAT ARE

EQUITABLE, THAT ARE FAIR, AND

RACIAL JUSTICE AND POLICING.

THIS IS A NATIONWIDE SHIFT, BUT

CERTAINLY WITH THE PROGRESSIVES

IN NEW YORK, AS YOU'VE SEEN WITH

BAIL REFORM AND NOW WITH

CHOKEHOLD AND OTHER POLICING

LEGISLATION, NEW YORK STANDS TO

BE A LEADER IN SORT OF CHANGING

SOME OF THESE ISSUES THAT HAVE

BEEN LONGSTANDING.

>> LET'S BEGIN WITH SOME OF THE

SPECIFIC ELECTIONS.

YOU MENTIONED AOC.

THE WOMAN RUNNING AGAINST HER

MICHELLE CARUSO CABRERA WAS AT

ONE TIME A FORMER CNBC ANCHOR,

AT ONE TIME CONSIDERED A SERIOUS

CONTENDER AND RAISED $2 MILLION.

AS YOU SAID, AOC BEAT HER BY A

LANDSLIDE.

IN FACT, THE RACE HAS BEEN

ALREADY CALLED.

WHAT MADE THE DIFFERENCE THERE?

>> I THINK ONE OF THE FEW RACES

THAT'S ALREADY BEEN CALLED,

AOC'S POPULARITY, NOT ONLY IN

HER OWN DISTRICT BUT NATIONALLY.

SHE'S A NATIONAL FUND-RAISER.

SHE NOW ENDORSES OTHER

CANDIDATES.

HER ENDORSEMENT IS A SIGN OF

THAT SORT OF PROGRESSIVE

APPROVAL.

SHE'S REALLY A JUGGERNAUT AT

THIS POINT.

AS SHE SAID, THIS IS NO FLUKE.

NOW SHE HAS THE OPPORTUNITY TO

TRY TO GET SOME THINGS DONE

LEGISLATIVELY THAT WOULD ONLY

BOLSTER HER RECORD.

>> AS YOU KNOW, PRESIDENT TRUMP

HAS BEEN ADVISING HER PUBLICLY

TO TAKE ON SENATOR SCHUMER.

WILL YESTERDAY'S RESULT ACTUALLY

MAKE HER THINK ABOUT THAT?

>> I DON'T KNOW.

I THINK IT'S TOO EARLY TO TALK

ABOUT THAT.

CERTAINLY THE SKY IS THE LIMIT

FOR HER IT LOOKS LIKE WITH THE

RESPONSE THAT SHE GETS WITH HER

NATIONAL AUDIENCE.

THIS ARE ALL THINGS A POLITICIAN

NEEDS.

YOU NEED TO BE ABLE TO RAISE

MONEY.

YOU NEED TO BE ABLE TO GET YOUR

ISSUES OUT THERE.

SHE CERTAINLY HAS THAT MASSIVE

PLATFORM TO ADDRESS ANY ISSUES

SHE FEELS LIKE NOW.

CERTAINLY WE ARE IN A MOMENT

WHERE THE COUNTRY IS WILLING TO

LISTEN SO THESE CONCERNS THAT

HAVE BEEN RAISED ABOUT RACIAL

EQUITY AND POLICE REFORM.

SO THIS IS A BIG MOMENT FOR HER.

>> LET'S TALK ABOUT RACE.

YVETTE CLARKE IN THE NINTH

CONGRESSIONAL DISTRICT IN

BROOKLYN.

TWO YEARS AGO SHE BEAT A DEM

BOONE KA DECO BY 2,000 VOTES.

THEY HAD A REMATCH.

BEAT HIM BY ALMOST 20,000 SO

FAR.

SHE'S 20,000 VOTES AHEAD.

WHAT MADE A DIFFERENCE THERE.

>> IT WAS 1,832 VOTES.

IT WAS A REALLY CLOSE ELECTION.

I THINK THE DIFFERENCE THIS TIME

IS A DEM CAUGHT HER OFF-GUARD

LAST TIME.

TALKING TO HER MOTHER AND HER

CAMPAIGN SAF, THEY KIND OF

ADMITTED THAT SHE KIND OF

THOUGHT THINGS WERE THE SAME.

BUT THEY WEREN'T.

HE CAME OUT AND CAPTURED A

PORTION OF THE DISTRICT THAT WAS

LOOKING FOR A MORE PROGRESSIVE

VOICE ON SOME OF THESE ISSUES.

THIS TIME AROUND SHE WAS NOT

CAUGHT OFF-GUARD.

SHE HAD ENDORSEMENTS FROM HAKEEM

JEFFRIES, THE NUMBER FIVE

DEMOCRAT IN THE HOUSE, IN A

NEIGHBORING DISTRICT AND PULLED

OUT A BUNCH OF OTHER DEMOCRATS

IN THE CITY, THE SPEAKER OF THE

CITY COUNCIL, THE COMPTROLLER.

SHE CAMPAIGNED IN AREAS OF THE

DISTRICT WHERE SHE DIDN'T DO AS

WELL LAST TIME TO THOSE

PROGRESSIVE VOTERS, MADE A CASE,

TALKED ABOUT THE LEGISLATION SHE

HAS PASSED.

THE ELEMENT OF SURPRISE WAS

GONE.

THERE WERE TWO MORE PEOPLE IN

THE RACE THIS TIME CUTTING OFF

THAT VOTE THAT CADECO PICKED UP

LAST TIME.

>> ANOTHER ONE THAT WAS CLOSE

WAS CAROLYN MALONEY AND SUR RAJ

PATEL.

THIS TIME IT'S CLOSE AGAIN.

AS OF TODAY, ONLY ABILIOUT 1.5

POINTS AWAY FROM EACH OTHER.

IF THAT HOLDS AT THE END --

LET'S SAY THIS.

IF AT THE END HE BEATS HER, HOW

BIG A DEAL IS THAT?

>> MAJOR UPSET.

SHE'S A CHAIR, A LONG-STANDING

MEMBER OF CONGRESS WITH A LOT OF

POWER.

SWARAJ PATEL MADE THE CASE THAT

MS. MALONEY IS NOT UP TO DEALING

WITH THE RACIAL RECKONING WE'RE

HAVING AND ALSO DEALING WITH THE

PANDEMIC.

HE QUESTIONED SOME OF HER PAST

VIEWS ABOUT VACCINATIONS.

MS. MALONEY SAYS SHE'S A FIRM

DLEEFR IN VACCINATIONS.

HE ALSO QUESTIONED ADS SHE

RELEASED ABOUT HIM AS RACIST AND

WOND DERD IF SHE WAS UP FOR THIS

MOMENT OF RACIAL RECKONING WE

WERE HAVING IN THE COUNTRY.

HE REALLY POUNDED THE BEAT.

WAS OUT IN HIS DISTRICT, DID

WELL THIS PARTS OF QUEENS WHICH

TEND TO BE MORE NON-WHITE, MORE

IMMIGRANT.

IT WOULD BE A MAJOR UPSET IF SHE

WERE TO LOSE THAT.

OF COURSE, ABSENTEE STILL NEED

TO BE COUNTED.

>> THAT SHOULD BE SAID FOR

EVERYTHING THAT WE'RE TALKING

ABOUT.

IN THE 11th CONGRESSIONAL

DISTRICT, NICOLE MALL TACK KISS

RAN AGAINST de BLASIO IN 2017

FOR MAYOR, SHE SO FAR IS WINNING

HANDILY OVER HER OPPONENT.

IT'S LIKELY, EVERYBODY THINKS,

THAT SHE'LL WIN THAT PRIMARY.

IF SHE DOES, SHE'S GOING TO FACE

MAX ROSE, THE FIRST-TERM

DEMOCRATIC IN STATEN ISLAND.

WHAT'S THAT MATCH GOING TO LOOK

LIKE?

>> I THINK THAT'S GOING TO BE

ONE OF THE HOT RACES IN

NOVEMBER.

IT'S A REALLY VOLATILE DISTRICT

OUT THERE.

YOU HAVE ON STATEN ISLAND A LOT

OF PEOPLE THAT ARE REGISTERED

DEMOCRATS, BUT LEAN MORE

REPUBLICAN IN THEIR IDEOLOGY,

VOTED FOR PRESIDENT TRUMP.

IT'S GOING TO BE INTERESTING

WITH THE PRESIDENTIAL ELECTION

AND THE INCREASED TURNOUT.

YOU HAVE TO WONDER IF THAT'S

GOING TO GIVE MORE OF AN

OPPORTUNITY TO TAKE THAT SEAT

BACK.

THAT'S GOING TO BE ONE OF THE

CLEAR RACES TO WATCH.

IT'S GOING TO BE INTERESTING TO

SEE HOW MAX ROSE WALKS THE SORT

OF MIDDLE LINE BETWEEN

CRITICIZING PRESIDENT TRUMP, BUT

ALSO STILL NOT FULLY AGREEING

WITH THE SORT OF LEFT WARD

PROGRESSION OF THE DEMOCRATIC

PARTY.

THAT'S REALLY GOING TO BE AN

INTERESTING RACE TO WATCH IN

NOVEMBER.

>> SO THIS IS ONE OF THE FEW

RACES THAT ARE GOING TO BE

DETERMINED ACTUALLY WHERE THE

GENERAL ELECTION MATTERS IN

NOVEMBER BECAUSE OF THIS BEING

SUCH A DEMOCRATIC TOWN, SUCH A

DEMOCRATIC STATE.

MOST WERE ACTUALLY DETERMINED

YESTERDAY.

IS THERE ANY OTHER RACE THAT

MIGHT BE DETERMINED IN NOVEMBER

INSTEAD OF YESTERDAY?

>> LOOK, I THINK A LOT OF THE

MAJOR RACES, A LOT OF THE RACES

THAT PEOPLE ARE REALLY

INTERESTED IN, IT'S GOING TO

DEPEND ON WHO WINS THE

DEMOCRATIC PRIMARY.

CERTAINLY THE JAMAAL BOWMAN

RACE, THE MON DEAR RACE, THROWS

ALL RACES WHERE, IF THE DEMOCRAT

WINS, THEY'RE LIKELY TO WIN IN

NOVEMBER.

THOSE ARE SOME OF THE MOST

WATCHED RACES, NOT JUST IN THE

STATE, BUT NATIONALLY AS WELL

BECAUSE OF THE SIGNIFICANCE.

>> WE HAD A DEMOCRATIC

PRESIDENTIAL PRIMARY YESTERDAY.

IT WAS SUPPOSED TO HAPPEN IN

APRIL.

IT WAS ACTUALLY CANCELED BECAUSE

OF THE CORONAVIRUS.

IT WAS UNCANCELED AND IT WAS

HELD YESTERDAY AS WELL.

WHY WAS IT HELD?

IF I'M CORRECT, PEOPLE ASSUME

THAT JOE BIDEN HAS ENOUGH VOTES

TO GET THE NOMINATION.

WHAT WAS THE POINT?

>> CERTAINLY BIDEN HAS WRAPPED

UP THE NOMINATION ALMOST

CERTAINLY.

WHAT I THINK PEOPLE ARE LOOKING

FOR NOW IS WE'RE TALKING ABOUT

WHAT DIRECTION THE PARTY IS

GOING TO GO, TALKING ABOUT THE

LEFTWARD PUSH.

BERNIE SANDERS WANTS TO BE ABLE

TO HAVE A SAY IN SHAPING THE

PARTY'S PLAS FORM AT THE

CONVENTION IN AUGUST.

HE CAN DO THAT IF HE HAS POWER,

IF HE HAS DELEGATES.

THE PUSH TO KEEP HIM ON THE

BALLOT WAS TO GIVE HIM SOME MORE

DELEGATES SO HE CAN HAVE

MOMENTUM GOING INTO THE

CONVENTION SO THAT JOE BIDEN

WILL HAVE TO LISTEN TO HIM, WILL

HAVE TO SHAPE HIS PLATFORM

AROUND SOME OF THE ISSUES THAT

BERNIE SANDERS HAS BEEN RAISING.

REALLY SMART STRATEGY.

THEY SUED TO GET THE BALLOT

REINSTATED.

THEY WON.

ALTHOUGH JOE BIDEN WON

OVERWHELMINGLY, I BELIEVE BERNIE

SANDERS GOT 15%, 20% OF THE

VOTE.

>> LESS THAN A MINUTE LEFT.

I HAVE TO ASK YOU THIS.

AS I MENTIONED, THERE WERE ALL

KIND OF PROBLEMS TODAY, BIG

PROBLEMS.

WHAT DOES THAT BODE FOR THE

NOVEMBER ELECTION?

WHAT LESSONS CAN WE LEARN?

>> I THINK A LOT OF PEOPLE SAW

YESTERDAY AS A TEST RUN.

A LOT OF PEOPLE DIDN'T GO OUT TO

THE POLLS.

IN NOVEMBER, WE KNOW WITH A

PRESIDENTIAL ELECTION, IT'S

GOING TO BE A MASSIVE TURNOUT.

PEOPLE ARE GOING TO BE LOOKING

TO ABSENTEE BALLOTS AGAIN

BECAUSE OF CERTAINLY THE

CONCERNS AROUND THE CORONAVIRUS,

THEY'RE NOT GOING AWAY ANY TIME

SOON.

MOST PEOPLE BELIEVE THAT

ALTHOUGH THE BOARD OF ELECTIONS

FACED AN UNPRECEDENTED

SITUATION, THEY CERTAINLY NEED

TO DO BETTER, MAKE SURE PEOPLE

AREN'T DISENFRANCHISED.

IF YOU REQUESTED A BALLOT AND

DIDN'T GET IT AND WEREN'T ABLE

TO GO TO THE POLLS, THAT MEANS

YOU WERE DISENFRANCHISED.

NOW THE BOARD OF ELECTIONS HAS A

FEW MONTHS TO FIX IT.

>> LET'S HOPE THEY DO.

JEFF, THANK YOU FOR JOINING US

TODAY.

ALWAYS A PLEASURE.

>> THANK YOU.

THANKS FOR HAVING ME.