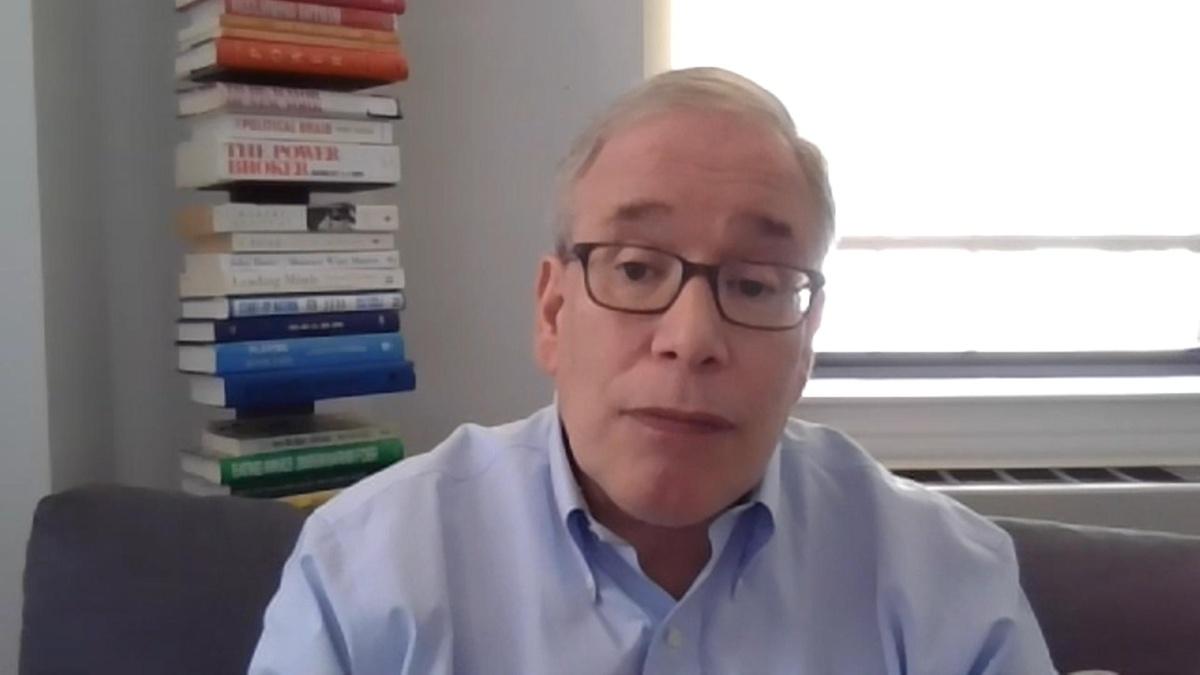 CLIP
FUNDING & DEFUNDING FOR THE SAFETY & SECURITY OF NYC
In New York City, where thousands of protestors hit the streets in the aftermath of George Floyd's death, "defund the police" became a major rallying cry heard across the country. Now New York City comptroller Scott Stringer says he's answering those calls for justice with a new proposal that would cut just over one billion dollars from the nation's largest police department, the NYPD.
TRANSCRIPT

>>> WELCOME TO "METROFOCUS."

I'M JACK FORD.

IN THE AFTERMATH OF THE DEATH OF

GEORGE FLOYD WHILE IN POLICE

CUSTODY IN MINNEAPOLIS, THERE'S

BEEN AN EXTRAORDINARY DEMAND FOR

POLICE REFORM, WHERE THE

CONCEPTS WE HEAR ABOUT

FREQUENTLY ABOUT THE IDEA OF

DEFUNDING POLICE BUT IT'S A TERM

THAT IS FAIRLY IMPRECISE AND CAN

MEAN A LOT OF THINGS.

NEW YORK CITY CITY COMPTROLLER

SCOTT STRINGER HAS A PLAN WITH

REGARD TO THE ASPECTS OF

BUDGETING AND REVENUE FOR POLICE

AND HE JOINS US NOW TO TALK

ABOUT THAT AND OTHER ISSUES,

INCLUDING THE MOST RECENT

NUMBERS CONCERNING UNEMPLOYMENT

IN NEW YORK CITY.

MR. COMPTROLLER, WELCOME.

IT'S A PLEASURE TO HAVE YOU HERE

WITH US.

>> JACK, IT'S GREAT TO BE BACK

ON THE SHOW.

>> LET'S START WITH THE NOTION

OF DEFUNDING POLICE.

YOU KNOW, IT CAN MEAN SO MANY

DIFFERENT THINGS.

ON ONE END OF THE SPECTRUM

PEOPLE HAVE PROPOSED ACTUALLY

DOING AWAY WITH POLICE FORCES.

THE OTHER END OF THE SPECTRUM

AND WHAT YOU'RE TALKING ABOUT,

AND I WILL ASK YOU TO OUTLINE

IT, LET'S DECIDE WHERE IS THE

MONEY GOING WHAT ARE THE

RESPONSIBILITIES GOING TO BE FOR

POLICE DEPARTMENTS.

LET'S TALK ABOUT YOUR PROPOSAL.

AMONG OTHER THINGS IT SUGGESTS

CUTTING $1.1 BILLION FROM THE

POLICE BUDGET SPREAD OUT OVER A

PERIOD OF FOUR YEARS.

HOW THEN WOULD THAT IMPACT THE

POLICE?

WHAT WOULD BE THE DETAILS OF

YOUR PROPOSAL?

>> LET'S, FIRST OF ALL, TAKE A

LOOK AT WHY WE DO TALK ABOUT

DEFUNDING THE POLICE DEPARTMENT.

BECAUSE THAT IS ALSO AT THE CORE

OF THE STRUGGLE RIGHT NOW.

GEORGE FLOYD, IF HIS DEATH IS

GOING TO MEAN ANYTHING, MEANS WE

IN BIG URBAN CENTERS NEED TO

INVEST MORE OF OUR RESOURCES

INTO HELPING COMMUNITIES AND

BUILDING OUR COMMUNITIES AND

PART OF DOING THAT IS TO LOOK AT

WHERE WE COULD TAKE OUT WASTE

AND WHERE WE COULD REDIRECT

SPENDING.

THE POLICE DEPARTMENT IN NEW

YORK CITY TRADITIONALLY HAS BEEN

HELD HARMLESS, IN FACT, THE CITY

COUNCIL ADDED 1,300 POLICE

OFFICERS IN 20 13 WHEN CRIME WAS

AT A RECORD LOW.

SO IT MAKES SENSE TO GO WHERE IT

HAS GROWN BUT THAT'S NYPD BUT

THAT'S NO DIFFERENT THAN THE

DEPARTMENT OF EDUCATION BUDGET.

WHAT PEOPLE ARE SAYING AND

PROTESTERS WANT MORE THAN

ANYTHING IS INVEST IT PEOPLE OF

COLOR, INVESTMENT IN OUR

CHILDREN, INVESTMENT IN OUR

SCHOOLS.

AND THERE'S A ROADMAP TO GET

THERE.

MY PLAN IS A FOUR-YEAR, $1.1

BILLION PLAN BUT IT'S A

BASELINE.

NOW IT'S UP TO THE MAYOR AND

COUNCIL TO TAKE THE NUMBERS I

HAVE GIVEN THEM AND TRY TO DO

MORE.

MOST IMPORTANTLY, WE'VE GOT TO

RETHINK HOW WE INVEST IN OUR

CITY IN LIGHT OF THE COVID-19

VIRUS, AND IN THE LIGHT OF THE

DEATH OF GEORGE FLOYD AND ERIC

GARNER AND ALL WHO CAME BEFORE.

AND WE HAVE TO MAKE SOME TOUGH

DECISIONS NOW ABOUT HOW WE MOVE

OUR CITY FORWARD.

>> GIVE ME SOME SPECIFICS, IF

YOU WOULD, ABOUT WHAT ACTUALLY

WOULD BE IMPACTED IF IN FACT

THIS MONEY WAS TAKEN BACK FROM

THE POLICE?

WHAT WOULD BE THE PRACTICAL DAY

TO DAY EFFECTS OF THAT?

>> LOOK, THERE IS FACT U FAT IN

EVERY CITY BUDGET IN PART

BECAUSE MAYOR de BLASIO NEVER

DID DUE DILIGENCE TO LOOK AT

WHERE WE COULD ROOT OUT WASTE IN

OUR CITY AGENCIES.

I'VE BEEN TELLING THE MAYOR FOR

YEARS TO GO AND REDUCE SPENDING

ON THE INEFFICIENCIES SO WE HAVE

MORE MONEY FOR PROGRAMS TO

PROTECT OUR CITY WORKERS AND WE

SEE IT PLAYING OUT IN THE BUDGET

THIS YEAR, JACK.

THE FIRST THING THE MAYOR

RESPONDED WHEN ASKED ABOUT THE

FISCAL CRISIS, HE SAID LET'S LAY

OFF FRONTLINE WORKERS AND LET'S

CUT PROGRAMS FOR YOUNG PEOPLE.

NOW, THAT IS ALWAYS THE DEFAULT.

WE SAY RATHER THAN CUT PROGRAMS,

WE SHOULD BE REINVESTING THIS

MONEY IN OUR COMMUNITIES, AT THE

SAME TIME WE SHOULD LOOK AT

AGENCY DEFICIENCIES, INCLUDING

THE NYPD.

>> SOME OF THE THINGS YOU

MENTIONED WAS A FREEZE HIRING,

HIRING FREEZE I SHOULD SAY, THE

NOTION OF CUTTING BACK ON POLICE

OFFICERS IN ADDITIONAL INCOME

FOR EXTRA TIME BEING SPENT, AND

ALSO TAKING A GOOD, HARD LOOK AT

THEIR BUDGETS FOR TECHNOLOGY AND

EQUIPMENT.

TELL ME A LITTLE BIT ABOUT HOW

YOU WOULD ENVISION THAT PLAYING

OUT.

>> WE DID A CALCULATION A NUMBER

OF WEEKS AGO, WE SAID OKAY,

HERE'S THE ROADMAP OF HOW YOU

COULD REDIRECT RESOURCES.

PART OF IT IS ATTRITION, PEOPLE

RETIRING AND NOT HIRING, PART OF

IT IS LOOKING AT THE OPERATIONAL

ASPECT OF THE NYPD, BECAUSE WHAT

WE FOUND IN SO MANY AGENCIES,

WHEN YOU NEVER LOOK FOR

EFFICIENCIES, YOU SEE THE FAT

BUILD UP AND OUR JOB IS TO ZERO

IN ON THAT.

AND THEN LOOK AT THINGS LIKE

OVERTIME AND DIFFERENT AGENCY

FUNDING MECHANISMS AND THAT

WHICH WAS STANDARD FOR EVERY

CITY AGENCIES WHICH MAKES FOR A

VERY IMPORTANT, I THINK, FOR

COMMUNITIES AROUND THE CITY IS

THE OVER-POLICING HAS NOT

BEEN -- NOT BEEN FAIR AND WE

HAVE NOT HAD ONE STANDARD OF

POLICING IN THE CITY.

>> WHAT DO YOU MEAN BY THAT,

WHEN YOU USE THE TERM

OVER-POLICING?

>> IN OTHER WORDS, I WILL GIVE

YOU ONE GREAT EXAMPLE DURING THE

HEIGHT OF THE COVID CRISIS, I

WAS GOING FOR A WALK WITH MY

KIDS AND MY WIFE IN OUR

NEIGHBORHOOD, AND THERE WAS A

NICE CAUCASIAN COUPLE THAT WAS

GOING DOWN THE BLOCK.

THE GUY DIDN'T HAVE A MASK ON.

THE WOMAN DID.

POLICE OFFICERS STOPPED AND

SAID, HEY, YOU DON'T HAVE YOUR

MASK ON.

HE LAUGHED ABOUT IT.

THE COPS LAUGHED ABOUT IT.

I JUST WATCHED THIS.

AND I GO ABOUT MY BUSINESS, I

COME BACK TO MY APARTMENT ONLY

TO GET CALLS SAYING, HEY, DO YOU

KNOW PEOPLE OF COLOR IN OUR

BOROUGHS WERE ARRESTED, BLACK

AND BROWN PEOPLE, FOR NOT

WEARING A MASK, AND I JUST HAD

THIS EXPERIENCE WATCHING THIS

CAUCASIAN GUY LIKE IT WAS A BIG

JOKE.

AND THAT'S THE TIP OF THE

ICE

ICEBERG.

IN THE MOST SEVERE CASES WE'VE

SEEN PEOPLE OF COLOR KILLED BY

POLICE OFFICERS AND THAT HAS TO

END IN THIS COUNTRY.

THAT HAS TO END IN NEW YORK

CITY.

THEM THE QUESTION IS HOW DO WE

INVEST THOSE OVER-POLICING

RESOURCES SO WE CAN ALSO START

HELPING OUR YOUNG PEOPLE AND

HELPING COMMUNITIES DO WITH

HEALTH DISPARITIES.

AND YOU I TALK ON THE SHOW COVID

DISCRIMINATED IN SO MANY OF OUR

COMMUNITIES WITH DIABETES AND

WHY NOT INVEST SOME OF THAT

MONEY TO HELP DEAL WITH THE

IMPACTS OF COVID AND THE LIKE?

>> WE'RE TALKING WITH NEW YORK

CITY CITY COMPTROLLER SCOTT

STRINGER ABOUT A PROPOSAL HE'S

OFFERED THAT WOULD AMONG OTHER

THINGS TAKE MONEY FOR THINGS

ALLOCATED FOR POLICE DEPARTMENT,

MOVE IT TO OTHER AGENCIES, TAKE

RESPONSIBILITIES POLICE

DEPARTMENT, GIVE THEM TO OTHER

AGENCIES AND KEEP THEM FUNDED IN

THAT FASHION.

HOW WOULD YOU SAY TO A CITY

RESIDENT, SAY, I UNDERSTAND WHAT

YOU'RE SAYING AND I'M CERTAINLY

ALL IN WITH THE NOTION WE NEED

POLICE REFORM HERE.

WE CAN'T SEE WHAT'S HAPPENING

LIKE GEORGE FLOYD ON OUR STREET.

AND THEY SAID TO YOU, HOWEVER,

WHAT YOU'RE SUGGESTING SOUNDS TO

ME LIKE I MIGHT BE LESS SAFE ON

THE STREETS OF NEW YORK CITY IF

THERE ARE LESS POLICE OFFICERS

THROUGH ATTRITION OR WHATEVER

FASHION.

HOW WOULD YOU ANSWER THAT PERSON

ABOUT THEIR OWN PERSONAL SAFETY?

>> WELL, I THINK PROVE HAS BEEN

OVER THE LAST MANY YEARS.

I MEAN THIS IS THE BIGGEST,

SAFEST CITY MAYBE IN THE WORLD.

WE HIRED MORE POLICE WHEN WE

WERE AT THE LOWEST CRIME RATE SO

THE CORRELATION BETWEEN OFFICERS

DOESN'T MEAN LESS CRIME.

I DO THINK WE HAVE TO BE SMART

ON CRIME, AND THAT MEANS

FIGURING OUT WAYS TO KEEP YOUNG

PEOPLE ALIVE WITH THE FUTURE TO

MAKE SURE THAT WE CAN OFFER MORE

GUIDANCE COUNSELING, HEALTH CARE

WORKERS.

TO SORT OF CHANGE THE PARADIGM

TO SAY, LOOK, THE POLICE ARE

THERE WHEN YOU HAVE A REAL

INTERACTION CRISIS, WHEN

EVERYDAY LIVING IS ABOUT MAKING

SURE OUR KIDS GET THE COUNSELING

AND HEALTH CARE SERVICES THEY

NEED.

WHAT A GREAT WAY TO SORT OF

REIMAGINE HOW YOU POLICE BY

DOING LESS OF THAT WORK AND MORE

INVESTMENT WITH NOT FOR PROFITS.

IT'S NOT PIE IN THE SKY.

THIS IS PROVEN TO WORK.

WE JUST HAVE TO GIVE IT A

CHANCE.

AND I THINK THIS IS A MOMENT IN

HISTORY NOW WHERE YOUNG PEOPLE

ARE TAKING TO THE STREETS, THEY

WANT TO TALK ABOUT BLACK LIVES

MATTER.

THEY WANT TO TALK ABOUT THE

THINGS THAT WE SEE AROUND THE

COUNTRY THAT HAVE IMPACTED US

WHETHER IT'S GEORGE FLOYD OR

ERIC GARNER.

THE YOUNG PEOPLE ARE SAYING

ENOUGH IS ENOUGH, LET'S HAVE ONE

JUSTICE SYSTEM.

AND I THINK PEOPLE ARE RALLYING

FOR THAT.

THE QUESTION FROM GOVERNMENT IS

HOW DO WE GET THERE RESPONSIBLY?

HOW DO WE MAKE SURE THAT WE HAVE

A SAFE CITY BUT WE ALSO PROTECT

THE CIVIL RIGHTS OF PEOPLE, AND

WE THEN INVEST IN THE EDUCATION

OPPORTUNITIES SO ALL

NEIGHBORHOODS AND ALL PEOPLE,

REGARDLESS OF BACKGROUND, HAVE

AN EQUAL SHOT TO MAKE IT IN THIS

WORLD.

>> THERE'S SO MUCH INVOLVED WHEN

YOU TALK ABOUT POLICE REFORM.

TO SOMEBODY, AGAIN, WHO MIGHT BE

SKEPTICAL, MIGHT SAY TO YOU THIS

IS GOOD, WHAT YOU'RE SUGGESTING

HERE, BUT WE HAVE TO BE FOCUSING

NOT SO MUCH ON DOLLARS BUT AS ON

CONDUCT AND CULTURE.

AND THEY POINT TO GEORGE FLOYD

AND SAY, CONDUCT, ONE POLICE

OFFICER CASUALLY KNEELING ON THE

NECK AS HE DIES.

CULTURE, THIS COULD BE EVEN MORE

DISTRESSING.

THREE OTHER POLICE OFFICERS.

NOT ONE OF THEM WAS CONCERNED

ENOUGH TO TAKE AN ACTIVE STEP TO

PREVENT THAT FROM HAPPENING.

SOMEBODY SAYS TO YOU NUMBERS ARE

FINE, DOLLARS ARE FINE, BUT HOW

IS THAT GOING TO IMPACT CONDUCT

AND CULTURE?

WHAT IS YOUR ANSWER TO THEM?

>> THESE ARE GREAT QUESTIONS AND

WE HAVE TO CONTINUE TO HAVE A

POLICE DEPARTMENT THAT EVOLVES

INTO PROTECTING PEOPLE AND

HELPING PEOPLE.

BUT COMMUNITIES OF COLOR, THIS

HAS NOT BEEN THE CASE.

THE TRUTH IS NO MATTER WHAT

CULTURAL ENHANCEMENTS OR

EDUCATION ENHANCEMENTS YOU GIVE

THERE'S A DISCONNECT BETWEEN

POLICING AND OUR BLACK AND BROWN

COMMUNITIES.

SO WHY DON'T WE PUT THAT ASIDE

FOR A SECOND AND SAY HOW CAN WE

CREATE COMMUNITIES OF EQUAL HOPE

AND EQUAL JUSTICE?

WELL, LET'S ENHANCE THE

EDUCATION SYSTEM.

LET'S ENHANCE THE HEALTH CARE

SYSTEM.

LET'S PUT OUR RESOURCES TO WORK

SO EVERY CHILD, REGARDLESS OF

ZIP CODE, GETS THE SAME

RECOURSES IN A PUBLIC SCHOOL.

THAT'S THE CIVIL RIGHTS OF OUR

OUR YOUNG PEOPLE.

WHEN YOU DRILL DOWN AS I HAVE

WITH THE AUDIT, YOU LOOK AT THE

MINORITY-OWN BUSINESSES, THE

CITIP DOES THE GIVE THEM AN

EQUAL SHARE OF THE CONTRACT.

WHEN YOU LOOK AT EDUCATION

RESOURCES, POORER COMMUNITIES

SUFFER EVERY SINGLE DAY.

SO TIME AND TIME AGAIN

COMMUNITIES HAVE BEEN SHORT

CHANGED.

AND I BELIEVE WE HAVE AN

OPPORTUNITY NOW TO HAVE A

RESTART AND REINVESTMENT.

>> RIGHT.

>> BUT THAT HAS TO COME FROM THE

POLICE DEPARTMENT AS WELL.

>> WE HAVE ABOUT A MINUTE AND A

HALF LEFT BUT I DO WANT TO TOUCH

BASE ON SOMETHING THAT CAME OUT

RECENTLY AND THAT WERE THE MOST

RECENT NEW YORK CITY

UNEMPLOYMENT NUMBERS.

15.8% IN APRIL BUT JUMPED UP TO

18.3% IN MAY.

WERE YOU SURPRISED BY THAT?

>> WELL, I JUST PUT OUT THOSE

NUMBERS THIS WEEK.

WHAT WAS REALLY SHOCKING TO ME

IS THE UNEMPLOYMENT NUMBERS

CONTINUE TO DECLINE BUT WHEN YOU

DRILL DOWN ON THE NUMBERS, AND

THIS I THINK YOU WILL FIND

INTERESTING IN LIGHT OF OUR

CONVERSATION, UNEMPLOYMENT AMONG

PEOPLE OF COLOR, 25%.

AND FOR KIDS, YOUNG PEOPLE IN

THE JOB MARKET FROM THE AGES 16

TO 24, 35% UNEMPLOYMENT.

SO WHEN YOU TALK ABOUT WHERE WE

HAVE TO DIRECT OUR PRIORITIES,

STOP CUTTING JOBS FOR YOUNG

PEOPLE.

STOP CUTTING JOBS FOR FRONTLINE

WORKERS OR THREATEN TO DO THAT.

YOU HAVE TO REALIGN OUR SOCIETY

TO CREATE SOME FAIRNESS AND SOME

C

EQUALITY.

YOU SEE IT IN THE UNEMPLOYMENT

NUMBERS.

PEOPLE SAY WHY DO YOU FEEL THIS

WAY?

JUST LOOK AT THE NUMBERS.

NUMBERS DON'T LIE.

YOU SEE THE DIFFERENCE.

THE PEOPLE WHO DELIVER THE FOOD,

THE PEOPLE WHO PROTECT YOU WHEN

YOU GET TO THE HOSPITAL, THEY'RE

THE FRONTLINE WORKERS AND THEY

NEED TO HAVE A LIFE FOR THEIR

FAMILIES AS WELL AND THAT'S WHY

NEW YORK HAS TO LEAD THE WAY AND

STOP TAKING A BACK SEAT TO THESE

ISSUES.

>> THESE ARE ALL SIGNIFICANT

ISSUES.

NEW YORK CITY COMPTROLLER SCOTT

STRINGER, WE ARE ALWAYS PLEASED

WHEN YOU SPEND SOME TIME WITH US

AND HAVE THESE DISCUSSIONS.

WE APPRECIATE YOU TAKING THE

TIME TODAY AND LOOK FORWARD

TO -- BECAUSE THERE'S MUCH MORE,

AS ALWAYS, WE CAN TALK ABOUT.

THANK YOU FOR JOINING US.

AND YOU TAKE CARE.

>> THANK YOU.

YOU TOO.