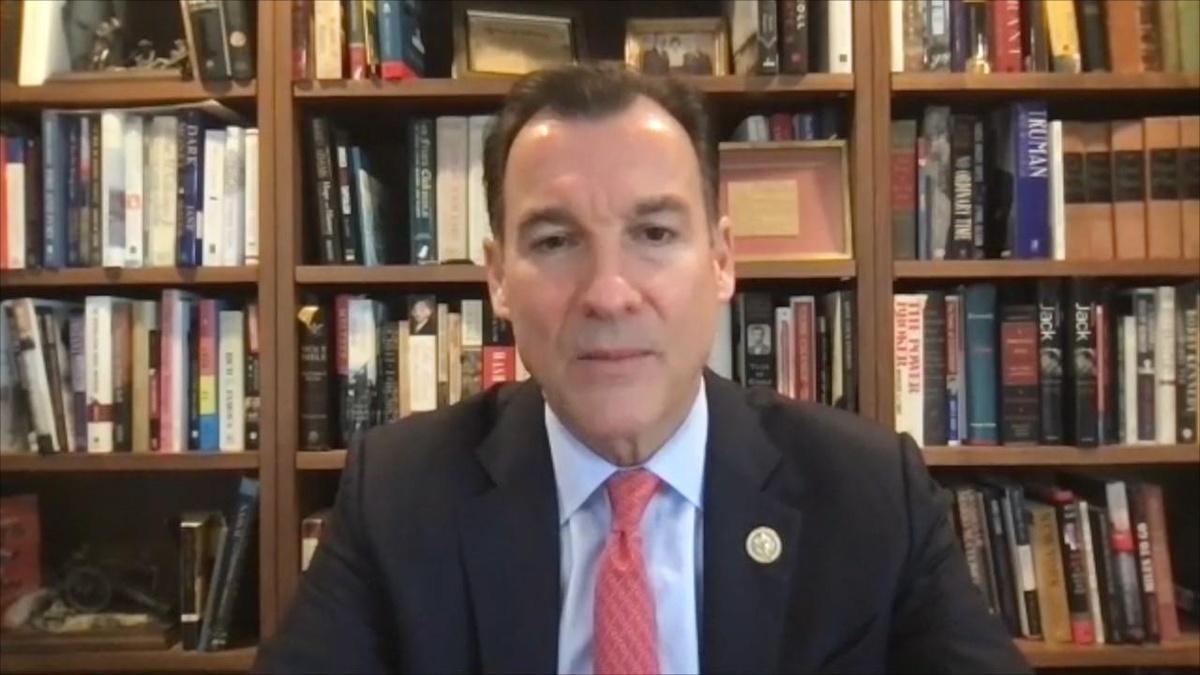 CLIP
FIRSTHAND ACCOUNT INSIDE THE CAPITOL CHAOS
Congressman Tom Suozzi was in the House Chamber when the pro-Trump mob broke into the Capitol. Tonight, he shares his firsthand account of the mayhem that unfolded as he was evacuated to safety.
TRANSCRIPT

>>> GOOD EVENING AND WELCOME TO

THIS SPECIAL EDITION OF

"METROFOCUS."

I'M JENNA FLANAGAN.

IN THE DAYS SINCE PRO-TRUMP

RIOTERS STORMED CAPITOL HILL,

INTERRUPTING OUR DEMOCRACY IN

PROGRESS, WE'VE GOTTEN A

FIRSTHAND LOOK AT THE TERROR

THAT UNFOLDED INSIDE THE

BUILDING.

ONE OF THOSE VIDEO ACCOUNTS

THAT'S BEEN WIDELY SHARED WAS

SHARED BY A COMMON FROM RIGHT

HERE IN NEW YORK.

TOM SUOZZI IS A DEMOCRAT

REPRESENTING PARTS OF LONG

ISLAND AND QUEENS.

HE WAS IN THE HOUSE CHAMBER AS

EXTREMISTS FORCED THEIR WAY

INSIDE THE HALLS OF CONGRESS.

IN JUST A MOMENT, THE

CONGRESSMAN WILL JOIN US.

BUT FIRST HERE'S A LOOK AT THE

VIDEO HE SHOT DURING WEDNESDAY'S

CHAOS AND LATER PROVIDED TO

"NEWSDAY."

>> THESE ARE PEOPLE THAT HAVE

BEEN DETAINED.

EVERYTHING'S OKAY.

WE'RE BEING EVACUATED.

THANK YOU.

THERE WERE SHOTS FIRED INSIDE

THE CHAMBER EARLIER.

A STANDOFF AT THE DOORS.

BEING TAKEN DOWN.

>> EVERYBODY DOWN!

EVERYBODY DOWN!

>> WHICH WAY ARE WE GOING OUT?

WHICH WAY ARE WE GOING OUT?

>> NO PICTURES.

>> THOSE PEOPLE ARE BEING

EVACUATED.

>> NO VIDEOS, PLEASE.

NO VIDEOS, PLEASE.

>> I'M IN THE CAPITOL CHAMBER.

WE'RE BEING EVACUATED.

PEOPLE ARE BEING ASKED TO PUT

ON -- TO MAKE SURE.

WE'RE BEING EVACUATED, ASKED TO

PUT ON MASKS.

CHECKING THE DOOR TO MAKE SURE

IT'S LOCKED.

OKAY.

WE'RE BEING TOLD TO EVACUATE.

>> AND JOINING US NOW WITH MORE

ON WHAT YOU JUST SAW AS WELL AS

HIS THOUGHTS ON THIS

EXTRAORDINARY WEEK IN OUR

NATION'S HISTORY IS CONGRESSMAN

TOM SUOZZI.

CONGRESSMAN, THANK YOU SO MUCH

FOR JOINING US ON THE PROGRAM.

>> JENNA, THANKS SO MUCH FOR

HAVING ME ON.

>> NO PROBLEM.

OF COURSE.

FIRST OFF, I WANT TO SAY THAT WE

OF COURSE ARE THANKFUL TO HEAR

AND SEE THAT YOU APPEAR TO BE

OKAY.

BUT WATCHING THE VIDEO THAT YOU

RECORDED, YOU COULDN'T HELP BUT

NOTICE HOW CALM YOU SEEMED TO BE

AS EXTREMISTS WERE STORMING THE

CAPITOL.

WHAT WAS GOING THROUGH YOUR

MIND, AND HOW WERE YOU ABLE TO

STAY SO CALM?

>> I THINK THAT I WAS CONCERNED

ABOUT, YOU KNOW, WHAT WAS GOING

TO HAPPEN FOR MY FAMILY QUITE

FRANKLY.

I WAS TEXTING MY WIFE AND KIDS

AND TELLING THEM EVERYTHING WAS

FINE.

I DIDN'T TELL THEM THE DETAILS

OF WHAT WAS HAPPENING.

AND I WAS CONCERNED ABOUT SOME

OF MY COLLEAGUES.

RIGHT BEFORE EVERYTHING ACTUALLY

UNFOLDED, I HAD BEEN WRITING

DOWN TO MYSELF SOME NOTES ON MY

PHONE ABOUT THE IDEA OF WHAT WAS

GOING ON INSIDE THE CHAMBER,

WHICH IS THAT PEOPLE ARE

DEBATING WITH EACH OTHER VERSUS

WHAT WE KNEW WAS AN ESCALATING

VIOLENT SITUATION OUTSIDE THE

CHAMBER.

>> MM-HMM.

>> AND I WAS JUST THINKING THAT

JUXTAPOSITION IN OUR COUNTRY

AND, YOU KNOW, IT'S OKAY -- I

DISAGREE WITH MY COLLEAGUES THAT

OBJECTED TO THE ELECTORAL

PROCESS.

I STRONGLY DISAGREE WITH THEM.

I THINK IT WAS COMPLETELY

IRRESPONSIBLE.

BUT WE WERE DEBATING IT, AND

THAT'S OKAY IN AMERICA.

AND PROTEST IS OKAY.

THIS WAS NOT PROTEST.

THIS WAS NOT DEBATE.

THIS WAS VIOLENCE, RIOTING,

INSURRECTION.

SO IT WAS COMPLETELY

IRRESPONSIBLE.

SO I WAS THINKING A LOT ABOUT

THAT, HOW IT WAS SAD FOR THE

COUNTRY.

AND I WAS SURPRISED MYSELF THAT

AS I WAS AS CALM AS I WAS.

I'VE TALKED TO OTHER PEOPLE.

THEY SAID WHEN YOU GET IN THOSE

FIGHT OR FLIGHT SITUATIONS THAT

YOUR ADRENALINE IS PUMPING, AND

THAT'S WHAT HAPPENS A LOT OF

TIMES.

>> OF COURSE.

OF COURSE.

EVEN THOUGH THROUGH YOUR

CALMNESS, I'M STILL WONDERING

WHAT WAS THE MOST NERVE-RACKING

PART OF THE WHOLE ORDEAL FOR

YOU.

WE UNDERSTAND AT LEAST FROM THE

VIDEO THAT THERE WAS A POINT

WHEN YOU THOUGHT YOU AT LEAST

HEARD WHAT SOUNDED LIKE

GUNSHOTS.

>> WELL, IN THE BEGINNING WE

THOUGHT IT WAS GUNSHOTS.

THEY WERE ACTUALLY BREAKING DOWN

THE -- BREAKING THE GLASS IN THE

DOOR INTO THE CHAMBER.

YOU KNOW THAT DOOR THAT THE

PRESIDENT WALKS THROUGH WHEN

THEY SAY "LADIES AND GENTLEMEN,

THE PRESIDENT OF THE UNITED

STATES OF AMERICA" FOR THE STATE

OF THE UNION.

THAT WAS METAL POPS BEING BANGED

THROUGH THOSE GLASS DOORS.

IT WAS POP, POP, POP, POP.

THEN THERE WERE ACTUAL

GUNSHOTS -- OR AT LEAST A

GUNSHOT WHEN THE WOMAN WHO WAS

KILLED, WHICH WAS RIGHT BEHIND

THE CHAMBER, WHICH IS WHERE IT

HAPPENED.

AND THEN THERE WAS A LOT OF

RADIO CHATTER FROM THE CAPITOL

POLICE SAYING, SHOTS FIRED IN

THE CAPITOL, SHOTS FIRED IN THE

CAPITOL.

SO THAT WAS REALLY THE MORE

NERVE-RACKING OR UNSETTLING, I

SHOULD SAY, OF THE WHOLE TIME.

YOU KNOW, PEOPLE SAYING GET

DOWN, GET DOWN, REALLY NOT SURE

WHERE THE THREAT WAS COMING

FROM.

YOU KNOW, I WAS ACTUALLY UP IN

THE GALLERY.

THE FLOOR HAD ALREADY BEEN

EVACUATED EXCEPT FOR SOME

OFFICERS THAT WERE AT A STANDOFF

AT THE BACK DOOR WHERE THEY HAD

PUT UP A MAKESHIFT BARRICADE.

>> I BELIEVE THAT'S THE PICTURE

THAT'S BEEN WIDELY CIRCULATED.

>> YES.

>> THAT WE'VE ALL SEEN, YEAH.

>> SO I WAS RIGHT ABOVE THAT.

AND I WAS IN THE GALLERY, AND WE

DIDN'T KNOW WHERE TO EXIT.

EVERYBODY HAD EXITED EXCEPT FOR

ABOUT 30 PEOPLE.

I WAS ONE OF THE LAST PEOPLE TO

LEAVE THE CHAMBER NOT FOR ANY

CHOICE BUT WHERE I WAS SITTING

WAS THE FURTHEST AWAY FROM THAT

EXIT POINT.

WE WEREN'T SURE WHERE TO EXIT

BECAUSE WE DIDN'T KNOW WHAT WAS

GOING ON OUTSIDE.

WHEN WE DID FINALLY EXIT, WHICH

WAS LITERALLY TEN MINUTES AFTER

EVERYBODY ELSE HAD LEFT, I GOT

OUT IN THE HALLWAY, AND THERE ON

THE GROUND WERE ABOUT TEN

PROTESTERS FLAT ON THEIR

STOMACHS WITH CAPITOL POLICE

SURROUNDING THEM WITH GUNS

TRAINED.

SO THERE WERE GUNS DRAWN

EVERYWHERE.

SO IT'S JUST A SAD TIME FOR OUR

COUNTRY, AND I'M VERY HOPEFUL,

THOUGH, THAT THIS IS GOING TO BE

A RECOGNITION THAT WE REALLY ALL

NEED TO COME TOGETHER.

DEMOCRATS AND REPUBLICANS,

EVERYBODY ON THE LEFT AND THE

RIGHT, WE NEED TO COME TOGETHER

IN OUR COUNTRY AND START

ADDRESSING THE VERY REAL

PROBLEMS WE FACE AND ENOUGH OF

THIS DIVISION AND DISUNITY.

I THINK WE'VE REALLY HIT THE

BOTTOM BETWEEN EVERYTHING WE'VE

BEEN THROUGH IN THE COUNTRY

CERTAINLY OVER THE PAST YEAR

WITH THE PANDEMIC AND THE MANY

PROTESTS RELATED TO RACIAL

INEQUITY AND SO MANY OTHER

THINGS THAT WE'VE GONE THROUGH

UNDER THIS PRESIDENT, THAT WE

REALLY HIT BOTTOM.

AND I THINK PEOPLE ARE GOING TO

COME TOGETHER.

>> OF COURSE.

AND THAT SEEMS TO BE A QUESTION

THAT YOU'RE NOW HEARING A LOT OF

IS THAT WAS THIS OUR NATIONAL

ROCK BOTTOM SO THAT WE CAN BEGIN

TO GO BACK UP, IF YOU WILL?

BUT I ALSO WANT TO ASK WHAT WAS

IT LIKE ONCE CONGRESS WAS

BROUGHT BACK INTO THE CHAMBER?

BECAUSE I HAVE TO JUST IMAGINE

THERE WAS JUST A SURREALNESS

ABOUT EVERYTHING THAT TRANSPIRED

THAT AFTERNOON, AND THEN OF

COURSE WELL INTO THE EVENING.

>> WELL, I THINK EVERYBODY WAS

EXHAUSTED.

WE HAD SPENT THE FULL DAY GOING

THROUGH THIS.

WE'D GONE THROUGH THIS TRAUMATIC

EXPERIENCE.

I WAS VERY ADAMANT THAT WE HAD

TO GET BACK TO THE CHAMBER.

WE HAD TO CERTIFY THE ELECTIONS,

AS WERE MANY PEOPLE.

THAT WE HAD TO ACTUALLY DO OUR

DUTY AND NOT LET ANOTHER TEN

HOURS PASS BEFORE WE DID OUR

DUTY CERTIFYING JOE BIDEN AS THE

PRESIDENT OF THE UNITED STATES.

THERE WAS NO ACCESS TO FOOD FOR

A LOT OF PEOPLE QUITE FRANKLY.

SO, YOU KNOW, PEOPLE WERE JUST

TIRED AND HUNGRY AND EXHAUSTED.

BUT I WAS REALLY -- I WAS HAPPY

THAT WE WERE JUST DOING OUR JOB

AND GETTING IT DONE.

I WAS VERY DISCOURAGED WHEN I

SAW MANY OF MY COLLEAGUES

CONTINUE TO OBJECT TO THE

ELECTION RESULTS.

YOU KNOW, MANY OF THE SENATORS

WITHDREW THEIR EXCEPTIONS, WITH

THE EXCEPTION OF TED CRUZ AND

JOSH HAWLEY.

BUT OVER 100 MEMBERS OF THE

REPUBLICAN CAUCUS CONTINUED TO

OBJECT TO THE CERTIFICATION OF

THE ELECTION.

I WAS VERY DISAPPOINTED IN THAT.

BUT WE FWHENEED COME TOGETHER A

MOVE FORWARD.

I'M A MEMBER OF THE PROBLEM

SOLVERS CAUCUS.

IT'S 25 DEMOCRATS, 25

REPUBLICANS.

WE MEET REGULARLY, TRY TO FIND

COMMON GROUND.

NOT AN EASY THING TO DO OVER THE

PAST FOUR YEARS.

WE NEED TO DO MORE OF THAT.

WE SEE SOME SENATORS MOVING IN

THAT DIRECTION AS WELL THAT

WE'VE BEEN WORKING QUIETLY WITH

OVER THE PAST YEAR.

A LOT OF THE RECENT PANDEMIC

PACKAGE THAT WAS PASSED WAS A

RESULT OF OUR BIPARTISAN

MEETINGS AND TRUST-BUILDING.

I'M VERY DISCOURAGED THAT A FEW

MEMBERS, REPUBLICANS, ACTUALLY

VOTED FOR THE OBJECTIONS, FOLKS

FROM PENNSYLVANIA.

AND I DO WANT TO POINT THOSE

REPUBLICANS THAT VOTED AGAINST

THE OBJECTIONS, THAT VOTED FOR

THE CERTIFICATION.

YOU KNOW, IT TOOK A LOT OF GUTS

FOR THEM TO DO THAT BECAUSE THE

BASE OF THE REPUBLICAN PARTY IS

SO RABID RIGHT NOW IN SUPPORT OF

THIS IRRESPONSIBLE AND RECKLESS

PRESIDENT THAT IT WAS NOT EASY

FOR SOME OF THESE REPUBLICANS TO

STAND UP AGAINST THE BASE, BUT

THEY DID.

THEY DID THE RIGHT THING.

SO ANYWAY, I'M JUST GOING ON AND

ON.

I HAVE A MILLION THINGS --

>> NO.

I WANT YOU TO DEFINITELY -- I

WOULD IMAGINE YOU'RE STILL

PROCESSING AS YOU'RE SPEAKING

WITH ME.

ONE OF THE THINGS I ALSO THOUGHT

WAS INTERESTING THAT A LOT OF

PEOPLE ARE NOW STARTING TO

UNPACK AND ADDRESS, AND THAT IS

YOU SAID THAT WHEN YOU WERE ABLE

TO FINALLY GET OUT OF THE HOUSE

CHAMBER, YOU SAW SOME OF THE

RIOTERS THAT WERE LYING DOWN ON

THEIR BELLY WITH CAPITOL POLICE.

BUT THERE'S BEEN A LOT OF

CRITICISM ABOUT THE WAY THAT

POLICE DEPARTMENT HANDLED THIS

ENTIRE EVENT, EITHER FROM A LACK

OF PLANNING BEFOREHAND.

THERE'S BEEN SOME QUESTIONABLE

ACTIONS THAT PEOPLE HAVE BEEN

TALKING ABOUT AS TO WHETHER OR

NOT THEY ALLOWED SOME OF THESE

PEOPLE TO JUST COME IN.

THERE'S A VIDEO OF ONE OF THEM

TAKING SELFIES WITH THE RIOTERS.

MY QUESTION TO YOU IS FIRST OF

ALL, HOW DO YOU THINK THAT -- OR

WHAT WAS IT THAT YOU AT LEAST

SAW FROM THE CAPITOL POLICE, AND

WHAT NEEDS TO HAPPEN IN TERMS OF

A RECKONING WITH HOW THE CAPITOL

WAS ABLE TO BE BREACHED SO

SEEMINGLY EASILY?

>> WELL, LET ME FIRST SAY THAT I

FELT MUCH SAFER WITH THE CAPITOL

POLICE WHEN I WAS IN THE

CHAMBER.

THEY WERE SURROUNDING US.

THEY HAD THEIR GUNS DRAWN.

THEY WERE PROTECTING US.

A LOT OF PEOPLE PUT THEMSELVES

IN HARM'S WAY.

WE'VE SEEN ALL KINDS OF PICTURES

OF PEOPLE GETTING HIT WITH METAL

CLUBS, WITH CHEMICAL AGENTS

BEING SPRAYED AT THEM.

I'M TALKING ABOUT THE OFFICERS.

THIS IS HAPPENING TO THEM.

SO I'M NOT GOING TO SECOND-GUESS

THESE FOLKS, MAKE A QUICK

JUDGMENT.

OBVIOUSLY SOMETHING WENT VERY

WRONG.

I THINK THERE WAS A LACK OF

PREPARATION.

WE SEE A SECURITY FENCE, A

NON-SCALABLE SECURITY FENCE

BEING PUT UP AROUND THE CAPITOL

NOW.

YOU KNOW, THAT MAY HAVE BEEN

SUGGESTED IN THE PAST, AND

PEOPLE DIDN'T FOLLOW THROUGH ON

THAT BECAUSE WE WANT TO TRY AND

KEEP THE CAPITOL AS THE PEOPLE'S

HOUSE.

IT'S ALWAYS BEEN A VERY FREE

GOVERNMENT WE HAVE.

BUT THERE'S GOING TO HAVE TO BE

A LOT OF ANAANALYSIS, BECAUSE W

TALK ABOUT THE ONE PICTURE, AN

IT'S ONE VIDEO OF PEOPLE COMING

IN THROUGH THE GATE, YOU KNOW,

WHERE THEY LET THEM THROUGH THE

GATE.

I'M NOT SURE WHERE THAT LOCATION

IS.

WE HAVE TO BE VERY CONSCIOUS OF

THE FACT THAT OUR FOREIGN

ADVERSARIES, THE CHINESE, THE

RUSSIANS AND OTHERS, AS WELL AS

EXTREMISTS FROM BOTH SIDES, WANT

US TO ALL HATE EACH OTHER.

THEY WANT TO SEE CIVIL UNREST.

THEY WANT US TO DISTRUST EACH

OTHER.

SO WE CAN'T GO JUDGING EVERYBODY

RIGHT AWAY UNTIL WE ACTUALLY DO

AN ANALYSIS AND FIGURE OUT WHAT

THE FACTS ARE.

PEOPLE ARE GOING TO BE HELD

ACCOUNTABLE.

THE PRESIDENT SHOULD BE HELD

ACCOUNTABLE.

THE PEOPLE THAT ORGANIZED THIS

INSURRECTION, THE PEOPLE THAT

PARTICIPATED IN THIS

INSURRECTION SHOULD BE HELD

ACCOUNTABLE.

BUT WE ALSO NEED TO SEE WHAT THE

ROLE OF OUR FOREIGN ADVERSARIES

WERE, ORGANIZED EXTREMIST

GROUPS, AND THEIR INVOLVEMENT,

WHETHER THEY'RE NEO-NAZIS OR

ALT-RIGHT GROUPS OR OTHER CRAZY

FOLKS, AND WE HAVE TO BE VERY

CAREFUL THAT WE'RE NOT BEING

MANIPULATED BY PEOPLE MISUSING

SOCIAL MEDIA, MISUSING ANY KIND

OF MEDIA TO TRY AND GET US JUST

TO HATE EACH OTHER.

A LOT OF CIVIL UNREST THAT'S

TAKING PLACE IN OUR COUNTRY AND

THROUGHOUT THE WORLD IS ACTUALLY

BEING FOMENTED BY ADVERSARIES

WHO ARE TRYING TO SOW UNREST.

SO, YOU KNOW, OUR ADVERSARIES

ARE LOVING THE FACT THAT WE'RE

GOING THROUGH THIS IN THE

COUNTRY RIGHT NOW, IN AMERICA.

IT'S, YOU KNOW, UNIMAGINABLE TO

YOU AND I HAVING GROWN UP HERE

TO SEE WHAT WE'VE SEEN OVER THE

PAST YEAR.

WE'RE LIKE, WHAT HAPPENED?

WHAT'S HAPPENING?

AND WE DON'T REALLY KNOW WHAT'S

HAPPENING YET.

WE HAVEN'T FIGURED OUT HOW

SOCIAL MEDIA AND HOW OUR

ADVERSARIES ARE USING

INFORMATION AS WELL AS EXTREMIST

GROUPS IN OUR COUNTRY ARE USING

SOCIAL MEDIA AND CABLE NEWS, ET

CETERA, TO MANIPULATE US.

SO WE'VE GAT A LOT TO LEARN AND

A LOT TO FIGURE OUT, AND WE HAVE

TO BE CAREFUL NOT TO RUSH TO

JUDGMENT.

>> SPEAKING OF THAT, AS, YOU

KNOW, SO MANY PEOPLE WHO, AS YOU

SAID, YOU KNOW, SO MANY OF OUR

FELLOW CITIZENS ARE SEEING WHAT

HAPPENED AT LEAST AT THE CAPITOL

WITH THE PRO-TRUMP EXTREMISTS

RIOTING VERSUS WHAT WE SAW OVER

THE SUMMER WITH THE POLICE

RESPONSE TO BLACK LIVES MATTER

PROTESTS.

AND I'M WONDERING ESPECIALLY AS

A MEMBER OF -- I BELIEVE YOU

SAID THE PROBLEM SOLVERS CAUCUS,

IS THAT SOMETHING THAT CONCERNS

YOU AT ALL, OR IS THERE A

DIFFERENCE THAT YOU THINK NEEDS

TO BE ADDRESSED OR PERHAPS IS

THAT ANOTHER CASE OF PEOPLE

UNDERSTANDABLY EMOTIONAL ONLINE,

HYPING PEOPLE UP?

>> PEOPLE ARE FOMENTING UNREST,

BUT THERE'S NO QUESTION THAT

THERE ARE RACIAL INEQUITIES THAT

EXIST IN OUR SOCIETY THAT ARE

BEING EXACERBATED QUITE FRANKLY,

AGAIN, TRYING TO GET ALL PEOPLE

PUMPED UP.

BUT THEY'RE VERY REAL.

RACISM IS REAL IN OUR COUNTRY,

AND THERE IS NO QUESTION THAT

THE WAY THAT YOU SEE LAW

ENFORCEMENT TREAT PEOPLE OF

COLOR IS VERY DIFFERENT AND VERY

UNFAIR WHEN COMPARED TO OTHERS.

AND A LOT OF TIMES IT HAS TO DO

WITH JUST THE IDEA OF PEOPLE ARE

AFRAID OF EACH OTHER BECAUSE

THEY DON'T KNOW EACH OTHER.

THAT'S A BIG PROBLEM THAT EXISTS

IN OUR SOCIETY.

WE DON'T KNOW HOW DIFFERENT IT

IS FROM STATE TO STATE, FROM

REGION TO REGION, FROM RACE TO

RACE, FROM CULTURE TO CULTURE.

WE HAVE TO CONSTANTLY WORK ON

UNDERSTANDING EACH OTHER AND

WHERE WE'RE COMING FROM.

LISTEN, WHEN I WAS GOING TO THE

CAPITOL ON THE DAY OF THE

INSURRECTION, I COULDN'T GO TO

MY OFFICE BECAUSE IT WAS BEING

EVACUATED, AND I HAD TO GO

THROUGH WHERE THERE WERE CROWDS.

AND WHEN I WALKED UP TO A CROWD

OF PEOPLE THAT WERE ALL WEARING

BLACK MOTORCYCLE OUTFITS AND

WAVING TRUMP FLAGS, I WAS

THINKING TO MYSELF I WAS AFRAID

BECAUSE THEY LOOK VERY DIFFERENT

FROM WHAT I'M ACCUSTOMED TO.

WHEN YOU SEE THOSE GUYS WALKING

AROUND WITH THE FURS ON AND THE

HORNS, IT'S COMICAL IF IT WASN'T

SO SCARY.

YOU KNOW, THAT'S INTIMIDATING.

>> MM-HMM.

>> AND PEOPLE WHO SEE PEOPLE WHO

LOOK DIFFERENT THAN THEMSELVES,

JUST BASED ON WHAT THEY'RE

WEARING, SOMETIMES WHAT THEIR

SKIN COLOR IS, BUT, YOU KNOW,

WHAT THEY'RE WEARING AND HOW

THEY'RE BEHAVING, IT'S

INTIMIDATING.

IT'S SCARY.

AND A LOT OF TIMES, POLICE

OFFICERS, LAW ENFORCEMENT ARE

REACTING OUT OF FEAR.

THE WOMAN WHO WAS SHOT, YOU

KNOW, PEOPLE SAY, OH, SHE

SHOULDN'T HAVE BEEN SHOT.

YOU KNOW.

WHY WAS THERE A WEAPON?

PEOPLE WERE TERRIFIED, AND WE

HAVE TO BE CONSCIOUS OF THAT.

THAT, YOU KNOW, FEAR IS A BIG

FACTOR.

WE'RE ALL HUMAN BEINGS.

WE NEED BETTER TRAINING.

WE NEED BETTER UNDERSTANDING.

WE NEED TO UNDERSTAND DIFFERENT

GROUPS.

BUT BACK TO YOUR ORIGINAL

QUESTION, THERE'S A REAL PROBLEM

IN OUR COUNTRY WITH RACIAL

INEQUITIES WHEN IT COMES TO LAW

ENFORCEMENT AS WELL AS HOUSING,

EDUCATION, ECONOMICS.

AND I'M EXCITED FOR A BIDEN

PRESIDENCY BECAUSE HE SAID THAT

HE WANTS TO ADDRESS THE

CORONAVIRUS.

HE WANTS TO ADDRESS THE JOBS.

HE WANTS TO ADDRESS CLIMATE

CHANGE.

AND HE WANTS TO ADDRESS THE

RACIAL INEQUITIES THAT EXIST IN

OUR SOCIETY.

I BELIEVE THAT HE'S GOING TO DO

THAT.

HE'S GOING TO BRING US TOGETHER

TO REALLY -- I THINK PEOPLE ARE

GOING TO BE SHOCKED AT WHAT A

GOOD JOB HE DOES BECAUSE

EVERYBODY SAYS, OH, JOE BIDEN IS

OLD, AND HE'S A POLITICIAN.

HE'S NOT THE GREATEST SPEECH

MAKER IN THE WORLD.

PEOPLE ARE GOING TO BE SHOCKED

AT HOW EFFECTIVE HE IS AT

BRINGING PEOPLE TOGETHER AND

INSPIRING PEOPLE THAT WE REALLY

NEED TO WORK TOGETHER FOR OUR

COUNTRY.

HE GREW UP, YOU KNOW, WATCHING

KENNEDY, AND THAT'S PART OF,

LIKE, YOU KNOW, HIS WHOLE THING

THAT HE CAME UP IN POLITICS.

HE'S GOING TO CALL ON US TO DO

MORE FOR EACH OTHER.

>> WELL, I DEFINITELY WOULD SAY

THAT I THINK A LOT OF PEOPLE ARE

HUNGRY FOR SOMEONE TO EASE SOME

OF THE TENSION AND TO AGAIN

CREATE THAT UNIFYING SENSE OF

AMERICANNESS.

BEFORE I LET YOU GO, BECAUSE WE

ARE COMING UP ON THE END OF OUR

TIME TOGETHER, FOR VIEWERS WHO

ARE WATCHING THIS AND WHO ARE

ALSO, LIKE YOURSELF, PROCESSING

WHAT IT WAS THEY SAW UNFOLD ON

LIVE TELEVISION, WHAT IS IT THAT

YOU WOULD WANT -- WHAT'S THE

THOUGHT THAT YOU WOULD WANT TO

LEAVE THEM WITH?

>> THE FIRST THOUGHT IS THAT WE

HAVE TO HOLD PEOPLE ACCOUNTABLE.

THIS IS A FAILURE OF LEADERSHIP.

THIS IS IRRESPONSIBLE BEHAVIOR,

REPREHENSIBLE BEHAVIOR BY THE

PRESIDENT, BY THE

INSURRECTIONISTS AND BY

EVERYBODY THAT PROMOTED THIS.

SECOND IS WE NEED TO MOVE

FORWARD AND COME TOGETHER, THAT

THIS IS THE GREATEST COUNTRY ON

EARTH.

OUR DEMOCRACY IS VERY FRAGILE AS

WE'VE SEEN, AND LEADERSHIP

REALLY MATTERS.

WHAT PEOPLE SAY -- AND I WOULD

HAVE NEVER SAID THIS WHEN I WAS

YOUNGER, BUT NOW I REALLY FEEL

THIS SO STRONGLY.

WHAT PEOPLE SAY, HOW THEY

CONDUCT THEMSELVES, JUST THEIR

WORDS, LEADERSHIP MAKES A

DIFFERENCE.

AND WE NEED TO START TREATING

EACH OTHER BETTER, ESPECIALLY

OUR LEADERS, AND TALKING TO EACH

OTHER.

WE NEED PEOPLE OF GOOD WILL TO

COME TOGETHER AND SAY, LISTEN, I

DISAGREE WITH YOU.

BY JUST BECAUSE I DISAGREE WITH

YOU, I DON'T HOLD YOU IN

CONTEMPT.

I DON'T WANT TO DESTROY YOU JUST

BECAUSE I DISAGREE WITH YOU.

LET'S GET PEOPLE OF GOOD WILL

WHO DISAGREE WITH EACH OTHER TO

SIT DOWN, TRY AND FIND COMMON

GROUND WITH EACH OTHER, NOT

ABANDONING THEIR VALUES.

FIND COMMON GROUND AND MOVE

FORWARD TO TRY AND MOVE OUR

COUNTRY FORWARD, TO ADDRESS THE

VERY REAL CHALLENGES WE FACE.

WE CAN DO IT.

WE'VE DONE IT THROUGHOUT OUR

HISTORY.

I BELIEVE WE CAN DO IT AGAIN.

>> LISTEN, CONGRESSMAN TOM

SUOZZI, THANK YOU SO MUCH FOR

JOINING US.

OF COURSE WE DEFINITELY LOOK

FORWARD TO HEARING MORE ABOUT

THE PROBLEM SOLVERS CAUCUS

BECAUSE I CAN'T THINK OF

ANYTHING THAT THIS COUNTRY NEEDS

MORE OF.

SO THANK YOU SO MUCH FOR TAKING

THE TIME TO JOIN US.

>> THANKS, JENNA.

THANKS SO MUCH FOR HAVING ME.

>> ABSOLUTELY.