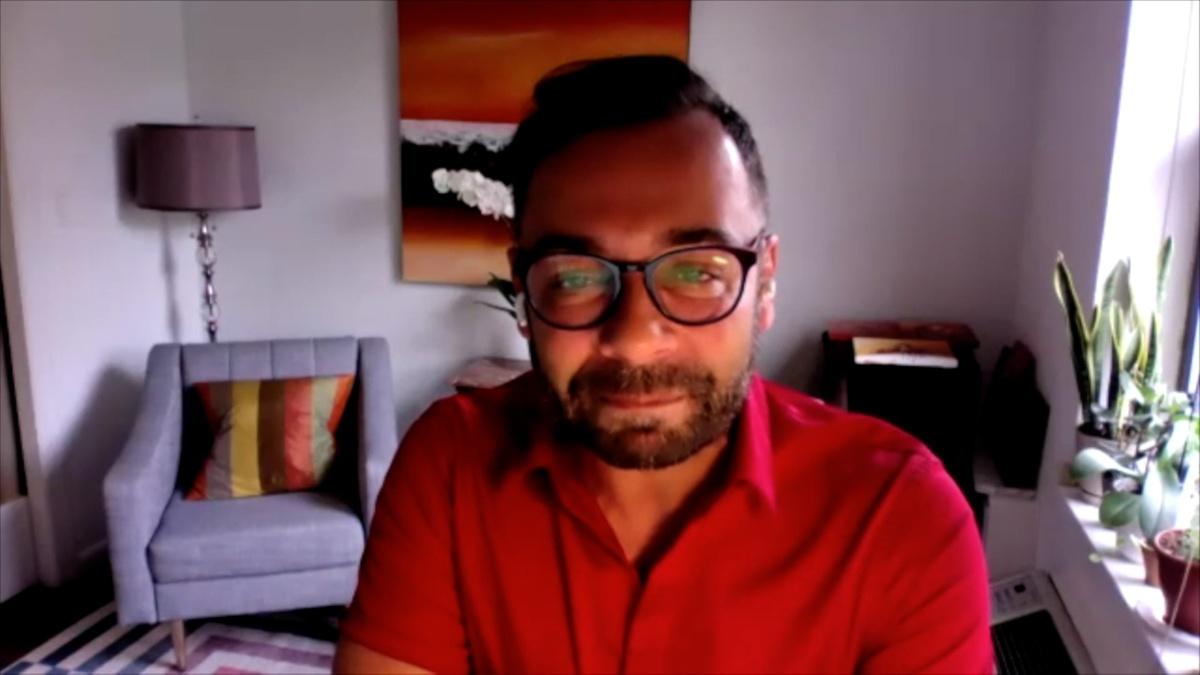 CLIP
EDGAR VILLANUEVA: #CASE4REPARATIONS
We sit down with Edgar illanueva, a globally recognized author, indigenous activist and expert on social justice reparations who recently launched #Case4Reparations, decolonizing wealth project's multi-year, multi-million dollar initiative to support indigenous and black grantees working on systemic and policy efforts that return wealth- in the form of money or land- to impacted communities.
TRANSCRIPT

>>> GOOD EVENING AND WELCOME TO

A SPECIAL EDITION OF

"METROFOCUS," INDIGENOUS VOICES.

I'M JENNA FLANAGAN.

TONIGHT, WE'LL BE TALKING TO TWO

INDIVIDUALS WHO EACH IN THEIR

OWN WAY ARE CREATING NEW

NARRATIVES IN THE SPACE OF

INDIGENOUS RIGHTS AND IDENTITY.

FIRST, WE'LL TALK TO EDGAR

VILLANUEVA.

HE IS AN AUTHOR AND THOUGHT

LEADER WHOSE BOOK HAS LAUNCHED A

FRESH DISCUSSION ABOUT THE

FUNDAMENTAL ROLE OF COLONIALISM

IN THE WORLDS OF PHILANTHROPY

AND FINANCE.

THENEN, WE'LL HEAR FROM TY

DEFOE.

TY'S WORK EXPLORES THE

INTERSECTION OF COLONIALISM,

SOCIAL JUSTICE, GENDER IDENTITY

AND ENVIRONMENTALISM.

THIS IS PART OF OUR "CHASING THE

DREAM" INITIATIVE, REPORTING ON

POVERTY, JUSTICE AND ECONOMIC

OPPORTUNITY IN AMERICA.

SO, LET'S GET STARTED WITH OUR

FIRST GUEST.

EDGARDV

ED GLAR EDGAR VILLANUEVA IS THE

AUTHOR OF "DECOLONIZING WEALTH."

IT IS NOW IN ITS SECOND EDITION.

EDGAR, WELCOME TO "METROFOCUS."

>> THANK YOU, IT'S AN HONOR TO

BE HERE.

>> OH, WELL THANK YOU FOR

JOINING US.

SO, FIRST, I JUST WANT TO START

WITH THE NOTION, THE TITLE

ALONE.

WE HEAR A LOT ABOUT THE CONCEPT

OF DECOLONIZATION.

WHAT DOES THAT MEAN SPECIFICALLY

IN YOUR VIEW?

>> WELL, TO UNDERSTAND

DECOLONIZATION YOU HAVE TO FIRST

UNDERSTAND COLONIZATION, BECAUSE

DECOLON NATION IS THE PROCESS OF

UNDOING THAT.

>> OKAY.

>> RIGHT, AND WE'RE OFTEN KIND

OF FAMILIAR WITH THE CONCEPT

BECAUSE WE WERE ALL TAUGHT ABOUT

COLONIZATION IN SCHOOL, BUT THE

PROBLEM IS, WE WERE TOLD A VERY

ROMANTICIZED KIND OF VERSION OF

COLONIZATION AND WE ARE TAUGHT

ABOUT COLONIZERS, YOU KNOW, IN

THE SENSE THAT THEY'RE HEROES,

THAT THEY CAME TO THIS LAND,

THEY DISCOVERED THIS, THAT AND

THE THIRD.

THE TRUTH IS, COLONIZATION IS A

FORCE AND IT'S A VERY VIOLENT

FORCE AND I THINK OF IT AS A

VIRUS, ACTUALLY, THAT TOUCHED

THE SHORES OF THIS COUNTRY 500

YEARS AGO AND IT IS -- HAS

CREATED SEPARATION, DIVISION,

TRAUMA, IT CREATES THE US VERSUS

THEM.

IT'S ABOUT EXTRACTING AND

HOARDING RESOURCES AND FORCING

ANY BEING THAT IS OTHER TO

BECOME LIKE IT.

AND THIS IS AN EXPERIENCE THAT

WE HAVE BEEN SEEING IN THE U.S.

FOR 500 YEARS AND LONGER AROUND

THE WORLD.

SO, DECOLONIZATION IS A PROCESS

OF SAYING, HEY, THIS HINGE HAS

BEEN HAPPENING.

IT HAS CAUSED ALL THIS TRAUMA,

WHAT DO WE NEED TO DO TO HEAL

FROM THAT OR TO REPAIR FROM

THAT?

>> THAT IS A MOUTHFUL.

AND -- I WONDER, BECAUSE I WANT

YOU TO TALK ABOUT YOUR BOOK, BUT

I'M WONDERING FOR AUDIENCES, HOW

MUCH OF TALKING ABOUT YOUR BOOK

INVOLVES HAVING TO SORT OF GIVE

A HISTORY LESSON?

>> SO MUCH.

I FEEL LIKE MOST OF MY DAYS ARE

SPENT TEACHING HISTORY.

I SHOULD GET A DEGREE IN

AMERICAN HISTORY, BECAUSE I AM

LITERAL LLY RIGHTING A WRONG AN

HELPING FOLKS UNDERSTAND THAT

WHAT WE WERE TAUGHT IS NOT AM

RAT.

AND WHEN IT COMES TO THIS BASE

OF MONEY, WHICH IS WHERE I WORK,

OUR ENTIRE ECONOMIC SYSTEM IN

THIS COUNTRY IS CONNECTED BACK

TO HISTORY AND WHETHER YOU ARE

IN THE SPACE OF EDUCATION OR YOU

ARE WORKING ON OTHER TYPES OF

SOCIAL PROBLEMS IN THE WORLD,

YOU HAVE TO UNDERSTAND THE

HISTORY OF MONEY AND ITS

CONNECTION TO COLONIZATION

FIRST, BEFORE WE CAN REALLY MOVE

FORWARD WITH ANY SOLUTION.

EVERYTHING THAT IS BROKEN IN OUR

COMMUNITIES TODAY HAS A ROOT

BACK TO THE WAY THAT WEALTH HAS

BEEN EXTRACTED AND THIS HISTORY

OF COLONIZATION THAT WE MUST ALL

UNDERSTAND.

SO, THAT'S LITERALLY HOW I SPEND

MY TIME.

THERE'S A WHOLE SECTION IN THE

BOOK THAT'S A PRIMER ON

COLONIZATION, WHICH IS IMPORTANT

FOR PEOPLE TO UNDERSTAND BEFORE

THEY GET INTO THE DEEPER END OF

THE POOL.

>> OKAY, TELL US A LITTLE BIT

MORE ABOUT YOUR BOOK.

>> SO, YOU KNOW, I GO TO THE

TOPIC OF MONEY.

I'M A PERSON THAT HAS WORKED IN

THE SECTOR FOR 20 YEARS, SO,

I'VE WORKED IN AND AROUND, LIKE,

LOTS OF WEALTH AND I'M

INDIGENOUS AND AT A CERTAIN

POINT IN TIME I REALIZED THERE

WERE A LOT OF CONTRADICTIONS, AS

A PERSON WHO DID NOT COME FROM

WEALTH, THAT'S WORKING IN THE

SPACE THAT HAS THE ILLUSION OF

CHARITY AND OF DOING GOOD.

I HAD TO REALLY COME TO TERMS

WITH THAT THERE'S CONTRADICTIONS

AND UNDERSTAND THAT EVEN IN THE

SPACE OF CHARITY, THERE'S A

HISTORY OF TRAUMA CONNECTED TO

MONEY.

YOU KNOW, OUR ECONOMIC SYSTEM IN

THE UNITED STATES WAS BUILT OFF

OF THE SLAVE TRADE.

THE WEALTH THAT WE HAVE AS THE

RICHEST COUNTRY IN THE WORLD IS

SO LARGELY BECAUSE THAT WEALTH

WAS EXTRACTED AND LAND WAS TAKEN

FROM NATIVE AMERICANS.

AND SO, AS WE IN FINANCE ENJOY

THIS BOUNTY OF WEALTH THAT WE

SPRINKLE AROUND THE NONPROFITS,

WE HAVE TO UNDERSTAND WHERE THAT

MONEY CAME FROM AND THERE'S A

HISTORY BEHIND IT.

SO, THAT -- THAT'S A BIG PART OF

THE BOOK IS HELPING FOLKS

UNDERSTAND THAT THE ACCUMULATION

OF WEALTH IN THIS COUNTRY HAS

RESULTED IN TRAUMA AND IT IS UP

TO US TO OWN THAT AND TO ADDRESS

THAT.

>> NOW, DOES YOUR BOOK GET

INTO -- BECAUSE SOMETIMES WHEN

PEOPLE HEAR, YOU KNOW, TRAUMA IS

INVOLVED, THEY MIGHT SAY, BUT

THOSE ARE PAST TRAUMAS, THOSE

ARE -- THAT'S THE PAST THAT

YOU'RE TALKING ABOUT.

SO, DOES YOUR BOOK TALK ABOUT

HOW TRAUMA -- OR DOES IT ADDRESS

TRAUMA THAT EXISTS IN THE HERE

AND NOW?

>> ABSOLUTELY.

IT IS, YOU KNOW, WHEN I TALK

ABOUT COLONIZATION, I DON'T JUST

TALK ABOUT IT IN THE HISTORICAL

CON

CONTEXT.

COLONIZATION IS STILL HAPPENING.

IN THIS COUNTRY, WE ARE STILL

SEPARATING CHILDREN FROM THEIR

FAMILIES, RIGHT?

THE TRAUMA IS VERY RECENT.

WE ARE HEARING IN THE NEWS DAILY

ABOUT THE BODIES OF CHILDREN

BEING FOUND IN BOARDING SCHOOLS

THAT CLOSED DOWN IN THE '80s.

THIS IS A VERY HARMFUL,

TRAUMATIC PROCESS FOR MY

COMMUNITY WHOSE GRANDPARENTS

WERE TAKEN AWAY AND SENT TO

INDIAN BOARDING SCHOOLS THROUGH

A PROCESS THAT WAS ORDAINED BY

THE CHURCH AND BY THE FEDERAL

GOVERNMENT.

SO, WE'RE NOT TALKING ABOUT JUST

WHAT HAPPENED 500 YEARS AGO.

THIS IS A VIOLENT FORCE OF

EXTRACTION, DOMINATION AND

OPPRESSION THAT IS VERY MUCH

ALIVE AND WELL TODAY AND

CONTINUES TO HARM US.

WE'VE GOTTEN SO ACCUSTOMED TO

IT, BECAUSE THIS IS ALL WE'VE

EVER KNOWN.

WE'VE ONLY KNOWN A SOCIETY THAT

IS FULL OF EXTRACTION AND

DOMINATION AND SO THIS IS WHY,

AT NIGHT, WE SLEEP VERY SOUNDLY

WHILE DOWN THE STREET, CHILDREN

ARE IN CAGES AND DIFFERENT TYPES

OF CAMPS.

THIS HAPPENS ALL AROUND US.

SO, IT IS REALLY ABOUT

UNDERSTANDING THAT, YES, WE'RE

TALKING ABOUT SOMETHING FROM THE

PAST THAT CAN INFORM OUR

PRESENT, BUT THIS IS VERY MUCH

STILL A VIOLENT ACT OF

OPPRESSION AND FORCES AT PLAY

RIGHT NOW THAT IS TEARING OUR

COUNTRY APART.

>> SO THEN, HOW DO YOU REIMAGINE

THIS SOCIETY, THE ONE THAT WE'VE

ONLY KNOWN AND ADDRESS OR

ATTEMPT TO PROVIDE, AS YOUR BOOK

DESCRIBES, I WANT TO MAKE SURE I

GET THIS RIGHT, BALANCE, THERE

WE GO.

HOW DO YOU BEGIN TO CREATE THE

IDEAS THAT COULD CREATE BALANCE

IN OUR SOCIETY?

>> WHAT I'M ADVOCATING FOR IS

TRUTH AND RECONCILIATION.

AT A FEDERAL LEVEL, AT A GLOBAL

LEVEL AND THEN ABSOLUTELY WE CAN

TALK ABOUT TRUTH AND

RECONCILIATION AT AN

INSTITUTIONAL LEVEL.

WE AS A NATION, BEING AS

ENLIGHTENED AS WE ARE IN SO MANY

WAYS, WE'RE THE ONLY NATION THAT

HAS NOT HAD A PROCESS OF TRUTH

AND RECONCILIATION TO ATONE FOR

THE ATROCITIES THAT HAVE BEEN

COMMITTED AGAINST BLACK PEOPLE

AND INDIGENOUS PEOPLE BY THE

FEDERAL GOVERNMENT.

WE'VE NEVER HAD AN OFFICIAL

APOLOGY FROM CONGRESS FOR

SLAVERY.

WE'VE NEVER HAD AN APOLOGY OR

PROCESS OF TRUTH AND

RECONCILIATION FOR EVERY SINGLE

BROKEN TREATY THAT HAS -- THAT

HAS HAPPENED.

AND SO, WHAT WE DO IN THE U.S.,

INSTEAD, WE WANT TO REWRITE

HISTORY, WANT TO PRETEND IT

DIDN'T HAPPEN.

MORE THAN HALF OF THE STATES IN

THIS UNION DO NOT EVEN MENTION

NATIVE AMERICANS IN K-12 HISTORY

CURRICULUM, RIGHT?

THERE'S AN ACTIVE REWRITING AND

ERASURE OF HISTORY, VERSUS

COMING TO TERMS WITH OUR

HISTORY.

WHAT WE ALL NEED TO DO IS

EDUCATE OURSELVES ABOUT WHAT HAS

HAPPENED AND WHAT'S BROKEN IN

THIS COUNTRY AND ADVOCATE FOR A

NATIONAL TRUTH AND HEALING

PROCESS SO THAT WE CAN ONCE AND

FOR ALL COME TOGETHER AND

ACKNOWLEDGE THAT HISTORY OF

WHITE SUPREMACY HAS NOT ONLY

HARMED MY COMMUNITY OR THE BLACK

COMMUNITY, IT'S HARMING ALL OF

US AND IT'S REALLY IMPAIRING OUR

ABILITY AS A SOCIETY TO MOVE

FORWARD AND TO HAVE RACIAL

HEALING.

>> WELL, YOU KNOW, I WANT TO

PROBE A LITTLE BIT DEEPER INTO

THE IDEA OF TRUTH AND

RECONCILIATION, I BELIEVE IS HOW

YOU PUT IT, AND I WANT TO GO

DEEPER INTO THAT, BECAUSE AFTER

THE SUMMER OF 2020 IN THE WAKE

OF THE, YOU NKNOW, BLACK LIVES

MATTER MOVEMENT, WHICH IS

CONNECTED AND NOT ENTIRELY

SEPARATE FROM THE INDIGENOUS

MOVEMENT, BUT THERE SEEMED TO BE

SOME SORT OF EFFORT TO PERHAPS

MAYBE BEGIN TO ADDRESS SOME OF

THESE ISSUES BUT FOR A LOT OF

PEOPLE OF COLOR ACROSS THE BOARD

AND THIS IS FROM STORIES THAT

WE'VE DONE INVOLVING ASIAN HATE

AND THE WAY THOSE COMMUNITIES

HAVE BEEN TREATED IN AMERICA AND

OF COURSE AND THE

AFRICAN-AMERICAN COMMUNITY AND

INDIGENOUS COMMUNITY, DOES THIS

AMOUNT TO NOTHING MORE THAN JUST

"SORRY"?

IT CAN FEEL EMPTY TO PEOPLE.

WHAT EXACTLY DOES THIS

RECONCILIATION MEAN,

PARTICULARLY WHEN IT COMES TO

PHILANTHROPY AND FINANCE?

>> YOU KNOW, PART OF TRUTH AND

RECONCILIATION IS ACTUALLY NOT

JUST SAYING I'M SORRY BUT REALLY

LISTENING TO WHAT WE AS PEOPLE

OF COLOR SAY WE WANT AND NEED TO

HEAL AND THEN PROVIDING THAT.

AND SO, IN ADDITION TO TRUTH AND

RECONCILIATION, WE NEED TO

CONSIDER THE PETITION FOR

REPARATIONS FOR BLACK AMERICANS,

WHICH WE ARE A MAJOR SUPPORTER

OF AT MY ORGANIZATION.

WE NEED TO LISTEN TO WHAT

INDIGENOUS PEOPLE ARE DEMANDING

IN ORDER FOR US TO MOVE FORWARD

AND TO BE WELL AND TO HAVE THE

ABILITY TO THRIVE IN OUR

COMMUNITIES.

AND SO IT'S BOTH AN ACT OF

ACKNOWLEDGEMENT, AN ACT OF

APOLOGY, BUT ALSO AN ACT TO

RECONCILIATION, WHICH MEANS THAT

WE RIGHT THE WRONG.

AND SO, WE HAVE TO REPAIR AND

REPAIR FOR ME LOOKS LIKE

REPARATIONS AND THE APPRECIATION

FOR THE SELF-DETERMINATION OF

INDIGENOUS PEOPLE IN THIS

COUNTRY.

>> AND THE WORD REPARATIONS IS

SOMETHING THAT I THINK HAS BEEN

BANTERED ABOUT QUITE A BIT, BUT

PERHAPS NOT WITH -- MAYBE NOT

WITHOUT FULL UNDERSTANDING OR

WITH ALMOST EACH GROUP OF EACH

INDIVIDUAL HAVING THEIR OWN

INTERPRETATION OF WHAT THAT

MEANS.

SO, WHEN IT COMES TO INDIGENOUS

COMMUNITIES, WHAT DOES

REPARATIONS ACTUALLY LOOK LIKE?

>> FOR INDIGENOUS FOLKS, OUR

DEMANDS VARY, BECAUSE WE HAVE

574-PLUS SOVEREIGN NATIONS IN

THIS COUNTRY, BUT IN GENERAL,

THEY, YOU KNOW, I'M A PERSON WHO

SUPPORTS FINANCIAL PAYMENT FOR

REPARATIONS, YOU KNOW, I'M

ADVOCATING FOR THAT FIRST FOR

BLACK AMERICANS WHO HAVE BEEN

ADVOCATING FOR THAT FOR A LONG

TIME.

I DO THINK THAT SOME TIME OF

PAYOUT IS REQUIRED AND SHOULD BE

GIVEN ALSO TO INDIGENOUS PEOPLE

HERE.

BUT BEYOND MONEY, A LOT OF THE

DEMANDS THAT YOU SEE COMING FROM

OUR COMMUNITY ARE AROUND LAND.

WE'RE VERY CONNECTED TO LAND AND

THE DISPLACEMENT OF OUR FOLKS

THROUGH FORCED REMOVALS THROUGH

THE LAST FEW HUNDRED YEARS HAS

REALLY BEEN TRAUMATIC FOR OUR

PEOPLE, SO I THINK RETURNING

LAND TO OUR COMMUNITIES IS A

MAJOR DEMAND.

YOU'LL HEAR THESE #LANDBACK

CAMPAIGNS THAT ARE HAPPENING ALL

ACROSS THE COUNTRY RIGHT NOW.

WE ARE ALSO ASKING FOR RESPECT

AS SOVEREIGN NATIONS TO BE

TREATED IN A GOVERNMENT TO

GOVERNMENT TYPE OF RELATIONSHIP

WITH THE U.S. FEDERAL GOVERNMENT

WHO CONTINUES TO VIOLATE THOSE

UNDERSTANDINGS AND THOSE

TREATIES THAT ARE IN PLACE.

WE HAVE BEEN PUT AS A PEOPLE TO

BE UNDER STHE FEDERAL GOVERNMEN

TO THE EXTENT OUR TRIBES ARE NOT

OFFICIAL UNLESS THE GOVERNMENT

SAYS SO.

WE HAVE TO PROVE OURSELVES TO

THE U.S. GOVERNMENT IN ORDER TO

EVEN BE ELIGIBLE TO BE IN THOSE

TYPES OF RELATIONSHIPS.

SO, WE HAVE TRIBAL SOVEREIGNTY,

THERE'S SO MUCH AT STAKE THAT

CONTINUES TO DENY OUR EXISTENCE

AND TO PUT US UNDER THE FOOT OF

THE U.S. FEDERAL GOVERNMENT AND

THESE, YOU KNOW, DECADES AND

DECADES OF OPPRESSIONS ARE

REALLY RESULTING IN VERY HARMFUL

IMPACTS IN OUR COMMUNITY.

THIS IS WHY WE HAVE HIGH RATES

OF SUICIDE.

IMAGINE BEING A YOUNG PERSON

FIGHTING FOR YOUR IDENTITY IN A

COUNTRY WHO SAYS YOU'RE NOT

NATIVE AMERICAN UNLESS THE U.S.

GOVERNMENT SAYS YOU ARE.

SO, THOSE ARE THE THINGS THAT WE

WANT.

WE WANT TO BE -- WE WANT

PROTECTIONS FOR OUR COMMUNITIES

AND, YOU KNOW, RESPECT FOR OUR

TRIBAL SOVEREIGNTY AND WE WANT

CONSULTATION, GOVERNMENT TO

GOVERNMENT, BEFORE YOU BUILD

PIPELINES THROUGH OUR

COMMUNITIES, THOSE TYPES OF

THINGS.

SO, WE CONTINUE TO BE TREATED AS

A DIFFERENT CLASS OF CITIZEN IN

THIS COUNTRY AND CONTINUE TO BE

DISRESPECTED BY THE U.S. FEDERAL

GOVERNMENT.

SO THOSE ARE JUST A FEW THINGS

THAT WE'RE LOOKING TO CHANGE.

>> OKAY.

>> YEAH.

>> ALL RIGHT, WELL, FOR

EVERYONE, JUST A QUICK REMINDER,

THE BOOK IS "DECOLON NIZING

WEALTH."

THE AUTHOR WE'VE BEEN SPEAKING

TO, EDGAR VILLANUEVA IS THE

PRINCIPLE OF THE DECOLONIZING

WEALTH PROJECT AND LIBERATED

CAPITAL.

SO, EDGAR, THANK YOU SO MUCH FOR

JOINING US AND COMING UP, WE'LL

TAKE A LOOK AT SOME OF THE

ISSUES FROM A SLIGHTLY DIFFERENT

LENS.

MY GUEST WILL BE THE

GROUNDBREAKING INDIGI-QUEER

ARTIST TY DEFOE.