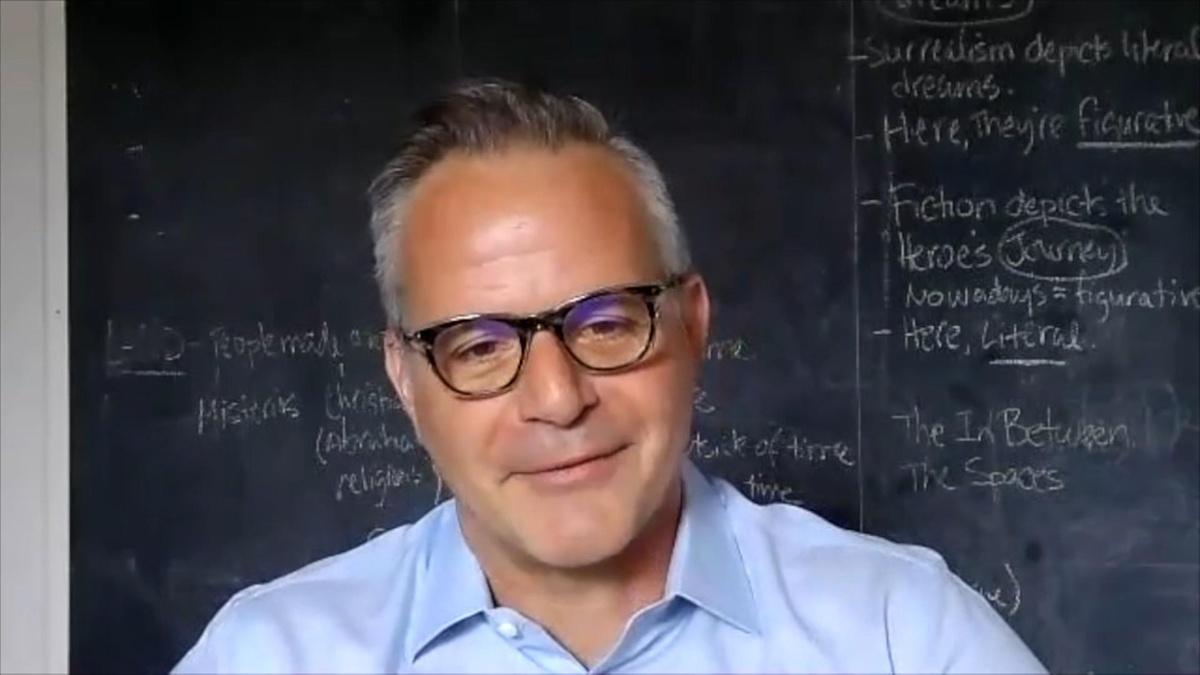 CLIP
CLIMATE CHANGE - A CRITICAL ISSUE OF THE ENVIRONMENT
This year's Earth Day message is optimism and the theme- to "Restore Our Earth." As part of our ongoing Peril and Promise initiative reporting on the human stories of climate change and its solutions, is Bill Ulfelder, the executive director for the New York Nature Conservancy.
TRANSCRIPT

>>> GOOD EVENING.

WELCOME TO "METROFOCUS."

I'M JENNA FLANAGAN.

TODAY NEW YORKERS JOINED

MILLIONS AROUND THE WORLD TO

CELEBRATE EARTH DAY.

FOR MANY, A YEAR OF COVID

RESTRICTIONS AND LOCKDOWNS HAS

MEANT A FUNDAMENTAL SHIFT IN OUR

RELATIONSHIP TO THE WORLD AROUND

US, HIGHLIGHTING THE IMPORTANCE

OF OUTDOOR SPACES TO OUR

PHYSICAL AND OUR MENTAL HEALTH.

NOW, AS AMERICA BEGINS TO CRAWL

OUT OF THE PANDEMIC, THERE ARE

REAL QUESTIONS ABOUT THE

LONG-TERM IMPACT OF THE PANDEMIC

ON THE ENVIRONMENT.

ONE THING THAT HASN'T CHANGED IS

THE CONTINUING EXISTENTIAL

THREAT OF CLIMATE CHANGE.

WHAT LESSONS ABOUT NATURE HAVE

WE LEARNED OVER THE PAST YEAR?

WHAT DOES THE FUTURE OF THE

PLANET LOOK LIKE IN A POST COVID

WORLD, AND WHAT ARE SOME OF THE

LOCAL CONSERVATION SUCCESS

STORIES IN OUR AREA?

JOINING US TO TALK ABOUT IT ALL

AS PART OF OUR INITIATIVE

REPORTING ON THE HUMAN STORIES

OF CLIMATE CHANGE IS BILL

ULFELDER, THE EXECUTIVE DIRECTOR

FOR THE NEW YORK NATURE C

CONSE

CONSERVANCY.

>> THANKS FOR HAVING ME.

>> VERY QUICKLY, I DO JUST KIND

OF WANT TO REMIND PEOPLE.

LET'S SAY THAT LAST APRIL WE

WERE ALL A LITTLE PREOCCUPIED.

THAT WAS ACTUALLY THE 50th

ANNIVERSARY, WHICH DIDN'T GET MY

FANFARE.

>> IT WAS HARD LAST YEAR,

PEOPLE, COVID SUFFERING,

LOCKDOWNS.

IT WAS A HARD TIME.

THINK ABOUT THE PREVIOUS

ADMINISTRATION, AN

ADMINISTRATION THAT DIDN'T

BELIEVE IN SCIENCE AND CERTAINLY

WASN'T DOING ANYTHING ABOUT

CLIMATE CHANGE, WHICH YOU

MENTIONED IN THE OPEN AS AN

EXISTENTIAL THREAT AND HOW

DIFFERENT IT FEELS.

YES, HERE WE ARE, EMERGING FROM

THE PANDEMIC.

THAT'S HAPPENING.

IT'S SPRING.

WE HAVE A NEW ADMINISTRATION

THAT IS SO COMPLETELY COMMITTED

TO CLIMATE CHANGE AND ADDRESSING

IT.

IT FEELS LIKE A COMPLETELY

DIFFERENT EXPERIENCE.

I THINK SOMETHING ELSE YOU SAID

IN YOUR OPEN IS REALLY

IMPORTANT.

I THINK SOMETHING ABOUT THE

PANDEMIC BRINGS US CLOSER TO THE

NATURAL WORLD.

THE FACT THAT THE PANDEMIC WAS

SOMETHING WE COULDN'T SEE, KIND

OF THE WAY CLIMATE CHANGE IS

UNTIL IT HITS US, I THINK THIS

CAUSED AN AWAKENING AMONG PEOPLE

ABOUT WHAT WE NEED TO DO.

YES, THISSE ETARTH DAY FEELS VE

DIFFERENT THAN LAST EARTH DAY.

>> DID THE NATURAL WORLD HAVE

TIME TO HEAL?

THERE WAS SORT OF A BELIEF AT

THE BEGINNING OF LOCKDOWN THAT

PERHAPS THIS COULD BE A BLESSING

IN DISGUISE, BECAUSE WITHOUT

HUMANS DRIVING EVERYWHERE AND

PERHAPS DOING SOME OF THE

POLLUTING THINGS THAT WE USUALLY

DO, AGAIN, IN THEORY, THAT THIS

WOULD GIVE THE PLANET A CHANCE

TO HEAL ITSELF.

>> YEAH.

WELL, I THINK THE NUMBER ONE

THING THAT HAPPENED WAS AMIDST

THE PANDEMIC ALL OF A SUDDEN

PEOPLE WHO COULD GET OUTSIDE

DEVELOPED A STRONGER CONNECTION

TO NATURE.

NOW, THAT NATURE COULD BE WALKS

IN THE WOODS IN A BIG FOREST

SOMEWHERE, YOU KNOW, AROUND THE

STATE OR IN THE CITY, OR EVEN

JUST SOME OF OUR SMALL LIKE

POCKET PARKS AROUND THE CITY.

THERE WE WERE INSIDE OUR FOUR

WALLS, AND THE PLACE WE COULD GO

OUT AND GET AIR AND SOMEHOW

MANAGE OUR STRESS WAS IN NATURE.

AND WE SAW AN INCREDIBLE SURGE

IN VISITATION.

THE NATURE CONSERVANCY, WE HAVE

ABOUT 150 PRESERVES ALL ACROSS

THE STATE.

SOME OF OUR PRESERVES SAW A 300%

INCREASE IN VISITATION LAST

SPRING, THREE TIMES THE NUMBER

OF PEOPLE ALL WANTING TO BE OUT

IN NATURE.

I THINK THAT REALLY CHANGED

THINGS AND PEOPLE REALIZED THAT

THERE WAS THIS ALMOST LIKE A

PRESCRIPTION DRUG, LIKE OH MY

GOSH, MY STRESS IS GOING DOWN, I

FEEL BETTER.

SO I THINK THAT IS SOMETHING

THAT'S GOING TO DRIVE A BIG

CHANGE.

YES, AS YOU ALLUDED TO, THE CITY

GREW QUIET, PLANES WEREN'T

FLYING OVER.

I LIVE NEAR RIVERSIDE PARK.

YOU WOULD WALK OVER THERE IN

BROAD DAYLIGHTS.

THERE WERE FAMILIES OF RACCOONS

WALKING AROUND.

IT FELT VERY DIFFERENT.

THE HONEST TRUTH IS THAT

RELATIVE TO WHAT WE NEED TO DO

TO CLIMATE CHANGE, IT WASN'T

THAT DRAMATIC AND IT PUT THINGS

IN PERSPECTIVE LIKE JUST HOW

FUNDAMENTALLY WE NEED TO CHANGE

THE WAY WE GET ENERGY, THE WAY

WE DESIGN AND BUILD OUR

TRANSPORTATION INFRASTRUCTURE.

I THINK IT WAS A TASTE OF

POSSIBLE, BUT IT'S A REMINDER OF

HOW FAR WE HAVE TO GO.

IN OTHER PARTS OF THE WORLD

ACTUALLY IT'S REALLY TOUGH.

THE LAST TRIP I TOOK OVERSEAS

BEFORE THE PANDEMIC WAS TO VISIT

AFRICA IN KENYA.

THEY FUNDAMENTALLY RELY ON

TOURIST REVENUE IN ORDER TO DO

THEIR CONSERVATION EFFORTS.

WHEN YOU SEE THE COLLAPSE OF THE

TOURIST ECONOMY IN PLACES LIKE

EAST AFRICA AND THE CARIBBEAN,

CONSERVATION EFFORTS GET HIT

REALLY HARD.

WE DO NEED TO EMERGE FROM THE

PANDEMIC GET BACK TO VISITING

SOME OF THESE PLACES.

WE NEED TO DO IT IN A MORE

SUSTAINABLE WAY.

>> WELL, DID THE PANDEMIC ALSO

HAVE OTHER UNINTENDED PERHAPS

CONSEQUENCES FOR THE

ENVIRONMENT?

WHAT WE TEND TO HEAR A LOT ABOUT

NOW IS THE AMOUNT OF GARBAGE WE

ALL SEEM TO CREATE FROM ORDERING

THINGS AND BEING AT HOME, ET

CETERA, AND THUS WHAT THAT MEANS

FOR THE RECYCLING MOVEMENT, THE

LANDFILL MOVEMENT.

DID THE PANDEMIC HAVE UNINTENDED

CONSEQUENCES FOR THE

ENVIRONMENT?

>> I THINK IT SLOWED US DOWN.

MY EXPERIENCE IS IT SLOWED US

DOWN AND WE STARTED PAYING MORE

ATTENTION TO ALL OF THOSE THINGS

I WOULD SAY THE EFFECTS WERE

UNEVEN.

HERE IN NEW YORK CITY, FOR

EXAMPLE, THE CITY HAS CURTAILED

THE COMPOSTING PROGRAM IN

BUILDINGS WHERE YOU COULD SIMPLY

DROP IT OFF IN A BIN IN YOUR

BUILDING.

COMPOST, YOU NEED TO WALK YOUR

COMPOST TO PICKUP SITES.

WHEN YOU'RE HOME EVERY DAY, YOU

REALIZE HOW MUCH FOOD WASTE

YOU'RE GENERATING.

THAT'S A HUGE SOURCE OF WEIGHT

AND VOLUME IN LANDFILLS AND

EMISSIONS.

THE OTHER THING THAT HAPPENED

TOO WAS, IT WAS IN THE MIDDLE OF

THE PANDEMIC THAT THE PLASTIC

BAG BAN FINALLY WENT INTO

IMPLEMENTATION.

IT WAS ORIGINALLY POSTPONED

BECAUSE OF THE PANDEMIC.

NOW NEW YORK HAS REALLY SWITCHED

OVER TO REUSABLE BAGS.

I'M SEEING THEM EVERYWHERE.

IT JUST SHOWS THESE THINGS THAT

WE THINK MIGHT BE HARD ACTUALLY

AREN'T THAT HARD FOR US.

SO I THINK THE SLOWING DOWN, THE

REFLECTION IN PAYING ATTENTION

IS GOING TO SERVE US ALL WELL IN

THE LONG-TERM INTEREST OF

SUSTAINABILITY.

>> I'D BE REMISS IF I DIDN'T

ALSO ACKNOWLEDGE THAT THE WAY

WE'RE SORT OF TALKING ABOUT THE

PANDEMIC IS ALSO THE WAY A

CERTAIN CLASS OF AMERICANS

EXPERIENCED THE PANDEMIC.

A LOT OF PEOPLE, THE PANDEMIC

EXPOSED SOME OF THE INCREDIBLE

GREAT INEQUITIES IN OUR SOCIETY.

SO I'M WONDERING HOW DOES NOT

JUST ECONOMIC, BUT ALSO RACIAL

INEQUITY, HOW DOES THAT ALSO

AFFECT THE ENVIRONMENT AND HOW

PEOPLE'S RELATIONSHIP WITH THE

ENVIRONMENT HAS CHANGED?

>> THIS IS SUCH AN IMPORTANT

POINT AND QUESTION, JENNA.

YOU KNOW, IT IS SO CLEAR WHO'S

BEEN MOST AFFECTED BY COVID-19,

WHO HAS HAD THE FEWEST RESOURCES

AVAILABLE TO THEM, WHO HAS

SUFFERED THE HIGHEST MORBIDITY

AND MORTALITY RATES.

TO BE HONEST, THAT SAME HISTORY

IS TRUE OF ENVIRONMENT EFFECTS

OR WE'LL CALL IT POLLUTION

EFFECTS IN THE UNITED STATES.

SO THERE'S A LONG HISTORY OF

CITING ENERGY PRODUCTION AND

POLLUTING PROJECTS, FACILITIES

IN NEIGHBORHOODS THAT ARE LOWER

INCOME, LESS POWERFUL, OFTEN OF

COLOR.

I THINK ALL THE THINGS THAT HAVE

HAPPENED AROUND BLACK LIVES

MATTER, SOCIAL EQUITY AND

JUSTICE, THAT PUSH, THAT IS

PERMEATING IN VERY POWERFUL WAYS

CONSERVATION AND THE

ENVIRONMENTAL MOVEMENT.

THERE HAS LONG BEEN AN

ENVIRONMENTAL JUSTICE MOVEMENT

IN THE UNITED STATES.

IT'S BEEN INCREDIBLY IMPORTANT

AND IT'S BROUGHT US SOME KEY

CHANGES ALONG THE WAY.

I THINK YOU'RE RIGHT.

I THINK AS A RESULT OF THE

PANDEMIC THE HEIGHTENED

AWARENESS AROUND THIS IS GOING

TO AFFECT THE WAY WE TACKLE

ENVIRONMENTAL CHALLENGES.

JUST TO GIVE YOU TWO QUICK

EXAMPLES, HERE IN NEW YORK WE

HAVE THE CLIMATE LEADERSHIP AND

COMMUNITY PROTEST ACT.

IT IS VERY MUCH GEARED TOWARDS

THINKING ABOUT VULNERABLE

COMMUNITIES AND PUTTING

DISPROPORTIONATE RESOURCES

TOWARDS THEM TO ENSURE THEIR

SAFETY AND HEALTH.

THAT KIND OF LEGISLATION WE

HAVEN'T SEEN HISTORICALLY IN

THIS COUNTRY.

I THINK THIS IS CHANGING, NOT

FAST ENOUGH, BUT IT'S CHANGING

IN IMPORTANT WAYS.

>> OF COURSE.

I WANT TO CIRCLE BACK TO AN

EARLIER POINT YOU MADE WHERE YOU

WERE TALKING ABOUT HOW IN KENYA

THEIR CONSERVATION EFFORTS RELY

VERY HEAVILY ON TOURIST DOLLARS.

WHILE THAT MIGHT NOT NECESSARILY

BE THE SAME CASE HERE, THE STATE

BUDGETS, GOVERNMENT HAS AN

IMPACT ON CONSERVATION EFFORTS.

WE KNOW THAT NEW YORK STATE

SUFFERED SOME HUGE LOSSES AS A

RESULT OF THE PANDEMIC.

SO I'M WONDERING HOW DID THAT

AFFECT INITIATIVES THAT THE

STATE MIGHT HAVE?

>> AS I LIKE TO SAY, WE'RE

INCREDIBLY FORTUNATE TO BE NEW

YORKERS, BECAUSE NEW YORK REALLY

DOES LEAD THE WAY NATIONALLY ON

THE ENVIRONMENT, CONSERVATION,

CLIMATE CHANGE.

WE SET AN EXAMPLE FOR OTHERS.

AND THERE WAS A DEEP-SEATED

CONCERN LAST FALL WITH THE

PREVIOUS PRESIDENTIAL

ADMINISTRATION, WORRIES ABOUT

THE ECONOMY.

BUT NOW WITH THE NEW

ADMINISTRATION AND THE SUPPORT

THAT'S COMING TO STATES AND IT

HELPS THAT THE SENATE MAJORITY

LEADER IS FROM NEW YORK AS WELL.

YOU KNOW, NEW YORK IS RECEIVING

SIGNIFICANT, SIGNIFICANT

RESOURCES.

SO THINGS THAT WE THOUGHT WOULD

BE ENVIRONMENTAL IN CONSERVATION

INVESTMENTS, NOT ONLY WENT FROM

BEING ON THE CHOPPING BLOCK ARE

NOW FUNDAMENTAL ELEMENTS OF

WHERE NEW YORK IS GOING.

THE NEW STATE BUDGET HAS A

BILLION DOLLARS FOR CONSERVATION

FUNDING.

SO THE ENVIRONMENTAL PROTECTION

FUND THAT HELPS THINGS LIKE OPEN

SPACE, CLEAN WATER AND

INVESTMENT IN OUR STATE PARKS.

THESE ARE BIG CHUNKS OF

RESOURCES FOR CONSERVATION.

THE OTHER THING THAT THE STATE

ANNOUNCED IS THAT WE WILL BE

RUNNING A $3 BILLION

ENVIRONMENTAL AND CLIMATE CHANGE

BOND ACT IN NOVEMBER OF 2022.

SO NOT THIS ELECTION CYCLE, BUT

NEXT ELECTION CYCLE.

THIS IS BUILT TO CREATE 65,000

WELL-PAYING, GREEN, SUSTAINABLE

JOBS AROUND RENEWABLE ENERGY,

BUILDING MORE CLIMATE-RESILIENT

INFRASTRUCTURE, INVESTING IN

NATURE AS WAYS TO CAPTURE CARBON

AND REDUCE THE EFFECTS OF

CLIMATE CHANGE.

SO NEW YORK, WE WERE KIND OF

TEETERING AND WE WERE ALL

WATCHING.

NOW I JUST HAVE TO SAY THAT THE

STATE ONCE AGAIN IS OUT FRONT

AND SETTING THE NATIONAL

EXAMPLE.

>> NEVER LET IT BE SAID THAT

NATURE DOESN'T SEEM TO FIND A

WAY TO REMIND US OF ITS

IMPORTANCE AND ITS IMPACT.

I CAN'T LET YOU GO WITHOUT

ASKING ABOUT THE CICADAS.

I UNDERSTAND THIS IS LIKE A ONCE

IN A 17-YEAR THING.

FRANKLY, I LIVE IN THE HUDSON

VALLEY.

SHOULD I BE AFRAID?

>> DEFINITELY NOT.

MY WIFE IS KIND OF OBSESSED AS

WELL.

THE CICADAS, THERE ARE DIFFERENT

CATEGORIES AND THEY HAVE THESE

LONG PERIODS OF DORMANCY AND

THEN THEY EMERGE.

I THINK THIS IS A 17-YEAR CYCLE.

IT PASSES.

THEY DON'T BITE.

THEY MAKE NOISE.

A LOT OF US, MYSELF INCLUDED,

HAVE CHILDHOOD MEMORIES

ASSOCIATED WITH THE SOUNDS OF

THE CICADAS.

SO NO REASON TO BE WORRIED

WHATSOEVER.

IT'S JUST NATURAL PROCESSES

UNFOLDING AROUND US IN ONE OF

THE MOST DEVELOPED CITIES IN THE

WORLD, BUT WHERE WE'RE STILL

CONNECTED TO NATURE.

AND THAT'S PRETTY COOL, BECAUSE

WE NEED IT.

>> OF COURSE.

I HOPE THAT ONCE WE'RE ABLE TO

HAVE PEOPLE GATHERING TOGETHER,

THAT IT'S NOT TOO MUCH OF A

DEC

DEAFENING SOUND.

BILL ULFELDER, EXECUTIVE

DIRECTOR FOR THE NEW YORK NATURE

CONSER

CONSERVANCY.

THANK YOU SO MUCH FOR JOINING

US.

>> THANKS, JENNA.

IT'S A PLEASURE.

IT REALLY DOES FEEL LIKE A DAY

TO CELEBRATE.

>> ABSOLUTELY.