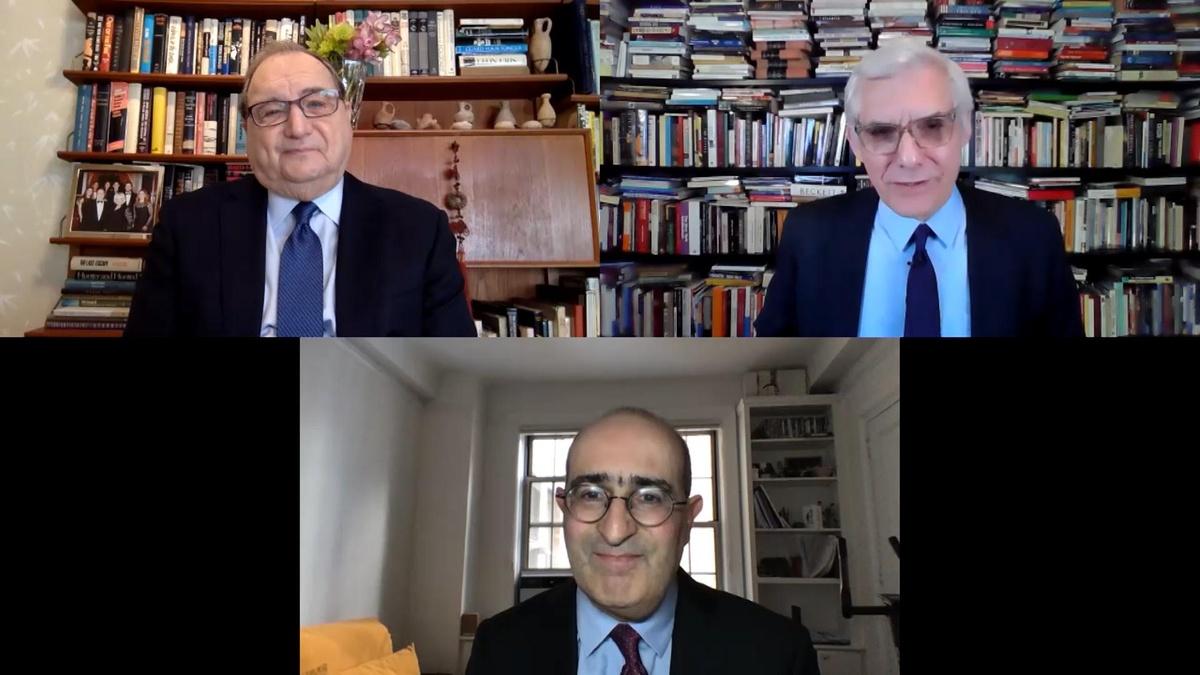 CLIP
THE CLAIMS CONFERENCE UNVEILS #ITSTARTEDWITHWORDS
Gideon Taylor, president of the Conference on Jewish Material Claims Against Germany and Abe Foxman, a Holocaust survivor who led the ADL for nearly three decades and is currently the National Director of Holocaust Initiatives at the Met Council join us to discuss a new campaign they hope will spotlight how the Holocaust began with words before actions.
TRANSCRIPT

>>> WELCOME TO "METROFOCUS."

I'M RAFAEL P. ROMAN.

FOR DECADES HOLOCAUST SURVIVORS

HAVE PLEADED WITH THE WORLD TO

NEVER FORGET.

SOME 6 MILLION JEWS WERE

MURDERED DURING ONE OF THE MOST

HORRIFIC ACTS OF GENOCIDE IN

RECORDING HISTORY.

OVER 75 YEARS LATER, SURVIVORS

ARE STILL REMEMBERING THOSE WHO

WERE LOST AND STILL FIGHTING TO

ENSURE THAT HISTORY DOES NOT

REPEAT ITSELF.

WE COMMEMORATE HOLOCAUST

REMEMBRANCE DAY BY SPOTLIGHTING

A NEW EDUCATION CAMPAIGN CALLED

"IT STARTED WITH WORDS."

HERE'S A LOOK.

♪

>> IT ENDED UP WITH THE GAS

CHAMBERS.

>> IT STARTED WITH WORDS.

>> THE HOLOCAUST STARTED WITH

WORDS.

>> THE GAS CHAMBERS IN AUSCHWITZ

AND ELSEWHERE DID NOT BEGIN THE

BRICKS.

THEY BEGAN WITH WORDS.

HATEFUL WORDS, ANTI-SEMITIC

WORDS.

>> THEY WERE WORDS LIKE DIRTY

JEW AND THEN THREATS, WE WILL

ELIMINATE YOU ALL.

>> THEY CALLED US DIRTY JEW

BECAUSE THEY CONSIDERED US

SUBHUMAN.

>> THE POPULATION TURNED AGAINST

US.

>> THE HOLOCAUST STARTED WITH

WORDS.

>> IT STARTED WITH WORDS.

>> THE HOLOCAUST STARTED WITH

THREATS AND WORDS.

>> I'M REMINDED OF IT EVERY DAY,

BECAUSE WHEN I TAKE A SHOWER IN

THE MORNING, IT'S IMPOSSIBLE TO

FORGET.

>> IN OUR TRADITION WE KNOW THAT

WORDS CAN KILL.

♪

>> JOINING US NOW AS PART OF OUR

EXPLORING HATE INITIATIVE ON THE

INTERSECTION OF ANTI-SEMITIC

RACISM AND EXTREMISM IN AMERICA

ARE GIDEON TAYLOR, PRESIDENT OF

THE NONPROFIT CONFERENCE ON

JEWISH MATERIAL CLAIMS, WHICH

COORDINATED THE NEW EDUCATION

CAMPAIGN.

AND NATE FOXMAN, WHO LED THE

ANTI-DEFAMATION LEAGUE FOR

NEARLY THREE DECADES AND IS NOW

THE NATIONAL DIRECTOR OF

HOLOCAUST INITIATE IIVES AT THET

COUNCIL.

WELCOME TO THE PROGRAM.

>> THANK YOU.

>> GIDEON, TALK ABOUT "IT

STARTED WITH WORDS."

TALK ABOUT THE CAMPAIGN AND WHY

AND HOW IT GOT STARTED.

>> FOR US, WE'VE SEEN FROM

STUDIES THAT WE HAVE DONE THAT

AS TIME HAS PASSED SINCE THE

HOLOCAUST, THERE IS LESS AND

LESS UNDERSTANDING, PARTICULARLY

BY A YOUNGER GENERATION, OF WHAT

HAPPENED.

THERE IS UNFORTUNATELY FEWER AND

FEWER HOLOCAUST SURVIVORS TO

TELL THE STORIES WITH THEIR OWN

WORDS.

THAT'S WHAT LED US TO START THIS

CAMPAIGN TO GIVE SURVIVES A

VOICE, TO AMPLIFY THAT VOICE, TO

EXPLAIN NOT JUST WHAT HAPPENED

BUT HOW IT HAPPENED, HOW IT

STARTED.

THE CAMPAIGN DESCRIPTION KIND OF

SAYS IT ALL.

IT DIDN'T START WITH

CONCENTRATION CAMPS AND GHETTOS

AND DEPORTATIONS.

IT STARTED WITH SMALL THINGS,

WITH WORDS.

THAT'S A MESSAGE THAT WE WANTED

TO GET ACROSS.

>> BY THE WAY, SOMETHING ELSE

THAT YOU DID LAST FALL WAS A

50-STATE SURVEY THAT I WANT TO

TALK TO YOU ABOUT.

WHY DID YOU DECIDE TO GET

INVOLVED IN THIS CAMPAIGN TO THE

POINT THAT YOU'RE ONE OF THE

PARTICIPANT SURVIVORS IN THE

VIDEOS OF THE CAMPAIGN.

>> I THINK IT'S IMPORTANT TO

RAISE AN ISSUE.

JEWISH TRADITION TEACHES US THAT

LIFE AND DEATH IS IN THE POWER

OF THE TONGUE.

MOST JEWS WHO PLAY THREE TIMES A

DAY ASK THE ALMIGHTY TO HELP

THEM SPEAK NO EVIL.

WE ASK FOR FORGIVENESS FOR

ATONEMENT BECAUSE OF THINGS THAT

CAME OUT OF OUR MOUTHS.

I'M A HOLOCAUST SURVIVOR.

I UNDERSTAND WHAT WORDS CAN DO.

I ALSO UNDERSTAND WHAT DEEDS CAN

DO.

I SURVIVED NOT BECAUSE OF WORDS,

BUT BECAUSE OF DEEDS.

TO RAISE MY VOICE AS A SURVIVOR

WITH A LEVEL OF CREDIBILITY, I

SAID ABSOLUTELY, ABSOLUTELY.

>> GIDEON, THIS CAMPAIGN IS

GOING TO BE MOSTLY CARRIED OUT

THROUGH SOCIAL MEDIA.

IS THAT RIGHT, AND IF SO, WHY?

>> WE'VE SEEN JUST LIKE THE

WORLD HAS CHANGED IN TERMS OF

HOW PEOPLE CONSUME INFORMATION,

PARTICULARLY OF A YOUNGER

GENERATION, IT IS ABOUT WHAT

UNDERSTANDING IN THE HOLOCAUST.

MORE AND MORE COMMUNICATION FOR

YOUNG PEOPLE IS FELT AND LEARNED

THROUGH SOCIAL MEDIA.

WE WANT TO GET THAT MESSAGE

ACROSS AND WE WANT THOSE VOICES

HEARD.

WE HAVE TO MEET PEOPLE IN A

PLACE WHERE THEY EXIST, WHERE

THEY HEAR THINGS AND WHERE THEY

LEARN ABOUT HISTORY AND ABOUT

ACTIONS AND WHAT'S IMPORTANT.

THAT'S WHY WE CHOSE SOCIAL MEDIA

AS THE VENUE TO GET THIS MESSAGE

ACROSS, FOR PEOPLE TO HEAR IT

AND UNDERSTAND IT.

SOCIAL MEDIA, THAT'S THE WAY TO

DO IT.

>> THE INTERNET IS BOTH THINGS.

ON ONE HAND, IT'S A PLATFORM FOR

EDUCATION, INFORMATION,

INTERACTION.

AT THE SAME TIME IT'S ALSO A

SUPER HIGHWAY FOR BIGOTRY AND

PREJUDICE.

TODAY IN NANO SECONDS YOU COULD

COMMUNICATE WORDS OF HATE

THROUGH SOCIAL MEDIA IN WAYS

THAT WE COULD HAVE NEVER

IMAGINED.

TO BE ABLE TO DO A CAMPAIGN

WHICH EXPOSES THE EVIL OF EVIL

WORDS AND WHAT THEY CAN DO, IT'S

VERY IMPORTANT TO DO IT ON A

PLATFORM WHERE THE BIGOTRY ALSO

IS THERE AND THERE IN HEAVY

DOSES.

>> ABE, LET ME ASK YOU THIS.

WHAT THE CAMPAIGN DOES OBVIOUSLY

SO WELL IS MAKE THE CONNECTION,

SHOW THE LINK BETWEEN HATEFUL

WORDS AND HATEFUL DEEDS.

UNLESS THE HATEFUL WORDS ARE

STO

STOPPED, THEY WILL LEAD TO

HATEFUL DEEDS.

THAT MADE ME THINK.

THE GERMANS THAT SUPPORTED THE

NAZIS, THEY DIDN'T JUST WAKE UP

ONE DAY AND START SPOUTING

HATEFUL WORDS.

WHAT LED TO THE WORDS?

OR IS THAT TOO BIG A QUESTION?

>> GIDEON.

IF WE KNEW THE ANSWER WHAT

CAUSES HATE, WE'D FIND THE

ANTIDOTE.

WE HAVE IT.

NO, BUT IT DOES START WITH

WORDS.

AS I SAID, THE GAS CHAMBERS, WHY

DO YOU NEED GAS CHAMBERS?

IF THERE ARE PEOPLE YOU HATE AND

WANT TO EXTERMINATE, YOU'VE GOT

TO FIND A WAY TO DO IT.

ON THE OTHER HAND, I WOULD SAY

WHILE WORDS ARE THE BEGINNING,

DEEDS ARE WHAT'S WORSE.

BUT THERE'S ANOTHER MESSAGE FROM

THE HOLOCAUST.

IT'S A VERY PERSONAL MESSAGE.

I'M SITTING HERE TONIGHT WITH

YOU BECAUSE 75-80 YEARS AGO

THERE WAS A WOMAN WHO COULD

BARELY READ AND WRITE WHO STOOD

UP TO SAY NO.

SHE STOOD UP TO SAVE ANOTHER

LIFE.

THAT'S ANOTHER MESSAGE FROM THE

HOLOCAUST.

I DID A LOT OF STUDYING TO TRY

TO FIGURE OUT WHAT I SURVIVED.

I LEARNED WHENEVER AND HOWEVER

GOOD PEOPLE STOOD UP TO SAY NO,

JEWS LIVED, GAYS LIVED,

CHRISTIAN LEADERSHIP LIVED.

THERE WAS ONE WHO SAVED A

THOUSAND IJEWS.

WE MAKE FUN OF THE BALKANS, BUT

THE BULGARIANS SAVED ALL THEIR

JEWS.

THE ALBANIANS SAVED ALL THEIR

JEWS BECAUSE THEY STOOD UP AND

SAID NO.

S

SADLY, IN OUR COMMUNITY, OUR

COUNTRY WOULD COMMIT TO TAKE

JEWISH REFUGEES.

THE DOMINICAN REPUBLIC SAID,

YES, WE'LL TAKE 40,000.

THERE IS ANOTHER LESSON, THAT

PEOPLE CAN MAKE A DIFFERENCE, A

DIFFERENCE THAT CAN SAVE LIVES.

>> GIDEON, WHAT DO YOU HOPE TO

ACCOMPLISH WITH THIS CAMPAIGN?

IF THE MESSAGE THAT ABE JUST

SENT OUT IS WHAT THIS CAMPAIGN

ACCOMPLISHES, THAT'S A BIG

ACCOMPLISHMENT.

>> I THINK WHAT WE WANT IS

PEOPLE TO STOP AND THINK, JUST

TO THINK, TO PAUSE.

OF ALL THAT FLURRY OF

INFORMATION AND MATERIAL THAT

COMES AND THE KNOWLEDGE AND

AWARENESS AND ALL OF THE FACTS,

JUST STOP TO THINK ABOUT HOW

DOES IT START AND HOW CAN THESE

THINGS BEGIN.

YOU WOULD HOPE THAT WILL ENABLE

PEOPLE TO DRAW A LINE, DRAW A

LINK BETWEEN WHAT IS BEING SAID

AND WHAT CAN HAPPEN.

IF IT GIVES PEOPLE THE

OPPORTUNITY TO PAUSE AND SAY, I

HAVEN'T THOUGHT ABOUT THAT AND

THAT IS SOMETHING I HAVEN'T

REALLY GIVEN THOUGHT TO, THEN I

THINK WE'LL HAVE SUCCEEDED.

>> GIDEON, GOING BACK TO THAT

SURVEY THAT YOUR ORGANIZATION

CONDUCTED OF ALL 50 STATES LAST

FALL OF HOLOCAUST KNOWLEDGE

AMONG YOUNG AMERICANS MOSTLY,

MILLENNIALS AND GENERATION Z,

WHAT WAS THE MOST SURPRISING

THING THAT CAME OUT OF THAT

SURVEY FOR YOU?

>> I THINK FOR ME IT WAS THAT

ABOUT HALF OF THE MILLENNIALS

COULD NOT NAME ONE CONCENTRATION

CAMP OR GHETTO.

FOR MY GENERATION AND I THINK

FOR ALL OUR GENERATIONS, THE

NAME AUSCHWITZ SYMBOLIZES THE

ULTIMATE IN HUMAN DEPRAVITY.

IT'S AN ICON OF HATRED AND

HO

HORROR.

THE NAME AUSCHWITZ WAS PART OF

THE COMMON DISCOURSE THAT

EVERYONE UNDERSTAND WHAT THAT

MEANT.

WE'RE NOW IN A WORLD WHERE THE

WORD AUSCHWITZ FOR A GENERATION,

THAT HALF OF THAT YOUNGER

GENERATION IT DOESN'T RING A

BELL, IT DOESN'T MEAN ANYTHING

TO THEM.

IF THAT'S WHAT IT IS TODAY, THEN

IN FIVE YEARS AND TEN YEARS

TIME, HOW MUCH LESS IS THAT

SYMBOL GOING TO BE THERE?

AND SYMBOLS ARE SO IMPORTANT FOR

US TO HAVE A COMMON

UNDERSTANDING OF WHAT HATE IS,

WHAT'S WRONG, WHAT'S RIGHT.

IF WE DON'T HAVE A COMMON WAY OF

IDENTIFYING EVIL, UNDERSTANDING

IT AND REPRESENTATIONS OF IT,

IT'S VERY HARD TO COMBAT IT.

THAT'S WHY INFORMATION AND

AWARENESS ARE IMPORTANT.

THE COMPANION TO THAT IS

UNDERSTANDING WHY.

THE WHAT AND THE WHY.

THIS CAMPAIGN TALKS A LITTLE BIT

ABOUT THE WHAT, BUT A LOT ABOUT

THE WHY.

>> ABE, WHAT SURPRISED YOU MOST

AND WHAT CAN WE DO TO REVERSE

THE IGNORANCE?

>> WE HAVE NO ANTIDOTE TO HATE.

THE ONLY THING WE HAVE IS

EDUCATION AND AWARENESS.

AS I SAID EARLIER, IN FACT, THE

ABILITY TO STAND UP AND SAY NO

TO THE BULLY, NO TO BIGOTRY WILL

LEAD TO ACTIONS TO STAND UP.

WHEN PEOPLE STAND UP, HOPEFULLY

IT WILL PREVENT OTHER PEOPLE

FROM ACTING OUT.

WE HAVE TO REBUILD THE CONSENSUS

OF CIVILITY IN THIS COUNTRY AND

WORLD WIDE.

THIS IS A BEGINNING.

YOU BEGIN WITH WORDS.

IF YOU UNDERSTAND THAT WORDS

HAVE SUCH POWER, SUCH POWER,

THEN HOPEFULLY YOU'LL ACT ON IT

AND STAND UP AND SAY NO.

>> GIDEON, IN 15 SECONDS, ARE

YOU OPTIMISTIC?

>> WE HAVE NO CHOICE.

WE HAVE TO BE OPTIMISTIC.

YOU KNOW, TO HAVE PEOPLE LIKE

ABE TO INSPIRE US, THAT GIVES ME

OPTIMISM.

>> ALL RIGHT.

WE'RE GOING TO HAVE TO END IT,

GENTLEMEN.

THANK YOU SO MUCH.

IT'S A GREAT CAMPAIGN.

THANK YOU FOR PARTICIPATING IN

IT AND IN TODAY'S PROGRAM.

>> THANK YOU.

>> THANK YOU.

>> BYE-BYE.