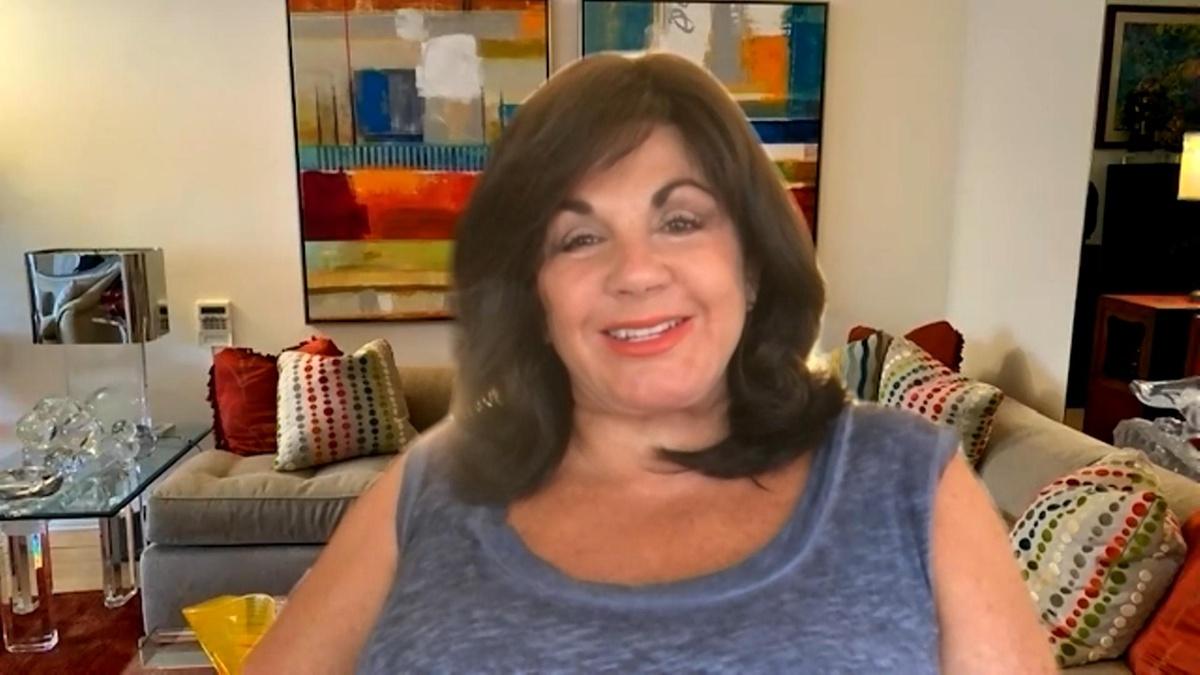 CLIP
BROADWAY TO STAY CLOSED THROUGH JANUARY 3
The Broadway League has announced a further delay to the reopening of shows on the New York stage. Initially shut down through April 12, then through June 7 and then through September 6, all Broadway productions will now stay on hold, offering refunds and exchanges, through January 3, 2021.
TRANSCRIPT

>>> WELCOME TO "METROFOCUS."

I'M JACK FORD.

IN MARCH THE LIGHTS ON BROADWAY

WENT OUT AND THE THEATERS HAVE

REMAINED DARK SINCE THAT TIME.

HOWEVER, RECENTLY THERE'S BEEN

AN INDICATION THAT BROOTD WAY IS

LOOKING FORWARD TO OPENING THE

DOORS, TURNING THE LIGHTS BACK

ON AGAIN AROUND THE BEGINNING OF

JANUARY OF 2020.

QUESTIONS ARISE, WILL THAT IN

FACT HAPPEN?

IF IT DOES AND WHEN IT DOES,

WHAT WILL THE PRODUCTIONS LOOK

LIKE AND FEEL LIKE INSIDE THOSE

THEATERS.

WE'RE DELIGHTED TO HAVE WITH US

TO TALK ABOUT SOME OF

QUESTIONS -- MARTIN PRESIDENT OF

THE BROADWAY LEAGUE.

THE BROADWAY LEAGUE IS THE

NATIONAL TRADE ASSOCIATION FOR

THE BROADWAY INDUSTRY.

CHARLOTTE.

WELCOME TO YOU, DELIGHTED TO

HAVE YOU WITH US.

>> GREAT TO BE HERE TO TALK

ABOUT MY FAVORITE SUBJECT.

>> IT IS MINE INDEED, ALSO.

SO LET'S START WITH YOUR LEVEL

OF OPTIMISM THAT THE JANUARY

REOPENING DATE CAN INDEED BE

REALISTIC FOR US.

WHAT DO YOU THINK?

>> WELL, I WOULD CONSIDER MYSELF

TO BE CAUTIOUSLY OPTIMISTIC AT

THIS STAGE.

WE HAVE HIRED A TOP INFECTIOUS

DISEASE EXPERT.

WE'RE WORKING WITH TOP HEALTH

OFFICIALS AND SCIENTISTS IN THE

STATE OF NEW YORK -- THANK YOU

VERY MUCH TO THE GOVERNOR FOR

HELPING US MAKE THOSE

CONNECTIONS.

WE'RE LOOKING AT EVERY SINGLE

THING.

IN THE LAST MONTH WE FINALLY GOT

NEWS THAT SAID, IF THIS IS

POSSIBLE, WE'VE ANNOUNCED

JANUARY 3rd AS THE NEXT DATE BY

WHICH WE'LL GIVE REFUNDS AND

EXCHANGES FOR TICKETS.

THAT DOESN'T MEAN WE'RE OPENING

JANUARY 4th.

THOUGH WE HOPE TO OPEN SOON

THEREAFTER.

THE CONVERSATIONS ARE GOING ON

THAT IN THE FIRST QUARTER OF THE

YEAR WE PLAN TO BE BACK UNLESS

WE GET SOME KIND OF BAD NEWS.

EACH DAY YOU LEARN NEW THINGS

THAT YOU DIDN'T KNOW THE DAY

BEFORE OR THE WEEK BEFORE.

SOMETIMES THAT'S GOOD AND

SOMETIMES THAT'S NOT SO GOOD.

WE'RE CAUTIOUSLY OPTIMISTIC TO

GET BACK.

>> THE FIRST QUESTION HAS TO DO

WITH THE ECONOMICS AND HOW MUCH

MONEY IS BEING LOST EACH WEEK

WHILE THESE THEATERS ARE

SHUTTERED.

CAN YOU GIVE US AN ESTIMATE OF

WHAT DOLLARS WE'RE TALKING

ABOUT?

>> LOOKING AT THE LAST COUPLE

YEARS WE'RE LOSING AN ESTIMATE

OF $35 MILLION A WEEK JUST ON

TICKET SALES.

THAT HAS NOTHING TO DO WITH ALL

OF THE OTHER REVENUE SOURCES

BASED ON US BEING OPEN AND

FUNCTIONING AT THE LEVEL WE WERE

FUNCTIONING.

WE PROVIDE AN ECONOMIC IMPACT

FOR THE CITY OF NEW YORK, ALMOST

$15 BILLION.

THAT MEANS THE CITY OF NEW YORK

IS LOSING A BILLION, TOO.

THOSE ARE BIG DOLLARS AND LOTS

OF JOBS THAT AREN'T WORKING

BECAUSE WE'RE NOT OPEN.

>> WE KNOW BROADWAY, I'VE SEEN

IT DESCRIBED AS A COLLECTION OF

SMALL ENTREPRENEURIAL

BUSINESSES, IF YOU WILL, IN

TERMS OF PRODUCERS AND ALL THE

PEOPLE INVOLVED IN GETTING A

SHOW UP AND RUNNING.

IN LOOKING AT -- YOU MENTIONED

THOSE LOSSES.

HOW ABOUT THE FINANCIAL IMPACT

ON PERFORMERS AND THE CREW.

DESCRIBE FOR US HOW DEVASTATING

THAT HAS BEEN FOR THEM.

>> WELL, BROADWAY IS SHUT DOWN.

NOBODY IS WORKING EXCEPT FOR THE

FEW PEOPLE THAT HAVEN'T BEEN

FURLOUGHED IN OFFICES.

IN MY OFFICE WE FURLOUGHED 40%

OF OUR STAFF.

WE'RE TRYING TO GET BROADWAY

BACK UP.

THE ACTORS, THE STAGE HANDS, THE

MUSICIANS, ALL THE PEOPLE WHO

MAKE BROADWAY WORK ARE NOT

WORKING, AND IT IS DEVASTATING.

I MEAN WE HAVE A VERY STRONG

LOBBYING ARM AT THE BROADWAY

LEAGUE AND WE'VE BEEN LOBBYING

FOR EXTENSION OF UNEMPLOYMENT

BENEFITS FOR ALL THE WORKERS,

EXTENSION OF HEALTH BENEFITS FOR

ALL OF THE WORKERS, AND WE'RE

ALSO LOBBYING FOR STIMULUS

PACKAGES TO HELP US WHEN WE DO

GET BACK UP BECAUSE WE KNOW

THINGS WON'T BE THE SAME.

EVERYONE HAS DEVASTATED.

THE HARDEST THING ABOUT THIS

TIME PERIOD IS THERE AREN'T JOBS

FOR PEOPLE TO GO DO.

AT LEAST BROADWAY FOR YEARS, THE

ACTORS AND THE PEOPLE THAT WORK

ON BROADWAY THAT MIGHT NOT BE

WORKING RIGHT NOW COULD GO AND

DO OTHER THINGS.

BUT THEY CAN'T EVEN DO THAT

RIGHT NOW.

IT'S A VERY UNHEALTHY

ENVIRONMENT FOR EVERYONE'S

ECONOMICS.

>> WE KNOW THIS ISN'T EXACT.

WE KNOW THE LIGHTS WENT OUT.

THERE WERE A NUMBER OF

WONDERFULLY SUCCESSFUL SHOWS ON

BROADWAY AT THE TIME AND SOME

MORE THAT WERE ABOUT TO SHOW UP.

DO YOU HAVE ANY SENSE YET WHICH

OF THOSE WILL BE COMING BACK AND

THEN HOW ABOUT THOSE THAT WERE

SCHEDULED TO OPEN UP DURING THIS

PERIOD, WHICH OF THEM MIGHT

INDEED BE GOING AHEAD WITH THOSE

OPENINGS.

DO YOU HAVE ANY OF THAT

INFORMATION, HARD INFORMATION

YET?

>> I DO, I DO.

THIS IS ONE OF THE BRIGHT SPOTS.

I'M HAPPY TO SHARE THAT.

WE'VE ONLY HAD THREE SHOWS SAY

THEY WILL NOT BE BACK WHEN

BROADWAY REOPENS.

TWO OF THOSE SHOWS WERE SHOWS

THAT HAD NOT OFFICIALLY OPENED

YET BUT WERE IN PREVIEWS.

AND THEY WILL NOT BE COMING

BACK.

IT WAS "WHO IS AFRAID OF

VIRGINIA WOLF" AND "THE HANG

MAN."

THE DISNEY SHOW "FROZEN" IS NOT

RETURNING.

IT WAS A LONGER RUNNING SHOW.

WE HAVE ABOUT 20 NEW SHOWS THAT

OPENED THIS SEASON ALREADY.

TWO HAD JUST OPENED THE PREVIOUS

WEEK, "WEST SIDE STORY" AND "THE

GIRL FROM THE NORTH COUNTRY."

WE HAD 16 MORE SHOWS TO OPEN IN

THE FOLLOWING SIX WEEKS AND WE

ONLY KNOW OF THOSE TWO THAT

WON'T BE COMING BACK AT THIS

FO

FOINT: THE JANUARY DATE MAY BE

MAKING PRODUCERS THINK TWICE

ABOUT WHETHER THEY CAN KEEP THE

CAST TOGETHER AND KEEP THINGS

TOGETHER.

SO FAR THE NEWS IS GOOD.

I THINK WE'RE GOING TO GET MOST

OF THEM BACK.

>> THAT'S WONDERFUL NEWS, AS A

MATTER OF FACT, AT A TIME WHEN

WE NEED TO EMBRACE GOOD NEWS, I

THINK EVERYBODY WOULD AGREE WITH

ME THAT'S A LOT OF GOOD NEWS FOR

US TO INDEED EMBRACE.

LET'S TALK ABOUT THEN COMING

BACK.

I SAID IN THE INTRODUCTION, THE

QUESTIONS ARE, WHAT WILL THINGS

LOOK LIKE, WHAT WILL THEY FEEL

LIKE?

WE KNOW THERE ARE A WIDE VARIETY

OF SAFETY PROTOCOLS THAT PEOPLE

ARE SUGGESTING.

I KNOW YOU HAVE SOME 22 TASK

FORCE GROUPS I BELIEVE WORKING

ON THINGS SUCH AS SAFETY

PROTOCOLS, MARKETING, ALL THOSE

OTHER ELEMENTS OF REOPENING.

WHAT IS YOUR SENSE SO FAR AS TO

WHAT TYPES OF SAFETY PROTOCOLS

MIGHT COME INTO PLAY ONCE THE

THEATERS REOPEN?

>> THAT'S THE HARDEST QUESTION

TO ANSWER BECAUSE THE

INFORMATION CHANGES DAILY.

WE'RE JUST LEARNING THAT THE

AEROSOL EFFECT IS 30 FEET, NOT

SIX FEET.

THAT CHANGES EVERYTHING.

WE CAN GUESS THAT WE'LL BE IN

MASKS FOR A WHILE.

SOME SAY A YEAR.

SOME SAY TWO TO THREE YEARS.

I HOPE NOT.

IF THAT'S WHAT IT TAKES, I'LL

BEWARING A MASK.

I THINK YOU CAN EXPECT DIFFERENT

INGRESS AND EGRESS ROUTES INTO

AND OUT OF THE THEATER, AS MANY

CONTACTLESS THINGS WE CAN DO,

WHETHER IT'S CONTACTLESS

TICKETING OR FAUS SETS IN THE

RESTROOMS OR STOIL LET'S.

I THINK YOU CAN EXPECT THE

CONCESSION STANDS, THE SERVERS

TO HAVE ON MASKS AND GLOVES AND

TO SERVE YOU IN PAPER CUPS TO BE

DISCARDED SO THERE'S NOT MUCH

HANDLING.

ONE OF THE AREAS WE'RE REALLY

STUDYING IS THE AREA OF THE HVAC

SYSTEMS.

THERE'S A LOT OF DISAGREEMENT

ABOUT WHAT HAS TO HAPPEN.

THAT'S PROBABLY BECAUSE SOME OF

OUR BUILDINGS ARE 100 YEARS OLD.

THEY'RE GLORIOUS.

THEY'RE HISTORIC, THEY'RE

LANDMARKS.

BUT THEIR AIR CONDITIONING

SYSTEM MAY BE MORE DIFFICULT TO

REPLACE.

SOME EXPERTS ARE SAYING THEY

THINK THE NEW HEPA FILTERS WILL

TAKE CARE OF IT.

OTHERS ARE SAYING YOU HAVE TO

REPLACE THE ENTIRE SYSTEM.

WE'RE LOOKING AT ALL OF THAT.

THE GROUPS STUDYING IT ARE

LOOKING AT EVERY SINGLE THING

ABILITY THAT.

>> LET ME ASK YOU ABOUT THE

SEATING ARRANGEMENT WITHIN THE

THEATERS.

WE HEARD, FOR INSTANCE, WITH

REGARD TO PROFESSIONAL SPORTS OR

EVEN COLLEGE SPORTS THE NOTION

OF, ALL RIGHT, WE'LL USE

DISTANCING WITHIN THE ARENAS,

WITHIN THE STADIUM, SPREAD

PEOPLE OUT.

WE KNOW THAT BROADWAY HAS A VERY

DIFFERENT FINANCIAL MODEL THAN

PROFESSIONAL SPORTS.

IS THAT NOTION OF USING EVERY

FOURTH SEAT, LET'S SAY, IN A

THEATER, SOMETHING THAT IS

REALLY WORKABLE?

>> IT IS NOT FOR BROADWAY.

THE FINANCIAL MODEL JUST DOESN'T

WORK.

WE HAD FOUR OF OUR DIFFERENT

SIZE THEATERS ACTUALLY DO A

FLOOR PLAN SHOWING TRUE SOCIAL

DISTANCING, AND THE BEST CASE

SCENARIO WAS THAT 27% OF THE

SEATS COULD BE FILLED.

THAT WILL NOT PAY THE BILLS, NOT

EVEN COME CLOSE.

WE HAVE THE BEST THEATRICAL

EMPLOYEES IN THE WORLD, THE BEST

DESIGNERS, THE BEST EVERYTHING,

BUT THEY'RE ALSO THE MOST

EXPENSIVE.

SO TO SOCIALLY DISTANCE -- EVEN

THE AUDIENCE WE'D HAVE TO BREAK

THE MODEL AND RESTART.

LOWER RENT IN THE THEATERS,

LOWER FEES TO DESIGNERS, LOWER

WAGES, AND THAT'S NOT A MODEL

THAT ANYONE IS EXCITED ABOUT

LOOKING AT.

EVEN IF YOU COULD SOCIALLY

DISTANCE THE AUDIENCE, THE CAST

AND CREW, THOSE ARE SMALL

BACKSTAGE AREAS FOR THE MOST

PART, AND THE INABILITY -- THE

TEN-SECOND COSTUME CHANGES IS

JUST IMPOSSIBLE.

SO THERE HAS TO BE MEDICAL

SOLUTIONS.

THAT'S ONE OF THE THINGS GIVING

US CAUTIOUS OPTIMISM ARE SOME OF

THE THINGS WE'RE LEARNING.

THERE'S NOW THE 15-SECOND TEST

THAT'S VERY RELIABLE.

IF YOU COULD TEST EVERY CAST

MEMBER EVERY DAY, SAY AT 9:00 IN

THE MORNING, YOU FIND OUT

WHETHER THEY'RE ALL WELL, THEN

YOU COULD FEEL COMFORTABLE THAT

THEY COULD GO ON AND PERFORM.

THOSE ARE THE KINDS OF THINGS

THAT WE'RE INVESTIGATING AND

THAT WE HOPE WILL ENABLE US TO

GET BACK AS SOON AS POSSIBLE.

>> LAST QUESTION FOR YOU.

I HAVE ABOUT A MINUTE AND A HALF

FOR US TO CHAT.

WE KNOW BROADWAY WAS HAVING JUST

A MAGNIFICENT YEAR.

I THINK I SAW THE BEST YEAR EVER

IN THE LAST YEAR OR SO.

LET'S TALK ABOUT YOUR LEVEL OF

OPTIMISM.

WE STARTED THIS CONVERSATION

WITH YOUR LEVEL, LET'S START

WITH YOUR LEVEL OF OPTIMISM.

WILL WE GET BACK THERE?

HOW LONG DO YOU THINK IT WILL

TAKE BROADWAY TO GET BACK THERE?

>> I THINK WE'LL BE BACK.

THERE'S SOMETHING MAGICAL ABOUT

THE SHARED EXPERIENCE OF SITTING

IN AN AUDIENCE AND CRYING AND

LAUGHING AND EXPERIENCING THE

JOY THAT BROADWAY PROVIDES.

I WOULD BE UNREALISTIC TO THINK

WE COULD ACCOMPLISH WHAT OUR

LAST SEASON DELIVERED WHICH IS

14.8 MILLION THEATER GROWERS,

WHICH IS MORE THAN ALL TEN

PROFESSIONAL SPORTS TEAMS PUT

TOGETHER DELIVER.

THE ECONOMISTS WE'RE LISTENING

TO ARE TELLING US THAT TOURISM

FOR NEW YORK CITY AND TRAVEL FOR

NEW YORK IS MOST LIKELY GOING TO

SLOWLY RAMP UP, AND WE MIGHT BE

BACK THERE BY THE FIRST QUARTER

OF 2024.

>> THAT'S A FRIGHTENING THING TO

THINK ABOUT BECAUSE THE MARGINS

ARE SLIM ON BROADWAY.

BUT WE'LL BE BACK.

>> THAT'S THE BEST NEWS WE CAN

HEAR.

SO MANY FOLKS ARE BROADWAY FANS.

TO HEAR FROM YOU ESPECIALLY THE

SHOWS THAT ARE COMING BACK AND

TALKING ABOUT OUR ESTIMATES OF

WHEN IT MIGHT HAPPEN ARE

CERTAINLY SOMETHING THAT ARE

REAF

REAFFIRMING FOR US.

ONCE AGAINST OUR THANKS, THE

PRESIDENT OF THE BROADWAY

LEAGUE.

CHARLOTTE, MY HOPE IS I'LL GET

TO SEE YOU IN A THEATER SOME

TIME SOON.

>> HOPEFULLY.

WITH VERY A LOT OF GREAT ONES

COMING BACK.

>> YOU BE WELL.

LOOK FORWARD TO TALKING AGAIN.

>> THANK YOU, JACK.

THANKS FOR COVERING US.