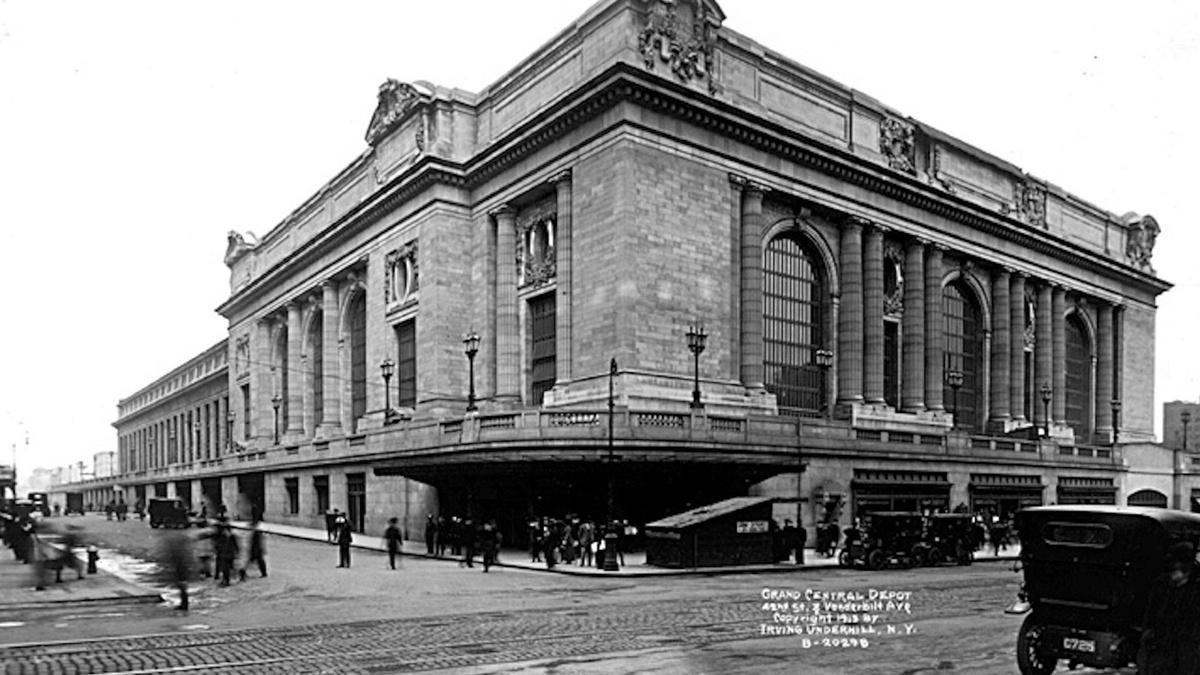 CLIP
BEYOND GRAND CENTRAL
Located in Midtown Manhattan, Grand Central Terminal is a historic, world-famous landmark. Sam Roberts, New York Times urban affairs correspondent, gives us a look inside the transportation hub that changed the nation.
TRANSCRIPT

>>> THE FAMOUS 1959 ALFRED

HITCHCOCK MOVIE "NORTH BY

NORTHWEST" CARY GRANT'S

CHARACTER GOES TO NEW YORK'S

GRAND CENTRAL TERMINAL TO ESCAPE

CAPTURE FOR A MURDER HE DID NOT

COMMIT AND A PLACE WHERE HE CAN

BLEND EASILY WITH THE CROWD AND

THE CROWDS ARE STILL THERE, MORE

THAN 750,000 PEOPLE A DAY PASS

THROUGH MAKES IT ONE OF THE

BUSIEST TRAIN STATIONS IN THE

WORLD.

IT WAS SAVED FROM THE WRECKING

BALL IN 1975 BY COALITION LED BY

FORMER FIRST LADY JACQUELINE

KENN

KENNEDY ONASSIS, AND URBAN

AFFAIRS CORRESPONDENT SAM

ROBERTS.

THE TITLE "GRAND CENTRAL: HOW A

TERMINAL TRANSFORMED AMERICA."

HE JOINS US ABOUT THE ICONIC

CATHEDRAL FOR THE COMMON MAN IN

MIDTOWN.

>> THANK YOU VERY MUCH, A

PLEASURE.

>> LET'S TALK ABOUT THE

BEGINNING OF THIS BECAUSE IT'S

WHEN YOU LEARN THE DETAILS ABOUT

ITS HISTORY AND IT IS SO

FASCINATING AND THE BOOK AND THE

PHOTOS YOU HAVE AND ESSENTIALLY

THERE WAS A TRAIN STATION THERE

BEFORE, BUT WHAT WAS IT?

WHAT WAS THE EVENT THAT

ESSENTIALLY WAS THE CATALYST FOR

THE CREATION OF GRAND CENTRAL

TERMINAL?

>> THERE WAS A DEE POE THERE

BEFORE AND THE TRAIN STATION

THERE BEFORE AND ONE OF THE FUN

THINGS ABOUT WRITING THE BOOK

AND I'VE BEEN COVERING NEW YORK

FOR THE DAILY NEWS FOR THE TIMES

FOR OVER 50 YEARS AND I LEARNED

SO MUCH ABOUT THE CITY BY WRITE

STHG.

GRAND CENTRAL STARTED IN EFFECT,

BY ACCIDENT BY ANNEX IN 1902,

TWO TRAINS SLAMMED TOGETHER.

ABOUT 15 PEOPLE KILLED

IMMEDIATELY AND IT WAS BECAUSE

THEY HAD TO GO THROUGH A DARK,

SMOKY TUNNEL UNDER WHAT BECAME

PARK AVENUE AND THE OWNERS OF

THE STATION AND THE OWNERS OF

THE NEW YORK CENTRAL RAILROAD

REALIZED THIS JUST WASN'T SAFE.

THEY WERE GOING TO BE HELD

LIABLE AT SOME POINT AND THEY

REALIZED THEY HAD TO DO

SOMETHING ABOUT IT AND AN

ENGINEER NAMED WILLIAM WILLGIS

CAME UP WITH THE IDEA OF

ELECTRIFYING THE RAILROAD AND

THERE WERE NO MORE CINDERS AND

NO MORE SPARKS AND THEY COULD

DECK OVER PARK AVENUE.

SO BEFORE, PEOPLE DON'T REALIZE

THERE WAS THIS GAPING TRENCH.

>> AGAIN, BECAUSE THERE ARE

GREAT PHOTOGRAPHS HERE, BUT WE

KNOW PARK AVENUE WITH THE STRIP

WITH THE TREES AND THE HOLIDAY

SEASON, BUT IT WAS A TRENCH.

>> IT WAS JUST A TRENCH AND A

DIRTY TRENCH AND HARD TO GET

ACROSS.

IF YOU THINK IT'S DIFFICULT

GETTING ACROSS NOW, AND GETTING

ACROSS WITH THE TRENCH IN THE

MIDDLE WAS REALLY TOUGH.

WHEN I WORKED ON THIS BOOK WE

CAME UP WITH THE SUB TITLE HOW A

TRAN STATION TRANSFORMED

AMERICA, AND I LEFT THE

PUBLISHER'S OFFICE, AND I SAID

THAT'S AUDACIOUS, SN IT?

I DECIDED HOW MANY THINGS IT HAD

AN IMPACT ON AND THE LANDMARK

LAW, AS YOU SAID, AND IT SHIFTED

THE CENTER OF GRAVITY OF

MANHATTAN FROM DOWNTOWN TO ITS

VERY DOORSTEP.

>> BY THE WAY, VERY QUICK.

WE REFER TO IT AS GRAND CENTRAL

STATION.

>> IT IS NOT.

WHAT'S THE DIFFERENCE?

>> MY TRAIN STOPPED AT GRAND

CENTRAL TERMINAL, AND THE ANSWER

TO THAT IS IT'S BETTER BECAUSE

THAT'S WHERE THE TRACKS END.

THE TERMINAL IS THE END OF THE

LINE, THE STATION TRAINS GO

THROUGH.

THE TERMINAL IS THE RIGHT TERM.

>> THE TRAIN STATION IS A

TERMINAL.

>> SO WHEN IT'S COMPLETED AND

HOW LONG DID IT TAKE?

THE BUILDING PROCESS?

>> WELL, THEY STARTED ABOUT 1904

AND 1905 AND THEY FINISHED IN

1913.

SO WE JUST FAIRLY RECENTLY

CELEBRATED THE 100th ANNIVERSARY

AND THAT'S WHY IF YOU LOOK AT

THE LOGO AND THE CLOCKS THAT SAY

7:13 ON THEM ON THE 24-HOUR

CLOCK THAT IS 1913.

YOU CAN TRICK YOUR FRIENDS WITH

THAT.

>> THAT'S A GREAT ONE.

BUT YOU SEE A PHOTO OF THIS

MAJESTIC BUILDING AND IT'S

ESSENTIALLY SITTING THERE BY

ITSELF.

HOW WAS IT THEN THAT THAT WAS

SUCH OPEN TERRITORY TO BUILD

THERE AND HOW LONG DID IT TAKE

BEFORE IT BECAME ENCIRCLED BY

WHAT WE KNOW NOW IN TERMS OF

HIGH-RISES AND OFFICE BUILDING.

IT CREATED THAT CITY.

IT WAS SUPPOSED TO BE SOMETHING

CALLED TERMINAL CITY AND THERE

WAS VERY LITTLE THERE, AND

YOU'RE RIGHT, IT WAS A

WAISTLAND.

>> THAT WAS ONLY A HUNDRED YEARS

AGO.

>> THE CENTER OF THE CITY WAS

14, AND MAYBE 23rd STREET AND

WHAT THIS BUILDING OF GRAND

CENTRAL DID WAS SHIFT THAT

CULTURAL CENTER OF GRAVITY FROM

DOWNTOWN TO 42nd STREET AND 42nd

STREET DEVELOPED BECAUSE OF IT.

>> THERE ARE A COUPLE OF GREAT

FACTS AND MARVELOUS, CURIOUS

FACTS IN HERE.

THERE ARE A LOT OF THEM AND ONE

HAS TO DO WITH IF YOU WALK

THROUGH THE TERMINAL NOW AND

THERE ARE ALWAYS SO MANY

TOURISTS WAND ERDING THROUGH.

ONE OF THE THINGS THEY LIKE TO

DO IS LOOK UP TO THE CELESTIAL

SCENERY UP TOP.

WE TALK ABOUT THE FACT THAT

THAT'S NOT ENTIRELY ACCURATE.

>> NO.

IT'S A 25,000 SQUARE-FOOT

CELES

CELESTIAL CEILING AND DON'T TRY

TO NAVIGATE IT.

THE CEILING WAS BACKWARD WHEN

THEY PAINTED IT.

ORIGINALLY THE RAILROAD SAID IT

WOULD BE GREAT TO EDUCATE

SCHOOLCHILDREN AND IT TURNS UP

THEY WERE HOLDING UP A CHART

LIKE THIS SO THEY PAINTED IT

BACKWARD INSTEAD OF THE ACTUAL

WAY IT WAS SUPPOSED TO BE AND

ONE COMMUTER ABOUT TWO OR THREE

DAYS AFTER THE TERM

OPENED NOTICED IT AND IT'S

BECOME A FIXTURE.

>> YEAH.

WE MENTIONED HOW AND AGAIN, WE

TALK ABOUT THE TITLE HOW A TRAIN

STATION TRANSFORMED AMERICA.

>> SO YOU TALK A LITTLE BIT

ABOUT NEW YORK.

HOPEFULLY, IT SHIFTED THE CENTER

OF GRAVITY IN NEW YORK.

HOW ABOUT THE IMPACT ON AMERICA.

>> THERE WERE THINGS THAT

HAPPENED FIRST THERE AND THAT'S

WHAT I FOUND SO FASCINATING IN

RESEARCHING THE BOOK, STANDARD

TIME BEGAN AT GRAND CENTRAL.

BEFORE THAT IN THE 1880s, THERE

WERE HELP OF DIFFERENT TIME

ZONES ALL OVER THE COUNTRY.

THEY DECIDED TO CREATE STANDARD

TIME PRIMARILY FOR THE

GOVERNMENT AND THE RAILROADS DID

THAT AND IT STARTED MOST IN

GRAND CENTRAL.

A. PHILIP RANDOLPH BEGAN IN

GRAND CENTRAL WHICH WAS THE

START OF THE CIVIL RIGHTS

MOVEMENT.

THE LANDMARK'S LAW AS YOU

MENTIONED EARLIER, LANDMARKING

THAT WENT ALL OF THE WAY UP TO

THE UNITED STATES SUPREME COURT

BEGAN IN GRAND CENTRAL AND IT

SHOULD HAVE BECOME A GREATLY

VALUED, MONETIZED COMMODITY AND

IT WAS PARK AVENUE AND GRAND

CENTRAL.

SO THERE ARE ALL OF THESE THINGS

THAT YOU JUST DON'T THINK OF

THAT WE TAKE FOR GRANTED AND WE

START RIGHT THERE.

>> IT IS CALLED GRAND CENTRAL.

HOW A TRAIN STATION TRANSFORMED

AMERICA.

IT IS A MARVELOUS WINDOW INTO A

PERIOD OF TIME AND AS YOU SAID,

SOMETHING THAT HAS EFFECTED SUCH

SIGNIFICANT CHANGE.

>> GREAT TO HAVE YOU HERE.

FOLKS, IF YOU HAVE ANY INTEREST

AT ALL, GO OUT AND GET THIS BOOK

BECAUSE YOU WILL LOVE IT.

>> IT'S A PLEASURE.

THANK FOR SPENDING TIME WITH US.

>> THANK YOU VERY MUCH.

>> YOU BE WELL.