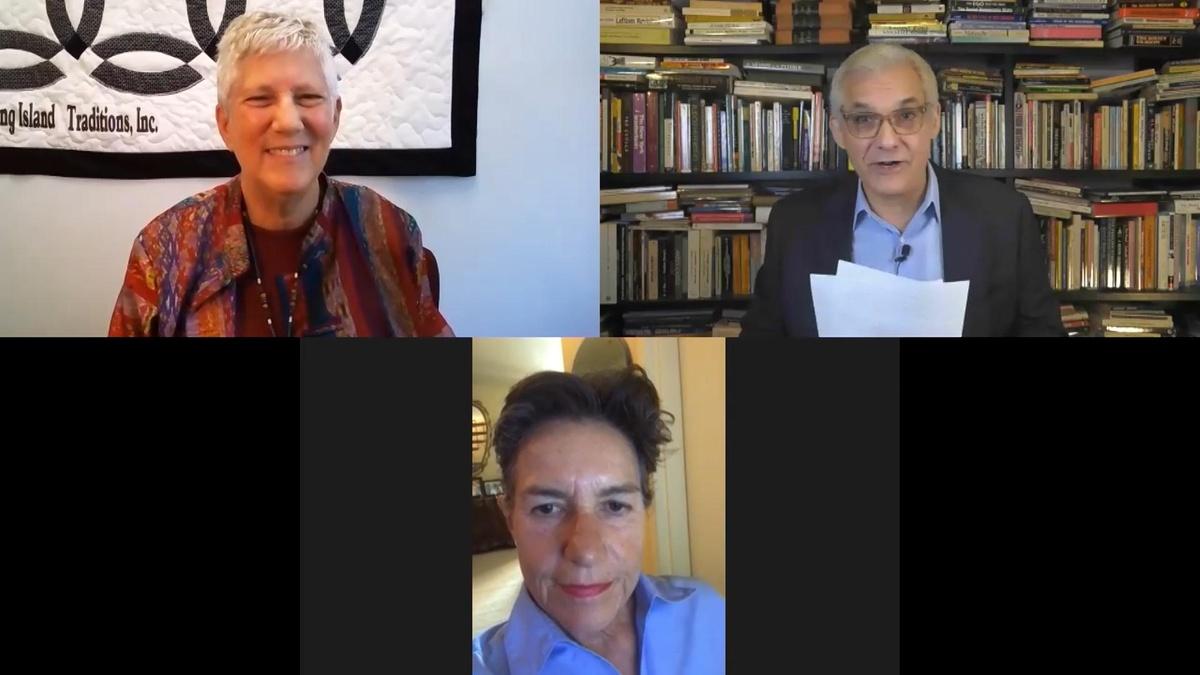 CLIP
"A WORLD WITHIN A WORLD: BAY HOUSES OF LONG ISLAND"
Tonight, filmmaker Barbara Weber, Long Island Traditions director Nancy Solomon and Treasures of New York journey inside "A World Within a World" for a firsthand look at how bay house owners have persevered and endured through severe severe storms and hurricanes as well as eroding marshlands, all while preserving tradition.
TRANSCRIPT

>> SUPPOSEDLY PER ACRE THERE IS

MORE DIVERSITY AND MORE LIFE IN

THIS TYPE OF ENVIRONMENT THAN

ANY OTHER PLACE IN THE WORLD.

>> IT IS QUITE A NICE BACKYARD,

RIGHT?

>> THE HAPPIEST TIMES OF MY LIFE

WERE AND STILL ARE AT THE HOUSE.

PLAYING WITH JOY BOATS, FISHING,

CLAMMING.

I CAN REMEMBER CLAMMING WHEN I

WAS THREE.

>>> WELCOME TO METROFOCUS.

YOU KNOW, THAT WAS A PREVIEW FOR

THE DOCUMENTARY "A WORLD WITHIN

A WORLD: THE BAY HOUSES OF LONG

ISLAND," THE LATEST INSTALLMENT

IN WIW SERIES TREASURES OF NEW

YORK.

THEY WILL TAKE US INSIDE A

COMMUNITY THAT EXISTED ON THE

MARSH LANDS OF THE SOUTH SHORE.

THE FASCINATING SMALL RUSS TIS

SHACKS COMMONLY KNOWN AS THE BAY

HOUSES.

WHAT IS THE HISTORY OF THESE

HOUSES?

WHO OWNS THEM?

AND HOW HAVE THEY BEEN ABLE TO

WITHSTAND MERCYLESS WEATHER

EVENTS LIKE HURRICANE SANITY.

THE EXECUTOR AND PRODUCER OF THE

DOCUMENTARY AND THE DIRECTOR, A

LEADING EXPERT ON THE HISTORY OF

THE BAY HOUSES AND THE AUTHOR OF

THE BOOK ABOUT THE HOUSES TITLED

"ON THE BAY."

WELCOME BOTH OF YOU.

PLEASURE TO HAVE YOU HERE.

>> THANK YOU, RAFAEL.

GOOD TO BE HERE.

>> BY THE WAY, NANCY, YOUR BOOK

WAS THE BASIS OF THIS

DOCUMENTARY.

BUT LET ME START WITH YOU,

BARBARA.

WHERE EXACTLY ARE THESE HOUSES?

>> WELL, THE BAY HOUSES EXIST ON

THE SOUTH SHORE, AND THEY EXIST

ON THE MARSH LANDS OF THE SOUTH

SHORE, WHICH IS THE ONE THAT I

HAVE FIRST SEEN.

BUT THERE ARE ALSO OTHER BAY

HOUSES IN LONG ISLAND IN COUNTY

AS WELL.

>> YOU ARE REALLY TAKEN BY THEM.

WHAT IS IT ABOUT THESE HOUSES

THAT SO ATTRACTS PEOPLE?

>> WELL, AS A FOLKLORE AND

ARCHITECTURAL HISTORIAN, I HAVE

ALSO BEEN FASCINATED BY

STRUCTURES BEAT FOR THEMSELVES

THAT THERE ARE NO CONTRACTORS,

THERE ARE NO ARCHITECTS.

BECAUSE I KNEW UP ACROSS THE

STREET FROM A BOAT YARD, I HAVE

ALWAYS BEEN FASCINATED WITH

ANYTHING ON THE WATER.

AND THESE HOUSES ARE ALL OVER

THE TOWN.

YOU HAVE GOT A FREE PORT OR

BEACH OR, YOU KNOW, SEA FRONT,

YOU CAN SEE THESE HOUSES.

>> AND, NANCY, WHERE DID THESE

HOUSES FIRST COME TO BE?

WHAT IS THEIR ORIGINS?

>> THEY WERE FIRST BUILT BY BAY

MEN TO HARVEST THE SALT THAT

GROWS ON THE MARSH LANDS IN THE

WINTERTIME.

BECAUSE FARMERS NEEDED SOMETHING

FOR THEIR LIVESTOCK, THE ONLY

PEOPLE THAT NEEDED BOATS TO GET

OUT THERE FOR FISHERMEN AND BAY

MEN.

GOING BACK IN THE WINTER WAS NOT

FOR THE FAINT HEARTED.

THEY REALIZED, IF I HAD A SHACK,

I COULD SAY THERE AND DO OTHER

THINGS AND MAKE IT WORTHWHILE.

>> BARBARA, THERE IS ALSO A VERY

INTERESTING PART OF THE

DOCUMENTARY WHERE YOU DOCUMENT

THE HISTORY OF THESE SHACKS

DURING PROHIBITION.

YOU DON'T HAVE TIME TO GET INTO

THAT NOW, BUT JUST FOR THAT

STORY, IT IS WORTH WATCHING THE

DOCUMENTARY.

IT HAD A LOT TO DO WITH THE REAL

McCOY.

YOU'LL KNOW WHERE THAT CAME

FROM.

AND THE RUM RUNNERS.

SO CHECK IT OUT.

BUT, BARBARA, IN 1991, IF I

UNDERSTOOD RIGHT, IN 1991 A LAW

WAS PASSED THEY WOULD HAVE TORN

DOWN THESE SHACKS; IS THAT TRUE?

>> THAT IS TRUE.

AND ACTUALLY NANCY WOULD BE

BETTER TO TALK ABOUT THAT

BECAUSE SHE WAS VERY

INSTRUMENTAL IN OBTAINING A

LEASE AGREEMENT WHEREBY THE BAY

HOUSE OWNERS WERE ABLE TO

MAINTAIN THEIR PROPERTY AND KEEP

THEM IN THE TOWN.

SO SHE IS A BETTER -- SHE WOULD

BE ABLE TO ANSWER THAT QUESTION

BETTER SINCE SHE WAS SO

INSTRUMENTAL IN THAT.

>> ALL RIGHT.

NANCY, SO HOW DID THEY SAVE THE

HOUSES?

WHAT ARE THE DEALS THEY HAD TO

MAKE?

>> OKAY.

WELL, FIRST, WE HAD TO THREATEN

THE TOWN WAS VIOLATING THE

HISTORIC PRESERVATION ACT BY NOT

DOCUMENTING THEM.

AND I SAID I'LL DO A SCENARIO

AND THAT'S WHY WE DID THE BOOK

ON THE BAY WHEN IT FIRST CAME

OUT.

AND THE STATE DEPARTMENT STARTED

A LOT OF SERIOUS TALK, AND THEY

AGREED THAT THEY COULD BE

PRESERVED FOR THE FUTURE

GENERATIONS.

>> SO, BARBARA, THESE HOUSES

THEY LOOK VERY VULNERABLE TO

STORMS AND STORM EVENTS LIKE

SUPER STORMS.

SANDY, HOW DID THEY SURVIVE

SUPER STORM SANDY?

>> IT WAS VERY DIFFICULT.

ORIGINALLY AT ONE POINT THERE

WAS 300 OF THESE HOUSES.

SO AT THIS POINT IN TIME, THERE

IS ONLY 28 REMAINING, WHICH

TELLS YOU A LOT ABOUT CLIMATE

CHANGE AND THE EROSION OF THE

MARSH LAND AND HOW DIFFICULT IT

IS FOR THESE HOUSES TO WITHSTAND

THE WEATHER CONDITIONS AND

ELEMENTS THAT THEY HAVE TO GO

THROUGH.

>> YOU KNOW, BUT I WAS TAKEN.

IN THE DOCUMENTARY SOMEBODY SAID

THAT FEMA ACTUALLY WENT TO THE

OWNERS OF THESE HOUSES TO FIND

OUT HOW TO PRESERVE A STRUCTURE

LIKE THOSE HOUSES WITHIN A STORM

LIKE SUPER STORM SANDY.

WHAT DO THEY KNOW THAT WE DON'T

KNOW?

>> WELL, ACTUALLY, IT WAS NANCY

WHO SAID THAT IN THE FILM.

>> AH.

>> I GUESS HAVING GONE THROUGH

ALL THESE STORMS, THEY ARE

BETTER EQUIPPED TO BE ABLE TO

ANSWER QUESTIONS TO, YOU KNOW,

TO BE ABLE TO SUSTAIN THEM.

BUT THEY'RE BUILT IN SUCH A WAY

THAT THEY ARE IMPLANTED WITH

CERTAIN HELI COILS INTO THE

MARSH LAND WHICH STABILIZES THEM

SO THAT THEY DO NOT DRIFT AWAY.

>> I KEEP TALKING ABOUT THE

OWNERS OF THESE HOUSES, BUT

THAT'S AN INTERESTING PART OF

THIS STORY, RIGHT?

WHO ARE THE OWNERS?

AND TELL US WHAT RIGHTS THEY

HAVE WITH THEIR PROPERTY.

>> OKAY.

WELL, THEY'RE NOT OWNERS IN THE

LEGAL SENSE.

THEY ACTUALLY LEASE THE LAND

FROM THE TOWN.

BUT THESE ARE DESCENDENTS OF

FISHERMEN AND BAY MEN FROM THE

1700s UP TO THE PRESENT TIME.

MANY CARRY ON THE TRADITIONS OF

CLAMMING AND HARVESTING, YOU

KNOW, FISH.

THEY'RE AVID FISH MEN.

SOME ARE DUCK HUNTERS.

SO THAT'S THE ONLY PART OF THE

BAY.

IT'S ABOUT OUR MARITIME CULTURE

AND OUR CONNECTION TO OUR

WATERFRONT.

AND THEY HAPPEN TO PRESERVE

THOSE CULTURAL TRADITIONS, YOU

KNOW, IN THEIR FAMILIES.

>> SO THEY CAN'T SELL THE

PROPERTY, RIGHT?

>> NO.

THEY HAVE -- THE BAY HOUSES CAN

ONLY BE TRANSFERRED TO SOMEBODY

IN THEIR FAMILY OR TO SOMEBODY

WHO IS ON THE LEASE WITH THEM

FOR AT LEAST SEVERAL YEARS.

AND THAT PERSON, IF IT IS

SOMEBODY WHO IS NOT A FAMILY

MEMBER THAT'S ON THE LEASE,

THERE IS A VERY STRONG

CONNECTION BETWEEN THE BAY HOUSE

OWNER AND THAT LEASEHOLDER.

>> AND, BARBARA, SO, YOU KNOW,

YOU TOUCHED ON THIS, BUT WHAT IS

THE FUTURE OF THE BAY HOUSES, DO

YOU THINK?

AND WHAT IS THE FUTURE OF THE

MARSH LANDS ON WHICH THEY REST?

WE HAVE 30 SECONDS LEFT.

>> THAT'S A VERY DIFFICULT

QUESTION.

JUST LOOKING AT WHAT'S HAPPENING

NOW WITH CLIMATE CHANGE, THAT'S

SUCH A DIFFICULT QUESTION.

I'M HOPING THAT THE BAY HOUSES

CAN SUSTAIN THEMSELVES AND FIND

WAYS TO BETTER SOLIDIFY THEIR --

THEIR STRUCTURES INTO THE MARSH

LAND SO THAT THEY DON'T -- THEY

DON'T GET SWEPT AWAY.

>> ALL RIGHT.

BUT YOU'RE HOPEFUL, I THINK.

OKAY.

LISTEN, WE'RE GOING TO HAVE TO

END IT THERE.

THANK YOU BOTH SO MUCH FOR

JOINING US TODAY.