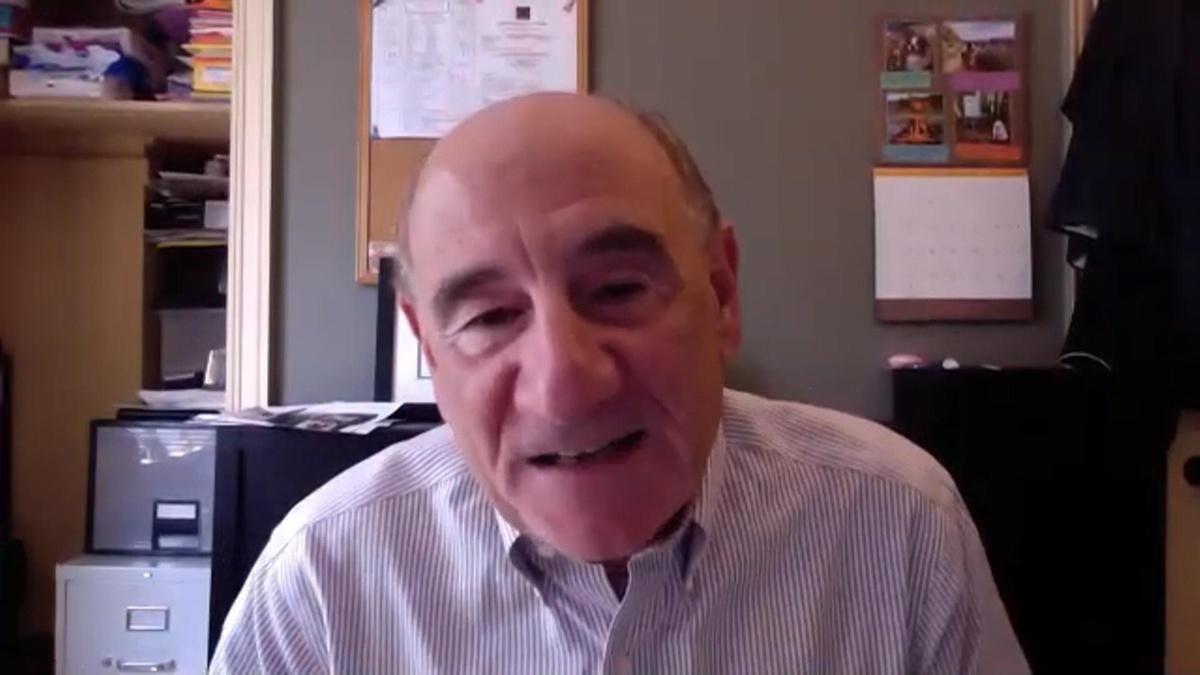 FULL EPISODE
MetroFocus: August 13, 2020
Walking around New York these days, one may notice that while some parts of the city appear to be bouncing back - perhaps even thriving – others are not doing so great. In fact, 80 percent of bars and restaurants say they could not pay their full rent in July. And according to a recent report, roughly one-third of the city's small businesses may never reopen even after the pandemic subsides.
TRANSCRIPT

>>> THIS IS "METROFOCUS" WITH

RAFAEL PI ROMAN, JACK FORD, AND

JENNA FLANAGAN.

>> "METROFOCUS" IS MADE POSSIBLE

BY

SUE AND EDGAR WACHENHEIM III,

SYLVIA A. AND SIMON B. POYTA

PROGRAMING ENDOWMENT TO FIGHT

ANTI-SEMITISM.

BARBARA HOPE ZUCKERBERG,

JANET PRINDLE SEIDLER,

JODY AND JOHN ARNHOLD,

CHERYL AND PHILIP MILSTEIN

FAMILY,

BERNARD AND DENISE SCHWARTZ,

JUDY AND JOSH WESTON,

DR. ROBERT C. AND TINA SOHN

FOUNDATION.

>>> GOOD EVENING.

I'M RAFAEL PI ROMAN.

WALKING AROUND NEW YORK THESE

DAYS ONE MAY NOTICE THAT WHILE

SOME PARTS OF THE CITY APPEAR TO

BE BOUNCING BACK, EVEN THRIVING,

OTHERS ARE NOT DOING GREAT.

80% OF BARS AND RESTAURANT COULD

NOT FPAY THEIR FULL RENT IN JUL.

ONE-THIRD OF THE CITY'S SMALL

BUSINESSES MAY NEVER REOPEN

AFTER THE PANDEMIC SUBSIDES.

WHAT'S THE FINANCIAL REALITY

FACING THE CITY AND STATE RAIGH

THOUSAND DOLLARS AND WHAT'S THE

ECONOMIC OUTLOOK IN A

POST-PANDEMIC WORLD.

STEVE MALANGA, SENIOR EDITOR OF

"CITY JOURNAL" AND SENIOR FELLOW

AT THE MANHATTAN INSTITUTE.

WELCOME BACK IT THE PROGRAM.

IN MY LOCKDOWN MODE.

STEVE, FIFRST OF ALL, SOME PART

OF TOWN LOOK LIKE THEY ARE

BOUNCING RIGHT BACK, LOOK LIKE

THEY ARE DOING WELL, WHILE OTHER

PARTS, TO ME ANYWAY, LOOK LIKE

OLD PICTURES OF THE GREAT

DEPRESSION.

HOW IS THE CITY DOING OVERALL

AND WHAT PARTS OF THE CITY ARE

DOING WELL AND WHICH ONES ARE

NOW?

>> ONE WAY TO THINK ABOUT NEW

YORK, OF COURSE, IS IT'S

INCREDIBLY LARGE AND DIVERSE

ECONOMY.

IT HAS NEIGHBORHOOD ECONOMIES

AND IT HAS WHAT I CALL A GLOBAL

AND A U.S. ECONOMY.

AND I WOULD SAY THAT MOSTLY WHAT

YOU'D SEE IS YOU SEE WITH THE

VIRUS STARTING TO RECEDE A

LITTLE BIT IN NEW YORK AND THE

LIFTING OF RESTRICTIONS, YOU SEE

NEIGHBORHOOD LIFE STARTING TO

COME BACK, SMALL BUSINESSES,

ESPECIALLY THAT SERVE THE LOCAL

COMMUNITY, OBVIOUSLY FOOD

SELLERS, THEY NEVER CLOSED, YOU

SEE THAT COMING BACK.

WHAT YOU DON'T SEE A LOT OF IS

THIS WORLD CHI, THE ECONOMY

DRIVEN BY TOURISM, ECONOMY

DRIVEN BY VISITORS FROM ALL OVER

THE WORLD AND ALL OVER THE

UNITED STATES AND YOU ALSO DON'T

SEE THIS BIG CORPORATE ECONOMY

BECAUSE A LOT OF THAT CORPORATE

ECONOMY CAN BE, ARE PROFESSIONAL

WORKERS WHO CAN WORK AT HOME AND

ARE WORKING AT HOME AND FOR THE

LONG-TERM THE QUESTION IS

WHETHER THEY ARE GOING TO COME

BACK.

IT'S REALLY THAT WORLD ECONOMY

AND EVERYONE WHO SERVES THAT

WORLD ECONOMY LIKE, LET'S SAY,

FOR INSTANCE, RESTAURANTS IN NEW

YORK CITY.

EXTRAORDINARY.

IN MARCH, RESTAURANTS EMPLOYED

300,000 PEOPLE IN NEW YORK CITY,

EATERIES.

IN APRIL THAT WENT DOWN TO

91,000.

I HAVE NEVER SEEN ANYTHING LIKE

THAT.

SO THIS IS THE REAL DIFFERENCE

AND IT'S REALLY THAT WORLD

ECONOMY, THAT GLOBAL ECONOMY

THAT WE'RE WONDERING WHEN IT'S

GOING TO COME BACK.

>> SO HOW HAVE GOVERNOR CUOMO

AND MAYOR DE BLASIO DONE IN

DEALING WITH THE ECONOMIC

ASPECTS OF THE COVID CRISIS?

WHAT DECISIONS HAVE THEY MADE

THAT HELPED BUSINESSES?

WHICHEVER ONES HAVE NEEDED IT.

WHICH ONCE HAVE ACTUALLY HURT

BUSINESSES?

>> THE FIRST THING I WOULD SAY

IS THAT WASN'T MUCH OF AN

EMPHASIS ON THE ECONOMICS FROM

THE STATE OR CITY POINT OF VIEW.

IT WAS SO INTENSE IN NEW YORK

THAT REALLY WHAT EVERYBODY WAS

TALKING ABOUT WAS THE LOCKDOWN

AND JUST LOCKING THINGS DOWN.

I REMEMBER FOR A WHILE IT WAS

ACTUALLY MAYOR DE BLASIO WHO WAS

RESISTANT UNTIL IT JUST GOT SO

SCARY.

I WOULD SAY THAT SINCE THEN, AS

THINGS HAVE STARTED TO LOOSEN A

LITTLE BIT, WE'RE LOOKING AT A

QUICK REVIVAL OF NEIGHBORHOOD

BUSINESS, BUT REALLY ONLY

NEIGHBORHOOD BUSINESS.

WHAT I WOULD SAY IS, LOOK, IT'S

NOT REALISTIC TO THINK THAT THE

STATE OR THE CITY CAN DO THINGS

LIKE I HAVE HEARD BUSINESSES SAY

THEY NEED AID.

THEY ARE NOT GOING TO GET THAT

FROM THE STATE AND CITY.

THEY HAVE THEIR OWN PROBLEMS.

THE THING I SAY, BOTH NEW YORK

CITY AND NEW YORK STATE ARE VERY

DIFFICULT PLACES TO DO BUSINESS

FOR EVERYONE, BUT FIRST THING I

WOULD SAY IS AS BUSINESS IS

STRUGGLING IN THIS EXTRAORDINARY

ENVIRONMENT, THE CITY AND STATE

OUGHT TO BE TAKEN THEIR FOOT A

LITTLE BIT OFF THE GAS.

I WILL GIVE YOU AN IDEA OF WHAT

I'M TALKING ABOUT.

WE HAVE THESE REGULATIONS

GOVERNING RESTAURANTS.

THEY FACE 45 DIFFERENT FINES

THAT THEY ARE SUBJECT TO.

THE CITY HAS A KIND OF A TAKE NO

PRISONERS POLICY.

ONCE YOU GET A FINE, YOU HAVE

GOT TO PAY IT.

THINGS LIKE THAT.

I THINK THAT'S WHAT THE CITY

SHOULD BE SAYING, LOOK, WE WILL

VISIT YOU.

IF YOU ARE NOT FOLLOWING THE

RULES, WE WILL GIVE YOU A

WARNING THIS TIME, NOT FINE YOU.

RULES, FOR INSTANCE, HOW FAST

YOU CAN GET APPLICATIONS THROUGH

TO OPEN UP, LET'S SAY, OUTDOOR

DINING BECAUSE REALLY NOBODY IS

SURVIVING WITHOUT OUTDOOR DINING

NOW.

THOSE ARE THE KINDS OF THINGS I

THINK THE CITY AND STATE COULD

DO IN THE SHORT TERM.

>> IS THAT HAPPENING?

I LIVE IN BROOKLYN.

>> A LITTLE BIT.

THEY HAVE DONE A LITTLE BIT.

THE PROS SELF GETTING AN OUTDOOR

DINING PERMIT IS BYZANTINE.

THEY LOOSENED THAT A LITTLE BIT.

THE CITY PASSED ONEROUS

SCHEDULING LAWS WHICH SAYS THAT

YOU HAVE IF A RETAIL BUSINESS OR

ANY KIND OF HOURLY BUSINESS, A

FOOD BUSINESS, YOU HAVE TO GIVE

YOUR EMPLOYEES A SCHEDULE LIKE

72 HOURS IN ADVANCE VANCE.

IF YOU DON'T STICK TO THE

SCHEDULE, YOU HAVE TO PAY THEM

MORE.

THERE IS NO -- THIS HAS BEEN

VERY DIFFICULT IN AN ENVIRONMENT

NOW WHERE SOME EMPLOYEES AREN'T

EVEN SHOWING UP TO WORK AND THEY

ARE NOT CALLING IN.

THEY ARE JUST DISAPPEARING.

THOSE ARE THE THINGS I THINK YOU

CAN AND SHOULD ROLL THOSE SORTS

OF THINGS BACK.

I DON'T THINK IT'S REALISTIC TO

THINK THAT THE CITY AND STATE

WILL DO THINGS LIKE GIVE

BUSINESSES MONEY.

THAT'S THE FEDERAL GOVERNMENT

HAS BEEN DOING SOME OF THAT.

>> LET'S TALK ABOUT THE FEDERAL

GOVERNMENT GIVING MONEY TO THE

STATE OR THE CITY.

ACCORDING TO GOVERNOR CUOMO, IT

HAS COST THE STATE $5 BILLION TO

COPE WITH COVID SO FAR AND HE IS

PROJECTING A LOSS OF $14 BILLION

IN TAX REVENUE AS A RESULT OF

COVID.

SO HE IS SAYING BECAUSE OF THAT

WE NEED A LOT -- WE NEED

BILLIONS OF DOLLARS FROM THE

GOVERNMENT, FROM THE FEDERAL

GOVERNMENT.

IF WE DON'T GET IT, HE IS GOING

TO HAVE TO MAKE DRACONIAN CUTS

TO THE STATE BUDGET.

IS HE ACCURATE ABOUT THAT?

AND IF SO, WHAT WILL THAT MEAN

TO NEW YORKERS?

>> I THINK THERE IS A COUPLE OF

THINGS.

FIRST OF ALL, HE HAS DONE

SEVERAL ROUNDS OF STIMULUS.

THE STIMULUS HAS BEEN

$2.5 TRILLION.

MUCH OF THAT MONEY HAS BEEN

TARGETED FOR -- AND IT'S GONE TO

STATE, BUT IT'S GONE TO THINGS

LIKE HOSPITALS.

IT'S GONE TO MEDICAID COSTS, TO

COVER THE MEDICATE COSTS FOR

COVID.

IT'S GONE FOR THE BIGGEST THING,

OF COURSE, GONE FOR UNEMPLOYMENT

INSURANCE TO KEEP MONEY FLOWING

TO PEOPLE, THAT EXTRA $600.

SO ALL THOSE UNEMPLOYED WORKERS,

UNEMPLOYED RESTAURANT WORKERS

THAT I SPOKE ABOUT, THEY HAVE

QUALIFIED.

THAT HAS BEEN MONEY THAT HAS

BEEN SENT, IF YOU WILL, TO THE

STATES.

EVEN SENATOR SCHUMER PUT OUT A

RELEASE AFTER THIS LAST, THE

C.A.R.E.S. ACT, SAYING HOW MUCH

OF THAT MONEY IS GOING TO COME

TO NEW YORK.

WHAT THE GOVERNOR IS COMPLAINING

ABOUT IS HE WANTS MONEY

SPECIFICALLY FOR HIS BUDGET.

THIS IS WHAT IS MUCH MORE

CONTROVERSIAL IN WASHINGTON.

THERE ARE A COUPLE OF REASONS

FOR THIS.

THE MAIN REASON, I WOULD SAY, IS

THAT WE HAD A TEN-YEAR ECONOMIC

EXPANSION.

EVEN BEFORE COVID CAME ALONG,

THERE WERE A LOT OF FISCAL

ANALYSTS WHO SAID THIS EX PPANSN

WILL END SOON AND STATES WILL BE

IN TROUBLE.

NEW YORK WAS CONSIDERED IN A LOT

OF TROUBLE.

IN FACT W E FORGET IN JANUARY

GOVERNOR CUOMO WAS TALKING ABOUT

WE WOULD FACE A BUDGET SQUEEZE

ANYWAY.

COVID WAS UNPRECEDENTED, BUT NEW

YORK STATE HAD A VERY SMALL

BUDGET SURPLUS, LIKE 3% OF THE

BUDGET.

PLACES LIKE CALIFORNIA, THEY HAD

14% OF THE BUDGET, TEXAS HAD 13%

OF ITS BUDGET.

TEXAS ISN'T CUTTING ANYTHING.

IT STOPPED SPENDING MORE BECAUSE

IT HAD SURPLUS MONEY THAT IT WAS

ABLE TO USE TO PUT INTO THE

PLACES WHERE IT HAS GAPS.

NEW YORK WAS NOT PREPARED FOR

THAT.

THAT'S ONE OF THE REASONS WHY IN

WASHINGTON THE DEBATE IS, YOU

KNOW, DIFFERENT STATES WERE

READY FOR THIS AND OTHER STATES

WERE NOT AND WE DON'T WANT TO

GIVE MONEY TO PEOPLE'S BUDGETS.

WE WANT TO GIVE MONEY

SPECIFICALLY WHERE IT'S HURTING

TO THE HOSPITALS AND MEDICAID

AND THINGS LIKE THAT.

>> MAYOR DE BLASIO HAS SAID AND

HAS SAID FOR QUITE A WHILE THAT

IF THE CITY -- THE CITY DOESN'T

GET BILLIONS FROM THE FEDERAL

GOVERNMENT, HE IS GOING TO HAVE

TO CUT 22,000 JOBS FROM THE CITY

PAYROLL ACROSS THE AGENCIES.

IS THAT LIKELY TO HAPPEN?

IF SO, WHAT WILL THAT DO?

HOW WILL THAT AFFECT NEW

YORKERS?

>> WELL AGAIN YOU HAVE A

POSITION WHERE -- WHAT I SAID

ABOUT THE STATE, YOU KNOW,

DOUBLE AND TRIPLE FOR THE STATE.

THE MAYOR HAS REALLY PRESIDED

OVER SEVEN YEARS, 6 1/2 YEARS OF

GREAT BUDGET TIMES AND HE SPENT

MOST OF THAT MONEY.

HE HAS INCREASED THE HEAD COUNT

IN NEW YORK CITY BY 33,000

WORKERS.

HE HAS ADDED TO THE BUDGET --

THIS BUDGET HAS GROWN BY 30% IN

HIS TIME.

SO, BASICALLY, AS THE MONEY CAME

IN AND WE WERE LUCKY IN NEW YORK

BECAUSE WE WERE SEEING, BECAUSE

OF WALL STREET, WE WERE SEEING

REAL GROWTH IN TAX REVENUES FAR

BEYOND WHAT OTHER PLACES WERE

SEEING, BUT HE SPENT MOST OF IT.

THE CITY AGAIN HAD $1 BILLION TO

USE OUT OF ITS SURPLUS FUND.

NEW YORK CITY HAS A BUDGET OF

LIKE $90 BILLION.

YOU ONLY HAVE $1 BILLION SURPLUS

FUND.

IT'S TAKING MONEY FROM HEALTH

CARE RESERVES NOW BECAUSE THEY

DIDN'T HAVE EXTRA MONEY.

I WOULD SAY AGAIN THE PROBLEM IS

ESSENTIALLY THEY WERE SPENDING

THE MONEY AS IT CAME IN AND

OTHER PLACES ACTUALLY HAVE

GREATER RESERVES.

>> WHAT HAPPENS IF WE DON'T GET

THE BILLION --

>> WELL, AGAIN, YOU KNOW, WHAT

HAPPENS IS YOU HAVE TO CUT.

I AM GOING TO REMIND YOU, YOU

KNOW, THE CITY NOW EMPLOYS ABOUT

330,000 PEOPLE.

IT ADDED 33,000 JOBS

ESSENTIALLY, 36,000 JOBS WHEN

BLOOMBERG LEFT THERE WERE

297,000 JOBS.

YOU WILL HAVE TO START CUTTING

SOME OF THOSE.

WE HAVE ALL THOSE JOBS.

JUST THROUGH ATTRITION, YOU

SHOULD BE ABLE TO MAKE

SIGNIFICANT CUTS.

AGAIN I AM GOING TO EMPHASIZE,

THE CITY SIMPLY WAS NOT

PREPARED.

IT WAS SPENDING THE MONEY AS

FAST AS IT CAME IN.

>> BY THE WAY, STEVE, AS WE

SPEAK, TALK ABOUT A V-SHAPED

RECOVERY, YOU LOOK AT THE STOCK

MARKET, THE DOW IS, I THINK,

WITHIN 1% OF THE ALL-TIME HIGHS

OR CLOSE TO THAT.

THE S&P IS WITHIN MAYBE THE TIME

THIS AIRS WILL BE ABOVE THE

ALL-TIME HIGH AND NASDAQ IS

ABOVE THE ALL-TIME HIGH.

WHAT'S GOING ON HERE?

DOES THE MARKET KNOW SOMETHING

WE DON'T OR IS IT THAT

IRRATIONAL EX CUBE RENS?

>> I WILL SAY THIS.

WHAT THE MARKET THINKS IS THAT

THEY ARE ANTICIPATING WHAT'S

COMING.

THEY ARE LIKE 200 VACCINES BEING

DEVELOPED AROUND THE WORLD.

THEY ESSENTIALLY SAY THAT --

BELIEVE THAT SINCE UNEMPLOYMENT

WAS VERY, VERY LOW BEFORE THIS,

THAT ONCE WE FEEL BETTER ABOUT

IT WE ARE GOING TO GET RIGHT

BACK TO WORK.

IT'S NOT EXACTLY THAT I WOULD

CALL A V-SHAPED RECOVERY BECAUSE

THE VIRUS IS STAYING AROUND

LONGER THAN PEOPLE ANTICIPATED.

BUT THE MARKET WAS BASICALLY

ALREADY ANTICIPATING THE

RECOVERY THAT THEY BELIEVE IS

GOING TO HAPPEN ONCE COVID GOES

AWAY BECAUSE WE WERE IN GOOD

ECONOMIC TIMES BEFORE THAT.

YOU KNOW, IT'S, LOOK, IT'S THE

MARKET.

IT'S A BIT OF A GAMBLE.

THIS IS NOT THE KIND OF

SITUATION I WOULD SAY BET YOUR

404K ON, YOU KNOW?

>> WE HAVE BEEN TALKING ABOUT

THE EFFECTS OF COVID OR THE

POSSIBLE EFFECTS OF COVID-19 ON

OUR ECONOMY AND THE FUTURE OF

OUR ECONOMY.

THERE IS ANOTHER SPECTOR

HAUNTING OUR ECONOMY, AND THAT'S

THE RISING CRIME RATE.

IF THAT CONTINUES, WHAT WILL THE

-- WHAT EFFECT WILL THAT HAVE ON

OUR ECONOMIC PROSPECTS?

>> AGAIN, THIS IS PARTICULARLY

PERTINENT TO LOCAL NEIGHBORHOOD

ECONOMIES.

I REMEMBER FINANCIAL REPORTER IN

THE 1990s GOING OUT TO MANY OF

THE OUTE OUTER BOROUGH SMALL SHG

DISTRICTS.

THE STORES WEREN'T THERE.

SI

THEN WHAT WE HAVE SEEN AND

LARGELY BECAUSE OF REALLY THE

ESTABLISHMENT OF REAL CIVIC

ORDER IN MANY OF THESE PLACES,

WE HAVE SEEN NATIONAL CHAINS

COME IN.

WE HAVE SEEN, YOU KNOW, REALLY

INTERESTING INDEPENDENT, YOU

KNOW -- THAT'S ALL IN DANGER.

THE ONE THING I WOULD SAY IS WE

HAVE A LONG WAY TO GO BEFORE WE

GET THERE BECAUSE CRIME IS

DECLINING SO MUCH IN NEW YORK.

70% TO 80%.

I THINK WE HAVE SOME ROOM TO

MAKE MISTAKES BECAUSE WE KNOW,

BECAUSE WE HAVE DONE IT ALREADY,

WE KNOW HOW TO REVERSE THAT AND

YOU WOULD HOPE AT SOME POINT

COOLER HEADS WILL PREVAIL AND

THAT WE WILL DO THAT.

SO IT IS CLEARLY A THREAT.

I WROTE MANY STORIES IN THE LATE

'O

80s AND '90s.

WE ARE A LONG WAY FROM THAT

PARTICULAR POSITION NOW, BUT WE

ARE NOT HEADING IN THE RIGHT

DETE

DIRECTION EITHER.

>> WE HAVE 30 SECONDS LEFT.

I HAVE TO ASK YOU THIS.

WHAT IS THE PROSPECT FOR THE

FUTURE?

REALISTICALLY, WHERE WILL WE BE

A YEAR FROM NOW?

WILL WE BE IN THE DOLDRUMS OR

HAVE BOUNCED BACK?

WHAT'S YOUR BEST GUESS?

>> I THINK BECAUSE THIS IS

LASTING SO LONG IT'S GOING TO

CHANGE PEOPLE'S BUYING PATTERNS

AND THAT'S GOING TO CREATE SOME,

I GUESS WHAT I WOULD CALL,

DISLOCATIONS AND SOME BUSINESSES

WILL ADJUST TO THAT.

I THINK WE ARE GOING TO COME

BACK.

I THINK THERE ARE GOING TO BE

LONG-TERM CHANGES.

THE BIG ISSUE, THE BIG ISSUE IS

ARE ALL THOSE WORKERS GOING TO

COME BACK TO NEW YORK CITY'S

OFFICES.

>> STEVE, WE HAVE TO END IT

THERE.

THANK YOU SO MUCH.

>> THANK YOU.

>>> GOOD EVENING.

I'M RAFAEL PI ROMAN.

YOU KNOW, WHEN COVID-19 FIRST

HIT THE TRI-STATE REGION

NON-ESSENTIAL MEDICAL VISITS

WERE PUT ON HOLD TO ALLOW

HOSPITALS AND MEDICAL PERSONNEL

TO COPE WITH THE CRISIS.

ONE OF THE RESULTS WAS THAT A

LARGE NUMBER OF PATIENTS

POSTPONED CRITICAL CANCER

SCREENINGS INDEFINITELY.

CONTINUING FEARS OVER

CORONAVIRUS MEANS THAT MANY

PATIENTS ARE PUTTING OFF THESE

SCREENINGS EVEN NOW DESPITE THE

FACT THAT COVID-19 CASES HAVE

DROPPED DRAMATICALLY.

TYPICALLY SERIOUS IN NEW YORK

CITY WHERE EVERY WEEK HUNDREDS

OF NEW YORKERS ARE DIAGNOSED

WITH CANCER.

JOINING US TO TALK ABOUT THE

GRAVITY OF THE SITUATION IS DR.

LISA DiANGELIS, DECCHIEF MEDICA

OFFICER OF THE MEMORIAL SLOAN

KETTERING CANCER CENTER.

DOCTOR, WELCOME TO THE PROGRAM.

>> THANK YOU.

>> SO, DOCTOR, FIRST OF ALL,

WHEN THE GRAVITY OF COVID-19

BECAME EVIDENT IN EARLY MARCH,

FEDERAL OFFICIALS AND CANCER

SOCIETIES URGED AMERICANS TO

DELAY THEIR SCREENINGS, ROUTINE

CANCER SCREENINGS, AND THAT WAS

THE TIME WHEN MANY HOSPITALS

STOPPED NON-ELECTIVE -- OR

ELECTIVE PROCEDURES, AND OF

COURSE THAT WAS THE BEGINNING OF

SOMEWHAT SOMEONE CALLED AN

APOCALYPTIC DROP IN CANCER

SCREENINGS DIAGNOSIS AND

TREATMENTS.

IN HINDSIGHT, DID WE GO TOO FAR?

DID WE TRY TO STOP ONE HEALTH

CRISIS BY CREATING ANOTHER?

>> SO, YOU KNOW, THAT'S A VERY

GOOD QUESTION, RAFAEL.

BUT I THINK EVEN IN RETROSPECT,

THE RIGHT DECISION WAS MADE AT

THE TIME IN THE SPRING OF THIS

YEAR.

ONE OF THE CONCERNS WAS THE NEED

TO CONTROL, TO CONSERVE PPE, AND

SO ELECTIVE PROCEDURES,

INCLUDING CANCER SCREENINGS,

OFTEN USE A FAIR AMOUNT OF PPE.

IT WAS REALLY IMPERATIVE THAT WE

PRESERVE THOSE THINGS FOR THE

PHYSICIANS WHO WERE TAKING --

AND NURSES WHO WERE TAKING OF

PATIENTS WITH COVID INFECTION.

THE OTHER THING WAS, WE HAD ALL

HOPED, PERHAPS A BIT NAIVELY,

THAT THE INTERRUPTION OF ROUTINE

HEALTH CARE BY THE CORONAVIRUS

WAS GOING TO BE RELATIVELY SHORT

LIVED, MEANING A COUPLE OF

MONTHS, AND THEN HOPEFULLY

THINGS WOULD RESUME.

OF COURSE, WE'RE IN A DIFFERENT

SITUATION NOW WHERE THE

INFECTION CONTINUES.

>> DO WE HAVE ANY IDEA HOW MANY

DIAGNOSES OF CANCERS WERE MISSED

OVER THE LAST FEW MONTHS AND HOW

MANY OF THOSE CANCERS HUPGRADED

AS SOME COLLEGES CALL IT TO

LATER-STAGE CANCERS?

>> IN GENERAL, CANCER SCREENING

FELL BY ABOUT 90% DURING THE

PEAK OF THE PANDEMIC.

AND I THINK WE WORRY ABOUT

CANCER UPGRADING IF PEOPLE DON'T

RETURN TO SCREENING, BUT I THINK

IF THOSE -- IF THE POPULATION

RETURNS TO REGULAR SCREENING

PROCEDURES AT THIS POINT IN TIME

WE COULD AVERT THAT VERY DELAYED

DIAGNOSIS AND UPGRADING OF THEIR

CANCER AS A CONSEQUENCE.

>> I WAS READING, AS I WAS

READING TO PREPARE FOR THIS

INTERVIEW, I READ A COUPLE OF

PIECES THAT SAID THERE IS A

PROJECTED 10,000 PEOPLE WILL DIE

OF CANCER THAT WOULD NOT HAVE

DIED IF THEY HAD BEEN DIAGNOSED

IN TIME.

DO YOU AGREE WITH THAT NUMBER?

>> YES.

THAT NUMBER COMES FROM THE

NATIONAL CANCER INSTITUTE AND

WAS REALLY DESCRIBED BY THE

DIRECTOR OF THE NCI, DR. NED

SHARPLESS.

BUT I THINK THAT WE STILL HAVE

THE POWER TO AFFECT THAT NUMBER

BY GETTING PEOPLE TO COME BACK

AND GET THEIR REGULAR SCREENING

NOW.

>> NOW, NO ONE HERE IN NEW YORK

CITY OR THE TRI-STATE AREA IS

RECOMMENDING THAT PATIENTS NOT

GET SCREENED OR NOT GET

TREATMENT NOW.

NEVERTHELESS, THE NUMBERS, AND

YOU CAN TELL ME WHAT THE NUMBERS

ARE, ARE STILL LOW.

AND THAT IS BECAUSE PEOPLE ARE

AFRAID TO GO TO THE DOCTOR OR

MEDICAL FACILITY OR THE

HOSPITALS.

FIRST OF ALL, WHAT ARE THE

NUMBERS NOW COMPARED TO WHAT

THEY WERE AT THE WORST AND

SHOULD PEOPLE BE AFRAID TO GO TO

THEIR MEDICAL FACILITY,

ESPECIALLY IF THEY HAVE CANCER,

IN REMISSION OR ARE BEING

TREATED FOR IT?

>> WELL, CERTAINLY ANYBODY WITH

CANCER NEEDS TO CONTINUE THEIR

TREATMENT.

AND I THINK FOR THE MOST PART

PEOPLE WITH AN ACTIVE DIAGNOSIS

HAVE RESUMED TREATMENT AND

REGULAR VISITS WITH THEIR

PHYSICIAN OFTEN FACILITATED BY

TELEMEDICINE.

THE SCREENING SITUATION HAS NOT

RETURNED TO NORMAL, AND I THINK

FOR EXACTLY THE REASONS YOU HAVE

OUTLINED, PEOPLE ARE AFRAID.

HOWEVER, EVERY SINGLE

INSTITUTION THAT I'M AWARE OF

HAS REALLY PUT EXTRAORDINARY

EFFORT INTO MAKING SURE THAT THE

ENVIRONMENT IS CLEAN, THAT THEIR

STAFF AND THEIR PATIENTS ARE

PROTECTED AGAINST EXPOSURE.

AND I THINK THAT THERE REALLY,

EXPOSURE WITHIN A HEALTH CARE

FACILITY RIGHT NOW IS MUCH LOWER

THAN I WOULD SAY EVEN COMMUNITY

EXPOSURE IN REGULAR ROUTINE

LIVING.

>> SO WHAT ARE YOU GUYS DOING AT

MEMORIAL SLOAN KETTERING?

WHAT PROTOCOLS ARE YOU

FOLLOWING?

>> SO, WE SCREEN OUR STAFF, WHO

COME TO WORK EVERY SINGLE DAY.

WE HAVE REGULAR TESTING

CERTAINLY BEFORE GIVING

PROCEDURES.

PATIENTS ARE ROUTINELY SCREENED

UPON ENTRY OF ANY OF ONE OF OUR

FACILITIES.

WE HAVE A TEMPERATURE CHECK.

WE HAVE HAND SANITIZER.

OF COURSE, WE KEEP OUR

FACILITIES SCRUBBED AND CLEAN.

WE INSIST ON MASKING OF ALL

STAFF, PATIENTS, AND VISITORS,

AND WE DO EVERYTHING TO MAINTAIN

SOCIAL DISTANCING.

>> NOW, HOW CAN PATIENTS MAKE

SURE THAT THE FACILITY THAT THEY

ARE GOING TO TO GET SCREENED OR

GET SOME TREATMENT ARE AS SAFE

AS YOUR FACILITY?

I MEAN, IS THERE A CHECKLIST

THAT WE SHOULD THINK ABOUT, TALK

TO THEIR PROVIDER ABOUT?

>> SO THEY CERTAINLY CAN TALK TO

THEIR PROVIDER AND THE DOCTORS,

THE NURSES WILL BE ABLE TO TELL

THEM WHAT THEY CAN EXPECT UPON

ENTERING ANY KIND OF HEALTH CARE

FACILITY.

AND I THINK THAT MANY OF THE

PROCEDURES THAT I'M DESCRIBING

THAT WE HAVE IN PLACE, MANY

INSTITUTIONS ALSO HAVE IN PLACE.

THESE ARE PRETTY STANDARD WAYS

OF APPROACHING THE POTENTIAL

INFECTIOUS INDIVIDUAL SO THAT WE

MINIMIZE THAT EXPOSURE.

>> I HAVE TO SAY, I WENT TO A

HOSPITAL FOR A PROCEDURE IN LATE

MAY.

I HAD TO SAY THIS.

YOU KNOW, IN ALL THOSE THINGS

THAT YOU CHECKED OFF, THEY WERE

CHECKED OFF IN THIS HOSPITAL.

THE PROBLEM WAS THAT THEY TOLD

ME IT WOULD BE TWO HOURS AND IT

TURNED OUT TO BE SEVEN HOURS.

I TOLD THEM AHEAD OF TIME, MY

PARENTS ARE DOCTORS, I AM

FAMILIAR WITH DOCTORS, NOT TO

LEAVE ME IN A HALLWAY TO WAIT,

AND THAT'S WHAT THEY DID.

PATIENTS HAVE IT BE PROACTIVE.

THEY CANNOT BE SHY ABOUT TELLING

LIKE I WAS.

I AM LIKE, WAIT A MINUTE, I AM

LEAVING IF A DOCTOR DOESN'T COME

OR I'M LEAVING IF YOU LEAVE ME

IN THIS HALLWAY RIGHT?

>> FIRST OF ALL, I THINK

PATIENTS ALWAYS HAVE TO BE

PROACTIVE ABOUT THEIR CARE, NOT

JUST ABOUT THIS ISSUE BECAUSE AN

INFORMED PATIENT AND FAMILY IS

THE BEST PARTNER FOR ANY HEALTH

CARE TEAM IN TERMS OF TACKLING A

MEDICAL PROBLEM.

BUT, YOU KNOW, WE HAVE REALLY

GONE OUT OF OUR WAY TO TRY AND

AVOID EXACTLY THOSE THINGS

BECAUSE WHEN YOU HAVE A LOT OF

PEOPLE WAITING, YOU HAVE TROUBLE

WITH SOCIAL DISTANCING.

AND THAT HAS BEEN A REASON THAT

WE'VE HAD A VERY RESTRICTED

VISITOR POLICY, FOR EXAMPLE.

WE HAVE ONLY RECENTLY STARTED TO

LOOSEN THAT UP A BIT.

AND I KNOW HOW FRUSTRATING IT IS

FOR PATIENTS TO HAVE A

RESTRICTIVE VISITOR POLICY, BUT

IT IS AN ESSENTIAL PART OF

KEEPING PEOPLE SAFE.

>> THERE HAS BEEN A BIG SURGE IN

COVID CASES DURING THE PAST

COUPLE OF MONTHS IN THE STATES

FROM FLORIDA TO CALIFORNIA,

INCLUDING TEXAS AND ARIZONA.

AND SOME OF THESE STATES THEY

HAVE REINSTATED A HALT TO SOME

PROCEDURES.

I WONDERED, DO YOU KNOW IF THAT

INCLUDES SCREENINGS AND CANCER

SURGERIES, CANCER TREATMENTS?

>> IT DOES -- WELL, IT INCLUDES

SCREENINGS BECAUSE THEY ARE

ELECTIVE PROCEDURES.

IT DOES NOT USUALLY EVER INCLUDE

ESSENTIAL CANCER TREATMENT.

>> NOW, HAVE YOU SEEN AN UPTICK

IN CANCELLATIONS OF APPOINTMENTS

AS A RESULT OF THAT UPSURGE WAY

AWAY FROM NEW YORK CITY EVEN

THOUGH IT'S THAT FAR AWAY?

AND JUST THIS MORNING I READ

THAT THE UPSURGE OF CASES IS

MOVING UP FROM KENTUCKY TO

NEBRASKA.

IS THIS TRICKLING DOWN TO US, OR

UP TO US?

DO YOU SEE THAT YOUR PATIENTS

ARE BEGINNING TO GET WORRIED AND

HAVING A PROBLEM KEEPING THEIR

APPOINTMENTS?

>> SO WE HAVE NOT SEEN AN UPTICK

IN CANCELLATIONS IN THE PAST,

LET'S SAY, SEVERAL WEEKS.

WHERE WE'VE SEEN THE SURGE IS,

AS YOU SAY, IN THE SOUTHERN PART

OF THE COUNTRY, AND I THINK IT'S

REALLY IMPORTANT THAT THE STATE

HAS ACTUALLY PUT THE TRAVEL

RESTRICTIONS IN PLACE.

OF COURSE, WE, LIKE EVERY

INSTITUTION, HAVE PUT IN PLACE

STRICT POLICIES REGARDING PEOPLE

WHO HAVE TRAVELED FROM THOSE

STATES INTO THE NEW YORK AREA SO

THAT WE CAN MAKE SURE WE DON'T

EXPOSE PEOPLE TO A POTENTIALLY

UNWITTINGLY KNOWN INFECTED

PERSON.

SO EVERYBODY IS WORRIED ABOUT

THE, YOU KNOW, REEXPOSURE ISSUE

OF PEOPLE COMING BACK INTO OUR

TRI-STATE REGION BY PEOPLE FROM

THE SOUTHERN PART OF THE

COUNTRY, BUT THERE IS ONLY SO

MUCH WE ARE GOING TO BE ABLE TO

DO ABOUT THAT, OBVIOUSLY.

>> NOW, YOU RECENTLY SAID THAT,

QUOTE, COVID-19 IS HERE TO STAY

AND WE ALL HAVE TO LEARN TO

CO-EXIST WITH THE CORONAVIRUS

AND YET CONTINUE ALL OF OUR

REGULAR HEALTH CARE THAT IS

ESSENTIAL.

FIRST OF ALL, DO WE KNOW THAT,

THAT COVID-19 IS HERE TO STAY?

WHAT ABOUT VACCINES?

WHAT ABOUT HERD IMMUNITY?

WHAT ABOUT CURES?

>> ULTIMATELY, YI THINK WE ARE

ALL HOPING AND EXPECTING THAT

THE CORONAVIRUS WILL RECEDE INTO

THE PAST, BUT WHAT IS NOT

HAPPENING WAS THE EXPECTATION

THAT BY THIS SUMMER, YOU KNOW,

IT WAS GOING TO BE GONE AND DONE

WITH.

CLEARLY, WE ARE IN FOR A MUCH

LONGER HAUL WITH THIS INFECTION

IN THE UNITED STATES THAN WE HAD

HOPED, AND CERTAINLY AT LEAST

THROUGH THE END OF THE YEAR AND

PROBABLY THROUGH NEXT YEAR

BECAUSE EVEN IF A VACCINE IS

AVAILABLE IN RECORD TIME, THAT

WOULD PROBABLY BE JANUARY.

PEOPLE HAVE TO GET VACCINATED

AND WE HAVE TO WAIT FOR THAT

HERD IMMUNITY TO DEVELOP.

>> SO IF IT LASTS A WHILE

AROUND, HAVE WE LEARNED

SUFFICIENTLY TO MAKE SURE THAT

TRYING TO CONTAIN COVID WILL NOT

CONTINUE TO DAMAGE OUR ABILITY

TO DEAL WITH CANCER WHICH IS,

AFTER ALL, A MUCH MORE LETHAL

DISEASE?

>> CORRECT.

AND THAT'S THE COEXISTENCE PART.

SO WE HAVE TO BE ABLE TO PROTECT

OUR STAFF AND OUR PATIENTS FROM

INFECTION, AND AT THE SAME TIME

WE HAVE GOT TO BE ABLE TO

ADDRESS THEIR ESSENTIAL NEEDS

REGARDING THEIR CANCER CARE AND

WE'RE COMMITTED TO DOING THAT.

AND IF THIS MEANS THAT THESE

KINDS OF SAFETY MEASURES PERSIST

FOR THE NEXT 6 TO 12 MONTHS,

THAT'S WHAT WE'LL DO TO MAKE

SURE OUR PATIENTS ARE SAFE AND

THEY CAN GET THE CARE THEY NEED.

>> WE HAVE ABOUT 30 SECONDS

LEFT.

I WANT TO ASK YOU THIS BECAUSE

DR. NED SHARP WAS A DIRECTOR OF

THE NATIONAL CANCER INSTITUTE.

NOT ONLY WORRY ABOUT THE

CLINICAL CARE ASPECTS OF THE

EFFECTS OF COVID ON US, BUT THE

EFFECTS ON THE RESEARCH

COMMUNITY HAS ALSO BEEN

DEVASTATING.

DO YOU AGREE WITH HIM?

>> WELL, RESEARCH WAS PUT ON

PAUSE, IS NOW COMING BACK

ONLINE.

SO WE'RE HOPEFUL.

BUT WE DON'T KNOW WHAT THE

FUTURE IS GOING TO HOLD.

AND IT REMAINS TO BE SEEN WHAT

THE FUNDING RESOURCES WILL BE.

>> SO ARE YOU HOPEFUL THAT THE

NUMBERS WILL COME UP AND THAT

THIS PROBLEM IN ABOUT 15

SECONDS, THAT THIS PROBLEM WILL

NO LONGER EXIST HERE, AT LEAST

HERE IN NEW YORK CITY?

>> I AM HOPEFUL.

>> OKAY.

WELL, THAT'S IT.

THAT'S A GOOD TIME.

THANK YOU SO MUCH, DOCTOR, A

PLEASURE TO TALK TO YOU.

>> THANK YOU.

>> "METROFOCUS" IS MADE POSSIBLE

BY

SUE AND EDGAR WACHENHEIM III,

SYLVIA A. AND SIMON B. POYTA

PROGRAMING ENDOWMENT TO FIGHT

ANTI-SEMITISM.

BARBARA HOPE ZUCKERBERG,

JANET PRINDLE SEIDLER,

JODY AND JOHN ARNHOLD,

CHERYL AND PHILIP MILSTEIN

FAMILY,

BERNARD AND DENISE SCHWARTZ,

JUDY AND JOSH WESTON,

DR. ROBERT C. AND TINA SOHN

FOUNDATION.