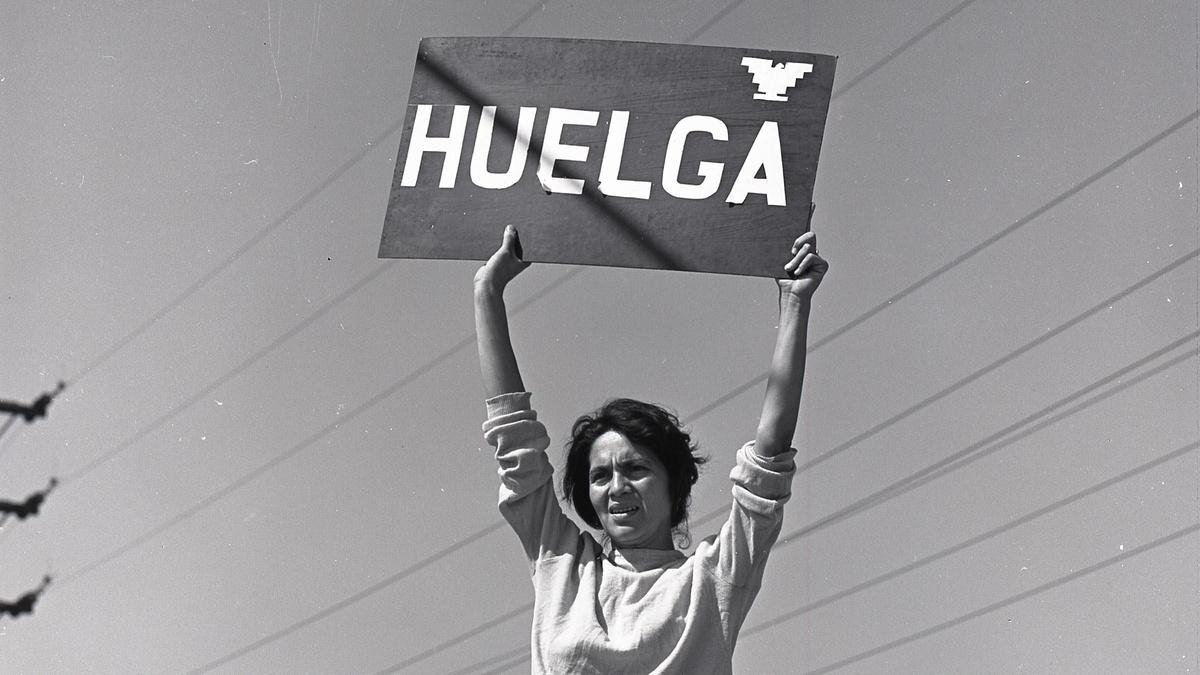 S1 E5 | FULL EPISODE
Episode 5: Prejudice and Pride
Details the creation of the proud "Chicano" identity, as labor leaders organize farm workers in California, and as activists push for better education opportunities for Latinos, the inclusion of Latino studies, and empowerment in the political process.
TRANSCRIPT

Man: WHAT IS OUR HISTORY? WHAT IS OUR PAST?

WHAT IS THE CLAIM THAT WE HAVE TO BE MEMBERS OF THIS SOCIETY?

Man: WE ARE NOT HERE TO THREATEN OR TO BEG.

WE ARE HERE TO PARTICIPATE.

Woman: YOU CANNOT CLOSE YOUR EYES AND YOUR EARS

TO US ANY LONGER BECAUSE WE ARE HERE.

Man: MOST PEOPLE ARE SAYING, SPANISH, THE MEXICANS,

INDIGENOUS PEOPLES DO NOT HAVE THE SPECIAL INHERITANCE

OF LIBERTY THAT WE HAVE.

Man: MY FATHER THOUGHT THAT THE UNITED STATES

WOULD BE LIKE PARADISE.

THERE WAS JOBS FOR EVERYONE.

THERE WERE THOUSANDS OF PEOPLE TRYING TO GET ACROSS.

Man: THE TOUGHEST PART WAS WHEN I LEFT MY MOM

NOT KNOWING IF I'M GONNA SEE HER AGAIN.

Woman: HERE'S A MAN WHO'S SHED HIS BLOOD,

AND YET HE CAN'T GET SOMETHING TO EAT.

Man: RECKLESS? YES. DANGEROUS? EXTREMELY.

DID IT PAY OFF? DAMN RIGHT.

Woman: THE FIRST EUROPEAN LANGUAGE

SPOKEN IN WHAT WOULD BECOME THE UNITED STATES IS SPANISH.

Rita Moren: IMMIGRATION MEANS IT ALL GETS TO BE

PART OF YOUR IDENTITY.

I CAN'T BELIEVE IT.

Gloria Estefan: IT'S CRUCIAL THAT WE KNOW WHO WE ARE,

WHERE WE COME FROM, AND WHAT IT'S BEEN LIKE.

I AM SO PROUD TO BE YOUR MAYOR.

I, SONIA SOTOMAYOR...

Man: THERE'S SO MUCH AT STAKE FOR ALL AMERICANS

IN HOW LATINOS IN THE UNITED STATES DO.

Announcer: FUNDING FOR Narrator: IN THE 1940s, IN DELANO, CALIFORNIA, AS IN MOST

AMERICAN TOWNS, PEOPLE LIVED SEGREGATED LIVES...

EVEN AT THE LOCAL MOVIE HOUSE WHERE WHITES SAT IN THE MIDDLE

AND EVERYONE ELSE SAT ON THE SIDES.

THEN, ONE DAY, THINGS CHANGED.

Man: IN 1946 THERE WAS A YOUNG GUY BY THE NAME OF CC.

HE WAS A PACHUCO.

HE WAS A ZOOT SUITER WHO WENT OFF TO THE NAVY, CAME BACK,

PUT ON HIS CIVVIES AND WENT TO THE MOVIES, AND SINCE HE WAS

SERVING HIS COUNTRY HE FELT THAT HE HAD A RIGHT TO SIT

WHEREVER HE WANTED, SO HE CAME AND SAT IN THE MIDDLE.

HE WOULDN'T MOVE, SO THE POLICE ARRESTED HIM.

[SIREN]

THERE WAS NO LAW THAT SAID YOU COULDN'T SIT IN THE MIDDLE,

SO THEY COULDN'T CHARGE HIM WITH ANYTHING, NOT EVEN

DISTURBING THE PEACE.

HE WAS PRETTY PEACEFUL.

SO THEY GRILLED HIM FOR A COUPLE OF HOURS AND THEN

RELEASED HIM, AND EVERYBODY NOTICED.

THEY SAID, "HEY, CC GOT AWAY WITH IT.

HE SAT IN THE MIDDLE."

SO THE FOLLOWING WEEK, EVERYBODY SAT IN THE MIDDLE

SECTION, AND THE TOWN MOVIE HOUSE WAS DESEGREGATED.

AND THAT HAPPENED ACROSS THE ENTIRE VALLEY.

SOME 20 YEARS LATER WHEN I TOLD MY MOM I WAS GOING BACK

TO DELANO TO WORK WITH THE UNION, SHE SAYS, "OH, YOU'RE

GOING TO WORK WITH CC."

AND I SAID "CC?

IS THAT VATO STILL AROUND?"

AND SHE SAID, "M'IJO, DON'T YOU KNOW WHO CC IS?

HE'S CESAR CHAVEZ."

Narrator: IN THE 1960s, CESAR CHAVEZ WOULD BECOME THE MOST

SIGNIFICANT MEXICAN-AMERICAN LEADER OF HIS GENERATION.

HE WOULD JOIN FORCES WITH DOLORES HUERTA TO CHAMPION

THE HUMAN RIGHTS OF SOME OF AMERICA'S POOREST WORKERS.

Huerta: THE WORKERS WERE LITERALLY LIKE SLAVES.

THE LIVING CONDITIONS WERE HORRENDOUS, AND THE CHILDREN

WERE BAREFOOT.

AND I THOUGHT, "WELL THIS IS SO WRONG."

Narrator: THEIR SUCCESS WOULD IGNITE A MOVEMENT CHALLENGING

A LONG HISTORY OF PREJUDICE AND INJUSTICE.

IN EAST LOS ANGELES, A HIGH SCHOOL TEACHER LED THE LARGEST

STUDENT WALKOUT IN HISTORY, RISKING HIS OWN FREEDOM TO

GIVE MEXICAN-AMERICAN STUDENTS A CHANCE

AT A QUALITY EDUCATION.

Man: IT WAS A RISK, IT WAS A GAMBLE, BUT THE GAMBLE THAT

HAD TO BE TAKEN.

WE'RE TRYING TO MAKE THE SCHOOLS BETTER, TRYING TO MAKE

THE COUNTRY BETTER.

Narrator: IN CRYSTAL CITY, TEXAS, A GRADUATE STUDENT

FOUNDED A POLITICAL PARTY, TRANSFORMING CENTURIES

OF OPPRESSION INTO ETHNIC POWER.

Man: RECKLESS? YES. DANGEROUS? EXTREMELY.

DID IT PAY OFF? DAMN RIGHT.

Narrator: AND IN SAN ANTONIO, A YOUNG ACTIVIST BROUGHT

MILLIONS OF MEXICAN AMERICANS WHO HAD NEVER VOTED TO THE

POLLS, EVENTUALLY DOUBLING THE NUMBER OF LATINOS ELECTED TO

POLITICAL OFFICE.

Man: BECAUSE OF HIS WILL, HIS SHEER WILL, WE BECAME A PART

OF THE AMERICAN SYSTEM.

Narrator: DURING THE 1960s AND '70s, A WHOLE GENERATION

OF MEXICAN AMERICANS DISCOVERED A NEW SENSE

OF PRIDE AS THEY FOUGHT FOR EQUALITY...

AND CHALLENGED AMERICA TO ACCEPT THEM ON THEIR OWN TERMS.

[HELICOPTER]

Narrator: CALIFORNIA'S CENTRAL VALLEY: 23,000 ACRES OF SOME

OF THE MOST PRODUCTIVE FARMLAND ON THE PLANET.

IN THE 1960s, WHILE THE AGRICULTURAL COMPANIES THAT

OWNED THE LAND BECAME WEALTHY, TENS OF THOUSANDS OF FARM

LABORERS WHO WORKED THE LAND REMAINED DESPERATELY POOR.

Man: THESE WERE INHUMANE CONDITIONS.

THEY WERE UN-AMERICAN CONDITIONS.

THEY WERE CONDITIONS THAT RELEGATED THESE FARM WORKERS

TO THE LOWEST WORKERS IN THE WHOLE COUNTRY.

Narrator: MOST WERE MEXICAN AMERICANS WHO COULD NEITHER

READ NOR WRITE...

MOST WOULD DIE BY THE AGE OF 49...

AND TO MOST OF THE COUNTRY, THEY WERE INVISIBLE.

EVERY TIME YOU SIT AT THE TABLE TO HAVE SOMETHING TO EAT,

THE FRUIT AND THE VEGETABLES GOT THERE

BECAUSE SOMEONE WAS EXPLOITED.

THEY'RE SUBJECTED TO THE SUN AND TO THE HEAT AND TO

THE COLD AND TO PESTICIDE POISONING, THEY'RE TREATED

LIKE ANIMALS,

AND THEY ENDURE ALL THE SACRIFICES AND ALL

THE SUFFERING SO YOU CAN EAT AND I CAN EAT.

THESE MEN AND WOMEN AND CHILDREN FEED ALL OF US,

AND THEY DON'T HAVE ANY FOOD FOR THEMSELVES.

AND WE'RE GOING TO CHANGE IT.

IT'S GOING TO BE CHANGED.

Narrator: CESAR CHAVEZ WAS THE SECOND OF SIX CHILDREN, BORN

INTO A DEVOUT CATHOLIC FAMILY ON A MODEST RANCH

IN YUMA, ARIZONA.

THEY LOST THE RANCH DURING THE GREAT DEPRESSION AND WERE SOON

FORCED TO ENTER THE BACKBREAKING WORLD

OF MIGRANT LABOR.

TRAVELING ACROSS CALIFORNIA, TAKING WHATEVER WORK THEY

COULD FIND, THE CHAVEZ CHILDREN PASSED THROUGH 37

SCHOOLS IN THREE YEARS.

CESAR DROPPED OUT AT THE AGE OF 14 TO WORK FULL-TIME

IN THE FIELDS.

Man: WHAT WAS AMAZING ABOUT CESAR WAS THAT HE WAS ALMOST

ENTIRELY AND COMPLETELY SELF-POSSESSED.

HE NEVER GOT PAST THE 8th GRADE, AND YET HE

WAS BRILLIANT.

Narrator: AFTER A STINT IN THE NAVY, CHAVEZ WORKED

FOR THE CSO--THE COMMUNITY SERVICE ORGANIZATION--A GROUP

DEDICATED TO IMPROVING THE LIVES OF MEXICAN AMERICANS.

THERE HE MET SOMEONE WHO SHARED HIS PASSION

FOR JUSTICE: A 28-YEAR-OLD FORMER SCHOOLTEACHER

FROM STOCKTON, CALIFORNIA: DOLORES HUERTA.

Huerta: IN THE SCHOOL WHERE I WAS TEACHING, THERE WERE A LOT

OF MALNUTRITIONED CHILDREN.

SO I WENT TO MY PRINCIPAL AND I SAID, "YOU KNOW, THESE KIDS

ARE OBVIOUSLY VERY HUNGRY."

YOU KNOW, "CAN I GET A VOUCHER FOR SHOES?

FREE LUNCH FOR THESE KIDS?"

AND HIS RESPONSE WAS, "THEIR PARENTS--ALL THEY DO IS DRINK

UP ALL THEIR MONEY."

I KNEW HE WAS WRONG.

Narrator: A FRUSTRATED HUERTA HAD QUIT HER TEACHING JOB TO

JOIN THE CSO.

AT A MEETING IN SAN FRANCISCO IN 1962, CESAR CHAVEZ

APPROACHED HER WITH AN IDEA THAT WOULD ALTER THE COURSE

OF THEIR LIVES.

Huerta: HE SAID, "YOU AND I HAVE TO ORGANIZE A UNION."

AND THEN HE SAID, "BUT WE WILL NOT SEE AN ACTUAL UNION

IN OUR LIFETIME."

AND I SAID, "WHY?"

AND HE SAID, "BECAUSE THE GROWERS ARE TOO RICH, THEY'RE

TOO POWERFUL, AND THEY'RE TOO RACIST."

Narrator: FOR HUERTA, A DIVORCED MOTHER WITH SEVEN

CHILDREN, COMMITTING HERSELF TO THE FARM WORKER CAUSE WAS

AN AGONIZING DECISION.

Huerta: AND THAT WAS A BIG STEP FOR ME BECAUSE I HAD

A FAMILY THAT I HAD TO SUPPORT.

AND I REMEMBER JUST THINKING ABOUT THIS, "THIS IS SUCH

A FOOLISH THING TO DO."

BUT I JUST REMEMBER, "I'VE GOT TO DO THIS," AND I DID IT.

Narrator: BUT A SERIOUS OBSTACLE STOOD IN THE WAY

OF CREATING A FARM WORKERS UNION: THE BRACERO PROGRAM,

A GOVERNMENT INITIATIVE LEFT OVER FROM WORLD WAR II THAT

BROUGHT IN MEXICAN LABORERS TO REPLACE AMERICANS WHO WERE

FIGHTING OVERSEAS.

[MILITARY MARCH PLAYING]

Newsreel announcer: THIS IS THE VANGUARD OF 1,500 MEXICANS

BROUGHT TO THE STATES BY THE FARM SECURITY ADMINISTRATION.

MOST ARE LABORERS.

ALL OF THEM ARE BACHELORS.

Narrator: WHEN THE WAR ENDED, THE PROGRAM CONTINUED TO BRING

IN A NEARLY UNLIMITED SUPPLY OF CHEAP LABORERS FROM MEXICO,

DESPERATE FOR WORK.

BUT ONCE IN THE U.S., THEIR EMPLOYERS COULD USE THEM AS

STRIKEBREAKERS AND HAVE THEM DEPORTED IF THEY COMPLAINED.

Huerta: THEY WEREN'T ALLOWED TO ORGANIZE INTO UNIONS.

THE WORKERS WERE LITERALLY LIKE SLAVES.

Narrator: THE BRACERO PROGRAM WAS FINALLY ENDED IN 1964,

AFTER 20 YEARS OF OPPOSITION BY MEXICAN-AMERICAN LEADERS.

Huerta: I WAS ABLE TO GO TO WASHINGTON, D.C., AND CESAR

AND I WORKED TOGETHER, WORKING WITH THE SECRETARY OF LABOR,

AND WE WERE ABLE TO END THAT PROGRAM.

Narrator: NOW A VIABLE UNION SEEMED POSSIBLE.

[SHOUTING AND GUNSHOTS]

BUT THE HISTORY OF UNIONISM IN THE UNITED STATES WAS SCARRED

BY VIOLENCE.

SINCE THE 1930s, DOZENS OF STRIKES HAD BLOODIED

THE STREETS AND FIELDS OF CALIFORNIA.

ATTACKS AND RETALIATION OFTEN TRIGGERED CYCLES OF VIOLENCE

THAT ROBBED WORKERS OF PUBLIC SUPPORT AND DOOMED THE STRIKES

TO FAILURE.

Huerta: WE KNEW THAT IN THE PAST HISTORY

OF ORGANIZING FARM WORKERS THAT THERE HAD BEEN A LOT

OF VIOLENCE.

WE KNEW FARM WORKERS HAD BEEN KILLED.

Narrator: CHAVEZ AND HUERTA ADMIRED MAHATMA GANDHI, WHO

HAD GAINED INDIA'S INDEPENDENCE FROM ENGLAND

THROUGH A NONVIOLENT CAMPAIGN.

Garcia: FOR BOTH OF THEM, NONVIOLENCE WAS NOT JUST

A STRATEGY, IT WAS A PRINCIPLE OF HOW TO LIVE YOUR LIFE THAT,

IF YOU BELIEVED IN THE PRINCIPLE OF HUMAN DIGNITY,

YOU DIDN'T HARM ANOTHER HUMAN BEING.

Narrator: FOR THREE YEARS, CHAVEZ AND HUERTA SIGNED UP

FARM WORKERS, GRADUALLY BUILDING THEIR UNION.

BUT IN SEPTEMBER 1965, THEY WERE CAUGHT OFF GUARD.

[MAN SHOUTING]

FILIPINO GRAPE WORKERS NEAR DELANO, CALIFORNIA, WENT

ON STRIKE, DEMANDING HIGHER WAGES.

COME INTO THE FOLD OF UNIONISM

AND HELP [INDISTINCT] WORKER

INTO THE FOLD OF UNIONISM.

Huerta: WE VOTED TO SUPPORT THE FILIPINO WORKERS, BUT WE

WERE VERY NAIVE.

WE MADE THESE BIG OLD SIGNS THAT SAID "HUELGA," WHICH

MEANS STRIKE IN SPANISH.

THE FIRST DAY WE HAD A COUPLE OF STRIKERS THAT WERE BEATEN UP,

AND IT WAS NOT A GOOD EXPERIENCE.

Huerta: [INDISTINCT] SISTER OR BROTHER!

Man: HERE'S THIS YOUNG WOMAN, NOT THAT BIG, LEADING

A STRUGGLE, AND SHE WAS CHALLENGING THE ROLE OF WOMEN

AMONG FARM WORKERS.

THEY HAD NEVER SEEN AN AGGRESSIVE,

INDEPENDENT WOMAN LIKE DOLORES.

COME ALONG, BROTHERS! WE ARE WAITING FOR YOU!

YOU ARE EARNING MORE MONEY TODAY BECAUSE THE WORKERS WENT

OUT ON STRIKE ON SEPTEMBER THE 9th...

Valdez: AND I FOUND MYSELF IN A POSITION WHERE I WAS WILLING

TO BE A LIEUTENANT, TO BE A FOLLOWER.

[INDISTINCT]

Narrator: THE STRIKE UNFOLDING IN THE SAN JOAQUIN VALLEY

RESONATED WITH VALDEZ, AN ASPIRING YOUNG PLAYWRIGHT

WHO'D GROWN UP IN DELANO.

Valdez: WE WERE MIGRANT FARM WORKERS.

AND SO I WAS IN THE FIELDS BEFORE I COULD WALK.

I WAS IN MY MOTHER'S ARMS.

AND LIKE A LOT OF MIGRANT KIDS, I USED TO SLEEP

IN A FRUIT BOX WHILE SHE WORKED, AND EVENTUALLY WHEN I

WAS OLD ENOUGH TO WALK, I BEGAN TO WORK.

[INDISTINCT]

...ENGAGED IN THE CONVERSATION.

Narrator: VALDEZ SOON BECAME PART OF CESAR CHAVEZ'S

INNER CIRCLE.

[SPEAKS SPANISH]

Valdez: CESAR WAS RELATIVELY YOUNG, BUT HE WAS MESMERIZING.

I MEAN HIS PRESENCE, AND I'M NOT TALKING

ABOUT SOMETHING FLASHY.

I'M TALKING ABOUT SOMETHING VERY BASIC, VERY HUMBLE.

Crowd: HUELGA! HUELGA!

Valdez: BUT HIS SENSE OF PLACE AND TIME, OF WHAT TO DO UNDER

THE GIVEN CIRCUMSTANCES CAME FROM A CONFIDENCE THAT HE HAD

WITHIN HIM.

THAT CONFIDENCE INSPIRED ALL OF US.

[CROWD SHOUTING]

Narrator: AFTER 4 MONTHS, THE STRIKE WAS GOING NOWHERE.

GROWERS BUSSED IN NON-UNION WORKERS TO PICK THE GRAPES

AND BREAK THE STRIKE.

[BUS HORN HONKS]

AS THE HARVEST WOUND DOWN, THE UNION WAS ALMOST BROKE,

AND CHAVEZ WAS LOSING HOPE.

Valdez: IN THE CROP SEASON, THERE IS A PERIOD WHERE

EVERYTHING IS GERMINATING.

THE VINES HAVE BEEN PRUNED, YOU KNOW, THEY'VE BEEN

DE-LEAFED.

IT'S BEEN IRRIGATED, AND NOW YOU GOT TO WAIT FOR THE NEW

CROP TO KICK IN.

AND SO THERE IS A DEAD SEASON.

WHAT THE FARM WORKERS CALL EL INVIERNO CHIQUITO--THE

LITTLE WINTER.

THAT WAS A DANGEROUS TIME FOR THE UNION BECAUSE THERE WERE

NO WORKERS IN THE FIELD.

Narrator: CHAVEZ WAS BEGINNING TO BELIEVE THE STRIKE COULD

NEVER BE WON IN THE FIELDS.

HE DESPERATELY WANTED TO BRING THE MOVEMENT INTO

THE NATIONAL SPOTLIGHT.

Valdez: CESAR CAME UP WITH THIS BRILLIANT IDEA

OF MARCHING TO SACRAMENTO.

Narrator: IN THE MANNER OF MARTIN LUTHER KING, WHO

GARNERED MEDIA ATTENTION LEADING A MARCH THROUGH

ALABAMA IN 1965, CHAVEZ WOULD LEAD A 300-MILE PILGRIMAGE

FROM DELANO TO THE STATE CAPITAL, PASSING THROUGH

FARM WORKERS' TOWNS ALONG THE WAY.

Huerta: CESAR SAID IT'S GOING TO BE A MARCH OF PENITENCE,

AND THE WORKERS SAID, "WELL, WE DON'T HAVE ANYTHING TO BE

"PENITENT ABOUT.

THE GROWERS ARE THE ONES THAT ARE DOING EVERYTHING WRONG."

HE SAID, "NO, NO. I WANT EVERYBODY TO THINK

"OF SOMETHING THAT YOU'VE DONE--SOME GOSSIP MAYBE, SOME

"FIGHT THAT YOU HAD.

THINK OF YOUR OWN THINGS IN YOUR OWN LIFE."

Garcia: IT WAS A PILGRIMAGE.

THIS WAS A SPIRITUAL PILGRIMAGE.

IT WAS AN ATTEMPT TO SUGGEST, TO THE WORKERS AND OTHERS,

THIS WAS GOING TO BE A LONG STRUGGLE.

[PEOPLE SHOUTING]

Narrator: AS HE PLANNED FOR THE MARCH, CHAVEZ'S FAITH WAS

BEING TESTED.

STRIKING WORKERS WERE SUBJECTED TO PHYSICAL

AND VERBAL ATTACKS FROM GROWERS WHO SEEMED TO HAVE LAW

ENFORCEMENT IN THEIR POCKET.

[PEOPLE SHOUTING IN SPANISH]

Narrator: ON MARCH 16, 1966, WITH THE SITUATION THREATENING

TO EXPLODE, THE SENATE SUB-COMMITTEE ON MIGRATORY LABOR

HELD HEARINGS IN DELANO.

Robert Kennedy: THE FACT THAT SOMEBODY MAKES A REPORT

ABOUT SOMEBODY'S GOING TO...

Narrator: AS NEWS CAMERAS ROLLED, SENATOR ROBERT KENNEDY

GRILLED THE LOCAL SHERIFF ON HIS PRACTICE OF ARRESTING

PEACEFUL DEMONSTRATORS.

Kennedy: WHO TOLD YOU THAT THEY'RE GOING TO RIOT?

Sheriff: THE MEN RIGHT OUT IN THE FIELD THAT THEY WERE

TALKING TO SAID, "IF YOU DON'T GET 'EM OUT OF HERE, WE'RE

GONNA CUT THEIR HEARTS OUT."

SO RATHER THAN LET 'EM GET CUT, YOU REMOVE THE CAUSE.

[CROWD LAUGHS]

Kennedy: THIS IS A MOST INTERESTING CONCEPT, I THINK.

HOW CAN YOU GO ARREST SOMEBODY IF THEY HAVEN'T

VIOLATED THE LAW?

Sheriff: THEY'RE READY TO VIOLATE THE LAW,

IN OTHER WORDS...

Crowd: OH!

Kennedy: COULD I SUGGEST IN THE LUNCHEON PERIOD OF TIME

THAT THE SHERIFF AND THE DISTRICT ATTORNEY READ

THE CONSTITUTION OF THE UNITED STATES?

Robert Kennedy: THE FARM WORKERS HAVE SUFFERED IN OUR

SOCIETY OVER THE PERIOD OF THE LAST THIRTY YEARS, AND THAT

SITUATION HAS TO BE CHANGED.

[CROWD CHEERING]

Narrator: CHAVEZ SET OUT THE VERY NEXT MORNING, ALONG

WITH 100 FARM WORKERS, TO BEGIN HIS PILGRIMAGE THROUGH

CALIFORNIA'S SAN JOAQUIN VALLEY.

Valdez: CESAR EITHER BY DESIGN OR BY ACCIDENT ENDED UP

BECOMING SYMBOLIC OF THE PENANCE PART BECAUSE HE HAD

SOME BOOTS THAT INJURED HIS FEET.

TURNED OUT TO BE THE WORST IDEA FOR THE MARCH.

HE WAS VISIBLY IN ANGUISH, WHICH MADE FOR GREAT PICTURES--

YOU KNOW, A LIVING CESAR SUFFERING ON THE ROAD.

Narrator: AS THEY TRAVELED NORTH, PASSING THROUGH TOWN

AFTER TOWN, THEIR NUMBERS GREW.

[MEN SINGING IN SPANISH]

♫THE PICKET SIGN, THE PICKET SIGN♫

[SINGING IN SPANISH]

♫THE PICKET SIGN, THE PICKET SIGN♫

[SINGING IN SPANISH]

Narrator: AS A CATHOLIC, CHAVEZ UNDERSTOOD THE POWER

OF SYMBOLS TO INSTILL A DEEP PERSONAL COMMITMENT TO

THE MOVEMENT--AND ATTRACT PUBLIC ATTENTION.

[MEN SINGING IN SPANISH]

Narrator: THEY FLEW THE UNION EAGLE, A SYMBOL

OF MEXICAN PRIDE...

AND THE VIRGIN OF GUADALUPE-- THE VIRGIN MARY AS

A BROWN-SKINNED, MEXICAN INDIAN--SIGNIFIED, FOR MANY,

THE RIGHTEOUSNESS OF WHAT WAS NOW BEING CALLED LA CAUSA:

THE CAUSE.

Crowd: HUELGA! HUELGA! HUELGA! HUELGA!

Narrator: AFTER 25 DAYS, THEIR NUMBERS HAD SWELLED FROM A FEW

DOZEN TO AN ARMY OF THOUSANDS.

ON EASTER SUNDAY, 1966, THE STATE CAPITAL WAS

FINALLY IN SIGHT.

Valdez: WHEN WE GOT TO SACRAMENTO, THERE WERE 10,000

PEOPLE MARCHING ACROSS THE SACRAMENTO RIVER WITH US OVER

THE BRIDGE, AND IT WAS PEOPLE POWER.

THIS WAS A DEMONSTRATION OF DEMOCRACY.

Crowd: HUELGA! HUELGA! HUELGA! HUELGA!

Huerta: TO THE GOVERNOR AND THE LEGISLATURE OF CALIFORNIA,

WE SAY YOU CANNOT CLOSE YOUR EYES AND YOUR EARS TO US

ANY LONGER.

YOU CANNOT PRETEND THAT WE DO NOT EXIST.

YOU CANNOT PLEAD IGNORANCE TO OUR PROBLEMS, BECAUSE WE ARE

HERE AND WE ARE NOT ALONE...

[CROWD CHEERING]

Narrator: WITH PUBLIC SYMPATHY MOUNTING, AND THE SPRING

GROWING SEASON UPON THEM, GROWERS FINALLY AGREED TO MEET

WITH UNION REPRESENTATIVES.

Huerta: ...FARM WORKERS OF THE STATE OF CALIFORNIA.

[CROWD CHEERS]

Garcia: DOLORES HUERTA BECAME THE LEAD NEGOTIATOR, AND IT

WAS UNPRECEDENTED BECAUSE HERE WAS A MEXICAN-AMERICAN WOMAN

NEGOTIATING WITH THE GROWERS AND TAKING THEM ON.

Valdez: SHE IS AN EXCELLENT NEGOTIATOR.

SHE CAN BREAK THINGS DOWN AND CAN ALSO STAND HER GROUND

AT AN INTELLECTUAL LEVEL AND ARGUE POINTS, YOU KNOW,

WITH LAWYERS.

Garcia: THEY HATED HER.

THEY CALLED HER THE "DRAGON LADY."

THEY WISHED THEY WERE NEGOTIATING MORE WITH CESAR

THAN WITH DOLORES.

Narrator: IT WOULD TAKE YEARS OF NEGOTIATIONS AND A NATIONAL

BOYCOTT FOR HUERTA AND CHAVEZ TO SECURE HIGHER WAGES, SAFER

WORKING CONDITIONS, AND AN END TO CHILD LABOR.

BUT THE MARCH TO SACRAMENTO WAS A TURNING POINT.

IT LED TO THE FIRST FARM WORKER CONTRACTS IN AMERICAN

HISTORY, AND FOR MEXICAN AMERICANS, IT WAS ONLY

THE BEGINNING.

Man: VIVA LA HUELGA.

[CHEERING AND APPLAUSE]

Narrator: THE RISE OF CESAR CHAVEZ AS A NATIONAL FIGURE

BEGAN A FUNDAMENTAL SHIFT IN MEXICAN-AMERICAN IDENTITY.

BEFORE CHAVEZ, MOST MEXICAN- AMERICAN LEADERS CAME FROM

UPPER-CLASS FAMILIES AND TENDED TO BE LIGHT-SKINNED,

EUROPEAN-LOOKING--TRAITS THAT WERE PRIZED BY MANY

IN THE LATINO COMMUNITY.

OUR ELDERS, YOU KNOW, WHEN THERE WAS A NEW BABY AND THEY'D

SAY [SPEAKS SPANISH]

AND THEN WE'D HEAR [SPEAKS SPANISH].

SO, THEY'D SAY, "LOOK AT THAT PRETTY BABY.

"IT'S GOT BLUE EYES.

IT'S SO WHITE. IT'S SO PRETTY," AND THEN THE OTHER

BABY, ANOTHER COUSIN IN THE FAMILY, "OH, TOO BAD, MAN.

HE CAME OUT DARK. HE LOOKS LIKE AN INDIAN."

THERE WAS A SELF-HATE THAT WAS EMBEDDED IN THAT.

Narrator: BUT AFTER CESAR CHAVEZ, SOME OF THOSE

PREJUDICES BEGAN TO ERODE.

Man: HE HAD BECOME PRETTY MUCH A NATIONAL ICON.

AND WE LOVED HIM BECAUSE HE DRESSED THE PART LIKE WE DID.

NO SUIT AND TIE, NO BRYLCREEM, NO AFTERSHAVE,

PURO INDIO.

SOFT SPOKEN, KHAKI PANTS AND A FLANNEL SHIRT, MIXED-BLOOD.

THIS IS WHO WE ARE. WE ARE AMERICA.

Narrator: BUT IN MID-1960s LOS ANGELES, THE LARGEST LATINO

COMMUNITY IN THE UNITED STATES SEEMED DESTINED TO REMAIN

IN SOCIETY'S UNDERCLASS.

130,000 MEXICAN AMERICANS WERE ATTENDING L.A. PUBLIC SCHOOLS,

BUT THEIR GRADUATION RATE WAS ONE OF THE LOWEST

IN THE COUNTRY.

IT HAD BEEN THAT WAY FOR GENERATIONS.

AT BELMONT HIGH, SAL CASTRO-- AN EAST L.A. NATIVE--HAD

LANDED A JOB TEACHING SOCIAL STUDIES.

AFTER ONLY A FEW WEEKS, HE NOTICED SOMETHING

ABOUT THE STUDENT BODY THAT CONCERNED HIM AND APPROACHED

THE PRINCIPAL.

I SAID, "MRS. LORD"--I STILL REMEMBER HER NAME--I SAID,

"MRS. LORD, YOU KNOW, THERE'S A LOT OF MEXICAN KIDS HERE.

"THEY'RE NOT IN STUDENT COUNCIL.

"THEY'RE NOT PARTICIPATING IN SOME OF THE ACADEMIC PROGRAMS.

WHAT'S GOING ON HERE?"

SHE SAYS, "YOU KNOW WHAT?

YOU KNOW, THE KIDS ARE PARTICIPATING."

I SAID, "NO, MA'AM, THAT'S NOT TRUE.

I'M CONCERNED ABOUT THIS."

"MR. CASTRO," SHE SAYS, "LET ME CHECK."

SO THEN, SHE CALLS ME BACK AND SHE SAYS, "MR. CASTRO, LOOK.

"MEXICANS HAVE A VERY CHARMING PASSIVITY.

YOU WOULDN'T WANT TO TAKE THAT AWAY FROM THEM, DO YOU?"

Narrator: CASTRO WAS DISHEARTENED

BUT HARDLY SURPRISED.

THE SITUATION IN THE SCHOOL SEEMED ALL TOO FAMILIAR.

WHEN SAL WAS ONLY TWO, IN 1935, HIS FATHER HAD BEEN

FORCED TO LEAVE L.A. AND RETURN TO MEXICO--ONE OF

ABOUT HALF A MILLION MEXICANS AND THEIR U.S.-BORN CHILDREN

DEPORTED DURING THE GREAT DEPRESSION.

Castro: THE IDEA WAS THAT MEXICANS WERE CAUSING

THE DEPRESSION.

PEOPLE WERE OUT OF WORK BECAUSE OF THESE GODDAMN

MEXICANS, SO THEY STARTED ROUNDING MEXICANS UP.

Narrator: WITH HIS FAMILY DIVIDED, CASTRO SPENT HIS

CHILDHOOD GOING BACK AND FORTH BETWEEN MEXICO AND THE U.S.

BEFORE ATTENDING SCHOOL IN EAST LOS ANGELES.

Castro: AS I CAME BACK UP TO THE UNITED STATES AND

STARTED SCHOOL HERE, I SPOKE MOSTLY SPANISH,

AND THE TEACHER COULD NOT UNDERSTAND ME, SO I SAT

IN THE CORNER.

THEY WERE EVEN SWATTING KIDS FOR SPEAKING SPANISH.

AND WORST OF ALL, YOUR PARENTS SPOKE SPANISH.

MAYBE THERE IS SOMETHING WRONG WITH YOUR PARENTS.

THAT'S REALLY A PSYCHOLOGICAL WHIPPING THAT THESE FOLKS DID

NOT UNDERSTAND, OR IF THEY UNDERSTOOD IT, THEY DIDN'T

GIVE A DAMN.

Narrator: NOW AS A TEACHER, CASTRO COULD SEE THAT LITTLE

HAD CHANGED--MOST MEXICAN- AMERICAN STUDENTS WERE

DIRECTED AWAY FROM ACADEMIC CLASSES AND INTO

VOCATIONAL TRAINING.

Man: WHEN I WAS IN HIGH SCHOOL, I WAS ASKED, "WHAT

DOES YOUR FATHER DO FOR A LIVING?"

AND I SAID, "WELL, HE WORKS WITH HIS HANDS--CONSTRUCTION,

CHEAP LABOR, PICK AND SHOVEL KIND OF JOB," AND SHE TOLD ME--

SHE WAS A WHITE WOMAN--SHE TOLD ME, "OH, THAT IS A VERY

"HONORABLE PROFESSION.

YOU SHOULD FOLLOW IN YOUR FATHER'S FOOTSTEPS."

I WAS TOLD SPECIFICALLY IN A GEOMETRY CLASS, WHEN I GOT UP

TO ASK A QUESTION, "OH, PAULA, WHY ARE YOU EVEN BOTHERING?

"WE ALL KNOW YOU'RE NOT GOING TO GO TO COLLEGE.

"YOU'RE GOING TO BE PREGNANT BY THE END OF SUMMER LIKE THE

REST OF YOUR GIRLFRIENDS."

Narrator: EVERY YEAR, ABOUT HALF OF ALL MEXICAN-AMERICAN

STUDENTS IN LOS ANGELES SCHOOLS DROPPED OUT.

BARELY ONE IN A THOUSAND ATTAINED A COLLEGE DEGREE.

CASTRO SET OUT TO TRANSFORM THESE DIRE STATISTICS BY

INSTILLING IN HIS STUDENTS A SENSE OF PRIDE.

HE MADE ME FEEL LIKE LOVING MEXICAN CULTURE AND OUR OWN

HERITAGE WAS ACTUALLY COOL, AND THAT WAS BOTH UNSETTLING

AND REVOLUTIONARY AND EXCITING.

Narrator: AS STUDENTS LEARNED ABOUT MEXICAN-AMERICAN HISTORY

AND THE INDIGENOUS ROOTS OF THEIR CULTURE, MANY BEGAN

ADOPTING A NEW NAME FOR THEMSELVES: CHICANO.

Esparza: WHEN WE IDENTIFIED WITH THE WORD "CHICANO," OUR

UNDERSTANDING OF THE WORD WAS THAT IT WAS THE SAME WORD THAT

IS THE ROOT WORD FOR MEXICO, WHICH WAS THE NAME

OF THE AZTEC INDIANS, AND THEIR NAME WAS MEXICA, NOT AZTEC.

THAT'S WHAT THE SPANIARDS CALLED THEM.

MEXICA, AND YOU DROP OFF THAT WEAK FIRST SYLLABLE, "ME,"

AND YOU GET "'XICA" AND THAT BECOMES CHICANO, MEXICANO,

AND THAT'S WHO WE WERE.

Narrator: WITH THIS NEW AWARENESS OF IDENTITY CAME

A HEIGHTENED SENSE OF SELF-WORTH,

WHICH SAL CASTRO REINFORCED.

Garcia: WHAT HE WAS ABLE TO DO WITH HIS STUDENTS WAS TO GIVE

THEM A SENSE THAT THEY WEREN'T THE PROBLEM.

IT WAS THE SCHOOLS THAT WERE THE PROBLEM.

AND WHEN THEY BEGAN TO UNDERSTAND THAT

IN THE DIALOGUE THAT THEY WOULD HAVE WITH SAL, BOTH

IN AND OUT OF THE CLASSROOMS, THAT EMPOWERED THEM.

SO WE STARTED TO GET THAT THERE WAS SOMETHING WRONG,

AND WE WERE LOOKING AT THE AFRICAN-AMERICAN CIVIL RIGHTS

MOVEMENT, AND WE UNDERSTOOD THAT IT WASN'T THEIR CIVIL

RIGHTS MOVEMENT, IT WAS A CIVIL RIGHTS MOVEMENT.

IT INCLUDED EVERYBODY.

Narrator: BY 1967, WITH MARTIN LUTHER KING ORGANIZING

IN THE SOUTH AND CESAR CHAVEZ ORGANIZING IN CALIFORNIA, SAL

CASTRO BEGAN LOOKING FOR WAYS TO ORGANIZE STUDENTS

IN EAST L.A.

Castro: I WENT TO SEE MY FATHER, AND I SAID, "WHAT DO

"YOU THINK, DAD?

WHAT DO YOU THINK I SHOULD DO?"

HE SAID, "HUELGA, M'IJO. HUELGA."

THAT'S ALL HE SAID.

Narrator: CASTRO DETERMINED TO ORGANIZE A HUELGA, A STUDENT

STRIKE OF AS MANY SCHOOLS AS POSSIBLE.

STUDENTS DREW UP A LIST OF DEMANDS THAT INCLUDED HAVING

CLASSES IN MEXICAN-AMERICAN HISTORY AND HIRING MORE

LATINO TEACHERS.

CASTRO ENLISTED RECENT GRADUATES TO HELP.

Muñoz: HE SAID, "THERE'S KIDS TODAY IN THE SCHOOLS THAT I'M

TEACHING THAT ARE GOING THROUGH THE SAME EXPERIENCE

THAT YOU GUYS DID, THAT I DID," HE SAID, "AND I WANT

YOUR HELP TO BRING IT TO A STOP."

Esparza: THE WORD STARTED TO CIRCULATE, "WALKOUT, WALKOUT.

LET'S BOYCOTT SCHOOL."

AND WE SLOWLY PLANNED THIS OUT CAMPUS BY CAMPUS OVER

A SIX-MONTH PERIOD, AND WE SET A DATE.

MARCH THE 6th, 1968.

Woman: I WAS SCARED, EXCITED, NERVOUS.

MY MOTHER TOLD ME "I'LL MEET YOU IN FRONT OF SCHOOL.

LOOK FOR ME."

SO THAT REALLY EMPOWERED ME.

Esparza: I GOT TO LINCOLN HIGH SCHOOL, AND I KNEW THAT OTHERS

WERE AT ROOSEVELT.

WE HAD ALL COORDINATED, AND OTHERS WERE AT GARFIELD,

AND SOME WERE AT WILSON.

BELMONT WAS READY AS WELL.

Crisostomo: I REMEMBER BEING REALLY NERVOUS AND NOT

KNOWING, "CAN I DO THIS?

"WHAT IF I'M THE ONLY ONE WHO GETS UP TO DO THIS?

CAN I REALLY DO THIS?"

AND YOU KNOW, THE TIME CAME--10:00.

AND I RUSHED ONTO CAMPUS, AND NOBODY WAS WALKING OUT.

AND I STARTED YELLING UP AND DOWN THE HALLWAYS,

"WALKOUT! WALKOUT! WALKOUT!"

I STOOD UP AND WALKED OUT OF THE CLASSROOM.

I WAS AFRAID TO LOOK BEHIND ME TO SEE IF ANYONE ELSE

WAS COMING.

AND THEN THE DOORS STARTED TO FLING OPEN.

AND THE STUDENTS JUST RUSHED OUT.

Crisostomo: THE ROAR OF THEIR FOOTSTEPS ALL COMING DOWN

THE STAIRWELL WHERE I WAS...

THAT WAS EXCITING.

[CROWD SHOUTING]

Crisostomo: ALL I REMEMBER WAS, "OK, I GOTTA GO TO

THE FRONT GATE 'CAUSE THAT'S WHERE MOM IS."

AND THERE SHE WAS.

AS ALL OF THE STUDENTS CAME OUT,

I PICKETED LINCOLN HIGH SCHOOL WITH MY MOTHER.

Muñoz: OVER A THOUSAND KIDS, YOU KNOW, WERE--WERE OUT

THERE, AND THE MORE WE MARCHED, AND THOSE OF US

IN THE FRONT, WE LOOKED BACKED AND WOW.

"LOOK AT ALL--LOOK AT ALL THESE KIDS" AND PARENTS COMING

OUT AND JOINING THEM.

Castro: IT WAS A VERY EMOTIONAL TIME FOR ME.

DAMN, IT WAS BEAUTIFUL.

Narrator: BY THE END OF THE DAY, MARCH 6th, 1968, SOME

10,000 STUDENTS HAD PEACEFULLY WALKED OUT OF FOUR EAST LOS

ANGELES HIGH SCHOOLS.

BUT TENSIONS WERE HIGH IN THE CITY.

RACE RIOTS HAD ERUPTED ALL ACROSS AMERICA THE YEAR

BEFORE, AND WHEN STUDENTS AT ROOSEVELT HIGH SCHOOL WALKED

OUT, POLICE OFFICERS WERE SENT TO MAINTAIN ORDER.

THINGS SOON GOT OUT OF HAND.

Man on megaphone: DISPERSE IMMEDIATELY.

Esparza: THE NEXT THING WE KNEW, THE POLICE STARTED

RUSHING US.

AND THEY WERE WAVING THEIR BILLY CLUBS.

AND IT WAS AS UGLY A THING AS I REMEMBER IN MY LIFE--PEOPLE

BEING CLUBBED DOWN TO THE FLOOR BECAUSE THEY WANTED

AN EDUCATION.

[CROWD SHOUTING]

THE NEXT DAY, WE WALKED OUT AGAIN, AND WE WALKED OUT AGAIN

THE NEXT DAY AFTER THAT, AND WE DIDN'T STOP FOR TWO WEEKS.

Man: WE ARE NOT GOING TO...

Narrator: THE WALKOUTS EVENTUALLY LED TO MEETINGS

WITH PARENTS AND ADMINISTRATORS, AND MANY

OF THE STUDENTS' DEMANDS WERE MET.

Castro: YOU STARTED HAVING BROWN FACES, YOU STARTED

HAVING MORE MEXICAN ADMINISTRATORS, MORE BILINGUAL

ADMINISTRATORS, AND SURE ENOUGH, WE EVENTUALLY STARTED

HAVING SUPERINTENDENTS.

Narrator: THE DECADE OF THE 1970s WOULD SEE MORE LATINOS

ATTENDING COLLEGES AND UNIVERSITIES ACROSS THE

COUNTRY THAN EVER BEFORE...

AND THEY WOULD EVENTUALLY ESTABLISH CHICANO AND LATINO

STUDIES DEPARTMENTS AT OVER 160 UNIVERSITIES.

BUT PERHAPS THE GREATEST TRANSFORMATION TOOK PLACE

WITHIN THE STUDENTS THEMSELVES.

Esparza: BEFORE THE WALKOUTS, THE WORD CHICANO DIDN'T HAVE

THE CHARGE OF CLAIMING OUR IDENTITY IN THE COUNTRY

AND SAYING, "YEAH, I'M AN AMERICAN, AND THAT MEANS BEING

A CHICANO."

AFTER THE WALKOUTS, BEING CHICANO MEANT THAT YOU WERE

GOING TO STAND UP FOR WHO YOU WERE AND OWN IT.

Narrator: ALL ACROSS THE COUNTRY, CHICANOS WERE TAKING

OWNERSHIP OF THEIR FUTURE.

WE CAME HERE TO BUILD THE NEW CHICANO MOVEMENT.

THAT'S WHAT WE CAME HERE FOR.

Narrator: IN COLORADO, RODOLFO "CORKY" GONZALES ORGANIZED

THE FIRST-EVER CHICANO YOUTH CONFERENCE.

1,500 YOUNG PEOPLE RALLIED TO SUPPORT CHICANOS RUNNING

FOR OFFICE, TO DEMAND EQUAL RIGHTS FOR WOMEN, AND TO PRESS

FOR MORE COMMUNITY INVOLVEMENT IN PUBLIC SCHOOLS.

IN WASHINGTON D.C., THE NATIONAL COUNCIL OF LA RAZA

BECAME THE LARGEST LATINO ORGANIZATION IN THE COUNTRY

FIGHTING FOR CIVIL RIGHTS.

ALTHOUGH WE ARE FIGHTING FOR LAND, WE ARE FIGHTING

THE SURVIVAL AND PROTECTION OF OUR CULTURE.

Narrator: IN NEW MEXICO, REIES LOPEZ TIJERINA LED A MOVEMENT

DEMANDING JUSTICE FOR THE DESCENDENTS OF MEXICAN AMERICANS

WHOSE LANDS HAD BEEN TAKEN FOLLOWING

THE U.S.-MEXICO WAR OF 1848.

[CROWD CHANTING]

Narrator: IN CALIFORNIA, THE FARM WORKERS UNION WOULD GROW

TO OVER 70,000 MEMBERS, AND THEIR GAINS IN WAGES

AND WORKING CONDITIONS HAD ENABLED MANY TO LEAVE

THE MIGRANT TRAIL.

AND IN SAN ANTONIO, TEXAS, YOUNG CHICANOS, FRUSTRATED

WITH THE SLOW PACE OF SOCIAL CHANGE, WERE CHALLENGING

THE POLITICAL STATUS QUO, AS REPRESENTED BY CONGRESSMAN

HENRY BARBOSA GONZALEZ.

Gutiérrez: HE WAS THE FIRST MEMBER OF CONGRESS FROM TEXAS

WHO WAS MEXICAN AMERICAN.

WE ALL LOOKED UP TO HIM, AND HE WAS FINE AT THE BEGINNING.

Narrator: BACK IN 1956, GONZALEZ--KNOWN TO ALL AS

HENRY B.--HAD BECOME A BEACON OF HOPE AND CHANGE FOR MEXICAN

AMERICANS WITH HIS ELECTION TO THE ALL-ANGLO TEXAS

STATE SENATE.

HE SOON TOOK ON THE TEXAS ESTABLISHMENT IN A CRUCIAL

BATTLE OVER SCHOOL INTEGRATION.

Man: IN 1954, THE SUPREME COURT PASSES THE BROWN VS.

BOARD DECISION, DECLARING THAT SCHOOL SEGREGATION

IS UNCONSTITUTIONAL.

WELL, THERE WAS A SERIOUS BACKLASH FROM SOUTHERNERS,

TEXAS INCLUDED.

THE STATE WAS IN FLAMES ABOUT INTEGRATING SCHOOLS.

Narrator: TEXAS' GOVERNOR PRICE DANIEL INTRODUCED NEARLY

A DOZEN BILLS INTENDED TO PRESERVE SEGREGATION.

HENRY B. GONZALEZ DETERMINED TO STOP THEM BY STAGING

A FILIBUSTER IN THE SENATE.

Man: WELL HE JUST TALKED ALL NIGHT, AND WITH NOBODY ELSE

THERE TO HEAR IT, HE WAS SAYING, "WHO SPEAKS

"FOR THE BLACK MAN?

"WHO SPEAKS FOR THE MEXICAN AMERICAN?

"FOR WHOM DOES THE BELL TOLL?

IT TOLLS FOR THEE."

Narrator: GONZALEZ SPOKE FOR A RECORD-BREAKING 22

STRAIGHT HOURS.

Montejano: HENRY B. EFFECTIVELY DERAILED MOST

OF THE BILLS, AND HE BECAME IMMEDIATELY A HERO TO THE

AFRICAN-AMERICAN AND MEXICAN- AMERICAN POPULATION OF TEXAS.

Narrator: GONZALEZ GREW UP MIDDLE CLASS, IN A MIXED RACE

NEIGHBORHOOD NEAR SAN ANTONIO'S DOWNTOWN.

HIS PARENTS FLED MEXICO FOR TEXAS

DURING THE REVOLUTION OF 1911.

THEY CAME WELL-EDUCATED, WITH MORE SCHOOLING

THAN MOST AMERICANS.

Man: MY GRANDFATHER LEONIDES GONZALEZ WAS ACTUALLY

THE MAYOR OF A SMALL CITY.

HIS BROTHER WAS A DOCTOR.

YOU COULD SAY THEY WERE REPRESENTATIVE OF A CERTAIN

SEGMENT OF SOCIETY THAT TRULY WERE VERY ACCOMPLISHED

AND IN MANY WAYS PRIVILEGED.

DAD WAS BROUGHT UP WITH THE ARTS AND LITERATURE AND MUSIC.

[MUSIC PLAYING]

Narrator: IN 1961, GONZALEZ BROKE ANOTHER BARRIER,

BECOMING THE FIRST MEXICAN AMERICAN FROM TEXAS TO WIN

A SEAT IN THE U.S. HOUSE OF REPRESENTATIVES.

ALMOST IMMEDIATELY HE BEGAN PROMOTING A WORLD'S FAIR TO

CELEBRATE THE 250th BIRTHDAY OF SAN ANTONIO AND BRING NEW

JOBS AND TOURISM TO HIS CITY.

THIS IS A TRIBUTE TO THE PEOPLE OF SAN ANTONIO.

OUR HOPES, OUR ASPIRATIONS ARE WRAPPED UP IN THE SUCCESSFUL

HEMISFAIR OF 1968.

Announcer: DON'T MISS THE TRAVEL HIGHLIGHT OF THE YEAR.

COME JOIN THE FUN AT THE SAN ANTONIO WORLD'S FAIR,

NOW IN AMERICA'S "FIESTA CITY."

Narrator: BUT JUST A FEW MILES AWAY, SAN ANTONIO'S WEST SIDE

WAS NO "FIESTA CITY."

HENRY B. GONZALEZ'S EFFORTS TO BOOST THE LOCAL ECONOMY WERE

NOT TRICKLING DOWN TO THE BARRIO WHERE MANY OF SAN

ANTONIO'S 350,000 MEXICAN AMERICANS LIVED IN SOME

OF THE WORST SLUMS IN THE NATION.

Montejano: THE LIVING CONDITIONS FOR MEXICAN AMERICANS

IN SAN ANTONIO WERE DIRE.

THE HOMES WERE PIECED TOGETHER WITH SCRAPS OF METAL, WOOD.

IN SOME PLACES YOU HAD SHOTGUN HOUSES ARRANGED

AROUND A LITTLE COURTYARD WITH ONE FAUCET, ONE OUTDOOR PRIVY.

THOSE WERE THE CONDITIONS IN SAN ANTONIO.

Narrator: BY 1968, MANY CHICANOS SAW HENRY B. AS OUT

OF TOUCH, MORE CONNECTED TO WASHINGTON POWER BROKERS THAN

TO SAN ANTONIO'S POOR.

Montejano: HENRY B. GONZALES BY THIS TIME WAS SEEN BY MANY

TO HAVE COMPROMISED HIS EARLIER IDEALS.

MANY CHICANOS WERE POINTING OUT THE GLARING INEQUITIES

IN THE CITY, AND THE CRY FROM THE CHICANO COMMUNITY OR

THE ACTIVIST COMMUNITY IS, "WHERE IS HENRY B. GONZALEZ?

WHERE IS HENRY B. GONZALEZ?"

[CROWD SHOUTING]

Narrator: JUST DAYS AFTER THE GRAND OPENING OF HEMISFAIR,

CHICANO HIGH SCHOOL STUDENTS-- LIKE THEIR LOS ANGELES

COUNTERPARTS--STAGED WALKOUTS, FIRST IN SAN ANTONIO, THEN

IN THIRTY-NINE TOWNS ACROSS TEXAS.

EVENTUALLY THEY SPREAD TO NEARLY 100 HIGH SCHOOLS

IN TEN STATES.

THE MASTERMIND BEHIND MUCH OF THIS ACTIVISM WAS JOSE ANGEL

GUTIERREZ, SON OF A LOCAL DOCTOR AND A GRADUATE STUDENT

IN POLITICAL SCIENCE FROM A SMALL TOWN SOUTHWEST OF SAN

ANTONIO CALLED CRYSTAL CITY.

Gutiérrez: CRYSTAL CITY, WHERE I GREW UP, WAS SIMPLY LIKE

AN OLD COLONIAL PLANTATION.

IT WAS A SEGREGATED TOWN.

ANGLOS HAD PAVED STREETS, SIDEWALKS, LIGHTS.

WE HAD NONE OF THAT.

POLIO WAS RAMPANT.

TUBERCULOSIS WAS RAMPANT.

EVERYTHING AROUND YOU WAS JUST SIMPLY DISHEARTENING.

Narrator: LIKE MANY SOUTH TEXAS TOWNS, CRYSTAL CITY HAD

BEEN SHAPED BY RACIAL VIOLENCE, MUCH OF IT

PERPETRATED BY THE TEXAS RANGERS, A 150-YEAR-OLD

AUTONOMOUS POLICE FORCE WITH A HISTORY OF INTIMIDATING, EVEN

KILLING MEXICANS.

AS A YOUNG BOY, GUTIERREZ OFTEN WITNESSED THE AFTERMATH

OF THIS BRUTALITY.

Gutiérrez: MY FATHER'S MEDICAL PRACTICE WAS IN OUR HOME,

AND IT WOULD NOT BE UNUSUAL FOR US AT NIGHT, THE MIDDLE

OF THE NIGHT, TO HEAR A THUMP, YOU KNOW, ON THE DOOR,

AND THERE'S A BODY.

THEY HAD BEEN PISTOL-WHIPPED OR THEY HAD BEEN BEATEN BY

THE POLICE.

Man: THE POLICE DEPARTMENT AT THE TIME WAS JUST

ABOUT A HUNDRED PERCENT ANGLO, AND THEY PRETTY MUCH ENFORCED

WHATEVER THE RULING CLASS NEEDED TO HAVE ENFORCED.

Narrator: GUTIERREZ BLAMED "GRINGOS"--THE ANGLO

AUTHORITIES IN SOUTH TEXAS--

FOR KEEPING MEXICAN AMERICANS DOWN.

HE WAS DETERMINED TO HELP CHICANOS GAIN POLITICAL POWER.

Gutiérrez: WE RECOGNIZE THAT THE BARRIERS TO OUR

INTEGRATING INTO THIS SOCIETY AND TO UPLIFTING OURSELVES IS

THE GRINGO, THE GRINGO WHO'S PUT THE BARRIERS WHO MAKES US

DROP OUT OF SCHOOL, WHO KEEPS US IN BAD HEALTH, WHO DOESN'T

PAY US GOOD WAGES, WHO PROHIBITS OUR UNIONS,

AND SO ON AND SO ON AND SO ON.

SO UNTIL WE GET RID OF THOSE ELEMENTS, WE'RE NOT GOING TO

PROGRESS, WE'RE NOT GOING TO BE FREE.

SO, YES, THE GRINGO MUST GO.

Montejano: THIS PRESS CONFERENCE BECAME KNOWN AS

THE "KILL THE GRINGO" PRESS CONFERENCE BECAUSE THAT'S

THE WAY THE NEWSPAPERS PORTRAYED IT.

BUT WHAT JOSE ANGEL GUTIERREZ MEANT WAS KILL THE GRINGO

SUPREMACY--YOU KNOW, NOT THE INDIVIDUAL BUT THE SYSTEM.

Narrator: IN A TELEVISION INTERVIEW, HENRY B. GONZALEZ

DENOUNCED CHICANO ACTIVISTS LIKE GUTIERREZ AND WHAT HE

CALLED THEIR "CAMPAIGN OF HATE."

I PICTURE MY OWN ROLE AS HAVING A RESPONSIBILITY TO

SMOKE OUT AND TO EXPOSE THESE FALSE AND MISTAKEN VOICES

OF HATRED.

I FEEL THAT I FOUGHT AGAINST THOSE IN THE MAJORITY WHO WERE

PREACHING THE SAME HATRED 12 YEARS AGO IN A DIFFERENT

CONTEXT AND THAT I HAVE THE SAME RESPONSIBILITY TO EXPOSE

IT AMONG THE MINORITY EVEN IF IT IS A MINORITY FROM

WHICH I EMERGE.

Man: HENRY B. GONZALEZ, IN MY ESTIMATION,

HAD A VIEW OF AMERICA THAT

BOUGHT INTO THE MELTING POT SCENARIO, AND OUR MOVEMENT

SAID NO, WE REJECT THAT.

WE DON'T HAVE TO GIVE UP OUR LANGUAGE, WE DON'T HAVE TO

GIVE UP OUR CULTURE, THE EXTENDED FAMILY...

ALL THOSE THINGS THAT MAKE US WHO WE ARE.

WE'RE NOT GOING TO ERASE THOSE JUST TO BUY INTO THIS, TO YOUR

NOTION OF WHAT IT IS TO BE AN AMERICAN.

Narrator: BACK IN HIS HOMETOWN OF CRYSTAL CITY, GUTIERREZ

ORGANIZED YET ANOTHER HIGH SCHOOL WALKOUT.

AFTER 8 LONG WEEKS, THE STUDENTS WON THEIR DEMANDS,

BUT THAT WAS NOT ENOUGH FOR GUTIERREZ.

Gutiérrez: IN A SCHOOL WALKOUT, YOU HAVE TO GO BACK

THE NEXT DAY ONCE YOU SETTLE TO THE SAME TEACHER, THE SAME

PRINCIPAL, THE SAME SUPERINTENDENT, THE SAME

SCHOOL BOARD.

WELL, THE ONLY WAY TO CHANGE THAT IS TO HAVE A POLITICAL

REVOLUTION ELECTORALLY.

VOTE THEM OUT OF OFFICE SO THAT THEN YOU CAN HIRE

THE CORRECT PRINCIPAL AND SUPERINTENDENT AND SO ON.

IF WE CAN TAKE OVER A SCHOOL AND BE SUCCESSFUL AND GET WHAT

THE STUDENTS AND THEIR PARENTS WANT, WHY CAN'T WE JUST BECOME

A COUNTY COMMISSIONER?

WHY CAN'T WE BECOME A SHERIFF?

WHY DON'T WE BECOME THE COUNTY JUDGE?

SO WE FORMED A POLITICAL PARTY.

Narrator: THEY CALLED THEIR NEW PARTY LA RAZA UNIDA...

THE UNITED PEOPLE.

GUTIERREZ SPENT WEEKS GOING DOOR TO DOOR, ENCOURAGING

MEXICAN AMERICANS--WHO MADE UP 80% OF THE POPULATION--TO RUN

CANDIDATES IN THE UPCOMING ELECTIONS.

[SPEAKING SPANISH]

Man: WHEN YOU SAW JOSE ANGEL GUTIERREZ WALK INTO A CRYSTAL

CITY BARRIO, HE KNEW HOW TO TALK TO PEOPLE.

HE COULD SPEAK TO OUR GRANDMOTHERS.

HE COULD SPEAK TO OUR MOTHER, TO OUR UNCLE, TO OUR FATHER,

AND HE COULD ARTICULATE THEIR CONCERNS.

HE WAS VERY COMMITTED TO THE POOR, TO THE WORKING CLASS.

HE UNDERSTOOD THEIR NEEDS.

HE KNEW HOW TO ORGANIZE PEOPLE.

Montejano: NOW WE WERE GOING BEYOND HIGH SCHOOL WALKOUTS.

NOW WE'RE REALLY GONNA TAKE ON THE SYSTEM HERE.

WE FIELDED SIXTEEN CANDIDATES IN THREE COUNTIES AND WON

FIFTEEN: SCHOOL BOARDS AND CITY COUNCILS.

Narrator: THE ELECTIONS IN APRIL OF 1970 SAW

AN UNPRECEDENTED VICTORY FOR CHICANOS.

GUTIERREZ WAS ELECTED COUNTY JUDGE, AND LA RAZA UNIDA NOW

CONTROLLED NOT ONLY THE SCHOOL BOARD, BUT CITY AND COUNTY

GOVERNMENT AS WELL.

Gutiérrez: BEFORE YOU KNEW IT, WE HAD CHICANO TEACHERS

AND PRINCIPALS AND SUPERINTENDENT.

I MEAN THIS WAS JUST INCREDIBLE!

YOU KNOW, YOU WALKED INTO THE COUNTRY COURTHOUSE, AND YOU

WOULD SMELL CHORIZO, AND WE WOULD BE SPEAKING IN SPANISH

IN THE COURTROOM AND, YOU KNOW, AND TELL THE ANGLO LAWYER,

"YOU NEED AN INTERPRETER."

Montejano: AND OF COURSE THE ANGLO TEXANS ARE

BESIDE THEMSELVES.

THEY'RE THINKING THAT THIS IS A REAL REVOLUTION.

EXCEPT THAT ALL THAT'S HAPPENING IS THAT

MEXICAN AMERICANS ARE EXERCISING THEIR POLITICAL WILL.

[APPLAUSE]

Narrator: LA RAZA UNIDA WOULD GROW INTO A NATIONAL PARTY,

RUNNING CANDIDATES FROM CALIFORNIA TO MICHIGAN AS

CHICANOS BEGAN FLEXING THEIR POLITICAL MUSCLE.

AND IN THE LARGEST DEMONSTRATION OF CHICANO

SOLIDARITY EVER SEEN IN THE U.S., ON THE MORNING OF AUGUST

29, 1970, OVER 30,000 TOOK TO THE STREETS OF EAST LOS

ANGELES, DEMANDING AN END TO THE WAR IN VIETNAM.

Valdez: THE WAR WAS REALLY BECOMING SUCH A HEAVY PRESENCE

IN OUR LIVES, AND NO ONE COULD IGNORE IT.

AT THAT TIME, WE WERE ABOUT 6% OF THE POPULATION

IN THE COUNTRY AND 20% OF CASUALTIES IN VIETNAM.

Crowd: WE WON'T GO!

HELL, NO, WE WON'T GO! HELL, NO, WE WON'T GO!

Esparza: AS I RECALL, THERE WERE MILES OF PEOPLE MARCHING

DOWN WHITTIER BOULEVARD, AND WE HAD THIS GREAT CELEBRATION.

Narrator: MARCHERS, INCLUDING THEIR FAMILIES, GATHERED TO

ENJOY SPEECHES, DANCING, AND MUSIC.

BUT AUTHORITIES WERE ON EDGE.

ANTI-WAR DEMONSTRATIONS ACROSS THE COUNTRY HAD OFTEN

TURNED VIOLENT.

AND WHEN POLICE WERE SUMMONED TO A LOCAL LIQUOR STORE AFTER

THE ALLEGED THEFT OF A SIX-PACK, THE NEARLY ALL-ANGLO

SHERIFF'S DEPARTMENT ARRIVED IN RIOT GEAR, PREPARED TO

BREAK UP THE DEMONSTRATION.

Esparza: AND THEN TEAR GAS WAS BEING THROWN AT US,

AND THE PEOPLE STARTED RUNNING IN ALL DIRECTIONS, AND THEN I

SAW THE POLICE RUSHING US, KNOCKING PEOPLE DOWN, AND THEN

PEOPLE WERE PICKING UP THE TEAR GAS AND THROWING IT BACK

AT THEM, AND WE DIDN'T KNOW WHAT WAS GOING ON AND WHY

IT HAPPENED.

[CROWD SHOUTING]

I SAW A POLICEMAN COMING UP BEHIND A YOUNG WOMAN AND,

WITH A BATON, HITTING HER IN THE BACK OF THE NECK

AND WATCHING HER DROP LIKE A RAG DOLL.

NO ONE WAS EVER HELD ACCOUNTABLE FOR THAT.

Narrator: THREE PEOPLE WERE KILLED THAT AFTERNOON,

INCLUDING RUBEN SALAZAR, A REPORTER FOR THE "LOS ANGELES

TIMES" WHO HAD OFTEN BEEN CRITICAL OF LAW ENFORCEMENT

IN THE MEXICAN COMMUNITY.

SALAZAR WAS ONE OF THE FEW LATINOS IN THE COUNTRY WHO

WORKED IN THE MAINSTREAM PRESS.

Esparza: WE LOST SOME OF OUR HEART.

WE COULDN'T UNDERSTAND...

WHY PEOPLE HAD TO DIE

SO THAT WE COULD BE AMERICANS.

Narrator: THE UGLY END TO THE DEMONSTRATION SEEMED TO KNOCK

THE WIND OUT OF THE CHICANO POLITICAL MOVEMENTS

OF THE LATE 1960s AND EARLY '70s.

LA RAZA UNIDA HAD FEW SUCCESSES OUTSIDE

OF SOUTH TEXAS.

TORN BY INFIGHTING AND UNDER PRESSURE FROM THE POLITICAL

ESTABLISHMENT, THE PARTY EVENTUALLY DISBANDED.

REIES LOPEZ TIJERINA'S FIGHT TO RECLAIM LAND FOR

MEXICAN AMERICANS GOT HIM TWO YEARS IN FEDERAL PRISON.

HE AND TWENTY ARMED FOLLOWERS HAD ATTEMPTED TO STAGE

A "CITIZENS ARREST" OF THE DISTRICT ATTORNEY AND FREE

EIGHT OF TIJERINA'S MEN FROM THE COUNTY COURTHOUSE WHO THEY

BELIEVED HAD WRONGLY BEEN JAILED.

[GUNSHOTS]

TWO OFFICERS WERE SHOT.

TIJERINA TRIGGERED THE LARGEST MANHUNT IN THE HISTORY OF

NEW MEXICO WHEN HE FLED INTO THE MOUNTAINS.

AFTER A WEEK HE SURRENDERED IN ALBUQUERQUE.

AND SAL CASTRO--THE HERO OF THE L.A. WALKOUTS--WAS

ARRESTED ALONG WITH 12 OTHERS.

THE AUTHORITIES HAD PUSHED BACK HARD, CHARGING THE

SO-CALLED L.A. THIRTEEN WITH MULTIPLE COUNTS OF CONSPIRACY.

IT TOOK TWO YEARS OF COMMUNITY PROTEST AND LEGAL WRANGLING

FOR THE CHARGES TO BE DISMISSED.

BUT AFTER THOSE TURBULENT YEARS, THE CHICANO MOVEMENT

WOULD TAKE ON A DIFFERENT TONE.

IN TEXAS, CHICANO ACTIVIST WILLIE VELASQUEZ, FRUSTRATED

WITH BOTH HENRY GONZALEZ'S POLITICS OF GRADUALISM

AND THE MILITANCY OF JOSE ANGEL GUTIERREZ, SOUGHT

ANOTHER WAY FOR LATINOS TO ENTER

THE POLITICAL MAINSTREAM.

Montejano: EVERYBODY WAS LOOKING FOR A THIRD WAY HERE,

OR AN ALTERNATIVE WAY, AND I THINK WILLIE FOUND ONE.

ON THE FACE OF IT, IT'S VERY SIMPLE.

YOU JUST ORGANIZE AND REGISTER VOTERS, RIGHT? THAT'S IT.

YOU KNOW, HOW CAN YOU BUILD POLITICAL POWER LIKE THAT?

WELL, HE WAS DOING THAT IN EVERY TOWN.

I REMEMBER HEARING HIM GIVE SPEECHES ON VOTER

REGISTRATION, AND THE PEOPLE WOULD JUMP UP AND START

APPLAUDING AND SCREAMING BECAUSE HE GOT PEOPLE EXCITED

ABOUT GETTING REGISTERED TO VOTE.

I'VE NEVER SEEN ANYTHING LIKE IT.

Narrator: WILLIE VELASQUEZ GREW UP ON SAN ANTONIO'S WEST

SIDE, IN THE HEART OF THE BARRIO.

THERE WERE NO SIDEWALKS, NO DRAINAGE FOR THE WINTER

DOWNPOURS THAT REGULARLY FLOODED THE MEXICAN PART

OF TOWN, INCLUDING THE VELASQUEZ HOME.

IN 1966, VELASQUEZ BECAME THE FIRST IN HIS FAMILY TO

GRADUATE FROM COLLEGE.

WHILE VOLUNTEERING WITH THE FARM WORKERS THAT SUMMER, HE

REALIZED NOTHING WOULD CHANGE IN THE BARRIO UNTIL CHICANOS

HARNESSED THE POWER OF THEIR NUMBERS.

BY 1974, VELASQUEZ HAD FOUND HIS CALLING, ORGANIZING

THOUSANDS OF VOTER REGISTRATION DRIVES ACROSS

THE SOUTHWEST.

Yzaguirre: HE WAS ENORMOUSLY SUCCESSFUL.

NOBODY HAD MARSHALED THE RESOURCES,

THE EXPERTISE, THE TECHNOLOGY

OF VOTER REGISTRATION LIKE WILLIE VELASQUEZ DID.

Leal: AND THERE ARE SOME ELECTIONS, AND YOU KNOW, SOME

OF THE PEOPLE HE REGISTERS TO VOTE ASK HIM,

"WILLIE, WHY "DIDN'T WE WIN? WE'RE ALL REGISTERED." OK?

SO, THEN, YOU KNOW, IT BECAME VERY PAINFULLY CLEAR TO WILLIE

THAT IT WAS THE SYSTEM, IT WAS THE ELECTORAL POLITICAL SYSTEM

OF THE STATE OF TEXAS THAT WAS TOTALLY AGAINST THEM

EVER WINNING.

THE SYSTEM IS STACKED AGAINST US WITH GERRYMANDERING.

THE WAY THEY HAVE DISTRICTS CUT UP IS THAT THEY DIVIDE

A NEIGHBORHOOD WHERE IT'S A CONCENTRATION OF CHICANOS INTO

LITTLE PIECES, AND WE'RE NEVER GOING TO BE ABLE TO

WIN THAT WAY.

SO ONE OF THE THINGS THAT WE'RE GOING TO HAVE TO DO IS WE'RE

GOING TO HAVE TO TAKE PEOPLE TO COURT.

Narrator: IN TOWN AFTER TOWN, VELASQUEZ DOCUMENTED ABUSES

AND BEGAN FILING VOTING RIGHTS LAWSUITS.

Leal: THEY NEVER LOST A CASE.

85 VOTING RIGHTS CASES, THEY NEVER LOST A CASE.

Rios: IT WASN'T THAT WE WERE GREAT LAWYERS.

IT'S JUST THAT THE LAW WAS SO OBVIOUS AND THE VIOLATIONS

WERE SO CLEAR AND THE RESULTS WERE SO DIRECTLY CONNECTED TO

CHANGING THE ELECTION SYSTEM, CHANGING THE WAY THE GAME

WAS PLAYED.

ONCE YOU CHANGED IT AND PEOPLE PARTICIPATED, PEOPLE STARTED

GETTING ELECTED.

Narrator: VELASQUEZ WAS CONSUMED WITH COURT CASES

AND REGISTRATION DRIVES, PUSHING HIMSELF TO THE POINT

OF EXHAUSTION, EVEN THOUGH HE WAS OFTEN ILL.

HE NEVER WENT TO THE DOCTOR TO HAVE HIMSELF CHECKED OUT.

AND INSTEAD HE JUST KEPT TAKING PEPTO-BISMOL TO GET

THROUGH WHATEVER PAIN HE WAS GOING THROUGH.

AND FINALLY HE COULDN'T TAKE IT ANYMORE.

Narrator: VELASQUEZ WAS

DIAGNOSED WITH KIDNEY CANCER

IN MAY OF 1988.

IN SIX WEEKS HE WAS DEAD.

Montejano: HE DIED AT 44.

44.

WE LOST SOMEBODY THAT WAS BASICALLY A GENIUS ORGANIZER.

THAT'S THE WAY I WOULD PUT IT.

Narrator: WILLIE VELASQUEZ WAS POSTHUMOUSLY HONORED WITH THE

PRESIDENTIAL MEDAL OF FREEDOM, THE HIGHEST CIVILIAN PEACETIME

AWARD A U.S. PRESIDENT CAN BESTOW.

President Clinton: NO PERSON IN MODERN AMERICA WHO HAS RUN

FOR PUBLIC OFFICE, WHEREVER HISPANIC AMERICANS LIVE, HAS

FAILED TO FEEL THE HAND OF WILLIE VELASQUEZ.

HE MADE THIS A GREATER COUNTRY.

THE WORLD CHANGED FOR US IN A WAY THAT NOW, YOU CAN SEE IT.

THERE ARE UNITED STATES SENATORS THAT ARE LATINO.

YOU CAN SEE THAT THERE ARE GOVERNORS.

YOU CAN SEE MAYORS.

YOU CAN SEE FIGURES THAT ARE NOW LEADING MANY INSTITUTIONS.

THIS IS A BEAUTIFUL FLOWERING THAT CAME OUT

OF THE CHICANO MOVEMENT...

AND WHAT THAT SAID WAS WE WERE NOT FOREIGNERS.

THIS IS OUR HOMELAND, WHICH WE UNDERSTOOD WAS THE UNITED

STATES OF AMERICA, WHERE WE ALL BELONGED.

Announcer: STILL TO COME ON "LATINO AMERICANS Announcer: CREATE A VIDEO

TO SHARE YOUR STORY ONLINE.

EXPLORE LATINO CULTURE

AND LEARN ABOUT LATINO HISTORY

AT PBS.ORG/LATINOAMERICANS

AND JOIN THE CONVERSATION

ON TWITTER USING #LATINOSPBS.

"LATINO AMERICANS" IS AVAILABLE

ON DVD.

THE COMPANION BOOK

IS ALSO AVAILABLE.

TO ORDER, VISIT SHOPPBS.ORG

OR CALL US AT 1-800-PLAY-PBS.

THIS SERIES IS ALSO AVAILABLE

FOR DOWNLOAD ON iTUNES.