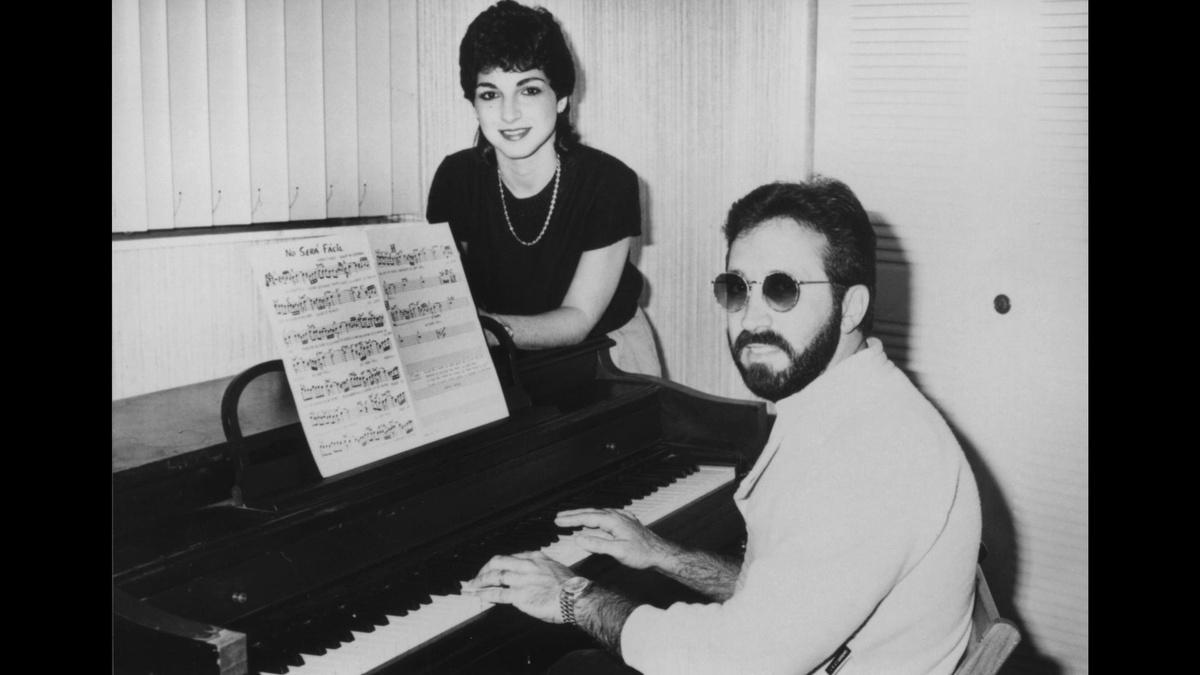 S1 E8 | CLIP
The Legends: Gloria and Emilio Estefan
The unprecedented success of Gloria and Emilio Estefan through the Miami Sound Machine was an awakening for the American music industry. Watch LATIN MUSIC USA on Friday, April 28 and Friday, May 5 at 9/8C on PBS (check local listings).
TRANSCRIPT

SMITS: Emilio had been looking for a girl

who could sing in English as well as Spanish

when he met Gloria Fajardo.

GLORIA ESTEFAN: We ran into each other in a wedding.

We had met shortly before at a friend's house,

and he heard me sing on my guitar

from the folk masses and things, and he says, "I remember you.

Why don't you sit in with the band?"

So I sat in, sang a couple of songs.

♪ Feelings...

EMILIO ESTEFAN: I love her voice.

It has this warmth when she sings that is fantastic.

SMITS: He asked Gloria to join his band,

and before long, asked her to marry him.

With Gloria in the lead,

the Miami Latin Boys needed a new name.

We weren't boys anymore, and he thought,

"Okay, she's going to stay;"

we'd been there long enough for that, so we changed.

They gave us the "Sound Machine,"

the small local company that signed us.

We wanted to be just "Miami."

Hola villa Del Mar...

Miami Sound Machine...

SMITS: They played a fusion of American popular music--

rock and roll, funk and disco--

but always with Cuban rhythms at its heart.

(singing "Dingui-Li-Bangue")

SMITS: For five years, they toured constantly

throughout Latin America for CBS Records,

selling out venues to promoting their albums.

♪Otra vez... ♪

SMITS: But Emilio could see beyond the grueling road trips

to success in the much bigger English-language market.

♪Paging Dr. Beat... emergency! ♪

SMITS: And in 1984, he took a chance.

I went to the label all excited.

I said, "We have an English song that has all the beats."

They said they will never play this on radio.

♪ Doctor, I've got this feelin' deep inside of me... ♪

SMITS: "Dr. Beat" was put on the B-side

of a Sound Machine Spanish-language single,

but Emilio hand-delivered it to every DJ he knew

in clubs from Miami to New York.

♪ Won't you help me, Dr. Beat?

♪ Doctor, Doctor, Doctor Beat

♪ Can you help me, Doctor Beat? ♪

(laughs)

I liked that song. It was cute.

♪ Doctor, Doctor, Doctor Beat

SMITS: "Dr. Beat" jumped to number one in Miami.

Weeks later, it topped the charts in Europe.

EMILIO ESTEFAN: We went to Holland.

People went crazy in Holland.

They was dancing, jumping up and down.

The people wanted more.

I told Gloria, "Let's do a Cuban conga."

She said, "They will never understand this."

"They will!"

We played the Cuban conga-- people went crazy.

(conga music playing)

And that night, Gloria came out with the idea, said,

"Listen, we should record a conga with English lyrics."

SMITS: "Conga" was a true cultural hybrid--

a fusion ahead of its time.

♪ Everbody gather round now

SMITS: The beat-- resoundingly Cuban;

the lyrics-- an invitation for all to join in.

♪ Don't you worry if you can't dance ♪

♪ Let the music move your feet. ♪

SMITS: "Too Cuban for Americans and too American for Cubans,"

executives predicted.

"Good," replied Gloria, "because that's who we are."

EMILIO ESTEFAN: I was so excited with the piano

and the horns, and I mean, I went to Sony and Sony told me,

"This will never happen. You're totally crazy."

I was at CBS when Gloria was there and Emilio.

That's where we met for the first time,

and I remember going to the radio stations

and taking the "Conga" single

and they looked at me like, "What are you... what is this?"

SMITS: Emilio produced the video on a shoestring

with no help from the record label.

EMILIO ESTEFAN: My mom, my dad, my uncle, my aunt--

everybody's in the video.

My niece is in the video.

SMITS: "Conga" was a monster hit,

appearing on Billboard's Dance, R&B, and Hot 100 charts

all at the same time.