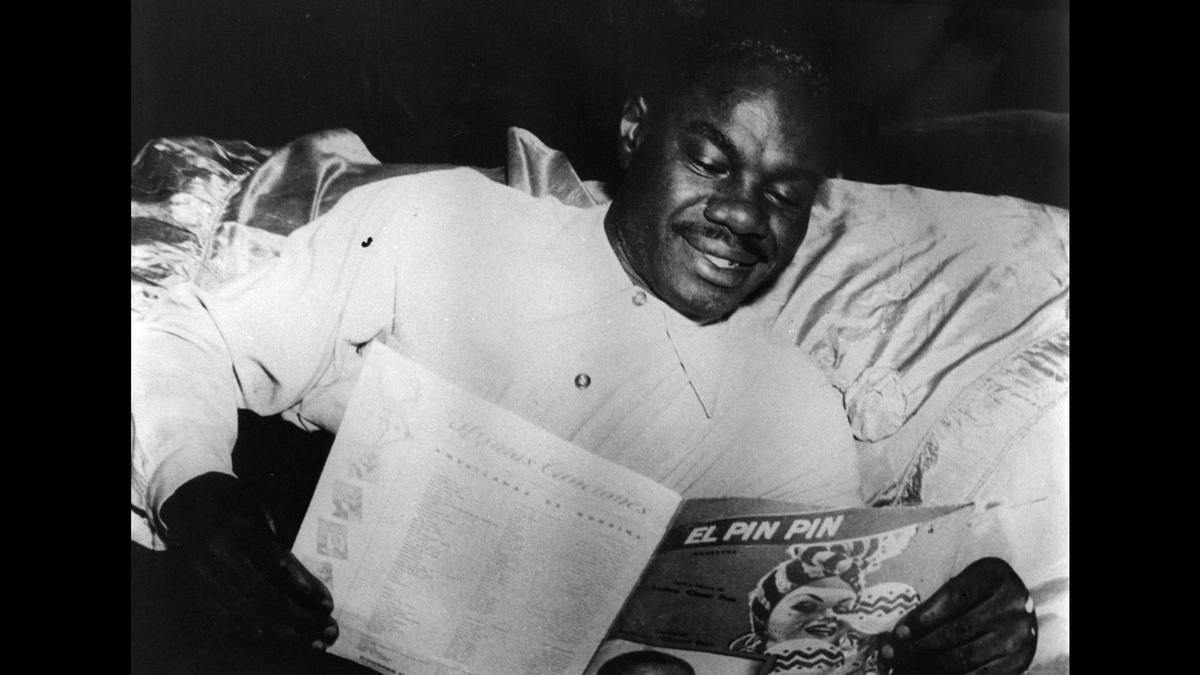 S1 E5 | CLIP
The Legends: Dizzy Gillespie & Chano Pozo
Dizzy Gillespie and Chano Pozo's collaboration was short-lived, but its effect on Latin music in the US endures. LATIN MUSIC USA airs Friday, April 28 and Friday, May 5 at 9/8C on PBS (check local listings). Image credit: Ned Sublette
TRANSCRIPT

(rapid trumpet plays)

SMITS: As a founder of bebop,

Gillespie had already revolutionized jazz,

but he saw one aspect of it as stubbornly resistant to change.

WASHBURNE: In his autobiography he said, you know,

the rhythm of jazz was boring in the sense that it was

ding-dinga-ding, dinga-ding for the most part.

SMITS: With an upcoming concert with his big band

at Carnegie Hall late in 1947,

Gillespie asked Bauzá to suggest someone to play,

in Gillespie's words, "one of those tom-toms."

Bauzá introduced him to Chano Pozo,

who had recently arrived in New York from Cuba,

where he was a successful songwriter, showman,

and conga player.

He had risen out of one of the roughest tenements in Havana.

SANABRIA: Chano's a street dude, man.

He'll cut you, he'll bitchslap you.

Chano was so famous for getting into fights, et cetera.

He had, like, a bullet lodged near his spine;

they couldn't get the bullet out.

You got this guy who's like pure street,

but he's got all of this incredible folkloric knowledge

and mystical knowledge and rhythmic knowledge.

(conga playing)

SMITS: At Carnegie Hall, Chano Pozo performed

in a two-part number written to feature his playing,

"Cubana Be, Cubana Bop."

(horns join conga)

Chano's appearance went over very big.

People went absolutely nuts.

So, the band that did the most way-out Afro-Cuban jazz

was Dizzy's!

(song continues)

SMITS: Afterward, Dizzy asked Chano to stay with the band.

Not everyone was pleased.

Most of the musicians in the band,

they were all African-American, did not want him in the band.

"Jungle music-- we're beyond that."

SMITS: Communication wasn't easy--

Chano didn't speak English,

no one in the band spoke Spanish.

But a bridge between cultures was found in music

when Chano approached Dizzy with a tune he'd made up, "Manteca."

He said, "Dizzy...

first the bajo"-- the bass.

He gave me the bass lick.

I wrote that down-- bi-di-bi-di-bi-bom-bim-bom.

And then he said, "After that goes, um, saxo"-- saxophone.

Bom-bim, bom-bim.

The trombone-- bom-pu-bibi-pi-bom.

And the trumpets-- aaahhhh!

And all these were going at the same time

and it sure sounded good to me.

SANDOVAL: "Manteca" is probably one of the...

the most, you know, distinctive, uh, tune.

Really it identified what is...

Afro-Cuban jazz all about.

SANABRIA: Dizzy wasn't the first one

to create what we call Afro-Cuban jazz, or Latin jazz.

That title goes to the Machito Afro Cubans.

But Dizzy was the first person to champion it

outside of the realm of... the close-knit society

of those musicians that were from the culture.

Unfortunately, one year later, somebody killed Chano

in a bar in Harlem.

But he left such a great impression on Dizzy.

Dizzy never stopped talk about Chano.