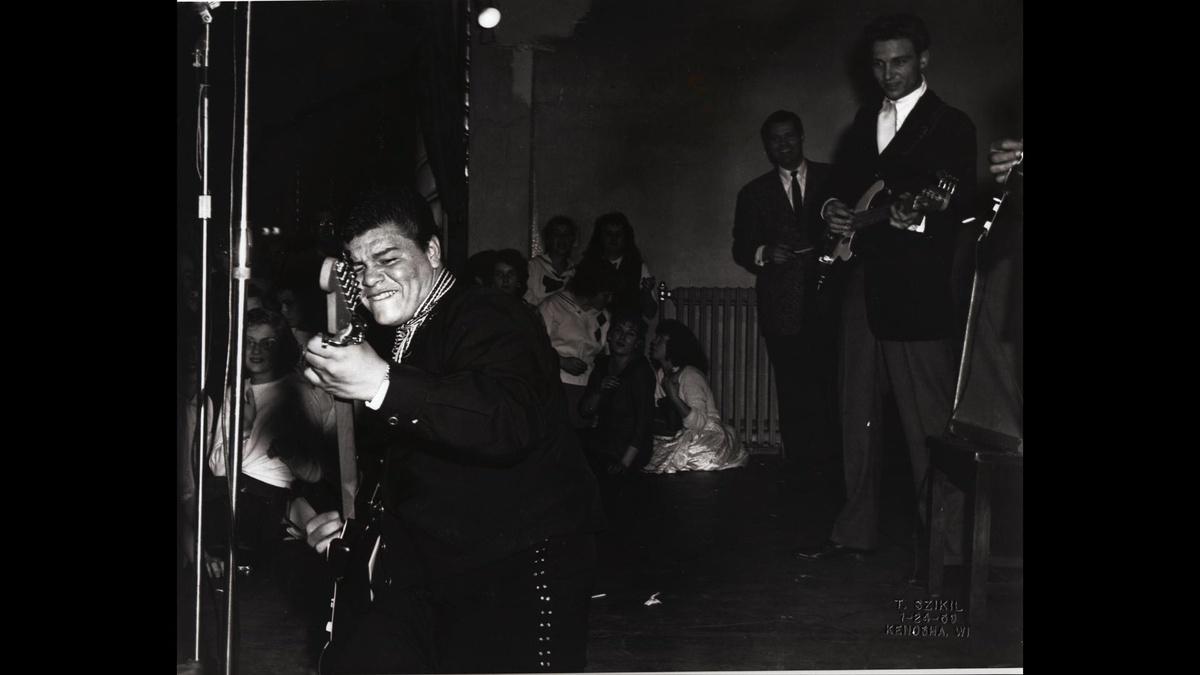 S1 E7 | CLIP
The Day the Music Died
February 3, 1959. A plane carrying three music greats--The Big Bopper, Buddy Holly, and Ritchie Valens--crashes in Iowa during a snowstorm. Valens was only 17, and had gone from obscurity to 4 hit records in a career that lasted barely eight months. That day came to be known as The Day the Music Died. LATIN MUSIC USA airs 4/28 and 5/5 at 9/8C on PBS (check local listings). Credit: Tony Szikil
TRANSCRIPT

(singing trilling note)

WALDMAN: He's one of the bright lights in rock and roll

at the end of the '50s, and he's invited to go on this tour

with a guy named the Big Bopper

and Buddy Holly of the Midwest--

a real huge break for a 17-year-old Chicano kid

from Southern California.

SMITS: After a performance in Iowa,

a small plane carrying the three headliners took off

for Fargo, North Dakota, despite an approaching snowstorm.

♪ Oh, Donna, oh, Donna...

KEANE: I had my car radio on KFWB,

and they were playing the hell out of "Donna."

And he said, "And now, the late, great Ritchie Valens,

and his number one record, 'Donna.'"

That's-- that was the biggest shock I've ever had in my life.

NEWSCASTER: The crash occurred in a light snow

northwest of Mason City and also killed the pilot of the plane.

Ritchie Valens' latest recording "Donna"

is number one on the CHUM hit parade...

SMITS: It would come to be known as "The day the music died"--

February 3, 1959.

KEANE: I cried.

I went in and cried.

I still cry a little.

Yeah.

I... he was my son.

He had become my son.

♪ Darling, now that you're gone ♪

♪ I don't know what I'll do...

SMITS: Four months after Valens' death,

the movie that featured his only filmed performance

opened at a drive-in near Pacoima.

ROCHA: Everybody in town came to see our Ritchie.

And, uh, we're sitting there

patiently waiting and waiting and waiting.

Finally he came on.

And we all, "Yeah, Ritchie,"

lookin' at him, lookin' at him.

And then as it ended and he walked away,

it was kind of-- kind of, like, a lull there.

Ritchie's gone. We wanted more.

But that's all we got.

Somebody in back starting honking, honking his horn.

What it was, he was showing appreciation,

and he started honking.

So all of a sudden,

the whole theater just started honking, one big loud honk.

And the people-- everybody was showing their appreciation.

This... This was our way of saying, "Hi, Ritchie."

♪ Where can you be?

SMITS: Valens was only 17.

He'd gone from obscurity to having four hit records

in a career that lasted barely eight months.

It was a feat that has never been duplicated.