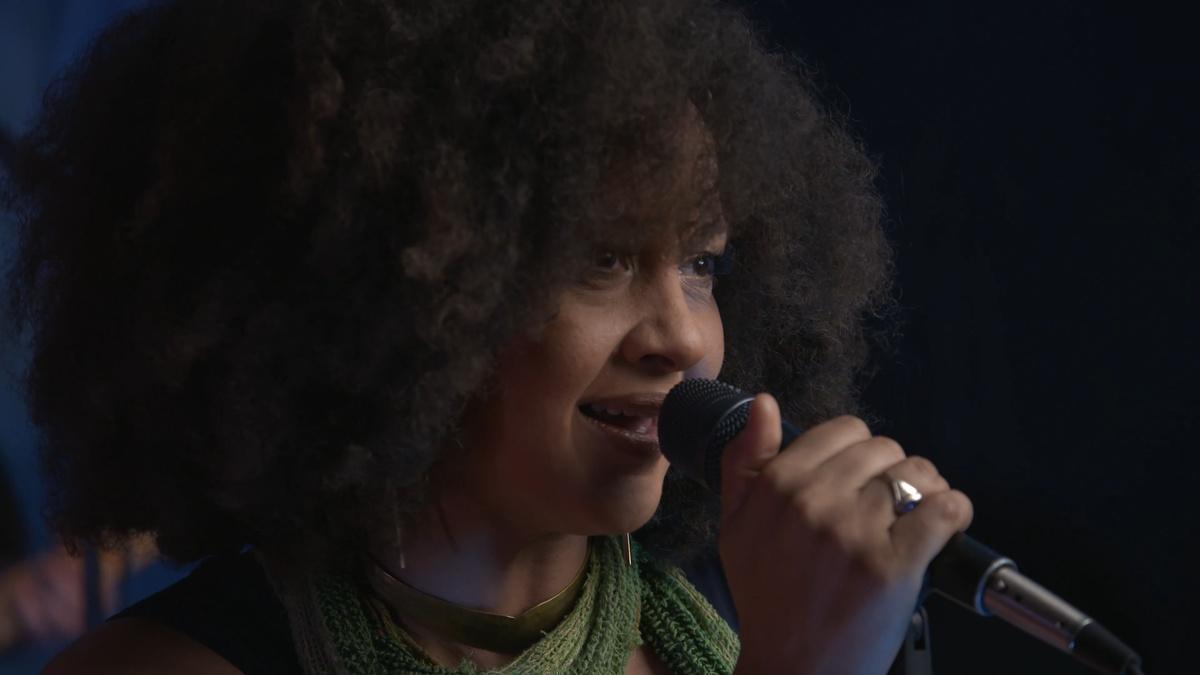 FULL EPISODE
Soulful Singing and Hands on Music
Artist Cora Marshall paints colorful portraits that focus on issues of identity, history and community. Plus, the conductor of the Wisconsin Philharmonic reveals how the orchestra performs music that paints a picture. And, a soulful San Diego band performs in our KPBS studio. Don't miss Rebecca Jade and the Cold Fact. Then, built in the 1870's, what once was a mansion is now a gorgeous museum.
TRANSCRIPT

BJ Robinson: In this editionof "KPBS Arts,"

a painter finds her way.

female: I looked inward and it was very surreal.

And almost like sophisticated doodles.

BJ: Hands on music.

female: The children appreciate being allowed

to touch these things because sooften, it's don't touch.

BJ: A soulful San Diego band plays in our studio.

♪ Caught up in emotions, ♪

♪ and a moment is now. ♪

♪ These days and time never seems to matter ♪

♪ when it comes to you and I. ♪

BJ: And a 19th century architectural gem.

male: Historic New England has spent the last five years

and more than $5 million restoring and improving

the home and estate.

BJ: It's all ahead on this edition of "KPBS Arts."

BJ: Hi, I'm BJ Robinson, and this is "KPBS Arts,"

the show that explores art of all kinds.

We're here in stunning Balboa Park, which has

a rich art history, including rock and roll.

Both the Beatles and the RollingStones played in the park

early in their careers.

The Beatles played in Balboa Stadium, and the Stones

in the Starlight Bowl.

In Gulfport, Florida, artist Cora Marshall focuses her work

on issues of identity, history,and community with her colorful

portrait paintings.

She recounts her path so far.

Cora Marshall: My name is Cora Marshall.

I'm an artist and a retired schoolteacher.

I'm currently working on a series called

"The Golden Years."

And the series has as subjectseniors who continue to work in

order to support themselves so that they can age at home.

It's being done with the supportof the Pinellas Foundation.

I received a grant from them specifically for doing work

about aging in place.

The grant was very timely as faras I'm concerned because I was

working on a series that dealt with some of my ancestors

who had jobs working to uplift themselves.

And those jobs included everything from farmer,

to grocery store owner, to undertaker.

And I was working on that based on the history

from my family tree.

I came to art late.

We didn't really have art classes as I was going through

the catholic school system, so Iguess the end of my junior year

at the university, that was the first time I had

an official art class.

And when I had that class, I knew that this is who I was

and what I wanted to do.

So, the first part of my journeyhad to deal with skill

acquisition, you know, and catching up.

When it comes to content and subject, at first I was

very much a neutralist.

I didn't deal with colors at all, mostly browns and greys.

And I looked inward, and it wasvery surreal and almost like

sophisticated doodles of thingsthat, you know, goes on inside

of your head.

And it wasn't until I went to get my master's degree

years later that I started using color.

And at that same time working onmy master's degree, I had to

start really focusing on what itis I wanted to do as my

master thesis.

And part of it was, you know, apainting theme.

I was very intrigued with myfamily and the composition of my

family because, of course, we have our African heritage, we

have our Native Americanheritage in the mix, and we also

have the white heritage in the mix.

So, in some of my paintings, thenext group of paintings dealt

with I call them the grandmothers, the grandmothers

that mix and meld the Native American, the African, and the

Christian all in one piece.

I decided I didn't have to choose which one, you know,

I am.

I started teaching at a university.

You had to have a research subject.

The subject matter I chose tohave as my research focus was to

give faces to those people whowere brought from Africa to here

and ran away from the enslavement.

And advertisements were published in the newspapers.

And matter of fact, I was stillresearching something else at

the Library of Congress and happened on ads.

And they were so descriptive, the kind of hair they had, the

color, what their face looked like, if they had a scar, what

color clothes they were wearing,and so forth and so on.

So, I wanted to bring them tolife and give them a personality

and a face.

And I used the ads as referenceto create them.

How do I go about it?

Well, a lot of times they were,you know, big nose, wide eye.

But some of them had to be leftto the imagination.

I do collect faces and look at alot of different faces,

otherwise all my paintings looklike me.

So, well, you get in the habitof doing a nose a certain way or

your eyes a certain way, so I dostudy faces, and I collect

faces, and I have huge files offaces.

The advice I would give for young artists working today is

to persist.

Find a place where you can dedicate to create your work.

Doesn't matter if it's just acorner in the den or, you know,

empty out a closet, but keep doing your work.

And learn how to listen to yourinner voice.

And while you appreciate what people say about your work,

you're going to have to developlike a hard shell so that your

work doesn't become just a response to how

others feel about it.

Make time for your work, put iton your schedule, and continue

it, you know, no matter what.

And lastly, I would say that once you do become successful,

don't get too comfortable and don't start producing the same

thing over and over again just because it sells

and people like it.

But listen to yourself or talk to yourself.

Make art, even if it's somethingsmall and something that only

you will see, but to keep that continuous flow of

creative energy.

BJ: For more information about Marshall's work, go to

coramarshall.com.

And now, here's a look at some of the arts events happening

this week in our community.

BJ: For over 70 years, theWisconsin Philharmonic has been

delighting audiences with theirmusical concerts and educational

experiences for schoolchildren.

We look in on the annual familyconcert, showcasing how music

paints a picture through hands on experience with musical

instruments.

Alexander Pratt: Music paints a picture, but it paints a

picture in tones that we aspeople then interpret in our own

minds, that it is really fromthe heart to the heart via this

language of sound.

The Wisconsin Philharmonic beganalmost 70 years ago.

We were founded in 1947 as theWaukesha Symphony Orchestra, as

we're based here in Waukesha County.

Suzanne Frank: It wasactually a gift to the community

by the president of what was then Carroll College, who

thought that a live classicalmusic orchestra would be a good

addition to not only the college, but to the community.

Alexander: As things haveprogressed, our audience and our

musicians come from a wide swathof southeastern Wisconsin.

So, we several years ago decidedto change the name to Wisconsin

Philharmonic 'cause we're all part of this wonderful

southeastern Wisconsin, greaterMilwaukee area.

And one of the great thingsabout the Wisconsin Philharmonic

is that we create concerts in which we are everything from a

small group of, say, a couple dozen musicians playing in a

beautiful, historic, intimate space, or as today, we're just

under about 100 musicians on stage.

So, one of the beautiful thingsabout the Philharmonic is its

flexibility.

Suzanne: We play five official season concerts.

And then two years ago, we addedthe family concert.

We were thinking of ways to build the audience

of the future.

Maestro: We've realized it was long overdue that the

Philharmonic present a true family concert, a concert

intended for families, intendedfor young audiences in which

people can just learn about thebasic rudiments of this glorious

thing we call classical music.

But also be a concert in which we could have on stage some of

the finest young musicians fromour own community, from this

Waukesha County, southeasternWisconsin community playing side

by side with our seasoned professional musicians.

This past 2014-2015 season ofthe Philharmonic was devoted to

the music of Scandinavia.

For our annual family concert, what better music to perform

than some of the most beautifulmoments from the music that the

great Norwegian composer EdvardGrieg wrote for Ibsen's play

"Peer Gynt," the "Peer Gynt Suites."

We're playing these wonderfulshort works that Grieg wrote for

"Peer Gynt" in the context of anarration which is based on the

theme and the idea that music can paint a picture.

Suzanne: We precede the concert with the instrument

petting zoo.

And that is the opportunity foryoung children to experience all

manner of instruments.

You know, blow the horn, play the violin, have fun

experiencing instruments that the children appreciate being

allowed to touch these things because so often

it's don't touch.

But they love being able to touch that.

male: Music gives you the easel, and you paint

the picture yourself.

Strings, come on down.

Maestro: The audience is basically going to find out or

be reminded of what makes up a symphony orchestra.

Because the symphony orchestrareally is like a large extended

family with its own different sections and subsections.

There's a string section, for example, which is the largest

section of the symphonyorchestra, the instruments like

violins and violas and cellos.

And then there's a woodwind section, like flutes

and clarinets.

Brass section, trumpets, trombones.

A percussion section, drums, the harp.

Our orchestra is made up of a wonderful, wonderful group of

veteran professional musicians.

And this kind of concert, whereall of our musicians are going

to be seated literally side by side with brilliant young

players who are just beginning their journey of discovery of

this beautiful thing calledmusic, that it really is a case

of everyone being enriched by this collective experience.

Suzanne: And then afterwards, we will have a very short

performance by El Sistema, whichis an international children's

group that brings classical music to young children.

And there is only one chapter inthe state of Wisconsin, and

that's here in Waukesha.

Maestro: I'm looking for a collective expression.

I'm looking for all of the musicians in the orchestra to

express themselves through the music as individuals, but in a

way that's harmonious, in a waythat's part of the whole.

And that's where playing classical music, that's where

performing in and listening to symphony orchestras really is

the school for life.

Because a successful orchestra is truly a collection of

successful individuals, who atonce act as leaders and also act

as members of a team.

My favorite part of being amusic director for this group or

any group is really creating something special in

performance.

Those moments in the music thatyou never expected would happen,

but again, through the genius ofthe creativity of all the

individuals in front of youplaying together, suddenly just

come alive, suddenly just happen.

That it's for those moments thatI'm a music director.

Suzanne: The feedback has been terrific because it's

opened up a whole world that these children might not have

been exposed to, and the parentseither.

Classical music is a treasure,it is not something to be afraid

of, but also feeling that thisis a wonderful avenue for their

children to know and experience,and hopefully become the

audience of the future.

male: And last but not least, the bassoon.

♪♪♪

Maestro: Music is one of the miracles of humanity, the way

that one person create--can create a great work of music,

and then share that creation ina way that that can just--can

happen in the context of a liveperformance that is created, it

happens, and then it's over.

And in a sense, it's gone forever.

That essential mystery is what Iwould want every concertgoer to

come away with every concert that they attend.

BJ: You can find out moreabout the Wisconsin Philharmonic

by visiting wisphil.org.

And now, here's a look at some upcoming arts events

around San Diego.

BJ: This fantastic San Diego band has a soul sound,

influenced with funk, infused by70s Motown.

Rebecca Jade and The Cold Fact stopped by our KPBS studio to

play their song, "New York."

♪♪♪

♪ New York, leaves change. ♪

♪ Street signs staring at the same ♪

♪ Old souls Cold comes ♪

♪ when it seems to enter ♪

♪ at the corner of your bones. ♪

♪ Sleep another obstacle ♪

♪ when I missed you most. ♪

♪ See you in dreams, haunting me ♪

♪ with memories that weren't meant to be. ♪

♪ And all the things you try to hide ♪

♪ are all the things they try to find. ♪

♪ And I retrace my step back to the day you left, ♪

♪ back to the moment you were mine. ♪

♪ Slow down, don't drown. ♪

♪ Caught up in emotions, and the moment is now. ♪

♪ These days and time never seems to matter ♪

♪ when it comes to you and I. ♪

♪ Tethered, tongue tied for all the things ♪

♪ I meant to say

♪ and all those things in mind ♪

♪ One night

♪ Flip a coin and make a choice ♪

♪ and never get it right.

♪ And all the things you try to hide ♪

♪ are all the things they try to find, ♪

♪ yeah.

♪ And I retrace my step back to the day you left, ♪

♪ back to the moment you were mine. ♪

♪ The past is there the past is, ♪

♪ but history remains.

♪ The memory of always,

♪ you will always be the same. ♪

♪ With all those years behind us ♪

♪ and all that's to remain,

♪ everything reminds us

♪ of this neverending place. ♪

♪ And all the things you try to hide ♪

♪ are all the things they try to find, ♪

♪ yeah.

♪ And I retrace my step back to the day you left, ♪

♪ back to the moment you were mine. ♪

♪ You were mine, yeah, oh. ♪

♪ To the moment you were mine, ♪

♪ oh yeah,

♪ you were mine. ♪

BJ: That's Rebecca Jade and The Cold Fact.

You can find that song on theiralbum "Running Out of Time."

BJ: The Eustis Mansion in Milton, Massachusetts is going

through a painstaking renovationalmost 150 years after this

architectural treasure was built.

When the house was constructed in the 1880s, it was state of

the art, with no expense spared.

Let's take a tour.

male announcer: This is asclose to America's landed gentry

as one can get.

female: A country estate, wide open spaces, the rolling

blue hills behind us, so it wasreally a sort of idyllic space

to be.

announcer: For 140 years,this has been the grand house on

the hill in Milton,Massachusetts, an 18,500 square

foot home enveloped in green.

For nearly all that time, it's been the pride and joy of the

Eustis family, starting with newlyweds WEC and Edith.

They were in their 20s when herparents built the home as a

wedding present.

Elyse Werling: Their twinsons were born in 1877, and they

moved in here about 1879.

So, just a young family of fourliving in this magnificent, huge

house as their starter home.

announcer: The Eustises were very early practitioners of

sustainable living.

In its earlier days, the home was run as a gentleman's farm.

Elyse: They only purchased fish and a few other things

outside of their estate.

They wanted to grow everythinghere and truly live off of their

own resources as best they could.

announcer: Elyse Werling is a curatorial assistant with

Historic New England, whichpurchased the home in 2012 with

an eye toward preservation.

Until then, the property had always remained in

the Eustis family.

male: Do you have a favorite part of the property?

Elyse: Well, inside the house, the parlor is

my favorite room.

It's a really nice, warm room.

announcer: Historic NewEngland has spent the last five

years and more than $5 millionrestoring and improving the home

and estate, which had been builtwith essentially

no expense spared.

Elyse: They went for the high end and the most well-known

artisans and the most connectedartisans.

Peter Gittleman: There'srichly carved woodwork with lots

of organic motifs carved throughout.

You'll see acorns, and grapes, and vines, and birds all

in the carvings.

Everywhere you look, there's something, a floral.

Even the stain glass windows areanother great example of that.

announcer: The mansion was designed by William Ralph

Emerson, a starchitect favored by Boston brahman types.

Historic New England's Peter Gittleman says the home is a

rare surviving example of the Victorian Era's aesthetic

movement that swept through theUnited States.

Peter: Its rallying cry was art for art's sake, and what

that really is is saying that there is value in art, and it

simply was a love of deep saturated colors,

patterns throughout.

announcer: A team ofrestoration artists methodically

worked their way through the mansion, restoring fixtures,

removing layers of paint, and restoring original colors like

the dining room, which featuresgreen walls flecked

with hints of gold.

male: How extensive was the restoration effort here?

Peter: Probably the largest aspect of the reservation was

the paint work that we did because our goal was to try to

bring the paint colors back to the way that they were in the

1870s and early 1880s when theywere first done.

announcer: When it was built,the mansion was state of the art

with an elevator, a high end kitchen, including this stove

which has always remained, and these, speaking tubes.

Peter: Before electricity, speaking tubes is how you

basically communicated with yourservants.

One end of the tube you wouldblow into, and it would produce

a whistle, which would alert aservant to come over to the tube

that ended in the kitchen.

And then the person calling would basically speak through

the tube, and you could pick upwhat they were saying.

male: So, one step up fromcans and string it sounds like.

Peter: It is, and it was better than yelling down the

staircase, which was one of thethings that Victorian households

absolutely insisted on.

You simply could not bellow through the house.

announcer: With the exception of just a couple of rooms,

including the dining room and the master bedroom, furnished

just as the Eustises designed them, the home is now filled

with less precious period appropriate furniture, so

visitors can walk throughout thehome without a guide and even

sit down in rooms like they ownthe place.

Peter: It's an opportunity for people to have a historic

house experience that theyreally want, not the one that we

are forcing them to have.

announcer: And one that gives an even stronger impression of

house beautiful.

BJ: And that wraps it up for this edition of "KPBS Arts."

For more arts and culture, visitkpbs.org/arts, where you'll find

feature videos, blogs, and information on

upcoming arts events.

Until next time, I'm BJ Robinson, thanks for watching.

♪♪♪

female announcer: Support forthis program comes from the KPBS

Explore Local Content Fund, supporting new ideas and

programs for San Diego.

...