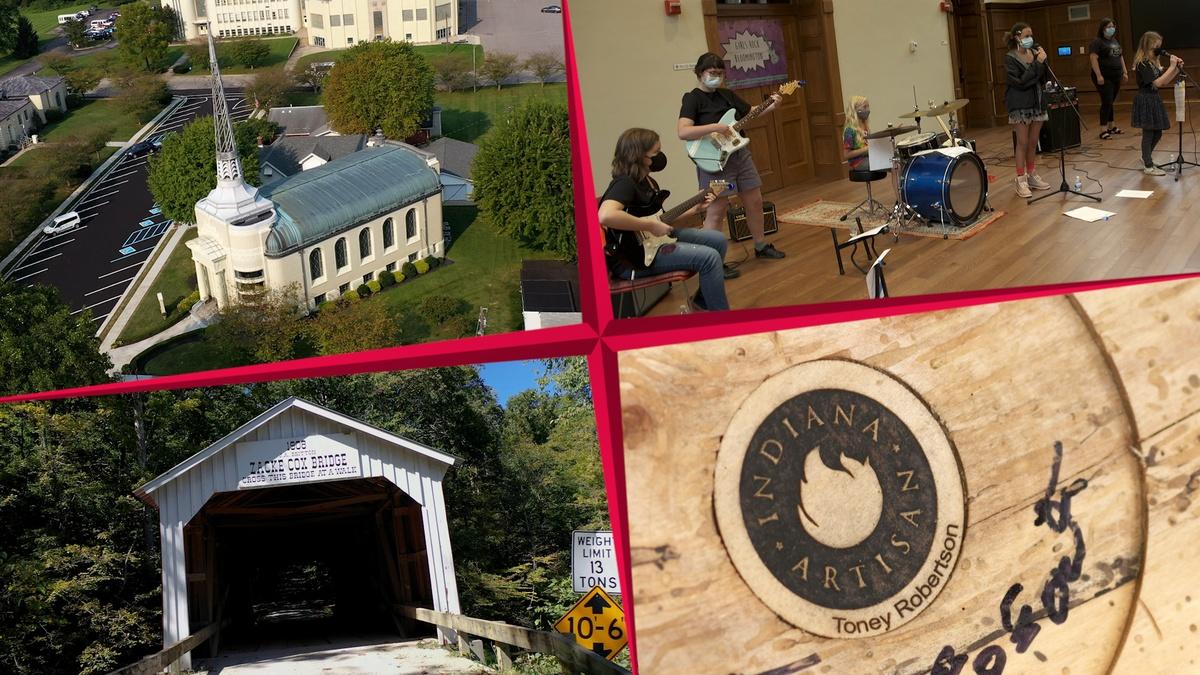 S4 E8 | FULL EPISODE
Episode 408
Coming to you from Conner Prairie in Hamilton County...tour the Tyson Temple in Versailles; make some music in Monroe County; see the pride of Parke County from a new point of view; and meet wood working wizard Toney Robertson.
TRANSCRIPT

>> Production support for "Journey Indiana" is provided by

Columbus Visitors Center, celebrating everywhere art

and unexpected architecture in Columbus, Indiana.

Tickets for guided tours and trip planning information at

Columbus.in.us.

And by WTIU members. Thank you!

>> ASHLEY: Coming up, tour the Tyson Temple in Versailles.

>> BRANDON: Make some music in Monroe County.

>> ASHLEY: See the pride of Parke County

from a new point of view.

>> BRANDON: And meet woodworking wizard Toney Robertson.

That's all on this episode of...

>> TOGETHER: "Journey Indiana."

♪

>> BRANDON: Welcome to "Journey Indiana." I'm Brandon Wentz.

>> ASHLEY: And I'm Ashley Chilla,

and we're coming to you from Conner Prairie.

This living history museum, located in Hamilton County,

is one of the largest attractions in the region,

and one of the most visited outdoor museums in the country.

And we'll learn all about this Indiana treasure in just a bit.

>> BRANDON: But first, we're headed to Versailles to tour

and learn the history behind the incredible Tyson Temple.

Producer Ron Prickel has the story.

♪

>> Located in the southeastern corner of Indiana,

Versailles is the seat of government for Ripley County.

With the population of around 2,000,

this community is like many small county seats

with a skyline that's easy to overlook.

But one church steeple, just a block west of the town square,

makes the sky line of Versailles unique.

This cross is the apex of

what is referred to as the Tyson Temple.

♪

>> Oh, it's art deco.

It's one of a kind.

People come here and they see it, and they're awe struck

by the structure and the -- just the design of it,

the way it's been preserved over the years.

It's just a very unique building.

>> In the late 1800s, Versailles' native son

James Tyson was living in a boarding house in Chicago,

where he met and befriended Charles Walgreen.

Walgreen at the time owned just one drugstore,

but soon came to Tyson with a proposal.

>> He said he would like to buy a second store,

but he was short $1,500.

So he says to his friend Mr. Tyson.

He says, man, I would like to open that second store.

And, of course, Mr. Tyson had an extra $1,500.

So he loaned him the $1,500, and that was the start of Walgreens,

so to speak, in terms of additional stores and chaining.

>> By 1917, Walgreen had multiple stores,

and Tyson had become the secretary-treasurer

of Walgreens Incorporated.

>> Walgreen went public in 1928,

and, of course, him being an integral part of the company

and a friend of Mr. Walgreen's, he was entitled

to a large number of shares at the initial public offering.

But he never forgot his hometown.

1930, he decided to create an endowment,

and he donated 18,000 shares to that fund

for the benefit of the citizens of Versailles.

And he had some ideas as to what he wanted to do going forward,

and one of those was to memorialize or commemorate

the life of his mother, Eliza Adams Tyson.

And he asked his good friend James High,

which he grew up with here in Versailles,

how that would best be served,

and James High recommended that he build a church.

>> In 1936, the cornerstone was laid.

Then the next year, May 16th, the church was dedicated.

I think there was a lot of excitement

about the church going up.

>> I understand that there was just thousands of people here.

>> Tyson was there.

He presented the church to the board of trustees.

I think the church itself was the main draw.

I don't think people had ever seen -- around here had ever

seen a church or a building like this.

>> When the church opened, there were only 500 people

in the town of Versailles.

But 5,000 people attended that initial celebration and opening.

And then in the next three years,

27,000 signed the register out here.

So it was quite an event!

>> Despite their folded and faded appearance,

the original architectural drawings display

intriguing details of the structure's art deco style.

A close inspection reveals that the church

is 90 feet from the front steps to the rear.

The width measures 41 feet and 5 inches across,

with the building interior height coming in at 32 feet

from the auditorium floor to the apex of the roof.

To get the overall exterior height of the structure,

the dimensions of the unusual steeple need to be included.

>> From the spire, it's an inverted cone,

and it's aluminum and stainless steel,

and there's a 6-foot aluminum cross at the top.

From the top of that cross to ground level, it's 100 feet.

The spire itself is 65 feet.

And that spire, incidentally, cost $35,000 to construct.

>> The exterior finish of the church utilizes

an unusual material to give the building its polished look.

>> It's that glazed terra cotta brick, primarily.

♪

Now, the downspouts and the guttering is all copper,

but it's gilded with lead, if you will.

The church was designed to be built without structural wood.

>> Mr. Tyson had visited the temple in Jerusalem,

and he got the idea that he would like to do it

without wood or nails.

That's why it was called the temple supposedly,

it's like Jerusalem's Hebrew or Jewish temple.

>> It's concrete and masonry.

If you can build it out of masonry,

it will last a lot longer than wood,

and it's more structurally sound.

>> The interior ceiling is adorned with gold and silver stars.

The location of each star is significant.

>> The 257 silver stars and the one gold star

were all hand hammered and imported from Germany,

and they are in the form of the night sky,

the night Eliza Adams Tyson died,

and that gold star is in the position of the North Star.

♪

The windows are interesting because they are

all imported from England.

They are stained glass, leaded windows,

and they are grouted with zinc.

>> Originally, the church was built in 1937 for $150,000,

which was a lot of money back then.

>> In addition to all the architectural

technique on display, there are also many examples

of religious symbolism found in the church.

>> The gold leaves that go horizontal

and represents the streets of gold of heaven.

The scallops running vertically are representative

or symbolic of the Hasmonean scrolls

that were used to write most of the Old Testament

and the Dead Sea Scrolls.

The arch itself is representative of the rainbow

after the flood that Noah saw.

And the three rings up at the top on each column

are representative of the Holy Trinity,

Father, Son and Holy Ghost.

The flame represents the Pentecost.

The apostles were on fire and had passion to spread the word.

Those recessed handrails as you come up,

those are an influence from Rennes, France,

where he visited a cathedral, and he saw those,

and it struck a chord with him.

And he thought, ah, must have made a mental note and said,

I'm going to use those.

>> As each Sunday marked the passage of time,

it became increasingly expensive to maintain

the unique look of the church.

>> Over the years, they have had to rebrick

the two sides and the front.

And the copper roof was replaced back in the '80s.

And it was $250,000 to repaint and refurbish the inside.

We used to have glass block windows in the front.

They were a maintenance nightmare.

Since it's been built in 1937, we put between

$1.5 and $2 million back into it.

Any replace or repair comes out of the Tyson Fund,

which is a godsend, because we couldn't keep it up.

>> Even though it's now been over 80 years since the temple

first appeared on the Versailles skyline,

it still manages to attract onlookers.

>> They schedule tours.

A lot of times, I'm out there doing something,

they drive by and then they drive by again.

And sometimes they will stop, and ask a question,

and it's captivating from a visual perspective.

>> I have been here working on things,

and people will walk up and want to just tour the --

and I will stop what I'm doing and walk through,

and let 'em look and their eyes are wide open coming in here.

They just look around like, how did this happen?

>> Sometimes they don't talk too much.

Sure, you are visually awe struck,

but there is a feeling of -- I don't know what it is,

magnificence, power, testimonial,

it's almost as if the structure itself is witnessing.

>> This is where I grew up.

This is -- this is my church.

When I was young, I didn't appreciate all the symbolism

and the beauty of the church.

It's on the National Registry.

I want to always be on it, because I think

it's a really special place, and I think it should be on it.

>> When I come through those front doors, I'm with God.

I feel his presence. Yeah.

And I think everybody does.

>> If it can touch one heart or one soul

through all of these tours and these different things,

and people become closer to God,

then in my opinion, it served its purpose.

>> BRANDON: There are so many beautiful elements inside

of that temple, but I think the thing that grabs me the most

is those handcrafted stars in the ceiling

lining up with the night sky on the night that his mother died.

Like, what an amazing tribute.

>> ASHLEY: It's really, really beautiful.

>> BRANDON: Want to learn more?

Just head over to Tysonumc.org.

>> ASHLEY: Earlier, we caught up with Katie Warthan

to learn all about Conner Prairie.

>> Conner Prairie is a unique historic place.

We inspire curiosity, and we foster learning, by providing

engaging and individualized experiences for everyone.

People of all ages can come to Conner Prairie.

A lot of people will remember coming

when they were in fourth grade.

People love to bring their families out here, their kids.

There's really something for everyone to do.

>> My favorite part of Conner Prairie is Prairie Town.

I came from the time that I was a little kid,

but it is a really immersive experience.

It's a chance for you to go back to 1836 for a day in the life

of, you know, a central Indiana town

to meet the residents of Prairie Town.

You can go to the blacksmith's shop.

It gives you a chance to step into the story,

to go back in time through living history,

first person interpretation is what we do a lot of here.

And then, of course, the balloon voyage.

So it is an incredible balloon voyage

that we have had here since 2011.

We actually get a new envelope or a new design every six years.

It tells the story of John Weiss

and his attempt for the first air flight mail.

Fall, I mean, it's everyone's favorite time of year, right?

And, of course, when you have this many acres,

you can really experience the foliage of fall,

especially from our covered bridge area.

It's magnificent, and from the sky if you go up in the balloon.

But really a chance to see the fall colors.

You can explore our corn maze.

It's 11 acres for families to explore.

>> ASHLEY: You can learn more at ConnerPrairie.org.

Conner Prairie is such an interesting place.

I've had friends who have worked here as actors,

reenactment actors.

Do you think that you would want to do anything here,

like maybe be a blacksmith?

>> BRANDON: Oh, absolutely.

I would love to learn a new trade.

>> ASHLEY: Call him!

>> BRANDON: Yeah.

Up next, we are headed south to Bloomington

to make some music at a unique Indiana summer camp.

Producer Adam Carroll has the story.

>> To watch these kids play and instrument for the first time

and explore that, it's really cool to see.

♪

>> Girls Rock Bloomington is a rock and roll camp for

girls, trans, and nonbinary youth that are ages 8 to 16.

And we started in Bloomington, Indiana, in 2019.

I had initially been involved with a Girls Rock camp

in Brooklyn, New York, when I lived there, and

it was a really transformational experience for me.

And so when I moved here in 2013,

I wanted to get involved, but there wasn't one here.

So I wanted to start one, and eventually just kind of had

a window of time open in my life where I was able

to make that happen.

And as a musician myself, I just think it's very important

to create space for people who are maybe experiencing forms

of marginalization in the music scene

or just not feeling welcome or safe,

and just to kind of start early

and create seeds of growth that will hopefully billow out

into the community and going on into the future.

There's a lot of amazing youth programming here in Bloomington,

but there wasn't something specific to this nature.

I think there always could be more things that are really

trying to reach out to LGBTQ youth and, you know,

trans youth, nonbinary, as well as girls

and just really specifically empower them.

And I think that the music scene here, as well as everywhere,

just, you know, can continue to improve

in terms of being more diverse.

So Girls Rock really helps with that.

♪

I would say the main purpose of Girls Rock Bloomington is

to -- not necessarily to make, like, incredible musicians,

but to help them with positive self-esteem,

to help them find an outlet for expression,

to create a community that they can draw from

in an ongoing way, and then also to instill a love for music,

and to also -- kind of everything is coming

from a social justice lens.

So to also think about how we're all affecting each other

in our community and how we can all help each other.

When we first started, we received most of our gear

through donation, which was just incredible.

Like, we just kind of, you know, started an Instagram,

put a call out, and people just wanted to donate their old gear.

It was really amazing.

One thing we are trying to show them is that you don't

have to be an expert at your instrument to make music.

Because -- many of them are starting.

The first day of camp, they have never touched a guitar

or a drum kit before.

And then, you know, five, six days later,

they are performing an original song,

and it's actually really good!

So, you know, things can be simple and super effective.

So I think we are showing them to kind of not get intimidated

and think that they can't do something.

And also, that there's many ways to approach things.

You don't have to, like, follow all the rules.

You know, you can make a really cool song, and just

break all the rules and know nothing about music theory.

♪ S-u-m-m-e-r ♪ Our summer

>> And then also, I think, it's helpful in that sometimes

girls or trans or nonbinary kids

can feel kind of objectified or disempowered,

and so just to have something that they can do,

you know with their hands.

It's like, it's not about how they look.

It's not about their identity.

It's just about them doing something, and there's just --

that's just objective, and other people can hear

what they are doing, and it's also just fun.

Like, everyone just wants to be a rock star, you know?

So I think that's just inherently empowering.

♪

♪ S-u-m-m-e-r ♪ Our summer

>> Yeah, I love being with the kids

and writing songs with them.

I think having been a musician for a long time,

that you can get a little burnt out or,

you know, just kind of caught up in the not-so-fun part of it,

the logistics or press or how are people going to respond?

So working with the kids really kind of takes it

back down to its core of just creativity

and seeing what you can do with something really simple.

And I get a lot of satisfaction out of that.

♪

>> ASHLEY: What a unique and awesome opportunity.

I wish something like that had existed when I was a kid.

>> BRANDON: You know, they actually have a scholarship program.

So even though you were not able to participate,

you can make sure that next year others can.

Want to learn more?

All the info is at the address on the screen.

>> ASHLEY: Up next, we are headed to Parke County

for a bird's a view of some breathtaking bridges.

Producer Jason Pear and drone pilot Jacob Lindauer

have the story.

♪

>> I came upon a covered bridge, weather beaten and old,

where deep blue stream and wooden ridge

were framed in twilight gold.

It was wonderful to see, a scene so bold and quaint,

a rustic masterpiece that only God could paint.

♪

I stood by that old bridge and watched the stream flow by,

while gentle winds caressed the trees

that touched the Hoosier sky.

In that enchanted hour, my heart was deeply stirred.

Would God grant me the power to paint that scene with words?

♪

Could I, a humble poet, pass through the bridge of time

and learn its treasured secrets then put them into rhyme?

Could I, with words portray the sky, the stream, the ridge.

Would I with words betray the secrets of the bridge?

♪

The colors slowly faded, as the shadows crossed the stream.

Then at last, the velvet darkness

changed all into a dream.

♪

But God gave me a picture to keep within my heart.

With all its rustic splendor, a priceless work of art.

♪

Yes, God gave me a picture.

It can't be bought or sold.

A picture of a covered bridge framed in twilight gold.

♪

>> ASHLEY: Seeing those bridges, I have such fond

memories of the Covered Bridge Festival with my family.

We used to go when I was a kid, and I really found

those covered bridges to be very magical.

And you can see all of Parke County's famous bridges

at this year's Covered Bridge Festival.

Just head over to coveredbridges.com

for all the info.

>> BRANDON: And finally, we are headed to the small town

of Galveston in southern Cass County to meet

woodworker and Indiana artisan, Toney Robertson.

Producer Jason Pear has the story.

>> Mom always had a saying, if you are going to do it,

do it right.

♪

The great thing about wood turning is

you have instant feedback.

I might have a piece of furniture where it takes

150 hours to make, and I don't really see results

until that last 10 hours or 20 hours.

With wood turning, you get instant feedback!

I can go in and start turning a piece, and within 20 minutes,

I can see what that is going to look like.

♪

I think my style is kind of simple,

especially when it comes to wood turning.

Simple shapes, simple forms.

I don't want to complicate things.

I want the wood to be the star of the show.

I don't want necessarily the design to take away from it.

I want it to add to it.

Usually the more figured the piece of wood is,

the simpler I want to keep it.

♪

Well, first of all, I love walnut.

I love the color, everything about it.

It's really great.

Another wood I really enjoy is spalted maple.

It started to rot,

and if you can get it before it actually goes to mush,

you get the black lines in it, the bug holes,

all that, and I think it adds character to the piece

and everything like that.

And a lot of the wood I use comes off of my family's land.

It makes it kind of cool in one way to make a piece off

of a tree that actually came off of land that,

you know, your family owns.

So that makes it interesting.

You know, in my mind, it's how can I accentuate that the best.

You know, especially when you are turning a bowl,

you are trying to figure out how can you maximize

the look of that piece?

Probably the most frustrating thing for me

is just not being able to realize in my head

what I want to get out of that piece of wood.

Sometimes you can have a beautiful piece of wood,

and it might have a crack in it.

It might have this.

It might have defects, and you really want to utilize it,

and you get to a point where you go, I can't save it.

♪

The biggest thing that my parents did for me

is when I burnt my hands, they never

allowed me to use that as a disability.

Not one time in my entire life did they ever say,

well, maybe you shouldn't do that because of your hands.

They actually pushed me the other way.

I remember a story my mom used where I was a young kid,

and the boys were climbing a rope or something,

and I couldn't do it because I hurt my hands.

And rather than say, hey, maybe you shouldn't do it

because of your hands, she just handed me

a pair of gloves and sent me out to go do it.

♪

I don't want to get into building on a factory scale,

you know, where I just crank out the same piece

over and over and over again.

Now, as far as what I want, when a customer buys something,

in the long-term, my kids maybe, or your kids or whoever,

to know hey, yeah, Toney from Galveston made that piece.

>> BRANDON: You can check out more of Toney's work,

along with all his fellow Indiana artisans at

Indianaartisan.org.

>> ASHLEY: And as always,

we encourage you to stay connected with us.

>> BRANDON: Just head over to JourneyIndiana.org.

There you can see full episodes,

connect with us on Facebook, YouTube and Instagram

and suggest stories from your neck of the woods.

>> ASHLEY: We also have a map feature that allows you to see

where we have been, and to plan your own Indiana adventures.

>> BRANDON: Before we say good-bye,

let's enjoy the sights, and more importantly the sounds,

of the 2021 Bean Blossom Bluegrass Festival.

♪

♪ Sweetheart of mine, can't you hear me calling ♪

♪ A million times I've loved you best ♪

♪ I mistreated you, darling, I'm sorry ♪

♪ Come back to me is my request ♪

♪ Come back to me is my request ♪

>> Production support for "Journey Indiana" is provided by

Columbus Visitors Center,

celebrating everywhere art and unexpected architecture

in Columbus, Indiana.

Tickets for guided tours and trip planning information at

Columbus.in.us.

And by WTIU members. Thank you!