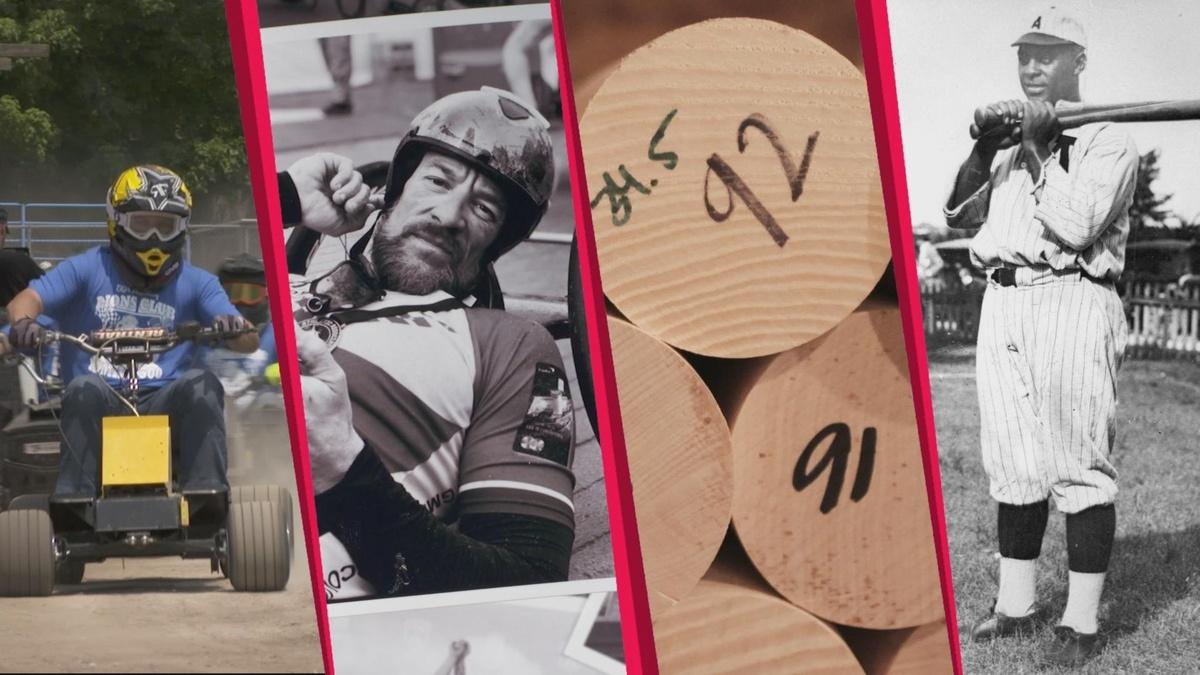 S4 E2 | FULL EPISODE
Episode 402
Coming to you from the Culbertson Mansion State Historic Site in New Albany...travel to Twelve Mile to see America's oldest lawnmower race; meet veteran - and Paralympian - Tom Davis; take a swing with a Titan Bat in Logansport; and learn the history behind The Hoosier Comet.
TRANSCRIPT

>> Production support for "Journey Indiana" is provided

by: Columbus Visitors Center, celebrating everywhere art

and unexpected architecture in Columbus, Indiana.

Tickets for guided tours and trip planning information at

Columbus.in.us.

And by WTIU members.

Thank you!

♪

>> BRANDON: Coming up, travel to Twelve Mile to see America's

oldest lawn mower race.

>> ASHLEY: Meet Veteran and Paralympian Tom Davis.

>> BRANDON: Take a swing with a Titan Bat in Logansport.

>> ASHLEY: And learn the story behind the Hoosier Comet.

That's all on this episode of --

>> TOGETHER: "Journey Indiana."

♪

>> BRANDON: Welcome to "Journey Indiana."

I'm Brandon Wentz.

>> ASHLEY: And I'm Ashley Chilla, and we're coming to you

once again from the Culbertson Mansion in New Albany.

Completed in 1869, this Second Empire style mansion has

25 rooms, with nearly 20,000 square feet and is one of

several Indiana State Museum Historic sites.

We'll learn more about it, along with the other historic

sites in this part of the state in just a bit.

>> BRANDON: But first, we're headed to a tiny town in

Cass County for a look at some mowers that can move.

Producer Jason Pear has the story of the Twelve Mile 500.

>> Good afternoon, and welcome to Twelve Mile, Indiana,

for the 59th running of the Twelve Mile 500.

We are excited that you are here.

>> It's a lawn mower race that originally started in '63.

It started uptown around the old high school.

It was pretty slow the first year,

as they were just lawn mowers.

But the second year, the speeds increased dramatically.

They doubled in speed to 14 miles an hour.

And then, obviously, we have gotten to where we are today,

where they're fairly sophisticated machines.

Some of them.

Most of these mowers are handmade.

Guys like myself, we look at 'em, usually after we

go to the 500 in Indy, you get that bug

and you get 'em out and you start messing around with 'em.

>> A lot of hillbilly engineering

went into these machines.

A lot of nights with the welder, the torch,

making things just right.

Even if not just right, good enough for Twelve Mile.

>> Originally, they had the decks still on them, and

then they decided to drop the decks a very long time ago.

The Briggs class is more of your standard,

looks like a lawn mower-type of thing.

And the modified class, they are running

three-wheeler engines.

They are running motorcycle engines.

They are running whatever they can find to get in there to set

between their legs.

♪

Our group is mostly local guys.

>> A lot of my brothers got in it before me, and friends

of the family like Cannonball Robins and Dean Owens.

Several guys, they let us play around with their mowers

when we was kids, ride 'em before the race and stuff,

out at the farm.

So that's pretty much how we got in it.

>> At one point, I think there were six or seven of us,

that were all running together at once.

Me and my cousin, Booth, who is over there,

we started when we were like 12.

We've had cousins, uncles, dads, everybody,

doing it at once.

So, yeah, it is a lot about competing with family.

That probably takes over more.

But, yeah, there are a lot of other good guys that we race

with, and pretty much every single one of them

is a good guy to race with.

Yeah, it's a fun time.

[ Engine starts ]

>> 59th running of the Twelve Mile 500

just a few minutes away.

It's going to start things off with the Briggs class,

then move into the modified class.

It should be a whole bunch of fun

throughout the rest of the day.

>> It's 60 laps.

This is more of an endurance race.

Most of the dirt track events are short and fast.

This race is more of an endurance race.

You have to make three pit stops.

You have to come to a complete stop.

And then there's the added bonus of a speed limit that we

have because, as you can see, there's concrete walls

around here, and it's a very tight racing surface.

>> So you can come up on guys and worry them a little,

and push 'em a little faster, push 'em a little faster,

a little faster.

Next thing you know, they're going through the penalty box,

but they can do that to you too.

So you can't be rattled.

>> The speed limit is more just to keep everybody so that they

can go to work on Monday.

Because when we qualify, some of these mowers,

they average 30 miles an hour for the whole lap.

The little league field is an added feature to it.

So, you know, there's not many racetracks that go around --

literally around a baseball field.

We run right down the third base foul line

and the first base foul line, and then make the curve around

home plate and back out.

>> A lot of people have problems at home plate.

There's usually a couple spills there every year.

But other than that, it's a really fun track to run on.

It's nice and fast.

>> For those that don't understand racing,

it probably is not going to teach you anything about racing,

because it's not just put your foot down and go fast.

It's a little bit more of a game.

♪

>> It's just -- a lot of is luck.

Somebody else's bad luck, your good luck, having a good mower

that will last the race that you can count on

and know it's not going to go down on you,

no matter what you do to it, it will take it.

>> You got to play the game.

You can't stand out.

You just want to kind of keep it underneath the radar.

Run a clean race, and usually if you run a clean race,

you are in the top.

>> You have to kind of know where you are at,

where they are at, in the whole scheme of things.

Not worry about anything until about the last ten laps, then

start figuring who is in the lead and where you are at.

And then start figuring out who you've got to run down

or if you have got to run from them.

♪

>> I don't know, it's just different.

The whole thing.

Everything about it is different.

I bring new people here every year, and it's always the same,

every time they show up and they see it,

they were not expecting anything like it.

It's just completely what they wouldn't expect from a mower.

>> This is one of our biggest days

we look forward to all year.

It's just fun and coming up and talking to a lot of the drivers

we don't maybe see until today.

>> It's just a fun day, that doesn't

involve going to a big town.

>> BRANDON: So I have to know, Ashley, how do you think that

you would fare on one of those mowers on your own lawn?

>> ASHLEY: Given that I've never mowed my own lawn before,

I don't think I would do very well.

It's just my guess.

>> BRANDON: I think could do pretty well,

except the turn on three, I might flip.

You can learn more at Facebook.com/twelvemile500.

>> ASHLEY: Earlier, we caught one Devin Payne to learn a

little bit about this historic home, along with the other

Indiana state historical sites in the area.

>> Here in the Southeast Region, we have three sites.

We have Culbertson, where we are now.

We have Corydon, which was first state capitol,

and Lanier Mansion in Madison, Indiana.

The Culbertson Mansion is the family home

of William Culbertson and his second wife Cornelia,

built in 1867 and finished in 1869.

And it's just a beautiful example of Victorian artistry,

and it's really well preserved and restored here

in New Albany.

Corydon, first state capitol, it is the first state capitol

of Indiana.

It actually was the territorial capitol until 1816 when Indiana

became a state.

Now, Corydon is also the site where

Indiana state constitution was written.

So if you go to Corydon today, you will be able to see

several buildings around Corydon's old town square.

It still uses the town square today.

So folks like to go for walks there.

And the Lanier Mansion is right on the river

in Madison, Indiana.

It was the family home of the Laniers, of James Lanier,

and he was also an entrepreneur, and he built the

home in the 1840s.

The house a beautiful example of Greek Revival architecture

in the Jeffersonian style.

Corydon and Lanier have been part of the state

historic site system for a long time.

Corydon, having been given to the state after the

bicentennial, and then the Lanier Mansion was actually

deeded to the state in 1917.

So it's one of the oldest, and it's been continuously open

as an historic site since 1926.

But the Culbertson Mansion was actually deeded

to the state in 1976.

So we're one of the newer sites.

All three sites are open for tours.

So you can go Wednesday through Saturday to any

of the sites for tours.

We try to keep that similar.

If you are a member of the Indiana State Museum,

tours are always free, and you can go on special members tours

at all three sites as well.

>> ASHLEY: Want to learn more?

Just head over to Indianamuseum.org.

>> BRANDON: Up next, we're headed to Fremont, Indiana,

to meet veteran and Paralympian Tom Davis.

Producer Jason Pear has the story.

♪

>> When I got hurt, I really struggled mentally,

spiritually, emotionally.

Some of the darkest times of my life.

It was rough on everybody.

I think that's one the things that most veterans struggle

with, especially when they get wounded, not wearing

the uniform anymore, losing that sense of identity and purpose.

What am I going to do with the rest of my life now?

♪

I was infantry.

You know, the guys that go in, kick down doors, and, you know,

do all the grunt work and fight the fight.

I loved it.

And even before I got out of basic training,

I knew that's what I wanted to do.

The physicality of it, pushing yourself, you know,

being a leader, the camaraderie, everything.

It was -- you know, you get to shoot guns and blow stuff up.

I loved everything about it.

We were on a patrol at night in the city of Ramadi,

and my Humvee ran over a roadside bomb,

and then we were ambushed.

I went to Walter Reed Hospital in Washington, D.C.

That's where my leg was amputated.

I spent most of that time learning how to walk.

You really got to learn how to do everything again,

not even just physical, but, you know, mental, emotional,

psychological.

You need to learn how to deal with all of that and get ready

to go back into the world.

One day my therapist said, hey, I got something I think

you would want to try, and he had a handcycle there.

And we took it out on the veranda, just that went around

the hospital.

And I was just able to ride that and just -- it was --

it was like being a kid again.

You know, like learning how to ride a bike for the

first time kind of thing.

I loved it.

And I got done, and I said I got to get me one of these!

Then I went to Fort Benning for a year, and that's where

I got my first handcycle.

Then when we came back here, it sat in our shed back here

for probably about two years.

I was at the Y in Angola.

I was praying and everything that day, and I just felt like

God was telling me, go get that handcycle out and start

riding it and race it and do it for my glory.

And I walked out of the gym, got it out of the next day and

started riding.

That was 2011.

♪

That first day I went out and rode, I think I rode 13 miles,

and I thought I was going to die.

And I didn't ride again for, like, another two weeks.

I was so sore and tired and everything.

And then I went out and did it again, and I told my wife,

I said no matter what happens, make sure I go out

and ride my bike the next day to start getting used to it.

So it's just a gradual buildup to I can go out and ride

50, 60, 70 miles a day and just do it every day.

In 2012, I started getting competitive.

I went to a couple international races.

I went to the national championships

for the first time.

That's also where I realized that I got a lot

more work to do.

It was probably about 2013, I think before

I won my first race.

And then 2014, I made first national team,

world championship team, and slow but steady process,

you know, keep moving up.

One of the good things about handcycle is a lot of marathons

will allow us to compete.

So, yeah, I have been able to race and win in Boston,

I think five times;

L.A. marathon; Detroit marathon; Chicago marathon;

and then races all over the country, all over the world.

I have been to Rio; Bogota, Colombia; all over Europe and

Italy; Belgium; Germany; South Africa.

It's taken me literally all over the world,

and it's been -- it's been amazing to be able to go

to the nice places of the world.

It's definitely been quite the journey.

My initial goal was the 2012 Paralympics in London.

When I went to that first national championships,

I got smoked.

I got smoked pretty bad.

That's where I realized I had a lot of work to do.

Really, the 2016 season is when I put in a ton of work,

and it all paid off making that first team.

When I went to Rio, I let the pressure, I let the stress of

everything get to me, and I was very upset with my performances

and ever since then, my whole goal has been to get back and

go to Tokyo and make it right.

So this year was great.

I went to the Paralympic trials in June, and I actually

won the trials outright.

Honestly, that's what my goal was the whole season,

was to go there and win, and not have any doubt of

whether I would make the team or not.

And, yeah, I was able to go do that.

We do a Bible study group when we go to races.

There's several of us that get together, and one day we talked

about how do you define success,

and we used John Wooden's definition of success,

doing your absolute very best that you can with the

opportunities and the talent that you have been given.

So I really tried to focus on that.

I just want to go over there, and I want to do my very best

that I can.

If I come home with some medals, that's awesome.

But if I go there and I do my absolute best

and walk away with nothing, I can live with that.

>> BRANDON: Have you ever ridden a bike like that?

>> ASHLEY: Like a recumbent bike?

>> BRANDON: Yeah.

>> ASHLEY: No.

I have never ridden a recumbent bike.

My biking skills are not great.

I mean, Tom could take me any day.

Any day.

>> BRANDON: You can follow Tom and the rest of the U.S.

team at the address on the screen.

>> ASHLEY: Up next, we are headed back to Cass County

for a look inside Logansport's Titan Bats.

Producer John Timm has the story.

♪

>> There's nothing better than something you've made or

you know who has made the bat, like, handcrafted, right?

That's what we set out to do, to be different.

To be a boutique, handcrafted bat shop that's different.

♪

>> I always wanted to make the very best product.

So when somebody got a bat from Titan Bats, they're like, man,

this is something amazing!

This is something special.

It's not something you can go buy in a store.

It's something handcrafted for that certain player.

About eight years ago, I was in my grandfather's woodshop.

He was a master wood craftsman,

and this guy could make anything.

He built his own house.

He built cabinets for people, dining room tables, and

I was kind of his assistant is what he cause called me,

his helper in the shop my whole life.

One day we were out there, and I saw this old blue machine

underneath some boxes.

I asked him what it was.

He said that's a 1928 Sears and Roebuck wood lathe.

And I'm like, well, I never used that before.

Let's play with it.

I wanted to really make my son something special,

just for, you know, for fun.

It was a little gift.

It was a little miniature baseball bat.

So I sat there and I fiddled with that thing for hours

trying to get the look right.

I gave it to my son.

It looked more like a billy club versus a baseball bat,

you know, but he thought it was pretty cool.

So he went around and started showing all of his buddies he

played baseball with, and they knew what it was.

And they thought it was neat.

And they were like, can you make me a red one?

Can you make me a blue one?

Can you make me a brown one, whatever?

And I'm like, yeah, I can make you some.

It took me a little bit of time, but I figured out

how to hand carve a good bat.

♪

It all starts with the wood.

All of our wood is handsplit billets.

It's the best of the best.

I bring the wood in here.

I regrade it and make sure the grain is straight

as I believe is true.

I cut the bat out on the computer

with one of our lathes.

Then I it start dialing in with a micrometer, mic-ing it,

sanding it to get it exactly perfect

to the player's specifications.

Removal of the ends.

Hand sand all of those.

And then it comes to the finishing time,

where we add the ink dot, do all the clear coat and paint,

the logos, engraving, and it's shipped out.

>> The first year we made probably 300 or 400 bats.

Now we are up to like 3,000 to 4,000 bats.

>> And that's just me and Todd grinding.

You know, we both work 40 plus hours a week, plus doing this.

>> We want to be making 10,000 and 15,000 bats a year.

And we're now in a facility and have the machines to do it.

And our goal is to get to -- you know, to really turn this

up, and I think Major League will be the next level for us.

♪

>> I have always been in the medical device world,

sales, sales management.

I have over 20 years' experience in sales.

And, you know, I was looking for an opportunity to invest

in my own company, to start a company.

And it just so happens that my mother, she was still bringing

me newspapers from Logansport.

I grew up here.

And in that newspaper was Trampas Young,

youth pastor making baseball bats.

So I was very intrigued.

I knew Trampas.

I grew up with his brothers playing sports

and knew of Trampas since I was very little.

My first thought was, man, that's so cool!

I want to help him out.

>> I guess the stars were kind of aligned to get Todd

back in my life and reconnect us with our families.

And I started making bats for him, hand carving them for some

guys at ISU, and I couldn't keep up, because he was really

pushing the product.

>> That's where I came into the picture.

I came in and said, we need to turn this into something.

This is the business opportunity I have been looking

for, and I saw his passion for making bats.

I didn't want to make the bats,

but he was so passionate about it.

I said this is somebody I want to invest in.

My whole goal, and Trampas as well, was that we spent

the first four years making sure that our product quality was

equivalent or better than Louisville Slugger.

So we really didn't put our bats out there for four,

four and a half years, until we got it right,

until we perfected it, and tested it

in the collegiate wood bat leagues

and some of the local travel teams.

Then we started to ramp it up.

♪

>> Eight years later, we are in this wonderful new facility,

out of my garage.

A lot of new clients.

It's been a huge blessing.

>> ASHLEY: You can learn more at titanbats.com.

>> BRANDON: And finally, another baseball tale

this time from the "Journey Indiana" archives.

Producer Todd Gould and narrator Michael Grady

have the story.

♪

>> From an early age, Oscar Charleston sought adventure.

Born in 1896, he lied about his age when he was 15,

and volunteered to fight with the

U.S. military in the Philippines,

where he first played organized baseball

with his military unit.

He returned to Indianapolis three years later and joined

the Indianapolis ABCs, an all-Black touring squad

sponsored by the American Brewing Company.

>> The Indianapolis ABCs were the city's first fully

professional Black baseball club.

In 1914, the ABCs hired a manager to take the team

to a new level.

And that new manager was C.I. Taylor.

♪

>> The son of a Methodist minister, Taylor was a strict

disciplinarian who demanded great respect from Charleston

and the rest of his teammates.

>> It wasn't a team of rough and tumble ballplayers.

C.I. Taylor, himself, was college educated,

had done a stint with the 10th Calvary, was very regimented,

and he did not allow his players to drink, smoke, cuss,

gamble, mistreat women.

They were proper gentlemen and were expected to behave.

♪

>> They called him the Hoosier Comet.

Charleston was a superstar among a team of many stars.

Within two seasons, he led the team in batting, pitching,

fielding and base stealing.

On the field, he rarely struggled, but off the field,

the team often found it difficult to travel through

many areas of the U.S. where Jim Crow attitudes

prevented African Americans from eating in local restaurants

or staying in local hotels.

♪

>> They might find people willing to take in the players,

or more often than not, they would be barnstorming,

and they'd sleep in the car and catch naps or sleep on the

train or sack out in the dugout for a couple of hours

before they took the field.

♪

>> By 1920, through Taylor's leadership

and Oscar Charleston's ability to draw large crowds,

the ABCs worked with other Black barnstorming teams to organize

a new professional circuit, the Negro National League.

Separate, but athletically equal

to the all-white Major League.

>> In 1921, he was the highest paid player in Black baseball,

with reason.

He was hitting the most home runs.

He was hitting as many home runs as Babe Ruth

was doing in Major League Baseball.

He was just chocking up stats that were phenomenal.

And for Charleston, food wouldn't have been a problem.

Women would actually bring pies to the ballpark for him,

trying to win his favor.

>> Inspired by his old coach, Oscar Charleston went on

to become a manager in the Negro National League

for more than three decades, coaching and playing

with other stars like Satchel Paige and Josh Gibson.

♪

In the 1940s, Charleston worked alongside

Brooklyn Dodgers team owner, Branch Rickey to create

an all-Black league that would serve to funnel players

into Major League Baseball and help to integrate

the nation's pastime.

In less than two years, Rickey would sign Jackie Robinson to

play for the Dodgers, changing baseball and sports forever.

Today, baseball statisticians rank Charleston

as the fourth greatest player in baseball history,

behind only Babe Ruth, Honus Wagner, and Willie Mays.

>> Managers like John McGraw, who knew Charleston

and had seen him play.

McGraw recognized Charleston as a talent who if somebody could

cross the line, Charleston certainly would be it.

So there's that kind of respect he had and that perception.

>> BRANDON: I really find it fascinating how they talked

about how statisticians place him as the fourth greatest

baseball player of not just his generation but all-time.

>> ASHLEY: What a legacy.

>> BRANDON: Yeah.

You can learn more at baseballhall.org.

Just search for Oscar Charleston.

>> ASHLEY: And as always, we encourage you

to stay connected with us.

>> BRANDON: Just head over to JourneyIndiana.org.

There you can see full episodes,

connect with us on Facebook, YouTube and Instagram

and suggest stories from your neck of the woods.

>> ASHLEY: We also have a map feature that allows you to see

where we have been, and to plan your own Indiana adventures.

>> BRANDON: And before we say good-bye, let's take

few more laps around the Twelve Mile 500 track.

♪

>> Production support for "Journey Indiana" is provided

by: Columbus Visitors Center.

Celebrating everywhere art and unexpected architecture

in Columbus, Indiana.

Tickets for guided tours and trip planning information at

Columbus.in.us.

And by WTIU members.

Thank you!